NCF Nation:

West Virginia Moutaineers
Posted by ESPN.com's Chris Low
In the end, the most anticipated Saturday of the season in the SEC didn't produce any thrillers in the marquee matchups.
Arkansas and Tennessee both pulled off surprises in how convincingly they won, while Alabama and Florida continued to separate themselves from the rest of the pack.

Lots of candidates for this week's helmet stickers, although a couple were no-brainers:
Florida linebacker Brandon Spikes: He's the igniter of the Florida defense and one of the best linebackers in the country. Spikes got the Gators going early on defense Saturday in their 13-3 win over LSU, and they never looked back. He finished with a team-high 11 tackles, including 2.5 sacks. He also forced a fumble and was LSU quarterback Jordan Jefferson's worst nightmare all night long.
Tennessee quarterback Jonathan Crompton: If the Vols would have had this version of Crompton all season, who knows what their record would be right now. The fifth-year senior quarterback was outstanding in the 45-19 win over Georgia. He was 20-of-27 for 310 yards, four touchdowns and one interception in what was easily the best game of his career. With all the abuse Crompton has taken at Tennessee, he deserves some good things to happen to him.
South Carolina receiver Alshon Jeffery: One of the Gamecocks' most prized signees this past February, Jeffery had his official coming-out party in the 28-26 win over Kentucky with three touchdown catches. He had five catches in his first five games before going off on the Wildcats, who were missing their two starting cornerbacks. Two of Jeffery's touchdown catches were as good as you're going to see. He pulled in a 28-yarder with one hand and made a sweet adjustment on a fade route to catch a 22-yarder. The 6-foot-3, 215-pound freshman finished with seven catches for 138 yards.
Alabama running back Mark Ingram: A week after he ran for 140 yards against Kentucky, Ingram rolled up a career-high 172 yards in the 22-3 over Ole Miss. His 36-yard run was the game's only touchdown. He's now scored a touchdown in 14 of his 20 games at Alabama and established himself as one of the more versatile running backs in college football.
Arkansas defensive coordinator Willy Robinson: It hasn't been a lot of fun heading up the Hogs' defense this season, but Robinson had his guys ready Saturday against previously unbeaten Auburn. The Tigers were held to under 400 yards of total offense for the first time all season, and Arkansas played its best all-around game defensively of the season in a 44-23 win over Auburn.
September, 20, 2009
9/20/09
2:50
AM ET

Posted by ESPN.com's Chris Low
AUBURN, Ala. --
Chris Todd
couldn't have won a game like this for Auburn a year ago.
He didn't have the strength in his throwing shoulder to do it. He didn't have the confidence in his throwing shoulder to it. And most importantly, his teammates didn't have the confidence in him to do it.
| | |
| --- | --- |
| | |
| | Paul Abell/US Presswire |
| | Chris Todd passed for career highs in yards (284) and touchdown passes (4). |
"This is a different Chris Todd," said
Mario Fannin
, who was on the receiving end of one of Todd's career-high four touchdown passes Saturday night in Auburn's
41-30 victory
over West Virginia.
"He feels 100 percent comfortable with his shoulder, and we do, too. He knew he was bruised up last year. We knew he wasn't right. But there are no problems this year, and he looks great."
After gashing their first two opponents with the running game, the Tigers turned to the pass against the Mountaineers, who were determined early not to let Auburn run the ball.
Trailing 14-0, the Tigers and Todd never blinked.
"Coach (Chizik) always talks about impostors during a game, and we had to take them down with our will," said Todd, who had surgery on his shoulder in December. "We had to react to the situation, and we always knew that we could come back from the deficit."
Todd's third touchdown of the night, a quick flip to Fannin that turned into an 82-yard score, tied the game at 27-27 midway through the third quarter.
And then Todd's final touchdown pass, a 17-yarder to
Darvin Adams
on a third-and-8 play, put Auburn ahead to stay early in the fourth quarter.
Todd's 284 passing yards were also a career high, and the Tigers needed every one of them because their running game netted just 100 yards on 41 carries.
"There were a lot of times the offense wasn't moving the ball," Chizik said. "But you never looked in his eyes and saw anything but confidence, and all he ever needed was another chance … and he came back and delivered."
The truth is that Todd wasn't completely healthy Saturday. He'd been fighting the flu the last couple of days.
But his arm and decision-making were razor-sharp.
"His eyes were puffy," Auburn offensive coordinator Gus Malzahn said. "You could tell (he wasn't feeling well). We were concerned two days ago. But he showed a lot of toughness."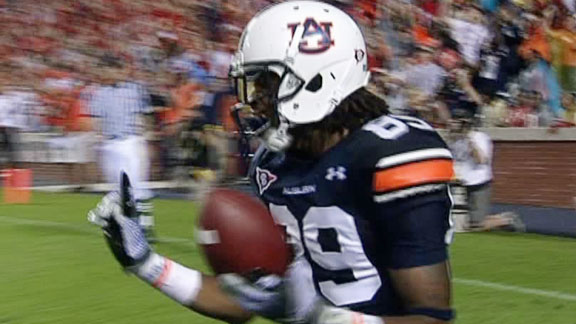 September, 20, 2009
9/20/09
12:44
AM ET

Posted by ESPN.com's Chris Low
AUBURN, Ala. -- Don't look now, but Auburn is three-fourths of the way to being unbeaten in the month of September.
It wasn't the best start for the Tigers on Saturday night. They had to wait more than an hour just to begin the game because of lightning. And when the game did start, it was all West Virginia.
But Auburn's defense came up with one big play after another in the fourth quarter, and the Tigers raced past the turnover-prone Mountaineers for a
41-30 victory
at rain-soaked Jordan-Hare Stadium.
The Tigers (3-0) forced six turnovers by the Mountaineers, including five interceptions. Four of those turnovers came in the fourth quarter.
Senior quarterback
Chris Todd
threw four touchdown passes for Auburn, which has Ball State at home next Saturday before going on the road for the first time Oct. 3 against Tennessee.
September, 1, 2009
9/01/09
10:30
AM ET
Posted by ESPN.com's Adam Rittenberg
In light of the
allegations of NCAA time-limit violations at Michigan
under head coach Rich Rodriguez, West Virginia reviewed its own compliance records for football when Rodriguez served as coach from 2001-07.
West Virginia found
no wrongdoing or any complaints from players
about Rodriguez or his assistants exceeding time limits on practices or offseason workouts.
"I worked with the previous compliance people and the [current] staff and I went through all the records," West Virginia assistant athletic director for compliance Patrick Hairston told the Charleston Daily Mail. "Nothing has been identified as a problem from the time [Rodriguez] was here. ... It's closely monitored. Any student-athlete that has issues with it are encouraged to come to us and from what I'm hearing about what was done in the past, there were no complaints."
A former Mountaineers player under Rodriguez told the Daily Mail that the compliance office frequently checked to see if time limits were being enforced.
"Compliance was always around," the player told the newspaper. "You couldn't do it even if you wanted to. There wasn't any rule-breaking going on because you couldn't do any of that with compliance around like they were."
December, 7, 2008
12/07/08
12:00
PM ET
Posted by ESPN.com's Brian Bennett
Mike Teel, QB, Rutgers: The senior went out in style by going 21 of 26 for 447 yards and seven touchdowns in the Scarlet Knights' 63-14 blowout win over Louisville on Thursday.



Greg Williams, LB, Pittsburgh: Williams had two interceptions and returned one for a touchdown in the Panthers' 34-10 win at Connecticut.

Donald Brown, RB, Connecticut: Brown finished the season as the nation's leading rusher by going for 189 yards on 34 carries, including a 57-yard touchdown, in his team's loss. He needs 178 yards in his bowl game to reach 2,000 for the year.

Sidney Glover, S, West Virginia: Glover forced a fumble and had an interception as West Virginia held off South Florida 13-7.