NCF Nation:

west virginia spring
April, 22, 2010
4/22/10
11:00
AM ET
MORGANTOWN, W.Va. -- Bill Stewart has won nine games in each of his first two full years as West Virginia's head coach, making the Mountaineers one of only 17 BCS teams to have back-to-back nine-win seasons or better.
[+] Enlarge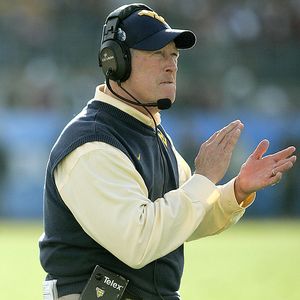 AP Photo/Steve CannonBill Stewart believes the Mountaineers can compete for a national title by 2011.
Yet that's not good enough for a lot of West Virginia fans. They remember their team winning 11 games in each of the three seasons before Stewart took over on a full-time basis. They saw Stewart inherit legendary quarterback Pat White for his senior year and finish the 2008 regular season just 8-4. They have noticed Cincinnati whiz past them as the new Big East power.
Standards are pretty high in Morgantown. Heck, receiver
Jock Sanders
said he considered 2009 a losing season because the Mountaineers -- who finished 9-4 -- lost their Gator Bowl game to Florida State.
Stewart's standards are just as high.
"I don't like being 9-4," he said. "I know a lot of people would like to win nine games every year, but I'd like to win more, and that's what my goal is."
With 18 starters back this year, Stewart thinks big things are possible. In fact, he believes the Mountaineers could challenge for the BCS title in the 2011 season, if not this year.
"We have a chance if we stay healthy," he said. "If I didn't think that, why should I coach? I'm not boldly saying we're going to go win it, because that's dumb and crazy.
"But this year we have a chance to be pretty good, and by 2011 we should be pretty darn good. And if I don't put the challenge of playing for a Big East championship, a BCS bowl and a national championship out there for them, who's going to do it?"
Stewart points out that his first team, in 2008, lost eight defensive starters from the previous year as well as Steve Slaton, Owen Schmitt and Darius Reynaud on offense. That squad had all kinds of trouble converting short yardage plays or coming up with key defensive stops, and yet two of its four losses came in overtime.
Last year, Stewart likes to say, the Mountaineers had one senior (Selvish Capers) on the offensive line and none on the defensive line. The O-line is still young and growing, while the defensive line is building depth. There's a true sophomore (
Geno Smith
) at quarterback, along with the return of senior stars Sanders and
Noel Devine
and budding young speedster
Tavon Austin
. The Mountaineers have lost only one assistant coach in the past two years, so they have more staff stability than any team in the Big East.
Stewart also likes to remind people that the team GPA has never been higher and that all 23 seniors in this year's class are on course to graduate.
Of course, in college football, little of that matters if you don't win big. Stewart is by no means on the hot seat, but with a new athletic director coming on board this summer, he probably can't afford to fall far short of his stated ambitions the next couple of years. But he is confident that the Mountaineers are on the way toward meeting their fans' high expectations.
"I know what I'm doing, and I'm in control," he said. "I know my plan, and we've got great coaches and great players. Maybe the ball bounces our way in a couple of close ones and we get over that 10-win barrier this year and win the Big East.
"I go to bed every night peaceful. And I wake up every morning with a bounce in my step and a great attitude, knowing I have the best job in football."
April, 22, 2010
4/22/10
9:00
AM ET
MORGANTOWN, W. Va. -- In the hour before he hits the spring practice field,
Geno Smith
goes to school.
Smith spends those 60 minutes in a quarterbacks meeting with West Virginia coach Jeff Mullen. Or more accurately, it should be called a quarterback meeting, since he's the only one in the room unless you count former Mountaineers' signalcaller Rasheed Marshall, who's sitting in as a visitor. Backup
Coley White
met with Mullen earlier in the day because of a class conflict, and the team doesn't have any other scholarship quarterbacks at the moment.
[+] Enlarge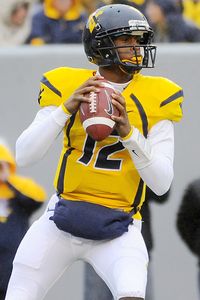 AP Photo/Jeff GentnerWest Virginia will call on sophomore Geno Smith to lead an offense that returns nine starters.
The meeting begins with Mullen installing three new passing plays, all of them designed to start from the opponents' 12-yard line and in. Then it's on to reviewing more than 50 plays from the previous practice, some of them with Smith on the field in pass skeleton but most involving White.
Mullen constantly quizzes Smith, asking him to determine what the defense is doing and where the throw should go with his red laser pointer. Throughout the session, Mullen drops in a steady flow of advice.
"I need you to be the cheerleader and the champion out there," he instructs at one point, telling Smith to rustle his teammates to the line of scrimmage quickly. "They'll listen to the quarterback more than the coach. You've got to get them to play fast."
Mullen uses the phrase "P-C-P" over and over again like it's a mantra. That reminds Smith of his three priorities he must identify on each play: Protection, coverage and progression. Smith doesn't answer every question right, but he's correct probably 90 percent of the time.
Mullen calls Smith's ability to grasp the offense "exceptional" and says his learning curve is "much farther along than what you'd expect from a true sophomore."
That's great news for the Mountaineers for two reasons. First, Smith is still limited in practice because he broke his right foot in the offseason, so he needs all the mental reps and classroom instruction he can get. And secondly, his quick development is vital for a team that returns nine starters on both offense and defense -- most in the Big East -- but will be led by a first-time starting quarterback.
"We'll go as far as our quarterback takes us," head coach Bill Stewart said.
That might sound like a dicey proposition given Smith's level of experience. But the Mountaineers are convinced that they're in good hands, because Smith carries himself with a maturity and presence that belies his age.
He showed it last year against Marshall, when he was pressed into service early after
Jarrett Brown
got hurt. He completed 32 of 49 passes for 309 yards and a touchdown in the victory and converted a key fourth down play while acting as if it were nothing new. He also played the entire second half of the Gator Bowl loss to Florida State.
"He made some freshman mistakes, but he always showed a poise and composure beyond his years," Mullen said.
Smith was the same way at Miramar (Fla.) High School. After one game with the JV team as a freshman, the coaches brought him up to the varsity squad and made him the starter for the third game. The team finished one game short of the state finals that year.
Asked when Smith began to display his advanced maturity, Mirarmar coach Damon Cogdell. "He's always had it. It's kind of scary."
Cogdell had so much confidence in Smith that by his junior and senior years, the quarterback called most of the plays on the field himself, a rarity in high school.
His West Virginia teammates have quickly grown to respect Smith as well.
"Even though he hasn't started or been in many games, you can just tell he's a winner by his vibe," receiver
Jock Sanders
said. "Every day at practice, he's ready to take off that (protective) shoe and put on his cleats, and every day they have to tell him, 'Geno, no, stop!'
"He reminds me of Pat (White). He doesn't like having bad days in practice, he doesn't like incomplete passes or miscues. He's the the type of guy who wants to have everything right, and those are the things you look for in a quarterback."
Smith speaks very softly both in the meeting room and in interviews, but he exudes self-confidence. He sees himself as a leader despite his youth, and he doesn't shy away from the talk that West Virginia's season could depend on his play.
"I don't feel like it's pressure," he said. "I accept that role, that responsibility. Whether you're on the greatest team or the worst team, it always depends on the quarterback. I thrive on the pressure, and I think I'll do well this year."
If his work on the field matches his effort in the weight room, he'll do just fine.
Since the end of the Gator Bowl on New Year's Day, Smith has put on 25 pounds to get to 216, six pounds above his goal. He no longer looks like the string bean he did as a freshman, yet he can still scoot out of the pocket or throw a tight spiral. Smith may not have the imposing physicality of Jarrett Brown, but the Mountaineers will be happy if he can simply avoid some of the turnovers Brown committed last season.
Even more importantly, Smith needs to avoid injury. He broke his foot in January for the second time in less than a year, the first time coming in an ATV accident last summer. Though White has had a strong spring and two talented freshmen will arrive on campus for fall camp, Smith remains West Virginia's best option.
Smith said he's doing strength exercises with his foot and taking the injury far more seriously than he did last summer, when he viewed it as a freak occurrence. The repeat of the foot problem has kept him out of all full-team drills this spring as the coaches don't want to risk someone stepping or falling on him.
So Smith instead focuses on mental reps and going to school for more PCP training. For the Mountaineers' sake, it's a good thing he's an excellent student.
April, 15, 2010
4/15/10
7:30
AM ET
MORGANTOWN, W. Va. -- Wednesday was a fun and enlightening day at West Virginia. I spent a lot of time with the always gregarious Bill Stewart and even got to see
Geno Smith
go through a quarterback meeting with offensive coordinator Jeff Mullen. And of course I watched practice. Here are some quick thoughts and observations:
The team that came out for practice No. 6 won't be the same team you see this fall. At least Stewart hopes not. Several walking wounded wore non-contact jerseys, including receiver Bradley Starks (ankle) and running back Noel Devine (quad). Smith only participates in individual and skeleton drills, no team competitions. Cornerback Brandon Hogan didn't practice as he is concentrating on his academics. And Jock Sanders missed practice because of class. So it was far from a full deck, and Stewart said he was frustrated by a number of busted assignments and broken plays. You could tell the coaching staff's frustration, because after practice several defensive players were made to do up-downs, while the offensive guys ran sprints. Some defensive players argued with each other coming off the field."You have a couple of guys in [non-contact] jerseys, and all of a sudden your leadership starts spiraling down," Stewart said in disgust. "We may be a .500 football team, that's it."
Coley White is a busy man with Smith limited. White takes every snap during the 11-on-11 and other team drills. He's had a good spring and showed off a stronger arm than I -- and even other frequent Mountaineers observers -- expected a couple of times on Wednesday, on a touchdown pass to Stedman Bailey and a long one to Starks. Smith is almost certain to be the starter, but White can win games if needed at quarterback. The only bad news is his time is so important at quarterback that he can't work on his desired transition to receiver.
Only saw a little bit of Smith, but he made some nice throws. He's much bigger than last year, too. In fact, he later told me he's put on 25 pounds since the Gator Bowl, which is amazing.
Bailey, by the way, looked pretty good and made a nice adjustment on one ball. He could be important with very little depth at receiver now that Deon Long and Logan Heastie are gone (and barring a miracle, they aren't coming back).
Former cornerback Eddie Davis continues to work at receiver, but while he looked fast on the practice field, Stewart called him out as one of many players who did not know their assignments and plays Wednesday.
I'm very high on Ryan Clarke. The big, bruising runner steamrolled defensive back Darwin Cook at one point. No surprise, since Cook was yielding about 45 pounds in that matchup.
Stewart said he's happy with the left side of his line (Don Barclay and Josh Jenkins) and center Joe Madsen. But he wants to see much more improvement from the right side, where Eric Jobe is at guard and Matt Timmerman is at tackle.
The oddest sight during practice occurred in the end zone, where a couple of players apparently being punished had to slam a giant tire with a sledgehammer repeatedly. Reminded me of something out of "The World's Strongest Man" competitions. But it provided a good drum beat for practice.
Most discombobulating sight: Starks wearing No. 5 (Pat White's old jersey number) and Devine sporting No. 10 (Steve Slaton's former digits) in their green non-contact shirts.
Knee-jerk reaction of questionable merit: Hard to make a solid judgment on this team with so many important players out. But you'd think the Mountaineers would be a little sharper just because of all the returning starters who are back. It's still early in the spring for them, and there's plenty of time to turn things up. This team is too talented and experienced not to be a major factor in the Big East race.