NCF Nation:

What-to-watch-090910
September, 9, 2010
9/09/10
10:51
AM ET
We're off and running in the SEC, and there's already been plenty of drama.
Georgia receiver
A.J. Green
will miss the next three games because of an NCAA-mandated suspension for selling one of his jerseys. Ole Miss is still trying to figure out how it lost to an FCS team in the opener, and Les Miles' heart is probably still beating fast after LSU tried to give one away to a depleted North Carolina team in the Chick-fil-A Kickoff Game.
Three conference matchups highlight Week 2 as we take a look at what to watch in the SEC:
1. Alabama's home dominance:
The Crimson Tide, who entertain No. 18 Penn State on Saturday at Bryant-Denny Stadium, have won 15 games in a row overall. They haven't lost at home since Nick Saban's first season in Tuscaloosa, an embarrassing 21-14 loss to Louisiana-Monroe. Since that meltdown, they've won 15 in a row at home. And in those 15 games, they've given up more than 15 points only once, a 24-20 win over Ole Miss during the 2008 season. Ten times during their 15-game home winning streak, they've held teams to a touchdown or fewer. In fact, in their last seven home outings, they've only allowed a total of three touchdowns.
2. Clanging in Starkville:
The cowbells will be out in force as college football's national spotlight shines down Thursday night on Scott Field. Will the Mississippi State fans play by the rules and refrain from ringing them when Auburn has the ball? Stay tuned. More importantly, is Mississippi State ready to take that next step and win a game that would set off a different set of bells across the league, that the Bulldogs mean business this season in the Western Division race. Coach Dan Mullen likes the way his team has prepared during the short week. Keep an eye on Mississippi State defensive end Pernell McPhee and Auburn offensive tackle Lee Ziemba when they line up against each other, which should be often. That's a battle that will be worth watching unto itself.
[+] Enlarge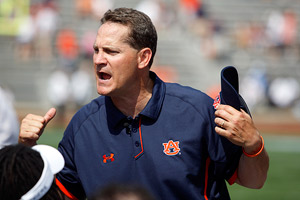 John Reed/US PresswireGene Chizik knows his team will have to turn it up a notch when it plays Mississippi State Thursday night.
3. Defending the 'D':
The statistics last week weren't overly impressive for Auburn's defense, especially the way Arkansas State moved the ball with its short passing game on the way to 323 passing yards. But coach Gene Chizik said it wasn't all bad on defense, either, for the Tigers in their 52-26 season-opening win. They had four sacks and limited Arkansas State to just 43 yards rushing. Auburn was pretty conservative, too, and stayed in its base defense for much of the game. That's sure to change Thursday against Mississippi State, and Chizik said there's no question that the Tigers need to be better all the way around defensively, especially when it comes to defending the pass and creating turnovers. The Tigers didn't force any turnovers in the opener. It also looks like they will be without suspended starting linebacker Craig Stevens for a second straight game.
4. Making a run on the Bayou:
After seeing LSU's near-collapse in Atlanta last week, it's hard to fathom that this team will play with enough consistency to make a run. The Tigers did everything they could possibly do to lose the game in the fourth quarter to an outmanned North Carolina team, but managed to hang on. Maybe their bad quarter is out of the way. Maybe Miles will see to it that his playmakers get the ball. The bottom line is that this team is talented enough to reel off several wins in a row, and the schedule's not that bad over the next month. After a trip to Vanderbilt this Saturday, LSU gets three straight games at home against Mississippi State, West Virginia and Tennessee. Is it too farfetched to think the Tigers could be 5-0 going into that Florida game on Oct. 9?
5. Covering for Green:
Georgia made out just fine without Green last week, but that was against Louisiana-Lafayette. You can bet Ellis Johnson, South Carolina's assistant head coach for the defense, will crowd the line of scrimmage even more with Green out of the lineup this Saturday. The Bulldogs will be looking to loosen up that defense by hitting a few big plays early. Senior
Kris Durham
is off to a nice start, and sophomore
Tavarres King
is back after being suspended for the opener. The Bulldogs would love for this to be sophomore Marlon Brown's coming-out party, while sophomore
Rantavious Wooten
has all sorts of speed. He just needs to prove he can consistently catch the ball. Junior
Logan Gray
has adjusted quickly to the receiver position, and maybe the Bulldogs try to get a few plays from cornerback Branden Smith on offense again. Tight end
Orson Charles
is another guy who could loom large in this game with his ability to create mismatches.
6. Urgent undertaking:
Florida coach Urban Meyer says there has been a sense of urgency this week in practice. Sometimes a team needs a dose of reality to hit it squarely in the face before it can reach its potential. There's no way the Gators are as bad as they looked on offense last week. They had 25 total yards at the end of three quarters, and it was debatable at that point if they were going to have more first downs or more fumbles. There were encouraging signs of life in the fourth quarter, but a better test will come Saturday against South Florida. It's unfair to say that it was one or two things holding the Gators down, although a few more plays by the receivers would help everybody. They're getting Frankie Hammond Jr. back from suspension this week, and do we finally get a look at
Andre Debose
?
7. Keeping it close:
Tennessee is a two-touchdown underdog at home, which is unheard of at Neyland Stadium. Oregon has downplayed the effect the crowd will have, but what Tennessee has to do is make the crowd a factor, which means getting this game into the fourth quarter. The Vols may also have a secret weapon in first-year defensive coordinator Justin Wilcox, whose defense at Boise State shut down Oregon's spread offense last season in a 19-8 win that saw the Ducks manage just 152 yards of total offense. Wilcox warns, though, that he's not a magician and that the key to stopping any spread is making one-on-one tackles in space and being disciplined in your assignments.
8. Picking up the pieces:
The sting of the loss to Jacksonville State in the opener is going to linger, even if Ole Miss goes on a mini-winning streak. And, really, the Rebels should go on a mini-winning streak when you look at their upcoming schedule. They travel to Tulane this weekend and then have Vanderbilt, Fresno State and Kentucky all at home before getting a bye week. The problem is that wins over any of those teams aren't going to cancel out that loss to Jacksonville State in the minds of the fans. They're games the Ole Miss fans will expect them to win. And if they lose one of these next couple … we won't even go there. This is where we find out how strong this team is mentally, because the best thing the Rebels can do is keep their head down, do what it takes to win football games and not worry about anything on the periphery.
9. Adams the TD man
: Arkansas junior receiver
Joe Adams
is a touchdown machine, and he's only going to get better at finding the end zone. The Hogs are loaded at the receiver position, but coaches around the league fear Adams as much or more as any of them. He had two more touchdown catches in the opener against Tennessee Tech, averaging 23 yards on six catches. One of his touchdowns was an 85-yarder. The thing that makes Adams such a tough cover for defenses is that he's electric after the catch. He's now scored a touchdown in eight of the last 11 games in which he's played and has scored a total of 10 touchdowns in those 11 games. He's returning punts this season, too, so he'll also get his chances in the return game.
10. Going for the throat:
Several of the LSU players felt last week they had North Carolina by the throat and eased up in the second half, whether it was going away from their playmakers on offense, trying to get some of their younger guys in on defense or simply stumbling over themselves with turnovers and touchdown-nullifying penalties. The running game showed some flashes, which was encouraging. But sophomore receivers
Russell Shepard
and
Rueben Randle
still need more touches. They combined for five touches after the half against the Tar Heels. That's after touching it a combined seven times in the first half and producing three touchdowns.
September, 9, 2010
9/09/10
10:23
AM ET
Ten issues to consider heading into the second week of games.
1.
UCLA's run defense needs to bounce back
: UCLA surrendered 313 yards rushing at Kansas State, including 234 yards on 28 carries to
Daniel Thomas
. Thomas is a quality back, but that's pretty freaking porous. While Stanford visits the Rose Bowl on Saturday without Toby Gerhart, the Cardinal offensive line is more talented than the Kansas State crew. If the Bruins front seven doesn't buck up, Stanford will use a its new backfield-by-committee to run over them. While
Andrew Luck
is the star, Jim Harbaugh would be perfectly content to run it 40 times. And, of course, if the Bruins can't stop the run, their obsession with it will provide plenty of big downfield opportunities for Luck.
2.
Jake Locker and the Washington offense need to play better at home
: Washington scored just 17 points and got shut out in the second half at BYU. Twice in the second half, drives deep in Cougars territory ended after failed fourth-down conversion attempts. Locker's numbers weren't bad, but no player shoulders more responsibility for his team's success as he does. The fifth-year senior who spent much of the summer being touted as a Heisman Trophy candidate when pundits weren't talking about his NFL prospects. Syracuse won't be a push-over on defense -- 10 starters are back from 2009. But Washington plays better in Husky Stadium, and the guess here is Locker and his supporting cast on offense will be far sharper.
[+] Enlarge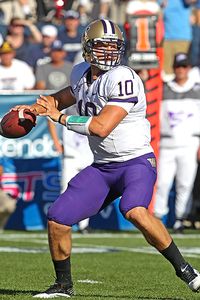 AP Photo/George FreyExpect Jake Locker and the Washington offense to be more sharp against Syracuse than it was against BYU.
3.
Does Oregon QB Darron Thomas start fast or get rattled
? Thomas' first career road start will be in Tennessee's Neyland Stadium, which means there will be 105,000 or so orange-clad fans riding his case. There's no way to know how a young man will react to that. He might come out smooth and poised and lead a dominant offensive effort by distributing the ball to all of his weapons. Or he might make an early mistake or two and get rattled and down on himself. Just as Autzen Stadium gives the Ducks a big advantage, so does Neyland do the same for the Volunteers.
4.
Did USC's defense just have a bad day at Hawaii
? It's possible that USC just had a bad night at Hawaii, that the poor tackling and flat effort weren't indicative of the capabilities of a seemingly talented crew. It's possible that Monte Kiffin and Ed Orgeron will correct mental and physical mistakes, make a few personnel decisions, and USC will show Virginia that it's back to its stingy ways. But there's also enough available evidence now -- see terrible performances vs. Oregon and Stanford in 2009 -- to support the notion that the Trojans' defense has lost its swagger and isn't actually as talented as its recruiting rankings suggest. Virginia shouldn't be able to keep up with USC on Saturday. But if the same defense from Hawaii shows up, the Cavaliers will do just that.
5.
Cal's Kevin Riley completes 60 percent of his passes
: Riley owns a career 54 percent completion rate. Accuracy has long been his bugaboo. Of course, he also hasn't benefited from great receivers during his tenure. Last weekend, he completed 70 percent -- 14 of 20 -- of his throws, though it's worth noting that UC Davis is an FCS team. What was most notable, however, were the impressive performances by his receivers, particularly true freshman
Keenan Allen
. There was a reasonable theory in the preseason that Riley would breakthrough as a senior, because that's when the light goes on for many QBs. It will be a lot easier with a dangerous group of playmakers at receiver, guys who can go and get the ball -- even when it's not perfectly thrown -- and boost a completion percentage. Colorado is strong at cornerback, so it will offer a good test as to whether Riley and his receivers are truly in sync and ready for Pac-10 play.
6.
Washington State buries Montana State from the get-go
: It's fairly simple. Washington State needs to go out and whip Montana State. It needs to start quickly, establish dominance and allow its fans to feel good about the program. The Bobcats are a quality FCS team, but the Cougars should have restocked their talent enough in year three with coach Paul Wulff to take them to the woodshed. Jumping to a big lead will boost the confidence in the locker room. Struggling and playing a tight game into the fourth quarter won't. Losing? Let's not even go there.
7.
Arizona's rebuilt defense posts another dominant performance
: The Wildcats defense was surprisingly stout at Toledo, a team that piled up big numbers on offense in 2009. Things should be even easier on Saturday against The Citadel in front of the home crowd. Still, another game of experience is another game of experience, no matter the quality of the opponent, and smoothing out any wrinkles will be valuable leading into the Sept. 18 visit from Iowa. Arizona needs to jump on The Citadel hard and then get its starters to the bench early in the third quarter.
8.
Arizona State QB Steven Threet is cool, efficient vs. Northern Arizona
: Threet played well in the opener vs. Portland State, and the Sun Devils offense as a whole looks substantially more skilled than the anemic unit from 2009. Threet and his mates need to duplicate that performance in another "preseason" game vs. an FCS program. The idea is to be as confident as possible before heading to Wisconsin on Sept. 18. It also would be nice to get all the starters on the bench as soon as possible so they will be rested and healthy.
9.
Andrew Luck vs. Rahim Moore
: If UCLA's run defense proves stout, that means Stanford will have to throw. And that means a showdown between these two All-American talents. Luck has uncanny downfield accuracy. That's one of the big reasons NFL scouts love him. Moore led the nation with 10 interceptions a year ago, so his ball skills qualify as uncanny, too. Will Luck be able to beat Moore and the Bruins over the top? Or will Moore bait Luck into an ill-advised throw that could be a game-changer?
10.
Will Tennessee be able to run against Oregon
? If the Vols can't run vs. Oregon, the Ducks are going to deliver a butt-kicking. No way Matt Sims, a junior JC transfer, will be able to pass them to victory. But Tennessee rolled up 332 yards rushing in its opener -- albeit vs. Tennessee-Martin -- and its got a strong stable of running backs, topped by
Tauren Poole
, and a big, talented, if inexperienced, offensive line. The Ducks defense is as fast as they come, but it also is undersized. If the Vols power-running game is consistently effective, then Oregon will be in for a highly competitive test.
September, 9, 2010
9/09/10
10:22
AM ET
1. Big Three or Big Four:
South Florida made its case for inclusion into its state's Big Boys club last year by winning at Florida State. But it's a whole new level going against Florida, which has been the dominant team in the Sunshine State and arguably the best in the nation for the past five years. A victory would definitely lift the Bulls' profile even higher. But Urban Meyer is 9-0 versus other Florida schools during his tenure in Gainesville.
2. Can the Bulls score?
USF hung 59 on Stony Brook, while the Gators' offense stalled for most of the day against Miami (Ohio). But Florida's defense is relentless, and the Bulls are still mostly young and inexperienced at running back and receiver. Can
B.J. Daniels
lead his team to scoring opportunities and put pressure on
John Brantley
and the Gators offense to respond? If not, it could be a long day.
[+] Enlarge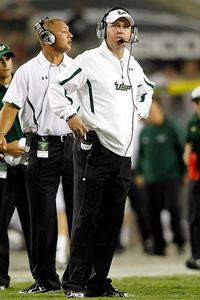 J. Meric/Getty ImagesOne of Skip Holtz's stated goals is to beat Florida.
3. Speed vs. speed:
South Florida is always lauded inside the Big East for having speed. There might not be a program in the country with more speed than Florida. It will be interesting to compare the pace between the two schools. Remember the last time Florida faced a Big East team that was supposedly fast? It ran Cincinnati out of the building in the Sugar Bowl.
4. Can Syracuse hurt Locker?
Syracuse is looking for its first 2-0 start since 1999 (that is not a misprint). To do so, the Orange will have to fly across country ... and fly into the backfield to slow down Washington star quarterback
Jake Locker
. The blitz-happy defense is capable of doing that -- remember the hurt it put on
Tom Savage
last year? -- and the secondary is looking strong. But it will also have to contain Locker's running ability to keep the game within reach.
5. Friends of Coal Bowl:
Some people say it's a rivalry. Others say that one side has to, you know, actually win a game before it's a rivalry. Either way, the entire state of West Virginia will be paying attention to the Friends of Coal Bowl on Friday night, as West Virginia travels to Marshall. Longtime Mountaineers assistant Doc Holliday coaches the Thundering Herd and will have all the inside scoop on his former players. But he doesn't have a roster that's nearly as talented. West Virginia needs a good showing to build some momentum going into its next two games: Maryland and at LSU.
6. Rutgers' offensive improvement:
It took more than a half for Rutgers to score its first touchdown of the season against Norfolk State. While that game was never in doubt, a repeat performance could cause some problems this week on the road at Florida International. Former Greg Schiano assistant Mario Cristobal knows the Scarlet Knights well, while FIU brings some unknowns to the game since it did not play in Week 1. Look for Savage to get off to a better start than he did in the opener, and watch for how Rutgers' offensive line has or hasn't improved after one game together.
7. Cincinnati's adjustments:
Sure, it's only Indiana State. There's probably not a program in the FBS that would lose to the Sycamores. Still, the Bearcats looked awful during the second half at Fresno State and had major problems exposed on the offensive line. Look to see what personnel changes or adjustments Butch Jones makes there. And watch for
Zach Collaros
& Co. to work out some frustrations against an outmanned opponent.
8. Pitt's bounce-back:
The Panthers' FCS opponent isn't as easy this week. New Hampshire has beaten Ball State, Northwestern, Army and Marshall since 2006, was the only team to beat Villanova last year and is ranked in the top 5 of its division. At home, though, Pitt should take care of business. It should be a bounce-back game for
Dion Lewis
and the defense, while
Tino Sunseri
could use Saturday to gain confidence before the next game against Miami.
9. Connecticut's timing:
We're not going to learn much more this week about UConn's toughness in the trenches, which was a problem against Michigan. The Huskies will overpower Texas Southern without too much trouble. One thing we can find out is if
Zach Frazer
and the passing game have improved their timing. The offense was marred by drops and inaccurate throws against the Wolverines. This week should offer an opportunity to get back on track, and maybe locate a true No. 1 receiver -- if there is one.
10. Charlie Strong's first win:
OK, I'm jumping the gun by already calling this week's game for Louisville, but if the Cardinals can't beat FCS foe Eastern Kentucky, then it's going to be a long year. This should be a chance to celebrate Strong's first victory as a head coach and to work out some kinks with a tough road game at Oregon State looming.
September, 9, 2010
9/09/10
10:21
AM ET
Ten items to track in a jam-packed Week 2 in the Big Ten.
1. Pryor vs. Harris:
Two Heisman Trophy contenders will share the field in Columbus as Ohio State quarterback
Terrelle Pryor
goes up against his Miami counterpart
Jacory Harris
. Both Pryor and Harris looked good in their debuts a week ago, but the heat will be turned up at Ohio Stadium
(ESPN, 3:40 p.m. ET)
. Pryor likely will have to mix in the run more against an athletic Miami defense while still spreading the ball to multiple targets as he has in his last two games. Harris really struggled against a Big Ten defense (Wisconsin) in the Champs Sports Bowl. He'll need a much better performance against an opportunistic Buckeyes defense that recorded a pick-six last week.
2. Bolden vs. rising Tide:
Rob Bolden
made history last week when he became the first true freshman quarterback to start the season opener for Penn State in a century. Bolden now tries to shock the world and lead No. 18 Penn State to an upset road win against top-ranked Alabama
(ESPN, 7 p.m. ET)
. His presence adds a fresh twist (pun intended) to a matchup pairing two traditional powerhouses. The 6-4, 208-pound Bolden showed good poise and made strong decisions at Youngstown State, but he'll likely fall victim to some mistakes in Tuscaloosa. How he responds could determine Penn State's chances against the Tide.
[+] Enlarge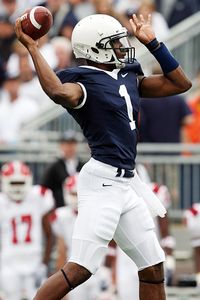 Rob Christy/US PresswireTrue freshman Rob Bolden completed 20 of 29 passes for 239 yards, a touchdown and an interception in Week 1, but he'll face a much stiffer test at No. 1 Alabama.
3. Shoelace fits in South Bend:
Denard Robinson
delivered in a big way in his first career start, rushing for 197 yards and adding 186 pass yards against Connecticut. The Michigan sophomore quarterback aims for an encore Saturday against a Notre Dame defense that did a nice job holding Purdue in check. Robinson's speed will test Manti Te'o and the Irish linebackers, but his ability to make accurate throws and good decisions in the passing game could be the difference. The two teams combined for 72 points last year, and
Tate Forcier
ended up as the hero for Michigan. If the man nicknamed "Shoelace" unties the Irish defense, Michigan will be 2-0 and likely ranked in next week's polls.
4. Cyclone warning:
Iowa defensive end Adrian Clayborn didn't mean to dis Iowa State with
his "only team in the state" comment
this summer, but the Cyclones certainly are using his words as motivation as they head to Kinnick Stadium on Saturday
(ABC, 3:30 p.m. ET)
. Clayborn has his own motivation after Iowa's D-line
looked "like a bunch of tired dogs" last year
against the Cyclones. Iowa State has made strides since the 2009 meeting, and
Alexander Robinson
is the first of several outstanding running backs the Hawkeyes will face this fall. Iowa should prevail Saturday, but this series hasn't been easy for Kirk Ferentz's crew. Should be interesting to watch.
5. Backs in action:
Michigan State and Iowa had no trouble running the ball in Week 1, and both teams get a boost Saturday.
Jewel Hampton
returns to the Hawkeyes backfield for the first time since 2008 after missing all of last season with a knee injury and then serving a suspension last week.
Adam Robinson
made a good case to be the starter in the opener (109 rush yards, 3 TDs), but Hampton will push him for carries after an excellent preseason. Projected starter
Larry Caper
is back for the Spartans after missing the opener with a hand injury. He'll share time with sophomore
Edwin Baker
and freshman
Le'Veon Bell
, who combined for 258 rush yards and four touchdowns last week.
6. Must-win for Illini:
Sure, it's only Week 2, but Illinois can't afford an 0-2 start with upcoming games against Ohio State, Penn State and Michigan State, not to mention a Sept. 18 date with a Northern Illinois team picked to win the MAC West. Vic Koenning's defense is down another starter -- suspended end/linebacker Michael Buchanan -- and faces a Southern Illinois team that put up 70 points last week. The bigger story is on offense, where quarterback
Nathan Scheelhaase
tries to rebound from a four-turnover performance in his collegiate debut. Illinois is 11-0 all-time against other public schools in the state, although SIU typically is one of the stronger FCS programs.
7. Cleaning up at Camp Randall:
Wisconsin had a pretty convincing win in its opener against UNLV, but the Badgers are looking for a much cleaner performance Saturday against San Jose State at Camp Randall Stadium
(ESPN, noon ET)
. Two Wisconsin turnovers last week led two UNLV touchdowns, and both miscues came from veteran players (quarterback
Scott Tolzien
and receiver
Nick Toon
). Wisconsin should win this game easily, but it faces a pretty stout defense next week in Arizona State and needs to work out the kinks on offense.
8. Big Ten feel in Evanston:
Northwestern will see quite a few familiar faces Saturday against Illinois State. The Redbirds are coached by former longtime Purdue defensive coordinator Brock Spack, and their roster features eight former Big Ten players, including former Michigan State running back
Ashton Leggett
. Spack knows how to defend Northwestern's offense, which had its ups and downs in the opener. Northwestern coach Pat Fitzgerald says the run game isn't far away from catching fire, but he might be tempted to air it out with quarterback
Dan Persa
, who completed 19 of 21 attempts for 222 yards and three touchdowns last week.
9. Marve, Weber take aim:
Quarterbacks
Robert Marve
(Purdue) and
Adam Weber
(Minnesota) both did some good things in Week 1, but they're looking for more on Saturday. Marve completed 31 of 42 passes against Notre Dame but struggled to stretch the field. Expect him to take some shots against Western Illinois. Weber came up big in the fourth quarter at Middle Tennessee, but he's still looking for a go-to receiver. He takes on a South Dakota team that allowed 241 pass yards and two touchdowns last week against Central Florida.
10. JoePa and The Bear:
If you love college football history, tune into the Penn State-Alabama game. Joe Paterno heads to Tuscaloosa for the first time since setting the all-time coaching wins record previously held by former Alabama coach Paul "Bear" Bryant. Paterno declined to discuss his relationship with Bryant this week, preferring to focus on the game, but their past is well documented. Alabama and Penn State have had several unforgettable games, like the 1979 Sugar Bowl, which decided the national title. Alabama won the game following a goal-line stand and a touchdown-saving tackle by All-America cornerback Don McNeal on Penn State's Scott Fitzkee. Turns out, McNeal is the great uncle to Rob Bolden. Small world.
September, 9, 2010
9/09/10
10:20
AM ET
Here's what my eyes will be on when Week 2 kicks off on Saturday:
1. Strap 'em up or lay down.
Kansas has kept it positive this week after the embarrassing debut in Week 1, but how will that translate on the field? Kansas doesn't have to beat Georgia Tech, but they have to keep it respectable. Turner Gill can't transfer that positivity to the fan base and prove his team has made progress if the Jayhawks get rolled 41-3, but he might if they lose 28-20.
2. Encore? Encore. Encore!
Nebraska's starting quarterback
Taylor Martinez
made it very clear what he's capable of after accounting for 263 yards of offense in his first game. Can he keep it rolling against tougher competition in Idaho this week and only tougher competition as the season progresses?
3. A coverage sack would be a good sign.
Oklahoma's secondary troubles in a win over Utah State took focus with a weekend showdown against one of the best quarterbacks in the country,
Christian Ponder
, fast approaching. Coach Bob Stoops told me on Wednesday he feels fine, confident the secondary misplayed a few balls and they'll show him the form that earned them those starting spots this week. Look for more on this tomorrow.
4. Can somebody run away with this?
You've probably heard this by now, but the Big 12 has the nation's top three rushers after Oklahoma State's
Kendall Hunter
, Kansas State's
Daniel Thomas
and Oklahoma's
DeMarco Murray
all topped 200 yards in Week 1. Which running back validates his performance with the strongest performance in Week 2?
5. Picking up good vibrations.
Colorado has to do more than check out their new digs this weekend in Berkeley. Part of me wants to buy what the Buffs are selling this time around, but many a Boulder believer has had their trust broken in recent years. That might change if his team can earn its third road win in over four seasons.
6. Gut check time up north.
Iowa State looked pretty good in its opener against Northern Illinois. At the very least, a dramatic, close loss might show signs that this beast of a schedule may not end up eating the Cyclones alive after all. Utah in Ames is a winnable game, and there's a chance the Cyclones could be 4-2 with a win in that game. We'll have a better idea after Saturday. The Hawkeyes are for real. Perhaps the Big Tennest of all the Big (11) Ten teams.
7. Let's try this again.
Simple, but meaningful question for the Longhorns: You're more physically impressive than Wyoming. Can you dominate them on the line of scrimmage on offense? If they're given trouble in the running game by teams like Rice and Wyoming, that's a bad sign for dates with Oklahoma and Nebraska next month, not to mention Texas Tech next week. Texas didn't look the part against Rice, but they'll get a chance to show some improvement in their home opener.
8. Where have all the QBs gone?
Taylor Potts
and
Jerrod Johnson
are the only Big 12 quarterbacks in the national top 15 in passing yards after Week 1. They, along with Missouri's
Blaine Gabbert
, will get a chance to move up this week in glorified practice games against New Mexico, Louisiana Tech and McNeese State, respectively. Louisiana Tech, however, did play LSU and Boise State close on the road in 2009, but were blown out by Auburn and Navy.
9. Prove you're one of us.
Here's the thing about Big 12 teams: they don't mess around with teams like Buffalo. A respectable MAC team, yes, but not a team that requires any kind of fourth-quarter dramatics to beat. Can Baylor put them out of the game in the second half? Baylor's Big 12 doubters will feel a bit better about the Bears bowl chances if they do to Buffalo what they did to Sam Houston State last week: Get up early, stay up late. Baylor beat the Bulls 34-21 in 2007, but that was in the time period of B.R.G.3.
10. Blackshirts need to be scarier.
It's not a good sign when the quarterback throws the most impressive set of bones in the season opener. Bo Pelini wasn't happy with his defense's work in Week 1, but Idaho comes to Lincoln after throwing for 399 yards and running for another 148 last week against North Dakota. Sure, it was North Dakota, but Idaho has talent. You can't win eight games in any league without it. Shutting the Vandals down like Nebraska did all last season to almost everyone will make Pelini a happy man on Saturday night.
September, 9, 2010
9/09/10
10:19
AM ET
It's a big week for the ACC, so there's plenty to keep an eye on. As the title indicated, here's what to watch in Week 2:
1. Florida State and Miami's rise -- or fall.
This is it. The weekend that determines which one -- if either -- of the two former powers are ready to make a statement on the national level. The Seminoles have a chance at Oklahoma and Miami takes on No. 2 Ohio State. Both are road trips. If either or both of these teams lose, the buzz around the ACC will disappear faster than Greg Reid on a punt return.
[+] Enlarge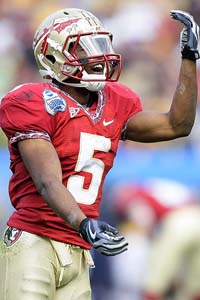 Josh D. Weiss/US PresswireGreg Reid returned a punt 74 yards for a TD against Samford.
2. Florida State cornerback Greg Reid.
Samford did its best not to punt to Reid (smart move), but couldn't avoid him the entire game. He fielded one punt, and that's all he needed to score. With 8:17 remaining in the second quarter, Reid took a punt back for a 74-yard touchdown.
3. Georgia Tech's pass defense.
Much has been made of the transition up front to a 3-4 defense, but the Jackets' secondary will be tested. Eight different Kansas receivers caught passes against North Dakota State, including
Johnathan Wilson
, who had six receptions.
4. How good is Tajh Boyd?
FCS school Presbyterian has lost 15 consecutive games, so
Kyle Parker
could spend the second half of this game across the street in Kingsmore Stadium taking batting practice in preparation for his Colorado Rockies assignment next spring. Boyd should get plenty of playing time in this one.
5. Boston College quarterback Dave Shinskie.
He threw two interceptions last weekend against Weber State and his job is in question heading into Kent State. Can he perform well enough to keep it, or will Frank Spaziani give
Mike Marscovetra
the reins?
6. Virginia's offense vs. USC's defense.
Nine different UVA receivers caught passes against Richmond,
Marc Verica
threw for a career-high 283 yards, and the Cavaliers rushed for another 205. UVA rushed for over 100 yards just four times last year. Meanwhile, USC's defense allowed almost 600 total yards to Hawaii.
7. Defenses in Winston-Salem.
Both Duke and Wake Forest were successful in Week 1 under first-year starting quarterbacks, which indicates their offenses are in good hands. Whoever makes the stops in the first conference game will come out on top.
8. Virginia Tech receiver Jarrett Boykin.
He's had over 100 yards receiving in four of his last five games and needs 81 more to climb into eighth place in career receiving yards at Virginia Tech.
9. NC State receiver T.J. Graham.
Heading into the season, Graham had just one touchdown reception for his career. After one quarter last weekend, he had three. Graham scored on 26- and 25-yard passes from
Russell Wilson
, gaining a career-high 96 yards on a career-high six receptions. He also had a 50-yard kickoff return.
10. Maryland's passing game.
The Terps threw the ball just five times against Navy, and coach Ralph Friedgen said it's possible all three of his quarterbacks could play against Morgan State. Maryland has a deep, fast, talented group of wide receivers -- too good to be ignored.
September, 9, 2010
9/09/10
10:15
AM ET
What to watch from Notre Dame in Saturday's rivalry game against Michigan in South Bend:
1. Defending Denard:
Without a doubt, the No. 1 story going into this game is whether Notre Dame will be able to contain Michigan's electric sophomore quarterback,
Denard Robinson
. Against Connecticut, ran in his untied shoes for a school record 197 yards while completing 19 of 22 passes for 186 yards. The Irish defense looked improved against Purdue, but it did have some trouble whenever the Boilermakers moved their quarterbacks around. Bob Diaco won't be throwing jailhouse-break blitzes at the Wolverines like Jon Tenuta did last year when
Tate Forcier
ran wild. If the Irish can simply slow down Robinson a bit, that will put pressure on Michigan's running backs and receivers to make more plays. Notre Dame can live with that outcome.
2. Reins off Dayne?
Brian Kelly clearly eased quarterback
Dayne Crist
into things last week, keeping things simple for the most part against Purdue's zone coverages. The Irish ran it 10 times more than they passed it and rarely looked deep. With Michigan's secondary suffering from injuries, transfers and inexperience, opportunity should be there for Notre Dame to exploit it in the passing game. UConn had opportunities but mostly shot itself in the foot with dropped balls and bad throws.
Michael Floyd
had a huge game against Michigan last year and could do it again if Crist is given the green light to let it fly.
3. In the trenches:
Notre Dame's offensive line did a good job protecting Crist and opening running lanes against Purdue. They will have a tougher test against Michigan. On the other side, Robinson wasn't creating those holes to run through; his line pushed the smaller Huskies out of the way. The Irish front showed toughness and surprising depth in Week 1, but again, the challenge is raised this week. These may be two spread offenses, but a Michigan-Notre Dame game is always going to be decided in the trenches.
September, 9, 2010
9/09/10
10:15
AM ET
Week 2 is almost here! With that, here are 10 storylines to watch among the non-AQ teams:
1. Can Air Force put pressure on BYU's two quarterbacks
? Part of the reason
Riley Nelson
and
Jake Heaps
were so successful last week against Washington was because their offensive line protected them so well, giving up no sacks. Air Force has experience up front, led by defensive end Rick Ricketts. If they can get to the young quarterbacks, the Falcons have a shot of breaking their six-game losing streak to BYU.
2. How does Wyoming handle the tragedy of this week against Texas
? The Cowboys were facing a hard enough game as it was, but now they go into Austin after the tragic death of a teammate. Ruben Narcisse was killed in a car accident and three players were injured. The team has tried to maintain its normal routine, but coach Dave Christensen has no idea what to expect at kickoff. They will wear decals on their helmets with Narcisse's initials.
[+] Enlarge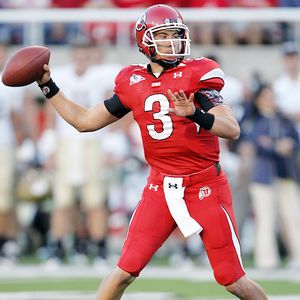 Paul Jasienski/US PresswireJordan Wynn's status for Saturday's remains uncertain.
3. Does Utah quarterback Jordan Wynn play against UNLV
? Wynn is listed as day to day with a sprained thumb on his throwing hand and could be a game-time decision for the Utes. He got hurt early in the opener last week against Pittsburgh but still threw for 283 yards. Backup
Terrance Cain
is capable, having started the first eight games of last season. Cain had a good day against UNLV last season, going 17-of-24 for 174 yards with two touchdown passes.
4. Can Tulane pull a Jacksonville State
? Ole Miss is going to go into its game against Tulane looking to make up for an embarrassing home loss to Jacksonville State last week. Tulane was one of the worst teams in Conference USA last season and was not overly impressive in its opener. Southeastern Louisiana had more total yards (266-252) and more first downs (17-15) and Tulane had three turnovers but still won. Chances for an upset are unlikely, but hey, there is always Jacksonville State for inspiration.
5. How is New Mexico going to respond after losing 72-0 to Oregon last week
? Coach Mike Locksley said his team isn't dwelling on the terrible loss in which New Mexico gave up 720 yards of total offense and had five turnovers. But it's not as if the Lobos get a break this week with a high-powered passing offense in Texas Tech coming to town.
6. Hawaii has a mighty looooong road trip
. Hawaii is playing in the Eastern time zone for just the sixth time when it faces Army on Saturday. How will the Warriors respond when the game kicks off at 6 a.m. Hawaii time? The Warriors have been on the mainland since Wednesday to get used to the time change. Though they gave USC fits last week, Army can run the ball, and Hawaii had a hard time slowing down the ground game against the Trojans. But will Army slow down a passing attack that will have
Bryant Moniz
behind center?
7. Will UTEP RB Donald Buckram play against Houston
? Buckram missed the season opener against Arkansas Pine-Bluff after bruising his knee in practice, and coach Mike Price doesn't know whether his starting running back will be available this week. Without him last week, UTEP used
Joe Banyard
and
Vernon Frazier
, who combined for 183 yards rushing. Buckram gashed Houston for 262 yards rushing last year in the upset win.
8. Can Colorado State beat Nevada for the second straight year
? The last time the Rams won a game was nearly a year ago, against Nevada last Sept. 19. They were able to slow down Nevada quarterback
Colin Kaepernick
, holding him to 24 yards on the ground, and forcing him into three turnovers. But this year, they go to Reno with freshman starting quarterback
Pete Thomas
. The Wolf Pack are improved, but it's unclear whether the Rams are after losing to Colorado last week.
9. Can Eastern Michigan win a road game
? The Eagles go to Miami (Ohio) this week looking for their first road win since Oct. 4, 2008, a 24-21 win at Bowling Green. They played a good game against Army, losing with 38 seconds to play. Running back
Dwayne Priest
and quarterback
Alex Gillett
both ran for more than 100 yards, the first time two Eagles backs went over 100 yards since 2005. Miami played it very close to the Gators last week and presents a more balanced attack than Army.
10. Are we in store for another close game between Arkansas State and Louisiana
? This is the first conference matchup in the Sun Belt between teams that have played it pretty close the past few years. Eight of the last 10 meetings have been decided by six points or fewer, including the last two. Last year, Arkansas State rallied to within three after trailing 21-3, but ended up losing in the final minutes. The Red Wolves haven't won at Louisiana in 18 years, but their new offense put up 26 points last week against Auburn, their second-highest point total against a Top-25 opponent since 2002.