NCF Nation:

what to watch 091312
September, 13, 2012
9/13/12
10:15
AM ET
Here is a look at the top storylines in the ACC heading into Week 3.
1. ACC division showdown.
Wake Forest travels to Florida State while Virginia travels to Georgia Tech in two critical ACC showdowns. The Demon Deacons beat Florida State last season, so you can bet the Seminoles will not be looking past Wake to their game next week against Clemson. Virginia also beat Georgia Tech last season behind a great defensive performance, so the Yellow Jackets are looking for some revenge while trying to avoid an 0-2 start in league play.
2. Upset alert?
Though Wake Forest has won four of its past six against Florida State, the Deacs have not had much success against teams ranked in the top 5. Wake Forest has lost 30 straight against top-5 teams and 47 straight against top-10 teams. Its only victory ever over a top-10 team came on Oct. 26, 1946, when Peahead Walker led the Deacs to a 19-6 win over No. 4 Tennessee. All time, Wake Forest is 1-50 against top-10 teams and 1-31 against top-5 teams.
[+] Enlarge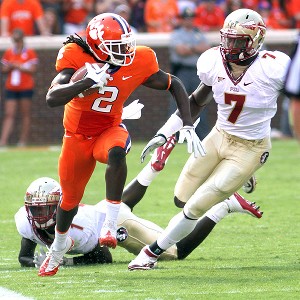 Joshua S. Kelly/US Presswire2011 ACC Rookie of the Year Sammy Watkins is making his 2012 debut this weekend.
3. Welcome back, Sammy.
Clemson has been rolling on offense without 2011 ACC Rookie of the Year
Sammy Watkins
, but now he is back and has to find a rhythm in the offense -- and fast, with Florida State approaching next week. We have already seen
Tajh Boyd
,
Andre Ellington
and
DeAndre Hopkins
do just fine without Watkins. Now the Tigers have to work on integrating him into the offense and spreading the ball around to all of their playmakers without skipping a beat. Funny
anecdote of the week
on this topic: Coach Dabo Swinney addressed Watkins in a team meeting earlier this week and said, "We're 2-0 ... don't mess it up."
4. The Edsall Bowl.
Both Randy Edsall and the UConn players have downplayed the significance of this matchup all week, but you have to think that somewhere deep down, Edsall is going to be feeling something for many of the former players he will be seeing for the first time since he left Storrs -- particularly on defense. UConn starts seven seniors on defense, including several players whose only scholarship offer was from Edsall, who saw their potential and believed in them when nobody else did.
5. Coastal Division sneak preview.
When Virginia Tech plays at Pittsburgh, ACC fans will get an early preview of what will become a yearly contest between the former Big East rivals. Though Pitt has had a rough start to the season, don't think the past history between these teams has been lost on Virginia Tech coach Frank Beamer. Earlier in the week, Beamer rattled off the scores of the past three meetings with Pitt. All of them were Panthers wins. That Pitt three-game winning streak is actually the longest in the series.
6. Is Gio good to go?
North Carolina already faces a tough challenge in playing on the road against No. 19 Louisville. It certainly will help the Tar Heels' cause if running back
Giovani Bernard
is good to go. Bernard sat out last week with a knee injury. He has been able to practice this week, but coach Larry Fedora hasn't really revealed any clues about whether Bernard will play or not. In their meeting last year, Bernard ran for more than 100 yards.
7. Can Rettig keep it up?
Boston College quarterback
Chase Rettig
has looked really comfortable working under new offensive coordinator Doug Martin, and he has gotten some nice play out of receivers
Alex Amidon
and
Spiffy Evans
. Boston College ranks No. 1 in the ACC in passing offense. Can Rettig keep up his production against Northwestern? The Wildcats were involved in a wild game against Syracuse a few weeks ago in which Orange quarterback
Ryan Nassib
threw for more than 400 yards, so there are areas for this BC offense to exploit in the young Northwestern secondary.
8. Bounce-back weeks.
Miami and Duke play FCS opponents this week, and it probably could not come at a better time for both teams. Each suffered disappointing losses on the road last week, so getting a win this week would at least help with some confidence. This may be even more true for the Hurricanes, who face a really tough test for their shaky defense against Georgia Tech next week.
9. No looking ahead.
After playing FCS teams this week, Clemson and Miami have pretty big ACC matchups in Week 4. Clemson travels to Florida State, and Miami travels to Atlanta. Maybe more so than Miami, which is coming off a loss, Clemson has to guard against looking ahead.
"All you've got to do is look at history, and you see where teams that lost their focus end up costing them," Swinney said. "Virginia Tech a couple years ago lost to James Madison, and they went on to win 11 games. Well, that 12th win might have made a difference for them playing in the national championship. We all know about Michigan being fifth in the country and losing to App State. You saw what happened this week at Arkansas. I know that's sometimes a tendency for people to look ahead, but if we do our job as coaches and we have the kind of leadership I think we have on this team, we'll stay focused on the task at hand."
10. NC State improvement.
The Wolfpack are playing an FBS young'un in South Alabama. Not as exciting as some of the other matchups, but important nonetheless for this offensive line playing without
Rob Crisp
. After giving up six sacks a week ago, NC State is going to want to see some major improvement from the line and the run game, which has struggled in the first two weeks.
September, 13, 2012
9/13/12
10:15
AM ET
Here's what to keep an eye on this weekend in the Big East:
1. Rutgers' passing game.
The Scarlet Knights simply need to be more effective passing the football. Quarterback
Gary Nova
has shouldered the blame for his team's passing game, which, despite two inferior opponents, is 111th in the nation so far. USF surrendered 271 passing yards in a victory at Nevada last week, but the Bulls' defense remains several notches above Tulane and Howard.
2. Andre Davis.
Hey, it's not like he didn't ask for the attention. The USF wideout set a school record with 191 yards and two scores last week, and the focus will be on him even more from here on out after
Sterling Griffin
suffered a season-ending torn anterior cruciate ligament.
[+] Enlarge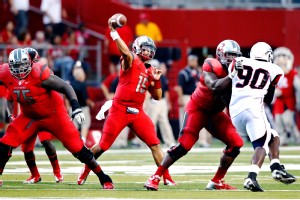 AP Photo/Mel EvansRutgers will be counting on QB Gary Nova to step up in their bowl matchup against Virginia Tech.
3. Can the Big East stick it to the ACC?
Losing both games last weekend to ACC teams was bad enough. Then the ACC took Notre Dame in Wednesday as a partial member. (Yes, we know the Irish were never a Big East football team, but the move is still a score in the other direction.) Three interconference games line this week's schedule, with the highlight being UConn looking for revenge against former coach Randy Edsall and Maryland.
4. What will Pitt do?
The Panthers lost by double digits at home to an FCS school. They were routed in their Big East opener at Cincinnati. This isn't their ACC opener, but it is a contest against a Virginia Tech team that's been as consistently good as any program in the nation. Pitt's offensive linemen will have their work cut out for them against the Hokies' deep defensive line.
5. UConn's offense looks to get on track.
Four turnovers and 239 total yards doomed the Huskies in their home loss to NC State. The No. 1 Big East defense should have enough to stop undermanned Maryland, but eventually UConn will need some playmakers to step up on the other side of the ball.
6. Teddy Bridgewater looks to ride hot streak.
Has there been a more efficient quarterback through two weeks this season than Louisville's? UNC gave up 327 yards to
Tanner Price
last week in a loss at Wake. Bridgewater wasn't great last year in a loss at Chapel Hill, but it was just his second career start.
7. Syracuse looks for a payoff.
It should finally get a win when it hosts FCS Stony Brook this Saturday. And
Ryan Nassib
and Co. will deserve it after as tough a two opening weeks as any team in the country. The Orange need to take advantage everywhere they can on this schedule, where breaks are few and far between.
8. Cincy looks to build off opener.
Are the Bearcats that good or is Pitt that bad? It will be tough to tell when Cincinnati hosts FCS Delaware State, but
Munchie Legaux
will look to improve on his accuracy and keep the Bearcats hot going into their next game against Virginia Tech.
September, 13, 2012
9/13/12
10:15
AM ET
We're heading into Week 3 in the SEC, so here's what to watch:
1. Quarterback health:
The statuses of Arkansas'
Tyler Wilson
and South Carolina's
Connor Shaw
are still unknown. Wilson suffered a head injury against Louisiana-Monroe, while Shaw is still nursing a bruised shoulder from Week 1. For the Gamecocks, losing Shaw for the second straight week won't really hurt South Carolina's offense. It was just fine without him against East Carolina. However, Arkansas isn't in the same position.
Brandon Allen
completed just 6 of 20 passes against Louisiana-Monroe in place of Wilson. Not having Wilson will make Saturday's game against No. 1 Alabama that much tougher for the Razorbacks.
[+] Enlarge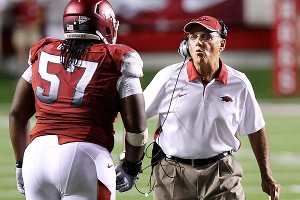 AP Photo/Danny JohnstonCoach John L. Smith and his Razorbacks face a formidable foe in No. 1 Alabama this week.
2. Arkansas' defense:
Speaking of the Razorbacks, what has happened to that defense? It was supposed to be more aggressive and more disciplined under Paul Haynes. We saw neither in the second half against Louisiana-Monroe, as the Razorbacks blew a 21-point lead. The defense was shredded against a lesser opponent and now has to play one of the most balanced attacks in the SEC. Last year, Alabama wore down this defense. If Arkansas is going to pick itself up, it has to play much tougher than it has in the first two games. Alabama has far more talent than Arkansas' first opponents and has the capability to really beat this unit down.
3. Tennessee's passing game vs. Florida's secondary:
This game always comes down to the running game, but the difference this time will be Tennessee's passing game against Florida's secondary. The Gators are loaded with talent back there and made tremendous strides during the second half of the Texas A&M game, while Tennessee might have the best passing game in the SEC, led by quarterback
Tyler Bray
. The matchups between
Justin Hunter
and
Marcus Roberson
and
Cordarrelle Patterson
and
Loucheiz Purifoy
should be great.
Zach Rogers
is another deep threat the Gators have to be careful about, but
Matt Elam
has the ability to take the deep ball away for Florida. Should be fun.
4. Must-wins:
Both Auburn and Vanderbilt are 0-2 and are coming off tough losses. The Commodores blew a halftime lead at Northwestern, while Auburn was overmatched across the board at Mississippi State. The Tigers are struggling with or without the ball this season, and that's a major concern. Quarterback
Kiehl Frazier
has to get going, and he's facing the team that just knocked off Arkansas. Vandy just can't get anything going on offense. The explosion we expected to see has been mostly absent through two games and the Commodores have to generate some sort of offensive momentum this weekend against Presbyterian.
5. Mississippi State keeping its edge:
Now that Dan Mullen and his Bulldogs have gotten over the hump of beating a West opponent not named Ole Miss, the Bulldogs can't get complacent. That was just one win, and this team has far bigger goals than just beating Auburn. With the schedule Mississippi State has, it's very possible the Bulldogs could be 6-1 or 7-0 heading into the Alabama game at the end of October. But this team has to focus on Troy and come out strong against a team that won't be a pushover.
6. Showdown in the Grove:
It's been a long time since a game in Oxford got attention like Saturday's showdown with Texas has been receiving. It's eerily similar to the 2003 game with Eli Manning and LSU, although there isn't hatred in the air. The Grove is gonna be poppin' and Oxford is expected to double in size. There's more confidence around that town because Ole Miss is 2-0 for the first time since 2009. The talent difference between Ole Miss and Texas is obvious, but the Rebels have some momentum and some conviction. Can the Rebels stop that burnt orange wave coming to town?
7. The newbie's returns:
Missouri and Texas A&M got a nice taste of what life will be like in the SEC last weekend. Now, it's time for both teams to regroup. Both teams lost a lot of steam in the second half, which was expected. Missouri has the challenge of playing Arizona State and its high-flying offense. The Sun Devils have averaged 54 points through two games, averaging 532 offensive yards in the process. The Tigers got into a shootout with Arizona State last year, but can they handle another one after that physical loss to Georgia? The Aggies are taking on SMU in Dallas, and are also recovering from a tough loss to Florida. This is a game where Texas A&M should try to get more out of its running game, which has to generate more production up the middle.
8. Mettenberger's arm:
Through the first two games of the season, we've been anxiously waiting to see what
Zach Mettenberger
could really do in LSU's offense. So far, he's yet to eclipse the 200-yard passing mark in a game and has just two touchdowns -- pedestrian numbers compared to what everyone expected. But the Tigers have utilized their running game flawlessly and haven't needed to send the ball downfield much. Saturday, that should change. It's time to unleash Mettenberger and get him going more in the offense before LSU gets into conference play.
9. Lattimore's workload:
If Steve Spurrier wanted to push
Marcus Lattimore
anymore last week, he would have. But the Head Ball Coach gave his workhorse a bit of a rest against East Carolina, running him just 13 times. Maybe Spurrier just wanted to get his new quarterback,
Dylan Thompson
, a chance to show his stuff in place of Shaw. But as Lattimore continues to return from his knee injury, he'll need to get more reps and get more comfortable on the field before league play revs up. UAB should provide him the opportunity to do that.
10. Florida's winning streak:
The Gators have had Tennessee's number for seven straight years now. Not since Dallas Baker's infamous slap in Knoxville have the Vols bested Florida. This might be Tennessee's best shot since. There's no question that this is the best and most complete Vols team Derek Dooley has had. The Vols have cruised through the first two weeks, while Florida's offense stumbles in with a lot of uncertainty concerning the passing game. Florida might have the edge on defense, but Tennessee's offense knows how to put up points. Is this the year Tennessee finally gets the Gator off its back?
September, 13, 2012
9/13/12
10:15
AM ET
Here's what I'm watching this week across eight games in the Big 12.
1. Whoopsy daisy.
The mistakes were unbelievable in Oklahoma State's loss to Arizona last week. The past two seasons, the Pokes have made a living on sharp offense and discipline. But last week, Oklahoma State had 167 yards in penalties and four turnovers, along with several pass drops. Can the Cowboys get it fixed against Louisiana-Lafayette?
[+] Enlarge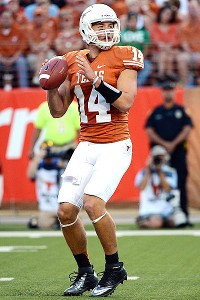 Cal Sport Media via AP ImagesQuarterback David Ash has put up solid numbers so far, albeit against subpar competition.
2. Like a phoenix ... rising!
David Ash
hasn't been a huge playmaker just yet, but he's been really, really solid. Now it starts to get serious. Ole Miss has plenty of athletes, and it's Ash's first road game of the season. For now, his passer rating is 16 points higher than
Landry Jones
' and he hasn't thrown an interception. Can Ash continue to look good? How much more will Texas ask of him?
3. Keep holdin' on ... you know you'll make it through.
Texas Tech's defense has been revitalized through two games, giving up just one touchdown and scoring one last week to open the win against Texas State. We won't know much about Tech after this, but can Tech keep it rolling heading into Big 12 play?
4. The show will go on ... finally.
I'd argue West Virginia's offense is the most fun one to watch in the Big 12. The Mountaineers have the most electrifying talent in
Tavon Austin
, and the league's best quarterback in Heisman candidate
Geno Smith
. This is an FCS game, and we won't learn much about WVU, but we'll get another week to watch what should be an entertaining game after last week's bye.
5. Like a brick wall made of grizzly bears.
Baylor wasn't terrible against the run against SMU, but
Zach Line
got it done against the Bears, running for 135 yards. This week, another good back is on the way in Sam Houston State's
Tim Flanders
, a Kansas State transfer and an FCS All-American a year ago. Baylor will put up points, but will the front seven come to play?
6. Don't be messing around.
Kansas State flirted with disaster against Missouri State. The Wildcats were mired in a 9-9 tie late in the third quarter before exploding in the fourth quarter in route to a 51-9 win. Last week, it was all business and all domination in a rout of Miami. This week, the competition level is poor again with North Texas. Can K-State avoid playing down to its competition?
7. Take care of it, Man of Steele.
There was a little déjà vu last week when, with a chance to ice the game,
Steele Jantz
threw a red-zone interception and put Iowa back in business. Fortunately for Jantz, his defense picked up the slack and ensured the win. Still, he can't always get away with making those kind of mistakes. That was his problem last year. Will he show more progress?
8. No FCS, no problem, right?
We've seen this storyline before. Juggernaut beats up on an FCS squad and pitches a shutout. Then, it goes on the road ... and promptly loses. TCU will be filling in for Oklahoma State this week. Can the Horned Frogs validate themselves against Kansas in their first Big 12 game on the road?
9. Rushing back to the top.
Big 12 backs are getting it done this year. Four teams are in the national top 12 in rushing, which turns heads a bit for a league known for its quarterbacks. Oklahoma is off this week, but can Oklahoma State, West Virginia and Kansas State keep putting up big numbers?
10. No news is good news.
Besides Kansas, every Big 12 team is favored by double digits this week. Everyone expects Big 12 teams to take care of business. There's nothing to gain and everything to lose on Saturday. Does somebody make headlines with a head-turning loss, or does the Big 12 march along with an undefeated weekend in nonconference play?
September, 13, 2012
9/13/12
10:15
AM ET
A few storylines to keep an eye on in Week 3.
[+] Enlarge

AP Photo/Rick ScuteriTodd Graham is one of three new Pac-12 coaches who has started out 2-0 this season.

These guys can coach: A pretty good start to the Pac-12 careers for the four new coaches -- who have a 7-1 record through the first two games. Arizona coach Rich Rodriguez, ASU coach Todd Graham and UCLA's Jim Mora are all perfect through the first two weeks at their schools. Mike Leach is 1-1 with Washington State. And there's a good chance the newbies will keep winning this weekend. Arizona, UCLA and Washington State are all facing easier competition, though Graham and the Sun Devils will be tested in their first road game of the year at Missouri. Of the 28 FBS teams with new head coaches, only six of them are undefeated through the first two weeks. Half of those six are in the Pac-12.

Speaking of newbies: Rough week for Utah and Colorado, who are both in their sophomore years with the conference. Utah loses to Utah State (and lost a quarterback along the way) and Colorado dropped a game to FCS Sacramento State -- archnemesis of the Pac-12. Let's not get too down on these guys. Oregon State lost to Sacramento State and a year later they are slapping down a ranked Big Ten team. With that said, both teams have quarterback issues -- Utah needs a new one, though will probably play two, and Colorado will dip its toe into the two-QB pool with the news that Connor Wood will get some snaps. Even though it's on the road, is this Colorado's best chance for a win? And Utah, well, they only play their biggest rival. A rivalry, by the way, that will be splintered starting in 2014.

The conference of offense: For all the talk and chatter about better defensive play in the Pac-12 this year, this is still an offense-first conference. Eight teams are averaging better than 30 points per game and six teams are averaging more than 440 yards of offense. UCLA leads the group. The Bruins are averaging 649.5 yards per game.

It's conference time: The first conference game of the year matches a pair of ranked teams. That's all kinds of cool. No. 2 USC travels to No. 21 Stanford in a game that has come down to the final play the past two years. Matt Barkley has a few demons to exorcise against the Cardinal -- the only Pac-12 team he's failed to beat. Stanford, after a strong bounce-back performance against Duke, wants to show it's better than the sluggish Week 1 performance. Great playmakers on both sides of the ball headline what could be another wild matchup.

Added pressure: UCLA and Arizona State are putting up defensive numbers unseen last year -- and a lot of it has to do with new defensive schemes and increased pressure. The Bruins lead the conference with nine sacks and could eclipse last year's total of 14 (ranked 11th in the conference) this week. And that was playing a 14-game schedule, mind you. ASU enters the week behind the Bruins with eight sacks. Last year ASU had 26, which was eighth in the conference. We do love our offense in the Pac-12, but it's time to start giving some snaps to Lou Spanos and Paul Randolph.

Protect the rep: Big weekend last week for the Pac-12 in terms of bumping up the national reputation of the conference. Cal has a chance to build off of that when it travels to Big Ten country to take on No. 12 Ohio State -- the only nonconference game this week against a ranked opponent [edit: from a BCS conference]. But the Bears have to clean up some things on defense. Cal ranks last in the Pac-12 in third-down defense (teams are converting 52.5 percent) and has given up the most touchdowns (6) of any Pac-12 team in the red zone. This is the kind of game that can salvage Cal's season -- and maybe Jeff Tedford's job. With USC on the docket next week, the Bears could be staring down the barrel of a 1-3 start.
September, 13, 2012
9/13/12
10:15
AM ET
Here's what to keep an eye on Saturday night as Notre Dame travels to Michigan State:


1. The QB situation
. Would you expect anything different?
Everett Golson
is facing his first real road test -- in a hostile environment, at that -- and was pulled near the end of a tie game last week. Will we see
Tommy Rees
? This question probably isn't going anywhere anytime soon.
2. Cierre Wood
. It's the 1,000-yard rusher's first game back from suspension, and he figures to see plenty of time behind
Theo Riddick
. The Irish will need to establish some semblance of a ground game if they want to move the ball against MSU's defense.
3. A wild MSU attempt
. This is Mark Dantonio, and this is a prime-time home game. His fake field goal beat Notre Dame in 2010, and a Hail Mary beat Wisconsin last season. Dantonio also tried a fake field goal last season against Notre Dame, but it failed.
September, 13, 2012
9/13/12
10:15
AM ET
Ten items to track as you ingest a 12-pack of games involving Big Ten teams Saturday.
1. The green flag:
After the Big Ten's Week 2 disaster, Michigan State is the league's only legitimate hope for a national title run. Coach Mark Dantonio wisely isn't thinking about carrying the Big Ten banner, and his Spartans face their second home test in the first three weeks as No. 20 Notre Dame visits East Lansing. It's another big game for new starting quarterback
Andrew Maxwell
, who rebounded nicely last week after tossing three interceptions in the opener against Boise State. If Maxwell performs well against
Manti Te'o
and a solid Irish defense, more folks might start taking Michigan State seriously as a dark-horse championship contender.
2. The thin red line:
Dominant offensive line play has defined Wisconsin for the better part of two decades, but the program's hallmark position (along with running back) is suddenly under the microscope. A horrific performance against Oregon State, a game in which the Badgers finished with just 35 net rush yards, led to the dismissal of new line coach Mike Markuson after just two games. Head coach Bret Bielema has tabbed the unproven Bart Miller, a Bob Bostad disciple, to lead the group. "We're going to take some baby steps," Bielema said. "And my guess is we're going to have a great amount of change in a short amount of time." Wisconsin could use a bounce-back performance Saturday night against Utah State, which comes off of an upset of Utah.
[+] Enlarge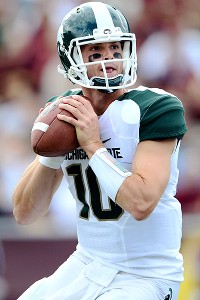 Andrew Weber/US PresswireAndrew Maxwell and Michigan State should be tested by Notre Dame on Saturday night.
3. Casting call for Robinson, Miller:
Michigan quarterback
Denard Robinson
and Ohio State quarterback
Braxton Miller
did it all for their respective offenses in hard-fought Week 2 wins. Although both men can do special things with the ball in their hands, their coaches need other weapons to emerge, if only to protect the signal-callers from injury. Ohio State coach Urban Meyer wants to be "a little smarter" about Miller's carries after the sophomore logged 27 against UCF. The problem is that top running backs
Jordan Hall
(foot) and
Carlos Hyde
(knee) are banged up, and freshman
Bri'onte Dunn
should get the start Saturday against Cal. Robinson recorded his fourth career 200-yard rushing performance last week against Air Force, but running back
Fitz Toussaint
had just 7 yards on eight carries in his season debut. Michigan's offensive line wants to get Toussaint going and should get the chance Saturday against a woeful Massachusetts team.
4. Receiving orders for Wildcats:
Northwestern's quarterback rotation seems to be functioning well so far, and while
Trevor Siemian
has led comebacks the first two weeks,
Kain Colter
will continue to start. Head coach Pat Fitzgerald seems more concerned with the guys catching passes than throwing them. The wide receivers, undoubtedly Northwestern's strongest position group entering the year, struggled with drops in last week's win against Vanderbilt. Fitzgerald challenged all his players this week but especially the receivers, saying, "I reminded them that it's a $60,000 scholarship. Catch the ball." As good as running back
Venric Mark
has been, the offense is driven by high-percentage passes. The receivers look to get back on track against Boston College, which ranks 11th nationally in pass-efficiency defense.
5. TerBush's time:
Purdue coach Danny Hope loves his quarterback rotation, but another knee injury to
Robert Marve
has put
Caleb TerBush
in the spotlight. TerBush returned to the starting lineup last week and had mixed results, struggling early before relieving Marve and guiding the game-tying touchdown drive in the closing minutes. While most Purdue fans preferred Marve over TerBush, the Boilers will move forward with TerBush and
Rob Henry
calling signals. TerBush could really use a big performance against Eastern Michigan before an open week, a game against Marshall, and then a defining stretch to open Big Ten play (Michigan, Wisconsin, Ohio State).
6. Bo vs. Gus:
Nebraska coach Bo Pelini called his team's performance against UCLA "embarrassing," and the criticism justifiably centered on a defense that surrendered 36 points, 26 first downs and a whopping 653 yards to the Bruins at the Rose Bowl. Pelini pointed to the need for better tackling and also indicated the defense has been geared more toward stopping pro-style teams than spread teams. Nebraska faces Arkansas State on Saturday. While Gus Malzahn doesn't like his offense to be labeled a spread system, he'll use the entire field, numerous formations, accelerated tempo, and plenty of trickery to keep defenses off balance. Malzahn, the first-year Arkansas State coach, brings his offense, rated seventh nationally in total yards this season (574.5 ypg), into Memorial Stadium on Saturday. "We will be tested," Pelini said. "...We need to get better against that offense. It comes kind of at the right time for us." It should be fun to watch Pelini and Malzahn match wits Saturday.
7. Iowa's search for the end zone:
Iowa is one of just two FBS teams with just one touchdown in two games this season. The Hawkeyes failed to reach paydirt on their home field in last week's loss to rival Iowa State. Needless to say, this isn't the start Iowa had hoped for under new coordinator Greg Davis, and the struggles of senior quarterback
James Vandenberg
have been particularly baffling. Iowa looks for the end zone Saturday in a critical game against Northern Iowa, an FCS program that gave Wisconsin all it could handle in Week 1. Iowa considers itself the state's flagship program. It's a very tough claim to make if the Hawkeyes lose to Iowa State and Northern Iowa in consecutive weeks.
8. Hoosiers, Gophers face first real challenges:
Indiana and Minnesota are two of the Big Ten's five undefeated teams through the first two weeks, and both squads looked impressive last week after shaky openers. Both squads also haven't played anyone, making it tough to accurately gauge their progress. Although Ball State and Western Michigan aren't powerhouses, both are legitimate FBS programs that can pull off victories Saturday. Indiana has dropped consecutive games to Ball State and turns to
Cameron Coffman
, who makes his first start at quarterback in place of
Tre Roberson
. Minnesota's defense has impressed to date, but Western Michigan quarterback
Alex Carder
provides a nice test.
9. Opportunity knocks for Lions:
Penn State has had ample opportunities in its first two games under coach Bill O'Brien, but the Nittany Lions repeatedly haven't cashed in and sit at 0-2. Questions about confidence resurfaced after a heartbreaking loss to Virginia, a game in which Penn State was plus-4 in turnover margin but missed four of five field goal attempts. It'll be interesting to see how sophomore kicker
Sam Ficken
performs in front of the home crowd Saturday against Navy. But Ficken, who still has the top place-kicking job, is just a piece of the puzzle, and Penn State has to start finishing drives and getting key second-half stops. The Lions have done some good things the first two weeks. They now need to finish the job and get a win, or the season will really begin to slip away.
10. Spartans' D prepares for two QBs:
Michigan State's defense has been as advertised so far, ranking eighth nationally in yards allowed and 12th in points allowed. The Spartans' challenge changes this week as they must prepare for two Notre Dame quarterbacks after
Tommy Rees
led the game-winning drive last week against Purdue. Freshman
Everett Golson
will get the start for the Irish and coach Brian Kelly would like him to finish the game, too, but Kelly showed last week he isn't afraid to go with Rees, who has had been both the hero and the goat at times during his career.