NCF Nation:

what to watch 091610
September, 16, 2010
9/16/10
10:33
AM ET
We should know by 3:30 p.m. on Saturday if Georgia still has a heartbeat in the Eastern Division race.
The same goes for Arkansas' defense and whether or not the Hogs are for real.
Their noon showdown highlights Week 3 in the SEC. Here's a look at what to watch:
1. Heisman hopes gone?:
Alabama's
Mark Ingram
returns this Saturday against Duke after missing the first two games while recovering from arthroscopic knee surgery. His chances of repeating as the Heisman Trophy winner probably went out the window when he underwent surgery. But ensuring that he's going to be 100 percent for the bulk of this season will only bolster Alabama's chances of repeating as national champion. Ingram would choose the latter every time. Just getting him back out there for some live game snaps this week is important, especially with that Arkansas, Florida, South Carolina stretch upcoming. The big thing you look for out of Ingram this weekend is how he cuts on the knee and if he still has that same burst through the hole.
2. Georgia's running game:
It's disappointing enough for Georgia to be 0-1 in the SEC. But to see the Bulldogs at the bottom of the league's rushing statistics two weeks into the season is not the tone this team wanted to set offensively. It's also a tone the Bulldogs had better change if they're going to beat Arkansas at home Saturday and stay alive in the Eastern Division race. Getting junior tailback
Caleb King
back from an ankle injury will help. He and
Washaun Ealey
really had it going at the end of last season. But this one Saturday is on the Georgia offensive line. The Bulldogs are better up front offensively than they played last Saturday at South Carolina, and it's time they showed it.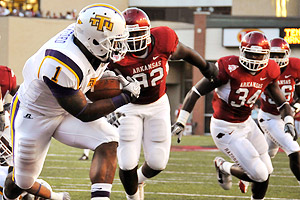 AP Photo/April L BrownThe Arkansas defense will face a big test on the road against Georgia.
3. High on the Hogs:
All offseason, Arkansas' defenders answered questions about whether or not this defense would be improved enough to make a legitimate run at an SEC championship. The Hogs are ranked fourth nationally in total defense entering Saturday's game at Georgia. A bigger question might be: Are the Hogs ready to step up on the road? They were a different team at home last season as compared to the road. In fact, they didn't win a true road game. For that matter, they've lost seven consecutive true road games going back to the 2008 season. Their lone road win under Bobby Petrino was a 25-22 victory against Auburn in 2008. A year ago, they averaged 46.7 points in their seven home games and only 18.5 points in their four road games. It's a trend the Hogs will obviously have to change if they're going to contend in the West this season.
4. Urban and his rivals:
Florida's trip to Tennessee on Saturday gives Urban Meyer another shot at one of the Gators' traditional rivals. He's owned them to this point with a 15-1 record over the foursome of Tennessee, Georgia, Florida State and Miami. The only loss was to Georgia during the 2007 season, the infamous end zone celebration game by the Bulldogs. Meyer is looking for his sixth straight win against Tennessee. The Vols have scored just two touchdowns against the Gators in the past two seasons, and the combined score of the past three meetings is 112-39 in favor of Florida.
5. Evans' slow start:
Kentucky lost a ton of talent on defense last year, but the feeling around the program was that one of the Wildcats' most talented players was returning. Defensive end DeQuin Evans racked up 12.5 tackles for loss, including six sacks, in his first season in the SEC a year ago. He was being counted on to be the anchor of the Wildcats' defensive line this season. But through two games, he's still looking for his first sack – and his first tackle. The Kentucky coaches aren't worried and are confident Evans will come on, and he needs to if this defense is going to reach its potential this season. He's that dynamic finisher off the edge that makes everybody better.
6. Masoli's show:
There's no more easing
Jeremiah Masoli
into the position. Ole Miss coach Houston Nutt has decided to ride with Masoli as his quarterback and give him the full set of keys to the Rebels' offense heading into Saturday's game with Vanderbilt. Nutt likes Masoli's ability to move around and make plays and his knack for improvising when something's not there. Masoli's only thrown one touchdown pass to this point to go along with two interceptions. But with the Rebels still struggling to find some stability in their offensive line, it makes sense to go with the more mobile quarterback and the quarterback with the most experience.
7. Starting a new streak:
After 42 straight quarters, an Alabama offensive lineman has finally been penalized for holding. It happened in the Penn State game last week, and the guilty party was sophomore guard Chance Warmack. Alabama offensive line coach Joe Pendry let him have it pretty good. But, hey, it was going to end at some point. To go 42 quarters at this level without being called for holding in the offensive line is a testament to how well coached the Crimson Tide are up front. OK, maybe they were a tad lucky too, because what constitutes holding can at times be subjective. After all, it's only holding if you're caught. But Pendry's influence on this offense shouldn't be underestimated. Don't be surprised if Alabama starts another long streak this weekend.
8. Lattimore's encore:
He'll take a break from SEC competition, but South Carolina freshman running back
Marcus Lattimore
will take another crack Saturday at turning a group of defenders black and blue when the Gamecocks take on Furman. In rushing for 182 yards against Georgia last week, Lattimore had more than 100 of those yards after contact. And don't think he's the least bit satisfied. After watching the tape from the game, Lattimore said he left a bunch of yards on the field. For those wondering who has the South Carolina single-game record for rushing yards, it's not Heisman Trophy winner George Rogers.
Brandon Bennett
had 278 yards against East Tennessee State in 1991, and Bennett was only a freshman at the time.
9. Going by feel:
For the time being, it sounds like Mississippi State coach Dan Mullen will play it by ear (or feel) with his quarterbacks. The Bulldogs will continue with their rotation of junior
Chris Relf
and redshirt freshman
Tyler Russell
this Saturday at LSU. Neither was real effective in throwing the ball in the loss to Auburn. Relf started the game, and he was also the one Mullen decided to go with on the final few possessions when the Bulldogs had a chance to either tie the game or take the lead. Relf and Russell combined to complete just 45.7 percent of their passes against Auburn. Russell has the bigger upside as a passer, but never found a rhythm in the last game. If the Bulldogs fall behind again in this game, it will be interesting to see which quarterback Mullen goes with in the second half.
10. LSU's sack party:
LSU defensive coordinator John Chavis felt good about his defensive line coming into this season, even though the Tigers were going to have several new faces up front. He's not caught up in sack numbers, but he did want to get more pressure on the quarterback after LSU finished with just 21 sacks a year ago. So far, so good. The Tigers have 10 sacks in their first two games, which leads the country. The enforcer in the middle of that defensive line has been senior tackle Drake Nevis, who already has 3.5 sacks and is playing the best football of his career. Not many people have blocked him to this point. But the Tigers have also spread the wealth. Seven different players have at least half a sack heading into Saturday's home opener against Mississippi State.
September, 16, 2010
9/16/10
10:18
AM ET
Ten issues to consider heading into the third week of games.
1.
Cal's defense will be tested at Nevada
: California presently ranks No. 1 in the nation in total defense, giving up a scant 160 yards per game. So kudos to new coordinator Clancy Pendergast. But Nevada ranks No. 1 in total offense, rolling up a monstrous 592 yards per game. So who wins: The irresistible force or the immovable object?
2.
Arizona's O-line vs. Iowa's D-line
: The Wildcats have a good offensive line, probably among the top three or four units in the Pac-10. But Iowa probably has the best defensive line in the country, led by end Adrian Clayborn. All four starters are back from 2009's stingy unit that combined for 27 sacks and allowed just 3.5 yards per rush. The first question is can the Wildcats line do enough to create any sort of run threat or occasional creases for
Nic Grigsby
? The second is, failing that, will the line give QB
Nick Foles
enough time to throw the ball?
[+] Enlarge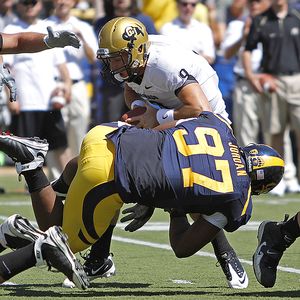 AP Photo/Ben MargotCal has the nation's No. 1 defense through two games, allowing just 160 yards per game.
3.
Locker on the big stage
: There is a bizarre crew that haunts the Pac-10 blog and constantly calls Washington QB
Jake Locker
"overrated," meaning they disagree with Mike Bellotti, Pete Carroll, every Pac-10 coach, every NFL scout, LSU's players (who called Locker the best player they saw in 2009) and just about everyone who makes a living around football. Of course, they have the right to call the world flat. But guess what? If Locker doesn't turn in an impressive performance vs. Nebraska, his Heisman Trophy candidacy will end before it gets started. So this is his big moment to either lead an upset or take a step back in national stature.
4.
Vontaze Burfict vs. John Clay
: Arizona State's 245-pound linebacker Vontaze Burfict is one of the most talented and aggressive LBs in the country. Wisconsin's 248-pound running back John Clay is one of the best power runners in the country. When these two meet, the violence of the impact should be dynamic. But who knocks the other backwards? Burfict and the ASU defense is looking to make a national statement. To do so, it needs to contain Clay.
5.
Can USC put it together
? USC's offense looked great in the opener at Hawaii. The defense looked terrible. The offense looked terrible vs. Virginia. The defense looked pretty good. The cumulative affect is we really don't know who these Trojans are. Will they put it all together at Minnesota's expense? Or will it be another piddling effort?
6.
Luck through the air
: Stanford QB
Andrew Luck
looked great running, but, despite two TD passes, didn't throw terribly well at UCLA. He completed just 11 of 24 passes for 151 yards. Wake Forest's secondary didn't look great while giving up 358 passing yards and four touchdowns to Duke in a wild 54-48 victory. You'd think Luck would feast on that at home and revert back to his accurate, playmaking self.
7.
How will UCLA's offense bounce back
? Stanford shut out the Bruins and held them to 233 total yards last weekend. That had many screaming for QB
Kevin Prince
's head. But Prince's biggest problem is he's barely seen practice time due to a back injury and then a shoulder injury. He's practiced all this week. Moreover, Houston's defense isn't anything like its offense. The Cougars are surrendering 26 points and 393 yards per game. Expect the Bruins to be much better on offense Saturday.
8.
Jacquizz should break out vs. Louisville
: Dating back to last season, Oregon State RB
Jacquizz Rodgers
hasn't eclipsed 100 yards rushing in three games. That's a
mini-slump for him
. Louisville gave up 230 yards rushing to a mediocre Kentucky team in week one. So expect for Rodgers to get his 100 yards. And also expect him to get some touches in the passing game, which he didn't vs. TCU.
9.
Cougs stepping forward
? Does the comeback win vs. Montana State turn a page for Washington State? Sure, it was just an FCS opponent, but showing some backbone feels meaningful. SMU has a high-powered, balanced offense and is one of the favorites in Conference USA. Moreover, the Mustangs will be plenty motivated after losing at Washington State last year. But if the Cougars pull the upset, the entire tenor of their season could change.
10.
How did the Pac-10 measure up
? It wasn't the most creative name or anything, but "
Measuring Stick Saturday
" is real. The Pac-10's place in the pecking order among BCS conferences largely will be based -- at least during the regular season -- on what happens Saturday. A winning weekend will earn it consideration with the Big Ten, SEC and Big 12. A losing one? It falls to the bottom half of the six. Considering the Pac-10 is an underdog in five of the nine games, the conference needs for all its favorites to prevail and at least one underdog to come through with an upset.
September, 16, 2010
9/16/10
10:17
AM ET
[+] Enlarge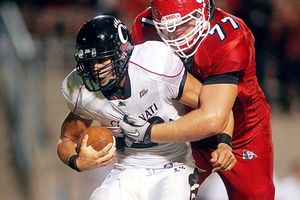 Cary Edmondson/US PresswireZach Collaros was sacked a whopping eight times against Fresno State.
1. Cincinnati's offense vs. the NC State blitz:
The Bearcats' offense has gotten off to a sluggish start in 2010, and now it faces a test at NC State, where defensive coordinator Mike Archer and linebackers coach Jon Tenuta are known for their aggressive blitzing style. The Wolfpack forced five turnovers last week and will try to get after
Zach Collaros
, who was sacked eight times in the opener at Fresno State. Linebackers Nate Irving and Audie Cole will try to break through an offensive line that's still searching for its identity.
2. Cincinnati's defense vs. Russell Wilson:
The NC State quarterback put on a show last year in Raleigh to defeat Pittsburgh. He's an athletic, mobile quarterback who will force Bearcats defenders to mind their assignments. Central Florida was able to contain Wilson and get heavy pressure on him last week. Can Cincinnati do the same?
3. Cincinnati's road legs:
The Bearcats will be playing their third game since Sept. 4 on Thursday night. That stretch includes a long West Coast trip in the opener and now another road adventure. The Indiana State blowout allowed Butch Jones to rest some his starters in the second half last week, but it's still worth watching to see how fresh Cincinnati is late in the game.
4. Hogan's heroes?:
The loss of Brandon Hogan leaves a big hole in the West Virginia secondary. The most likely replacements are Brodrick Jenkins and Pat Miller, who have talent but not a lot of experience. Maryland hasn't thrown it around much in its first two games -- quarterbacks
Jamarr Robinson
and
Danny O'Brien
have completed just 13 of 29 passes thus far -- but the Terrapins would be foolish not to test the new starter at cornerback.
5. Slow vs. fast starts:
Getting out of the gate quickly has been a problem for West Virginia for the past two seasons. That's an area Bill Stewart wanted to see improve this year, but so far it hasn't happened. On the flip side, Maryland has scored on all five of its first-quarter possessions this year. Will the Mountaineers have to play from behind for the second straight week?
6. West Virginia's offensive line:
Maryland has great defensive statistics -- allowing just 8.5 points per game -- but it's hard to know how good the Terps D truly is. They continually stopped Navy near the goal line in the opener and then had an easy time of things against Morgan State. West Virginia's offensive front was dominated at times by Marshall, though coaches and players insisted that had a lot to do with Marshall's familiarity with the Mountaineers' cadences and personnel. Regardless, the offensive line needs a better showing this week.
7. Connecticut's improvement:
What are we to make of the Huskies thus far? They lost by 20 to Michigan and then beat a badly outmatched Texas Southern outfit by 59. We should get a truer measurement of where UConn stands Saturday when they travel to 2-0 Temple. The Owls have played Connecticut tough in the recent past, but if the Huskies truly are a legitimate Big East title contender, they should win this game.
8. Pierce vs. Todman:
The Temple-UConn game should be a showcase for good running backs. The Owls'
Bernard Pierce
ran for 1,361 yards and 16 touchdowns last year as a freshman, though he has yet to top 75 yards this season. The Huskies'
Jordan Todman
leads the Big East in rushing and is coming off a huge game against Texas Southern. Temple is allowing just 91 rushing yards per game so far this season.
9. Louisville vs. the Rodgers brothers:
The Cardinals' undersized defense has played pretty well since surviving a first-half blitzkrieg against Kentucky. But how will it handle an explosive Oregon State offense led by James and
Jacquizz Rodgers
? The Beavers will almost certainly get plenty of yards and points. The real question is whether Louisville's offense, which is lacking playmakers like the Rodgers brothers, can keep up.
10. Syracuse handling its business:
Finally getting back home after two road games to start the season, will Syracuse take a breather against FCS opponent Maine? Coach Doug Marrone says no way. "If we were a top team that had won consistently for a long period of time, some people refer to these games as trap games," Marrone said. "We're not even close to that stage." The Orange have a rare chance to start 3-1 this season if they take care of Maine and Colgate in the next two games. Any slip-up could do a lot of damage to the program's development.
September, 16, 2010
9/16/10
10:17
AM ET
Ten items to track as you watch every Big Ten squad in action Saturday.
1. Hawkeyes head west:
History doesn't favor Iowa -- or any Big Ten team, for that matter -- when it comes to early season road games out west. Iowa has dropped its past six games west of the Rockies, and as
columnist Mike Hlas points out
, the Hawkeyes have lost their past three road games against Pac-10 members by an average of 28 points. Fortunately for Iowa, it boasts a senior-laden team that should be able to handle the difficulties of a time change, a late kickoff time, the absence of defensive coordinator Norm Parker and some potentially steamy weather in Tucson against No. 24 Arizona
(ESPN, 10:30 p.m. ET)
. This is a chance for Iowa to
showcase itself on the national stage
and beat a solid Wildcats team. The elements will be tough, but Iowa is a tough team that won in tough places last fall.
[+] Enlarge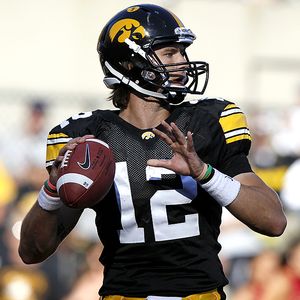 AP Photo/Charlie NeibergallRicky Stanzi and Iowa take aim at a rare road win over the Pac-10.
2. Spartans' secondary put to the test:
Michigan State's secondary was the team's No. 1 concern entering the season. We should get an excellent read on whether the Spartans have taken a step forward or not Saturday night against
Dayne Crist
,
Michael Floyd
,
Kyle Rudolph
and the Notre Dame offense
(ABC/ESPN2, 8 p.m. ET)
. Floyd is a handful for any secondary, and Rudolph showed once again against Michigan that he's not a typical tight end. Michigan State needs strong performances from safety Trenton Robinson, cornerback Chris L. Rucker and others, and it'll be interesting to see if All-American linebacker
Greg Jones
provides a lift in coverage, a point of emphasis for him in returning to school.
3. Big Ten reunion of sorts:
When Wisconsin began watching tape in preparation to face Arizona State on Saturday
(ABC, 3:30 p.m. ET),
coach Bret Bielema made sure to include a clip of a Michigan quarterback leading a historic comeback against the Badgers in 2008. That quarterback was
Steven Threet
, who will lead the Arizona State offense into Camp Randall. Threet is one of several
former Big Ten players reunited with foes from their old league Saturday
. Arizona quarterback
Nick Foles
, formerly of Michigan State, faces Iowa, while Rice running back
Sam McGuffie
, formerly of Michigan, faces Northwestern. And let's not forget about Arizona coach Mike Stoops, who goes up against his alma mater.
4. Minnesota picks up the pieces:
This could go one of two ways for Tim Brewster's crew. Minnesota either will let
Matt Barkley
and USC go nuts Saturday at TCF Bank Stadium
(ESPN, 3:30 p.m. ET)
and increase the calls for a coaching change. Or, the Gophers will use last week's inexcusable loss to South Dakota as a rallying cry and play good football against a USC team asking to get beat. Obviously, Minnesota needs to take a huge step with a young defense, which will regain the services of senior safety Kyle Theret. Overshadowed by the Dakota Debacle were the strong performances of Minnesota quarterback
Adam Weber
and running back
Duane Bennett
, who need even better days against the Trojans.
5. Michigan's quarterback rotation:
Unless we see an Appalachian State re-run, Michigan should be able to rest sophomore quarterback
Denard Robinson
for part of Saturday's game against Massachusetts. If and when Robinson leaves the game, it should get interesting. Will coach Rich Rodriguez continue to call on true freshman
Devin Gardner
before last year's starting signal caller,
Tate Forcier
? How will they perform? Forcier seemed to be in better spirits last week at Notre Dame, and you know he's itching to play and show what he can do in a game.
6. Penn State running on E:
E as in All-Big Ten running back
Evan Royster
, who needs a strong performance very soon after racking up only 72 rush yards in the first two games. Whether it's Royster's weight gain, the offensive line or a limited playbook, Penn State
hasn't gotten much from No. 22
. Saturday provides an interesting challenge as Penn State faces a Kent State team
(ESPN2, noon ET)
that leads the nation in rush defense (11 ypg allowed). The Golden Flashes certainly aren't Alabama, but they did a nice job of holding Boston College's ground game in check last week. This is a good chance for Royster to show he's still got it and make a move in his pursuit for the school's career rushing record.
7. Purdue behind the 8 ball:
Life without No. 8 (
Keith Smith
) begins for Purdue, which must identify a new top target for quarterback
Robert Marve
. Smith was an outstanding possession receiver, and the Boilers will look to
Justin Siller
,
Antavian Edison
,
Cortez Smith
,
Gary Bush
,
O.J. Ross
and others to help fill the void beginning Saturday against Ball State. Purdue also can't also lose sight of the need to identify a deep threat. Through two games, Marve has completed 54 passes for only 391 yards (7.2 yards per completion). Siller seems like a good candidate to stretch the field.
8. A family affair for Poseys:
Ohio State wide receiver
DeVier Posey
squares off against his older brother, Julian, a defensive back for Ohio, on Saturday in Columbus. It's one thing for brothers to play on opposing teams, but the Poseys likely will be matched up directly against one another. DeVier Posey has been excellent so far this season, recording eight receptions for 146 yards and two touchdowns. But Julian Posey can hold his own -- three pass breakups and a 38-yard fumble return to the end zone this year for the Bobcats -- and he knows his little brother better than anyone. Said Buckeyes coach Jim Tressel: "I told DeVier, 'If big brother shuts you down, it's going to be a long lifetime for you.'"
9. Illini aim to own the state:
Illinois is 12-0 all-time against public schools from the state, a streak it tries to continue Saturday against Northern Illinois. It's only Week 3, but this is another must-win for Ron Zook's team, which looked very good last week against Southern Illinois. After the NIU game, Illinois has a week off before opening Big Ten play with Ohio State, Penn State and Michigan State. So this is crucial. Linebacker Ian Thomas and an improving Illinois defense faces a Northern Illinois team favored to win the MAC West but struggling a bit so far this season. NIU also
could be without ailing coach Jerry Kill
for the game.
10. Wildcats, Hoosiers hit the road:
Northwestern and Indiana both are favored to win Saturday, but September road games always are tricky. The Wildcats head to Houston, which will be a
homecoming for several players
, but provides some unique challenges, namely the weather. Rice held its own in the season opener against Texas and should test on-target quarterback
Dan Persa
and his NU teammates. Remember Indiana? It seems like the Hoosiers haven't played for eons (actually Sept. 2), but they're back at it Saturday afternoon at Western Kentucky. The Hilltoppers top
this week's Bottom 10
, but they'll be excited to face a Big Ten squad in their house. Indiana's defense must perform better than it did in the opener.
September, 16, 2010
9/16/10
10:16
AM ET
Here's what I'll be keeping an eye on during this weekend's games across the conference.
1. Do you think the people away from home will be pretty cool?
Texas and Nebraska didn't need great play from their quarterbacks to win their first two games. They might need it on Saturday, from first-year starters
Garrett Gilbert
and
Taylor Martinez
making their first starts on the road.
2. The next piece of the Jigsaw Jayhawks.
Kansas visited its best and worst selves through two games this year, losing to North Dakota State before beating the defending ACC champs, Georgia Tech. What will we see from them in their first road game, a nationally televised game against Southern Miss on Friday night?
3. Yes, as of right now, TCU is the highest ranked team in Texas.
Baylor will be making their first road trip this weekend, too, but they're big underdogs to in-state rivals up I-35, TCU. An upset or a close loss might make a few more people pay attention to the Bears, who have a great chance to qualify for a bowl game this year.
4. Gettis and Rutland Islands prepare for future visitors.
Missouri's secondary has been one of the conference's best so far this year after being one of its worst last year, even if it has come against a first-year starter at Illinois and an FCS team. Can they keep it up, especially corners Carl Gettis and Kevin Rutland, who have thus far shown plenty of improvement? They'll face tougher offenses later, but San Diego State has shown they can move the ball through the air effectively, with two 300-yard games from
Ryan Lindley
in blowout wins to begin the season.
5. Rumblin', bumblin', stumblin' D-Train rolls into KC.
Iowa State hasn't been able to stop anybody from running the ball yet this season, ranking outside the top 100 nationally. They also have yet to face a running back as good as
Daniel Thomas
. Will he roll over them like he has the first two defenses he's faced, or can the Cyclones contain him?
6. You take the dive, I've got the pitch, you take the QB. Where's the ball?
After a poor showing in Week 1, the spotlight was pretty firmly on Oklahoma's secondary against Florida State. Now, it's the front seven, which turned in a great performance against the Seminoles, too. This time, the task is containing a dangerous Air Force option attack. Do the Sooners dominate like last week, eke out a close win or go down? The last team to beat the Sooners in Norman was TCU, another Mountain West team.
7. Bounce back needed in Boulder.
Kansas did it last week. Can Colorado repeat the feat? It got embarrassed in Berkeley with a 52-7 loss to Cal in front of the Pac-10 commissioner, and host a Hawaii team capable of scoring another 52 points and beating them in Boulder on Saturday. A loss would almost certainly squash most of the remaining optimism from the fan base.
8. Cleanup on aisle T (Boone).
Oklahoma State turned the ball over five times in a 41-38 win over Troy last week. This week, Tulsa comes to down with another dynamic playmaker on offense,
Damaris Johnson
. The Golden Hurricane's only loss came on a Hail Mary in Week 1 against East Carolina, and if the Cowboys don't take care of the ball, they may be in trouble.
9. Speaking of squeaky clean.
Texas A&M fumbled the ball four times on special teams last week, while also mixing in a punt return for a touchdown and downing a punt at the 1-yard line. Those kinds of mistakes won't cost them a win against Florida International, but if they don't eliminate them, they will eventually.
10. Jake who? You mean, like a cabinet-type thing?
The Blackshirts shut down a whole lot of good quarterbacks last year.
Blaine Gabbert
, Colt McCoy,
Tyrod Taylor
and
Landry Jones
among them. If they want to live up to lofty expectations set by the Brothers Pelini this offseason, adding Washington's
Jake Locker
to the list of players who struggled against them would be a good start.
September, 16, 2010
9/16/10
10:16
AM ET
Here's a look at what to keep an eye on in Week 3:
1. Upset alert.
No, not the ACC being upset (there aren't enough teams ranked anymore for the ACC to be upset this weekend), the other way around. But there are plenty of opportunities for the ACC to knock off a ranked opponent. Maryland at West Virginia, No. 1 Alabama at Duke, Clemson at Auburn and Wake Forest at Stanford. Can the ACC save face with any of these opportunities?
2. Clemson safety DeAndre McDaniel vs. Auburn quarterback Cam Newton.
McDaniel is going to have to help in the run support, and he's also got to be wary of Newton's arm. Newton is the team's leading rusher, and at 250 pounds, he's not easy to wrap up. Expect McDaniel to line up all over the field to help contain.
3. The "New Storm."
Clemson's running back duo of
Andre Ellington
and
Jamie Harper
have been on cruise control, but they'll run into a defense that has allowed just 80 rushing yards per game so far.
4. North Carolina's running game.
After just one game, North Carolina is averaging 24 yards of rushing offense -- the worst in the country. The addition of running back
Shaun Draughn
should help, but
Johnny White
and
Anthony Elzy
are both ahead of him on the depth chart, and both White and Elzy injured their ankles against LSU.
5. Georgia Tech's receivers.
Coach Paul Johnson said there were five dropped balls against Kansas, contributing to Joshua Nesbitt's 5-of-15 completions, but that Nesbitt also could have thrown it better at times.
[+] Enlarge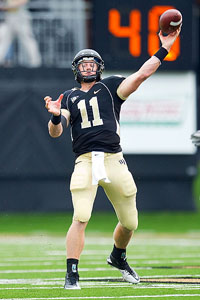 Brian A. Westerholt/Getty ImagesWake Forest's Tanner Price will become just the third true freshman quarterback starter this Saturday against Stanford.
6. Freshman quarterback Tanner Price.
It will be the first time a true freshman quarterback has started for Wake Forest coach Jim Grobe. When Price makes his debut against Stanford, he will become just the third true starting freshman quarterback in the country this year, joining, Penn State's Rob Bolden, and Colorado State's
Pete Thomas
.
7. Virginia Tech's offensive line.
East Carolina's defense has been very generous, allowing almost 500 yards per game. If there was ever a time for the Hokies to gain some confidence up front and pave the way for
Ryan Williams
, this would be it. Maybe the starters are simply gassed. No backup has played a snap yet on the offensive line. Nick Becton (turf toe) is expected to return.
8. Turnovers in Raleigh.
NC State's defense forced a total of five turnovers in last Saturday's win over UCF, including three interceptions. It was the most the Pack had forced since six against North Carolina in 2008. NC State enters tonight's game with a plus-six turnover margin, the best in the ACC.
9. Maryland backup quarterback Danny O'Brien.
He'll definitely play, though coach Ralph Friedgen said this week he's "not disappointed" in starter
Jamarr Robinson
. O'Brien threw three touchdown passes in the win over Morgan State, but West Virginia is holding opponents to just 10.5 points per game.
10. Florida State's defense.
The Seminoles should look much better this weekend against BYU, especially considering BYU is 101st in the country in scoring offense with just 18.5 points per game. The Seminoles had trouble lining up in the new zone scheme against Oklahoma's no-huddle offense and Jimbo Fisher is looking for better tackling in open space.
September, 16, 2010
9/16/10
10:15
AM ET
This is another big week for non-AQs, with several huge non-conference matchups looming. With that, here are 10 storylines to watch among the non-AQ teams:
1. Can the non-AQs pull off some upsets in its high-profile nonconference games?
Week 1 was a good one for the non-AQs, with big nonconference wins for TCU, BYU, Utah and Fresno State. Will the same happen in Week 3? That may not be as likely. Three of those four games were at home, and TCU played at the new Cowboys Stadium, so that was just outside of home. This week, most of the high-profile nonconference games are on the road: East Carolina at Virginia Tech; Air Force at Oklahoma; Houston at UCLA; BYU at Florida State; Tulsa at Oklahoma State.
2. Will Houston quarterback Case Keenum play against UCLA?
Coach Kevin Sumlin has kept mum on the topic all week, but offensive coordinator Jason Phillips said the team is preparing as if Keenum will be ready to go. Keenum sustained a concussion last week against UTEP while attempting to make a block. If he can't play,
Cotton Turner
will get the nod. Turner was effective in relief last week, going 9-of-10 for 69 yards with a touchdown pass.
3. Can East Carolina take advantage of a reeling Virginia Tech team?
I guess the question could also be posed this way – do the Pirates have any shot against an angry, motivated Hokies team? Remember, East Carolina beat Virginia Tech in the opener in 2008, but that was a more experienced team than the one now. The Hokies had a very short week to prepare for James Madison following an emotional, exhausting loss to Boise State. You can bet they will be ready for this one.
4. How does Boise State respond following its emotional win?
The Broncos had a week off and face their first opponent since the win over Virginia Tech on Labor Day night, traveling to Wyoming. The Cowboys haven't been pushovers in this series. The last time they played, Boise State won 24-14 in 2007. In 2006, Boise State pulled out a 17-10 win in Laramie. It's going to take larger margins of victory this year to begin convincing voters they are worthy of that No. 3 ranking.
5. How does BYU respond after its 35-14 loss to Air Force?
Coach Bronco Mendenhall has already decided to change up how he rotates his quarterbacks, and that could perhaps lead to a decision to go with just one player. Going with two didn't work against the Falcons, as BYU threw for a combined 88 yards. Now the Cougars are facing a team that handled them easily last year in Provo. Will two quarterbacks be able to do something Max Hall could not? That seems unlikely.
6. Can Air Force slow down the Oklahoma passing attack?
The Falcons did an exceptional job taking away the pass from BYU last week. Now they face a similar challenge against the Sooners.
Landry Jones
went 30-for-40 for 380 yards and four touchdowns last week against Florida State. While Air Force does have an experienced secondary, slowing down Jones and
Ryan Broyles
is a must.
7. Can Colin Kaepernick run wild on California?
Last week, Kaepernick became the ninth player in NCAA history to rush for 3,000 yards and pass for 3,000 yards in a career. But he is facing his toughest test of the season. The Bears have the No. 1 ranked defense in the country following a 52-7 destruction of Colorado last week. They have allowed just one touchdown in two games, along with an average of 44 yards rushing and four sacks. Not comforting numbers for the Wolf Pack.
8. Will Jerry Kill be on the sideline for Northern Illinois?
The veteran coach has been hospitalized since Sunday with an undisclosed medical condition, and it's unknown whether he will be able to attend the Huskies' game against Illinois. If he's unable to be there, defensive coordinator Tracy Claeys will be the coach in his place.
9. Can TCU shut down Baylor quarterback Robert Griffin?
The Horned Frogs don't usually play fast, mobile quarterbacks like Griffin, so this presents a unique challenge. You can bet defensive guru Gary Patterson has emphasized solid tackling and being able to get pressure up front. That should come from Wayne Daniels, who has 3.5 sacks this season.
10. Who gets their first win ULM or Arkansas State?
Somebody has to win, right? Arkansas State has a prolific passer in
Ryan Aplin
, who has 716 yards on the season. But the Red Wolves would much rather have wins than their quarterback throwing for so many yards. Doing both? Double bonus! Arkansas State has won five straight home openers.
September, 16, 2010
9/16/10
10:15
AM ET
What to watch from Notre Dame in its game Saturday night at Michigan State
(ABC, 8 ET)
:
1. Keeping Dayne in the game:
The No. 1 priority for the Irish is keeping
Dayne Crist
healthy and at quarterback. Notre Dame likely would have beaten Michigan last week had Crist not missed the majority of the first half. Head coach Brian Kelly says his quarterback is feeling no ill aftereffects from the head bruise he sustained last week. If the Irish have to turn to their backups again this week, they'll be feeling some ill effects.
2. Safety dance:
Notre Dame has been depleted at safety with Jamoris Slaughter (ankle) and Dan McCarthy (soft tissue) sidelined. Harrison Smith and Zeke Motta had to basically play the entire game last week. Michigan State will test the secondary with veteran quarterback
Kirk Cousins
and receivers
Mark Dell
and
B.J. Cunningham
.
3. How tough are the Irish?:
Kelly has talked about putting the fight back in the Fighting Irish. Well, here's a good time to find out how far that's come along. Coming off the team's first loss, Notre Dame has to go on the road for the first time this year in a night game. Michigan State will be physical, with defenders such as Greg Jones not afraid to hit people. How will Kelly's team stack up?