NCF Nation:

what to watch 092310
September, 23, 2010
9/23/10
10:33
AM ET
It's the first really big weekend in the SEC, highlighted by Alabama's trip to Arkansas and South Carolina's trip to Auburn.
Here's the Week 4 version of what to watch in the SEC:
1. Protecting Mallett:
If you want to know how Arkansas fared late Saturday afternoon against Alabama without looking at the scoreboard, take a look instead at
Ryan Mallett
's uniform and the number of turf stains it has on it. If the Hogs can protect him, he has a chance to do some damage against the Crimson Tide's young secondary. A year ago, Alabama was able to frustrate Mallett not only by the pressure it brought, but also by disguising things and mixing up its coverages. You can bet Nick Saban's going to dial up some blitzes the Hogs haven't seen this season on tape, but Mallett is pretty slick in that pocket when it comes to buying just enough time and zipping it down the field. If the Hogs can keep him upright, they'll have a chance to hit some big plays. On the flip side, if the Crimson Tide can get pressure with their front guys and not have to blitz much, then it's going to be a long afternoon for Mallett and that Arkansas offense.
[+] Enlarge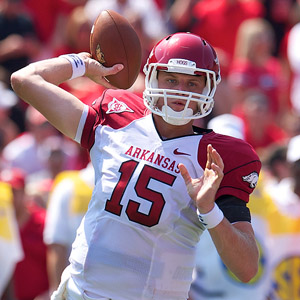 Dale Zanine/US PresswireKeeping Ryan Mallett's jersey clean is of paramount importance for Arkansas.
2. Third-and-long:
There's a reason Alabama has been so good at stopping people on third down under Saban. They're masterful at getting teams into third-and-long situations, and that's when they really like to tee off. The best way for the Hogs to avoid third-and-long is to have some success on first down. They didn't run it particularly well in the win over Georgia, netting for just 53 yards on 23 carries. It's going to be important in this game that Mallett hit his check-down guys and settle for the 4- and 5-yard gains. Senior tight end
D.J. Williams
figures to be a big factor in this game, too. There's a reason Mallett went to him on the first two plays of the game-winning drive last week. At the end of the day, the Hogs are going to have to be able to run it some. Otherwise, they're going to be living in third-and-long, and that's never a good thing against the Crimson Tide.
3. Wrapping up:
Arkansas is second in the SEC and tied for 10
th
nationally in total defense, but the real test comes Saturday against Alabama. Arkansas coach Bobby Petrino reiterated this week that his defense was much better than it was a year ago. The Hogs have certainly tackled much better in the first three games, although you never really know what kind of tackling team you are until you try to tackle
Mark Ingram
and
Trent Richardson
. They have combined for 422 rushing yards this season, and 195 of those yards have come after contact. Ingram had 70 of his 151 yards after contact last week against Duke in his first game back after missing the first two while recovering from knee surgery.
4. In a rush:
Auburn boasts the No. 1 rushing offense in the SEC. The Tigers are averaging 259.3 rushing yards per game, and their 6-6, 250-pound quarterback,
Cameron Newton
, is a big part of that attack. He's fifth in the SEC in rushing with 309 yards in three games. The Tigers face a South Carolina defense on Saturday that is No. 1 in the SEC against the rush. The Gamecocks are allowing just 59.7 yards per game on the ground and only 2.2 yards per carry. South Carolina and Alabama are the only two teams in the league that have yet to allow a rushing touchdown. So needless to say, something's gotta give Saturday night on the Plains.
5. What might have been:
Auburn had its sights set on landing both
Mike Dyer
and
Marcus Lattimore
during the recruiting process. The Tigers got Dyer and made a nice run at Lattimore, but he ultimately decided to stay in state and go to South Carolina. They will be paired against each other on Saturday. Lattimore is second in the SEC in rushing with 333 yards in three games. He's a tackle-breaking machine. Dyer is 10
th
with 212 yards, and it sounds like he's about to become the featured option in that Auburn backfield. Sit back and enjoy. We get an early glimpse into who really is the best freshman running back in the SEC.
[+] Enlarge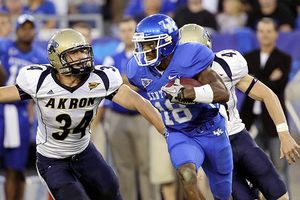 AP Photo/Ed ReinkeKentucky may utilize Randall Cobb in the "WildCobb" formation against Florida.
6. Cobb vs. Jenkins:
Two of the premier players in the SEC are likely to be matched up for at least part of the game Saturday in the Swamp. Kentucky likes to move
Randall Cobb
around, and this may be the game when we see him in the "WildCobb" formation for more than just a handful of plays. The Wildcats haven't had to use that formation very much to this point. But when Cobb is lined up outside at receiver, look for Florida's Janoris Jenkins to draw the coverage. Jenkins has established himself as one of the top cover cornerbacks in the country. He already has two interceptions, one he returned for a touchdown, and he's also been one of the Gators' better tacklers in the secondary.
7. Next up, Fresno:
Remember when Ole Miss' schedule almost looked cushy those first five games and the absolute worst the Rebels could be going into that Alabama game was 4-1? Well, the Rebels are 1-2 with home losses to Jacksonville State and Vanderbilt, and the best team they've played to date, unbeaten Fresno State, is coming to town this weekend. Pat Hill's Bulldogs aren't afraid to play anybody anywhere and have won six of their past nine games against BCS opponents. This may be the Rebels' last chance to turn this season around. If they lose this one, they can just about count on finishing below .500.
8. Lining up with freshmen:
Tennessee was already young and inexperienced in the offensive line coming into the season. But on Saturday against UAB, the Vols will take "young" to another level. Coach Derek Dooley said three true freshmen will be on the field for a large part of the game. Ja'Wuan James will make his fourth straight start at right tackle. James Stone will start at left guard for the injured JerQuari Schofield, who's out for two or three games with a broken bone in his left foot, and Dooley said Zach Fulton would rotate in some at right guard. The Vols even pulled up true freshman Marques Pair from the scout team this week, and he could play some at left tackle.
9. Avoiding three in a row:
Somebody's going to be left standing with a three-game losing streak Saturday night in Starkville. If it's Mississippi State, the Bulldogs are going to be hard-pressed to finish with a winning season. Even getting to .500 and making a bowl game wouldn't be a guarantee at that point, which would be a real downer considering how well Mississippi State finished last season and how much the program has improved under Dan Mullen. It goes much deeper than that for Mark Richt and his Bulldogs if they lose their third in a row. At that point, the entire season could unravel. And if this winds up being a five- or six-loss season for Georgia, you can't help but wonder what that means for Richt and his future in Athens.
10. Ford's wait:
Redshirt freshman running back
Michael Ford
was the rage of LSU's spring practice. He was the offensive MVP of the spring game with 139 yards and seemed poised to play a big role in LSU's rushing attack this fall. But through three games, Ford has carried the ball just three times, all three attempts coming at the end of the Vanderbilt game in mop-up duty. LSU coach Les Miles has said that he'd like to get Ford more opportunities going forward, and maybe this is the week against a salty West Virginia run defense ranked eighth nationally. The Tigers have been riding
Stevan Ridley
so far in the running game. He's third in the SEC in rushing with 318 yards on 55 carries. Nobody else on the team has more than 17 carries, and that's receiver
Russell Shepard
. The Tigers have certainly run the ball better this season, but there's still room for Ford.
September, 23, 2010
9/23/10
10:32
AM ET
1. Showdown Saturday (and Thursday):
It's put up or shut up time for the Big East, which faces perhaps its most difficult nonconference week ever. Three of the games -- Pitt vs. Miami, Oklahoma vs. Cincinnati and Rutgers vs. North Carolina -- are on Big East turf, while the lone ranked team -- West Virginia -- goes toe to toe with LSU. Win a couple of these games, and the league can get back a little respect. Lose them all, and the conference won't be able to silence its critics until bowl season at the earliest.
[+] Enlarge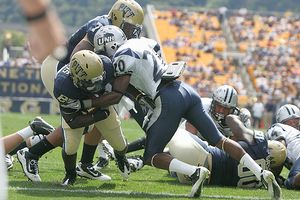 Charles LeClaire/Getty ImagesPitt running back Dion Lewis has yet to get on track this season.
2. Pitt's running game vs. Miami:
What's wrong with
Dion Lewis
? And can the Pitt offensive line hold up against an athletic Hurricanes defensive line? The Panthers' best shot at winning Thursday night will be to establish the running game behind Lewis, which will open up the play-action passing game and keep Miami's quick-strike offense on the sidelines. The line will have to play better than it did against Utah and even New Hampshire for that to happen.
3. Pitt's pass coverage:
Jacory Harris
threw four picks at Ohio State, but he was also victimized by several dropped balls and tipped passes. No doubt the Canes will try to exploit the middle of the field, where Pitt had all kinds of trouble at Utah and where Harris likes to go, anyway. The Panthers have shuffled their linebackers around and will need to mind their assignments and not miss tackles to prevent explosive plays by Miami's swift receivers.
4. West Virginia vs. the LSU deep ball:
If not for a few breakdowns that led to huge passing touchdowns, West Virginia would have great numbers defensively. But, of course, you can't take those away, and the deep pass remains a major concern for the Mountaineers. Will coach Bill Stewart play suspended cornerback Brandon Hogan or have sophomore Pat Miller make his first road start? Can inconsistent LSU quarterback
Jordan Jefferson
take advantage?
5. Offensive life in Death Valley:
It's doubtful that West Virginia will see a better defensive line all year. Cornerback Patrick Peterson might be the best defensive player in the country. The Mountaineers have been putting up good yardage totals, but how will they attack LSU? Can the offensive line, especially if Josh Jenkins is out, give
Geno Smith
enough time and open enough running room for
Noel Devine
? Will the short passing game be as effective against a team with as much or more speed? It should be fascinating to find out.
6. Will the real Bearcats stand up?:
Cincinnati's offensive ineffectiveness has probably been the most surprising development in the Big East thus far this year. The line can't block for
Zach Collaros
, and he and his receivers have rarely been on the same page. Still, the potential is there for a breakout, and Utah State and Air Force showed it's possible to score on Oklahoma. The Bearcats have seemingly no chance to make this a defensive slugfest, so it could be a long day at Paul Brown Stadium if they can't find a way to kickstart the sputtering offense.
7. Rutgers' kitchen-sink approach:
Speaking of sputtering offense, the Scarlet Knights have had a tough time getting anything going, especially when
Tom Savage
is in the game. Rutgers had a week off to get ready for North Carolina in its lone marquee nonconference matchup, so don't be surprised if Greg Schiano and his staff don't try to come up with ways to manufacture yards and points with new wrinkles, as they have in past big games. Look for more Wildcat stuff with
Mohamed Sanu
and possibly even a few trick plays to keep the Tar Heels' aggressive defense on its heels.
8. Locking down the Yates:
North Carolina quarterback
T.J. Yates
has been a pleasant surprise for a program that's wallowed in mostly bad news for the past couple of months. He is leading the nation's No. 11 passing attack and has strong targets in receivers
Erik Highsmith
and
Jheranie Boyd
and tight end
Zack Pianalto
. This will be the biggest test yet for Rutgers' defense and its secondary, led by Joe Lefeged and David Rowe. The Scarlet Knights are great at creating turnovers and defensive scores against lower-level opponents; can they do it against an ACC team?
9. UConn and USF bouncing back:
Both Connecticut and South Florida lost on the road last time out, though USF's loss at Florida was much easier to stomach than Connecticut's defeat at Temple. Both should get back on track this week at home against lesser competition: the Bulls get FBS punching bag Western Kentucky, while the Huskies take on Buffalo. Both should win big and earn back some confidence; if not, that could be signs of trouble.
10. Halfway to six wins?:
Syracuse should get to 3-1 this week with Colgate coming to the Carrier Dome. The Orange need to be more focused in the first half than they were against Maine, but this one should never really be in doubt. The significance? Syracuse hasn't gotten off to a 3-1 start since 2003, and it would be halfway to its first non-losing season since 2004.
September, 23, 2010
9/23/10
10:30
AM ET
What to watch from Notre Dame in its home game Saturday against Stanford:
1. The fight in the Fighting Irish:
Head coach Brian Kelly talked this week about how his team needs to develop "a nasty kind of tenaciousness." The Irish, in other words, need to get tougher to close out games. There are few better tests of that tenaciousness than Stanford, a physical team that takes on the bulldog mentality of its coach, Jim Harbaugh. Will Notre Dame be hard-nosed enough to fight back from its two-game losing streak?
2. Pressing Luck:
Cardinal quarterback
Andrew Luck
is the No. 3-rated passer in the FBS after three weeks, and with
Jake Locker
's struggles, some say Luck could be the No. 1 NFL prospect in college football. He's also capable of tucking and running for a big gain. Stanford has a balanced rushing attack, but containing Luck will be key for the Irish. Getting safety Jamoris Slaughter back this week should help the secondary, though corners Gary Gray and Darrin Walls were nursing minor injuries mid-week.
3. Fixing Floyd:
Michael Floyd
caught two touchdown passes against Michigan State, but he also fumbled in the red zone for the second time this season. The star receiver still has a few flaws in his game that need to be fixed before he can have a true breakout. He and the Notre Dame offense will have to go against the top-ranked passing defense in the FBS, as Stanford has allowed just 90 passing yards per game thus far.
September, 23, 2010
9/23/10
10:23
AM ET
Ten issues to consider heading into the fourth week of games.
1.
Is Oregon's offense that good
? Oregon ranks No. 1 in the nation in total offense and scoring offense. It ranks No. 2 in rushing offense. But the Ducks haven't played anyone with a defense as fast and as talented at Arizona State. Quarterback
Darron Thomas
withstood the atmosphere of Tennessee, but how will he do against a defense that can run with the Ducks?
2.
Can Oregon State disrupt Kellen Moore's rhythm
? Over the past 15 games, Oregon State has struggled to pressure the passer. Boise State does a great job protecting QB Kellen Moore, and Moore does a great job of getting rid of the ball quickly. Moore, a savvy quarterback who is very accurate, will pick the Beavers apart if he's not worried about getting hit. Gabe Miller? Stephen Paea? Blitzing LBs? Time to show your stuff.
[+] Enlarge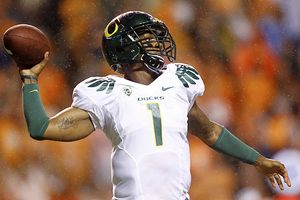 AP Photo/Wade PayneOregon quarterback Darron Thomas proved himself on the road at Tennessee. Can he have continued road success in conference?
3.
Let down for Arizona
? The party was HUGE in Tucson after the Wildcats beat No. 9 Iowa. But, as Mike Stoops observed, it doesn't mean much if they drop their Pac-10 opener. Perennial powers learn how to manage their emotions and play with the same focus and intensity every week. The Wildcats want to become a perennial power. Well, that means playing as well against Cal as they did vs. Iowa.
4.
Texas run D vs. UCLA run O
: Here's the surprising prediction of the week: UCLA quarterback
Kevin Prince
and the Bruins passing attack will awaken at Texas. The Bruins receivers are good, and Prince has thrown well before. The problem in the first three games was a lack of practice continuity because Prince was nursing injuries. But UCLA has to have balance to be successful. Texas boasts the nation's No. 1 run defense, but the Bruins have run well this year. If UCLA creates any run threat, Prince will have a much easier time making plays downfield in the passing game, particularly if the Longhorns put too much stock in game film from games one through three.
5.
Luck on the big stage
: Sure, Notre Dame is 1-2 and hasn't been a factor nationally for a while. But games at Notre Dame still include a national platform on NBC. And if Stanford quarterback
Andrew Luck
puts up big numbers against a struggling Fighting Irish defense, he'll start to create serious Heisman Trophy talk. And Stanford will formally announce its national relevance.
6.
Cougs O-line vs. USC D-line
: The Washington State offensive line has struggled, giving up 10 sacks in the first three games and failing to consistently open holes. USC"s front-seven is talented, particularly the defensive line, though the numbers haven't always supported that. If Cougars quarterback
Jeff Tuel
gets time, he can make plays. If USC is all over him, this will be another blowout defeat in Pullman.
7.
No retreat for Threet
: Arizona State quarterback
Steven Threet
's performance through the first three games, particularly his strong effort at Wisconsin, showed he's a Pac-10 quality quarterback, and the Sun Devils might be a factor in the conference. But he hasn't seen a defense with as much speed as Oregon. Ever. He's going to be chased at a faster rate, and the DBs are going to close on his throws at a faster rate. Can Threet and the ASU offense play fast enough to keep up and make plays?
8.
Rodgers brothers get another shot on the big stage
:
Jacquizz
and
James Rodgers
have put up decent numbers so far. And neither played poorly vs. TCU in the marquee opener at Cowboys Stadium. Still, these two All-Americans have a special opportunity on a national stage to make statements for themselves and the Beavers. If Jacquizz Rodgers can help the Beavers control the ball in the running game, and James Rodgers can make big plays in the passing game, there could be an upset on the blue turf.
9.
Riley needs to play like a senior
: Senior quarterbacks know how to play on the road. Senior quarterbacks know how to bounce back from adversity. Senior quarterbacks know how to lead a team that is down on itself. If Cal is going to notch the upset at Arizona, the likelihood is that
Kevin Riley
will set the tone early and turn in a strong performance.
10.
Stanford's passing defense faces test
: The big question for Stanford entering the season was pass defense. The early returns are outstanding: The Cardinal ranks No. 1 in the nation in pass defense. Notre Dame, however, is a far different animal than UCLA and Wake Forest. It is averaging 318 yards passing per game. Does Stanford
really
have an elite defense? We shall see.
September, 23, 2010
9/23/10
10:22
AM ET
The Big Ten slate is a major snoozer this week, but there always are some intriguing story lines when league teams take the field.
Here are 10 of them.
1. Running back roulette:
The
Evan Royster
situation at Penn State will continue to be a major issue until No. 22 starts looking like the running back we saw in each of the last two seasons.
Stephfon Green
seems to be gaining on Royster, although Penn State guard Stefen Wisniewski tells me
Royster doesn't have to worry about his starting job
. It'll be interesting to see how the run game fares against unbeaten Temple.
[+] Enlarge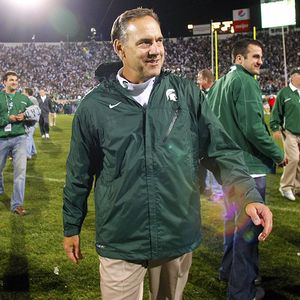 AP Photo/Al GoldisThe Spartans will be without coach Mark Dantonio when they take the field Saturday.
2. Missing their Mark:
Michigan State will play its first game without head coach Mark Dantonio, who has returned home from the hospital after suffering a minor heart attack and undergoing surgery Sunday. Offensive coordinator Don Treadwell handles the head-coaching duties Saturday against Northern Colorado. Treadwell still will call the offensive plays, but he'll be on the field rather than in the coaches' booth. It'll be interesting to see how the Spartans handle the emotions and unfamiliarity of not having Dantonio leading them.
3. Must win for Minnesota:
It's still September, but Minnesota can't come out of the month 1-3 and have a realistic expectation to reach a third consecutive bowl game. In fact, most of Minnesota's recent bowl appearances have been fueled by strong nonconference performances. The Gophers made some strides last week against USC but couldn't finish. They have to put it all together against a Northern Illinois team that will test the defense with quarterback
Chandler Harnish
.
4. Wolverines on the defensive:
After letting UMass pile up 37 points and 439 yards last week, Michigan's defense had better buckle down Saturday against Bowling Green. The Wolverines are struggling to sack the quarterback (two sacks in three games) or stop the run (169.7 ypg allowed). Bowling Green will be without starting quarterback Matt Schilz (shoulder), so Michigan should have an opportunity to improve before Big Ten play begins.
5. Men down:
Both Iowa and Wisconsin received some bad news this week, as the teams announced that Hawkeyes running back
Jewel Hampton
(knee) and Badgers linebacker Chris Borland (shoulder) both will miss the rest of the season with injuries. Iowa has only one healthy proven running back in
Adam Robinson
, and it'll be interesting to see how the offense changes, if at all, Saturday against Ball State. The Badgers shouldn't struggle too much with Austin Peay, but the game provides the opportunity to evaluate linebackers like Blake Sorensen, Kevin Claxton, Kevin Rouse, A.J. Fenton and others as they likely take on enhanced roles.
6. Wildcats aim for rare sweep:
Between 1964-2007, Northwestern suffered at least one nonconference loss in every season. The Wildcats can sweep through non-league play for the second time in the last three years if they beat Central Michigan on Saturday. Despite road trips to Vanderbilt and Rice, Wildcats coach Pat Fitzgerald calls the Chippewas "our stiffest test of the year, no question." Northwestern has been solid in Big Ten play for the last decade, but it needs to get over it annual hiccups in non-league play.
7. Et tu, Brute?:
There should be plenty of Ohio State highlights Saturday against Eastern Michigan, though it shouldn't be very competitive on the field. The real intrigue lies with Brutus Buckeye, who returns to the field after
being ambushed by Ohio University's mascot
last week. Eastern Michigan's mascot,
Swoop the Eagle
, looks friendly enough, but Brutus had better beware.
8. MAC attack:
Eight Big Ten schools take on opponents from the Mid-American Conference on Saturday. Although most Big Ten fan bases aren't too worried about this, the MAC recorded four wins against its big brother league in 2008 and two in 2009. Temple, Toledo and Central Michigan all bring winning records into Big Ten stadiums Saturday. Don't be shocked if the MAC secures at least one win Saturday.
9. Show some ID, please:
Several Big Ten offenses are still searching for their identities as league play beckons. Purdue is trying to overcome a rash of injuries and figure out what works best in the
Robert Marve
era before a bye week. Penn State boasts tremendous talent at wide receiver but has lacked consistency in the run game. Minnesota and Michigan State have been run-first teams so far this season, but both squads also boast some weapons in the passing game, as they showed last week. We should get a better idea of what these units are all about after Saturday.
10. Hoosiers on the ground:
Indiana needs to improve both its rushing offense and rushing defense before Big Ten play kicks off next week against Michigan. The Hoosiers rank last in the league in both categories, making Saturday's game against winless Akron all the more critical. As good as
Ben Chappell
can be this season, he needs some help from
Darius Willis
and the running backs. And IU's defense has to lock it down better against the run before
Denard Robinson
comes to town.
September, 23, 2010
9/23/10
10:22
AM ET
As the title indicates, here's a look at 10 things to keep an eye on this week:
1. Miami's defense against Pitt's playmakers.
The Hurricanes will be tasked with slowing running back
Dion Lewis
, and receiver
Jon Baldwin
, who has 10 catches for 171 yards and touchdowns in two games. Miami is tied for 15th in the country in total defense, allowing 262 yards per game.
[+] Enlarge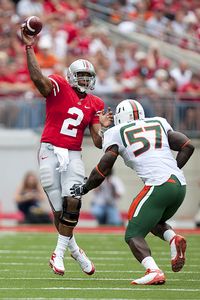 Greg Bartram/US PresswireAllen Bailey (57) and the Miami defense will try to slow the playersmakers on Pitt this week.
2. Turnovers at Heinz Field.
They were Miami's biggest enemy against Ohio State, as four interceptions contributed to one of the worst turnover margins in the country this week (minus-2). In order for Miami to stand a chance, it has to eliminate them from the playbook.
3. Time of possession in Atlanta and Durham.
The option offenses of Army and Georgia Tech have both programs ranked among the nation's top 25 in time of possession, and both NC State and Duke intend on playing their best defense by keeping their offenses on the field as long as possible. That will require some running by two pass-happy teams.
4. FSU's rushing defense against Wake's backs.
The Deacs have struggled defensively but have the No. 7 rushing offense in the country with 283.67 yards per game. Florida State is No. 17 in the country in rushing defense allowing 82 yards per game.
5. Greg Schiano's defense vs. UNC's offense.
Rutgers has the No. 3 scoring defense in the country, allowing just seven points per game. The Scarlet Knights are holding opponents to under 100 rushing yards, and 167.5 passing yards per game. UNC is No. 11 in the country in passing offense with 310.5 yards per game.
6. BC's rushing defense against the Hokies' loaded backfield.
With or without
Ryan Williams
, Virginia Tech can run the ball -- as long as the offensive line holds up.
Darren Evans
and
David Wilson
helped beat ECU, but BC is third in the country in rushing defense, holding opponents to 54 yards per game. The Hokies are averaging 205 on the ground.
7. Injured quarterbacks.
FSU quarterback
Christian Ponder
and Maryland quarterbacks
Jamarr Robinson
and
Danny O'Brien
have all been hurting this week. Ponder has a bruised triceps, Robinson has a sore throwing shoulder and O'Brien has a nagging ankle injury. All are expected to play, but will it affect their performances?
8. Scorecard vs. the Big East.
It's even right now at 1-1 between the two conferences, but the ACC has a chance to take the lead with games at Pittsburgh and Rutgers this week. The ACC can't afford to lose anymore nonconference games, let alone to what's perceived by many to be the weaker of the two leagues.
9. Virginia Tech redshirt freshman Antone Exum
. He started and played most of the game at free safety in Tech's nickel package. He had 10 tackles against East Carolina in his first career start.
10. Georgia Tech's rushing offense vs. NC State's rushing defense.
The Wolfpack is allowing only 85. 33 rushing yards per game, but Georgia Tech is No. 3 in the country in rushing offense at 345 yards per game. Something's gotta give.
September, 23, 2010
9/23/10
10:17
AM ET
I probably don't have to tell you this, but it's hardly a riveting set of games on paper this week. But sometimes drama arises when you least expect it. Ask Missouri and Texas A&M. So maybe on Sunday we'll be calling this week's group of games underrated.
Or maybe not. We'll see.
1. TCB means "takin' care of business."
As we mentioned above, this week's games are mostly a minefield. Everyone's favored, but most teams are playing another team very capable of beating them. No team has much to gain this week, but a loss would be devastating to just about every team playing. Does anyone slip up?
2. Don't be giving us the run around.
Texas Tech has a very good defense, but Texas' running game was unimpressive and pretty ineffective against the Red Raiders. They need it to be better this week heading into Red River, but how much better will it look? It all starts on the offensive line.
3. Response needed.
Missouri struggled to beat San Diego State last week, needing a late touchdown on a catch-and-run by
T.J. Moe
to beat the Aztecs at home. They need to look more like the team to challenge Nebraska this week, or else Kansas State will take that spot.
4. Still bent on a bowl?
Baylor failed its first major gut check, a one-sided loss to TCU last week. They'll be on the road again this week, and should beat Rice, but will there be any residual effects on their confidence after getting dominated by the Horned Frogs? If so, the Bears will drop to 2-2.
5. Lesser competition shouldn't mean lesser performance.
Kansas responded well to a big challenge against Georgia Tech in their last home game. But clearly, that wasn't the case when it played North Dakota State in Week 1. How will the Jayhawks play in the first game everyone expects them to win since the loss to the Bison?
6. On the road again.
Oklahoma was 2-5 away from home last season. Saturday against Cincinnati is its first chance to get a road win in its only away game of the nonconference.
[+] Enlarge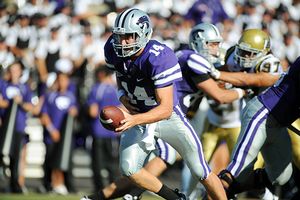 John Rieger/US PresswireKansas State quarterback Carson Coffman hasn't had a break out game this season.
7. Paging Carson.
Kansas State quarterback
Carson Coffman
looked pretty good against Missouri State, but wasn't asked to do much against Iowa State and had a few nice runs. He's the guy who can take Kansas State to the next level, so we'll get another look at where he is this week.
8. Completion rates of quarterbacks on their back almost universally drop.
Texas' pass rush made for a long night for Texas Tech quarterback
Taylor Potts
. What will UCLA's
Kevin Prince
experience when he comes to Austin?
9. Vanilla, while overused as a sports term, is still a delicious flavor.
Who wins while keeping things the simplest? With conference play a week away for most teams, there could be some value into teams who dig the least deep into the playbook.
10. The Hammer would like to leave the toolbelt.
Oklahoma linebacker Ronnell Lewis, one of the league's hardest hitters, didn't play a snap against Air Force last week because as primarily a pass rusher, he didn't fit into the scheme against Air Force. What's his workload like against Cincinnati, who should chuck it often with
Zach Collaros
?
September, 23, 2010
9/23/10
10:15
AM ET
Another big game for Boise State this Saturday. Can the Broncos prove they are worthy again? That leads our top 10 non-AQ storylines to watch:
1. What does Boise State have to do to get a little respect -- aside from beating Oregon State?
At this point, it seems as though winning is not going to be enough for the Broncos. They are the No. 3 team in the country, but many pundits believe they have hit their peak. Do they have to blow teams out? Do they need everybody else to implode? First order of business is to win, of course, but with all eyes on Boise State for the second time in a month, you can bet many folks around the country are going to want to see more than a close win.
[+] Enlarge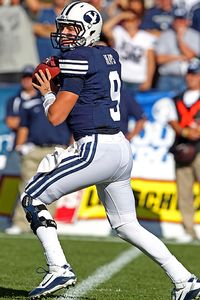 AP Photo/George FreyJake Heaps is set for his first start Saturday against Nevada.
2. How does Jake Heaps handle his first start at BYU?
The quarterback decision was made for Bronco Mendenhall this week when
Riley Nelson
went out for the season with an injury to his non-throwing shoulder. That leaves the true freshman Heaps in charge of what has been a very weak offense so far. Will one quarterback make a huge difference for the Cougars? They face a difficult task against Nevada on Saturday. Heaps has to be ready.
3. How does Terrance Broadway handle his first start at Houston?
Broadway was thrown into the mix last week against UCLA when
Case Keenum
and backup
Cotton Turner
were lost for the season with separate injuries. The true freshman played well, but now he will actually get the reps in practice and show what he can do leading this offense. Broadway was a four-star recruit once offered a scholarship to Alabama before an injury in high school. He chose Houston because the Cougars run a similar spread offense to what he ran in high school. First order of business is Tulane. Well, at least it's not Mississippi State. That comes in two weeks.
4. How does SMU handle the TCU defensive front?
The SMU offensive line has struggled in the first three games of the year, giving up 10 sacks. Wayne Daniels is off to a good start for the Horned Frogs, with 3.5 sacks, and the TCU defense is always good at applying pressure. You can bet that will be the game plan to rattle
Kyle Padron
and get him off rhythm.
5. Can Fresno State contain Ole Miss quarterback Jeremiah Masoli?
Heck, everybody else has seemed to contain him, why not the Bulldogs? Much credit goes to coach Pat Hill for his improved defensive unit this year. Chris Carter and Logan Harrell have combined for 6.5 sacks, but they have not quite played an opponent the caliber of Ole Miss just yet. Yes, Mississippi is better than Cincinnati.
6. Can the MAC pull off an upset against the Big Ten?
There are eight MAC vs. Big Ten matchups this weekend. Two to watch: Northern Illinois at Minnesota and Bowling Green at Michigan. I would like Bowling Green's chances a lot better if
Matt Schilz
was playing, but it seems you can throw any 11 players on the field and they will have an opportunity to gain some yards on a pretty poor Michigan defense. Minnesota has struggled this season, and that gives Northern Illinois the perfect opportunity.
7. Any chance FIU pulls the upset over Maryland?
The Panthers have been oh-so-close against Rutgers and Texas A&M, taking fourth-quarter leads into both games. Their defense has set the tone early, but they simply fell short during crunch time. The Panthers just don't have a good enough offense to be able to win these games.
8. UCF defense vs. Kansas State running back Daniel Thomas.
Thomas ranks second in the nation in rushing, and UCF has the best defense in Conference USA. So what is going to give? No doubt the Knights will try to stack the box, and they have said this week the key is sure tackling. That is easier said than done. Though the Knights do have a good unit, they have struggled at times against the run and are giving up an average of 128.7 yards a game.
9. Will Dwight Dasher be able to play for Middle Tennessee against Louisiana?
The NCAA has ruled Dasher must sit out four games for improperly accepting a $1,500 loan. The school has filed an appeal, and that ruling is expected to come either late tonight or tomorrow. The Blue Raiders are preparing as if he won't be able to play, so
Logan Kilgore
and
Jeff Murphy
have gotten the majority of reps in practice. This is the conference opener for Middle Tennessee before a huge game Oct. 5 against Troy. Dasher will be eligible to return for that game against the Trojans.
10. How does Duke slow down Army DE Josh McNary?
The Black Knights are hoping to win their third straight game away from home for the first time since 1966-67. They have a chance if Josh McNary continues to play well. The defensive end has five sacks in Army's last two games. As a team, Army has seven sacks in those two games. Army could be 3-0 if not for a last-second field goal in a loss to Hawaii.