NCF Nation:

what-to-watch-093010
September, 30, 2010
9/30/10
10:22
AM ET
Eight issues to consider heading into the third week of games.
1.
Power vs. Speed in Autzen Stadium
: Oregon might be the fastest team in the nation. Stanford is one of the most physical. The Ducks spread you out and try to find space and beat open-field tackles. Stanford goes double-tight and adds an H-back -- a converted tackle -- for a little more power. And it's not much different on defense. Oregon is a bunch of swarming fast guys; Stanford likes to punch folks in the mouth. Of course, we're overstating things. The Ducks can hit and Stanford can run (hello,
Chris Owusu
), but the Big Show in Autzen clearly features contrasting styles.
[+] Enlarge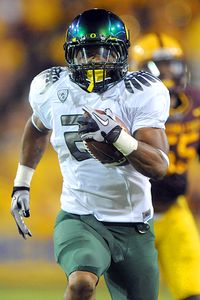 Kirby Lee/Image of Sport/US PresswireOregon's LaMichael James is dangerous in open space as he demonstrated on this 40-yard touchdown against Arizona State.
2.
Will the real Jake Locker please step up
: Locker never asked to he hyped for a Heisman Trophy or announced as the top quarterback on the NFL radar, but we media folks put him on that pedestal and he's fallen short of our predictions. So far. People who ask, "What has Locker done?" haven't been paying attention. He's done a lot while surrounded by a little (no college QB in the nation can produce as spectacular a highlight tape as Locker). But previous suggestions of tremendous upside need to be realized in tremendous performances delivered on a consistent basis. And so we have a visit to USC.
3.
Oregon State on third down
: Is there anything more infuriating than third-down failures on both sides of the ball? Can we, just for a moment, toss aside our team allegiances and sympathize with Beavers fans who have consistently seen two things this season: 1. Opponents
converting on third down
; 2. The Beavers
failing on third down
. Arizona State's defense is every bit the talent match of TCU and Boise State, and the Sun Devils offense has put up solid numbers against two good defenses (Wisconsin and Oregon). The Beavers need to step up their game on third down.
4.
UCLA hangover
? Every action has an equal and opposite reaction. Or so they say. By that line of thinking, the action -- UCLA's stunning domination of No. 7 Texas -- could be matched by an equal and opposite reaction -- Washington State posting an upset victory in the Rose Bowl. Far fetched? Well, how did you see the game last weekend in Austin going? This is a classic trap game. How do the Bruins avoid that? By showing up angry that anyone suspects they'd be so stupid to not take the Cougars seriously.
5.
Luck or LaMichael
? Two of the most dynamic players in the nation will be on opposite sides in Autzen Stadium. Will one of these redshirt sophomores walk away after the game as a leading Heisman Trophy candidate? Stanford QB
Andrew Luck
has uncanny accuracy and can also beat a defense with his legs. His downfield passing was probably more important to Stanford's upset of Oregon last year than the running of Toby Gerhart. Oregon running back
LaMichael James
is simply the most dangerous home-run threat in college football. He's got legit track speed and instincts to find open spaces. And he runs hard, too. If one or the other puts up big numbers in a winning effort, it's likely he immediately becomes a leading Heisman Trophy candidate.
6.
Trojans make a stand
: USC has been kicked around (irrationally) in the polls. The Trojans might be the most maligned team that has won three road games on their way to a 4-0 start in the history of the... universe. Of course, polls in September aren't remembered in December. What might happen if USC suddenly finds consistency on both sides of the ball and delivers a butt-whipping to a Washington team that is superior at... what position, other than QB? Of course, there's the opposite take: USC isn't mentally tough and will yield under adversity.
7.
Burfict vs. Jacquizz
: Arizona State linebacker Vontaze Burfict is one of the nation's most talented linebackers, but you have to wonder if he's getting bad advice from someone -- other than his coaches -- about his tendency to punish his team with personal fouls and unsportsmanlike conduct penalties (see Oregon's final drive of the first half last week). Vontaze, if you have a buddy who says that's working for you, it's not. It's going to be used as a wedge against you when you start talking NFL contract. We post that editorial here because Burfict is so much fun to watch when he just plays the game. He has been a dynamic force containing two of the best running backs in college football: Wisconsin's
John Clay
and Oregon's LaFast James. His next assignment is
Jacquizz Rodgers
, who's going to be eager for his first breakout game of the season.
8.
Washington State in the fourth quarter
: Cougars coach Paul Wulff is fighting for a fourth year. He needs his team to be competitive. It hasn't been in two of four games this year, and one game was a fourth-quarter comeback win against an FCS foe, Montana State. If UCLA and Washington State play to their potential, the Bruins should win. But the key for Wulff is this: Is his team fighting in the fourth? And is the final count respectable? If the Cougs get blitzed again by four or five or six TDs, well, things will continue to get darker in Pullman.
September, 30, 2010
9/30/10
10:21
AM ET
You've got Ali vs. Frazier III, Rocky III and even Hank Williams III.
On Saturday, it's Alabama vs. Florida III. Only this time, it's the regular-season variety.
After epic showdowns in each of the past two SEC championship games, the Gators and Crimson Tide meet for the first time since 2006 in the regular season.
That primetime affair highlights Week 5 in the SEC. Here's a look at what to watch:
1. Meyer vs. Saban:
Between them, they've won four of the past seven BCS national championships. Nick Saban won in 2003 at LSU and last season at Alabama. Urban Meyer won in 2006 and 2008 at Florida. Since Saban returned to the league in 2007, they're a combined 45-10 against SEC competition. Meyer is 23-5 and Saban 22-5. Meyer is 19-6 against nationally ranked foes at Florida. Saban is 13-5 against nationally ranked foes at Alabama. Meyer has won 27 of his past 28 games overall at Florida. Saban has won 31 of his last 33 games overall at Alabama, including 18 in a row.
[+] Enlarge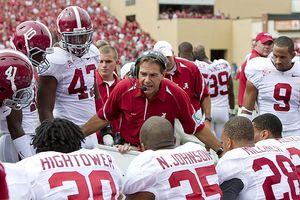 Wesley Hitt/Getty ImagesNick Saban is 13-5 against nationally ranked opponents -- including last week's win at Arkansas -- since becoming the coach at Alabama.
2. Dareus' health:
Alabama is second in the SEC in total defense and has yet to give up a touchdown in the second half, and that's with very little production from its best defensive player. Junior end Marcell Dareus was suspended for the first two games and only has two tackles in his two games back. He injured his left ankle in the second quarter last week against Arkansas and played in the second half, although he was limited. The Crimson Tide are still good up front defensively without him, but have a chance to be dominant when they get him back full speed. Dareus is rated by ESPN NFL draft analyst Mel Kiper as one of the top three defensive line prospects in the country.
3. Brantley in the pocket:
For the first time all season, Florida quarterback
John Brantley
looked comfortable in the pocket all four quarters last week in the 48-14 win over Kentucky. He'd had his moments earlier in the season when he threw some nice balls, but against the Wildcats he stood in there consistently, didn't hesitate and delivered strikes to his receivers. That's a good sign going into the Alabama game this weekend, especially with the kind of pressure he'll see from the Crimson Tide.
4. Making plays:
Meyer is confident that running back
Jeff Demps
will play Saturday against Alabama even though he was in a walking boot earlier in the week. Even so, Meyer doesn't think the Gators will have to lean on Demps as much the rest of the way because of what he's seen from some of the Gators' younger playmakers in practice the past two weeks. "Last Wednesday, they came out of their shell. They all had their best practice as Gators, the guys around John (Brantley). That's still the main focus, being better surrounding him," Meyer said.
5. Block that kick:
Winning on special teams will be vital for the Gators if they're going to leave Bryant-Denny Stadium with a win on Saturday. They blocked a field goal attempt last week against Kentucky, their 29
th
blocked kick since Meyer's arrival in 2005. That's the most in the country during that span. The Gators are also a perfect 8-for-8 on executing fake punts under Meyer. They popped one for 36 yards earlier this season against Tennessee to change the complexion of that game. What's more, Florida leads the SEC this season and is 12
th
nationally in net punting at 41.5 yards per punt.
6. Third and long:
Nobody in the SEC has been as consistently good on third-down defense the past couple of seasons as Alabama. The Crimson Tide are the class of the league again this season when it comes to stopping people on third down. Opponents are 15-of-56 against them (26.8 percent), and one of the reasons they're so good on third down is that they love to get you in third-and-long and then tee off. In last week's 24-20 win over Arkansas, the Hogs were 2-of-10 on third down. Four of those third downs were third-and-11 or longer.
7. Playing with the lead:
LSU hasn't trailed since the second quarter of the season opener against North Carolina, a stretch of 14 straight quarters. The Tigers have been suffocating on defense and have done it with very little help from the offense. In fact, LSU's defense set up one of the two touchdowns the Tigers scored last week in the 20-14 win over West Virginia. As long as the Tigers continue to struggle in their passing game, they're going to need short fields set up by their defense and big plays on special teams. The last thing the Tigers want to do right now is fall behind and have to win the game throwing the football in the second half.
8. Newton's Law:
Auburn quarterback
Cameron Newton
has been amazing in the Tigers' first four games. South Carolina simply couldn't tackle him last week, and that seems to be a recurring problem for opposing defenses. With Louisiana-Monroe coming up this Saturday, don't be surprised if Newton takes it easy with his running. He already has 75 carries in his first four games and is on pace to carry it 243 times over a 13-game season. As a comparison, the most rushes in a season by former Florida quarterback Tim Tebow was 217 during his senior season. He ran it 210 times for 895 yards during his 2007 Heisman Trophy season.
9. Hartline's response:
This is a big bounce-back game for Kentucky on Saturday at Ole Miss and a big bounce-back game for senior quarterback
Mike Hartline
. He made all the right decisions in the first three games. But last week against Florida, he had his first two interceptions of the season and both were costly. One was returned 52 yards for a touchdown to make it a 21-0 game, and he was intercepted at the Gators' 15 on the previous possession. He gets a chance to get back on track against an Ole Miss defense that has given up eight touchdown passes this season and is still looking for its first interception.
10. Going Green:
Even if he doesn't reach the end zone,
A.J. Green
's return this weekend after a four-game suspension should be a huge boost for Georgia. Just the emotional lift the Bulldogs will get from having back out there on the field is the kind of thing this team needs. Green has vowed to be a more vocal leader and says there shouldn't be any rust. He practiced the entire time during his suspension, and Georgia coach Mark Richt said he went after it as hard as he ever has. "I'm glad he's back. That's for sure," said Richt, whose Bulldogs will look to snap their three-game losing streak when they visit Colorado on Saturday.
September, 30, 2010
9/30/10
10:21
AM ET
1. TCB Weekend:
It's a rare week when every Big East team is favored and expected to win, with only UConn's game against Vanderbilt featuring a major-conference opponent. The league has been battered and bruised for its September performance, so this is a time to pick up some wins and confidence -- provided that everybody takes care of business.
[+] Enlarge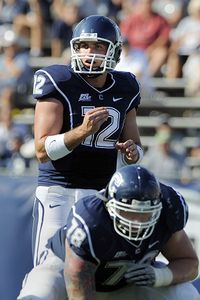 AP Photo/Fred BeckhamCody Endres completed 7 of 11 passes for 139 yards, two touchdowns and no interceptions in relief of Zach Frazer last week.
2. Endres enters:
Cody Endres
looked good in relief of
Zach Frazer
at quarterback for Connecticut last week, and now he gets his first starting assignment since October of last season. Can he keep it up against an SEC defense? And can the Huskies passing game continue to show improvement?
3. UConn's rush to victory:
Notice I called Vanderbilt an SEC defense in the last item, and technically that's true. But the Commodores rank 105th in the FBS in rushing defense, allowing 206 yards per game. We don't know yet if
Jordan Todman
will play after missing last week's game with an arm injury. But clearly there should be some running room for a team that loves to move the ball on the ground.
4. Macho Man Savage?:
Rutgers quarterback
Tom Savage
is dealing with bruised ribs, and if you ever experienced an injury there, you know how painful that can be. It remains to be seen whether Savage, who has gotten off to a rough start while healthy, will play or be able to be effective against Tulane. If he can't go, then true freshman
Chas Dodd
may be forced into action, or
Mohamed Sanu
will see a whole lot of Wildcat time. That could make an already scuffling Rutgers offense even more sketchy.
5. Pitt's new-look line:
Pittsburgh shook things up this week with its offensive line, moving tackle Lucas Nix inside and installing Jordan Gibbs at right tackle. The Panthers are desperately trying to get the line right and open up room for their running game, which is key to everything they want to do. The reshaped line gets its first challenge against Florida International, which gave Rutgers all it could handle in Week 2. FIU likes to blitz from different angles and has Florida athletes, so this will be a good litmus test for Pitt's makeover.
6. Sunseri in the spotlight:
Pitt quarterback
Tino Sunseri
did not look good against Miami, and when reserve
Pat Bostick
came in during the fourth quarter some fans were ready to make the change permanent. Dave Wannstedt isn't ready to make a switch and still believes in Sunseri. But clearly, the first-year starter needs to get on track, because the Panthers don't have much room for error. And they have a veteran in Bostick waiting in the wings.
7. Bulls on the run or in the air?:
South Florida escaped Western Kentucky last week by running the ball almost exclusively. Now the Bulls play a Florida Atlantic team that ranks last in the country in rushing defense. So expect some more of the power I-formation look, and potentially a big day for
Demetris Murray
and
Mo Plancher
. At the same time, however, receivers
Dontavia Bogan
and
Sterling Griffin
could be back from injury, and both could use some work before next week's Big East opener against Syracuse. So USF needs to air it out a bit, too.
8. New Cardinals catchers:
Louisville has suffered all kinds of injuries at the receiver position, the latest knocking out leading pass catcher
Doug Beaumont
. The Cardinals need to find people to make plays in the passing game this week at Arkansas State, and they could look to junior college transfer
Josh Bellamy
, sophomore
Andrell Smith
or freshmen
Kai Dominguez
and
Jarrett Davis
. None have much experience, and Louisville will likely need to get plays out of them against a Red Wolves team that's averaging 28 points per game.
September, 30, 2010
9/30/10
10:20
AM ET
Conference play finally kicks off this week, and here are 10 things to track on Saturday.
1. John Clay vs. Greg Jones:
The Big Ten's top running back (Clay)
goes up against the league's top linebacker
(Jones) in a matchup football purists will love. Clay has rushed for 253 yards and two touchdowns in two career games against Michigan State, while Jones has recorded 27 tackles in those matchups. After limiting Clay's carries a bit during nonconference play, Wisconsin likely will feed him a lot at Spartan Stadium, particularly in the second half. If Jones and the Spartans defense keep Clay in check, they'll have a good chance to win.
[+] Enlarge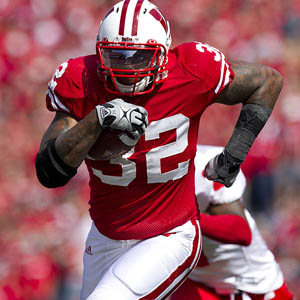 Jeff Hanisch/US PresswireWisconsin's John Clay has rushed for 501 yards and six touchdowns this season.
2. Roles reverse for Hawkeyes, Lions:
Iowa's recent dominance against Penn State is well known, as the Hawkeyes have claimed seven of the teams' last eight meetings. Unranked Iowa teams have knocked off top 5 Penn State squads in each of the last two seasons. This time, Penn State is the acknowledged underdog heading to Kinnick Stadium. Iowa has the senior quarterback (
Ricky Stanzi
) and the more accomplished team, but it also has the pressure to win. Penn State certainly boasts the talent to shock the Hawkeyes.
3. Fireworks in Bloomington:
Expect a ton of points in the Michigan-Indiana game, as quarterbacks
Denard Robinson
and
Ben Chappell
lead potent offenses against shaky defenses at Memorial Stadium. Robinson
will play
after suffering a bruised left knee against Bowling Green, and he faces an Indiana defense that ranks 10th in the league against the run (177 ypg). Chappell leads the Big Ten and ranks 10th nationally in passing (296.7 ypg). He and his talented receiving corps face the Big Ten's worst pass defense in Michigan (264.8 ypg allowed). This could easily become a basketball score.
4. Improved Illini defense tested:
All the early signs point to some genuine improvement with an Illinois defense that finished last in the league in both points allowed and yards allowed in 2009. But as coach Ron Zook said this week, "This will be the first major, major test." Ohio State's
Terrelle Pryor
leads the nation's No. 8 offense into Champaign on Saturday, and Illinois will be challenged to slow down the Heisman Trophy candidate, who accounted for six touchdowns (4 pass, 1 rush, 1 receiving) last week. To have any shot, the Illini need continued playmaking from defensive backs Travon Bellamy, Tavon Wilson and
Justin Green
.
5. Gophers on life support:
There's little joy in Minneapolis about the Golden Gophers after a 1-3 start that includes three consecutive home losses. Despite coach Tim Brewster's perpetual positivity,
players are aware of the gloom on the outside
. Minnesota really needs something good to happen early in Saturday's Big Ten opener against Northwestern. If things start to go bad, the boos likely will rain down and it's hard to imagine the team turning things around. Minnesota really could use some big plays to lift the mood in TCF Bank Stadium.
6. Clayborn digs in:
Penn State hasn't forgotten what
Adrian Clayborn did last September
at Beaver Stadium. Lions left tackle Quinn Barham put a picture of Clayborn on his cell phone as a reminder of what he'd face this fall. But Clayborn has been relatively quiet this season, as constant double teams have limited him to 15 tackles and no sacks through the first four games. Clayborn is due for a big night and he'll set his sights on Penn State freshman quarterback Rob Bolden. Penn State has protected Bolden well, allowing only one sack, but the Lions are shorthanded after losing right tackle Lou Eliades to a season-ending torn ACL.
7. Dantonio begins his return:
Michigan State's Mark Dantonio will be in the coaches' booth Saturday at Spartan Stadium less than two weeks after suffering a mild heart attack and undergoing surgery. Dantonio said Tuesday that offensive coordinator Don Treadwell will continue to handle head-coaching duties as needed, as Dantonio eases into his full-time role again. "Guys are really excited to see him around," Greg Jones told me. "You feel like the tempo's picking up even more. Guys are going to really, really feel his presence more than they did last week."
8. Northwestern turns to Trumpy:
Northwestern has been looking for an answer at running back for a year and a half. As good as quarterback
Dan Persa
has been, the Wildcats need a legit ground game to join the Big Ten's elite this fall. After
Arby Fields
' early struggles, Northwestern will turn to redshirt freshman
Mike Trumpy
, who provided a boost with 53 second-half rush yards last week against Central Michigan. Trumpy and
Jacob Schmidt
were elevated to co-starters on the depth chart, as Northwestern faces a Minnesota team that allowed Northern Illinois'
Chad Spann
to run wild (223 yards) last wek.
9. Cousins, Tolzien in crunch time:
Both Michigan State and Wisconsin are run-first teams boasting a multitude of capable backs, but I really believe Saturday's game comes down to which quarterback makes plays in the fourth quarter. Both
Kirk Cousins
and
Scott Tolzien
have played well the last two weeks, combining for 998 pass yards with eight touchdowns and only one interception. Cousins needs to prove himself in the clutch, while Tolzien looks for a signature road win in a place where Wisconsin has struggled. He'll get top receiver
Nick Toon
back from a toe injury.
10. Buckeyes need answers at RB:
Perhaps Buckeyes fans are nitpicking, or maybe they have a point about
Brandon Saine
and
Dan Herron
. Either way, Ohio State fans want to see more production out of the veteran running backs, or increased opportunities for dynamic redshirt freshman
Jaamal Berry
, who has 15 carries for 177 rush yards (11.8 ypc) this season. Coach Jim Tressel is loyal to his veteran players, and it will be interesting to watch what he does if Saine and Herron start slow against Illinois.
September, 30, 2010
9/30/10
10:20
AM ET
Here's what I'm keeping an eye on in the five Big 12 games over the weekend.
1. Who makes up for last week?
Oklahoma hasn't run the ball well since Week 1.
DeMarco Murray
rushed 28 times last week and averaged just 2.4 yards per carry, with a long of just 9 yards. Meanwhile, Texas' defense got dominated by UCLA, allowing 264 rushing yards. In a game that should be as physical as this one, running the ball or stopping the run will mean a win.
[+] Enlarge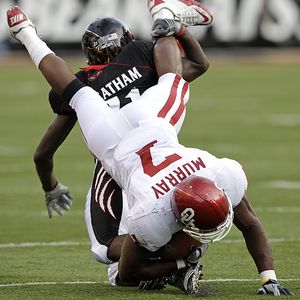 AP Photo/Al BehrmanDeMarco Murray struggled last week against Cincinnati, carrying the ball 28 times with an average of just 2.4 yards per carry.
2. Frankly, I prefer apple over cherry.
Texas' four first-half turnovers last week put them in a 13-3 hole against UCLA. Do it again, and Oklahoma will bury them quite a bit deeper. Last year, Oklahoma turned the ball over five times. This should be a low-scoring game and field position will matter. Turnovers are the quickest way to lose it.
3. He's an imposter! He's not Santa!
So far, both Oklahoma State and Texas A&M have gotten what they wanted. For the Cowboys, it's been a prolific offense despite the inexperience of its personnel. Texas A&M has shored up the defensive lapses that made it one of the nation's worst defensive teams last year. Neither has played an opposing defense (Oklahoma State) or offense (Texas A&M) that will really impress anyone. Which one is more legitimate than the other? No doubt, when Oklahoma State has the ball, this matchup will be long on interest.
4. We're playing football here, guys, not chess.
Texas A&M defensive coordinator Tim DeRuyter dominated Oklahoma State offensive coordinator Dana Holgorsen the last time they met, when Air Force beat Houston 47-20 in last year's Armed Forces Bowl. Holgorsen never had a running back like
Kendall Hunter
at Houston. DeRuyter never had a Joker like Von Miller. Which coordinator can arrange his pieces well enough for the win? One of the most intriguing matchups in tonight's game definitely won't be on the field.
5. No, you may not play with my walkie-talkie.
Kansas had communication issues in its last road game, a trip to Southern Miss against a fast-paced offense. They'll face another in Baylor this week. Can the Jayhawks fix those problems and be able to receive and execute the necessary calls?
6. Don't let the knee brace fool you, they're still letting him play.
Kansas stopped the last running quarterback it played, Georgia Tech's
Joshua Nesbitt
, from beating them. But the Jayhawks have never played one like
Robert Griffin
, who's a much better passer than Nesbitt and faster. Plus, this is a spread scheme. Limiting Griffin's effectiveness is always primary when teams play Baylor, and this is no exception.
7. Jersey sales on the concourse only.
Georgia gets a big target back for first-year starter
Aaron Murray
in receiver
A.J. Green
, who was suspended for the first four games of 2010. If he has a big game, Colorado's going to lose this game. Holding home field advantage starts with keeping Green from getting loose.
8. He's different from the MmmBop guys.
When
Tyler Hansen
has played well, so have the Buffs. He completed 70 percent of his passes for four touchdowns and an interception in the Buffaloes two wins. He threw three interceptions and completed just over 50 percent of his passes in the loss to California. A lot of how he plays depends on the play of the offensive line and if the running game picks up, but if the Buffs protect Hansen from an SEC defense and give him the opportunity to make plays, they'll have a good shot to win.
9. Paging the Cadillac.
Texas Tech's offense hasn't been as effective so far under Tommy Tuberville, ranking 10th in total offense and averaging 50 fewer rushing yards per game than any other team in the Big 12. It must get better to get back in the Big 12 South race. Saturday is its first chance, two weeks after rushing for minus-14 yards against Texas.
10. Baron Batch is the bowler, but the Cyclones would like to join.
You're heard plenty about Iowa State's bear of a schedule, but winnable games like this are the ones the Cyclones have to win to make a second consecutive bowl appearance. As it stands, the Cyclones have four top-15 teams on their schedule and No. 21 Texas. Texas Tech isn't among the group of Iowa State's other seven games.
September, 30, 2010
9/30/10
10:19
AM ET
Here's a look at what to watch this week in the ACC: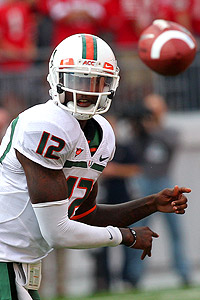 Aaron Josefczyk/Icon SMIThe Hurricanes need Jacory Harris to cut back on his interceptions.
Turnovers in Death Valley and College Park. Miami quarterback Jacory Harris has thrown six in the past two games. Clemson is No. 7 in the country in turnover margin, gaining seven and losing two. Duke had five turnovers this past weekend against Army and Maryland is tied for No. 10 in the country in turnover margin with 10 gained and four lost.

Clemson's offensive line vs. Miami's defensive line. One particular matchup will be right tackle Landon Walker against Miami defensive end Allen Bailey, but it needs to be a group effort. Protecting quarterback Kyle Parker and giving him time will be key, but it won't be easy. Miami is second in the nation in sacks, averaging 4.67 per game, and leads the nation in tackles for loss with 11.33. Bailey also played 12 snaps at tackle against Pitt.

Boston College's quarterback. The Boston Globe has reported that freshman Chase Rettig will start against Notre Dame, but coach Frank Spaziani hasn't confirmed it. All we know for sure is that it won't be Dave Shinskie. Regardless, it could be the difference in the game.

FSU's revamped offensive line. Left tackle Andrew Datko has missed the past two games with a shoulder injury and is listed as day-to-day. Henry Orelus and Garrett Faircloth are both expected to play. Zebrie Sanders could move from right to left tackle.

Georgia Tech's energy. That's right, it's that simple, and it's been missing. Paul Johnson said this week he wants his team to "play like their hair's on fire" and with a sense of urgency.

Atlantic vs. Coastal. All five ACC games this weekend are interdivisional matchups, the first time that has happened since the ACC split into the Atlantic and Coastal divisions in 2005. The Atlantic Division has home-field advantage in four of the five matchups.

The record books. NC State quarterback Russell Wilson needs one more touchdown throw to move into sole possession of second place in NC State history in that category behind ACC record-holder Philip Rivers. With 59 touchdown passes for his career, one more will also move him into seventh place in the ACC record books.

Virginia Tech in the red zone. The Hokies have been inside the 20-yard line 18 times and scored nine touchdowns. They kicked four field goals last week against Boston College, but will need to have more success against the No. 19 offense in the country or make more even stops on defense.

Virginia's defense vs. Florida State's offense. Virginia boasts the ACC's top scoring defense, allowing just 12.3 points per game. Florida State's offense is third in the conference in scoring (35.2/game) and ranks first in total offense (434.5 yards/game). Virginia has allowed 280.3 yards per game, which ranks second in the league to Miami.

North Carolina's revamped secondary against ECU quarterback Dominique Davis. The Tar Heels' secondary was one of the positions hit hardest by the suspensions, but those players have held their own. They'll get another challenge against the No. 9 scoring offense in the country and a passing game averaging just shy of 300 yards per game.
September, 30, 2010
9/30/10
10:15
AM ET
There are only a few marquee games on the schedule for this week. Air Force vs. Narvy tops our top 10 non-AQ storylines to watch:
1. Air Force defense vs. Navy quarterback Ricky Dobbs.
In the biggest game of the week featuring the non-AQs, Air Force has a good shot at beating Navy for the first time in eight seasons. Dobbs has not returned to his 2009 form, and part of the reason is because he has been hobbled with a sprained ankle. Teams are keying in on him and forcing him to pitch the ball out. Air Force did a good job against him last year, holding him to less than 100 yards. But the Falcons lost a heartbreaker in overtime.
[+] Enlarge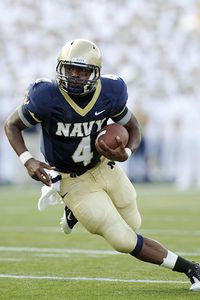 Chris Gardner/US PresswireAn ankle injury and added defensive attention have slowed Ricky Dobbs. He's rushed for 174 yards in three games after netting 1,192 last season.
2. Is BYU or Utah State the second-best team in the Beehive State behind Utah?
We will get our much-anticipated answer in a nationally televised game Friday night. This has not been a competitive game in the past, but BYU is struggling now, having lost three straight. It has experience going against running quarterbacks. The Cougars allowed
Colin Kaepernick
and Nevada a big first half last week, but adjusted well in the second half. That should give them some confidence going into the game against
Diondre Borel
.
3. Welcome to conference play Boise State and TCU.
Let us introduce you to your opponents -- two of the worst teams in college football. Boise State gets winless New Mexico State, while TCU gets one-win Colorado State. This is why a lot of people have a hard time buying their rise to the top of the polls.
4. How much will Boise State miss Winston Venable?
The starting safety is suspended for a half after a helmet-to-helmet hit gave
James Rodgers
a concussion last week. The Broncos are playing offensively challenged New Mexico State so the answer here is easy. They could have afforded to have him suspended the entire game, which is what WAC commissioner Karl Benson initially ruled before an appeal.
5. Will TCU give up almost 200 yards on the ground again?
Considering Colorado State is the worst rushing team in the country, averaging 59 yards on the ground, the answer is no. But the way
Pete Thomas
can throw the ball, the Rams may be able to get their yards through the air.
6. Will there be a Top 25 meltdown for Nevada in its big rivalry game with UNLV?
No. That win last week for UNLV was really nice and all, but it came against New Mexico. The Rebels have a long way to go if they want to catch up to the way Nevada is playing right now. The Wolf Pack are deserving of that No. 25 ranking.
7. Will a fourth starting quarterback make a difference for Louisiana Tech?
The Bulldogs are going with
Tarik Hakmi
, who threw for 262 yards in a narrow loss to Southern Miss last week. But he is going to have a hard time trying to keep up with the Hawaii offense.
Bryant Moniz
has 1,337 and 11 touchdowns already this season.
8. Will two of the top running backs in the MAC be available on Saturday?
Temple coach Al Golden says
Bernard Pierce
(ankle) is a game-time decision against Army after getting hurt against Penn State. Kent State coach
Doug Martin
didn't sound as optimistic about
Eugene Jarvis
(groin), who has missed the past two games.
9. Can SMU bounce back against Rice?
This will be the 88th meeting between the two Texas schools and former Southwest Conference rivals, making it the most-played rivalry in Conference USA. SMU has the edge in this one. The Mustangs played valiantly in their loss to TCU.
Zach Line
ran the ball well, but coach June Jones would like to see more consistency out of his passing game.
10. Any of the six winless teams remaining have a shot to win?
Five are playing this weekend -- Eastern Michigan, FIU, Akron, New Mexico and New Mexico State. I would not say any have a realistic shot, but watch for FIU against Pittsburgh and Eastern Michigan against Ohio. The Bobcats have not played up to their potential yet, at 1-3, and are still juggling quarterbacks.
September, 30, 2010
9/30/10
10:15
AM ET
What to watch from Notre Dame in Saturday night's game at Boston College:
1. Can the Irish run the ball?:
Notre Dame is by no means a great running team, but it has looked competent at times this season with
Armando Allen
. Boston College owns the nation's sixth-best rushing defense, allowing just 71 yards per game, and has stuffed the Irish backs over the years. There was a depth chart change this week, with
Robert Hughes
moving ahead of
Cierre Wood
as Allen's backup. Hughes is the biggest back Notre Dame has and may offer some a physical style. But the Irish offense could become one dimensional if they can't move it on the ground.
2. Is stopping the run enough?
: The Eagles'
Montel Harris
is the leading rusher in the ACC, and the Irish are sure to see healthy helpings of handoffs to him. But Boston College is making a quarterback change, and all indications are that true freshman
Chase Rettig
will get the call. Notre Dame went back and studied some high school film of Rettig this week just in case. Unless Rettig is a natural, this should be an advantage for the visiting team. Look for defensive coordinator Bob Diaco to stuff the box and make Rettig prove he can beat the Irish.
3. Charting Crist:
It seems like every week we're talking about the development of
Dayne Crist
, but that's because the quarterback is so important to this offense. Last week, Stanford often dropped eight men into pass coverage, and Crist and the offense did not respond well. He also got knocked around quite a bit. Boston College could try similar tactics, though that's not really their style. Either way, Crist has to make better decisions, and if the defense is going to drop that many in coverage, he may have to run the ball more himself, too.