NCF Nation:

what to watch 102110
October, 21, 2010
10/21/10
10:35
AM ET
After this weekend, there will only be one unbeaten team remaining in the SEC.
Auburn and LSU get it on Saturday at Jordan-Hare Stadium. Both teams are 7-0 and ranked in the top 10.
Here's a look at what to watch in the SEC in Week 8:
[+] Enlarge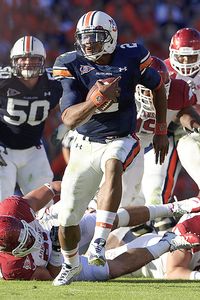 Paul Abell/US PresswireCam Newton has thrust himself into the middle of the Heisman Trophy conversation.
1. Defending Newton:
The truth is that nobody really has put the clamps on Auburn quarterback
Cam Newton
, who's leading the SEC in rushing and making a serious run at the Heisman Trophy. But in LSU's defense, he will go up against the best defensive line he's faced all season, some of the fastest linebackers he's faced, as well as some of the best-tackling defensive backs. LSU defensive coordinator John Chavis will pick his spots in coming after Newton, and Chavis also has confidence in his cornerbacks, namely Patrick Peterson, to leave them back there alone in man coverage and devote more defenders to stopping Newton in the running game.
2. LSU's passing game:
Jarrett Lee
is likely to see the most action he's seen all season at quarterback for the Tigers, who know they have to take advantage of Auburn's deficiencies in defending the pass if they're going to win this game. LSU did throw for 224 yards and two touchdowns in the 33-29 win over Florida. But those are the only touchdown passes the Tigers have thrown this season other than the two
Jordan Jefferson
threw in the opener against North Carolina. And in four of their past six games, the Tigers have finished with 112 or fewer passing yards. Making some big plays in the passing game will be critical for LSU if the Tigers are going to win this game.
3. Fourth-quarter prowess:
It's pretty well established by now that Auburn loves the fourth quarter. The Tigers have outscored teams this season 72-21 after the third quarter, which also counts the overtime period against Clemson. Even more impressively, Auburn has forced seven turnovers in the fourth quarter against the last two nationally ranked teams it's faced -- Arkansas and South Carolina. How has LSU fared in the fourth quarter? Not bad. LSU has outscored teams 55-36 in the fourth quarter, but just about all of those points by the opponents have come in two games. North Carolina scored 14 points in the fourth quarter in the opener, and Florida scored 15 points in the final quarter two weeks ago.
4. Freshmen of influence:
Georgia quarterback
Aaron Murray
and South Carolina tailback
Marcus Lattimore
have been the two best freshmen in the SEC so far, even though Lattimore isn't expected to play Saturday against Vanderbilt after spraining his ankle last week. Several other freshmen are also having big seasons. Among them: Auburn running back
Mike Dyer
, Florida quarterback
Trey Burton
, Arkansas defensive tackle Byran Jones, LSU cornerback Tyrann Mathieu, Tennessee offensive tackle Ja'Wuan James, Vanderbilt safety Kenny Ladler and Mississippi State safety Nickoe Whitley.
5. Nutt returns to Arkansas:
For the second time since leaving there as head coach following the 2007 season, Ole Miss' Houston Nutt returns to Arkansas on Saturday. He's beaten the Hogs each of the past two seasons. Nutt downplayed going back this second time, saying all that other stuff was sort of yesterday's news. Maybe so, but Nutt is still a polarizing figure in that state. Fans either love him, or they loathe him. There's not much middle ground for the guy who took the Hogs to two SEC championship games in 10 seasons at Arkansas.
6. Georgia's 'D' coming on:
It looks like Georgia is starting to get it defensively and is playing much more instinctively in Todd Grantham's scheme. The staff has tweaked a few things, in particular shuffling around some personnel in the secondary, and the Bulldogs have also tackled better. They will get a stiff test in that category on Saturday at Kentucky.
Randall Cobb
has been a touchdown waiting to happen every time he touches the ball, and Cobb's fellow receiver,
Chris Matthews
, has also made several plays after the catch. The Bulldogs may get a break, though, when it comes to dealing with Kentucky star running back
Derrick Locke
. He's doubtful for the second straight game with a shoulder stinger.
7. Elimination in the East:
Unless the Eastern Division champion ends up with four losses, which isn't out of the realm of possibility, the loser of Saturday's Georgia-Kentucky game can pretty well count itself out of the race. The winner, though, still has a shot. Georgia would need South Carolina to lose two more games. The Gamecocks have a home game with Arkansas and play at Florida. The Wildcats, who own the head-to-head tiebreaker over South Carolina, could win the division if the Gamecocks lose to Arkansas and then beat Florida. Another favorable scenario for the Wildcats would be Georgia beating Florida and then Florida beating South Carolina. Kentucky can't finish in a tie with Florida and win the division, because the Gators beat the Wildcats earlier this season. All of these scenarios are predicated on the winner of the Georgia-Kentucky game winning out.
8. Revving up the running game:
All of a sudden, Alabama's running game has looked mortal the past couple of weeks. In fact,
Mark Ingram
hasn't rushed for more than 60 yards in any of his past three games. Trent Richardson's highest rushing output in his past five games was 85 yards against Arkansas. This may be the game the Crimson Tide get that running game cranked back up again. Not only is Tennessee thin up front in its defensive line, but the Vols' top interior lineman, Montori Hughes, has been slowed by an injury and might not be able to play.
9. Bray's time?
Tennessee coach Derek Dooley says he wants to get freshman quarterback
Tyler Bray
into the game Saturday against Alabama. Bray showed some flashes toward the end of the Georgia game two weeks ago, and Dooley said he deserves to play. There isn't a specific plan, and Dooley said it will be more by feel when Bray plays and how much he plays. It's not so much a reflection on
Matt Simms
and his performance this season, either, as it is on Tennessee's inability to score points. Tennessee and Vanderbilt are tied for last in the SEC with 17 touchdowns.
10. Dealing with success:
Mississippi State has won four games in a row for the first time under Dan Mullen. The Bulldogs are nationally ranked for the first time in nine years. Everybody will expect them to just show up this Saturday and automatically make it five in a row with a win over UAB. It's never that easy, though, and we'll find out a lot about the leadership and the maturity in this program. This is new ground for the Bulldogs, who need to be able to handle this success and keep pushing forward. After UAB comes a home game against Kentucky and then a bye the week before Alabama, so the schedule sets up nicely if the Bulldogs can take care of their business and not get caught up basking in what they've done to this point.
October, 21, 2010
10/21/10
10:35
AM ET
Issues to consider heading into the eighth week of games.
Ducks make a statement
: Oregon is the big show Thursday night. Everybody will be watching ESPN to see what all the fuss is about regarding that team in the funny uniforms with ludicrous speed on offense. Folks, style points matter in the BCS system. If the Ducks post a, "Wow," performance, it helps them maintain or even improve their stature. It means, for example, the voters in the Southeast or the flyover states who raise a skeptical eye at Pac-10 football go, "Golly." Don't believe blowing out UCLA won't have traction. You can't argue about how the Bruins physically dominated Texas, which probably isn't going to lose another game in the Big 12. You want pollsters to go, "You know, Auburn/Oklahoma/Boise State is good, but Oregon, man, that team looks
good
."
[+] Enlarge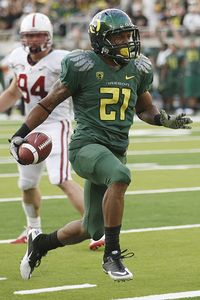 AP Photo/Rick BowmerRunning back LaMichael James and Oregon will be looking for style points on Thursday against UCLA.
Riley, Cal on the brink
: The Pac-10 blog enjoys talking to California QB
Kevin Riley
. Strikes me as a cool dude. But one of the tough things about this job is you sometimes have to say unkind stuff about good dudes. Riley isn't alone to blame for the Bears' problems by any fair measure. But, as a senior, he needs to be more a part of the solution. He hasn't played well this season, particularly during the past three games (that doesn't include the Nevada game in which he made some critical mistakes but mostly played well). If Riley plays like he did against Colorado against Arizona State on Saturday, the Bears will win. Of course, the Sun Devils are a lot better than the Buffaloes. But it isn't about the opponent. It's about Riley being smart, accurate and making plays. And leading.
Cougs D-line vs. Stanford O-line
: Stanford has the most physical offensive line in the conference. The Cougars' front seven showed some signs of improvement against a good Arizona O-line, but they still rank 119th in the nation in run defense. If you can't stop the run versus Stanford, well, suffice it to say, you are in big trouble, because Jim Harbaugh loves to be cruel -- which means running power at you over and over again until you wilt. You know, like he did to USC last year.
Great Scott
? The storybook, at least from the Arizona side of things at it faces Washington, is
Matt Scott
replacing
Nick Foles
as the Wildcats' starting QB and playing great until Foles is able to return. That allows Scott to redeem himself for losing the starting job after three mediocre games in 2009. Fact is, plenty of folks in Tucson think Scott is a pretty good QB and they aren't panicking about him taking over. The truth, in fact, is the Wildcats' offense has been hot-and-cold, even with Foles. A more punchy running game would make things a lot easier for Scott, but it's likely he will have to make plays passing against Washington and going forward to keep the Wildcats in the Pac-10 race.
Bruising Bruins
: What happens if UCLA eschews the passing game and runs right at the Oregon and it works? Sure, that doesn't sound very likely -- Stanford sure couldn't do it. But who thought the Bruins would overpower Texas a few weeks back and not need a passing game to post a blowout victory? As far as upset scenarios go, most for the Bruins start with an ability to consistently run the ball at the Ducks -- fast but undersized -- which also has the added benefit of keeping the Ducks' offense on the sidelines. You know, like Ohio State did in the Rose Bowl.
Sun Devils turn the corner
: Was the win at Washington a breakthrough for Arizona State? Well, we should know Saturday at California. The Sun Devils, who should be rested after a bye, won a number of converts while losing three tough, competitive games to Wisconsin, Oregon and Oregon State, but it's hard to become too effusive about a team that keeps
almost
winning. You know, close only counts in horseshoes and hand grenades. And curling. And parallel parking. But we digress. The win in Husky Stadium wasn't fancy, but it wasn't sloppy, which was why there was a happy ending. If QB
Steven Threet
doesn't throw interceptions, and the Sun Devils as a whole avoid stupid penalties, this team can play with anyone.
Luck for Heisman
? Stanford probably could run 75 times and beat Washington State. But style points matter, on a team and individual level. Harbaugh wants to win big and help his team climb the national polls. And QB
Andrew Luck
needs to post some impressive numbers to remain in the Heisman Trophy discussion. If the Cardinal softens up the Cougars with the power run game, there figure to be plenty of opportunities over the top. Luck should get three or four TD passes and then sit out the fourth quarter. Unless, of course, the Cougs make his life unexpectedly difficult.
Wildcats and Huskies and a pass rush
: Arizona, led by DEs Ricky Elmore and Brooks Reed, leads the Pac-10 with 21 sacks. The Huskies, led by mobile QB
Jake Locker
and pretty good pass protection, have surrendered just eight sacks. Some Wildcats (and Huskies) fans might recall Locker having a fairly fancy moment of escapability against Arizona last year (hint: 56 yards). That's a strength-on-strength matchup. Meanwhile, the Wildcats have surrendered 17 sacks, second worst in the Pac-10 (a surprising number but the O-line had a terrible game at Washington State). The Huskies only have 13 sacks, which also ranks second to last in the conference. And the Huskies will be without the services of injured end Talia Crichton. That's a weak-on-weak matchup. Considering the Wildcats are starting their backup QB -- albeit an experienced one in Scott -- it seems the Huskies would really like to get a strong rush. And the Wildcats want to thwart that desire.
October, 21, 2010
10/21/10
10:35
AM ET
1. Rutgers' focus:
It's impossible to tell how Rutgers will respond to the devastating injury to teammate Eric LeGrand last week that has dominated the discussion and thoughts in New Jersey. The closest parallel is probably how Connecticut played after losing Jasper Howard last year. The Huskies were inspired but took several weeks until they could close out and win a game, as the emotional fatigue might have been a factor. How do the Scarlet Knights come out on Saturday at Pittsburgh?
2. O-lines at Heinz:
The offensive lines at Rutgers and Pitt have been under fire all season. The Scarlet Knights surrendered eight sacks last week and rank last among 120 FBS teams with 26 sacks allowed this season. They will have to hold off a strong defensive line led by Jabaal Sheard that will be looking to cause havoc. The Panthers' offensive front has showed improvement since making lineup changes three games ago, but it will face a difficult challenge against a Rutgers defense that brings pressure from lots of confusing angles. "Nobody will force the blitzing issue as much as Rutgers will," Dave Wannstedt said. This could be a defensive struggle unless the lines hold up.
3. Chas vs. Tino:
Rutgers true freshman quarterback
Chas Dodd
will be making his first road start. Can he continue the fourth-quarter magic he's showed the past two games? Meanwhile, Pitt quarterback
Tino Sunseri
had his best game last week at Syracuse. Can he keep it up against another blitz-heavy defense?
[+] Enlarge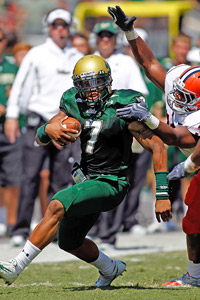 J. Meric/Getty ImagesSouth Florida needs quarterback B.J. Daniels to get into a rhythm.
4. Can USF find the end zone?
South Florida has failed to score an offensive touchdown in two Big East games. Skip Holtz and his staff went back to the drawing board this week, trying to find ways to improve the passing game and quarterback
B.J. Daniels
. Freshman cornerback Terrence Mitchell could see some time at receiver Friday night at Cincinnati. The Bulls have never won at Nippert Stadium and will have a hard time breaking that streak with merely field goals.
5. Cincinnati's offense vs. South Florida's defense:
The secret to both teams' success Friday night is no secret. Cincinnati, which is averaging more than 30 points a game, likes to play a fast, free-wheeling offense that lights up the scoreboard. South Florida, which is allowing just 16.7 points per game, relies on its defense to keep it in games. If this is a track meet, the Bearcats should roll. If it's a physical, grind-it-out special, the Bulls have a chance.
6. Who will QB UConn?
The Huskies' stunning announcement Wednesday afternoon that starting quarterback Cody Endres will be suspended the rest of the year creates intrigue for their game on Saturday at Louisville. Will Randy Edsall turn back to Zach Frazer, who made his debut while leading a memorable comeback win at Papa John's Cardinal Stadium two years ago? Or will Edsall stick to the depth chart and elevate redshirt freshman Michael Box, who has little important game experience? Either way, UConn's offense will have to make some on-the-fly adjustments this week as it prepares for a crucial conference road game.
7. Star running back duel:
If you like watching standout tailbacks do their thing, Saturday's Connecticut-Louisville game is for you. UConn's
Jordan Todman
is the nation's No. 3 rusher, while Louisville's
Bilal Powell
-- coming off back-to-back 200-yard games -- is No. 4. Both have different styles; Todman is shiftier, while Powell will lay his shoulder into a defender. Both offensive lines are good and tough. Expect lots of handoffs and a fun battle to see who is the Big East's best back.
8. Big-play prevention:
Avoiding the big play in the passing game has been a big problem for both UConn and Louisville. The Cardinals got burned several times last week by Cincinnati's receivers and may be without top cornerback Johnny Patrick. The Huskies lost the Rutgers game because of too many long Scarlet Knights passes, and it's been a continuing issue they worked on during the bye week. Their best corner, Blidi Wreh-Wilson, is coming off hand surgery. The strong running games for both sides should open up the play-action and potential big gainers in the passing game. Can either side stop it?
9. Cuse comeback:
Syracuse's momentum wasn't just halted last week, it was flattened and sold off for parts. A 31-point home loss was embarrassing for a team that thought it had turned a corner. The Orange don't have long to feel sorry for themselves with this week's game at No. 20 West Virginia. Sometimes having a big-name opponent after a tough loss can help with focus. Syracuse needs a strong performance to show it wasn't merely an early-season feel-good story.
10. Deep-dishing Geno:
Syracuse's defensive game plan the past two weeks was clear: load the box and see if the opposing quarterback could beat the Orange. It worked great against the struggling Daniels at South Florida, but Sunseri was ready for it and threw four touchdowns. Syracuse probably doesn't want to try the same strategy against West Virginia quarterback
Geno Smith
, who's been terrific all season and now has a solid complement of receivers. If defensive coordinator Scott Shafer doesn't change things up, though, Smith could have a big day.
October, 21, 2010
10/21/10
10:34
AM ET
Ten items to track in a five-pack of Big Ten games on Saturday.
1. Lines collide in Iowa City:
If you love line play and power football, pay attention Saturday afternoon at Kinnick Stadium. Wisconsin boasts the nation's No. 12 rushing attack and an offensive line boasting 130 career starts among its top six players. Iowa ranks seventh nationally against the run and has 100 career starts among its top five defensive linemen. Two future first-round draft picks match up in Iowa defensive end Adrian Clayborn and Wisconsin left tackle Gabe Carimi. The Richter scale had better be working in Iowa City because there could be a few tremors.
[+] Enlarge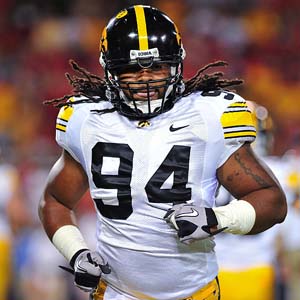 Chris Morrison/US PresswireFuture first-round pick Adrian Clayborn of Iowa, above, will match up with future first-round pick Gabe Carimi of Wisconsin.
2. Spartans head across state lines:
Michigan State is off to its best start since 1966, but all seven Spartans wins have taken place within the confines of the state. Some see this as a bigger deal than it really is -- an impressive win at Michigan should count for something -- but the Spartans can help their case for national respect with a good performance against 5-1 Northwestern in Evanston. Plenty of Michigan State fans should turn up at Ryan Field as the Spartans try to maintain perfection before another big road test at No. 15 Iowa.
3. Gophers resume play without Brewster:
The Tim Brewster era is over at Minnesota, but the Gophers still have five games left to play. Interim coach Jeff Horton leads Minnesota in its first game without Brewster as it hosts Penn State. How will the Gophers respond? Perhaps more importantly, how will their fans respond after booing regularly during five consecutive home losses? "We're coming into two home football games, and I don't think it's fair for the kids to be booed," Minnesota AD Joel Maturi said Sunday in announcing Brewster's firing. "Quite frankly, it's why I have my plea out to our fans, don't boo our kids."
4. Buckeyes boiling:
Don't expect Ohio State to overlook Purdue
like it did last year
. For starters, most Buckeyes players were on the field at Ross-Ade Stadium when Ryan Kerrigan and the 1-5 Boilermakers recorded the upset. Add in the fact that Ohio State comes off of a humbling loss to Wisconsin, and Jim Tressel's crew should be locked and loaded.
Tressel has been masterful at exacting revenge
, but his team faces some obstacles Saturday. The offensive line must keep Kerrigan away from
Terrelle Pryor
, and a banged-up defense will be without star linebacker Ross Homan and nickel safety Christian Bryant.
5. Bowling in Champaign:
There's still time left for both Indiana and Illinois, but the loser of Saturday's game in Champaign could face an uphill battle to reach six wins and a bowl game. Indiana recorded its only Big Ten win of 2009 against the Illini, and Bill Lynch's crew needs two more wins to qualify for its second bowl game in four seasons after going 14 years without making the postseason. Illinois has survived its toughest stretch at 3-3, but this is a game the Illini need on their home field to show that things really are turning around.
6. Penn State faces must-win:
Joe Paterno keeps stiff-arming the "must-win" label, but everyone knows it applies for Penn State on Saturday. If the Lions stumble against 1-6 Minnesota, they'll have a hard time reaching a bowl game and getting Paterno his 400th career win. This week, Paterno scoffed at a suggestion of in-fighting among the coaching staff, and Penn State players
know they need to play with greater passion
after a lackluster performance against Illinois. Rob Bolden and the offense need to step up against the Big Ten's worst scoring defense, especially since
Penn State's own D continues to deal with some key injuries
.
7. Wildcats back to being underdogs:
The
Northwestern Wildcats
are underdogs for the first time this season, and that could spell good things Saturday against No. 7 Michigan State. Northwestern has
been at its best as an under-the-radar, unranked underdog
since 2003, recording eight wins against ranked opponents, including two last season. But Michigan State is executing at an extremely high level in all three phases, so Northwestern needs to clean up its mistakes, particularly with penalties and special-teams meltdowns.
8. Norm chant:
Iowa defensive coordinator Norm Parker still hasn't returned to the team following foot amputation surgery last month, but Hawkeye Nation is keeping him in their thoughts Saturday. Every time Wisconsin's offense faces a third down on Saturday at Kinnick Stadium, Iowa fans are being encouraged to chant "Norm! Norm! Norm!" This is a great idea to honor a great coach, and you can
find out more about it here
.
9. Opportunity knocks again for Purdue:
No one outside Mollenkopf Athletic Center expected Purdue to be 2-0 in Big Ten play after a rash of injuries claimed starting quarterback
Robert Marve
and other key players. And no one expects the Boilers to be 3-0 in the conference after Saturday's trip to No. 10 Ohio State. Danny Hope's team has no pressure and once again gets a great opportunity to showcase itself on the national stage. Much like Illinois, Purdue typically plays Ohio State tough: the Boilers are 3-5 against the Buckeyes since 2000 with two losses by a combined seven points and only one loss by more than 16 points.
10. Rough road for Badgers:
Bret Bielema and the
Wisconsin Badgers
overcame their big-game bugaboo against Ohio State. But if they intend to remain in the Big Ten title race, they need to back it up with a signature road win. Bielema still needs more of those, especially after Wisconsin's Oct. 2 loss at Michigan State. He has a 2-2 record against his alma mater, Iowa, but has dropped back-to-back games. Divisional alignment puts the Wisconsin-Iowa series on a two-year hiatus, so Saturday's game has extra meaning. "I graduated from Iowa," Bielema said. "They treat me very badly when I go down there. So it's a hostile environment."
October, 21, 2010
10/21/10
10:33
AM ET
Here are 10 things I'm keeping an eye on this week in the Big 12:
1. CB Prince Amukamara vs. WR Justin Blackmon.
Two of the best at their position, this matchup will have a huge impact on Saturday. If Blackmon has a big day, Oklahoma State wins. If Nebraska's Amukamara holds Blackmon in check and well below his averages in yardage and receptions for the year, other receivers like
Josh Cooper
and
Hubert Anyiam
will have to pace the Cowboys' passing game.
[+] Enlarge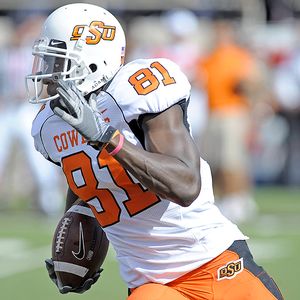 AP Photo/John A. BowersmithOklahoma State's Justin Blackmon leads the nation with 955 receiving yards and 12 touchdowns. Saturday he'll match up with Nebraska star Prince Amukamara.
2. Atmosphere in Columbia.
Faurot Field may not have a reputation as one of the toughest Big 12 stadiums to win in, but that might change for Saturday's game against No. 1 Oklahoma. "College GameDay" is in town, the fans will be out all day leading up to the 8 p.m. ET kickoff and The Zou should be rocking with a chance to knock off the No. 1 team in the BCS.
3. The other Cowboys.
The Oklahoma State receivers other than Blackmon need to play well, but a big day from running back
Kendall Hunter
might hold off the Huskers, too. For as much attention as the offense is getting, the defense still has to keep the Huskers' rushing attack from running wild.
4. Validating the Longhorns.
The last time most figured Texas would roll at home, it
got
rolled, 34-12 against UCLA. Is the Texas team we saw in Lincoln last week the one we can expect for the rest of the season? A big win at home against Iowa State would be a nice step toward proving it is.
5. Can Kansas stay competitive?
Kansas has lost its previous two games by a combined 100 points to two teams -- Baylor and Kansas State -- who probably have a little less talent than its opponent this week, Texas A&M. The Aggies have a lot of offense and a much-improved defense that doesn't let teams do what Kansas does best, run the ball. Texas A&M ranks No. 2 nationally in run defense. Are the Jayhawks going to step up like they did against Georgia Tech, or can we expect another 50-point loss?
6. Letdown or ecstasy at Baylor?
Quarterback
Robert Griffin
described a bowl game as the team's "primary goal" this season. If it wins on Saturday, it'll have achieved it. If it doesn't, it must beat one of three top 25 opponents or Texas A&M to qualify for a bowl. Miss out on a win this weekend, and the Bears probably have to start sweating a bit.
7. The return of T-Magic.
Oklahoma State doesn't have the type of defensive talent Texas has, but did the Longhorns provide a blueprint for putting a hex on
Taylor Martinez
? We'll find out soon. If T-Magic turns in another clunker in this one, Oklahoma State wins.
8. Texas Tech defense cannot rest.
The Red Raiders are giving up over 41 points a game in their past three outings (1-2 in that stretch), and let two players reach 100 yards rushing against Iowa State earlier this year. Colorado's rushed for more than 200 yards twice in home wins this season, and will try to add a third at Folsom Field on Saturday.
9. Preseason Offensive Player of the Year to look like it.
If there ever was a time for Texas A&M quarterback
Jerrod Johnson
to have a big game, it would be now. Kansas has sacked the quarterback just three times this season, and none of those sacks have come from a defensive lineman, meaning if Johnson's under pressure, somebody's probably open. Only Minnesota and New Mexico State have fewer sacks, and those teams have one win combined. This same defense let Kansas State's
Carson Coffman
complete 15 of 16 passes last week and score five touchdowns. Another alliterative quarterback will try to have a big day.
10. Sack party in Columbia.
Missouri leads the league with 20 sacks. Oklahoma is tied for second, with 18. Whichever team can keep that trend going and put the other's quarterback on his back more will have a huge advantage in the Big 12's biggest game of the week.
October, 21, 2010
10/21/10
10:33
AM ET
In no particular order, here are 10 things to watch this week in five ACC games:
Bowl eligibility:
Both Georgia Tech and Virginia Tech can become bowl eligible this weekend if they win. So far, Florida State is the only ACC team to have reached the six-win mark. NC State is also one win away, but the Pack have a bye week.
Turnovers in Miami.
They've been the Hurricanes' downfall in three straight losses to UNC, as Miami has 10 turnovers to UNC's one during that span. But UNC isn't the only team that can force mistakes. If UNC quarterback
T.J. Yates
is finally going to slip up again, there's a good chance it happens on Saturday against a defensive line that helped Miami lead the nation in tackles for loss and rank fourth in the country in sacks.
The red zone in Miami.
North Carolina leads the ACC in red zone offense having converted on 22 of 24 trips inside the 20-yard line. The Tar Heels have scored 16 touchdowns and made 6-of-7 field goal attempts. UNC is the only team in the ACC that hasn't turned it over in the red zone this season. Miami hasn't been as fortunate. The Canes have lost possession six times inside the 20, including three turnovers. Miami has scored 15 touchdowns in 26 trips in the red zone, but UNC and Miami have the No. 2 and No. 3 red zone defenses in the ACC, respectively.
[+] Enlarge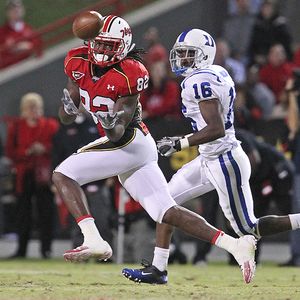 Mitch Stringer/US PresswireTorrey Smith is Maryland's best player on offense but is fighting an ankle injury.
Maryland wide receiver Torrey Smith.
He's their best player on offense. They need him. But his ankle isn't 100 percent and he's having trouble cutting on it. If BC is going to take away the Terps' running game -- which it is expected to do -- Danny O'Brien is going to need some help in the passing game. Smith is also 49 yards shy of setting an ACC career record for kickoff returns.
BC running back Montel Harris.
He needs just 65 more yards to reach 3,000 in his career and only three BC players before him have ever reached that number. Derrick Knight, BC's all-time leading rusher, was the last to do it in 2003. Harris will be the first player in school history to reach it as a junior. The milestone could be an early birthday gift, as he turns 21 on Oct. 30, the day the Eagles host Clemson at Alumni Stadium. He ran for 142 yards in last year's 19-17 win over the Terps, and he ran for 191 yards in the loss at Florida State last weekend while averaging 7.3 yards per carry. FSU was able to keep him out of the end zone, though, and the Terps will be challenged to do the same.
Georgia Tech quarterback Joshua Nesbitt.
He needs 44 more rushing yards to break the ACC career record of rushing yards by a quarterback. After rushing for 106 yards against Middle Tennessee, Nesbitt has 2,718 yards. The record is held by former Clemson standout Woodrow Dantzler (2,761, 1998-2001). How long can the Tigers' D protect their record books?
Clemson defensive end Da'Quan Bowers.
Georgia Tech's offensive line will have its hands full with this guy. He's leading the nation in sacks and tackles for loss.
Quarterbacks in the Commonwealth.
Duke quarterback
Sean Renfree
can't afford five interceptions against Virginia Tech in Blacksburg, and Virginia quarterback
Marc Verica
is looking to shake off the three picks he threw last week against UNC and rebound against Eastern Michigan. And
Tyrod Taylor
? Well, he can move into fourth place in career passing yards at Virginia Tech with 144 more yards.
Virginia Tech's secondary against Duke's receivers.
The Hokies' pass defense hasn't exactly been stellar this year, and it's no secret that Duke is going to throw the ball. The Blue Devils have three of the ACC's top receivers in
Conner Vernon
,
Donovan Varner
and
Austin Kelly
. The Hokies' Jayron Hosley leads the ACC with four interceptions.
Virginia's running game.
The Cavaliers' rushing defense hasn't been very good, but Eastern Michigan's is worse. Expect
Keith Payne
and
Perry Jones
to boost their stats. Eastern Michigan is allowing 228 rushing yards per game.
October, 21, 2010
10/21/10
10:30
AM ET
What to watch from Notre Dame in the Irish's game against Navy on Saturday from new Meadowlands Stadium:
1. Irish eyes on the assignment:
Defending the triple option requires major discipline. Players have to read their keys, stay at home on their assignments and not try to do too much (and watch out for being cut-blocked). Obviously, Notre Dame hasn't fared too well at this against Navy in the recent past. The Midshipmen ran for 348 yards during last year's win in South Bend. The Irish run defense has been surprisingly strong the last few weeks. Saturday brings a whole new challenge, and the linebackers in the 3-4 alignment must be on point.
2. Here's the catch:
Notre Dame's biggest issue this week is its receiving unit. Second-leading pass-catcher
Theo Riddick
is out with an ankle injury and will be replaced by freshman T.J. Jones.
Michael Floyd
(hamstring) says he will play but he may be very limited. With
Kyle Rudolph
out,
Tyler Eifert
and
Mike Ragone
need to continue contributing at tight end.
Duval Kamara
and
John Goodman
also must step up. Navy's ball control means fewer offensive opportunities for the Irish, and they can't afford to sputter in their possessions. Remember, too, that the wind can swirl at new Meadowlands Stadium, creating further potential problems for
Dayne Crist
and the passing game.
3. The red zone:
Turnovers in the red zone led to Notre Dame's demise in last year's game. Earlier this season, Navy lost to Maryland after repeated turnovers and blown opportunities near the Terrapins' goal line. In a game like this, where the clock will be running a lot because of the running game, every red zone trip becomes more important. The team that converts more of its chances into seven points could be the one happily singing its alma mater at the end of the day.
October, 21, 2010
10/21/10
10:15
AM ET
Come one, come all for your Top 10 non-AQ storylines for Week 8:
1.
Can Navy win three of its four over Notre Dame?
The Navy senior class is trying to join the Class of 1937 and the Class of 1964 as the only classes to beat Notre Dame three times in their career. The Midshipmen ended a 43-game losing streak to the Irish in 2007 and won in South Bend last year. Navy has not defeated Notre Dame at a neutral site since 1960.
[+] Enlarge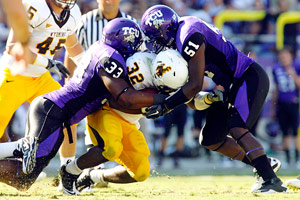 Ray Carlin/Icon SMIThe TCU defense faces a stiff test Saturday in Air Force.
2.
Does the TCU defense have another stellar performance in it?
The Horned Frogs have given up one field goal in their last three games, but face a much tougher test Saturday against the Air Force triple-option offense. Gary Patterson has prepared his team for this offense throughout the spring and fall, and there is no question the defensive guru wants to see how it responds.
3.
Boise State is off as it prepares to play Tuesday night against Louisiana Tech. How will this affect its standing in the polls and BCS rankings when they come out on Sunday?
This is going to be a continuing story line, even when the Broncos are off. It all depends on what happens to everyone else. Oklahoma has a tough game against Missouri, and Auburn and LSU are playing in a matchup of Top 6 teams. Many have wondered whether a big Auburn win would vault it ahead of the Broncos. That remains to be seen. Remember, last week at this time we thought Boise State would be No. 1. Instead, the Broncos are No. 3.
4.
Will BYU or Wyoming be bowl eligible this season?
I still have the Cougars going to a bowl game, but they have got to win this one. If Wyoming is going to be bowl eligible, it has to win this one, too. Neither team has been prolific on offense, and both have faced difficult schedules to this point. But with this game followed by contests against UNLV, Colorado State and New Mexico, I can still see BYU finishing 6-6.
5.
Does SMU take control of the West Division in Conference USA?
It might be too early to say that, but certainly the Mustangs have a chance to distance themselves with a win. That would give them a two-game lead over Houston and Tulsa, two teams they have already beaten. UTEP, Rice and Tulane would also be at least two games back, depending on results from the weekend.
6.
Which Utah State team shows up against Hawaii?
It is the team that barely lost to Oklahoma and looked dominant against BYU? Or is it the team that scored a combined 13 points against San Diego State and Louisiana Tech? Coach Gary Andersen has said his team does not know how to handle success. The Aggies had a week to prepare for Hawaii, which has scored 49 or more points in four of its five wins over them in WAC play.
7.
Rocky Long returns to New Mexico.
The San Diego State defensive coordinator has declined interview requests this week as his team gets ready to play the Lobos, where he was head coach for 11 seasons before stepping down following 2008. He had success there, guiding the team a school-record 65 wins. Since he left, Mike Locksley has gone 1-17 and the program is the worst in the country.
8.
Does UTEP become bowl eligible for the first time since 2005?
The Miners had a chance last week but had a disappointing loss to UAB. They play Tulane on Saturday in a game they are favored to win. UTEP stands at 5-2 following a 4-8 season last year, and the seniors on this team made it a point to bring everyone closer together to set higher goals, because they were so tired of losing. UTEP has several players banged up going into the game, including quarterback Trevor Vittatoe (ankle, shoulder), but he expects to play.
9.
Can the Utes start creating turnovers this week against Colorado State?
About the only thing coach Kyle Whittingham has had to complain about his team is its lack of turnovers. Utah only has gained six turnovers in six games -- four interceptions and two fumbles. Last season, Utah was able to force 25 turnovers and had a plus-5 turnover margin.
10.
Can Akron break its winless streak against Western Michigan?
Pretty unlikely the way this season has gone for a team that has taken on its Zips nickname. Quarterback Patrick Nicely is 2-11 as a starter, and coach Rob Ianello says he is sticking with him. But Nicely has done little to help the cause, completing less than 50 percent of his passes, with three touchdowns to seven interceptions. But the poor guy has been sacked 23 times.