NCF Nation:

what to watch 102512
October, 25, 2012
10/25/12
10:15
AM ET
Here's what I've got my eye on this week across the Big 12:
1. How much fight do the Irish have in the red zone?
This is the best matchup of the season. Oklahoma's been stopped in the red zone one time all season, its offense mostly highlighted by the power running package less-than-affectionately known by Big 12 defenses as the Belldozer. Notre Dame, meanwhile, hasn't given up a rushing touchdown all season. Something's got to give.
[+] Enlarge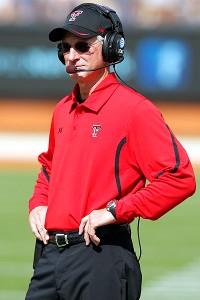 Erich Schlegel/Getty ImagesCan coach Tommy Tuberville and Texas Tech upset unbeaten Kansas State on the road?
2. Another chance for road kill?
Texas Tech went on the road and knocked off No. 1 Oklahoma last season, and last week, pulled off a dramatic road win at TCU. Tommy Tuberville is 6-2 against top-five teams, too. It's a favorable matchup for Kansas State, but the trends suggest Texas Tech could make the upset happen this weekend and suddenly look like a legit threat to win the Big 12.
3. A chance for a little touch-up.
Iowa State's offense made Oklahoma State's defense look pretty good last week, preventing the Cyclones from scoring on nine consecutive possessions. The Cyclones burned TCU, though, and the problem is consistency. Can Baylor's defense show some fight this week? The Bears have been awful defensively for most of the season.
4. Since you're asking, they prefer cherry.
Did the dam finally burst for Oklahoma State's defense when it comes to turnovers? The Cowboys had just four in their first five games, but forced a pair last week against Iowa State. This week, TCU brings in a redshirt freshman quarterback who's more talented than Iowa State's quarterback duo, but not as experienced. Can the Cowboys keep it rolling? Their six takeaways are still four fewer than any team in the Big 12.
5. He's Cummings, not going.
Last week is not a very fair gauge of what
Michael Cummings
can do as Kansas' new quarterback. On the road against Oklahoma, the Big 12's best defense? Texas has the athletes, but the defense is struggling. Can Cummings look a little better this week after officially replacing
Dayne Crist
?
6. Focus pocus.
Kansas State isn't a team that shows signs of a possible letdown, but this week's opponent will be even tougher than last week's, when the Wildcats rolled a struggling West Virginia squad. If Kansas State plays up to its potential, it wins this game. If not, Texas Tech can take advantage. Last year in Lubbock, even a five-win Tech team looked better than Kansas State for most of the game before a fourth-quarter rally by the Wildcats.
7. Another week, another shuffle.
Iowa State is holding another open competition for quarterback after a rough outing at Oklahoma State last week. In that game,
Jared Barnett
was replaced by
Steele Jantz
. Who takes over this week against Baylor? Whoever it is has to produce, or the Cyclones will get rolled against a powerful Bears offense.
8. Tackle the guy with the ball.
Kansas runs the ball better than you'd think, and should provide a tougher test for Texas' defense than many expect. The Longhorns have missed more tackles than anybody in the Big 12 this season, and if that continues this week, it could be a tight game. Is Texas up to the task of slowing Kansas' running game?
9. That's your Boykin. Still improving?
TCU's fan base has embraced freshman quarterback
Trevone Boykin
, who keeps looking better and better, despite a tough loss last week against Texas Tech. He'll go on the road against a questionable Oklahoma State defense, but he's coming off a pair of games with four touchdown passes. Can he keep it rolling? He's looking more mature and more refined every week.
10. Stay on the balance beam.
Notre Dame has one of the nation's best rushing defenses, but Oklahoma has really established a fantastic balance these past couple weeks. Do the Sooners roll with
Damien Williams
and try to run at linebacker
Manti Te'o
and the Irish, or look to take more advantage of speed on the outside and spread the ball a little more than they would against Big 12 defenses accustomed to covering that type of scheme?
October, 25, 2012
10/25/12
10:15
AM ET
Here is a look at what to watch in the ACC in Week 9.
1. Can Clemson break its Thursday night jinx?
The Tigers travel to play Wake Forest Thursday, and one thing you will continue to hear throughout the day leading up to the game is how bad they have played on Thursday nights. Clemson is 1-9 in its past 10 Thursday night appearances, with its lone win coming at NC State in 2005. One of the more recent losses came to Wake Forest, 12-7 in 2008. That was the last win for Wake Forest in the series. You should also note that Wake Forest is 4-0 in Thursday night games on ESPN.
2. The best in North Carolina?
The annual rivalry game between NC State and North Carolina has arrived. NC State, leader in the Atlantic, will try to extend its winning streak over the Tar Heels to six straight. North Carolina enters off a tough loss to Duke and is 0-2 against state teams this year, also losing to Wake Forest earlier in the season. Coach Larry Fedora wanted to get the attention of his players headed into this game so he had the locker room decorated in red. By the way, Duke has early bragging rights, with a 2-0 record against state teams; Wake Forest is 1-1. This is NC State's first game against an ACC team from North Carolina. The Wolfpack and Blue Devils do not play this year.
[+] Enlarge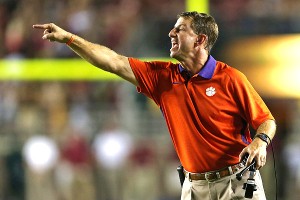 Streeter Lecka/Getty ImagesDabo Swinney will try to get Clemson a rare Thursday night win. The Tigers are 1-9 in their past 10 Thursday night appearances.
3. Can Duke compete with Florida State?
Duke leads the Coastal Division while Florida State still has its eyes on winning the Atlantic, but the big question is whether or not the Blue Devils have what it takes to beat the Seminoles. Becoming bowl eligible has its perks, of course, but beating Florida State for the first time while retaining its lead in the Coastal would be huge. Florida State is 17-0 in the series and has won those contests by an average score of 50-16. Florida State's smallest margin of victory is 19 points -- winning 25-6 in 2007.
4. How does Maryland handle a new QB?
The Terps have just been snake-bitten at quarterback, testing their depth at the position. Starter
Perry Hills
is done for the season with a torn ACL, leaving Maryland scrambling with a real shot at bowl eligibility. Coach Randy Edsall hasn't said who will start, but he is expected to play
Devin Burns
and
Caleb Rowe
. It's not as if Maryland has a reliable ground game to help out -- though
Wes Brown
had a great game last week with 121 yards and a touchdown.
5. Does that mean Boston College has a better chance at its first FBS win?
The Eagles have had their share of struggles, but they are the favorite over the Terps in Las Vegas. They are at home for the first time since Sept. 29, and they are facing a team with major questions at quarterback. Still, coach Frank Spaziani has had to deal with his own questions about his future. Losing a very winnable game will only make those questions grow louder.
6. Run D vs. Run O in Atlanta.
The game between BYU and Georgia Tech presents your classic matchup between one great rushing offense and one great rushing defense. In this case, Georgia Tech ranks No. 3 in the nation in rushing offense, and BYU ranks No. 8 in the nation in rushing defense. The Cougars were a few plays away from upsetting Notre Dame last week, but they have really struggled to find any consistency on offense this year. BYU ranks No. 87 in the nation in scoring offense, and that could play right into the hands of a Georgia Tech defense making strides in its reconfigured scheme.
7. Can Michael Campanaro help Wake Forest?
The Deacs have really struggled offensively since Campanaro went down with a broken hand against Duke. Last week, they had 213 total yards of offense in a win over Virginia, their fewest in an ACC win since 1966. In the past two games without him, Wake has scored 30 total points. So coach Jim Grobe is hopeful that a less-than-100 percent Campanaro is better than no Campanaro at all.
8. North Carolina secondary vs. Bryan Underwood and Quintin Payton.
The Tar Heels are going to have to keep an eye on Underwood and Payton. Underwood has caught a touchdown pass in a school-record seven straight games. Underwood has 22 catches on the season, but eight of them have gone for scores. Payton, meanwhile, leads the team in receptions and yards and has come up with huge plays for the Wolfpack.
9. Florida State without Chris Thompson.
The Seminoles have lost their leading rusher for the season, a big blow when you consider just how well he had been playing in his return from a broken back. But coach Jimbo Fisher is confident in the depth behind Thompson, and will rely on
Devonta Freeman
,
James Wilder Jr.
and
Lonnie Pryor
to shoulder the load. Florida State did fine with Freeman and Wilder against Miami, but there's no question the Noles were much more effective rushing the ball this year with Thompson in the lineup.
10. Bowl watch.
NC State (5-2) becomes bowl eligible with a win over North Carolina; Boston College (1-6) will officially be eliminated from bowl contention with a loss.
October, 25, 2012
10/25/12
10:15
AM ET
Here are three things to keep an eye out for Saturday night.


1. Deep throw early
. Look for
Chris Brown
to make an early cameo and for
Everett Golson
to try to hit him behind the secondary early. That could do wonders for the offense and complexion of this game -- if successful.
2. Irish front seven vs. "Bell"-dozer
. If Oklahoma gets deep in the red zone, this will be
very
fun to watch. A Notre Dame defense whose biggest win has come on a goal-line stand going up against a 6-foot-5, 254-pound freshman quarterback? Football in its purest form.
3. A composed Golson
. Don't expect the young QB to get rattled by the hostile environment or turn it over multiple times. He already handled a trip to then-No. 10 Michigan State very well. The problem, of course, is that Oklahoma is much better than MSU, and a sound game might not be enough, though I don't expect any
Tommy Rees
appearances Saturday.
October, 25, 2012
10/25/12
10:15
AM ET
Here's what's worth keeping an eye on Friday and Saturday in the Big East.
1. Does Munchie put his money where his mouth is?
Munchie Legaux
took a step back in Cincinnati's loss at Toledo, but it hasn't hurt his confidence, as he
said this week
that he is better than
Teddy Bridgewater
. He gets the chance to quiet the critics and turn the Bearcats into a legitimate Big East title contender in Friday night's game at Louisville.
[+] Enlarge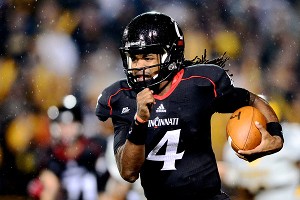 Andrew Weber/US PRESSWIRECincinnati's Munchie Legaux said this week he was better than Louisville's Teddy Bridgewater.
2. Louisville's defensive consistency
. The Cardinals surrendered a pair of fourth-quarter touchdowns to USF, nearly blowing the game before Bridgewater saved them. They surrendered five touchdowns at Pitt one week earlier. Louisville is fourth in the Big East in both total and scoring defense, and it needs to do better against a Cincinnati team that likes to spread the field.
3. Temple's response
. The Owls' Big East return started swimmingly -- two straight upset wins, a 10-0 halftime lead on a conference favorite -- and then it all came apart in a second half that belonged to Rutgers. How the Owls respond against an up-and-down Pitt team will say a lot about its character.
4. Pitt running backs
. Last week
Ray Graham
had 20 carries in the bad weather for 74 yards;
Rushel Shell
had 12 for 35. One week earlier? Graham six for 60; Shell 18 for 96. Whoever gets the call more will look to stack up yards against a Temple defense that ranks seventh in the Big East against the run.
5. Dri Archer
. At all times.
Seriously
.
6. More Khaseem Greene magic
. Greene's 20-yard fumble return for a score against Temple came one week after notching 14 tackles and forcing three fumbles against Syracuse. What could the reigning conference defensive player of the year have in-store for Kent State on his final homecoming?
7. Cuse defense looks to keep it up
. The Orange have been outstanding defensively the last three games, from sacking Pitt five times to limiting UConn to minus-6 rushing yards. (They were the only unit to hold Rutgers'
Jawan Jamison
under 100 rushing yards, too.) Syracuse will look for more of the same at USF.
8. USF (still) goes for first pick
. We're waiting. As is every other FBS team at this point.
October, 25, 2012
10/25/12
10:15
AM ET
We've got a few big games in the SEC this weekend and here's what you should be watching out for in Week 9:
1. Taking the East:
It'll be quite the party in Jacksonville on Saturday, as this game will essentially decide the SEC East. If Florida wins, the Gators are headed back to Atlanta for the first time since 2009. A Georgia win gives the Bulldogs the edge in the East race from here on out. The Gators haven't dealt with success like this lately, so it'll be interesting to see how this team comes out against a Bulldogs team that has its back against the wall, just like last season. One thing playing in Georgia's favor is this team has been here before and fought its way out of a corner ... all the way to the SEC championship game.
[+] Enlarge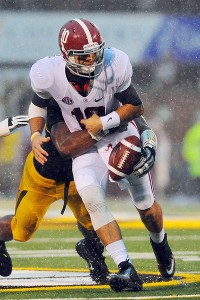 Denny Medley/US PresswireThe Bulldogs need to get pressure on Alabama quarterback AJ McCarron, who has only been sacked 13 times this season.
2. Pressuring McCarron:
A lot of the talk surrounding the Alabama-Mississippi State matchup has dealt with
AJ McCarron
facing Mississippi State's very talented secondary. But if the Bulldogs are going to stop Alabama's balanced offense, they have to put pressure on McCarron and force him to make mistakes. The Bulldogs haven't been great at hurrying the quarterback this season and have registered just 11 sacks on the year, while Alabama's line has given up just 15 sacks. Obviously, this team has to defend the run, but getting to McCarron is going to be very important for Mississippi State's defense.
3. Arkansas' revival:
Remember when the Razorbacks were basically dead in the water? Well, Arkansas has won two straight and things are starting to click for the Hogs. Their last two wins have come against Auburn and Kentucky, but wins are wins in this league, and Arkansas' confidence is flowing right now. Saturday's game with Ole Miss is crucial as far as Arkansas' bowl hopes go. The Hogs need three more wins and one of them has to come Saturday with the gauntlet that is November coming up. Players said the bye week helped clean up some of the little things, and that defense will have to be at its best against Ole Miss' high-powered offense.
4. Slowing down the run:
Going back to the Hogs' defense, if Arkansas is going to control Ole Miss' offense, it has to stop the Rebels on the ground. Ole Miss is fourth in the SEC in rushing, averaging 211.4 yards per game. Arkansas has stopped the run well in its past two games, but neither of those running games were on par with Ole Miss' rush game. Tennessee and Georgia also have to control the opposing run games. Florida is third in the league in rushing and its offense has gone the way of its rushing attack for most of the year. If the Bulldogs can force Florida into more passing situations, it could benefit Georgia. The same goes for Tennessee, as the Gamecocks will look to run
Marcus Lattimore
as much as possible.
Connor Shaw
struggled throwing the ball last week, so the Vols will try to make him beat them Saturday.
5. Georgia's defensive toughness:
Senior safety
Shawn Williams
created a stir when he called the play of his defense "soft" and then proceeded to name which linebackers should be playing more. Some feelings were hurt, but Mark Richt hopes it motivates his players. Williams' words very well could, but the pressure is now on him to play one of his best games. But this defense has to toughen up as a whole. It hasn't played well in the past three games, and that has to change against Florida's tough running game. Giving up big plays have really hurt this defense lately, and Georgia can't afford that Saturday.
6. Big-game time for Russell:
Georgia's
Aaron Murray
isn't the only one with a lot to prove when it comes to big games this weekend. While he's looking for his third career win over a Top 25 team, Mississippi State's
Tyler Russell
is looking for a signature win in his career. Beating Alabama would certainly be that win. Russell has been tremendously efficient this season, tossing 15 touchdowns to just one interception. He'll have to be at his absolute best against Alabama's defense. This is the biggest game of his career, so keep an eye on how he deals with that pressure.
7. Johnny Football's rebound:
Texas A&M quarterback
Johnny Manziel
found second-half struggles in the loss to LSU, but he'll have the chance to really rebound this weekend against Auburn's floundering defense. The Tigers are giving up more than 400 yards a game, and Manziel has the ability to gash this defense through the air and on the ground. Manziel was getting some Heisman love before the LSU game, but his hopes haven't been destroyed. He can still make a run, and good outings against tough defenses in November will help.
8. Making the bowl push:
This is an important weekend for a few teams still trying to make postseason runs. Vanderbilt needs three more wins and should get one easily Saturday against UMass. Ole Miss and Arkansas are in a bowl fight as well. The Razorbacks have to win this one if they are going get the three more wins required to become bowl eligible, while getting to five wins on the season now would only help the Rebels, especially with a tough November approaching. Tennessee has a favorable November ahead, but this is a game that could either help or really hurt this team's confidence going forward. Missouri is essentially in a must-win situation for a bowl. November will be a very tough stretch for the Tigers, so beating Kentucky is crucial for the postseason.
9. Getting the offense back on track:
Missouri's offense hasn't been very explosive at all this season. Injuries have certainly hurt it, but SEC defenses haven't had much trouble shutting down the Tigers when they have the ball. Coach Gary Pinkel said before the bye week that things had to be simplified on offense, and he thinks that will happen going forward. It starts with backup quarterback
Corbin Berkstresser
being more comfortable in place of
James Franklin
. South Carolina is also looking to revive its offense after a very poor showing against Florida. The Gators' defense certainly was a big part of South Carolina's struggles, but the passing game was just ugly in general. All eyes will be on Shaw, but having a healthier Lattimore running the ball should help him.
10. Tennessee's fight:
The Vols have had some really bad luck when it comes to keeping up in games. They put up a few big plays against Alabama last week, but averaged just 4 yards immediately following plays of 20 or more yards. After big defensive stops, Alabama came roaring back with scoring drives. The Vols also had back-to-back comeback attempts thwarted by opponents in the fourth quarter in the weeks prior. It might not appear likely, but Tennessee could still make it to the postseason and could still win eight games. But the Vols have to keep going mentally. With the losses and all the talk about Derek Dooley's job, it could be easy for this team to quit, but there's too much of the season left. Saturday's game is a chance for redemption. It's early, so Tennessee could catch South Carolina off guard. But if things are too far gone in Knoxville, this team could roll over at the first sign of adversity.
October, 25, 2012
10/25/12
10:15
AM ET
Ten items to track around the Big Ten in Week 9 ...
1. Battle of the banned:
The harsh reality of no bowl trip hasn't slowed down Ohio State or Penn State this season. New coaches
Urban Meyer and Bill O'Brien have revolutionized the offenses
in both Columbus, Ohio, and State College, Pa., and have their teams on long win streaks entering Saturday night's clash at Beaver Stadium. Expect an electric atmosphere in Happy Valley as
Nittanyville has been packed all week
and Penn State fans are viewing the game as by far the biggest of the season. Although neither team will play in the postseason, Saturday night's winner likely will have the label of the Big Ten's best team and will put itself in the driver's seat for the Leaders Division championship.
2. Legends of the fall:
While Penn State and Ohio State compete for symbolic titles and a division crown, Michigan and Nebraska are aiming much higher -- for a spot in the Big Ten title game Dec. 1. The Wolverines and Huskers meet Saturday night in Lincoln for the right to sit atop the Legends Division before the final month of the regular season. Although both teams have remaining tests, Saturday's winner gets the all-important head-to-head tiebreaker and a confidence boost for the stretch run. Michigan makes its first trip to Lincoln in 101 years, and Saturday marks the first conference game in NCAA history to feature two programs with at least 850 all-time victories. Nebraska is 27-6 at home under coach Bo Pelini.
[+] Enlarge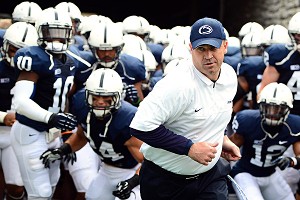 Andrew Weber/US PresswireBill O'Brien's Nittany Lions have opened games strong this season, outscoring opponents 66-0 in the first quarter.
3. Ball vs. Bell:
The Big Ten's top two running backs -- Michigan State's
Le'Veon Bell
and Wisconsin's
Montee Ball
-- will share the field Saturday at Camp Randall Stadium in a reunion of two teams that last year gave us two thrillers, including one in the inaugural league title game. Ball, back to Mon-tee, has looked like a different player in Big Ten games, averaging a league-best 155.5 rush yards with 10 touchdowns. The Wisconsin senior has averaged three touchdowns per game in his past 17 contests, and needs five touchdowns -- of any kind -- to break Travis Prentice's all-time NCAA record. Bell was limited to just 68 rush yards on 26 carries last week, but still comes in ranked second in the Big Ten and 11th nationally in rushing average (123 ypg), just ahead of Ball (122.8 ypg). If Michigan State has any chance to record the upset and possibly turn around its season, it needs a big performance from No. 24.
4. Possible bowl elimination game:
Both Minnesota and Purdue have some work left to get bowl eligible, and the loser of Saturday's game at TCF Bank Stadium will have its back to the wall. Both teams started the season strong, but have fallen off in Big Ten play, going a combined 0-6. Both teams have had quarterback issues and some trouble stopping the run on defense. Minnesota, needing two wins to become bowl eligible, has turned the keys of its offense over to true freshman
Philip Nelson
, who makes his first home start at quarterback. It'll be interesting to see how the former prep player of the year in the state performs in front of the home faithful. Purdue, meanwhile, comes off of a heartbreaking loss at Ohio State, a game it dominated most of the way. Inconsistency and big mistakes continue to haunt Purdue, which faces yet another pivotal game in the Danny Hope era.
5. Offenses in the crosshairs:
Iowa and Northwestern combined for 72 points, 46 first downs and 874 yards in last year's game at Kinnick Stadium, a 41-31 Hawkeyes victory. If another shootout takes place Saturday in Evanston, it will come as a bit of a surprise. Iowa's offense has been a mess most of the season, aside from the surprising play of running back
Mark Weisman
. Many Hawkeyes fans are calling for a change at quarterback after senior
James Vandenberg
committed three turnovers in last week's blowout loss to Penn State. Coach Kirk Ferentz is sticking with Vandenberg, who might be able to capitalize on a Northwestern secondary banged up at the cornerback spot. Northwestern, meanwhile, is still searching for an identity on offense after enduring 20 three-and-outs in its past three games, including 10 against Nebraska. Offensive coordinator Mick McCall needs to figure out his quarterback rotation (read: give
Kain Colter
more opportunities) in a hurry.
6. Win or perish:
Illinois coach Tim Beckman took a page from Jim Tressel's book during the off week and told his team to "burn the boats." The phrase, told to Beckman by Tressel, stems from the story of conquistador Hernando Cortes, who ordered his men to burn the ships that brought them to Mexico in the 1500s. "There was no turning back," Beckman said. "Win or perish. I have challenged this team to change." After four blowout losses, Illinois needs a lot of things to change as it hosts Indiana on Saturday. The Illini have a fairly favorable schedule the rest of the way, but they haven't been competitive against an FBS opponent since the season opener. Indiana, meanwhile, continues to find ways to lose and searches for its first Big Ten victory under Kevin Wilson. The Hoosiers have either led or been within one score of their opponents in all five of their losses. They seek their first win in Champaign, Ill., since 2006.
7. Miller's time:
Last we saw
Braxton Miller
, the Ohio State quarterback was leaving Ohio Stadium in an ambulance after being slammed to the ground. Miller fortunately emerged with only a sore neck, and returned to practice this week. Buckeyes coach Urban Meyer said the team is preparing two quarterbacks for Penn State -- Miller and backup
Kenny Guiton
, who led last week's dramatic comeback against Purdue. Ohio State will use Miller as much as it can, but how he responds from the first real injury scare of his career remains to be seen. Penn State's defense has been stellar, but the Lions haven't seen a quarterback as dynamic as Miller since Ohio's
Tyler Tettleton
in the opener (a PSU loss). Given Ohio State's lack of depth on defense and Penn State's surging offense, the Buckeyes likely will need a boost from Miller in a tough environment to remain perfect on the season.
8. Martinez, Robinson on center stage:
Michigan and Nebraska are contrasting teams in many ways, but they both have similar, dynamic dual-threat quarterbacks in the Huskers'
Taylor Martinez
and Michigan's
Denard Robinson
. Martinez was brilliant in leading Nebraska to a come-from-behind win against Northwestern, and he has been very good at Memorial Stadium throughout his career. But he'll face the best defense he has seen all season in Michigan. Robinson performed well in his last road game at Purdue, but still needs to distance himself from his early-season struggles away from Ann Arbor against Notre Dame and Alabama. For just the second time in college football history, two quarterbacks with more than 5,000 career pass yards and more than 2,000 career rush yards will square off (the other: Texas' Vince Young and Missouri's Brad Smith in 2005). Robinson leads all active FBS quarterbacks in career rushing (4,129 yards, 351 yards shy of the all-time record for career QB rushing), while Martinez is third (2,242 yards).
9. Roushar's play calling:
Michigan State fans are understandably upset about their team's 4-4 start, and they've centered their critiques on offensive coordinator Dan Roushar. The Spartans have had a championship-level defense for much of the season, but the offense simply hasn't held up its end of the bargain. Head coach
Mark Dantonio came to Roushar's defense
this week, saying, "If they want to criticize, tell them to criticize me a little bit, because I'm in charge." But Dantonio also added, "We've got to get more points." Roushar's play calling looked pretty good in the two games last season against Wisconsin -- remember Rocket? -- but he'll have to find a way to move the ball against a solid, but not impregnable Wisconsin defense. The Spartans rank 107th nationally in scoring (19.6 ppg), averaging nearly 12 points per game fewer than they did in 2011. Michigan State should get more from tight end
Dion Sims
, who returned to the field last week at Michigan and can give struggling quarterback
Andrew Maxwell
a big target.
10. The start in State College:
If season-long patterns hold for Ohio State and Penn State, the Buckeyes will be in trouble early on Saturday night. Penn State has outscored its opponents 66-0 in the first quarter and 100-23 in the first half this season. The Lions have scored in the first quarter in all seven of their games, and have scored at least one first-quarter touchdown in five contests. Ohio State, meanwhile, has been a slow-starting team in most of its games, being outscored 56-51 in the first quarter this season. The Buckeyes have been trailing at the end of the first quarter four times this season. The good news is they came out fast in their first road game against Michigan State, scoring on their first possession. Given how much confidence Penn State has and what will be a huge home-field advantage, Ohio State simply can't stumble out of the gate Saturday night. The good news is if the Buckeyes survive the first half, they should be in decent shape against a Penn State team that struggles in the third quarter.