NCF Nation:

what-to-watch-111011
November, 10, 2011
11/10/11
11:28
AM ET
Here's what to keep an eye on Saturday night at FedEx Field:
Ethan Johnson's return: Brian Kelly said Tuesday he is confident the senior end will play. Johnson has not played since spraining his right ankle on the first play of Notre Dame's Oct. 1 game at Purdue. He will add much-needed depth to a banged-up Irish defensive line.
More Andrew Hendrix: I know, this is a repeat. But it would be hard to envision the sophomore not playing for a third straight game, especially against an opponent like Maryland. He brings a different aspect to the table, and his mobility should be taken advantage of against the Terrapins' weak rush defense.
Flashy uniforms: Shamrock-covered helmets. Black and yellow and red all over. Traditionalists will be blinded by the fashion habits of Notre Dame and Maryland for this prime-time kick, though Irish players have embraced their new look.
November, 10, 2011
11/10/11
10:15
AM ET
Here are some things to keep an eye on in the SEC this weekend:
1. How the East was won:
Despite the East's struggles this season, Saturday could be a very exciting day to determine the East champion. South Carolina gets things started with its crucial home game with Florida. Three hours later, Georgia, which is currently a half-game ahead of South Carolina in the East, takes on rival Auburn "Between the Hedges." A South Carolina loss and a Georgia win give the Bulldogs the division. If South Carolina wins and the Bulldogs fall, preseason East favorite South Carolina will make it back-to-back years in Atlanta. Both win, and we have another week of waiting. Nerves will be high Saturday afternoon in the SEC East.
2. A potential letdown on the Bayou:
After an emotional win over Alabama last week, it would be natural for LSU to come out slow and lazy against Western Kentucky. Coach Les Miles said earlier this week that he worried about his team overlooking Western Kentucky this weekend. He was impressed by a vigorous Monday practice and thinks his team has the right mindset heading into a game with an overmatched out-of-conference team. Still, don't be surprised if Miles has to get on his players early if the Tigers stumble through part of the first quarter.
3. Alabama's rebound:
Losing by a field goal in overtime to LSU could derail the Crimson Tide's chances at a national championship. Do you think that will go over well in Alabama's locker room this week? We didn't either. The Tide will be beyond mad from here on out, knowing that it has to win each and every game left on its schedule. Alabama will not only be looking to win, it will be looking to run over and through opponents. The Tide gets its first shot at redemption this week against Mississippi State. The Bulldogs haven't been close to the team we expected it to be this year, but playing at home will help some. But how long can the Bulldogs hold this fuming Tide back?
[+] Enlarge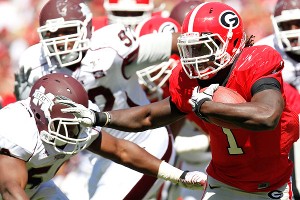 Kevin C. Cox/Getty ImagesIsaiah Crowell returns this week after serving a one-game suspension.
4. Isaiah Crowell's return:
It has been an up-and-down first year for Georgia's freshman running back. From enormous hype entering the season, to questions about his heart out on the field, to off-field issues, this has been a tough transition for Crowell. His maturity has been called into question time and time again, but few freshmen come in with the attitudes of veterans. However, Crowell is the starting running back at Georgia and he has to understand that he has a lot of responsibility to deal with. After serving a one-game suspension, he returns this week for a crucial game against Auburn and the Bulldogs will need him for all four quarters. He's had a LeBron complex during games, but now that he's back and he says he's looking to make a change, a great way to show that is to play a complete game.
5. The battle for a bowl:
Vanderbilt and Kentucky square off this weekend with identical 4-5 records, and the winner will take a mighty step toward a bowl game. Vanderbilt coach James Franklin has said time and time again that these aren't the Commodores of old, and while the energy and excitement truly is different, the outcomes against conference teams have been the same. As for Kentucky, things started off slow and ugly, but the Wildcats are right back in the bowl race after beating Ole Miss last week. A win over Vanderbilt would be huge for coach Joker Phillips, who has come under a lot of scrutiny in his second season. This is a big game for both football programs.
6. A loose Florida offense:
The Gators have been playing tight ever since quarterback
John Brantley
went down with a serious ankle injury in the second quarter of the Alabama game. Obviously, when Brantley isn't running the offense it is nothing short of inept, but even during his return in the past two weeks, Florida still hasn't moved the ball like it did during its first four games. The running game got back on track against Vanderbilt last week, but the passing game was still sluggish. Florida isn't playing for the SEC East, so it could be time for this offense to let loose against South Carolina. Playing with a nothing-to-lose attitude could be what this team needs to generate some much-needed momentum from here on out.
7. Rested Tigers:
Auburn has been quite the surprise this year. It isn't just the record that has impressed but the way Auburn has been able to pull victories out. For a team littered with youngsters, Auburn has won games by showing off its resiliency time and time again. This week, the Tigers could upend Georgia's SEC title hopes by walking about of Sanford Stadium with a win. Auburn has had two weeks to prepare for this game and is well rested. Coach Gene Chizik talked this week and last about tightening things up on both sides of the ball and he's done a great job of making adjustments this year. The Bulldogs won't intimidate this Tigers team Saturday.
8. Jarrett Lee's confidence:
After a tough game against Alabama last week, you have to wonder how LSU's quarterback is feeling after watching
Jordan Jefferson
get the majority of the snaps in such a big win. He's heard all year that Jefferson could be coming for his job and the two-quarterback system has shown more and more of Jefferson. Miles has been pretty quiet about how much time each quarterback will get this weekend and he has been very clear about one thing: he won't coddle the fifth-year senior. Miles said Lee wouldn't be shaken by a rough outing in Tuscaloosa because he's been through this plenty of times. Still, with title hopes engulfing LSU's locker room, Jefferson wants to keep his job and wants to be THE GUY going forward. Will he finally try to do too much this weekend to cement himself as the starter?
9. Broken records:
Arkansas will say goodbye to 17 seniors Saturday before the Tennessee game. Two of them -- wide receivers
Joe Adams
and
Jarius Wright
-- will be looking to break the school record for career receptions. The Arkansas record is 153 catches and Adams is two catches behind (151), while Wright is three behind (150). How great would it be if they both did it at home on senior day? But who will come out of the game as the all-time leader? Wright has been the conference's best receiver this year, while Adams has hovered in and out of the limelight. He's been making plays in both the running and receiving games. It will be a fun battle to watch Saturday as the Hogs not only look to send these players out on a high note but keep their BCS hopes alive.
10. Beginning of the end for Houston Nutt:
Saturday begins the countdown to Nutt's resignation at Ole Miss. He had a great start with the Rebels, with back-to-back nine-win seasons and Cotton Bowl victories. But recruiting misses and attrition have rocked the Rebels' depth in the past two years, and now after back-to-back losing seasons, including a current stretch of 12 straight conference losses, Nutt has been let go. Now is the time for his players to send him out as best as they can. It all starts with a strong showing against Louisiana Tech. This will no doubt be a very emotional game for Nutt and his players, but this team should come out fighting for their coach.
November, 10, 2011
11/10/11
10:15
AM ET
Here's what I'm watching in this week's games.
1. The first half in Lubbock.
Upsets happen when the underdog hangs around or races to an early lead. Oklahoma State has been really strong in the first half, but if it's close early on or if the Red Raiders jump out to a lead? We've got a ballgame.
2. The line of scrimmage in Columbia.
Who wins the battle up front in Mizzou and Texas' game on Saturday? Both running games are versatile, with
Henry Josey
and
James Franklin
going up against the Longhorns'
Malcolm Brown
,
David Ash
and others. That said, this boils down to the battle up front. Lose that, and none of those ball carriers will do much.
[+] Enlarge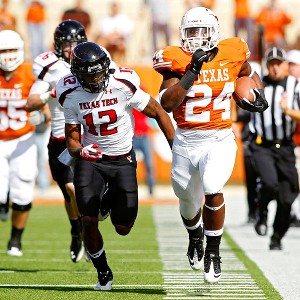 Erich Schlegel/Getty ImagesWhere does Joe Bergeron, who had a career day Saturday, fit in Texas' offense?
3. Joe Bergeron.
The freshman burst on the scene with a career-high 191 yards and three scores last week while Brown was sidelined with turf toe. Against Missouri this week, is Brown back to health after spending this week in a boot? If he is, how are carries distributed? What did Bergeron earn with his performance last week?
4. Texas A&M's second half.
The Aggies were right there with Oklahoma last week, trailing just 13-10 after a physical first half. Then, after a span of about seven minutes, the Aggies trailed 41-10. Second halves have become the story of this team this season, and by now, correcting it won't bring back the goals already lost.
5. Collin Klein's passing.
Klein had a career day through the air against Oklahoma State and took a step in the right direction. He'll get more opportunities this week against the nation's last-ranked pass defense. The Aggies' front seven is stingy, but Klein might lead the Wildcats to a win with his throwing.
6. Texas Tech's run defense.
I mentioned this Wednesday, but the only chance Texas Tech has to win Saturday is if it slows down
Joseph Randle
and
Jeremy Smith
. If OSU gets the running game going, the game's over. If it slows that down, OSU might still win with the pass, but the chances of an upset are much higher. Tech may do that with points early on like it did against OU, but the rushing yards will tell the story of this one.
7. Robert Griffin III's rushes.
Iowa State quarterback
Jared Barnett
ran for 125 yards in a win over the Jayhawks last week. He's the Big 12's least experienced quarterback. Griffin is the Big 12's most experienced quarterback and much more athletic than Barnett, as well as a better passer. Griffin's topped 100 yards on the ground just once this week. He might not need to Saturday, but will he do it anyway?
8. Kansas' offense.
The Jayhawks were improving big-time early in the season, but they've hit a snag the last two games, averaging just five points a game in their last two Big 12 games. Kansas is the only Big 12 team worse in total defense than Baylor. If the Jayhawks can't put a few points up against the Bears, who are they going to score against?
November, 10, 2011
11/10/11
10:15
AM ET
Here's a look at 10 things to keep an eye on in Week 11, in no particular order:
1. Virginia Tech's defensive changes.
Coordinator Bud Foster has revamped his starting lineup in preparation for Georgia Tech's spread option offense. Jack Tyler will get his first start of the season at middle linebacker, and defensive end J.R. Collins will move to defensive tackle. Tyrel Wilson will take Collins's spot at defensive end, and for the second straight year, cornerback Kyle Fuller will play linebacker. There are a lot of redshirt sophomores in the lineup who will get their first look at the Jackets' unique offense. How they handle that -- some in new positions -- will be critical.
[+] Enlarge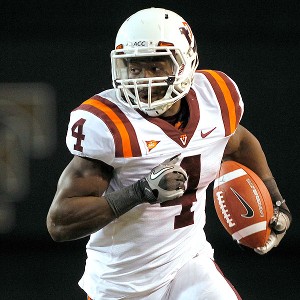 AP Photo/Bob LeveroneVirginia Tech's David Wilson is looking for his ninth 100-yard rushing game of the season.
2. Georgia Tech's rushing defense.
The Yellow Jackets have allowed four different 100 yard ACC rushers this season, and Virginia Tech's
David Wilson
is looking for his ninth 100-yard game of the season. The Jackets played well in their upset win over Clemson, but can they make the stops against the nation's leading rusher and get the Hokies off the field?
3. The ACC standings.
This is a critical week for the conference race. Clemson can clinch the Atlantic Division with a win over Wake Forest, Virginia Tech can eliminate Georgia Tech and Miami with a win in Atlanta, and Georgia Tech can move into a tie for first place with Virginia with a win.
4. Clemson running back Andre Ellington:
He missed the Georgia Tech game with an ankle injury, and Clemson in turn missed him. Ellington is not only the team's top rusher, but his ability to block and hang onto the ball should be a noticeable upgrade to Clemson's offense against Wake Forest.
5. Standout receivers in Death Valley.
The ACC's top two receivers in receptions/per game will highlight Saturday's matchup. Wake Forest junior wide receiver
Chris Givens
is 68 receiving yards away from tying Ricky Proehl's single-season record of 1,053 which he set during the 1989 season. Clemson's
Sammy Watkins
is No. 2 in the ACC at 108 receiving yards per game, while Givens leads with 109.4.
6. Miami running back Lamar Miller against the nation's No. 3 rushing defense.
Florida State is holding opponents to just 78.89 rushing yards per game, but Miller is coming off a 147-yard performance against Duke and became the program's first 1,000-yard rusher since 2002.
7. Florida State's receivers against Miami's secondary.
A total of 10 Seminoles with at least five receptions are averaging more than 10.5 yards per catch. No team in the nation has more receivers averaging 10.5 yards per reception with a minimum of five catches. Miami's defense can't key in on one player, and the Canes rank No. 95 in pass efficiency defense.
8. Duke's passing game against Virginia's defense.
The Hoos are No. 20 in the country in pass efficiency defense, and Duke has the No. 3 passing offense in the ACC. Virginia safety Rodney McLeod had three interceptions last weekend against Maryland, but Duke receivers
Conner Vernon
and
Donovan Varner
are two of the best in the league.
9. NC State receiver T.J. Graham.
He needs 55 yards to break the ACC career kickoff return mark. Earlier this season, Graham became the first Wolfpack receiver with three consecutive games with more than 100 yards since
Jerricho Cotchery
had five straight at the end of 2003.
10. Maryland's red zone defense.
Over the past four games, Notre Dame has converted 17 red zone trips into 15 touchdowns. That is the highest touchdown percentage on red zone visits for the Irish over any four-game stretch since 2000. As much as Maryland's defense has struggled this year, the Terps have fared well in the red zone, and are tied for No. 20 in the country in red zone efficiency defense.
November, 10, 2011
11/10/11
10:15
AM ET
Ten things to watch around the Big Ten as a pivotal Week 11 slate of games kicks off on Saturday.
1. Penn State with no JoePa:
For the first time since 1965, Penn State will play a game without Joe Paterno as its head coach. Paterno's firing Thursday night shook a program that had been rattled to its core throughout the week. Senior Day at Beaver Stadium will take place without the most famous senior of all. How will Penn State players respond? How will the fans respond after an outpouring of emotion Wednesday night? It's a very big game for this team and these seniors, but they'll be truly challenged to keep the focus on the task at hand.
[+] Enlarge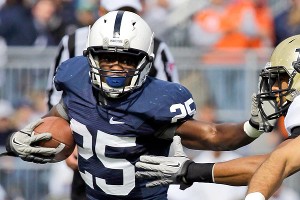 AP Photo/Gene J. PuskarSilas Redd and Penn State take the field after difficult week in State College.
2. Tom Bradley:
The longtime Penn State defensive coordinator steps into the uncomfortable position of acting head coach following Paterno's ouster. Bradley must keep the focus on the players and not on the firestorm outside the program. He'll need help from his fellow assistants, including former head coaches like Galen Hall and Ron Vanderlinden. While many think Penn State's assistants have coached the team for years, Saturday will mark the first time Paterno is totally out of the equation.
3. A date with destiny:
Michigan State and Iowa are the only two Legends Division teams that control their own fate in the Big Ten championship race. Only one squad will walk out of Kinnick Stadium on Saturday with that label still in place. Iowa has won seven consecutive home games in the series, including a 37-6 spanking of the then-undefeated Spartans last season. Michigan State hasn't been the same team away from home and must come out with better energy, particularly on offense, after struggling in a 24-3 loss at Nebraska on Oct. 30. The Hawkeyes haven't lost at home this season, but haven't played a team as complete as Michigan State.
4. Chasing the record:
Wisconsin running back
Montee Ball
, or "Moneyball," as we like to call him, needs two touchdowns to tie the Big Ten single-season record of 26 held by three players (Ohio State's Pete Johnson in 1975, Indiana's Anthony Thompson in 1988 and Penn State's Ki-Jana Carter in 1994). Ball has scored at least two touchdowns in every game this season and leads the nation with 24 scores in 2011. He'll try to make history as Wisconsin puts Paul Bunyan's Axe on the line at Minnesota.
5. Starting blocks in Champaign:
Michigan and Illinois are trying to get back in the win column, and both teams are looking for stronger starts. The Wolverines have throttled opponents after the first quarter, but have been outscored in the first 15 minutes. The Illini have failed to score in the first half in each of their past three games, all losses. Ron Zook wants his Illinois team to play loose, while offensive coordinator Paul Petrino said it comes down to the basics. Illinois needs to show up offensively against a Michigan team that typically gets better as games go along.
6. Rex vs. Silas:
Still undecided about the
Big Ten's best running back
? You're not alone. Two of the top candidates square off Saturday in State College as Nebraska's
Rex Burkhead
goes up against Penn State's
Silas Redd
. Both men have been their teams' most consistent offensive performers this season. Redd comes off of a bye week after recording a historic performance in October, rushing for more than 100 yards in five consecutive games and leading all FBS players with 703 rush yards during the month. Burkhead, who was a bit banged up in last week's loss to Northwestern, has eclipsed 100 rush yards five times in the past seven games.
7. Cousins' chance at redemption:
Michigan State QB
Kirk Cousins
grew up a big Iowa fan and has a few Hawkeye alums in his immediate family. But he has yet to record a win against Iowa as Michigan State's starting quarterback, losing a 15-13 heartbreaker in 2009 and struggling in last year's game, throwing three interceptions, including a pick-six. Cousins gets one final shot at Iowa on Saturday, and it's a huge game for the senior and his Spartans teammates. Iowa has been vulnerable against the pass at times this season, so Cousins and his receivers will look to stretch the field.
8. Axe to grind:
Speaking of final chances, Minnesota senior safety Kim Royston gets one last crack at Wisconsin, his former team, on Saturday at TCF Bank Stadium. Royston began his career as a Badger before transferring to Minnesota, where he has faced some hurdles, including a broken leg that sidelined him all of last season. The NCAA granted Royston a sixth year of eligibility, and he has made the most of it as one of few bright spots for Minnesota's defense, leading the Big Ten in solo tackles (51). The Gophers have been playing much better ball as of late, and they hope to shock Wisconsin and regain the Axe on Saturday.
Said Royston
: "I've been having those visions [of hoisting the Axe] ever since I left there."
9. Buckeyes' boiling point:
After looking flat at times last week against Indiana, Ohio State knows it can't afford a similar performance this week at Purdue. The Boilers are one of those teams, like Illinois, that seems to give Ohio State trouble. Ohio State stumbled at Purdue in 2009, putting its Big Ten title hopes in jeopardy. Another loss Saturday likely would take Ohio State out of the Leaders Division race. Buckeyes' running backs
Dan Herron
and
Jordan Hall
both are dealing with ankle injuries. Herron is expected to play and Hall could return after missing the Indiana game.
10. Bowl push continues:
Northwestern (4-5) and Purdue (4-5) both need two more wins to become bowl eligible, and the quest resumes Saturday on their home fields. After a potentially season-turning win at Nebraska, Northwestern returns home to face 3-6 Rice, which has a victory over, yep, Purdue. Wildcats coach Pat Fitzgerald said his team won't be overlooking the Owls, who can put up plenty of points. Purdue, meanwhile, returns home after consecutive blowout losses on the road against Wisconsin and Michigan. The Boilers are 2-0 in Big Ten home contests and need at least one of the next two (Ohio State, Iowa), plus the finale at Indiana to become bowl-eligible for the first time since 2007.
November, 10, 2011
11/10/11
10:15
AM ET
Issues to consider heading into the 11th week of games.
Luck & James
: We've said -- and typed -- this before and we will say -- and type -- it again: Big-time players make big-time plays in big-time games. Stanford QB
Andrew Luck
and Oregon running back
LaMichael James
are big-time players. They were both Heisman Trophy finalists in 2010. Luck finished second; James won the Doak Walker Award as the nation's best running back. Luck is the overwhelming Heisman favorite at present. James leads the nation in rushing. Who makes more big-time plays on Saturday? The one who does likely will play for the winning team, and he might end up hoisting the bronze stiff arm trophy.
[+] Enlarge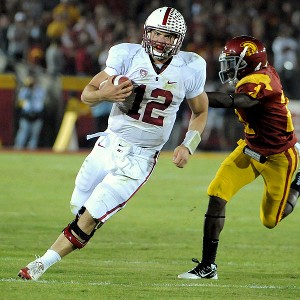 Kirby Lee/Image of Sport/US PresswireBig-time players make big-time plays in big-time games. So who will make more: Stanford's Andrew Luck or Oregon's LaMichael James?
Barkley makes Sarkisian seem brilliant
: Washington coach Steve Sarkisian made headlines this week when he said he'd pick Trojans QB
Matt Barkley
over Stanford QB Andrew Luck. Maybe he was hoping Barkley would be so flattered that he'd take it easy on a Huskies pass defense that yields 283 yards per game? Don't count on it. In fact, expect Barkley to eclipse 30 TD passes this season -- he enters the game with 28 -- and perhaps move within sniffing distance of Matt Leinart's conference record of 38 with two games to play.
Chow down
? It seems like Utah offensive coordinator Norm Chow plays one of his former teams every other week, but this time it's different. He was UCLA's offensive coordinator the previous three seasons, so he knows the Bruins personnel on both sides of the ball extremely well. That could be invaluable, particularly with two teams that are limited offensively.
For the defense
? Arizona and Colorado own the two worst defenses in the conference. You'd think that Arizona then would have an advantage because it has a much better offense -- Colorado ranks last in the conference in scoring and 11th in total offense. But the Buffaloes are healthier than they've been in weeks, and two cornerbacks return from suspension (Parker Orms and Paul Vigo). Plus there has to be a sense of urgency and desperation at the thought of going winless in their first year of Pac-12 play, while the Wildcats seemed to take a step back last weekend at Utah. While
Nick Foles
against the Colorado defense seems like a bad matchup, and two poor performances in a row for Foles seem doubtful, don't be surprised if the Buffs come out playing with as much fire as they have in their final home game.
Good Bears or Bad Bears?
In terms of matchups, you have to like California's defense against Oregon State, as well as the Bears ability to run and stop the run while playing at home. But it's difficult to focus on X's and O's with the Bears, because it seems like so much goes on -- right and wrong -- in their collective heads. They won three in a row to start the season. Then lost three in a row. They won a game, looking great against Utah. Then lost a game, looking terrible against UCLA. They then looked good again while pounding Washington State last weekend. So does that mean it's time for the Bad Bears to reappear? Cal should beat the Beavers. It's more talented and playing at home. But you never know which team will show up.
Sun Devils should be hot under the collar
: Arizona State blew a special season at UCLA. That should bother them. As should tweaks from fans and the media. But they can still win the South Division, go to a good bowl game and have a good season. Nine or 10 wins isn't out of the question. So they need to bring their best focus and intensity to Pullman to face a desperate Washington State team. It's going to be a bit chilly. It may snow. But QB
Brock Osweiler
and linebacker Vontaze Burfict need to make sure that the locker room is in a frenzy and ready to make a statement against the Cougars.
Red zone, turnovers, third down
: Stanford is a perfect 52-of-52 in the red zone this year (with a stunning 41 TDs). It also is No. 1 in the Pac-12 in red zone defense. The Cardinal is No. 2 in the conference in turnover margin, and has given the ball away just seven times this season. Finally, Stanford is No. 1 in the Pac-12 in third-down conversions and second in third-down defense. Oregon is strong by these three measures also. Whoever is better in two of three categories on Saturday is probably going to end up smiling when the clock strikes zero.
The Price of playing defense
: Last year, lots of folks were down on USC defensive coordinator Monte Kiffin, and for good reason. The Trojans, so long a dominant defensive team, played soft and tentative and put up bad numbers. But, without a lot of fanfare, USC has significantly improved on D. For one, it's held six of nine foes to 17 or fewer points. The Trojans rank fourth in the conference in total defense. Still, they aren't great against the pass. They give up 271 yards passing per game and rank sixth in pass-efficiency defense, with foes completing 63 percent of their throws. Washington QB
Keith Price
started the season hot, but has cooled off of late, tossing six interceptions in his past three games after throwing four in his first six. The Trojans have been tough to run against, so Price won't be able to just lean on running back
Chris Polk
. He's going to have to make plays in the passing game. Like he did in the first six games.
November, 10, 2011
11/10/11
10:15
AM ET
Here are the top story lines in the Big East headed into Week 11.
1. Offense vs. Offense.
The top two scoring offenses in the Big East meet Saturday at Paul Brown Stadium in Cincinnati. The Bearcats average 39.1 points a game; West Virginia averages 38.2 points a game. West Virginia has scored a league-high 44 touchdowns; Cincinnati has scored 40, placing the Bearcats at No. 2. Is there any doubt this game has all the makings of a shoot out?
[+] Enlarge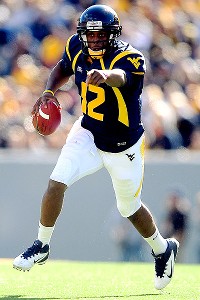 Andrew Weber/US PresswireWest Virginia's Geno Smith has passed for 3,125 yards with 23 touchdowns and five interceptions this season.
2. Geno Smith vs. Zach Collaros.
Then there is the quarterback debate that has raged since the preseason. Fans of both teams believe their guy is the best in the league. The numbers Smith has put up this season have been eye-popping to say the least. Smith is actually on pace to throw for more than 4,000 yards and could eclipse the Big East single-season record of 4,024 yards, set by Brian Brohm of Louisville in 2007. If Smith keeps up his average, he would have 4,167 yards at the end of the regular season. Brohm is the only quarterback in Big East history with a 4,000-yard season. Collaros does not have the gaudy numbers, but he has a running game to help him, and his team is winning. Who do you choose to lead your squad?
3. Get physical.
Cincinnati plays a physical brand of football. Can West Virginia match up, especially on defense? The Mountaineers have been sorely lacking in that area the past three games and are going to have a monster challenge trying to tackle
Isaiah Pead
, the best running back they have faced this season.
4. Louisville encore.
Can the Cardinals avoid another letdown after a big win? They beat Kentucky only to follow that up with a three-game losing streak. They beat West Virginia last week and now ... ? Pitt has won the past three matchups with Louisville by a total of 76 points. The Cardinals haven't scored more than 10 points in any of those three losses. Luckily for them, their offense appears to be hitting their stride. Now they just have to avoid overconfidence.
5. Pitt rebound?
The Panthers (4-5) have not given up on the season, that is for sure, but they are going to need to pull a few upsets if they are going to get back to a bowl game. They get their first chance at Louisville. It will be interesting to see how this team responds after coming so close to upsetting Cincinnati last week. The Panthers have made it a trend this year to win a game, then drop two in a row. Can they break that trend Saturday and win their first road game of the season?
6. Desperation bowl.
USF and Syracuse are reeling heading into their game Friday night. Maybe playing in a nationally televised game will inspire them. Syracuse has been inconsistent in its past two losses; USF has had breakdowns in all three phases at some point in its four straight losses. A bowl bid hangs in the balance for both. Syracuse (5-4) needs one more to become eligible; USF (4-4) needs two more.
7. Ground it out.
The Orange really have to get
Antwon Bailey
going. After getting more than 100 yards rushing in four straight games, he has a combined 120 in the past two. Both are losses. Syracuse is best when it has a run-first mentality, so that could be part of the game plan against USF.
8. Finish.
The question for the Bulls is whether or not they will run out of gas at the end of the game. USF has scored first in all eight of its games this season and has outscored its opponents by an 82-27 margin in the first quarter. But the Bulls have failed to hold onto second half leads in their past three losses.
9. Chas Dodd returns.
Rutgers coach Greg Schiano made the decision to go back to Chas Dodd as his starting quarterback, after Dodd led the Scarlet Knights to a comeback win over USF last week. Will he make the most of his opportunity? Or will he be looking over his shoulder, worried that a mistake could send him back to the bench again? He has a good chance to make a big impression against an Army team that is struggling this season.
10. Sanu record?
Rutgers receiver
Mohamed Sanu
needs 12 catches to break Larry Fitzgerald's Big East record for single-season receptions. Fitzgerald set the mark of 92 in 2003. Sanu has five games this season with double-digit receptions, and had 11 in a win over USF last weekend. So he could get the mark this weekend.