NCF Nation:

what-to-watch 111110
November, 11, 2010
11/11/10
10:45
AM ET
Most of the attention lately in the SEC has been concentrated off the field.
It's on the field where both divisional championships can be decided this weekend.
Here's a look at what to watch in the SEC in Week 11:
1. Clinching titles:
Auburn can clinch the Western Division title and its first trip to the SEC championship game since 2004 by taking care of Georgia at home on Saturday. The Bulldogs have won four straight games in the series. If Georgia upsets Auburn, then the Tigers would have to beat Alabama on the road on Nov. 26 to win the West. For LSU to win the West, the Tigers need to win out and have Auburn lose both of its remaining SEC games. Alabama could still win the West in a three-way or four-way tie where all of the teams had two losses, meaning Auburn would have to lose its last two and LSU would have to lose one of its last two. In the Eastern Division, it's much simpler: The winner of Saturday's Florida-South Carolina game will be the champion.
[+] Enlarge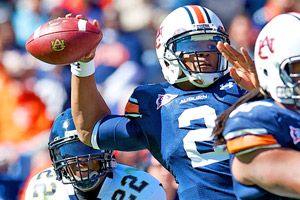 Dale Zanine/US PresswireAuburn needs Cam Newton to remain focused despite the off-field distractions.
2. Playing through distractions:
Auburn coach Gene Chizik has steadfastly maintained that it's been business as usual this week on the Tigers' practice field. Still, you know all the allegations swirling about Auburn quarterback
Cam Newton
have been a giant distraction. Newton's teammates have all rallied around him, and it could be that everything out there only drives Newton that much harder come Saturday. He's already plenty motivated. The thing you have to guard against in these situations is not getting too emotional where you come out and try to do too much.
3. Passing fancy:
The Auburn-Georgia game may well come down to who can hit the biggest plays in the passing game. Both defenses have had their struggles against the pass this season. Auburn is ranked 11
th
in the SEC in pass defense. Georgia is ranked sixth, but the Bulldogs have also given up 13 touchdown passes. Auburn has given up 16 touchdown passes, which is the second most in the league behind Ole Miss' 17. Both teams also have dangerous downfield threats. Georgia's
A.J. Green
has been a terror since he's been back and no doubt saw what
Alshon Jeffery
and
Greg Childs
did to the Auburn secondary. The Bulldogs'
Kris Durham
(lung) is also set to return after missing last week, and
Tavarres King
is starting to play his best football. You can bet that Auburn will also try to get
Darvin Adams
open downfield against a Georgia secondary that has had its own struggles in coverage.
4. Getting Swamped:
It's a fact that South Carolina has never won at the Swamp. Of course, Steve Spurrier has won a bunch at the Swamp, but that was back in the 1990s as Florida's coach. Spurrier's last trip to the Swamp was a nightmare. The Gamecocks were humiliated 56-6. However, they came within a Jarvis Moss blocked field goal of winning at the Swamp in 2006 and ruining Florida's national championship march. It goes without saying that South Carolina has to play smart football, protect the football and get this game into the second half. The last thing the Gamecocks want to do is give the Gators some easy scores, get that crowd riled up and have to play from behind. That's usually a death sentence for the visiting team in that stadium.
5. Rediscovering the edge:
South Carolina's drop-off defensively has been hard to figure. The Gamecocks have talent and have played well up front. They lead the SEC with 32 sacks, have been excellent in red zone defense and have had flashes were they've been dominant. But lapses and missed assignments have killed them. So have big plays. Usually, they all go together. And when it comes to covering the pass, South Carolina has clearly lost its edge. The Gamecocks are last in the league in pass defense. They will need one of their more disciplined efforts of the season defensively, especially with the Gators switching up quarterbacks like they are now, if South Carolina is going to win at the Swamp.
6. Trio of quarterbacks:
You've heard of two-quarterback systems? Well, Florida is using three quarterbacks, and the results have equated into the most productive offensive run of the season for the Gators.
John Brantley
(the passer) is sharing the quarterback duties with
Trey Burton
(the runner) and
Jordan Reed
(the athlete) in a new-look, hurry-up attack that has pumped life into a once lifeless Florida offense. The Gators have been able to keep teams off balance by going with different quarterbacks at different times. The production speaks for itself. Since going to the three-headed quarterback system, Florida has rolled up 930 yards of total offense and 89 points in two games.
7. Different waters for Tide:
When's the last time Alabama has played a game in November that didn't have a direct impact on the Crimson Tide's national championship hopes? The answer: During Nick Saban's first season at Alabama in 2007. That was the same year he was trying to explain a November loss to Louisiana-Monroe. The Crimson Tide are long since past those days, but this is definitely new ground for the players on this team. How they respond knowing that there's not a championship at stake (even an SEC title is a real long shot) will be interesting to see. Obviously, there's a lot of pride in the Alabama program. That pride is going to be tested Saturday against a streaking Mississippi State team.
8. Heavy hearts:
Mississippi State gets back to playing football on Saturday when the Bulldogs travel to Alabama, and in a lot of ways, it has to be therapeutic for them. Nick Bell's funeral was last Saturday, and they had a bye week on the schedule. So they've had a lot of time to think about their fallen teammate. It's been a terrific season for the Bulldogs to this point on the field. They've won six consecutive games. They're nationally ranked. They're inching closer to that upper echelon in the league under Dan Mullen. Winning at Alabama would be their biggest win yet under Mullen. It would also be a special way to honor Bell, who was from Bessemer, Ala.
9. Bowl elimination:
Even mentioning a bowl game in connection with Tennessee's program last month would have gotten you some weird looks. But the Vols can make a postseason trip by winning their last three games, a stretch that starts Saturday at home against Ole Miss. In a lot of ways, this is the most important game of that stretch for Tennessee, which is still looking for anything resembling a quality win this season. Beating the Rebels would give the Vols their first SEC win, and more importantly, some momentum heading into their last two games against Vanderbilt and Kentucky. For the Rebels, a loss wouldn't eliminate them from bowl contention, but it would put them in a deep hole. They would need to win out against LSU on the road and Mississippi State at home to be bowl eligible. In other words, they better win Saturday at Tennessee if they want to return to the postseason for a third straight year.
10. Davis finds groove:
Arkansas'
Knile Davis
has been one of the step-up players of the year in the SEC. The Hogs were looking for more punch in their running game, a player they could sort of ride, and Davis has been that guy. He enters Saturday's UTEP game ninth in the SEC in rushing and has a shot at 1,000 yards. Davis has rushed for 662 yards on 107 carries and has scored nine touchdowns, eight of those coming in his last three games. All nine of his touchdowns have come against SEC defenses, too, and the 6-foot, 220-pound sophomore is fifth in the league in rushing in SEC games only.
November, 11, 2010
11/11/10
10:30
AM ET
What to watch from Notre Dame in its final home game against Utah on Saturday:
1. Psychology report:
Where are these two teams mentally? The Utes had their BCS dreams smashed in a 47-7 humiliation at home last week. The Irish, meanwhile, have lost two straight to Navy and Tulsa and still are grappling with the Declan Sullivan tragedy. Notre Dame needs a win to get closer to bowl eligibility, while Utah probably is ticketed for Las Vegas no matter what.
2. Tommy's time:
True freshman
Tommy Rees
will make his first career start, coming off a four-touchdown, three-interception performance in relief of
Dayne Crist
against Tulsa. Utah has a much tougher defense than Tulsa, ranking in the Top 25 nationally in both rushing and passing defense, so this will be a more challenging assignment for Rees. But he had a bye week to get ready. Notre Dame will likely have to score in the 20s or 30s to keep pace with the Utes, who are ninth in the country at 41 points per game.
3. Senior moments?
It's Senior Day for Notre Dame, and the team hopes this one goes better than the last two, which ended in losses to Syracuse in '08 and UConn in '09. Will it also be the last time we see junior receiver
Michael Floyd
at Notre Dame Stadium or injured tight end
Kyle Rudolph
on the home sidelines?
4. Shaky special teams:
Utah punt returner
Shaky Smithson
leads the nation at 22.8 yards per return. That's noteworthy since Notre Dame gave up a punt return touchdown against Tulsa. Given the Irish's already-thin margin of error, they can't afford to yield valuable field position or points in the kicking game.
November, 11, 2010
11/11/10
10:30
AM ET
1. Battle for bowls:
Not a single Big East team has qualified for a bowl yet, but that will change this week. Five different teams (Pitt, West Virginia, South Florida, Louisville and Syracuse) can clinch postseason eligibility with a win this week. Someone will definitely do it, since South Florida and Louisville play one another.
2. Follow the leader:
Everybody in the Big East will be watching Pittsburgh's game at Connecticut Thursday and hoping the Panthers lose. Not because they hate Dave Wannstedt or anything, but because Pitt has a two-game lead on the other seven teams. A Panthers loss would give a lot of teams hope.
3. Running in the "Rent":
Thursday's game offers a high-profile duel between top tailbacks. Pitt's
Dion Lewis
won the Big East rushing title last year, while Connecticut's
Jordan Todman
could run away with it this year. Add in Lewis' counterpart,
Ray Graham
, and there is no shortage of star power in the backfield. Both of these teams have a run-first mentality, and whichever establishes the ground game will have the edge. And remember Pitt has the best rush defense in the Big East, while UConn has the worst.
4. Can UConn score?
The Huskies are averaging just 13.3 points per game in Big East play and scored only 13 in regulation in their signature victory over West Virginia last time out. Meanwhile, Pitt is putting up more than 35 points a game in league action, and its passing game with
Tino Sunseri
is really coming along. Does UConn have enough firepower to hang in there?
5. Streak-busting Bulls:
South Florida has never won at Papa John's Cardinal Stadium, dating back to its Conference USA days. But these Bulls have already gotten over the hump against Rutgers and at Cincinnati. If Skip Holtz can lead his team to victory at Louisville, it will truly signal the dawn of a new day in Tampa, not to mention a third straight conference win.
6. Running against the Bulls:
Louisville's offensive line has been the best in the Big East this season and kept the running game strong last week at Syracuse despite the loss of star
Bilal Powell
. The senior tailback's status is iffy again this week, but the Cardinals feel like they can run on anybody, and backup
Jeremy Wright
earned offensive player of the week honors last week. South Florida has one of the league's best defensive fronts and is allowing just a hair over 100 rushing yards per game in Big East play. This should be a fun strength vs. strength matchup to watch.
7. West Virginia offense vs. the Cincinnati defense:
This is more like a weakness vs. weakness matchup. The Mountaineers have struggled mightily to score points in league play and have yet to reach the end zone in the second half in three Big East games. The offense has been heavily criticized, and Bill Stewart said he performed a complete evaluation of it during the bye week. He might like what he sees against a young and generous Cincinnati defense that's given up an average of 32 points its last three games.
8. Zach Attack is Back:
Cincinnati quarterback
Zach Collaros
should return from a knee injury this week. The Bearcats mustered only seven point against Syracuse without him, but they're clearly a different team with the league's most productive quarterback at the helm. He'll have to go to work against a West Virginia defense ranked No. 4 in the FBS. Who'll win out?
9. Rutgers offensive line vs. Syracuse:
The Scarlet Knights gave up a whopping nine sacks last year in a 31-13 humbling at Syracuse. Now they come into this year's rematch with the nation's least protective offensive line. The Orange have terrorized opposing quarterbacks all season, especially on the road, with their aggressive pressure. Can this O-line, which collapsed again last week late at South Florida, do anything to stop the pass rush?
10. Delone Carter vs. the Rutgers defense:
Rutgers' defense has allowed three straight Big East teams to produce a 100-yard rusher against it. Now comes Carter, the Syracuse workhorse tailback who ranks fourth in the league in rushing yards. The Orange passing game hasn't done a whole lot lately, so much of the game plan figures to revolve around Carter and the ground attack as it did in last year's win.
November, 11, 2010
11/11/10
10:15
AM ET
Ten items to track in the Big Ten heading into Week 11:
1. 'Eyes face final hurdles before showdown:
Most folks believe that no remaining regular season game will impact the Big Ten title race more than No. 9 Ohio State at No. 13 Iowa on Nov. 20 at Kinnick Stadium. But for that game to truly mean something, both the Buckeyes and the Hawkeyes must take care of business this week. Ohio State faces a Penn State squad riding a wave of confidence following three consecutive Big Ten victories. Iowa goes up against its recent nemesis, Northwestern, which has beaten the Hawkeyes in four of the teams' last five games.
[+] Enlarge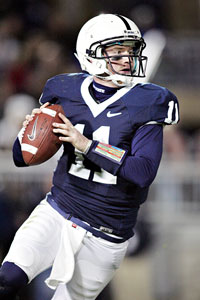 Charles LeClaire/US PresswireMatt McGloin has earned the starting quarterback job at Penn State.
2. Matt McGloin at the controls:
Once an afterthought in Penn State's quarterback competition, McGloin has earned the starter's tag, and deservedly so, for Saturday's game in Columbus. The former walk-on has a distinct swagger and confidence about him that seems to be rubbing off on his teammates. McGloin has 475 pass yards, five touchdowns and no interceptions in his last two games. He faces a much tougher test Saturday in Ohio State, which is tied for sixth nationally in interceptions (16) and will challenge Penn State's improving offensive line with steady blitzing.
3. Hope, Rodriguez reunite:
Purdue coach Danny Hope and his Michigan counterpart Rich Rodriguez had an
awkward interaction after Purdue's historic win
last year at Michigan Stadium. Hope called out Rodriguez for allegedly alerting the Big Ten about a play that resulted in the league suspending Boilers offensive lineman Zach Reckman. The post-game exchange surprised Rodriguez (and most of us, quite frankly). Both Hope and Rodriguez say the issue is in the past, but keep an eye on how the two coaches conduct themselves Saturday, especially if the score is lopsided.
4. Illinois aims to secure bowl eligibility:
There's no time for Illinois to wallow in what might have been last week at the Big House. It's never easy to lose in triple overtime, much less when you've scored 65 points and have a plus-4 turnover margin. But Ron Zook must get his team to refocus for last-place Minnesota, as a win will make Illinois bowl eligible for the first time since 2007. Illinois' final two games -- vs. Northwestern at Wrigley Field, and at Fresno State -- are no gimmes, so the Illini must take care of business against the hapless Gophers. Look for big things from
Mikel Leshoure
,
Nathan Scheelhaase
and the Illinois ground attack against a Minnesota defense that ranks 106th nationally against the run (200.5 ypg).
5. Wisconsin's running back rotation:
After providing a huge lift in Wisconsin's last two victories,
Montee Ball
is expected to get the start at running back Saturday against Indiana. Ball performed well last year against the Hoosiers, racking up 115 rush yards and two touchdowns in a 31-28 win.
James White
, who leapfrogged Ball for the backup job in the preseason, is getting healthy from a sprained knee and should get a nice chunk of carries as well. Coach Bret Bielema has gone back and forth on the status of starter
John Clay
(sprained knee), and I wouldn't expect to see much of No. 32 unless Wisconsin finds itself in real trouble.
6. Northwestern returns to finishing school:
In two of the last three weeks, Northwestern has gotten away from a hallmark of its program -- the importance of finishing. The Wildcats squandered leads of 17-0 and 24-14 against Michigan State and watched a 21-0 lead against Penn State vanish quickly. Coach Pat Fitzgerald counted 27 missed tackles in the Penn State game, and a young defense seems to be showing its cracks against the play-action pass. Northwestern will need a much stronger performance from the defense against
Ricky Stanzi
and the dangerous Iowa offense.
7. Offensive Player of the Year race:
There's still no clear favorite for Big Ten Offensive Player of the Year as we enter crunch time. Stanzi has been extremely effective and efficient, but he'll need a strong finish to hold off both
Denard Robinson
and
Terrelle Pryor
. Robinson, the nation's No. 2 rusher, goes up against Purdue star defensive end Ryan Kerrigan, the frontrunner for Big Ten Defensive Player of the Year. Pryor has completed better than 75 percent of his passes in five games this season, and he tries to make strides before the showdown against Stanzi and Iowa.
8. Gray day for Minnesota:
Interim coach Jeff Horton finally used
MarQueis Gray
at quarterback last week against Michigan State and likely will do so in a limited role for the rest of the season. Most Minnesota fans consider Gray the team's quarterback of the future, and it's good that he's getting some reps at quarterback before the end of a lost season. Horton isn't going to have Gray run a large package of plays, but the talented sophomore could provide a much-needed spark for an offense that can't seem to get over the hump with
Adam Weber
at the controls.
9. Robinson vs. Robinson:
You shouldn't have trouble remembering the names of the starting quarterbacks Saturday at Ross-Ade Stadium. Denard Robinson will start his 10th consecutive game for Michigan despite leaving last week's game against Illinois with concussion-like symptoms. Purdue once again will turn to true freshman
Sean Robinson
at quarterback, as both
Rob Henry
and
Justin Siller
are still recovering from injuries. Purdue's Robinson provided an early spark last week against Wisconsin and could do some damage against a suspect Michigan defense if he can avoid turnovers.
10. Backing up Belcher:
Indiana receiver
Damarlo Belcher
"felt like a failure"
after he dropped the potential game-winning touchdown in the final minute last Saturday against Iowa. Fortunately,
Belcher's teammates have picked him up
this week, unanimously voting him one of the game captains for the Wisconsin contest. For Indiana to have any shot at a monumental upset, the Hoosiers' passing attack must be on point and Belcher is a huge part of it. Coach Bill Lynch has seen a positive response in practice from Belcher, who leads the Big Ten with 65 receptions.
November, 11, 2010
11/11/10
10:15
AM ET
1. Colorado.
What can we expect from this team under Brian Cabral? There's probably equal opportunity that Colorado looks better than ever and is renewed and ready to steal a game or two down the stretch, or that it completely collapses. We'll get a good idea of which after the Buffs' game against Iowa State at home, a very winnable game for a squad that is 0-5 in conference.
[+] Enlarge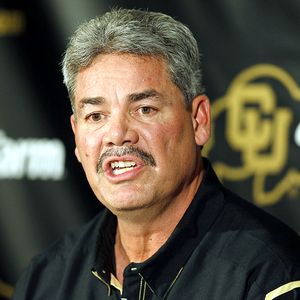 AP Photo/Ed AndrieskiBrian Cabral makes his debut as interim coach of Colorado on Saturday.
2. Justin Blackmon vs. Aaron Williams.
Williams headlines a talented Texas secondary that limited Oklahoma's
Ryan Broyles
to five catches and 36 yards with lots of bracket coverage. Chykie Brown (broken arm) is out for the season, meaning Williams will move from nickelback to corner, and should get some one-on-one time against Blackmon, who beat Nebraska's Prince Amukamara for five receptions, 157 yards and a pair of touchdowns. Who wins this showdown in the secondary?
3. Texas' quarterbacks
.
Garrett Gilbert
struggled through five interceptions and was nearly benched last week in a loss to Kansas State. If he finds early trouble against Oklahoma State, will
Case McCoy
, the younger brother of Colt McCoy, get his first meaningful action?
4. Turner Gill.
Gill has downplayed his return to Lincoln, where he coached and played under mentor Tom Osborne, this week. Will he have any thoughts or reflections to share
after
what could be the first and last time he brings his team to Nebraska as a head coach?
5. Blaine Gabbert.
Gabbert has had two of his worst games after one of his best -- a win over Oklahoma three weeks ago. Last week, he completed just 40 percent of his passes for just 95 yards against the No. 119 pass defense in the country. Kansas State's pass defense is average, but if Gabbert struggles as badly as he did last week, Missouri's in line for a third consecutive loss.
6. The Wrecking Crew?
Texas A&M left the field last week to chants of "Wrecking Crew" after an upset of Oklahoma that featured three goal-line stops. They'll need another high-level performance against a great offense at Baylor in the Battle of the Brazos. Can Tim DeRuyter's crew validate the hype?
7. Robert Griffin III.
Even a great performance from Griffin wouldn't have been enough to outscore Oklahoma State last week, but the Baylor quarterback wasn't at his best against the Cowboys. He'll need to rebound this week and connect on deep passes to
Kendall Wright
and
Josh Gordon
that he missed last week if the Bears want to upset Texas A&M at home.
8. Paul Rhoads' headset.
Rhoads made a brave call by attempting a fake extra in trying to beat Nebraska last week. If it's close late, does anyone doubt he'll have something else up is sleeve with bowl eligibility on the line against Colorado in Boulder? The Buffs better watch for well-timed onside kicks and stay home on defense.
9. Taylor Martinez's ankle.
Nebraska looked positively average without Martinez last week at Iowa State, but he should be ready to play against Kansas this week. An injury that nags Martinez even when he's on the field will be trouble. Even the threat of him running opens up other options for backs
Rex Burkhead
and
Roy Helu Jr.
The Huskers should win this one easily, but is Martinez back at 100 percent, and still able to make the plays with his feet he made earlier in the season? The Huskers' Big 12 title hopes depend on it.
10. Oklahoma's offensive line.
Bob Stoops was pretty happy with his offense until it got down to the 1-yard line last week and got stuffed. The Sooners left with zero points three times in a loss to Texas A&M. How do the big guys up front do if faced with a similar situation against Texas Tech.
November, 11, 2010
11/11/10
10:15
AM ET
Issues to consider heading into the 11th week of games.
Brock Mansion needs a fast start
: Getting off to a fast start versus Oregon doesn't mean much. Just ask Stanford, which led 21-3 before the Ducks switched the engines to ludicrous speed. Oregon is a second-half team (see a 215-48 scoring advantage after the break). But there is no way Cal can start slow and stay in this game, particularly with a QB making his second career start. Mansion needs to gain some early confidence, and he needs to not be forced to throw every down in order to play catch-up. Moreover, you may have noticed that both of Cal's blowout Pac-10 losses -- USC and Oregon State -- were over at halftime.
[+] Enlarge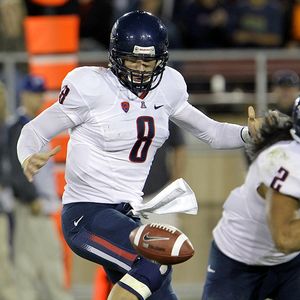 AP Photo/Paul SakumaNick Foles struggled at times against Stanford after missing two games with a dislocated knee cap.
Foles back in sync
: Arizona QB
Nick Foles
didn't play badly at Stanford. He just wasn't himself. Part of that was more than a handful of dropped passes, a couple on key third-down plays. But Foles probably shook off all the rust at Stanford due to missing two games with a dislocated knee cap, and another week of practice also should have helped him recover his rhythm for USC's visit. Foles doesn't have to look over his shoulder at backup
Matt Scott
, who played well in two starts while Foles was out, because Scott is out indefinitely with a wrist injury. A key for the Wildcats getting back on track -- and getting the "Zona Zoo" into the game -- is the offense clicking early against the Trojans.
No letdown for Cardinal
: The reason sportswriters are always writing about "letdowns" is they happen so often (just ask South Carolina). And so we have Stanford, which is riding high -- sixth in the BCS rankings! -- after beating Arizona. But Arizona State is fully capable of hanging with the Cardinal. For one, the Sun Devils will have a speed advantage on both sides of the ball, so if the Cardinal isn't focused, it will get upset on the road. Often the toughest step for teams to take -- one that advances them good to elite -- is learning how to bring their A-game consistently. As well as finding ways to win if they only can muster their B-game.
Run, Jacquizz, run
! The loss at UCLA hit Oregon State hard. Suddenly, a team that was in the Rose Bowl race is now fretting just earning bowl eligibility because of back-loaded scheduled. The visit from Washington State, in fact, could be considered a must-win. Much of the hand-wringing this week was over the shortcomings of the running game due to poor offensive line play. While the Cougars are greatly improved, you can't hide their numbers versus the run: 119th in the nation (out of 120), yielding 223 yards per game. That's why Beavers fans should expect lots of
Jacquizz Rodgers
, early, middle and late (if necessary).
LaHeisman moments
? You guys may have heard but
there's some, er, stuff
going on at Auburn concerning QB
Cam Newton
(one word for USC fans: schadenfreude). At present, Newton is the leading Heisman Trophy candidate. More than a few list have Oregon running back
LaMichael James
at No. 2. A lingering scandal at Auburn, however, could have voters looking to James. So if James were to put up big numbers at Cal, and maybe post a few more fancypants plays, he could move to the top of the Heisman heap with just two games to play.
Barkley vs. Reed, Elmore
: Arizona was the best pass rushing team in the Pac-10 before Stanford didn't allow a sack last weekend. USC doesn't allow many sacks, either. But Wildcats defensive ends Ricky Elmore and Brooks Reed, who have combined for 13.5 sacks, should be plenty motivated to get back on the sack track. And they probably need to if Arizona is going to beat USC. While Trojans QB
Matt Barkley
wasn't great in the win over Arizona State last weekend, he's still one of the nation's most talented and efficient passers. If he has time, he will pick apart a Wildcats secondary that has proven surprisingly vulnerable.
Can ASU play mistake-free
? Here's the thing: Arizona State is good. It just hasn't figure how to win. Three of its four losses have come by a field goal or less (and the Sun Devils also, by the way, gave Oregon its toughest game). There are so, so many what-if moments. This isn't new: Last year, the Sun Devils lost four games by five or fewer points. While the Sun Devils have been less sloppy over the season's second half in terms of penalties and turnovers, it still seems like critical penalties and turnovers -- and missed field goals and PATs -- are killing them. But here's a guess: If they put up a clean sheet vs. Stanford, they will at least be in the game last in the fourth quarter.
Tuel time?:
Oregon State is ranked ninth in the Pac-10 in pass-efficiency defense. At times this year, they've struggled to pressure the QB, and they've surrendered 16 TD passes, third most in the conference. Washington State's sophomore QB
Jeff Tuel
has taken a step forward this year, and freshman receiver
Marquess Wilson
is a budding star. The Cougars can throw the football. If Washington State is going to notch the upset -- and end a 16-game Pac-10 losing streak -- it likely will because it puts up big numbers in the passing game.
November, 11, 2010
11/11/10
10:15
AM ET
Come one, come all for your top 10 non-AQ storylines for Week 10:
1. Let the jockeying continue.
Now that TCU has passed Boise State in the human polls, the race is on to see whether the Horned Frogs can stay there -- and grow their lead. Both need to happen for TCU to solidify its spot ahead of the Broncos in the BCS standings. TCU plays San Diego State (7-2) while Boise State plays Idaho (4-5) so it is unlikely Boise State will move ahead after this week. But looking ahead, TCU has one game left against New Mexico (1-8), while Boise State has games remaining against Fresno State (6-2), Nevada (8-1) and Utah State (3-6).
2. Is a letdown in store for TCU?
The Horned Frogs are coming off an emotional 47-7 win over Utah, but this is not a team that loses focus easily. They have given up a total of 23 points in six league games, and have given up one touchdown at home in three league games. This is Senior Day, where TCU will say goodbye to a group of players who have not lost in the regular season since 2008. San Diego State is much improved, so we will see how the Horned Frogs handle their emotions.
3. How does the Boise State-Idaho rivalry end?
Boise State and Idaho have no future games set as the Broncos depart the WAC for the Mountain West. But this game has not proved to be much of a rivalry over the last several years. The Broncos have won 11 straight over the Vandals, and have won those game by an average score of 51-18.
[+] Enlarge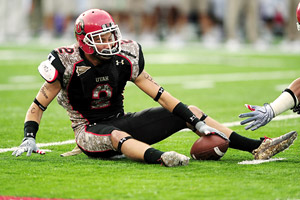 Andrew Weber/US PresswireComing off a disappointing loss to TCU, the Utes have to go on the road to face Notre Dame.
4. Can Utah bounce back?
The Utes are coming off an embarrassing loss at home to TCU and travel to play a beaten down Notre Dame team. As badly as the Irish need to win, so does Utah, which wants to avoid having its season go down the drain due to one loss. After losing 55-28 to TCU last year, Utah rebounded with a 38-7 win over San Diego State. But that one was at home. This is going to be a tough challenge.
5. Will we get clarity in Conference USA?
There are several big games for the league this weekend as UCF hosts Southern Miss, and Tulsa travels to Houston. UCF is the lone team that is undefeated in league play in Conference USA and can clinch the East Division with a win over Southern Miss and an East Carolina loss to UAB tonight. Meanwhile, Tulsa, Houston and SMU each have two losses in the West. Whoever wins would remain in the hunt.
6. Will we get clarity in the Sun Belt?
Who would have thought when the season started we would be saying Troy and FIU would be meeting with Sun Belt title chances on the line? Both teams have one loss in conference play and the winner here would be in the driver's seat. Whoever wins out, wins the league. It's as simple as that.
7. Bowl eligibility time.
Here are your teams that have a shot to become bowl eligible this week: Army, East Carolina, Houston and Troy. Army plays at Kent State, while East Carolina is at UAB, Houston hosts Tulsa and Troy hosts FIU. SMU (5-5) is off.
8. What does Navy do for an encore?
The Midshipmen racked up 76 points and 521 yards on the ground against East Carolina last week. So what happens against Central Michigan (3-7)? Quarterback
Ricky Dobbs
reportedly missed a few days of practice with a slight concussion. If he cannot go,
Kriss Proctor
would get the start. But even without Dobbs,
Alexander Teich
has played well since replacing
Vince Murray
in the starting lineup. He averaged 11.2 yards a carry last week against the Pirates, and had a 200-yard game against Notre Dame.
9. What does Nevada do for an encore?
The Wolf Pack may not have scored as many points as Navy, but they had more yards -- 844 in a 63-17 win over Idaho. Nevada sits at No. 21, behind several two-loss teams from power conferences. The question is whether voters see Nevada as a great team or merely a good team from a bad conference. How it does against a good Fresno State team on Saturday is important for perception.
10. The future is now.
True freshman quarterbacks
Pete Thomas
and
Jake Heaps
face each other when BYU travels to Colorado State. Thomas has thrown for 2,273 yards for the Rams and is second in the league in passing, mostly because he has been put in situations where his team has fallen behind. But still, he is progressing well and coach Steve Fairchild believes Thomas' future is bright. Heaps has not been as successful, struggling as much as the rest of the BYU offense. He had his first good game against UNLV last week, throwing for 294 yards and a touchdown. The play of the quarterbacks is the key to the game.
November, 11, 2010
11/11/10
10:15
AM ET
Here's a look at the top 10 things to keep an eye on this week in the ACC, in no particular order:
Pass-rushers in Tallahassee.
Clemson at Florida State will feature two of the ACC's top pass-rushers in Clemson defensive end Da'Quan Bowers and FSU defensive end Brandon Jenkins. They're No. 1 and No. 2, respectively, in the ACC in both sacks and tackles for loss. FSU's offensive line has allowed 2.11 sacks per game (19 total), while Clemson has allowed nine total.
[+] Enlarge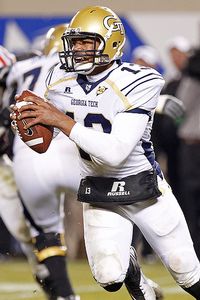 Geoff Burke/Getty Imagestbd by editor
Rookie quarterbacks in Atlanta.
Miami rookie
Stephen Morris
and Georgia Tech backup
Tevin Washington
will both take center stage Saturday in Bobby Dodd Stadium at the expense of injured starters. Morris already has one start under his belt and played well in last week's win over Maryland, but Washington has been in the system longer and took the first-team reps this spring when starter
Joshua Nesbitt
was out with an ankle injury.
Replacements in Chapel Hill.
There will be plenty of them. With UNC tailback
Johnny White
out for the rest of the season, the Tar Heels' tailback situation remains a question as of now. Will
Ryan Houston
redshirt? Will
Shaun Draughn
(ankle) be cleared to play? The Hokies have their own problems, as defensive end Chris Drager, tailback/returner
David Wilson
and receiver
Dyrell Roberts
are all out. All of the backups will be forced into key roles.
Scoreboards in Chapel Hill and Atlanta.
These are the two games to watch, as a Virginia Tech win coupled with a Miami loss will lock up the Coastal Division for the Hokies. The Atlantic Division race is more complicated, as no outcome will determine the division winner, but a Clemson win in Tally opens the door for a four-team race.
Turnovers in Durham
. The one thing that's been going right for Duke in its two-game winning streak is it hasn't been turning the ball over like it was in its losses. That could change against a BC defense that ranks third in the country in turnovers gained with 26. The Blue Devils have turned it over just one time in the past two games compared with an average of three per game in the previous seven.
Virginia Tech's secondary vs. T.J. Yates & Co
. Yates has thrown for over 400 yards twice this season, and the Tar Heels are No. 33 in the country in passing offense (258.44 yards per game). Virginia Tech is No. 22 in the country in passing defense (187 yards per game).
Keith Payne and Perry Jones against Maryland's rushing D
. Virginia has two of the ACC's top 10 leading rushers, as Payne is No. 7 (74.8) and leads the ACC with 14 rushing touchdowns, and Jones is No. 10 (61.9). Maryland is holding ACC opponents to just 2.6 yards per carry, the best in the league.
Virginia receiver Dontrelle Inman.
Against Duke, he caught 10 passes for 239 yards and a touchdown. On the season, Inman is sixth in the ACC with 66 receiving yards per game. He'll face an underrated Maryland secondary that features playmakers Kenny Tate and Antwine Perez.
Cursed kickers.
Clemson missed two field goals last week, Florida State's wide right curse continued in the loss to North Carolina, and NC State will be without senior Josh Czajkowski for the rest of the season after he injured his hamstring in the loss to Clemson. Sophomore Ellis Flint and freshman Chris Hawthorne were competing for the job this week.
Running back rotations
. NC State's
Dean Haynes
is back after missing the Clemson game with a head injury, but coach Tom O'Brien did not say which of his top three tailbacks will start against Wake Forest. At Miami,
Lamar Miller
had the best performance of any Miami running back this season against the Terps, but
Damien Berry
returned to practice. He is still listed as questionable, and Miller, Mike James and Graig Cooper should again carry the load. UNC's running back situation remains a question, and
Ryan Williams
and
Darren Evans
will carry the load without No. 3 tailback David Wilson.
TOP 25 SCOREBOARD
Thursday, 12/5
Friday, 12/6
Saturday, 12/7
TOP PERFORMERS