NCF Nation:

what to watch 112912
November, 29, 2012
11/29/12
10:54
AM ET
For the first time, Alabama and Georgia will meet in the SEC Championship Game on Saturday in the Georgia Dome. Here's a look at what to watch in a contest that's a play-in game for the Discover BCS National Championship Game:
[+] Enlarge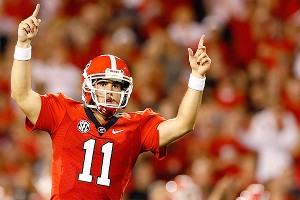 Kevin C. Cox/Getty ImagesGeorgia's Aaron Murray will show off his skills in the biggest game of his collegiate career Saturday.
1. All eyes on Murray:
Georgia quarterback
Aaron Murray
has been quiet this week. He cut off all media interviews and instead devoted all his focus to the biggest game he or anybody on this team has played since arriving in Athens. Murray will go down as one of the most prolific quarterbacks in SEC history. He has passed for 3,201 yards and 30 touchdowns this season and leads the SEC in passing efficiency with a 177.1 rating. He is the first player in SEC history to have three straight 3,000-yard passing seasons and has 89 career touchdown passes, tying him with Peyton Manning for second place all-time in the SEC. What Murray hasn't done is play particularly well in big games. He could shed that label forever by leading the Bulldogs to a win. Quarterbacks' legacies are shaped by how they perform in these types of games. Murray is playing his best football right now. Ever since the Florida game, when he was picked off three times, he has thrown 13 touchdown passes and zero interceptions in four games.
2. Making plays at receiver:
Both teams have suffered casualties at receiver this season. Most recently, Alabama lost
Kenny Bell
for the season when he broke his leg last week against Auburn. Georgia earlier this season lost
Michael Bennett
and
Marlon Brown
to injuries.
Tavarres King
has quietly had a big season for the Bulldogs with eight touchdown catches, and
Malcolm Mitchell
will also be key in this game with his ability to make big plays down the field. More than ever, Alabama will lean on freshman
Amari Cooper
in the passing game with Bell out. Cooper has eight touchdown catches and is averaging 17 yards per catch. Alabama coach Nick Saban is also prepared to pull the redshirt off
Chris Black
, who hurt his shoulder in August and underwent surgery. Black is healthy and wants to play in this game.
3. Denting Alabama's defense:
Alabama leads the country in scoring defense for the second straight season. One of the reasons why is that the Crimson Tide simply don't give up big plays. They have allowed 89 plays this season that have gained 10 yards or more, which is nine fewer than any other Football Bowl Subdivision team. Opponents are averaging 1.9 drives per game against Alabama that reach the red zone, the lowest average among FBS teams. Running the ball in the red zone against Alabama has been nearly impossible. The Crimson Tide are allowing 0.82 yards per rush in the red zone this season, the lowest average in FBS. What makes this such an intriguing matchup is that Georgia has specialized in generating big plays on offense. The Bulldogs have 75 plays that have gained 20 yards or more, which ranks seventh among FBS teams. The only game this season that they didn't have a play of at least 30 yards was their 35-7 loss to South Carolina.
4. Winning the big ones:
This is a stage Alabama is accustomed to being on, and the Crimson Tide have been at their best in marquee games under Saban. They are 3-1 against nationally ranked teams this season and have won nine of their past 11 games against nationally ranked foes. Georgia, on the other hand, has faced just two nationally ranked teams this season. The Bulldogs beat Florida 17-9 and lost to South Carolina 35-7. Georgia has struggled the past few seasons against nationally ranked opponents, losing eight of its last 11 games to teams ranked in the Top 25. The win over Florida on Oct. 27 was Georgia's first win against a top-10 opponent since the 2009 season and its first win against an SEC team ranked in the top 10 since beating No. 9 Florida 42-30 in 2007.
5. Forcing turnovers:
It's no coincidence that Alabama and Georgia lost the turnover battle in each of their losses this season. Alabama turned the ball over three times in its 29-24 loss to Texas A&M, which didn't turn the ball over at all. Georgia had one turnover and South Carolina none in the Bulldogs' loss to the Gamecocks. Which defense can force the most turnovers in this game? Alabama has scored 157 points off turnovers this season, the most in the SEC and fourth most in the FBS. For the season, Alabama is plus-14 and Georgia plus-9 in turnover margin. Alabama quarterback
AJ McCarron
has thrown just two interceptions all season, and both came in the Texas A&M loss. Murray has thrown seven interceptions this season but hasn't thrown any in five of his last six outings. The exception was the Florida game when he threw three.
November, 29, 2012
11/29/12
10:15
AM ET
A few storylines to keep an eye on in the Pac-12 this week.
1. No quit:
Those who were in the camp that UCLA had nothing to play for last week, I ask you this: Why were
Brett Hundley
and
Johnathan Franklin
still in the game in the fourth quarter? Why was UCLA going for it on fourth down? You can say the Bruins were outmuscled, outschemed and, judging by the final score, definitely outplayed. But it wasn't for lack of effort. Because there were a lot of P.O.'d guys in the postgame news conference. And rightfully so.
[+] Enlarge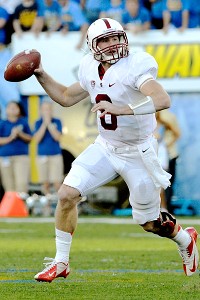 Richard Mackson/US PRESSWIREKevin Hogan and the Cardinal got the best of the Bruins last week.
2. In the trenches:
It was clear that Stanford dominated the point of attack -- on both sides of the ball. The Cardinal were able to stop the run, pressure the quarterback and break off some big runs on offense behind
Stepfan Taylor
. It will be interesting to see what adjustments Noel Mazzone and UCLA's offense makes this week. Will there be more designed roll outs for Brett Hundley? More pocket movement? Misdirection? Angle blocking? You don't change who you are by the 14th week of the season. But a couple of tweaks will be required to keep this one closer.
3. More blitzing?
The Cardinal didn't blitz as much as many thought. In fact, according to the folks at ESPN Stats & Information, the Cardinal sent four or fewer rushers 84.8 percent of the time in the first meeting. That means they were able to get penetration and sacks mostly on the strength of their 3-4 base defense. That opens up a world of possibilities for the rematch. The Bruins now have to find a way to get positive yards against Stanford's base, but also account for the possibility that the Cardinal could send more than they did in Round 1.
4. Youth movement:
Both teams are led by redshirt freshmen quarterbacks -- both of whom have had tremendous success at such a young age. Hundley has been as athletic and sensational as advertised (and yes, Rick Neuheisel deserves credit for both recruiting and redshirting Hundley) and
Kevin Hogan
has given the Cardinal offense a jump-start. He has won all three of his starts, including at Autzen and at the Rose Bowl. Pretty impressive. Hogan and the Cardinal got the better of Hundley and the Bruins the first time around. It's going to be fun watching these two over the next couple of years.
5. Adjustments:
When you look at the coaching staffs from both programs, there is a ton of NFL experience. Most of these guys have at least some experience in preparing a team for a quick turnaround to face the same opponent. I wouldn't expect either team to stray too far from what got them here. But I'd expect some new wrinkles from two very good coaching staffs.
6. That other game:
Lest we forget that the
Oregon State Beavers
are also in action this weekend against Nicholls State, a game that was originally scheduled for Sept. 1 before Hurricane Isaac postponed things. I think this is a good thing for the Beavers (except of course, if they lose). It gives them an extra opportunity to go out and play another game -- and Mike Riley said it was good to get on the practice field after their showing against Oregon in the Civil War. Nothing makes a loss go away like a win. And now they get that chance.
November, 29, 2012
11/29/12
10:15
AM ET
There is one game left before bowl season. So let's take a look at five keys to watch in the Florida State-Georgia Tech ACC title game Saturday in Charlotte.
1. Florida State run D vs. Georgia Tech offense.
Seminoles fans may have felt a little better about this matchup if last weekend hadn't happened. Florida roughed up the No. 1 defense in the nation to the tune of 244 yards rushing, physically dominating up front. That came as a surprise, considering the way the Seminoles had physically dominated just about everybody in ACC play. Now, they have a week to prepare for an offense that has only one thing on its mind -- running the football. Georgia Tech averages 323.3 yards rushing per game and should have leading rusher
Orwin Smith
back and healthy. Smith sat out last week's game against Georgia with a sprained ankle, but indicated this week he will be ready to go against the Seminoles. Meanwhile, Florida State is going to be without All-ACC defensive end Tank Carradine, a huge blow to the defense. Just how Florida State prepares for the option off such a miserable outing last week will be a huge key in this game.
2. Avoiding distractions.
Not only does Florida State have to bounce back from an uncharacteristic performance on defense, but it has to avoid the distractions of this week. Defensive coordinator Mark Stoops was announced Tuesday as the new coach at Kentucky, but he will coach in this game. He has declined all interview requests in order to focus on Saturday, and will not be formally introduced in Lexington until Sunday. All that is well and good, but you cannot completely ignore the distraction of this week, juggling a game plan with life-changing news. We will see how both he and Florida State respond.
3. Georgia Tech defensive consistency.
Georgia Tech's defense has been the biggest problem with the Jackets all season. Coach Paul Johnson fired Al Groh midway through the year, and there just has not been as much consistency as anybody would like. We see good quarters or good halves, but not an entire 60-minute effort. Now, they are coming off giving up 42 points to Georgia and are facing a balanced offense in the Seminoles. Georgia Tech must play a full game on defense in order to have any shot at winning.
4. QB EJ Manuel rebound.
Manuel had his worst game of the season last week against Florida, throwing three interceptions and taking a hit to the head in the fourth quarter that sent him to the sideline briefly. Manuel is good to go against Georgia Tech, but he is going to have to avoid trying too hard to get Florida State its ACC title. Coach Jimbo Fisher said after the Florida loss that Manuel was pressing to make things happen. Florida has a much better defense than Georgia Tech, so he may be able to relax a little more Saturday.
5. Can Georgia Tech pull the upset?
Both teams are coming into the game off demoralizing defeats. Florida State did not exactly look unbeatable and now has to rebound off a deflating loss to in-state rival Florida to focus on winning the ACC title game. The Jackets have won two straight in the series, but they also have lost five straight games to ranked teams. They are going to have to play nearly flawlessly to take down the heavily favored Seminoles and get into the BCS.
November, 29, 2012
11/29/12
10:15
AM ET
There's only one game on tap this week, but it's a big one: Wisconsin vs. Nebraska in the Big Ten championship.
Here are four things to watch Saturday night at Indianapolis' Lucas Oil Stadium:
[+] Enlarge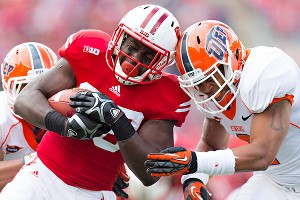 Jeff Hanisch/US PresswireWisconsin's Montee Ball has rushed for five touchdowns over his past three games.
1. Ball and Burkhead:
Wisconsin running back
Montee Ball
and Nebraska running back
Rex Burkhead
occupied the top two spots on our preseason countdown of the
Big Ten's top players
. Many considered Ball the front-runner for the Heisman Trophy, while Burkhead also was in the mix. The season hasn't gone as expected for either back, as Ball suffered a concussion and ran behind an inconsistent line, while Burkhead suffered a knee injury in the opener, twice aggravated it in October and played only one full contest (against Wisconsin on Sept. 29). Both men will be on the big stage at Lucas Oil. Burkhead returned to action last week against Iowa and turned in a strong second half, and Ball has been surging as of late, having racked up 500 yards and five touchdowns over his past three games.
2. Down to the wire:
Both Nebraska and Wisconsin are accustomed to close games this season, although the squads have had very different results. Wisconsin's five losses have come by a total of 19 points, including a 30-27 loss to Nebraska in Lincoln that marked the first of several furious Husker comebacks this season. Three of the Badgers' defeats have come in overtime (Michigan State, Ohio State, Wisconsin). Nebraska is 5-1 in games decided by 10 points or fewer this season, with all five victories coming in Big Ten play. The Huskers have rallied from a double-digit deficit four times in the second half this season -- tied for the second highest total in the FBS since 1996. "You look at Wisconsin, and they could just as easily be 10-2, just like we are," Nebraska tight end
Ben Cotton
told ESPN.com. "We know how good of a football team they are."
3. Back home again in Indiana:
Aside from hosting the league title game at Camp Randall Stadium, Wisconsin wouldn't want to play anywhere besides the Hoosier State this week. Wisconsin is 8-0 under coach Bret Bielema on Indiana soil, including last year's dramatic win against Michigan State in the inaugural Big Ten title game in Indianapolis. The Badgers actually have won nine straight in the state, and their eight wins under Bielema have come by an average margin of 23.8 points. Wisconsin played its two best games on Indiana soil this season, thrashing Purdue and Indiana by a combined score of 100-28 and racking up a combined 1,031 rush yards and 11 touchdowns. Nebraska obviously poses a much tougher test than Purdue or Indiana did.
4. Huskers' men in the middle:
Baseball managers always talk about being strong up the middle, and the adage applies to football, too. Nebraska faces some challenges Saturday after losing starting center
Justin Jackson
and starting defensive tackle
Baker Steinkuhler
to injury. Both Jackson and Steinkuhler have started all 12 games for the Huskers this season.
Cole Pensick
and
Mark Pelini
shared reps this week in practice at the center spot, and Nebraska will use a group effort to fill the void at defensive tackle, including moving ends like senior
Cameron Meredith
inside. Sophomore
Chase Rome
replaced Steinkuhler last week against Iowa, and
Thad Randle
also should see a lot of time in the interior line. It will be interesting to see if Wisconsin can exploit the injury with its run game.
November, 29, 2012
11/29/12
10:15
AM ET
Here's what to keep an eye on during the last weekend of the regular season:
1. Rutgers' atmosphere
. It's a sellout tonight for the Louisville game. And, well, we remember how crazy it got six years ago during a Thursday night game against the Cardinals. The Empire State Building will be lit red tonight, as it was then, and this time the Scarlet Knights have a chance to leave no doubt about who's atop the Big East.
2. Teddy Bridgewater's health
. Broken left wrist. Sprained right ankle. The best quarterback in the Big East is hobbling, as is his team; Louisville has dropped two straight. Can the Cardinals get it together for the most important game of the year? That could be the deciding factor tonight in Piscataway.
[+] Enlarge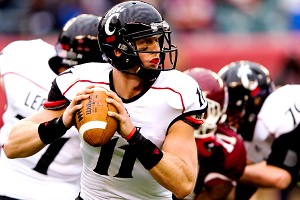 Howard Smith/US PRESSWIREThe Bearcats, facing the league's No. 1 defense in UConn, need a strong effort from quarterback Brendon Kay.
3. Brendon Kay's effectiveness
. Which QB will show up for Cincinnati? The one who dazzled against Temple and USF -- two of the conference's worst teams -- or the one who turned it over twice against Rutgers, the league's second-best defense? Kay will be facing the league's best defense Saturday at UConn, which needs one win to extend its season. Then again, if Louisville wins tonight, the Bearcats will be playing for a share of their fourth conference title in the past five years.
4. Lyle McCombs
. The UConn back has rushed for 100 or more yards in each of his past two games. Not coincidentally, those games are the Huskies' only two Big East wins. One more win, and they go bowling. Also keep an eye on who is handing the ball off to McCombs, as QB
Chandler Whitmer
's status remains up in the air after he got knocked out of last week's game.
5. Pitt's streak of twos
. Lose two, win two, etc. If Pitt's season continues on the path it's been on, the Panthers will impress at USF this weekend and extend their season into a bowl game. That would be big for a season that began with two crushing losses, and even bigger for a program that would get 15 extra practices under a first-year head coach.
6. USF's response
. At 3-8, the Bulls are having their worst season in program history. They lost six in a row at one point this season. They have been so devastated by injuries that a third-stringer is starting the finale at quarterback. Will they channel all that frustration into one final, strong performance against Pitt?
November, 29, 2012
11/29/12
10:15
AM ET
Here's what I've got my eye on in the Big 12 in the final week of the regular season.
1. Reach for the stars. If you fail, you'll still land among the Heismans ... or something.
Collin Klein
needs an absolute monster of a game to catch front-runner
Johnny Manziel
after Klein's awful outing against Baylor two weeks ago.
He hasn't been himself after suffering an injury
against Oklahoma State, having his two worst games of the season since. Can he bounce back?
[+] Enlarge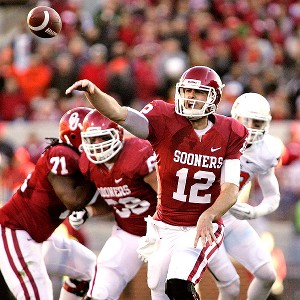 Brett Deering/Getty ImagesOklahoma's Landry Jones takes a string of two straight 500-yard passing games to TCU.
2. Shoot for three. Why not?
Landry Jones
, if you haven't been paying attention, has been tearing it up of late. Oklahoma has only had three 500-yard passing performances in school history; two have come in the last two weeks, and all three are from Jones. Jones has 1,054 passing yards, nine touchdowns and two picks in his past two games. Can he keep it rolling against a really good TCU pass defense that loves to disrupt in the backfield and force interceptions downfield?
3. No time to pout.
Kansas State is the Big 12's No. 2 rush defense. Only three teams had managed to top 100 yards on the ground against the Wildcats before the Baylor loss. The Bears managed, uh, 342. Kansas State has a lot left to play for, but Texas excels on the ground, and may rely more on its running backs without
David Ash
starting. Can the Wildcats D answer the bell?
4. Make 'em do something else.
TCU jumped out to an early lead against Texas, and the Longhorns never forced the Frogs to do anything special on offense. Quarterback
Trevone Boykin
threw just nine passes and ran 10 times against the Horns. If his pass attempts are that low again this week against the Sooners, Oklahoma's in big trouble.
5. Return of the MAC.
Hey, if you're not doing anything else on Friday night, you really might want to tune into the MAC championship game at 7 p.m. ET on ESPN2. I usually wouldn't sanction such an action, but it's quite relevant for Big 12 fans. If No. 17 Kent State beats No. 21 Northern Illinois (the Huskies are favored), the Golden Flashes will be heading to the BCS -- likely at Oklahoma's expense. If the Huskies win, the Big 12 should be fine and place two teams in the BCS for the first time since 2008, barring upset losses by K-State or Oklahoma.
6. There's a first half too, guys.
Oklahoma State has outscored Baylor 59-0 in the first half of its past two meetings. Those games were over before they even started. Can the Bears hang around in the first half this time and give themselves a decent shot in the second half?
7. Closing arguments, gentlemen?
Alex Okafor
and
Devonte Fields
are Nos. 1 and 2 in my defensive-player-of-the-year race. They both take on great offenses this week, offenses that love to get physical. A big performance by each might help his team grab an upset. Can either one make a strong case to close the season and take home the award? And on the offensive side of the ball, another off day by Collin Klein might open the race. Can
Terrance Williams
,
Tavon Austin
or perhaps Landry Jones step in there?
8. The Choo Choo keeps rolling and running.
Clint Chelf
hadn't done a ton of running before last week, but he looked a whole lot like Zac Robinson in the Cowboys' near-upset of Oklahoma. His 12 carries were more than he'd had in his previous three games combined. Some of them were on scrambles, but a few were designed. Does he look to run again against the Bears?
9. This might just be unfair.
Kansas plays good team defense, but so do Iowa State and Oklahoma. And those teams have much better individual talents all over the field than the Jayhawks. Tavon Austin didn't play as much running back last week, but he still was all over the place for West Virginia. What does he have in store for a KU defense that ranks eighth in the league in total defense?
10. Is there hope?
Kansas is sitting on a 20-game loisng streak in Big 12 play. If the Jayhawks win this game, it will be on the back of
James Sims
and
Tony Pierson
, controlling the clock and keeping West Virginia's offense on the sidelines. I don't believe the defense has any shot to slow them down otherwise. It's within reason. Can KU close the first year under Charlie Weis in style?