NCF Nation:

what-to-watch-120111
December, 1, 2011
12/01/11
10:57
AM ET
Here's a look at what to watch in Saturday's SEC championship game between No. 14 Georgia and No. 1 LSU:
1. Going streaking:
It's been a while since either one of these teams has lost a game. LSU has won 13 straight, which is the longest active winning streak among FBS schools. Georgia has won 10 in a row, which is the third-longest streak. Of the two, Georgia has been involved in more close games during its winning streak, which could benefit the Bulldogs if Saturday's game comes down to the fourth quarter. LSU has played only one game during its 13-game spree that has been decided by less than 13 points. That was the 9-6 overtime win against Alabama on Nov. 5 in Tuscaloosa.
2. Strength vs. strength:
Both of these teams have leaned hard on their defenses this season and with good reason. LSU is ranked second nationally in total defense, allowing an average of 248.4 yards per game. Georgia is ranked fifth nationally in total defense, allowing an average of 271.1 yards per game. When it comes to scoring defense, LSU is ranked second nationally and is giving up just 10.6 points per game. Georgia is ranked 10
th
and giving up 17.8 points per game. Getting into the end zone against either one of these defenses has been a struggle. LSU's first-team defense hasn't allowed a second-half touchdown in its past six games. Georgia's first-team defense has allowed a total of 10 touchdowns during its 10-game winning streak.
[+] Enlarge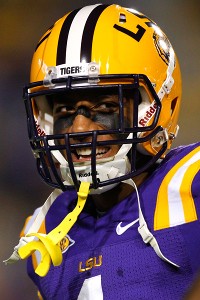 Derick E. Hingle/US PresswireLSU safety Eric Reid has been able to practice this week but he's still not 100 percent.
3. Reid's status:
LSU sophomore safety Eric Reid, who was the star of the Alabama game, has been practicing this week after missing the Arkansas game with a quadriceps injury. However, it still sounds as if Reid isn't back to 100 percent. LSU coach Les Miles said following Wednesday's practice, "I still think there's some question, but he practiced." If Reid can't go or is limited, that hurts the Tigers, especially with Georgia quarterback
Aaron Murray
's ability to spread the ball around. But the Tigers also proved last week against Arkansas that they're plenty deep enough in the secondary to make it work.
Tyrann Mathieu
moved from cornerback to Reid's free safety spot against the Hogs, and Morris Claiborne slid over to Mathieu's nickel/slot position. Ron Brooks and Tharold Simon started at the cornerback spots. It's the kind of quality depth that most teams only dream about.
4. Step-up time for Crowell:
If the Bulldogs are going to have a chance to win this game, they have to be able to run the ball at least a little bit. Yes, it gets redundant saying that about anybody who faces this LSU defense, but the Tigers feast on offenses that become one-dimensional during the course of a game. That's where
Isaiah Crowell
comes in. He hasn't been the most durable guy this season, but he's the kind of running back who can make somebody miss and turn a 5-yard run into a 50-yard gain. Crowell has also been the Bulldogs' most effective runner between the tackles and is averaging 60.5 yards per game there. Also, all six of his runs of 20 yards or longer this season have come between the tackles. The tricky part for the Bulldogs has been keeping Crowell in the game for all four quarters.
5. Protecting Murray:
Murray leads all SEC quarterbacks and is fourth nationally with 12 touchdown passes of 25 yards or longer this season, so he's more than capable of hitting the big play. Georgia is going to need some big plays to soften up LSU's defense, and freshman receiver
Malcolm Mitchell
will play a big role for the Bulldogs if they're able to do that. So will the Bulldogs' offensive line. Arkansas wasn't able to protect
Tyler Wilson
, who was sacked five times last Friday. For that matter, very few teams have been able to protect the quarterback against LSU. Murray has thrown 32 touchdown passes this season. But if the Bulldogs can't protect him, his ability to get the ball down the field isn't going to matter. He'll be trying to throw from his back.
December, 1, 2011
12/01/11
10:15
AM ET
Issues to consider heading into the Pac-12 title game:


The first quarter: Does UCLA show up hungry and inspired?
One plausible scenario is a flat UCLA team, demoralized by a 50-0 loss to USC and the firing of its head coach, Rick Neuheisel, doesn't show up focused and motivated. Mails it in, so to speak. And a flat effort would get the Bruins squashed by the high-powered Ducks, who are smelling roses in front of their home crowd. This one could get ugly quickly and get progressively worse. Or is the reverse true: Do the Bruins come out fiery and inspired and get to halftime with things tight? The first question to ask is how do the Bruins come out of the gate.
Bruins' running game vs. Oregon run defense
: UCLA is 11th in the Pac-12 in passing offense. Quarterback
Kevin Prince
has passed for over 200 yards just three times this year, and just once in a win. The Bruins aren't going to win in Autzen Stadium throwing the ball for 300 yards. They must run well against an Oregon defense that is strong against the run (135.6 yards per game). Expect the Ducks to gang up on the run -- even normally, coordinator Nick Aliotti is obsessed with stopping the run first -- and dare Prince to throw. The Bruins will need to throw to keep the Ducks honest, but they are going to need to somehow win at the point of attack and establish consistency running right at Oregon. The key is early-down production, so Prince doesn't constantly face third and long, which would force him to throw against a strong Ducks pass rush.
[+] Enlarge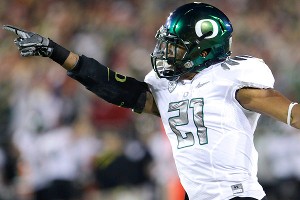 AP Photo/Paul SakumaA weak UCLA run defense could help LaMichael James make a last, definitive statement to Heisman voters.
Turnovers
? Big upsets happen when the favorite decisively loses the turnover battle. But Oregon doesn't turn the ball over much. The Ducks are third in the Pac-12 in turnover margin -- plus-7 -- in large part because of just 16 giveaways, which is second fewest to Stanford's 15. UCLA is minus-2 in turnovers, and has forced just 18 this year, eighth most in the conference. It seems inconceivable that the Bruins can pull the upset -- heck, stay close -- if they don't win the turnover battle. And they likely need to be plus-2 or -3.
LaMike's last dance
? Oregon running back
LaMichael James
has fallen off the Heisman Trophy radar, despite leading the nation in rushing and averaging a yard and a quarter more per carry than Alabama running back
Trent Richardson
. Go figure. While James is a junior, this is likely his last game in Autzen Stadium before he's off to the NFL. He's been dinged up, having hurt the elbows of both arms. But he's a tough guy who surely wants to go out with a bang. The Ducks' forte is running the ball and no back has done it better for Oregon than James. Is he headed for a big evening against a weak Bruins run defense?
Special teams rule
: Oregon is also good on special teams, though a missed field goal cost them at the end against USC. But UCLA will need to be better on special teams to pull the upset, too. That means no missed field goals and no long kickoff or punt returns. That means punter Jeff Locke pinning the Ducks far away from the Bruins' goal line. That means a big return -- or two -- for the Bruins, giving them points or a short field. Maybe a blocked kick or punt? UCLA needs to win field position and needs to find creative ways to get -- and prevent -- points. Special teams help with all of that.
December, 1, 2011
12/01/11
10:15
AM ET
We've only got three games to watch this week, but there's a few good ones. Here's what I'm watching for.
1. Oklahoma State transforming into politicians
. Mike Gundy and his players shied away from campaigning for inclusion into the BCS National Championship Game this week. But what if they beat Oklahoma? Can OSU prove the difference between them and Alabama is much closer than people think? Appeal to voters that oppose a rematch? It'll be interesting to see if the Cowboys change their tune. There would be no reason not to, and if I was an OSU fan, I'd want them to do it.
[+] Enlarge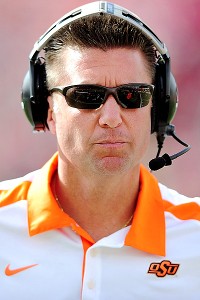 Andrew Weber/US PRESSWIREWill Oklahoma State coach Mike Gundy change his tune and campaign for a title shot should his Cowboys beat Oklahoma?
2. Oklahoma's pass rush.
The Sooners won't have one of the league's best, Ronnell Lewis. They will, however, have the league's best, Frank Alexander. OU needs to get as much push as possible with its front four.
Brandon Weeden
's smart. If Oklahoma starts needing to bring a lot of guys to get in his face, big plays will follow. Alexander and Lewis' replacement(s), David King and R.J. Washington,
can
do it. Will they?
3. Texas' containment.
You saw it on the game-winning drive against Oklahoma two weeks ago.
Robert Griffin III
made Texas Tech pay, too. Keep Griffin from running and life gets a bit easier for the defense. The Texas defensive line is one of the best in the Big 12 at getting upfield, but do it too aggressively, and the linebackers are going to chase Griffin all day, most likely with little success.
4. RG3's psyche.
Griffin took a big shoulder/forearm to the head last week on an impressive scramble that shortened his day considerably. Texas' defense hits much, much harder than Texas Tech's. Is he at all tentative to test the Texas defense with his legs, especially knowing it might shorten his day like it did against Texas Tech? Griffin said he felt fine last week and wanted to go in if Texas Tech got any closer than 52-42. We'll see if that frustrating exercise changes how he plays.
5. Collin Klein's fresh legs.
Klein's probably taken more hits than anybody in the Big 12 this year. He's withstood them all, but practiced sparingly, if at all, late in the season. The off week gave him time to heal, and he's back practicing. Will that work carry over into the field, either as a more spry runner, or as a passer more in tune with his receivers?
6. The battle at the second line of defense.
Kansas State loves to pound. So do Iowa State's linebackers, Jake Knott and A.J. Klein. They're two of the best in the league, which is arguably the best unit of any in the Big 12. That'll be fun to watch. Winner takes this game.
December, 1, 2011
12/01/11
10:15
AM ET
There's only one game to watch in the ACC this week, but there are plenty of storylines within the game. Here's a closer look at what to keep an eye on during the Dr Pepper ACC championship game on Saturday night:
1. The quarterbacks.
They have been the focus leading up to this game, and they will be the difference-makers in the outcome of it. Clemson's
Tajh Boyd
has struggled recently, throwing four touchdowns and seven interceptions since the eight-game winning streak ended, and Virginia Tech's
Logan Thomas
has accounted for 23 touchdowns and just two turnovers since the Hokies last lost to Clemson.
[+] Enlarge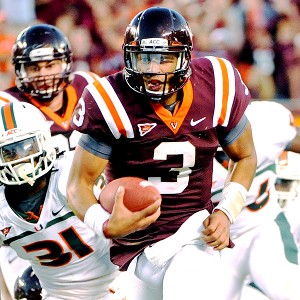 AP Photo/Don PetersenLogan Thomas' performance helped vault the Hokies back into the Coastal Division race.
2. Third downs.
Clemson's defense hasn't been stellar this year, but it's been stingy on third downs. The Tigers are No. 1 in the ACC and No. 9 in the FBS in third-down defense, holding opponents to 31.52 percent. Virginia Tech, however, has converted 46.55 percent of its third downs this season, good for third in the ACC and No. 22 in the country. The last time these teams played, Virginia Tech was just 4-of-16 on third downs.
3. Clemson's pass protection.
The Tigers have allowed 11 sacks in the past two games, and Virginia Tech is No. 8 in the country and leads the ACC with 3.08 sacks per game. The absence of veteran left tackle Phillip Price, who has been out with an injury, hasn't helped, and his status is still in question for Saturday. Boyd was sacked five times last week in the loss to South Carolina.
4. Turnovers.
They have been an issue for Clemson over the past four weeks, with 12 in four games. It wasn't the reason the Tigers lost to South Carolina, but they were major factors in the losses to NC State (four) and Georgia Tech (four). Virginia Tech enters the game leading the country in turnover margin. The Tigers were plus-nine in turnover margin in the season's first eight games and minus-10 in the next four.
5. The all-purpose stars.
This game will feature two of the nation's top five leaders in all-purpose yardage in Virginia Tech's Wilson and Clemson receiver
Sammy Watkins
. Watkins averages 174.55 yards per game to rank fourth in the nation, while Wilson is fifth at 173.58 yards per game. Watkins has 1,920 yards rushing/receiving and in kick returns in 11 games. He missed the NC State game due to injury. Wilson has 2,083 yards in 12 games for his 173.58 average. Both have a higher all-purpose average than Alabama Heisman candidate
Trent Richardson
, who averages 164.67 yards per game.
December, 1, 2011
12/01/11
10:15
AM ET
Here are the top story lines in the Big East as the regular season comes to a close.
1. Who is going to the BCS?
You want to know as badly as I do. So do Louisville, West Virginia and Cincinnati. No matter what happens in the West Virginia game against USF on Thursday night, we will not have our answer until Cincinnati plays UConn on Saturday. Just as a quick refresher: West Virginia needs a win and a Cincinnati win to force a three-way tie atop the Big East standings. Tiebreaker goes to the
BCS standings
, where the Mountaineers are currently the highest-ranked Big East team at No. 23. Louisville needs Cincinnati to lose. Cincinnati needs a win and a West Virginia loss.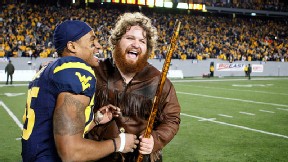 Jared Wickerham/Getty ImagesWith a win Thursday and a Cincinnati win Saturday, West Virginia could be laughing its way to the BCS.
2. Bowl hopes in the air.
USF, UConn, Pitt and Syracuse all have a chance to become bowl-eligible with victories. Only three of them have a shot, as Pitt and Syracuse play each other. USF has made it to six consecutive bowl games; UConn to four in a row; and Pitt to three. Syracuse broke its long bowl drought last season. USF and UConn are underdogs; Pitt is favored to beat the Orange. An upset or two will have to happen for the Big East to get more than five bowl-eligible teams this season. The last time the Big East did not have six bowl-eligible teams was 2007.
3. USF magic.
In all three USF wins over West Virginia, the Bulls have pulled an upset on a ranked Mountaineers team. Will it happen a fourth time? West Virginia has not won in Tampa since 2005, but USF does not exactly play well on Thursday nights. Shall we hearken back to Week 5, when USF got beaten badly at Pitt? USF is now 0-7 in Thursday night games as a member of the Big East.
4. B.J. Daniels' status.
That leads to the next story line. Will the USF quarterback be able to play? Daniels missed last week's game against Louisville with a bruised sternum, and his status is questionable for Thursday. Backup
Bobby Eveld
has lost both games he has started in his career. The last time West Virginia visited Tampa, Daniels threw for three touchdowns and ran for 100 yards in a 30-19 win. He didn't fare as well last year, throwing three interceptions in a 20-6 loss in Morgantown.
5. Isaiah Pead vs. UConn D.
Pead had 246 all-purpose yards in a win over Syracuse last week, and has proven to be the best player on the Bearcats offense. You can bet Cincinnati will try to get him the ball as frequently as possible, but he will be facing one of the better run defenses in the league and the nation. UConn ranks third nationally against the run, allowing 2.7 yards per carry. On the season, no running back has gone over 100 yards on this defense. That's because teams have had much better luck passing on what has been a lackluster secondary.
6. Best QB combos.
Which team has the best dual-threat quarterback situation: Cincinnati with
Munchie Legaux
and
Jordan Luallen
, or UConn with
Johnny McEntee
and
Scott McCummings
? The Huskies have used both for nearly the entire season, and have been most effective of late -- McCummings has four of his five touchdown runs in the past three games. The Bearcats used Luallen for the first time in a win over Syracuse last week, and he ran for 77 yards. On two of his runs, he came up just short of the goal line.
7. Does the losing streak end?
Syracuse has lost four straight, and coach Doug Marrone said he wanted to make sure his players stopped pressing and starting having more fun on the football field. Perhaps a more carefree attitude will help a team that has had a tough time scoring — and stopping opponents. Syracuse ranks No. 89 in the nation in total offense, and No. 71 in total defense. The Orange face another tough challenge against an active Pitt defensive front, which has 36 sacks on the season.
8. Sunseri rebound?
Tino Sunseri
had a rough outing in a 21-20 loss to West Virginia last week in the Backyard Brawl. He was sacked 10 times -- nine on the final 25 plays of the game. Many were his fault because he held onto the football too long. Sunseri has followed up his subpar performances with good ones of late. After a bad game against Utah, he threw for 419 yards against UConn. After two turnovers in a loss to Cincinnati, he managed the game effectively in a victory over Louisville. So which Sunseri shows up Saturday?
December, 1, 2011
12/01/11
10:15
AM ET
Five items to track Saturday night in the inaugural Big Ten championship game between No. 13 Michigan State and No. 15 Wisconsin.
[+] Enlarge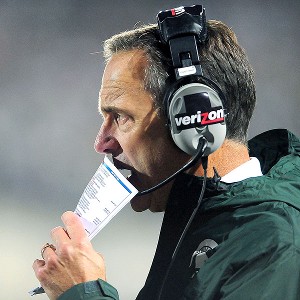 Andrew Weber/US PresswireMichigan State coach Mark Dantonio might have some tricks up his sleeve in the Big Ten Championship game.
1. Third-down efficiency:
Arguably no statistic has played a bigger role in Michigan State's past two victories against Wisconsin. Michigan State converted 50 percent of its third-down opportunities in each game -- 9 of 18 in 2010, 8 of 16 this year -- to repeatedly extend drives and put up points. The Spartans converted 8 of 13 third-down opportunities last Saturday at Northwestern but only rank No. 82 nationally on the season (38.5 percent). Wisconsin, meanwhile, leads the nation in third-down conversions (55.2 percent) and ranks 32nd in third-down defense (36.4 percent). "They're very good at converting third downs," Badgers defensive tackle Patrick Butrym said. "We need to come up with a good plan."
2. The R-word:
For Michigan State, it's about respect, or lack thereof. Spartans players have been candid about the lack of respect they've received all season despite their success. "Every game we go into, we're the underdog," senior safety Trenton Robinson said. "Everybody says Michigan State is going to lose by this amount." Count the Vegas odds makers in that group, but Michigan State has used the outside view as fuel during its impressive season. Wisconsin, meanwhile, is downplaying another R-word -- revenge. Although Michigan State won the first meeting, Badgers players began stiff-arming the revenge story line immediately after last Saturday's win. They need to play with composure, especially since Michigan State drew no penalties in the teams' first meeting.
3. Neutral-site factor:
The Big Ten has never had a title game before, and it will be interesting to see the atmosphere and how it impacts the game. Michigan State fans seem a bit more geared up than their Wisconsin counterparts, and the Spartans-Badgers fan split should be interesting. Will the game be a sellout? Should be close if it's not. Wisconsin hasn't been the same team outside Madison this season, but the Badgers won't be playing in a true road environment. Michigan State performed very well in its last two road games. The Spartans are the more tested team outside their own building this season. Wisconsin's best road/neutral-site win came against Northern Illinois, while Michigan State has beaten Iowa, Northwestern and Ohio State.
4. Special teams and The Gambler:
Michigan State has held a decided edge in the kicking game in each of the past two meetings with Wisconsin.
Keshawn Martin
had a punt return for a touchdown in 2010, and the Spartans blocked a punt for a touchdown Oct. 22 to cap a huge second quarter. Wisconsin has had punts blocked in each of its two losses, and the Badgers can't let the dangerous Martin get free in the open field. Also, keep an eye on Spartans coach Mark Dantonio, who has shown he isn't afraid to call a trick play at key moments, particularly in the kicking game. Special teams is an area where Michigan State can capitalize.
5. MoneyBall's quest:
Top Heisman Trophy candidates
Trent Richardson
and
Andrew Luck
aren't playing games Saturday, so Wisconsin running back
Montee Ball
gets one final big-stage opportunity to show why he's one of the nation's best players. Ball is five touchdowns shy of Barry Sanders' NCAA single-season record (39) and has scored at least twice in every game this season (seven games of three or more scores). Ball had 115 rush yards and a touchdown against Michigan State on Oct. 22 but missed some time after taking a shot to the head. Wisconsin's offense wasn't the same with Ball on the sideline. The Badgers will need Ball on the field for 60 minutes Saturday night, while Michigan State's defense must contain No. 28.