NCF Nation:

what we learned 090912
September, 9, 2012
9/09/12
10:00
AM ET
1. The QB position is, um, interesting
. Well, that's one way to put it. Brian Kelly says there's no controversy, and that
Everett Golson
is his starter. Golson played well before
Tyler Eifert
(concussion) went down, but in the game's biggest moment -- when Kelly himself said that Golson probably was healthy enough to play -- he went with
Tommy Rees
, who ultimately delivered. The Irish escaped 2-0, and that will, in some way, validate the move. But does Golson need to look over his shoulder now? Things will only get more difficult at Michigan State, a tough environment that will also mark his first legitimate road test.
[+] Enlarge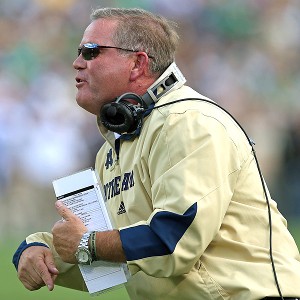 Jonathan Daniel/Getty ImagesBrian Kelly has led the Irish to a 2-0 mark for the first time since 2008.
2. Players must get healthy
. Notre Dame suffered a number of injuries Saturday that severely hampered it. Kelly said after the game that he thought none would require surgery or have any long-term effects. The wounded include:
Kapron Lewis-Moore
(calf strain),
Jamoris Slaughter
(shoulder), Eifert (concussion),
DaVaris Daniels
(ankle sprain),
Ishaq Williams
(elbow) and
Sheldon Day
(dehydration). Kicker
Nick Tausch
also hurt his groin earlier in the week, forcing
Kyle Brindza
in.
3. The O-line has some work to do
. We knew the ground game wouldn't take off like it did in rushing for 293 yards against Navy. But few saw the Irish's front having so much trouble with Purdue's talented defensive line. Notre Dame rushed for 52 yards Saturday as a team, and Golson was on the ground early and often (five sacks). What was believed to be the team's biggest strength now prepares this week for Michigan State's tough defensive unit.
4. ND is 2-0 for the first time since 2008
. This category counts, right? Rees' biggest completion, a 10-yard third-and-6 throw to
John Goodman
, may have come with no time left on the play clock. And Purdue insisted on playing two quarterbacks, when one (
Robert Marve
) looked better than the other (
Caleb TerBush
) for much of the day. But the Irish weathered the storm of multiple injuries to key players and, when it mattered most, took care of business. How they did it, and what's in store next, is anyone's guess.
September, 9, 2012
9/09/12
10:00
AM ET
Week 2 is over with and we feel we know teams a little better now.
Here's what we've learned so far in the SEC:
1. Arkansas' defense isn't ready for prime time:
The Razorbacks' defense entered the season surrounded by criticism and uncertainty. In Saturday's stunning
34-31 overtime loss
to Louisiana-Monroe, the defense didn't do anything to lessen the criticism and worry. Arkansas' defense surrendered 550 total yards, including 412 passing yards by quarterback
Kolton Browning
. Browning also threw three touchdown passes and ran for 69 yards, including the 16-yard game-winning touchdown. The Warhawks also converted 6 of 7 fourth downs, including Browning's last scamper. This Arkansas defense was pushed around by Alabama and LSU last year, and was pushed around Saturday by a program that has never beaten a ranked team.
[+] Enlarge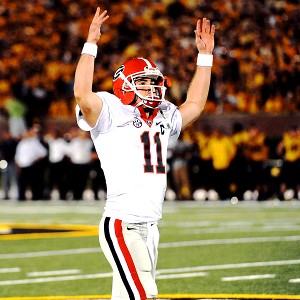 Dak Dillon/US PresswireQB Aaron Murray (242 yards, 3 TDs) and Georgia ended their victory over Missouri on a 24-0 run.
2. Georgia has true resiliency:
The Bulldogs walked into a hostile environment at Missouri and left with a big SEC victory. The Tigers threw everything at Georgia's depleted defense, and the Bulldogs responded with a strong fourth quarter, when the defense totally shut down the Tigers. Georgia outscored Missouri 17-0 in the fourth and finished the game on a 24-0 run after being down 20-17 late in the third quarter. Georgia outscored Mizzou 32-10 in the second half. Mizzou might not have been ranked, but this was a signature win for the Bulldogs. Georgia has struggled recently away from home, but the Bulldogs kept pounding away when their backs were against the wall. We saw the type of fight out of a team with the talent to make an SEC title run.
3. This Auburn team lacks true physicality:
Gene Chizik talked so much about how physical Auburn's game with Mississippi State would be Saturday. His players obviously didn't get the message. Like Week 1, the Tigers struggled mightily on defense, as they missed a handful of tackles yet again. Mississippi State running back
LaDarius Perkins
carried the ball only 14 times, but he did a great job of softening up Auburn's defensive line. That gave quarterback
Tyler Russell
even more time to pass and shred the Tigers' struggling secondary. Offensively, the Tigers just couldn't get anything going. There were too many east-to-west runs that went for nothing, and the offensive line got absolutely no push up front. Quarterback
Kiehl Frazier
has a long way to go in the confidence department on the field. This team has to toughen up or it'll be a very long season on the Plains.
4. Florida is tougher than it was last year:
The Gators'
20-17 win
over Texas A&M wasn't exactly pretty, but last year's team wouldn't have won that game. You saw real resolve from this team after being down at halftime. With the way the Aggies' played in the first half, it looked like they might run away with it. But Florida came out looking like a different team and outscored Texas A&M 10-0 in the second half. The defense, which looked lost in the first half, allowed 65 yards and forced four three-and-outs. Quarterback
Jeff Driskel
stood taller in the pocket, delivered some clutch throws and made some big plays with his legs. The coaches also adjusted on both sides of the ball to wear down the Aggies. This team isn't ready for LSU or Alabama, but it showed that it is turning into more of that blue-collar team that coach Will Muschamp wants in Gainesville.
5. The gap is there at the top:
After another weekend of very impressive football from Alabama and LSU, it's obvious that for the second consecutive season, these are the top dogs ... and then there's everyone else. It's still very early, but these two teams have shown little weakness so far. Alabama routed then-No. 8 Michigan last week and turned around to shut out Western Kentucky
35-0
in a game that could have been a lot worse if Nick Saban hadn't taken his foot off the gas. LSU cleaned up against North Texas last week, then walloped Washington
41-3
and looked much better all around this weekend. Arkansas' loss puts the Hogs further behind, while it still appears that the top East teams just aren't on the same level as these two. The race in the East might be a little more exciting this season, but it looks like the showdown between these two teams in early November will determine the SEC's champ.
September, 9, 2012
9/09/12
10:00
AM ET
What did we learn in the Big East in Week 2? So glad you asked.
1. It was not a great weekend for the Big East.
Of the four games Saturday against FBS opponents, only USF won, and the Bulls needed a frenetic comeback to make it happen. Temple was incredibly sloppy in a loss to Maryland; UConn had zero offense in a loss to NC State; Syracuse gave it the ol' college try against No. 2 USC, and while the effort was valiant, the result was still a loss. I see the two ACC games in particular as lost opportunities. Temple could not beat the youngest (and probably worst) team in the ACC -- a team it beat 38-7 a year ago. And UConn had more than one opportunity to beat an unimpressive NC State outfit. But it didn't, and now the Big East is 0-2 against its closest rival conference.
[+] Enlarge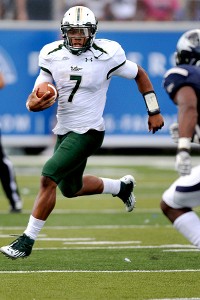 AP Photo/Cathleen AllisonUSF's B.J. Daniels passed for 363 yards in the Big East's only win Saturday over a FBS opponent.
2. Hello, offense?
This one is aimed at you, Rutgers and UConn. The expectation was for both offenses to be better this season. UConn has an actual scholarship quarterback behind center in
Chandler Whitmer
; and Rutgers settled on one guy in
Gary Nova
, with plenty of talent at receiver. So far, both teams have struggled mightily on offense. Nova threw for 158 yards in Week 1, and 130 yards against Howard in Week 2. As for Whitmer, he had a disastrous day against NC State, throwing three interceptions. The bigger problem for UConn may be the lack of a run game. UConn had 35 yards rushing Saturday, and its offensive line is struggling big-time.
3. Syracuse is the best 0-2 team in the nation.
I give the Orange major credit for taking USC to the limit in a 42-29 loss. When the fourth quarter began, Syracuse trailed 21-16 and Twitter was abuzz with the way the Orange had completely taken USC out of its game. But early in the fourth quarter,
Robert Woods
returned a punt 31 yards to the Syracuse 22 and
Matt Barkley
threw a touchdown pass three plays later. USC scored on its very next drive, after Woods had 76 yards on an end-around, and all of a sudden the game was out of reach. Still, Syracuse played the Trojans to the limit a week after dropping a heartbreaking 42-41 loss to Northwestern.
"We had a good opportunity," coach Doug Marrone said afterward. "There were some opportunities out there that if we could just make one play here or there and it could really change it. We were in it. We felt we were in this football game. It hurts, but in the same sense, we have a long season, a long schedule. We are excited about the direction that we are headed."
4. Comeback kids.
We learned USF knows how to win a close game. After dropping five contests last season by six points or fewer -- including four in the closing seconds -- the Bulls pulled off an incredible comeback to beat Nevada, erasing an 11-point deficit in the final 2:37 of the game. It was the largest comeback in school history. USF looked totally flat early in this game and trailed 21-6, but the Bulls dug deep and found a way to win. Perhaps winning a game like this changes the momentum for the Bulls, with their all-important league opener against Rutgers set for Thursday.
5. Don't sleep on Cincinnati.
What's that you say, Bearcats fans? You have been screaming this to me, sending me hate mail on this very topic since ... I took over the blog last year? I hear you, I hear you. Cincinnati looked impressive in a 34-10 win over Pitt. The defense, which lost so many key players, ended with 11 tackles for loss, six sacks, an interception and a fumble recovery.
Munchie Legaux
showed the wheels we knew he had, and
Ralph David Abernathy IV
was as good as many thought he would be. The passing game still needs some help, but for an opening game, you couldn't ask for much more out of this team.
September, 9, 2012
9/09/12
10:00
AM ET
After an eventful, surprising day across the Big 12 on Saturday, here's what we learned:
The reigning Big 12 champs are quite mortal.
Chalk this one up as the biggest surprise of the young season in the Big 12. Turns out, Oklahoma State can't just plug-and-play to replace a pair of first-round picks.
Tracy Moore
turned in a fantastic game (eight receptions, 106 yards, four TDs), but
Wes Lunt
is no Brandon Weeden, and Justin Blackmon's usually sure hands were missed. Lunt threw for 440 yards, but three interceptions and a school-record 167 penalty yards on 15 flags were too much to overcome. The front seven looked like it had never seen a zone read before, giving up 59 points to a still-learning Arizona team in a 59-38 loss. The defense was missing its coordinator, Bill Young, who is dealing with a health issue, but the Cowboys might end up looking pretty mediocre in a very deep Big 12 if the turnovers and penalties don't cease. Worse than committing four turnovers? Forcing zero. The Cowboys didn't get a single takeaway in the desert on Saturday night after forcing 44 last season.
[+] Enlarge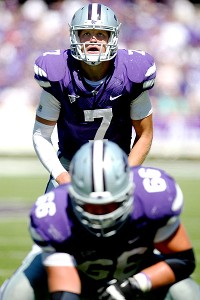 Scott Sewell/US PRESSWIREKansas State's Collin Klein accounted for 281 yards and four touchdowns against Miami.
Kansas State is back, and better than ever in Snyder's second go-around.
Nobody saw Kansas State's 39-point romp coming, not even the Cats themselves. But what did you expect? This team was going to get better in the offseason. That's just what most college football teams do, and especially ones that return the kind of talent Kansas State does under Bill Snyder. The U looked completely overmatched from start to finish, and
Collin Klein
looked much, much better. Miami's not a very good team, but it has some great athletes. Kansas State completely negated Miami's speed by dominating the line of scrimmage on both sides of the ball. The day's biggest eye-popping performance.
Never, ever doubt Paul Rhoads (again).
How do we keep doing this? A tossup game? Against a rival? Most folks (myself included) picked the Hawkeyes, but Rhoads pulled off another huge program win, setting a milestone yet again with the Cyclones, who hadn't won at Iowa since 2002, when Seneca Wallace was still in town. It didn't look pretty, and Iowa State's loaded with flaws, but there's no such thing as a bad win when it comes against a rival or it comes on the road. Iowa State got both on Saturday, making big plays down the stretch to make it happen.
TCU knows how to make an entrance.
Yes, it was an FCS opponent, but zero incompletions in 17 attempts for two quarterbacks,
and
a defensive shutout? Oklahoma State showed us on Saturday night exactly what beating up on an FCS opponent ultimately means (nothing), but what else could TCU do? Look out for true freshman
Devonte Fields
, too, who could become a force in this league. An injury to
Ross Forrest
has forced TCU to depend on him more than it would like, but the talented blue-chip recruit notched his first career sack as Gary Patterson became the school's all-time leader in wins.
It's going to be another long year in Lawrence.
What's more troubling? Kansas losing this game? Or Kansas being just a six-point favorite against Rice, which had never beaten a team from the Big 12 since the league was formed? The Jayhawks looked the part of an inexperienced team that didn't know how to win on Saturday, squandering a 24-13 lead late in the third quarter and losing a game it had no business losing.
Dayne Crist
's second interception of the day was a back-breaker, giving Rice the ball near midfield to set up the game-winning field goal as time expired. Crist is better than KU's alternatives, but he hasn't played well to this point. He finished just 16-of-28 for 144 yards with a touchdown and two picks. I thought Kansas would be better this year. The Jayhawks may improve by season's end -- Saturday proved they've got more room to do it than any team in the Big 12 -- but good grief, losing to Rice at home? I don't care what the circumstances are. That's terrible for a Big 12 team. This is the worst KU loss since the 6-3 North Dakota State disaster that kicked off the Turner Gill Era in 2010.
September, 9, 2012
9/09/12
10:00
AM ET
Five lessons from the week that was in Big Ten football.
1. Spartans or bust: With all due respect to Northwestern, Indiana and Minnesota, the Big Ten is down to one legitimate remaining BCS title contender after just two weeks. Michigan, Wisconsin and Nebraska have already seen their hopes of an undefeated season vanish. Ohio State technically could win The Associated Press national title, but the probation-saddled Buckeyes can't play for the BCS crown. So Michigan State, which looks like the Big Ten's best team right now, is really the only league team that can hoist the crystal trophy. The Spartans own the league's best nonconference win (the opener over Boise State), an elite defense and a strong running game behind Le'Veon Bell. Their passing game needs more work, but quarterback Andrew Maxwell and his young receivers made some strides in a blowout win over Central Michigan. Michigan State still has a demanding schedule, including next week's game against Notre Dame. But as the only Big Ten power still without a blemish, the Spartans represent the conference's last, best hope for a BCS championship this season.
2. The Leaders Division race is wide open: Hold off on Wisconsin's coronation. The Badgers look completely out of sorts after barely holding on against FCS team Northern Iowa in Week 1 and then nearly getting shut out in a loss at Oregon State in Week 2. If Wisconsin's offense is going to be that pedestrian, to put it kindly, then Bret Bielema's team no longer looks scary for the rest of the teams in the division. Purdue, even in a loss to Notre Dame, might have had the best performance by a Leaders team Saturday. Illinois got dusted in the desert against Arizona State as its vaunted defense faltered. Indiana is 2-0 but is most likely not ready to contend in the division, especially with quarterback Tre Roberson now out for the year. Ohio State might end up being the best team in the division, but the Buckeyes can't go to Indianapolis. Right now, it's anybody's guess who will represent the Leaders at Lucas Oil Stadium.


[+] Enlarge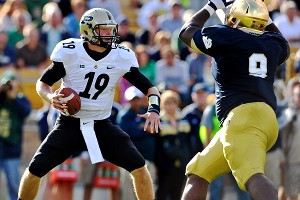 Matt Cashore/US PresswireCaleb TerBush pulled Purdue into a late tie at Notre Dame with a 15-yard TD pass.
3. There's fight in these Nittany Lions, but transfers continue to sting:
No matter your opinion on Penn State, you had to feel for the Nittany Lions players and particularly sophomore kicker
Sam Ficken
after their
17-16 loss
to Virginia. Penn State thoroughly outplayed Virginia and received gutsy efforts from linebacker
Michael Mauti
, quarterback
Matt McGloin
and others. But it repeatedly missed scoring opportunities, setting some type of record for drives started in plus territory that didn't translate to points. Ficken missed field goal attempts from 40, 38, 20 and 42 yards, the last on the final play of the game after McGloin led an impressive drive. Although Ficken is a scholarship player who needs to convert, he was thrust into this role once All-Big Ten specialist
Anthony Fera
transferred following the NCAA sanctions (though Fera, now at Texas, is currently injured). Some pointed to Fera's departure as the second most significant of the nine -- behind running back
Silas Redd
. Penn State certainly could have used him Saturday. The Lions deserve credit for moving the ball and for forcing turnovers, but the player departures have and likely will continue to hamper this team. It will be interesting to see how they bounce back from Saturday's heartbreaker.
4. New coordinators struggling at Wisconsin, Iowa: Both Wisconsin and Iowa went through some significant coaching changes during the offseason, including new offensive coordinators in both Madison (Matt Canada) and Iowa City (Greg Davis). So far, any concerns about the new hires are looking justified. After setting offensive records the past two seasons, Wisconsin came 91 seconds away from being shut out against unranked Oregon State. The Badgers finished with 35 net rush yards and couldn't get Heisman Trophy candidate Montee Ball going. While the players bear a lot of responsibility, Canada's play calls seemed questionable at best. Iowa's offense also is spinning its wheels under Davis, who took criticism toward the end of his Texas tenure but was supposed to diversify the Hawkeyes' attack. Like Wisconsin, Iowa didn't come alive offensively until the closing moments, and senior quarterback James Vandenberg struggled again with no touchdown passes and two interceptions. Iowa has scored one touchdown through the first two games. Although both Canada and Davis faced some personnel challenges with their offenses, they didn't walk into dire situations, either, particularly Canada. The results so far are extremely disappointing.
5. Braxton Miller needs some help: Urban Meyer doesn't want to overexpose his sophomore quarterback, but the Ohio State coach doesn't have much choice right now. Miller had a whopping 27 carries in Saturday's 31-16 win over Central Florida, rushing for 141 yards. He also threw the ball 24 times. Jordan Hall remains out with an injured foot, and Carlos Hyde left Saturday's game with a knee injury, leaving the Buckeyes without many options at running back. Miller took a few hard hits against UCF, and it's clear that if he has to miss any significant time, the Ohio State offense will nosedive. The Buckeyes have to find some complementary players so Miller can make it through the year. We could say the same about Michigan's Denard Robinson, who accounted for more than 100 percent of his team's offensive total against Air Force. But we're pretty sure Fitz Toussaint will contribute more than 7 rushing yards in the near future. The Buckeyes need Hyde or Hall to get healthy or for someone else to emerge as a reliable running mate for Miller.
September, 9, 2012
9/09/12
10:00
AM ET
What did we learn in Week 2? Read on.
[+] Enlarge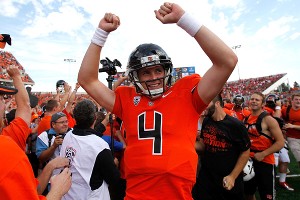 Jonathan Ferrey/Getty ImagesSean Mannion and Oregon State had plenty to celebrate after knocking off No. 13 Wisconsin.
Big wins, bad losses
: While the losses to non-AQ conferences are notable -- Cal, Washington State, Utah and Colorado -- winning three games against ranked nonconference foes is more substantial. While the early returns were lackluster, dispatching No. 13 Wisconsin (Oregon State), No. 16 Nebraska (UCLA) and No. 18 Oklahoma State (Arizona) shows the conference is deep. And underrated.
Oregon has injury issues
: While Oregon doesn't talk about injuries, it's got a bunch. Ducks senior safety
John Boyett
leads a list of players who are hurt. Boyett might need season-ending knee surgery. Other wounded Ducks: senior guard
Carson York
(knee) , OT
Kyle Long
(leg) and WR
Josh Huff
.
Newbies look shabby
: Utah lost on Friday at Utah State. Colorado went down at home to FCS team Sacramento State. On a weekend when the old Pac-10 played well, the conference's newest members laid eggs. Colorado's loss pretty much kills its bowl hopes -- yeah, just two games into the season. And Utah, which looked poised to climb into the Top 25 and perhaps be the South Division runner-up, now finds itself sinking as the rest of the South moves up with impressive wins. The honeymoon is over. You guys need to pull your weight.
Oregon State won't go 3-9 this year
: Oregon State's 10-7 win over Wisconsin wasn't as close as the final score indicated. The Beavers, who lost 35-zip at Wisconsin last year, dominated statistically and were superior on both sides of the ball. If the Beavers are good enough to beat the 13th-ranked Badgers, you'd think they'll be good enough to earn a bowl berth. And maybe a pretty good one.
Washington not ready for prime time
: The Huskies got blasted at LSU. Lots of teams would get blasted at LSU. Washington just hoped it wasn't one of them. Not there yet on the lines.
September, 9, 2012
9/09/12
10:00
AM ET
What did we learn in the ACC in Week 2?
1. The Clemson offense is rolling.
Clemson has now rolled up more than 500 yards in total offense in back-to-back games to open the season, the first time that has happened since at least 1980. Clemson scored 45 points in the first half on Saturday, its highest first-half output since scoring 49 against Wake Forest in 1981.
Tajh Boyd
and
DeAndre Hopkins
have been playing pitch and catch like they are in their backyard -- they connected for three touchdowns against Ball State. The rebuilt offensive line looks way, way ahead of schedule.
Andre Ellington
has proved his worth. Now imagine what happens when
Sammy Watkins
returns this week.
[+] Enlarge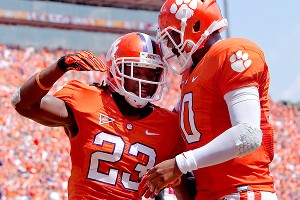 Joshua S. Kelly/US PRESSWIREAndre Ellington (23) and Tajh Boyd (10) have the Clemson offense humming.
2. Watch out for Wake.
If there is one thing folks in the ACC have come to realize, it is that Wake Forest coach Jim Grobe continually does more with less. After a lackluster win over Liberty last week, not many people gave Wake a chance to beat North Carolina, which racked up 62 points in a win over Elon in Week 1. Wake Forest went into the game as double-digit underdogs at home. But
Tanner Price
and
Michael Campanaro
carved up the North Carolina secondary, and the Tar Heels failed to capitalize on several red zone chances. Consider Wake lost another offensive lineman and nose guard
Nikita Whitlock
in the game and still won. What does this say about North Carolina? Well, it's a reminder once again not to put too much stock into eye-popping stats against FCS teams.
3. Not quite ready for prime time.
Duke and Miami each posted impressive-looking wins in Week 1. The Blue Devils made plays in all three phases in a convincing win over FIU; Miami showed moxie in a comeback win over Boston College. But they came crashing right back to Earth in Week 2, as they suffered major road losses that did nothing to improve their image. Miami was essentially out of the game at No. 21 Kansas State after the first quarter; and Duke was essentially out of the game at No. 25 Stanford after the first quarter. While they were both road underdogs, there is no excuse for each team giving up 50 points and never being competitive. These were the only two nonconference losses for the ACC on the weekend.
4. Maryland is 2-0. I repeat: Maryland is 2-0.
Give yourself a helmet sticker if you had Maryland equaling its win total from a year ago after TWO GAMES. What is astounding, aside from the fact that Maryland is playing in the neighborhood of 14 freshmen, is this team has committed eight turnovers in two games and is still undefeated. The Terps survived a furious Temple comeback to win for the first time on the road since November 2010. All of a sudden, next week's game against UConn in the "Edsall Bowl" looks winnable, and Maryland could be sitting at 3-0 in what would be the most improbable storyline in the early ACC season.
5. What do we really know about Virginia, NC State and Florida State?
Virginia and NC State won ugly on Saturday without any help at all from their running games. NC State had 54 yards on the ground in a 10-7 win over UConn that even had Wolfpack fans grumbling about a lack of offense; and Virginia averaged 1.3 yards on the ground to barely beat a Penn State team that lost to Ohio at home in Week 1. Both have left much to be desired through two weeks. As for Florida State, the Seminoles have beaten up on two FCS opponents and haven't been tested. Their highly talked about game against Savannah State was called at 55-0 because of bad weather. Jimbo Fisher pulled his starters after a quarter. Virginia and Florida State each play ACC games in Week 3, so we should definitely know more about them at this time next week.