NCF Nation:

what we learned 091210
September, 12, 2010
9/12/10
10:12
AM ET
A look at what we learned in the SEC in Week 2:
1. Alabama still on top:
The Crimson Tide made it look easy in their 24-3 win over Penn State and were playing without their best two players -- running back
Mark Ingram
and defensive end Marcell Dareus. The Tide's defense is full of first-time starters and first-time contributors, and it's getting a little bit better and a little bit more comfortable every week. That's bad news for the rest of the league. Alabama's hardly unbeatable. But come November, we may think differently. After all, this is a defense that's given up just two field goals in two games.
[+] Enlarge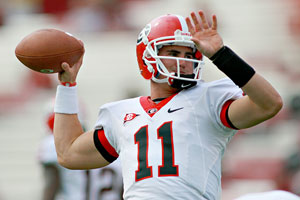 Frankie Creel/US PresswireAaron Murray completed 66.7 percent of his passes Saturday against South Carolina.
2. Turning Murray loose:
A lot of Georgia fans aren't real happy with the defense the day after and rightfully so. The Bulldogs' tackling stunk in the 17-6 loss to South Carolina. But there is a bright side. Freshman quarterback
Aaron Murray
is going to be a good player, and he's going to be a good player this season. The Bulldogs just have to turn him loose. They were way too conservative with him against the Gamecocks, and it cost them. Let him throw the ball down the field. Let him get out of the pocket and make some plays. Let him do what he does best. The Bulldogs did a good job of protecting him until the end when they had to throw, and they have a veteran offensive line. If they're going to get back into the East race, they better take the training wheels off Murray.
3. LSU quarterback concerns:
The bottom line for LSU is that the Tigers are 2-0 and play their next three games at home before going to Florida. They're a talented bunch that hasn't come close to playing its best football. But for this team to make a legitimate run in the Western Division race, junior quarterback
Jordan Jefferson
can't continue to take one step forward and another step backward. He still has time to get it going. But to this point, there simply hasn't been enough consistency on offense with Jefferson under center, and LSU coach Les Miles sounds like he's growing antsy. Following the 27-3 win over Vanderbilt, Miles said, "We're going to continue to evaluate our quarterback situation, and frankly, we're going to expect more out of the position -- period." In other words, don't be surprised if you see
Jarrett Lee
get a shot in these next few games.
4. Hold that line:
From the time Steve Spurrier arrived at South Carolina in 2005, he just hasn't been able to get it right in the offensive line. The Gamecocks have missed on some guys in recruiting and never been able to sustain any continuity with offensive line coaches. Shawn Elliott is South Carolina's third different offensive line coach in as many years, and he deserves a tremendous amount of credit for what the Gamecocks have accomplished up front the first two weeks. They're playing together, playing with confidence and playing with a purpose. It hasn't been perfect. But for the first time in a while, this looks like an honest-to-goodness SEC-caliber offensive line that can push some people off the line and dictate the flow of games.
5. Long season on Rocky Top:
The Vols played inspired football for the first half Saturday and really played above their heads. But as Tennessee coach Derek Dooley said himself, their 48-13 beatdown at the hands of No. 7 Oregon shows them exactly where they are, which is squarely in the bottom half of the SEC. The Ducks left the Vols in their tracks en route to scoring 45 unanswered points and handing Tennessee its most lopsided loss ever in Neyland Stadium. There's no shame in losing to the Ducks. They're a terrific football team with speed everywhere you turn. But as soon as the tide turned in Saturday's game with Oregon taking an interception back for a touchdown, the Vols wilted. If that pattern continues (and they don't show a little more resiliency), it could really get ugly this season on Rocky Top.
September, 12, 2010
9/12/10
10:05
AM ET
What did we learn this week?
[+] Enlarge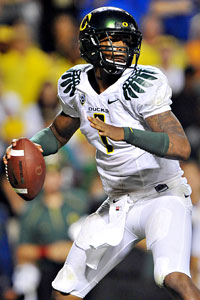 Kirby Lee/US PresswireDarron Thomas completed 17 of 32 passes for 202 yards and two scores in his first road start.
1.
Oregon is this close to looking like a national title contender
: Steve Spurrier relished pounding Tennessee in the 1990s, but he never scored 48 points in Neyland Stadium like Oregon did on Saturday. In fact, the Ducks' 48 points -- 45 of which went unanswered -- is the most allowed in Neyland since Washington State scored 52 in 1988 (Notice a common theme there?). But forget all the fancy-pants offense. While the final stats say Tennessee gained 333 yards, only 89 of that came in the second half. That's a great number against any team in any venue, but against an SEC team in its own house, well, that demands respect. And expect the Ducks to get even more respect in the national polls.
2.
Stanford is more than the Andrew Luck show
: Stanford dominated UCLA 35-0 with Luck making more plays with his feet than with his golden arm. That bodes well for the Cardinal. There were times in 2009 that it seemed folks saw the Cardinal as the Stanford Toby Gerharts. The big question heading into the season was defense, and Stanford just pitched a shutout on the road without two of its best players (LB Shayne Skov and WR
Chris Owusu
). Stanford has made an early stake as the top potential foil for Oregon in the conference race.
3.
Rumors of California's irrelevancy may have been exaggerated
: Colorado may not be very good, but watching California dismantle the Buffaloes 52-7 suggest that the Bears might be. The Bears dominated on both sides of the ball in the blowout. The new attacking defense dominated the line of scrimmage and was all over QB
Tyler Hansen
. The offense was balanced and efficient.
4.
The jury remains out on USC, Arizona State and Washington, but probably not on Washington State and UCLA
: USC nipped Virginia 17-14 and coach Lane Kiffin was unhappy. Arizona State allowed Northern Arizona, its second consecutive FCS opponent, to hang around. Washington looked bad at BYU but came home and outclassed Syracuse. It doesn't seem like we have a good measure of any of these three. As for Washington State, which needed a big comeback to nip Montana State, and UCLA, which got bricked at home against Stanford, it seems we know where things stand: Both are going to finish in the bottom third of the conference.
5.
There's momentum heading into Measure Stick Saturday
: The Pac-10 went undefeated Saturday (other than UCLA vs. Stanford), including a 4-0 mark against four different BCS conferences. That's good after a relatively bad opening week. But Saturday is big for the conference. Consider this list: Iowa at Arizona, Arizona State at Wisconsin, Nebraska at Washington, Cal at Nevada, Wake Forest at Stanford, Houston at UCLA, USC at Minnesota, Washington State at SMU and Louisville at Oregon State. Winning six or so next weekend would do wonders for the Pac-10's national image.
September, 12, 2010
9/12/10
10:05
AM ET
What we learned from Notre Dame's
28-24 loss
to Michigan in South Bend on Saturday:
1. Crist or bust:
Everyone suspected as much, but confirmation came on Saturday. Notre Dame can't win, at least not early on this season against good competition, with
Dayne Crist
out of the lineup.
Tommy Rees
and
Nate Montana
just don't look capable of playing quarterback at this level yet. Brian Kelly is a master at getting quarterbacks up to speed, but the difference Crist makes was painfully obvious against Michigan. His blurred-vision problem was scary, and if that recurs or something else happens, the Irish will be hurting.
2. Killer instinct still lacking:
How many years in a row does it seem like Notre Dame has been losing big games because it couldn't make one last defensive stop? Granted, it seems nearly impossible for anyone at this point to stop
Denard Robinson
, who led the game-winning touchdown drive and ran into the end zone for the last of his 502 yards. But the Irish had shut out Robinson and the Wolverines in the second half until that final drive, and they just couldn't close the deal. They showed resiliency in roaring back from a 21-7 halftime deficit, yet not enough toughness at the end. When Kelly talks about building an identity for this team, that's a large part of what he means.
3. Notre Dame needs Denard Robinson to graduate:
If Robinson continues to play like this, it's going to be a major headache for Notre Dame to try and defend the sophomore sensation for the next year or two. Robinson accounted for all but 30 of his team's yardage. It sounds simple, but the biggest lesson from Saturday was that Notre Dame just couldn't stop one guy.
September, 12, 2010
9/12/10
10:04
AM ET
1. Geno Smith is the real deal:
The West Virginia quarterback didn't look like a guy making his second college start against Marshall. He led the Mountaineers on two 90-plus yard drives to mount a come-from-behind 24-21 overtime victory. The most impressive part about Smith was that he kept his poise and his eyes downfield despite being hit and hurried all night by the Marshall defense. West Virginia has some serious issues with its offensive line, but it has a star-in-the-making in Smith.
[+] Enlarge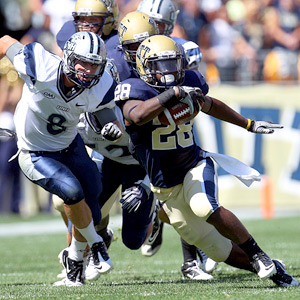 Ned Dishman/Getty ImagesPitt running back Dion Lewis is well below his 2009 pace for yards.
2. Dion Lewis is slumping:
The preseason Heisman Trophy candidate ran for 1,799 yards as a freshman and had only three games of fewer than 100 yards rushing. After two games this season, he has just 102 total rushing yards, including only 27 Saturday against New Hampshire. Blame it on the new offensive line if you want, but backup tailback
Ray Graham
had 115 yards on just nine carries Saturday in his first action of the season. The good news is, with a decreased workload and a bye week coming up, Lewis should be rested and ready for the Sept. 23 game against Miami.
3. Syracuse hasn't turned the corner:
Orange optimism ran high after a 29-3 opening win at Akron. Syracuse then raced to a 10-point lead at Washington. But before you could say "Pinstripe Bowl,"
Jake Locker
and the Huskies sliced through the Orange defense for an eventual 41-20 win. Doug Marrone's team still needs to make a lot of improvements to start thinking about postseason play.
4. B.J. Daniels can't do it all:
South Florida showed serious potential in a 38-14 loss at Florida. The defense played well for much of the game, swarming to the ball. The offensive line got a nice push. The Bulls might have found a No. 1 tailback in
Demetris Murray
. The game plan by Skip Holtz, offensive coordinator Todd Fitch and defensive coordinator Mark Snyder was excellent. But the receiving corps is too green right now, and there's too much pressure on Daniels to make things happen at quarterback. No wonder he forces the issue, which led to his four interceptions. Perhaps if
A.J. Love
and
Sterling Griffin
come back from injuries, that will lessen the burden. But USF needs more help for Daniels to contend in the Big East.
5. Rutgers offense is a mess:
When the Scarlet Knights have the ball, it's best to avert your eyes. Rutgers is never going to field a glitzy attack under Greg Schiano, but right now it's struggling to do anything right. The offense followed its sluggish performance in the opener against Norfolk State with an even more brutal showing (fewer than 175 total yards) in a 19-14 win over Florida International. Sophomore quarterback
Tom Savage
has yet to find his rhythm, and the offense had its most success Saturday with
Mohamed Sanu
at quarterback. The defense and special teams look terrific, but right now they're carrying way too much of the load.
September, 12, 2010
9/12/10
10:04
AM ET
Five lessons from the week that was in the Big Ten.
[+] Enlarge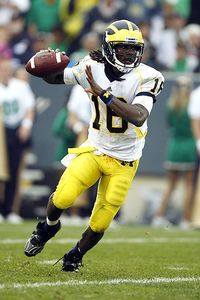 Brian Spurlock/US PresswireDenard Robinson threw for 244 yards and had two rushing touchdowns in Michigan's win over Notre Dame.
1. Denard Robinson isn't a one-hit wonder.
If and when Michigan starts the season 4-0, many will compare the quick start to 2009, when
Tate Forcier
led the Wolverines to four consecutive victories to open the year. We all know what happened next. Is this simply a rerun? It's possible, but Robinson and the Wolverines look more legit this season. Robinson followed a huge Week 1 performance with an even better effort in
Week 2 at Notre Dame
. He broke records again, but more important, he showed tremendous poise in the clutch, leading the game-winning drive. Robinson's speed is the real deal, and he's making all this happen within the confines of Rich Rodriguez's offense. Michigan still has to make strides to challenge the Big Ten's best, but if Shoelace can stay healthy, the Wolverines will win in league play.
2. Iowa isn't messing around this year.
It's not merely enough to win in today's college football. Style points matter. Iowa learned this lesson in 2009, when it got virtually no national respect for a Houdini-like 9-0 start. So far this season, the Hawkeyes aren't letting their opponents hang around. After crushing Eastern Illinois last week, Iowa
dominated in-state rival Iowa State
, building a 35-0 lead behind running back
Adam Robinson
, quarterback
Ricky Stanzi
and a stingy defense. Iowa doesn't expect things to be easy this week on the road against Arizona, but the Hawkeyes head to the desert with a ton of confidence.
3. Ohio State can hang with speed again.
Fairly or unfairly, the Buckeyes became the poster boys for the slow Big Ten after back-to-back losses to SEC teams in the BCS championship game. After convincing wins against Oregon in the Rose Bowl and
Miami on Saturday
, it's clear that Ohio State has cleared its speed bump. The 2010 defense not only is fast, but extremely opportunistic and physical. Cornerback Chimdi Chekwa and safety C.J. Barnett were among the Buckeyes' defenders who stood out against Miami. Ohio State also boasts speed on offense, starting with
Terrelle Pryor
at quarterback. The Buckeyes aren't a perfect team right now -- the special teams issues must be corrected -- but they're not a slow one, either.
4. Minnesota could be in big trouble.
After a fairly encouraging performance in the opener, Minnesota backslid in a big way Saturday.
Losing to FCS South Dakota
is bad enough, but Minnesota simply couldn't stop quarterback
Dante Warren
and the Coyotes offense. The Gophers did a nice job of keeping their defense off the field in Week 1, but there clearly are some major problems with a new-look unit. Making matters worse,
Matt Barkley
and the
USC Trojans
come to town next week. Minnesota coach Tim Brewster's seat cooled down a bit after Week 1. This is the type of loss that really turns up the heat.
5. The Big Ten looks like a deeper league.
The top still looks very strong with Ohio State and Iowa, while Wisconsin isn't far away despite two somewhat worrisome performances. But through two weeks, the middle of the league has been better than most folks believed. Michigan's rise certainly helps, and Michigan State has looked good so far as well. Despite
Penn State's loss
at No. 1 Alabama, the Nittany Lions should win at least eight games, and Northwestern turned in a very good performance Saturday. There's still a long way to go, but the league has more than just the big three (Ohio State, Iowa, Wisconsin).
September, 12, 2010
9/12/10
10:03
AM ET
What a weekend of football. What it lacked in drama, it made up in head-spinning results. Here's what we know after it all shook out.
1. The new guy got 'em coached up.
I don't know anyone who really thought Kansas could beat Georgia Tech. I'm sure there were a couple people outside of the Kansas locker room -- but not far outside. While I didn't think they could win, I thought they had a chance to keep it close. Now? I have no idea what to make of Kansas. Is this a bowl team? Was this a one-time thing? Was Georgia Tech really the No. 15 team in America? Those -- and countless others questions -- will be answered in the next 10 games. But you have to give Turner Gill this: He now has plenty of people paying attention to Kansas football.
[+] Enlarge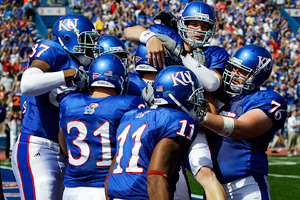 AP Photo/Orlin WagnerA week after losing to North Dakota State, Kansas was celebrating an upset of No. 15 Georgia Tech.
2. Colorado probably won't be leaving the Big 12 until after the 2011 season.
This story got buried during game day, but Pac-10 commissioner Larry Scott spoke to reporters at Saturday's Cal-Colorado game and said he wasn't optimistic the Buffaloes could roam westward until 2012. "The chances are worse than 50-50," Scott said. "I don't know how to rank it beyond that. At this stage, we're planning for them to come in 2012." We had
heard that from Colorado
late last month,
but Scott's comments serve as confirmation from the other side
. That would be a scheduling headache for both sides, with an 11-team Pac-10 and an 11-team Big 12 trying to figure out how to make 2011 work. I'm glad I don't have to be involved in those scheduling decisions. For Colorado, the announcements distracted from their embarrassing 52-7 beatdown in Berkeley.
3. Week 1 wins lose a little sheen.
Kansas State and Oklahoma State were among the two most impressive teams after last week's game. This week, however, Troy had three chances to take the lead in the fourth quarter in the Cowboys' 41-38 win. Although on attempt came after quarterback
Brandon Weeden
fumbled a snap while trying to run out the clock. Kansas State's win over UCLA isn't as impressive as Stanford shut out the Bruins 35-0 in Los Angeles. Oklahoma State's problems were self-inflicted, but Dana Holgorsen is clearly working out the kinks
like he thought he'd have to
. The Cowboys had five turnovers and 12 penalties. "I don't remember being in a game where we made so many mistakes and still found a way to win," OSU coach Mike Gundy said. "I'm not sure we could have done that three years ago." That's a pretty good way of spinning a pretty bad performance, but he's probably right. Oklahoma State is making progress, especially in a supposed rebuilding year.
4. Oklahoma is pretty good.
The way some talked about Oklahoma the past week, you'd have thought the Sooners lost to an FCS team. But the Sooners' inept defensive backs made plays on
Christian Ponder
all day, and let the Heisman candidate torch them for 113 yards on 11-of-28 passing with a pair of interceptions. Meanwhile, the overrated, passive
Landry Jones
barely managed to top 320 yards in the first half and threw just three touchdown passes before halftime. Ten of his 40 passes were also incomplete, a side effect of his terrible decision making. Oklahoma's reign as one of the top teams in the Big 12 is clearly nearing its end.
5. We should get used to watching Taylor Martinez run for touchdowns.
Last week's 46-yarder against
actually
awful Western Kentucky was no fluke. He broke another big play this week with a 67-yard touchdown to put Nebraska up 10-0 in the second quarter -- and added another with a 20-yard score in the third. That gives the redshirt freshman five touchdowns and 284 yards rushing in two games. He has yet to throw a touchdown, but if Martinez proves himself to be competent in the passing game, he'll stay on the field and give Nebraska the big-play threat it lacked all last season. Those legs may decide how the Big 12 shakes out in conference play. His 106 yards on 12-of-17 passing were efficient but won't impress anyone. If he continues at this pace, he may overtake Robert Griffin (who quietly threw for a career high 297 yards in an impressive 34-6 win over Buffalo) as the conference's best running threat at quarterback.
September, 12, 2010
9/12/10
10:03
AM ET
Sometimes, you're better off not knowing. This is one of those times. Here's a look at what we learned in the ACC after the second weekend of games:
[+] Enlarge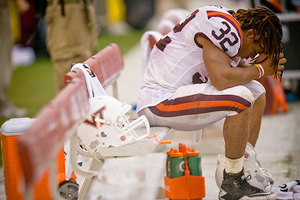 AP Photo/Justin CookJMU stunned Virginia Tech as the preseason conference favorites have now lost their second game in a row.
The ACC has a better chance at winning the lottery than a national title.
Virginia Tech, because of its high preseason ranking and supposedly favorable nonconference schedule, started out as the ACC's best hope at a national title. The Hokies are now 0-2 with a mortifying home loss to James Madison -- one of the worst losses under Frank Beamer. And no, don't make the argument that JMU is a title contender. FCS title contender, maybe. Big difference. Even Virginia was able to beat Richmond. And then came the double and triple-whammies: Florida State and Miami's losses with the whole nation watching. This weekend revealed there's still a significant gap between the nation's elite and those two former powers. And defending league champion Georgia Tech lost to Kansas, which had lost to North Dakota State, an FCS team, in Week 1.
The ACC's Heisman hopefuls need more than a campaign.
FSU quarterback
Christian Ponder
was outplayed by Oklahoma's
Landry Jones
.
Jacory Harris
threw four interceptions.
Ryan Williams
still hasn't reached the 100-yard mark. Even NC State quarterback
Russell Wilson
had an off-night, completing just 10 of 30 passes. And
Joshua Nesbitt
? He completed five passes, none of which helped when the game was on the line in the fourth quarter.
Georgia Tech's passing game is status quo and Al Groh's defense still needs work.
Groh's defense got gashed for 407 yards and was beaten by a freshman quarterback making his first start.
Jordan Webb
threw for 179 yards, three touchdowns and an interception. Meanwhile, veteran quarterback Nesbitt completed 5 of 15 passes for 116 yards and a touchdown, and couldn't convert on fourth down with the game on the line. (A costly false start penalty didn't help him). It was hardly all on Nesbitt, as there were times when his receivers couldn't make the play on a catchable ball.
The Coastal Division isn't as strong as we thought.
Virginia Tech is 0-2. Georgia Tech lost to a Kansas team that was on an eight-game losing streak. Miami turned it over four times. Duke lost to Wake Forest. And North Carolina? The Tar Heels have to be kicking themselves. If ever the door was open for Butch Davis to make a move in the division, this would be it. Instead, the program is in the midst of two NCAA investigations. Meanwhile, the Atlantic Division went 5-1, with Florida State earning the only loss.
Florida State's defense is still bad.
It would be an understatement to say Oklahoma coach Bob Stoops had the upper hand on his little bro, Florida State defensive coordinator Mark Stoops. The Sooners racked up 487 total yards and Jones looked like the Heisman candidate Florida State was campaigning for. A learning curve was expected, as FSU is transitioning to a zone scheme and there are young players being asked to contribute immediately, but there were times when the Noles lined up improperly and hurt themselves with missed tackles.
September, 12, 2010
9/12/10
10:00
AM ET
Boise State never took a snap Saturday but the Broncos ended up losing thanks to Virginia Tech. Meanwhile, the MAC had a pretty crummy day, too.
What did we learn from Week 2?
We have no idea what is going to happen with Boise State.
What was supposed to be a signature win turned into a whole lot of blah when Virginia Tech lost to James Madison 21-16 on Saturday. The last thing the Broncos needed was for the Hokies to lose again, let alone lose to a lower division school. Even if Virginia Tech wins out and takes the ACC, questions will still loom about the legitimacy of the Boise State win simply because this is such an awful loss for the Hokies. Does this stain how the coaches and Harris poll voters perceive Boise State? How do the computer rankings react? Then there is this: what does this do for TCU? A bad Virginia Tech loss could end up hurting the Horned Frogs going forward. They play a tougher schedule, no question about it. TCU did finish ahead of Boise State in the final BCS standings last season.
[+] Enlarge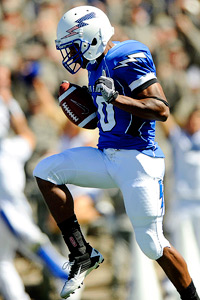 AP Photo/Bryan OllerMikel Hunter and Air Force had reason to celebrate after a 35-14 win over BYU.
BYU still has a ways to go with its two quarterback system.
After playing almost flawlessly against Washington in a home win last week,
Riley Nelson
and
Jake Heaps
struggled in a 35-14 loss to Air Force. Nelson had a costly fumble just before halftime that Air Force turned into a 21-14 lead it would not relinquish. Heaps threw for just 15 yards and had an interception as coach Bronco Mendenhall decided to stick with Nelson for the second half. With a road game against Florida State set for this Saturday, we will wait and see what Mendenhall decides to do about his quarterbacks. Of course this could be spun a different way -- do not sleep on Air Force.
The MAC has some explaining to do.
Not such a great day for the MAC, which saw Ball State and Akron lose to FCS schools.
Mike Brown
put Liberty ahead with a 2-yard touchdown run with 4:55 left in the game. Akron blew a 31-17 third-quarter lead, then had an extra point blocked in overtime that made the difference. Northern Illinois and Western Michigan were the only two MAC schools to win non-conference games. Both wins came against FCS schools.
UCF may have found itself a new starting quarterback.
Many Knights fans knew it would only be a matter of time until
Jeffrey Godfrey
took over from
Rob Calabrese
. Godfrey replaced him in the middle of the third quarter and helped erase a 28-7 deficit with two touchdown runs. UCF had a chance at the end, but
Quincy McDuffie
fumbled, giving the Knights their fifth turnover of the game and a 28-21 loss. Godfrey, who broke Jacory Harris' Miami-Dade County passing records, finished 7-of-10 for 107 yards, and led the team with 53 yards rushing. Calabrese, meanwhile, threw two interceptions and completed just 5.9 yards per completion.
Utah is pretty good at home.
Even with
Jordan Wynn
watching from the sideline, the Utes won their 19
th
straight game at home, 38-10 over UNLV, setting a new Mountain West Conference record in their last year in the league.
Terrance Cain
, who started the first eight games of last season, went 13-of-20 for 207 yards with no interceptions or fumbles. Wynn sprained the thumb on his throwing hand last week against Pittsburgh, and Utah didn't want to risk playing him.