NCF Nation:

what we learned 091513
September, 15, 2013
9/15/13
10:00
AM ET
A look at what we learned about the Pac-12 in Week 3.
[+] Enlarge

Bruce Thorson/USA TODAY SportsJim Mora's Bruins had an emotional come-from-behind win at Nebraska on Saturday.

UCLA ... simply awesome: It doesn't matter what team you cheer for, it's hard not to feel good for UCLA and what it did in Lincoln. Trailing 21-3, the Bruins looked like they had a lot on their minds in the first half -- and they did. But in the second half, they were nothing short of sensational in their 41-21 win over Nebraska, which snapped the Huskers' 14-game home winning streak against nonconference opponents. How's this for second-half adjustments? In two games against UCLA (2012 and 2013), Nebraska has put up a combined 558 yards and 45 points in the first half against the Bruins. In the second half of those games, a combined 225 yards and six total points. There were plenty of great moments, but the Pac-12 blog got a little choked up when Anthony Jefferson recovered Nebraska's red zone fumble in the fourth quarter and ran off the field and gave the ball to Jim Mora, followed by a hug that was pure emotion.
Challenge accepted: After rolling through a considerably easy slate of nonconference opponents in Week 2, the Pac-12 had a serious step up in competition on the Week 3 agenda ... including four head-to-head matchups with the Big Ten. The Pac-12 went 3-1 against its Rose Bowl partners with wins from UCLA, ASU and Washington. Ohio State was the Big Ten's lone winner after topping Cal. Overall, the league went 8-1, with USC, Washington State, Stanford, Oregon and Arizona all scoring victories. Plus, it likely knocked a pair of ranked Big Ten teams out of the Top 25, bringing ASU into the fold. Don't be shocked to see the Bruins sniffing the top 10, either.
Wake-up calls: In the eight nonconference games the Pac-12 won on Saturday, only three of them were wire-to-wire victories. The rest of the league had to overcome early deficits. Arizona, Oregon, Stanford and UCLA all gave up the first points of the game and ASU trailed 14-3 after going ahead 3-0. Of course, UCLA's comeback was the most emotional one of the day. But the strangest goes to the Sun Devils, who were bailed out by Wisconsin quarterback Joel Stave and his phantom kneel. USC, Washington and Washington State were the only teams to get an early lead and hold it. Washington led 31-10 at one point, before clinching a 10-point victory over Illinois. The Trojans were up 28-0 on Boston College, and the Cougs broke it open in the second half versus Southern Utah.
Offensive business is booming: The lowest scoring team in the Pac-12 this week was Arizona State -- yeah, the Sun Devils with their explosive, high-octane offense "managed" a measly 32 points. In total, the 11 Pac-12 teams combined for 454 points in Week 3, an average of 41.2 points per team. The most offensive state of the week award goes to Oregon -- which saw the Ducks and Beavers both crack 50 points (59 for Oregon, 51 for Oregon State). The shootout of the week award goes to the Beavers and Utes, who combined for 99 points and 1,030 yards of offense. Sean Mannion's five touchdowns matched a school record. Utah receiver Dres Anderson went for 101 yards, giving the Utes three straight games with a 100-yard receiver. And in case you were wondering, the latest update as of 3:20 a.m. PT, Storm Woods is doing well. Oh yeah, Oregon's offense is pretty awesome, also.
Next week could be fun, maybe: Week 2 was a bunch of yawners. Week 3 was exhilarating. Week 4 should be a mix of both. Arizona State and Stanford meet in what should be a marquee conference battle between two ranked teams. Both had their Week 3 issues. Stanford got off to a sluggish start against Army (time zone might have had something to do with that), and ASU avoided a disastrous meltdown when Stave failed to kneel before Zod. USC takes on a very talented Utah State squad, and the Utes try to rebound in the Holy War against BYU. The newly-invigorated Beavers travel to San Diego to face an Aztecs team that is off to a terrible start (they, too, lost to an FCS team in Week 1), while the state of Washington takes on the state of Idaho in a four-way showdown. Colorado, after having its game against Fresno State postponed, gets a much-needed bye to address needs much greater than football.
September, 15, 2013
9/15/13
10:00
AM ET
The Alabama-Texas A&M game was as exciting as we could have hoped, but it was far from the only entertaining game on the SEC slate this weekend.
Here are five things we learned around the league on Saturday:
[+] Enlarge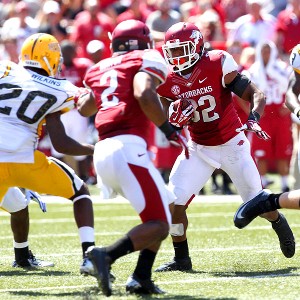 Nelson Chenault/USA TODAY SportsJonathan Williams helped power Arkansas to 258 rushing yards against Southern Miss.
The SEC is a defense-first league?:
For a minute there, it looked like Alabama (2-0) was preparing to blow out Texas A&M (2-1), as the Tide held a three-touchdown lead at the start of the fourth quarter. But Aggies quarterback
Johnny Manziel
reminded us in the fourth that he's pretty darn good. Manziel tossed three touchdown passes in the final period -- including a 95-yard bomb to
Mike Evans
-- and helped A&M climb within a touchdown in the final minute. There wasn't much defense on display at Kyle Field -- the teams combined for 1,196 yards, 62 first downs and 91 points -- but Alabama avenged its upset loss last year by holding on at the end for a thrilling 49-42 victory.
Rumors of South Carolina's demise were greatly exaggerated:
For South Carolina fans who were concerned that last week's loss to Georgia was a sign of impending doom, the Gamecocks (2-1) provided a reminder that they've still got a strong pulse in the first quarter against Vanderbilt (1-2). Steve Spurrier's team rode strong early performances by quarterbacks
Connor Shaw
and
Dylan Thompson
to jump out to a 21-0 lead by the end of the first quarter and led 28-0 before a better-than-average Vanderbilt team notched its first points. Vanderbilt mounted a rally in the fourth quarter to make things interesting, but make no mistake, the Gamecocks will still be a force to reckon with in the SEC East race.
Arkansas' running game is worth watching:
When quarterback
Brandon Allen
went down with a shoulder injury in the first quarter, Arkansas (3-0) abandoned the passing game almost entirely against Southern Miss. The Razorbacks didn't need to pass much with
Alex Collins
and
Jonathan Williams
in the backfield. Williams had a team-high 116 rushing yards and Collins added 115, making him the first freshman in SEC history to rush for more than 100 yards in each of his first three games, and the first in any conference since Oklahoma's Adrian Peterson in 2004. Collins entered the weekend as the SEC's top rusher and Williams was third, and the duo didn't do anything to damage their standing on Saturday. They haven't faced a powerful defense yet -- next week's game at Rutgers will be their biggest test to date -- but Collins and Williams' considerable running skills have helped Arkansas jump out to a 3-0 start.
One slide ends, another continues:
It's hard to say who needed a win more at Jordan-Hare Stadium: an Auburn team that hadn't won an SEC game since 2011 or a Mississippi State team that had lost six of its last eight games. It was Gus Malzahn's Auburn club (3-0) that rallied for the game-winning touchdown with 10 seconds to play on Saturday, handing Mississippi State (1-2) another gut-wrenching defeat. Auburn's victory ended a 10-game league losing streak that provides an enormous boost with a trip to LSU on tap next weekend.
Vols aren't back yet:
Tennessee (2-1) couldn't keep its game with No. 2 Oregon interesting for long, as the promise the Volunteers showed in wins against Austin Peay and Western Kentucky didn't translate into remaining competitive with one of the nation's better teams. The Ducks scored 59 straight points and ran up 687 yards -- 456 passing by quarterback
Marcus Mariota
-- in blowing new coach Butch Jones' club off the field. In the next five games, the Vols will face four ranked teams: No. 18 Florida, No. 9 Georgia, No. 13 South Carolina and No. 1 Alabama. So the road could get rocky quickly for the Vols.
September, 15, 2013
9/15/13
10:00
AM ET
Here's a look back at five lessons learned in the ACC in Week 3:
[+] Enlarge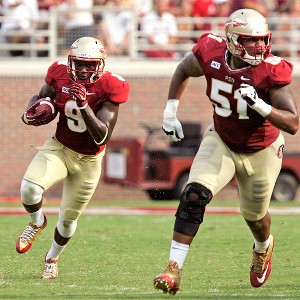 AP Photo/Steve CannonSeminole Karlos Williams' first carry went for a 65-yard touchdown.
Syracuse found a quarterback:
Granted, it was only against FCS opponent Wagner, a team the Orange drilled 54-0, but Syracuse quarterback
Terrel Hunt
gave the offense the spark it so desperately needed after an 0-2 start. He came off the bench in the first quarter to replace starter
Drew Allen
and directed five first-half touchdown drives. He completed 15 of 18 passes for 265 yards and three touchdowns. This past week, coach Scott Shafer had said that both Allen and Hunt would see playing time against Wagner. Allen struggled in the first two games as the starter, and against Wagner, he wasn't much better, starting out with just three points on the first three series. Hunt came in with 7:07 left in the first quarter and didn't look back.
Georgia Tech takes early lead in Coastal race:
It's still waaaaay too early to make any judgments about who will separate in the Coastal Divison race, but with a 38-14 win at Duke, Georgia Tech took a small step ahead of the rest. The next three weeks (against UNC, Virginia Tech and Miami) will reveal the Yellow Jackets' true place in the ACC standings, but the convincing performance was exactly what Georgia Tech needed heading into the critical four-week stretch. Virginia Tech, on the other hand, continued to underwhelm with its offense and special teams while the defense was the difference in a 15-10 win over East Carolina. We learned that identity, though, years ago.
Wake Forest has bigger problems than Boston College:
They've got … Louisiana-Monroe. The Demon Deacons lost 21-19 to ULM in what (so far) has easily been the ACC's worst loss of the season. Wake Forest had just 15 rushing yards (on 15 attempts) and was 5-of-15 on third-down conversions. And yet the Deacs won the turnover battle, and receiver
Michael Campanaro
racked up a game-high 177 yards. For the second straight week, Wake's option offense struggled and the defense underwhelmed. It's one thing to see the offense trying to adjust to a shift in philosophy, but the Deacs' defense was supposed to be a strength this fall, and expectations within the program were obviously much higher. If Wake can't beat BC or ULM, who can it beat?
The ACC can't win 'em all.
It was an impressive first two weeks for the conference, with Clemson's upset of Georgia and Miami's upset of Florida, but beating up on the big boys (and in Wake's case, the little guys) came to a halt in Week 3. Boston College couldn't get it done in a 35-7 loss at USC on Saturday. USC, which was coming off an embarrassing loss to Washington State, took its frustrations out on the Eagles, holding BC to just 184 total yards and 4 of 13 third-down conversions. The Eagles had positive momentum after a 2-0 start, but the intangibles weren't enough to slow down USC's running game, or get their own ground game going. Overall, the ACC went 4-2 against nonconference opponents this week, with losses to USC and … ULM.
Karlos Williams can play offense.
In the season opener against Pitt, he was a safety. In the win over Nevada, he was a running back -- and a heckuva good one, too. The position change suited Williams just fine, as he ran eight times for 110 yards and a touchdown. His 65-yard run early in the third quarter gave the Noles a 31-7 cushion. His performance made Coach Jimbo Fisher look like a genius. "I'm not trying to say that I was rubbing a crystal ball, but that guy is a talented cat," Fisher said, according to the Associated Press. "He's very dynamic with the ball. He's big, he's strong and explosive. He's natural. When he gets in space, he can hit home runs and he's hard to tackle because he's a big, physical guy there, too. ... Karlos will provide us a very big piece of the puzzle, in my opinion, as the year goes on."
September, 15, 2013
9/15/13
10:00
AM ET
Five lessons from the week that was in Big Ten football.
1. Buckeyes are clear clubhouse leaders:
Just a week ago, we declared that Ohio State had company at the top of the Big Ten. Our bad, Buckeyes. As much of the Big Ten struggled or looked sluggish for large stretches on Saturday, Urban Meyer's team rolled up more than 600 yards and beat Cal 52-34 on the road. What's so impressive about Ohio State so far is that
Braxton Miller
has played only a little more than one game, and last year's leading rusher (
Carlos Hyde
) remains suspended for one more game, yet the offense hasn't missed a beat.
Kenny Guiton
threw for four touchdowns and ran for 92 yards at Cal, while tailback
Jordan Hall
ran for 168 yards and three scores. It's scary to think how good this offense can be when it has a full cast of characters. The Buckeyes still need to tighten things up on defense, and it has major challenges coming up against Wisconsin (Sept. 28) and at Northwestern (Oct. 5). But this team deserved to be the preseason favorite, and through three weeks, it remains the one to beat.
[+] Enlarge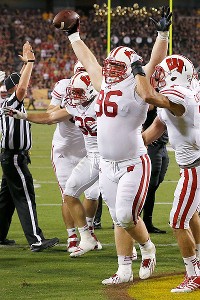 AP Photo/Ross D. FranklinMaybe Wisconsin couldn't celebrate a win against Arizona State thanks to the craziest ending seen in years, but the Badgers showed just how tough they will be this season.
2. Wisconsin will be a tough out for Buckeyes, Big Ten:
Gary Andersen's Badgers deserved better at the end of their game against Arizona State, as an inexcusable officiating blunder let the clock run out and prevented a potential game-winning field goal attempt. It was a bizarre and incredibly painful way to lose, but we learned that the Badgers will battle this season and could push Ohio State in the Leaders Division.
Melvin Gordon
is a revelation, possibly the most naturally talented running back during a run of very good/great ones at Wisconsin. The only question after Gordon rushed for 193 yards and two touchdowns at Arizona State: Why didn't he get more touches? Wisconsin has its problems, from continued poor pass protection to inconsistent quarterback play to a young secondary, but Andersen's team will be fun to watch this season. The defensive scheme is fascinating, and linebacker
Chris Borland
, who added a fake-punt pass to his repertoire Saturday night, is among the most entertaining players in the Big Ten. Remember, Wisconsin knows how to win Big Ten games and will be tough to beat the rest of the way.
3. Michigan, Penn State have work to do:
We were already looking forward to Michigan's Oct. 12 trip to Penn State, thinking both teams could be 5-0. We got ahead of ourselves. The Wolverines probably will still have that record, but suddenly there are major concerns for a team that was celebrated just a week ago. After the big win over Notre Dame, Michigan was a yard away from a mojo-killing loss to Akron that would have rivaled Toledo in 2008 for the worst in recent program history (sorry, the 2007 Appalachian State team was much better than these Zips, who have lost 27 straight road games). Quarterback
Devin Gardner
looked like a first-year starter, committing three interceptions and a fumble. Michigan's defense looked leaky for the second straight week, allowing 21 first downs and 418 yards. Last week, the Wolverines looked to be ahead of schedule for a breakthrough, especially on offense. Saturday, they looked like a very young team, prone to mistakes and lapses. Penn State, meanwhile, lost at home to UCF. The Knights are a solid team with a very good veteran quarterback in
Blake Bortles
, but the Nittany Lions made them look like a powerhouse with a superstar under center. Their defense, so good in the first two weeks against offensively challenged Syracuse and Eastern Michigan, simply could not make a key stop and gave up 507 yards. That's not a good sign for the future, with teams like Ohio State, Nebraska and, yes, Michigan on the schedule.
4. Michigan State offense, Indiana defense establish starting point:
Before Saturday, no Big Ten unit had shaken its fans more than Michigan State's offense, which produced just two touchdowns, none through the air, in the first two games. There wasn't much optimism entering Week 3 as the coaches went back to
Connor Cook
to lead the offense. But Michigan State's offense showed up early and often against Youngstown State, exploding for 35 first-half points and 49 in the first three quarters. Cook showed good command in the pocket, completing 15 of 22 passes for 202 yards with four touchdowns and, most important, no interceptions. The
Damion Terry
chatter can die down, at least for a week. Indiana's defense also rebounded after failing to force a single punt and surrendering 444 rush yards last week against Navy in a 41-35 loss. Not only did the Hoosiers do a better job against the run (136 yards) in a dominant win against Bowling Green, but they kept a dangerous Falcons offense out of the end zone. Defensive end
Nick Mangieri
had a big day with a sack and an interception for the Hoosiers. Neither Michigan State's offense nor Indiana's defense will lead the Big Ten this year, but neither unit needs to be dominant, given each team's strength on the other side of the ball. The two units just need to be respectable. They finally looked the part Saturday.
5. Bottom rises up:
Say this about the Big Ten: there might not be any truly bad teams, if Saturday's action was a true indicator. Purdue occupied the bottom spot in our power rankings for good reason, but the Boilermakers battled Notre Dame to the wire. Darrell Hazell's team showed far more fire, resolve and offensive cohesion than it had in its first two games. Though the schedule remains brutal, Purdue has something to build on with that effort. Illinois had a prove-it game against Washington, and while the Illini lost 34-24, they kept battling back and stayed competitive throughout. This still looks like a vastly improved team over last year's 2-10 version. Iowa came through with a much-needed victory over rival Iowa State on the road. The Hawkeyes physically dominated their Big 12 foe, outrushing the Cyclones 218-59. The score didn't have any business being as close as 27-21, and Iowa's lack of big-play ability will hurt it down the line. But Kirk Ferentz's team ran it 60 times on Saturday and has an identity in its power ground game. None of these three teams will be pushovers in Big Ten play if they can replicate this weekend's performances.
September, 15, 2013
9/15/13
10:00
AM ET
Here's what we learned from Week 3 in the Big 12, in which only four undefeated teams are left standing:

1. Texas still can't play much defense:
After his Rebels dispatched Texas 44-23, Ole Miss coach Hugh Freeze said the Longhorns ran virtually the same defensive scheme under coordinator Greg Robinson as they did last week under Manny Diaz. It sure looked that way on the field. Ole Miss racked up 272 yards on the ground and averaged 6.0 yards per carry to coast past Texas in Austin. The Longhorns appear to be no better off defensively now than they were a week ago in an embarrassing 40-21 loss at BYU. If Texas can't correct its defense, this could end up being a long season in Austin. And Mack Brown's final one, too.

2. QB Blake Bell isn't just a Belldozer:
So much for the premise Bell can only run. The artist formerly known as the Belldozer passed for 413 yards and four touchdowns in his first career start as Oklahoma whipped Tulsa 51-20. Bell, who replaced
Trevor Knight
, completed 27 of 37 passes and posted the highest passing yardage total by any Oklahoma quarterback making his first start. He also delivered a QBR of 96.7 (on a scale of 0-100). Most importantly, Bell's performance gives the Sooners confidence in their passing attack going into a showdown at Notre Dame in two weeks.

3. The Mountaineers are all in on QB Ford Childress:
Dana Holgorsen hinted early last week he would be making a quarterback change. Most everyone assumed it would be Florida State transfer
Clint Trickett
getting the start over
Paul Millard
. Instead, it was the redshirt freshman Childress, who played the entire game and played well in West Virginia's 41-7 win over Georgia State. Despite several drops from his receivers, Childress completed 25 of 41 passes for 359 yards and three touchdowns with an interception. To get to a bowl game, the Mountaineers could really use a win next weekend over Maryland in Baltimore. There's no doubt now that Childress will be the one they'll be relying on.

4. TCU's offense is a mess:
Texas Tech's defense has promise. But the Horned Frogs looked completely discombobulated offensively during Thursday night's 20-10 loss in Lubbock. Quarterback
Trevone Boykin
, who finished with a raw QBR of 28.6, could not string any drives together for the Horned Frogs. TCU went 4-of-16 on third down and 0-of-2 on fourth down. After a 1-2 start -- and with difficult road games at Oklahoma and Oklahoma State looming -- TCU's season could turn disastrous if the Frogs don't find some offensive flow, and quick.

5. Iowa State has no running game:
With quarterback
Sam Richardson
dealing with a sore ankle, the Cyclones needed to get something going on the ground. For the second game, they couldn't. Iowa State's running back quartet managed just 42 yards on 16 carries as Iowa jumped to a big lead before holding on for the 27-21 win. Wideout
Quenton Bundrage
had a big game with three touchdown catches, but the Cyclones don't have the kind of receiving weapons to be effective offensively without a solid running game. This could end up being a long season for Iowa State, as the Cyclones might not be favored until Kansas comes to Ames on Nov. 23.