NCF Nation:

What-we-learned-091811
September, 18, 2011
9/18/11
10:38
AM ET
After the third week of football, things are getting interesting in the SEC. Here's what we learned from the past weekend:
1. The East is average:
Heading into the season, we knew the West was stronger than the East, but we didn't know it would be this much stronger. South Carolina was supposed to be the overwhelming favorite, but three weeks into the season the Gamecocks have looked pedestrian on both sides of the ball. If not for
Marcus Lattimore
pounding away on the ground this weekend, Navy might have come away with the upset. South Carolina's defense has really struggled and the offense isn't consistent. Georgia needed to play Coastal Carolina before it got its first win and the defense hasn't flown around the field like we expected. As for Florida and Tennessee, the Vols are still a year away from really contending in the East. The running game needs major work and the defensive youth, especially up front, will go through more growing pains. Also, if
Justin Hunter
's knee injury is as bad as expected, another receiver has to step up or this offense will struggle. The Gators' defense was fun to watch and it's much more aggressive this season, but it's still young, and questions remain on offense, where no one is sure if the miniature
Chris Rainey
can handle the load of the SEC. This team still makes a lot of mistakes on both sides of the ball. Finally, Vanderbilt is a team we can't sleep on, but the offense still looks like a mess at times, while Kentucky suffered a huge loss to Louisville. Vandy could be in bowl contention, but it might be a long season for Joker Phillips in Lexington.
[+] Enlarge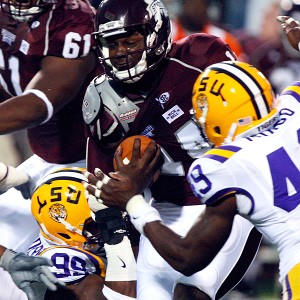 AP Photo/Rogelio V. SolisChris Relf and Mississippi State found the going tough against the LSU defense.
2. If you can't run the ball you're sunk:
Winning the battle in the trenches is key to winning in the SEC, and after this weekend, that was made perfectly clear. Tennessee couldn't block for the run at all against Florida's defensive line and fell in The Swamp. The Vols had minus-9 yards rushing on 21 attempts and deep into the game that number was at minus-20. Tennessee became one-dimensional, and while the Vols lost by 10, it wasn't as close as the scoreboard read. Ole Miss suffered an ugly loss to Vanderbilt after getting just 85 yards on the ground -- and that was with
Brandon Bolden
back in the lineup. The offensive line was expected to be one of the best in the league, but it has yet to really impress this season. Vandy rolled up 281 rushing yards Saturday. And Mississippi State met a similar blow at home against LSU when its offensive line was dominated by LSU's. The Tigers stuffed the run, allowing just 52 yards on 34 carries. Once the Bulldogs got almost totally into throwing mode, the game was completely in LSU's hands.
3. Getting past LSU and Alabama's defense won't be fun:
We knew both of these teams had suffocating defenses, but they might have the best defensive units in the country. Both rank in the top six nationally and have combined to allow five touchdowns on the year. LSU hasn't given up one since Week 1 against Oregon. Alabama is allowing 170 yards, while the Tigers are surrendering just 207. Alabama hasn't generated a lot of turnovers and only has four sacks, but moving the ball on the Tide has been tremendously difficult as Alabama is giving up 2.5 yards per play. The Tigers seem to do it all on defense. They fly around and wreak havoc on nearly every play. Defensive coordinator John Chavis had his Tigers one step ahead of Mississippi State Thursday night, turning that high-powered offense into mush for most of the game. LSU has forced seven turnovers (causing nine fumbles in the process) and has five sacks. Its defensive line has been dominant, as teams are rushing for 47 yards a game and 1.6 yards per carry.
4. Vanderbilt will be competitive in the SEC:
The Commodores dismantled Ole Miss this weekend, and while the offense still has some issues, this team has the confidence and swagger to scare some of the bigger teams in the SEC. First-year coach James Franklin has this team 3-0, and six wins definitely not out of the question. And with the way the other East teams have played, no one on this side of the division should be sleeping on the Commodores. South Carolina inched past Navy and hosts Vandy next Saturday. Falling asleep against Navy almost gave the Gamecocks their first loss. Falling asleep against Vandy will give South Carolina its first loss.
5. Auburn's defense needs to make corrections:
We knew the luck would eventually run out for Auburn, and it was the defense that was outlasted at Clemson Saturday. Auburn ranks 117th nationally in total defense, giving up 534 yards a game. Auburn has also allowed 14 touchdowns, and giving up 624 yards to Clemson finally proved to be too much for this young team. As the season goes on, the competition will only get better, and the glaring mistakes this defense has had through the first three weeks will be made more and more obvious unless there are changes in personnel and/or philosophy. Coach Gene Chizik has a background in defense, so expect him to be more involved going forward, but he can't make tackles or put pressure on quarterbacks. His players have to do that, and Auburn has to find the right set of players to do that.
September, 18, 2011
9/18/11
10:00
AM ET
Five lessons from the week that was in Big Ten football.
1. The Big Ten's elite class is shrinking:
It was another rough week for the Big Ten as two ranked teams, Michigan State and Ohio State, showed serious flaws in blowout losses to winless teams (Notre Dame, Miami). Nebraska's defense continues to raise concerns in Lincoln, while Northwestern suffered a complete meltdown in an inexcusable loss to Army. Wisconsin continues to roll, Illinois has been a nice surprise and Michigan keeps racking up wins, but the league's overall depth looks extremely suspect following the final major weekend of nonconference play. The Big Ten can only hope it fares better in the bowl season.
[+] Enlarge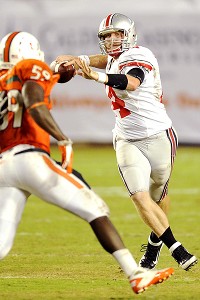 Steve Mitchell/US PRESSWIREOhio State completed just 4 of 18 passes against Miami. Quarterback Joe Bauserman was just 2-of-14.
2. Ohio State is punchless on offense:
Apparently, suspensions and injuries to your best offensive players do take a toll. The Buckeyes got almost nothing going offensively at Miami, as quarterback
Joe Bauserman
had an awful night (2-for-13 for 13 yards) and not a single receiver recorded a catch. The wrath of Terrelle Pryor finally caught up to Ohio State and it raises serious questions about the team's ability to contend for another Big Ten title. The Buckeyes are trying to play TresselBall without the talent Tressel had, and it's not working.
3. Illinois looks like a contender:
While the past two weeks exposed several Big Ten teams, Illinois looks like the real deal. The Illini beat Arizona State to record their first win against a ranked opponent since knocking off No. 1 Ohio State in 2007. Ron Zook's squad is 3-0 for the first time since 2001, when it won a Big Ten title. The offense can be very dangerous, but it was a new-look defense that rose to the occasion against Arizona State as linebacker Jonathan Brown and others had breakout performances. A lot of things are lining up for Illinois to contend in the Leaders division.
4.
Michigan State's offensive line is a major concern:
After getting by against inferior competition, the Spartans' inexperience up front showed in a 31-13 loss to Notre Dame. Michigan State finished with 29 rush yards on 23 attempts with a long of 8 yards against the Irish. The loss of tackle Skyler Burkland certainly hurts, but Michigan State's issues up front go deeper. The Spartans have a defense and a quarterback to contend in the Big Ten, but their offensive line play must be a lot better when October rolls around.
5. Flawed Lions and Hawkeyes surviving for now:
Penn State and Iowa both have flaws, and both squads found themselves on the ropes Saturday. But both the Nittany Lions and Hawkeyes found ways to rally for wins. Penn State's defense has made obvious strides from 2010 and will keep the Lions in plenty of games this fall. Linebacker U could be back. But the offense remains a question mark, especially at quarterback, and the kicking game was a mess at Temple. Iowa looked shell-shocked on both sides of the ball against Pitt until quarterback
James Vandenberg
, safety Micah Hyde and others triggered a furious fourth-quarter comeback. Both teams earned the right to get to work on themselves after wins.
September, 18, 2011
9/18/11
10:00
AM ET
What did we learn in the Big East this weekend?
1. The Big East in its current form will no longer exist.
The biggest news Saturday was not what happened on the field. Pitt and Syracuse have elected to join the ACC, throwing the conference into shambles. Commissioner John Marinatto, in Maryland for the West Virginia game, spent his time on the phone trying to figure out how to keep his conference solvent. That is the next step. A lot of that depends on what happens with the Big 12. But he has got to convince his members that the league is salvageable before others try and jump ship, too. If 16-team superconferences are the way of the future, the Big East could be raided into oblivion. It is every program for themselves. Conference loyalty means absolutely nothing. Look at Syracuse, a founding member of the Big East. The twin moves are an unquestioned blow to the league.
[+] Enlarge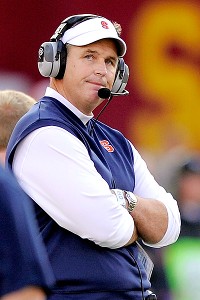 AP Photo/Mark J. TerrillUSC crushed Doug Marrone's Syracuse team on the day the Orange applied to leave the Big East for the ACC.
2. Karma works.
Syracuse and Pitt lost on the same day they potentially wrecked the Big East. Is that some sort of cosmic justice? Somehow, Pitt blew a 24-3 lead in a loss to Iowa, and the USC offense played the way everybody anticipated in a win over Syracuse. These were two big measuring stick games for the Big East against quality opponents and neither one delivered. But maybe Big East fans are happy about that.
3. West Virginia is ready for LSU.
Not without a little scare from Maryland, mind you. The Mountaineers got off to the fast start coach Dana Holgorsen wanted, but they saw a 34-10 lead whittled away to 34-31 in the fourth quarter.
Geno Smith
and the offense responded with a field goal, and Eain Smith sealed the game with an interception. The Mountaineers rolled up 480 yards of offense and the offensive line played better. If there is one area of concern it is probably the running game. West Virginia had 90 yards and averaged 3 yards a carry. That line is going to be in for a major, major challenge against a ferocious, aggressive LSU defensive front.
4. Louisville has a future star.
Maybe even two future stars.
Teddy Bridgewater
and
Dominique Brown
played one terrific game in helping the Cardinals upset Kentucky 24-17. When
Will Stein
went down with a shoulder injury, nobody really knew what to expect out of Bridgewater. He had played two series combined in two games, going 2-of-3 for 14 yards with an interception. But he did not make any critical mistakes and looked poised, directing two touchdown drives and doing enough to break a four-game losing streak to Kentucky.
5. Overmatched opponents are not a problem.
Cincinnati and USF easily dispatched their overmatched opponents on Saturday. The Bearcats have now beaten Austin Peay and Akron by a combined 131-14, while USF has beaten Ball State and Florida A&M 107-24. Cincinnati gets a much bigger test with short rest, playing NC State on Thursday night. We will see whether the team that played Akron or the team that played at Tennessee shows up.
September, 18, 2011
9/18/11
10:00
AM ET
A look back on a heck of a weekend and a solid one for the Big 12:
Oklahoma is a validated national title contender, if not the favorite.
Anybody think Florida State isn't legit? I didn't think so. The Seminoles went toe-to-toe with the Sooners and looked the part of a top-10 team at least. The Sooners, though, made plays late to win by double digits on the road against the No. 5 team in the country. This after its own double-digit lead was erased. That's what champions do. It was one of the most physical Big 12 games of the season, but the Sooners got the job done in Tallahassee. Very impressive.
[+] Enlarge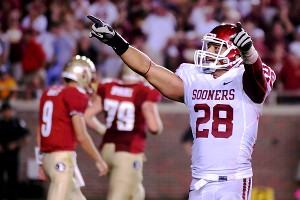 Melina Vastola/US PRESSWIREOklahoma linebacker Travis Lewis had plenty to celebrate in his season debut -- a convincing win at No. 5 Florida State.
The Big 12 is playing good football about everywhere.
It was against poor competition, sure. But dominance is dominance. You couldn't ask the Big 12 teams playing also-rans on Saturday to do much more, if anything. Baylor, Missouri and Kansas State all pitched shutouts and won by a combined score of 154-0. Texas Tech took care of business on the road against New Mexico with a 59-13 win that might not have been even that close, and Texas A&M won handily, 37-7, over Idaho. No lack of focus or playing down to competition on any of those fields. Nicely done.
Hold the phone on Kansas.
Kansas showed plenty of hope with a blowout win over McNeese State and a comeback win over Northern Illinois, but the Jayhawks put together one of the worst defensive showings I've ever seen in a 66-24 embarrassment against Georgia Tech. The Yellowjackets ran for a 95-yard score untouched on their first offensive play, and finished with 604 yards rushing. The Yellowjackets 12.1 yards per carry on the game broke an NCAA record. Kansas gave up the first 42 points of the second half after trailing 24-17 at halftime. Kansas won't face another option offense like Tech this year, but still. The Jayhawks shut it down last year. Basic defensive principles seemed to be lost. In a cruel twist of fate, Kansas' defense broke a school record with the 604 rushing yards allowed, breaking Nebraska's record of 567 yards against the Jayhawks in 1983. The quarterback on that team was Kansas coach Turner Gill.
Mother Nature is extremely rude and inconvenient.
Oklahoma State and Tulsa were delayed three hours on what was already scheduled to be a 10 p.m. ET start. Kickoff didn't go up until after midnight local time, officially making it a Sunday game. It didn't hold off much. The storm subsided and gave way to a rather one-sided affair in favor of the Cowboys.
Texas is a whole lot better than it was last year.
BYU got blasted by Utah on Saturday night, but Texas wasn't going on the road and beating teams by three touchdowns last year. The Longhorns consistently moved the ball against UCLA, and played tough, solid defense. That's how the Longhorns will have to move the ball.
Case McCoy
is looking like a playmaker early in his career, while
Malcolm Brown
and
Jaxon Shipley
may be building toward superstar careers. Texas is a young team, and it'll get better very fast. The Longhorns aren't there yet, and still look far from a Big 12 contender, but there's no question that the youth and coaching changes have Texas moving in the right direction.
September, 18, 2011
9/18/11
10:00
AM ET
Here's a look back at the top five lessons learned in the ACC in Week 3:
[+] Enlarge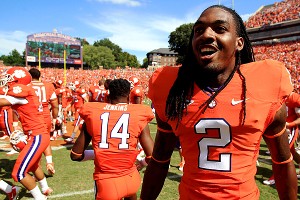 Streeter Lecka/Getty ImagesSammy Watkins had almost 200 yards of total offense and a touchdown as Clemson beat Auburn.
1. The ACC earned some respect.
It was a good weekend for the ACC that could have been great had Florida State defeated No. 1-ranked Oklahoma. But the Seminoles were hardly embarrassed, Miami had the upper hand against Ohio State, and Clemson knocked off the defending national champs. Maryland almost made a comeback against West Virginia, but it was too little, too late after a 17-3 first-half hole. Still, the ACC did not come out on the losing end this weekend.
2. Florida State has closed the gap with the nation's elite to a score of 23-13.
It wasn't a flawless performance against the No. 1-ranked Sooners by any means, but with 9:30 left in the game and the score tied at 13, it was clear the national title talk surrounding Florida State wasn't unfounded. The Seminoles obviously would have liked to win the game, but there were enough positive signs that showed the program continues to head in the right direction under coach Jimbo Fisher, and the Seminoles should be considered nationally relevant again.
3. Clemson is to be taken seriously.
Finally, the Tigers answered in a big game. Clemson had underwhelming performances in wins over Troy and Wofford, but it finally all came together for the Tigers against Auburn. Clemson racked up 624 total yards under first-year quarterback
Tajh Boyd
and first-year offensive coordinator Chad Morris. The offensive line was a question coming into this game, but it was a group effort that had Auburn's defense reeling all game. The Tigers are off to a 3-0 start and have confidence and momentum heading into Saturday's home game against FSU.
4. Virginia Tech doesn't stand alone.
The Hokies are 3-0, yes, but so is Georgia Tech and North Carolina. Virginia Tech was favored to win the division once again, but with the way these teams have looked early this season, Georgia Tech has looked more convincing and UNC has proven more to this point. Virginia Tech didn't exactly throttle Arkansas State, but the Yellow Jackets have racked up enough offense for the entire ACC in three games.
5. Boston College has officially faded into the background.
The Eagles are off to an 0-3 start, the worst record in the ACC right now. The season isn't over for the Eagles, they should rebound this weekend, but the loss to Duke already puts them behind in the ACC standings, and the second half of the season will only be more difficult. A bowl seems even more unlikely now.
September, 18, 2011
9/18/11
10:00
AM ET
What did we learn from Week 3 of Pac-12 action?
1.
The Pac-12 won't be getting much national respect
: After a weekend of going 3-4 versus FBS foes, the conference is 12-9 versus FBS nonconference foes and 4-6 against other AQ conferences, with a single win over a ranked foe. That's not terribly distinguished. That will be how many so-called pundits will measure the conference. And it will hurt teams such as Stanford and Oregon that are trying to push back into the national title mix.
[+] Enlarge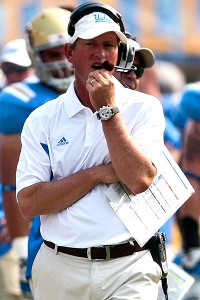 AP Photo/Bret HartmanRick Neuheisel's seat got a little warmer after UCLA was routed by Texas on Saturday.
2.
Stanford is good, but has questions
: With 567 yards of balanced offense and a mostly dominant defense, Stanford answered questions with a 37-10 win at Arizona, and it now leads the nation with an 11-game winning streak. Still, it took two-and-a-half quarters to established dominance, struggled in the red zone and, most importantly, appears to have lost LB Shayne Skov to a knee injury. He's a first-team All-Pac-12 talent and the leader of the Cardinal defense. Still, Stanford might not be truly tested until it visits USC on Oct. 29, and perhaps not until its red-letter date with Oregon on Nov. 12.
3.
Arizona State takes a step back
: A nonconference road loss at Illinois won't necessarily ruin Arizona State's season, particularly if it bounces back and beats USC on Saturday. But the Sun Devils probably should have won -- they outgained Illinois 362 yards to 240 -- and they are now 3-11 in games decided by a touchdown or fewer over the past three seasons. Further, ASU lost DE Junior Onyeali
to a knee injury of uncertain severity early in the game. He could become its seventh starter to miss extended action due to injury, a list that doesn't include RB
Deantre Lewis
.
4.
Neuheisel is in deep trouble, and Wulff might be, too
: No coach from the conference was fired last year (Colorado's Dan Hawkins was fired as a Big 12 coach). The Pac-12 probably won't be so lucky in 2011. The hottest seat belongs to UCLA's Rick Neuheisel. The Bruins are now 1-2 and haven't looked good getting there. It's hard to imagine the Bruins winning five of their final nine games and earning bowl eligibility, a general baseline for what most think Neuheisel needs to remain at alma mater. Over at Washington State, coach Paul Wulff's task got harder when his team fell apart in the second half at San Diego State. The Cougars are 2-1 and will need to win four conference games to earn bowl eligibility -- double its conference wins in Wulff's first three seasons. And five of the final nine are on the road. The Cougs are much improved, but it's possible that backup QB
Marshall Lobbestael
's honeymoon is over. Things only will get tougher.
5.
Utah could be factor in South Division
: What we know about the South Division: USC isn't eligible and UCLA and Arizona look flawed to varying degrees. Arizona State showed it's not ready for prime time by losing at Illinois. What about Utah? All we know about the Utes in Pac-12 play is they were a blocked field goal away at USC from forcing overtime. Oh, and they were good enough to stomp their archrival BYU 54-10 on the road. The Utes do just enough on offense and play tough defense. In fact, the Utes probably should be included when we debate the conference's best defense. The home game with Arizona State on Oct. 8 looms large.
September, 18, 2011
9/18/11
10:00
AM ET
1. These guys can rush:
Aaron Lynch set the tone early by sacking
Kirk Cousins
and forcing a fumble. The defense continued the assault all day long, getting to Cousins time and time again and rendering the Spartans' run game moot.
2. Special teams can make all the difference:
George Atkinson III
's kickoff return for a score made it 14-3 early and the Irish never looked back. The return came after MSU's first scoring drive and gave Notre Dame plenty of momentum and distance the rest of the way.
3. Turnovers need to be curtailed:
Three turnovers are still too many.
Tommy Rees
, at 19, is still growing as a quarterback and will make mistakes, but senior
John Goodman
's fumble of a punt return deep in his own territory could have been costly if not for Blanton's pick three plays later. Three is better than five, and the Irish have at least showed they're capable of bouncing back from mistakes by not letting up against MSU on Saturday. But at some point the bleeding has to stop.
4. Don't look now, but the Irish could be in business:
The Irish should be favored in every game moving forward except for the final one, at Stanford. For now, they can focus on a Pitt team that looked more vulnerable Saturday than the Irish themselves through the first two weeks, as the Panthers blew a 21-point lead to Iowa in a 31-27 loss. Purdue and Air Force follow for Notre Dame before its bye, after which it will host rival USC in its first home night game in 21 years.