NCF Nation:

what we learned 091910
September, 19, 2010
9/19/10
10:17
AM ET
With three weeks in the books, let the hype begin for two huge showdowns in the SEC next week.
Alabama travels to Arkansas and South Carolina travels to Auburn. The four teams are a combined 12-0.
Before we start looking too far ahead, though, let's take a look at what we learned in the SEC in Week 3: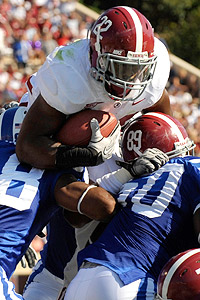 AP Photo/Sara D. DavisMark Ingram was back to his old self in Saturday's win over Duke.
1. Alabama's dominance:
It's hard to argue at this point that Alabama isn't the class of the SEC by a wide margin, although we're going to find out for sure over these next three weeks. The Crimson Tide have been dominant, their latest conquest a 62-13 demolition of Duke on Saturday. David Cutcliffe, the Blue Devils' coach, said afterward that it's the best Alabama team he's ever coached against, and Cutcliffe saw his share of powerful Alabama teams as a longtime assistant at Tennessee. Similar to the past two years, there just doesn't appear to be any weaknesses with this Alabama team despite all the great players the Crimson Tide lost on defense from a year ago. Offensively, they're more explosive than they've ever been, especially with
Mark Ingram
back as good as new from his knee surgery. If they need to win a shootout, they can. Yet, they've given up only one meaningless touchdown in their first three games on defense. What's that old saying about reloading?
2. Florida's offensive problems:
After three games, it's safe to say that Florida's offensive problems are real. It's not just a mirage we've all witnessed these first three weeks, and the reality is that maybe this is simply who the Gators are offensively right now. They start poorly. They're not real creative, at least not to this point. They don't throw the ball down the field very well.
John Brantley
's longest pass remains that 25-yard heave against Miami (Ohio) that was tipped around and caught for a touchdown by
Chris Rainey
at the end of the game. They've struggled to make the tough yards, and Brantley is still learning on the job. He's yet to throw for more than 175 yards in a game. They're leaning on
Jeff Demps
, and he's no doubt a special player. But at this rate, he'll have a difficult time getting out of bed by the sixth week of the season. Simply, this is an offense that has to get a lot better if the Gators are going to even think about winning their third SEC championship in the past five years.
3. Door wide open for Gamecocks:
That smacking sound you're hearing coming out of Columbia, S.C., is the Head Ball Coach licking his lips. It goes without saying that this is unequivocally his best chance to get to Atlanta and play for the SEC championship since he took the South Carolina job in 2005. For one, this is his most complete football team at South Carolina, and the Gamecocks already have a key Eastern Division win over Georgia. Secondly, when you survey the rest of the East, South Carolina makes as much sense as anybody to win the division. The offenses in the East have all had their issues the first three weeks. In fact, Kentucky might have the best offense of the bunch. But the Gamecocks have a go-to running back in freshman
Marcus Lattimore
, some big, physical receiving threats in the passing game and a defense that's always going to be a load under Ellis Johnson. The one thing working against the Gamecocks is their schedule. They have to play at Auburn and at Florida, with Alabama and Arkansas both coming to Columbia. Still, you get the feeling that if the Gamecocks are ever going to do it, this is their year.
4. Great receivers galore:
When we did our preseason countdown of the Top 25 players in the SEC, eight of those players were either receivers or tight ends. The first three weeks of this season has only confirmed that the guys catching footballs in this league are a cut above, and the best one has yet to play. Georgia's
A.J. Green
still has one more game to sit as part of his NCAA-mandated suspension, and the Bulldogs miss his quick-strike ability immensely. But look at all the other receivers and tight ends off to great starts in this league. Auburn's
Darvin Adams
had been sort of quiet, but erupted Saturday against Clemson in the second half. Arkansas has three players among the league leaders -- receivers
Greg Childs
and
Joe Adams
and tight end
D.J. Williams
. South Carolina's
Alshon Jeffery
and Alabama's
Julio Jones
have both been sensational to this point, and there's not a better all-around player in college football than Kentucky's
Randall Cobb
.
5. Commodore pride:
It had been a rough ride for the Vanderbilt football program. Ten straight SEC losses has a way of wearing on anybody, especially when you'd scored just five offensive touchdowns during that stretch. But first-year coach Robbie Caldwell, his staff and his players kept the faith and never quit plugging along. That pride was obvious Saturday in the 28-14 win at Ole Miss. The Commodores were playing without a couple of key players in their secondary (safety Jay Fullam and cornerback Jamie Graham) and lost defensive tackle and co-captain T.J. Greenstone early in the game to an ankle injury. Still, they forced three turnovers, including an interception return for a touchdown by Eddie Foster, recovered from a dismal first quarter offensively to rush for 227 yards and proved emphatically that there's still a lot of fight left in a team that some people left for dead following last week's 27-3 home loss to LSU.
September, 19, 2010
9/19/10
10:10
AM ET
What did we learn this week?
Arizona and Stanford made statements
: Oregon is the clear No. 1 in the conference at this point, but Arizona and Stanford also have made early statements that they, too, are Rose Bowl contenders. The Wildcats now own the best nonconference résumé. They have posted a dominant win on the road (Toledo) and beat a top-10 team at home (Iowa). Stanford has outclassed three foes, including UCLA and Wake Forest the past two weeks. These two look like potential top-10 teams.
[+] Enlarge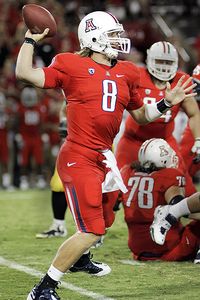 AP Photo/Wily LowNick Foles passed for 303 yards and a pair of touchdowns in Arizona's victory over Iowa.
Nick Foles & Andrew Luck take the early lead among the QBs
: The four QBs the Pac-10 showcased in New York included Washington's
Jake Locker
and USC's
Matt Barkley
, but the two best QBs in the conference after three games are Arizona's Foles and Stanford's Luck. The race for first-team All-Pac-10 QB should be interesting.
Arizona State will not be an easy out
: The Sun Devils lost at Wisconsin 20-19, yes, but the performance on both sides of the ball against the 11th-ranked Badgers suggested that these aren't the 2009 Sun Devils. Not only do they have a solid QB in
Steven Threet
, they also produced a good running game that should take the pressure off Threet.
Locker, Washington not ready for prime time
: Nebraska bludgeoned Washington 56-21, outgaining the Huskies 533 yards to 246. This was supposed to be a big stage for the Huskies to announce their return to national relevance, and they didn't perform. And the worst performance came from their star, Locker, who played the worst game of his UW career, completing just 4 of 20 passes for 71 yards with two interceptions and a TD.
We still have no idea who USC is
: USC is 3-0 but remains a mystery. The 32-21 win at Minnesota wasn't terrible -- a win is a win -- but the Trojans continue to be sloppy. We may not really know who USC is until a visit from Washington on Oct. 2.
September, 19, 2010
9/19/10
10:09
AM ET
1. West Virginia and Pitt look like the class of the league:
There's a whole lot of time left, obviously, and conference play is still a couple of weeks away. But with Cincinnati and Connecticut both losing again, it looks like there's some separation at the top of the Big East. Pitt still has to prove it on Thursday versus Miami and West Virginia needs to be more consistent. Right now, though, they seem like the top two contenders.
2. Mountaineers have balance:
The play of
Geno Smith
at quarterback, along with the rise of
Tavon Austin
and
Stedman Bailey
at receiver, has given West Virginia true offensive balance. The Mountaineers have a legitimate passing attack now as Smith has been very efficient. And, of course, the running game still has
Noel Devine
. "It will be great for us to be a balanced team so they just can't key on me," Devine said.
[+] Enlarge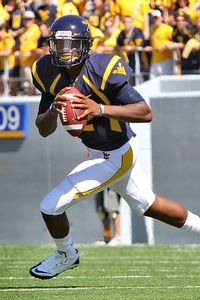 AP Photo Michael SwitzerGeno Smith completed 19 of 29 passes for 268 yards and four touchdowns against Maryland.
3. The passing game is holding UConn back:
The Huskies running game still remains terrific --
Jordan Todman
rushed for almost 200 yards at Temple -- but the Huskies won't live up to their offseason billing until the passing game improves. Quarterback
Zach Frazer
is still too inconsistent and erratic; he was just 16 of 31 against Temple after going 18 of 37 at Michigan. And the receiving corps is searching for a true stretch-the-field guy to replace Marcus Easley from last year. That's a big reason why UConn is a highly disappointing 1-2.
4. Cincinnati is in trouble:
The Bearcats talked about putting it all together offensively against NC State -- and then went out and laid another egg. They trailed 30-7 in the fourth quarter before scoring a couple garbage touchdowns. Not much has gone right in Butch Jones' first year so far, and with Oklahoma coming to town this week, Cincinnati is staring down the barrel of a 1-3 start. Hard to believe, but the two-time defending Big East champions could struggle just to make a bowl if they don't turn things around quickly.
5. Louisville could be a tough out:
Louisville is not going to win the Big East, but the Cardinals could be the type of team nobody wants to play. The Cardinals went on the road and made Oregon State sweat before falling 35-28. They found a spark for their offense, outgaining the Beavers by more than 100 yards. Charlie Strong won't like the defensive performance, but he and his staff will make sure this team plays hard and fights every week. In what appears to be a down year for the Big East, there's no reason why Louisville can't jump up and beat a few teams in the league.
September, 19, 2010
9/19/10
10:09
AM ET
Five lessons from the week that was in Big Ten play ...
1. Iowa's magic runs out:
Those of us who closely follow Iowa undoubtedly nodded our heads as defensive end Broderick Binns scooted into the end zone with the tying touchdown against Arizona. Indeed, we had seen this all before, and it meant good things for the Hawkeyes. But Iowa's fourth-quarter magic ran out, as Arizona quarterback
Nick Foles
and the Wildcats' defensive line ended Iowa's hopes of another incredible road win. Iowa's faults at offensive line and cornerback were exposed, and a new weakness, special teams, also really hurt its cause early on in Tucson. Just too much inconsistency all around. The Hawkeyes' hopes for a national title run likely are over, but they still can push Ohio State and others for the Big Ten crown.
[+] Enlarge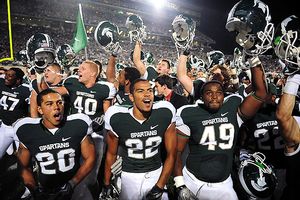 Andrew Weber/US PresswireMichigan State had reason to celebrate after coach Mark Dantonio's gutsy call in overtime.
2. Mark Dantonio is a gambler:
Who would have pegged Dantonio to make the gutsiest call of the year in college football? He's not exactly the Big Ten's version of Chris Petersen, but he earned some serious cred Saturday night against Notre Dame. The Jim Tressel disciple called a fake field goal in overtime, as Aaron Bates and
Charlie Gantt
hooked up for the game-winning 29-yard touchdown. Dantonio's tenure had been plagued by close losses, so to pull out a tight game in this manner provides a huge lift for a Michigan State program trying to join the Big Ten's elite.
3. The Big Ten has a "special" problem:
Special teams breakdowns continue to be a major story line throughout a league known for stressing the kicking game. Iowa allowed a kickoff return touchdown and handed Arizona another touchdown after getting a punt blocked, not to mention missing the potential go-ahead PAT late in the fourth quarter. Wisconsin saved itself with two special-teams plays, but the Badgers also allowed a 97-yard kickoff return for a touchdown. Ohio State, plagued by special-teams woes all season, had a punt blocked in Saturday's romp against Ohio. Minnesota took a 14-13 third-quarter lead against USC, only to give it up 12 seconds later by allowing a kick return touchdown. Michigan's place-kicking situation is a mess. There have been some special teams highlights this year, but they've been overshadowed by a surprising trend of miscues.
4. Evan Royster is in a slump:
Not exactly a revelation here, but most people thought this would be the week when Royster broke out and started to look like an All-Big Ten running back again. Royster finally reached the end zone for the first time in 2010, but he recorded only 38 yards on 11 carries in Penn State's 24-0 win against Kent State. The senior has rushed for 40 yards or fewer in each of his first three games this fall. Penn State has a young quarterback, a so-so offensive line and a reduced playbook, but other running backs seem to be having more success than Royster. Penn State simply has to get him going next week against Temple before visiting Iowa on Oct. 2.
5. Michigan should expect shootouts this year:
Quarterback
Denard Robinson
continued his brilliance Saturday against UMass and got some help from running back
Michael Shaw
and wide receiver
Darryl Stonum
. But how much longer can Michigan win in spite of a very leaky defense? The Wolverines allowed 37 points and 439 yards to the FCS Minutemen, who would have had more if not for two costly turnovers. Michigan has been fighting a numbers game on defense for years, and the recent swell of injuries and player departures isn't helping. Upcoming opponents will continue to attack a vulnerable Wolverines secondary, putting pressure on Robinson to keep working his magic.
September, 19, 2010
9/19/10
10:08
AM ET
1. Not much about Oklahoma State's offense.
I know the numbers look impressive. So do the highlights. But I've seen this show before, and it was called Missouri in 2007 and 2008. The truth is, spread offenses can look absolutely unstoppable against inferior athletes. So far, that's all Oklahoma State has seen, and for the most part, it's looked unstoppable. But in 2008, Missouri rose to as high as No. 3 in the polls, scoring 52 points three times and 69 points in another one of its first five games -- all against bad defenses. Then came the teeth of conference play. The Tigers lost to Oklahoma State at home and found themselves down 35-0 in the second quarter to Texas a week later. Will Oklahoma State see a similar result when it reaches the bulk of its Big 12 South schedule? Maybe not. I don't know. But I do know that Missouri team had a better quarterback (Chase Daniel), a better top receiver (Jeremy Maclin) and a Mackey Award-winning tight end (Chase Coffman) as a reliable alternate option in the passing game and the No. 1 option in the red zone Oklahoma State has in Justin Blackmon. Clearly Oklahoma State has a superior running game, headlined by
Kendall Hunter
. Will that mean results that look more like what Texas Tech has been able to do at home against Texas and Oklahoma and less like what had made Missouri 0-11 against those teams under Gary Pinkel? Considering Dana Holgorsen's resume, the former might be reality. We'll find out soon. But I'm not ready to crown Oklahoma State's offense as a Big 12 South gamechanger just yet. Its Week 1 opponent, Washington State, beat Montana State by a point and lost convincingly to SMU. Its Week 2 opponent, Troy, lost to UAB on Saturday. We know Oklahoma State's offense can dominate defenses it's clearly better than. We don't know how it will look against a well-coordinated defense with similar or superior athletes.
[+] Enlarge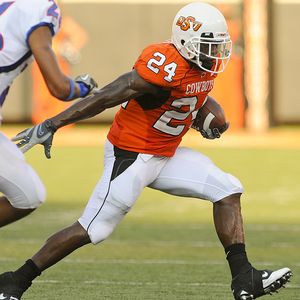 AP Photo/Brody SchmidtKendall Hunter and the Cowboys haven't been tested during nonconference play.
2. Missouri and Texas A&M have to get better fast.
Neither team had any business winning its game this week. Each was rescued by clutch fourth-quarter performances. Play like that in conference play and you lose big. Period. Texas A&M is off next week. Missouri plays Miami (Ohio). Both open conference play in two weeks. If the kinks aren't worked out by then, both can forget being factors at the top of their divisions. Play like that, and they're more likely to slide down well below where each was picked to finish in the preseason.
3. Baylor isn't ready for the big time.
TCU is a very good team. So are several teams in the Big 12. Baylor looked helpless against the Horned Frogs in Fort Worth, letting TCU earn a lopsided win against a major conference opponent. If Baylor plays like that against the rest of the Big 12 South, it can brace for similar losses and make plans at home for bowl season.
4. Nebraska's running game is terrifying.
Yeah, Washington's defense is weak. But plenty of teams play plenty of weak defenses. Few, if any, have three 100-yard rushers that are all threats to do it again on any week. Nebraska's defense looks on track to be as good as it was a year ago, and it will only get better as the season progresses. If the running game does the same, the Huskers will be a team in the national title picture. So far, the Huskers are the only team in the conference with three blowout wins, and their three includes a road blowout against a Pac-10 team.
Taylor Martinez
,
Roy Helu Jr
. and
Rex Burkhead
give this Huskers offense an edge that was missing in 2009 behind an offensive line that's turned in outstanding performances for the season's first three weeks.
5. So is Texas' defense.
The
offense clearly has to make strides
, but this was a "Wow" performance from the Longhorns. Most "wow-worthy" was how easy the Longhorns made it look. They stopped the run. They rushed four guys. That left the rest to a secondary and linebacking corps full of pro talent, who gave Texas Tech quarterback
Taylor Potts
nowhere to go with the ball, while running from those four rushers who provided constant pressure and finished with four sacks. Coach Mack Brown said in August he thought this year's version had a chance to be his best defense ever. More performances like the one it turned in on Saturday night in Lubbock will prove Brown right.
September, 19, 2010
9/19/10
10:08
AM ET
Surprise -- NC State and Boston College are the only undefeated teams remaining in the ACC. Here's a look at the lessons learned in the ACC from Week 3:
It's on the rebound.
Florida State, Virginia Tech and Georgia Tech were all able to rebound from disappointing performances last week. The Seminoles showed much needed improvement on defense in the win over BYU, the Hokies prevailed without
Ryan Williams
in the second half of a win against ECU and the Yellow Jackets were able to hold on in Chapel Hill for the win against UNC. While all three of these teams fell short in nonconference games, they proved on Saturday they haven't given up, and the conference race is still attainable.
[+] Enlarge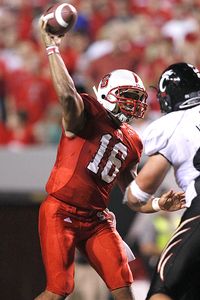 AP Photo/The News & Observer/Ethan HymanRussell Wilson threw for 333 yards and three touchdowns in Thursday's win over Cincinnati.
NC State should be taken seriously.
The Wolfpack had plenty of questions heading into the season with no starting experience at running back, four new starters on the defensive line and a young secondary with three true freshmen on the three-deep. The Pack took a step forward with its road win against UCF last week, but became a more serious contender in the Atlantic Division by its performance in Thursday night's win over Cincinnati.
So should Clemson.
The Tigers put together the league's best performance against a ranked team, and they did it on the road. It was hardly a mistake-free performance, but there were enough encouraging signs on both sides of the ball that the Tigers looked capable of defending their Atlantic Division title.
The ACC is still waiting for its marquee win.
The conference is 0-for-9 against opponents ranked in the Top 25, including four lost opportunities this past weekend. With most of the best opportunities behind it, the ACC likely will have to wait until the rivalry games (Florida, South Carolina, Georgia) in November for another chance to make a national statement.
UNC's offense is good enough to win this year -- just not alone.
The performance against LSU wasn't a fluke: The Tar Heels' offense really is better this year, and quarterback
T.J. Yates
is probably one of the most improved players at his position in the country. But the players around him are also better, too. North Carolina just can't seem to overcome the missing starters on defense. The roles have reversed from a year ago, when the defense was carrying the team, but the loss to Georgia Tech has UNC in an all-too familiar position in the Coastal Division standings.
September, 19, 2010
9/19/10
10:00
AM ET
Now for a recap of five things we learned from the non-AQs after Week 3.

1. TCU is the best team in Texas. You might have thought so before, but after watching the Horned Frogs beat Baylor 45-10 and Texas struggle to beat Texas Tech 24-14, it is safe to say it now. Heck, TCU might even be better than Boise State at this point. The defense has come on strong despite losing Jerry Hughes, Daryl Washington and two experienced cornerbacks in Rafael Priest and Nick Sanders, turning back two vastly different offenses in Oregon State and Baylor. TCU held the Bears to 263 total yards of offense and sacked Robert Griffin three times. Andy Dalton, meanwhile, had only two incompletions the entire game, and running back Ed Wesley added a career-high 165 yards rushing with two touchdowns. For those skeptic s out there who think the Longhorns would beat TCU, my answer is this – both defenses are terrific, but a senior quarterback with 32 career wins takes it over Garrett Gilbert.

2. Boise State can win with style. But is that going to be enough to impress voters and computers? The Broncos easily handled Wyoming, scoring 37 straight points en route to the 51-6 rout in Laramie. But as we have so often heard, this game is simply one of many against "cupcakes" ahead for the Broncos. There are reasons to believe this schedule could prove to be more difficult than people realize. Oregon State is next, and several WAC teams have shown signs of life – Hawaii looked good in its first two games; Fresno State and Nevada are playing extremely well; and Utah State is much improved. These teams don't stack up to the SEC, but they aren't pushovers, either. Just ask California.

3. Conference USA is wide open. After Houston saw both Case Keenum and backup Cotton Turner go down with injuries against UCLA late Saturday night, the Cougars' fortunes have completely changed. Both players are out for the season, the school announced Sunday night -- Keenum with a torn ACL and Turner with a broken clavicle. That opens the door for the rest of Conference USA. They simply are a different team without their best player. This is two games in a row now that Keenum has been injured trying to make a hit on an interception. Coach Kevin Sumlin had talked to Keenum about trying to avoid making tackles, but the competitive nature got the best out of the former Heisman Trophy candidate.

4. Temple is living up to the preseason expectations – so far. You may not have thought that after the struggles in the first two games of the season, in which the Owls needed a field goal to win it at the end of regulation against Villanova and in overtime against Central Michigan. They had been outgained through the first two weeks of the season. Connecticut outgained them, too, but the Owls put together a dominating fourth quarter to come from behind and win 30-16. Temple is 3-0 for the first time since 1979. The win was its first against a team from an automatic qualifying conference since beating Syracuse in 2004 – when Temple was still in the Big East. Now comes a big litmus test to see how the Owls truly stack up – they hit the road to take on Penn State in Week 4.

5. This could be the year for another team to win the Commander-In-Chief Trophy. Navy has won the trophy seven straight years, but watch out for Air Force. Navy (2-1) put together a nice performance against Louisiana Tech in a 37-23 win, led by Ricky Dobbs' arm and not his legs, but the Midshipmen have had injury problems and looked inconsistent overall this season. Air Force (2-1) played Oklahoma extremely close in a 27-24 loss Saturday and has veteran leadership in Tim Jefferson, Asher Clark and Jared Tew, who are running the triple-option to near perfection. The defense is also improved. Air Force is at Wyoming this week and Navy has a bye before their huge game in Colorado on Oct. 2.
September, 19, 2010
9/19/10
9:58
AM ET
What we learned from Notre Dame in the Irish's
34-31 overtime loss
to Michigan State:
1. Still a play short:
It's really hard to blame the Irish for not stopping the fake field goal touchdown pass that won the game in overtime. Nobody in the stadium or watching on TV saw that coming. In the end, though, it's the same old story -- Notre Dame just couldn't make one more play to win a big game. It couldn't do so last week against Michigan either. Forget the ridiculously gutsy fake call for a moment; if the Irish make another play in regulation, or if
Kyle Rudolph
gets one more yard on third down in their overtime possession, that crazy sequence never comes into being. This team still needs to get over the hump of winning close games.
2. Brian Kelly is about to get questioned:
He's only three games into his tenure, but Kelly is just 1-2 now and could very likely start hearing some criticism this week. He has had questionable fourth-down calls now two weeks in a row that haven't worked out. The Irish are clearly better-coached all the way around, but the record is worse than it was this time a year ago. It's not fair, but that's life as the Notre Dame coach.
3. Theo Riddick is blossoming:
Kelly said this week that sophomore slot receiver Theo Riddick was on the verge of breaking out. He proved prophetic. Riddick, who moved to receiver from running back in the offseason, had only four catches for 52 yards in the first two games. Against Michigan State, he piled up 10 catches for 128 yards and a score. Riddick's development gives
Dayne Crist
another key weapon in the passing game and will alleviate pressure on
Michael Floyd
and Rudolph.