NCF Nation:

What we learned 092312
September, 23, 2012
9/23/12
10:03
AM ET
It's time to take a look at what we learned from a another weekend of football in the SEC:
1. The East has a trio of legit contenders:
Heading into the season, it was the SEC Western Division that had the big three. Now, it looks like the East might own that distinction. Florida, Georgia and South Carolina have all been playing high-quality ball the past few weeks, and Saturday delivered us the kind of victories we needed to see from the Bulldogs and Gamecocks. We knew Florida had some real bite and fight after back-to-back road wins in tough environments; then Georgia and South Carolina dismantled their opponents at home. Georgia crushed a talented Vanderbilt team 48-3, while South Carolina ran over Missouri 31-10. The race between these three for the East crown should be very exciting this season, and it's time to seriously consider one of them having what it takes to
really
challenge the West winner in Atlanta.
[+] Enlarge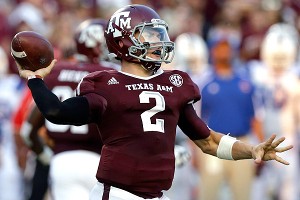 AP Photo/David J. PhillipJohnny Manziel and the Texas A&M offense are clicking on all cylinders right now.
2. The Razorbacks are lost:
Tyler Wilson
's return was supposed to energize a reeling Arkansas team. Having him on the field was supposed to make this team better. But it did neither, as the Hogs lost to Rutgers 35-26 in a game that could have been worse. Again, Arkansas' defense fell apart when the Hogs needed it the most. The Razorbacks surrendered 525 yards of offense, including 397 passing yards from Rutgers quarterback
Gary Nova
and 128 rushing yards. The Hogs squandered an early 10-point lead and looked dazed after Rutgers made its run from the second to third quarter. Wilson threw two interceptions and the running game managed just 73 yards, including 17 from
Knile Davis
. This was a game Arkansas had to win, but the Hogs folded. It's clear John L. Smith isn't the motivator or leader this team needs.
3. Zach Mettenberger has to get better:
If LSU is going to continue to hold the torch as a legitimate SEC/national title contender, its quarterback has to play better. Mettenberger was supposed to make LSU's offense better, especially when it came to throwing the ball, but against Auburn, in his first SEC start, he didn't exactly make LSU's offense look much different from what we saw last year. His decision-making was off, as were some of his passes. In key situations, Mettenberger couldn't deliver the drive-extending throw, as he completed 15 of 27 passes for 169 yards. The Tigers survived against an overmatched Auburn team, but against the likes of Alabama, Florida or South Carolina, LSU might not be so lucky. His field focus has to improve.
4.
The Aggies' offense is dialed in:
The Kevin Sumlin era in College Station has come with a bunch of points and yards. Sure, the competition since the season-opening loss to Florida hasn't been near the quality the Aggies will face in league play, but you can tell A&M players totally understand what Sumlin and offensive coordinator Kliff Kingsbury are trying to do on offense. We thought it might take a while for the Aggies to resemble Houston's old offense, but in the past two games A&M has scored 118 points and put up 1,053 yards. Fifteen of A&M's 17 touchdowns in the past two games have come from the offense, with quarterback
Johnny Manziel
being a part of 11 of them. The Aggies' adaptation to this new offense has been very impressive.
5. Missouri isn't fit for the SEC yet:
We saw the obvious fatigue in the 41-20 loss to Georgia, and Missouri's lack of shape came to light in South Carolina's blowout win Saturday. The Tigers looked like they just didn't have the energy or strength to battle with the Gamecocks up front. Missouri managed just 109 rushing yards (averaging 3.4 yards per run) while giving up 144. Quarterback
James Franklin
was sacked three times and managed just 92 passing yards, as the Gamecocks made his day miserable with constant pressure. You just didn't see much fight against South Carolina. The Tigers were exhausted well before the game ended, and that's not a good thing. This team talked about size not being an issue, but it's clear that Mizzou's lines are wearing down. The Tigers haven't won the battle up front in their two SEC games (both losses).
September, 23, 2012
9/23/12
10:00
AM ET
Five lessons from the week that was in Big Ten football.
1. Bring on the conference season ... please:
There's no way to sugarcoat it. The Big Ten's nonconference schedule (which has two more inconsequential games left) has been a disaster. The league's 33-13 record doesn't begin to tell the story of the train wreck that included losses to three MAC teams, an 0-3 record against Notre Dame, a 1-3 mark against the Pac-12, a loss to Louisiana Tech and several very close calls to non-power-league teams. Michigan State's squeaker over a Boise State team replacing most of its starting lineup remains the Big Ten's signature victory, and Northwestern and Minnesota helped saved the day with a combined 8-0 record, including four wins over BCS AQ teams that won't be in the national title conversation anytime soon. Michigan flopped in its two spotlight games against Alabama and Notre Dame. Michigan State also got clobbered by the Irish, while UCLA ran all over Nebraska. The Big Ten is a national punchline right now, a status it has earned with possibly the worst start in the history of the conference. The good news? League play starts next week, and these teams are all so flawed that it should be as exciting a conference race as there is anywhere. For the Big Ten, it can't start soon enough.
[+] Enlarge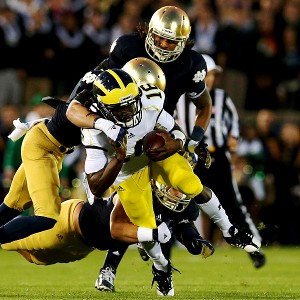 Jonathan Daniel/Getty ImagesMichigan, Denard Robinson and much of the Big Ten took a beating during the nonconference schedule.
2. The I's have it ... rough:
It was a disheartening day for Iowa and Illinois. While Iowa has ebbed and flowed during Kirk Ferentz's tenure as coach, has it ever been this bad in Hawkeye Country? It's hard to imagine a lower point for Iowa since 2002 or so than Saturday's 32-31 loss to a weak Central Michigan team at Kinnick Stadium. If it's not the offense for Iowa, it's a defense that couldn't stop Chippewas quarterback
Ryan Radcliff
. And in the end, Iowa's special teams let it down on an onside kick recovery. We knew Iowa would have some growing pains with a young team and new coordinators, but the Hawkeyes have struggled against two MAC teams and lost to rival Iowa State at home. Hawkeyes fans always have high expectations, especially for their extremely well-compensated coach. The program has completely lost momentum from the 2009 season, and it can only hope Saturday was rock bottom. Meanwhile, Tim Beckman is just starting his program at Illinois, but it's off to a bad start. After a promising opening win over Western Michigan, the Illini have gotten completely waxed by both Arizona State and, in Saturday's home implosion, Louisiana Tech. (The Charleston Southern game was worthless). We knew that Illinois lacked playmakers for Beckman's spread, but it's shocking how easily other spread teams have shredded the once-proud Illini defense. Beckman has a lot of ground to make up in Champaign.
3. Buckeyes, Spartans have work to do before showdown:
The Ohio State-Michigan State game in East Lansing looks like the main event of the first Saturday of Big Ten play, but both teams need work in the next six days. Ohio State struggled on its home field for the second straight week Saturday, committing special teams blunders and surrendering 22 first downs and 402 yards to UAB. That might
not matter much to Buckeyes assistant Everett Withers
, but it's a concern for a unit that had been pegged as one of the Big Ten's best. Then again, Ohio State isn't facing a juggernaut with Michigan State, which needed three and a half quarters to reach the end zone against an Eastern Michigan team that entered the game allowing an average of more than 40 points.
Le'Veon Bell
is a work horse for the Spartans, but they continue to struggle to stretch the field with the passing game. These teams played a game that made our eyes bleed last year in Columbus. Although this year's contest figures to be more entertaining, both Urban Meyer and Mark Dantonio have a lot to fix.
4. Claims of Penn State's demise were premature:
After Penn State dropped its emotionally charged season opener against Ohio and kicked away a sure win at Virginia, many felt the Lions had reached their breaking point after a nightmarish offseason. Predictions of three-win seasons rolled in. Instead, Bill O'Brien's squad has made a nice turnaround and recorded convincing wins against Navy and Temple. The offense is clearly better under O'Brien's leadership, and senior quarterback Matt McGloin looks much more comfortable and efficient. The defense can be dominating at times and bottled up Temple's rushing attack Saturday. Penn State still has its flaws -- too many penalties Saturday -- but so does every Big Ten team. The Lions are starting to hit their stride under O'Brien, and they could make things very interesting in the wide-open Leaders Division.
5. Minnesota could go bowling:
Break up the Gophers. They're 4-0 for the first time since 2008 and could make the postseason for the first time since 2009. The biggest difference for this team is on the defensive end, where Minnesota is finally getting a strong pass rush up front with
D.L. Wilhite
and
Ra'Shede Hageman
leading the charge. The defense paved the way for a 17-10 win over Syracuse that wasn't as close as the score.
Donnell Kirkwood
has provided the offense a solid running attack, and the team has proved it can win with either
MarQueis Gray
or
Max Shortell
at quarterback. Minnesota isn't a powerhouse yet, and the schedule is going to get a whole lot tougher. But Jerry Kill has guided this program to five straight wins since the end of last season and only needs to match last year's 2-6 Big Ten record to qualify for a bowl. In fact, the Gophers probably will be favored this week at Iowa.
September, 23, 2012
9/23/12
10:00
AM ET
1. This defense is for real
. That is now back-to-back games without surrendering a touchdown, against Michigan State and Michigan, no less. Notre Dame has given up nine points per game through four games.
As IrishIllustrated's Pete Sampson points out
, last year that would trail only national champion Alabama's mark, and by just 0.85 points per game.
[+] Enlarge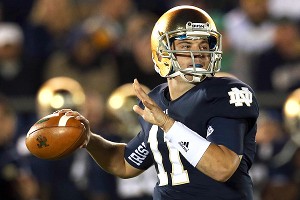 Jonathan Daniel/Getty ImagesTommy Rees provided a calming influence when he was called upon Saturday night.
2. Tommy Rees is invaluable
. Few other college players would be comfortable in the seemingly unstable role Rees now occupies. But the junior has handled it brilliantly thus far, carrying Notre Dame to a pair of wins en route to a 4-0 start.
3. Everett Golson is still a work in progress
. No one will fault Brian Kelly for pulling his young signal-caller this time. Golson threw two really bad interceptions, completed just three passes to his own team the whole day and played out of character. He's still the starter and probably the long-term answer for the Irish, but his performance Saturday was discouraging.
4. That daunting schedule may not be so daunting anymore
. USC was underwhelming for a second straight week. Oklahoma lost. Every remaining team looks beatable, with the Stanford contest in three weeks looking like a potential clash of top-10 undefeated teams. The Irish cannot afford to look ahead, but we can, and it's easy to think big picture right now with the way the first month has unfolded.
September, 23, 2012
9/23/12
10:00
AM ET
So after a bit of an eye-popping night in Norman, what did we learn about the Big 12?
K-State is all kinds of bad news.
Kansas State coach Bill Snyder loved what his defense did. "They just kept rowing the boat," Snyder said. Indeed. Oklahoma got all the way to the 1-yard line and fumbled a snap in the Belldozer. It settled for field goals of 28 and 34 yards, going without a touchdown in the first half at home for the first time since TCU sprang a season-opening upset in 2005. There wasn't an ounce of quit in the defense, and the Wildcats made big plays when they were in position. This team is remarkably consistent despite a few slow starts. The defense is disciplined, though not very speedy. The offense is efficient and doesn't make mistakes. If K-State keeps playing like that, preventing big plays and squeezing the life out of opposing defenses, can anybody in the Big 12 beat it?
[+] Enlarge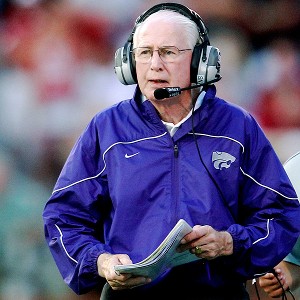 AP Photo/Sue OgrockiBill Snyder's defense keeps "rowing the boat" for Kansas State, which made a big statement with its win over Oklahoma.
There's a good chance Oklahoma is just average this year.
The evidence was there, out on display in the desert when a very mediocre UTEP defense stymied the Sooners' offense and made Oklahoma look pretty bad. Those concerns are officially confirmed.
Landry Jones
quite obviously has shown a constant penchant for making big mistakes in big games, and Saturday night was no exception.
Sterling Shepard
broke out on Saturday, but with a young receiving corps, the margin of error for the defense in a loaded Big 12 is not very large. Don't be surprised if Oklahoma finishes with nine wins or so, which qualifies as a big disappointment in a season with big dreams in Soonerville.
West Virginia's offense can be slowed.
Maryland's a pretty good defense, and became the first team this season to frustrate the Mountaineers. They harassed and hit
Geno Smith
more than anybody and forced an offense that had punted three times in two games to do so seven times in 60 minutes. That was a big-time performance from the Terps, which fell 31-21. Look for Big 12 defensive coordinators to be watching that film for hours on end in the weeks to come. WVU's got more speed and explosiveness in the passing game than anyone in the Big 12, but it can be contained to some extent.
Kansas still has a ton of work to do.
Northern Illinois is a pretty good team, but Kansas yet again coughed up a late lead, and it's about to get much more difficult for the Jayhawks. When you've got a double-digit lead in the fourth quarter, you've got to prevent the big play and not turn the ball over. Unlike two weeks ago versus Rice, Kansas didn't have a late turnover this time, but it gave up a 65-yard touchdown pass just 10 seconds after taking a 23-13 lead in the eventual 30-23 loss. It also gave up three fourth-quarter sacks. The Huskies were dominant in the fourth quarter, and that's got to be seriously alarming for the Jayhawks, even early on in this attempted reclamation project.
TCU needs to figure out what's going on in the red zone.
You don't have to start pounding any alarms quite yet, but TCU has left a ton of points on the board in consecutive weeks now. In a 20-6 win over Kansas, TCU made seven trips to the red zone and came away with points on just three. In Saturday's 27-7 win over Virginia,
Skye Dawson
fumbled the ball out of the end zone and
Casey Pachall
threw his first interception of the season inside the Hoos' 5. Yes, it's out of character for each player, but that margin of error is about to disappear as Big 12 play heats up.
September, 23, 2012
9/23/12
10:00
AM ET
What did we learn in Week 4? Keep in mind, no do-overs allowed.
1. Rutgers is the real deal.
Given the way Arkansas has imploded, the way the Scarlet Knights won Saturday night does not come as much of a surprise. But what was at least some sort of validation is that they played Arkansas at full strength -- with quarterback
Tyler Wilson
in the starting lineup -- and still won. Incredibly, it was Rutgers quarterback
Gary Nova
outplaying Wilson with the best game of his very young career, throwing for 397 yards and five touchdowns in the
35-26 victory
. Headed into this game, the Rutgers passing game was really inconsistent and at times nonexistent. But on Saturday, Rutgers got the run and the pass working together.
Jawan Jamison
also went over 100 yards for the fourth time this season and Rutgers controlled the clock for nearly 40 minutes. The defense yielded some big plays (never say the name
Cobi Hamilton
in Piscataway) but also came up with big plays when they were needed. That was plainly evident when
Duron Harmon
intercepted Wilson with three minutes to go to preserve the victory. Rutgers now moves to 4-0 for the first time since 2006.
[+] Enlarge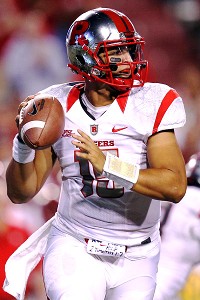 Nelson Chenault/US PresswireWith five TDs and 397 yards at Arkansas, Gary Nova erased doubts about Rutgers' passing game.
2. Everywhere else ... misery.
The Big East went 2-4 in its games against FBS opponents on Saturday, including 0-2 against the MAC. To put it bluntly, that is simply unacceptable for a league that is constantly the butt of jokes around the country. You want to be taken seriously? You win the games you are supposed to win. It was incredible to see UConn, USF, Syracuse and Temple just fail to show up in their games. Everybody but Temple was favored to win. In those four losses, the Big East teams scored an average of 18.5 points. Syracuse, which went into its game against Minnesota as the No. 1 offense in the Big East, scored a season-low 10 points and had 350 yards of offense -- nearly 200 yards below its average. USF showed once again it could not stop anyone defensively. UConn could not even beat a Western Michigan team that played without starting quarterback
Alex Carder
for the final quarter. Temple had 13 first downs and went 3-of-12 on third down in a
24-13 loss
to Penn State. I will say it again: Unacceptable.
3. But how about Louisville?
Louisville has had two consecutive "meh" performances. The Cardinals did not look impressive in the second half against North Carolina on Sept. 15, and they did not look impressive at all in their
28-21 victory
over Florida International on Saturday. Yes, they are 4-0 for the first time since 2006, and will remain ranked in the Top 25. Yes, they are a good team. Yes, they still won even when
Teddy Bridgewater
had a bad day by his standards (first two interceptions of the season, 17 incompletions). But let's just say it this way: Nobody in this league looks unbeatable. Not Louisville, not Rutgers. The first order of business should be figuring out how to play better defensively, particularly up front. Louisville has four total sacks in four games -- right at the bottom of the Big East. Second order of business: shoring up third-down defense. FIU converted 50 percent of the time on third down, right around what Louisville has allowed all season.
4. Pitt seems to have turned a corner.
Given the poor performances at the bottom of the Big East this weekend, it is easy to say Pitt belongs in the top half of the power rankings -- this despite losing its opener to Youngstown State and getting blown out in Cincinnati. While I realize Gardner-Webb is not even a very good FCS team, the Panthers are on the right track headed into their bye week, and did not have any letdown following their win over Virginia Tech a week ago.
Tino Sunseri
had more than 300 yards passing, and he has found a nice groove with receiver
Mike Shanahan
.
Ray Graham
also has been extremely productive, with 362 yards in four games. Pitt has to be headed into Big East play with an enormous amount of confidence.
5. USF appears to be a bust.
USF followed up its loss to Rutgers with an uninspiring performance in a loss to Ball State, and was plagued by all the familiar bugaboos of a team that has been highly undisciplined over the past several seasons. The Bulls went into the game as one of the most penalized teams in the nation, and they followed suit against Ball State,
committing 11 penalties
while also turning the ball over twice. USF had the game won, going ahead with four minutes to go. But the Bulls couldn't hold on. This was the preseason pick to finish No. 2 in the conference because of its big senior class. But now the Bulls are in danger of falling off a cliff, with Florida State coming to town Saturday.
September, 23, 2012
9/23/12
10:00
AM ET
What did we learn in the ACC in Week 4?
1. FSU is for real.
For real, for real, for real! The No. 4 Seminoles proved they were more than just preseason hype in their
49-37 victory
over No. 10 Clemson in the marquee game Saturday night. Clemson led 21-14 going into the break as the Seminoles showed some of their same ol' bad habits (too many penalties, turnovers, wide right, eek!). But with the game on the line in the second half, Florida State never panicked. In fact, it was Florida State that produced the best halftime adjustments as the Noles remained as composed as a maestro at an orchestra.
EJ Manuel
being the maestro, of course. The Noles matched Clemson playmaker for playmaker, but they had Manuel on their side to account for 483 all-purpose yards. Meanwhile, the Florida State D tightened up in the second half. After giving up three touchdowns before the break, the Noles allowed Clemson only one in the second half -- and it came with 2:11 remaining, when the outcome was pretty much decided. FSU gave up its first touchdowns of the season, yes, but did anybody really expect the Noles to totally shut down a Clemson offense with talent everywhere? This was the statement performance Florida State needed. Now the Noles can't let up if they have designs on playing for a national title.
2. Clemson is right behind Florida State.
It became clear throughout the course of the game that it is Florida State-Clemson in the top two spots in the ACC, and then everybody else. Yes, the Tigers' defense had its share of problems once again -- giving up 667 yards of total offense. Missed tackles were also plentiful, and there were holes all over the run defense. But this is a group that was physically worn down in the second half because its offense could not sustain any drives. Florida State controlled the clock and the tempo, and you could see the Tigers' defenders were just wiped out at the end of the game. This loss should not spell doom for Clemson. The Tigers might not be in control of their destiny in the Atlantic, but they could still have a special season.
[+] Enlarge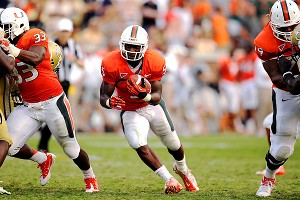 Kevin Liles/US PresswireMike James accounted for four TDs, including the winner, in Miami's OT victory at Georgia Tech.
3. Watch out for Miami.
The Hurricanes pulled the stunner of the afternoon, beating Georgia Tech
42-36 in overtime
in a wild game that had scoring runs resembling a basketball game. First they led 19-0. Then they fell behind 36-19. Then they tied the game at 36. Then they won. A team that has been much maligned for its porous defense now sits 2-0 in ACC play with a winnable game this weekend against NC State.
Stephen Morris
delivered in the clutch, setting a career high with 436 yards passing, and
Mike James
was right there with him, with four total touchdowns. His third score of the day sent the game into overtime; his fourth score won it. For Georgia Tech, it was yet another heartbreaking loss, as it was the second time in ACC play the Yellow Jackets gave up a lead with just seconds to play. It also happened in the opener against Virginia Tech, when
Cody Journell
made a field goal to send the game into overtime as regulation expired. The Jackets also lost that one in overtime. Three of Tech's past five games have gone into overtime. All three were losses.
4. Rush attack.
Boy were the running games working for several teams across the ACC. Virginia Tech had a season-high 246 yards on the ground in a
37-0 win
over Bowling Green, featuring carries for a handful of running backs; NC State had a season-high 282 yards rushing in a
52-14 win
over The Citadel; Wake Forest had a season-high 296 yards in a
49-37 win
over Army; Duke had a season-high 177 yards in a
38-14 win
over Memphis; and Florida State had 287 yards rushing to mark the third time in four games the Seminoles have run for 285 or more. Wake Forest and Florida State each had multiple players go for more than 100 yards on the ground.
5. Maryland, UVa can't pull the upset.
Even though Maryland
lost 31-21
, the Terps drew widespread praise for the way they were able to hang with No. 8 West Virginia. The big reason was the defense that has helped Maryland to a .500 record through four games. Maryland hit
Geno Smith
and flushed him out of the pocket, but the Terps simply had no answer for
Tavon Austin
, who had 179 yards and three touchdowns. The game was 17-14 in the second quarter until Austin scored right before halftime, and Maryland could not get closer. Meanwhile, Virginia desperately needs to find its offense. The Hoos
lost 27-7
to No. 17 TCU and have scored a combined 43 points in the past three games.
Michael Rocco
was ineffective, and benched in favor of
Phillip Sims
, who led the only touchdown drive of the game. Will there be a quarterback controversy brewing now in Charlottestville?
September, 23, 2012
9/23/12
10:00
AM ET
What did we learn in Week 4? Read on.
Oregon State is back
: After consecutive losing seasons, the Beavers have opened 2012 with consecutive victories over ranked teams, avenging defeats to Wisconsin and UCLA from a year ago. The previous two seasons, the Beavers couldn't run the ball or stop the run. Now they apparently can do both. That's sort of a big thing. Further, QB
Sean Mannion
has grown up. In the 27-20 win over No. 19 UCLA, he passed for a career-high 379 yards and two touchdowns and didn't let a bad decision on an interception get him down. Oregon State heads to Arizona next weekend looking for its first 3-0 start since 2002.
[+] Enlarge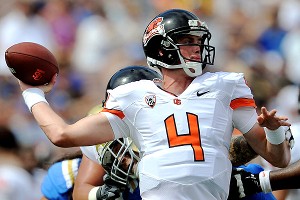 Jayne Kamin/Oncea-US PRESSWIREOregon State's Sean Mannion passed for 379 yards and two touchdowns during a win at UCLA.
Ducks passed their test
: Oregon coach Chip Kelly says the Ducks take a football test every weekend against a nameless, faceless opponent. Well, the Ducks advanced out of 101-level courses to a 300-level advanced class on Saturday, trading nonconference patsies for a ranked Pac-12 team that already had whipped Oklahoma State, the defending Big 12 champion. And the Ducks made an "A" against No. 22 Arizona with a 49-0 win. In a plot twist, the defense took center stage, while the offense needed a half to get its rhythm. The performance solidified the Ducks' status atop the Pac-12 pecking order, at least pending games with Stanford and USC.
USC can win without great QB play
: USC bounced back from its loss to Stanford with a solid 27-9 win over California. It wasn't pretty, but it was much better than last weekend. The Trojans won by running the ball well -- both
Silas Redd
and
Curtis McNeal
eclipsed 100 yards on the ground -- and playing tough defense. The Trojans held Cal to 250 total yards. Barkley threw two TD passes, but he also tossed a pair of interceptions for the second consecutive week. He'd had just one multipick performance in his previous 16 games. His Heisman Trophy hopes are fading. The Trojans don't yet look like the offensive juggernaut just about everyone expected them to be -- Barkley and receiver
Robert Woods
were curiously muted -- but a better-than-expected defense might provide some time for them to rediscover their mojo.
Arizona State makes South Division statement:
By stomping South Division rival Utah 37-7, Arizona State made the most noise this weekend in the South Division. UCLA and Arizona both lost, but to good teams. USC, which the Pac-12 blog has long lauded as a certain winner of the South, still looks like a solid front-runner, just not a certainty any longer. QB
Taylor Kelly
was brilliant for the Sun Devils, while the defense is proving to be opportunistic. The Sun Devils are at California next weekend. They need to prove they can play well on the road, and Cal is good enough to provide a revealing test -- for both teams really.
Colorado isn't a complete disaster
: When Colorado was losing 31-14 at Washington State early in the fourth quarter, it appeared everything was mostly going to script. In fact, it even felt like an uptick for the woeful Buffaloes, who had started 0-3 in the worst possible way. But something seemed to click, and instead of accepting defeat, the Buffs fought back. Their efforts were rewarded with a three-touchdown barrage that gave them a 35-34 win. The specter of a winless season is now gone. That is a worrisome demon to exorcise. And the young Buffs got to see that good things sometimes happen to teams that fight back. A win might not signal a massive transformation -- the issues that led to the 0-3 start are still present -- but it certainly will help coach Jon Embree get a good night of sleep.
Mike Leach won't transform Washington State overnight
: Of course, the home side of the field inside Martin Stadium isn't feeling too keen. There was so much goodwill and optimism after the hiring of Leach that there was a feeling he would be able to take a respectable crew of returning players and quickly turn them into a bowl team. That might not be the case. Leach, like most new coaches taking over a program in the dumps, might need some time to implement his system and recruit his type of players. On the downside, the Cougars' lack of poise and sloppiness -- particularly in the fourth quarter -- must trace back to some source deserving blame. It's not unreasonable to posit that Leach and his players have not yet clicked. There was a yielding in this loss that isn't easy to write off.