NCF Nation:

what-we-learned-092610
September, 26, 2010
9/26/10
10:26
AM ET
A peek into what we learned in the SEC in Week 4:
1. Let's get physical:
Alabama is still the most physical team in the SEC, and it's not close. Everything with the Crimson Tide begins and ends with being able to mash you up front, and we were reminded of that in the second half Saturday in their come-from-behind 24-20 win over Arkansas on the road. There's no question that this is a different team from a year ago. Offensively, the Crimson Tide are more diverse and can attack you a number of different ways. The combination of youth and inexperience in the secondary make Alabama more vulnerable defensively, although you could see those guys starting to figure it out and getting better in the second half. But the hallmark of this program remains its physicality and being able to impose its will when it counts. Every year under Nick Saban, Alabama has been outstanding on the offensive line. It doesn't matter who the Crimson Tide lose or who they have to plug in. They keep rolling along and mauling people, and that's a tribute to veteran offensive line coach Joe Pendry.
[+] Enlarge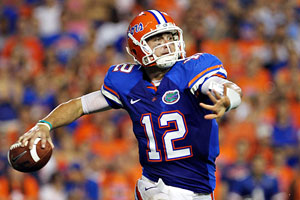 Kim Klement/US PresswireJohn Brantley's 248 passing yards Saturday were a season high.
2. Don't count out the Gators:
This much we know about the Gators: They know how to put teams away in the second half. In all four of their games this season, their opponent has been within striking distance at some point in the third quarter. But Florida has been good enough and industrious enough to separate itself and win going away. Kentucky pulled within 27-14 midway through the third quarter on Saturday, but Florida scored the next 21 points to turn the game into a rout in its 48-14 victory. In their past three games, the Gators have outscored their opponents 82-28 in the second half. And while their offense may still be coming, it's hard to find a lot wrong with the defense. It returned another interception for a touchdown, the third of the season, and the Gators have 12 picks on the season to lead the country.
3. Star power:
It was one of those weekends in the SEC when you were reminded just how many great players there are in this league. The collection of talent is more impressive than ever. Mark Ingram's 54-yard touchdown run and his incredible balance is a highlight they'll be showing at Alabama 20 years from now. And did you see LSU's Patrick Peterson strike the Heisman pose following his 60-yard punt return for a touchdown? I still say the guy is one of the most explosive football players I've seen this season. Auburn's
Cameron Newton
has emerged as the ultimate playmaker at quarterback. He's leading the SEC in rushing with 485 yards in four games. He has five rushing touchdowns and nine passing touchdowns. Nobody's really stopped him yet. And even though South Carolina didn't win, is there a better receiver in the league right now than
Alshon Jeffery
? He had eight catches for 192 yards and two touchdowns in the 35-27 loss to Auburn.
4. More struggles for Jefferson:
It's becoming painfully apparent to everybody on the Bayou that
Jordan Jefferson
isn't the answer for LSU at quarterback. The dicey part about that is the Tigers are 4-0, but they're also winning in spite of their play at quarterback. Jefferson has passed for fewer than 100 yards with no touchdowns in his past three games, and he was also intercepted twice in the 20-14 win over West Virginia. It's obvious that he's pressing now, and the boos are getting louder. An angry LSU coach Les Miles lashed out at the fans for booing, but Miles also knows he has a tough decision to make. He played backup
Jarrett Lee
for a series in the fourth quarter, and the Tigers may at least have to give Lee a shot if they're going to beat some of the teams they have coming up on their schedule. Right now, their passing game is non-existent, and they're winning with defense and special teams. They had just one offensive touchdown against West Virginia, and that came after the defense forced a fumble at the Mountaineers' 10. LSU has to get a lot better offensively, and do it quickly, if it wants to make a run in the West.
5. Maybe Richt is in trouble:
It's hard to believe that Georgia coach Mark Richt could genuinely be in trouble. That program has been a beacon of consistency on his watch with all the top-10 finishes and 10-win seasons. But here lately, it's a Georgia program that's in a serious free-fall, and that tumble continued Saturday in a lackluster 24-12 loss at Mississippi State. Georgia (1-3, 0-3) has lost three straight games for the first time since 1990, and the Bulldogs are just 2-7 in their past nine SEC games dating back to last season. Richt said it himself following this most recent loss. "We've also got to look within, starting with me," Richt said. He didn't expand further and said he needed time to reflect, but there's a pattern here that's hard to deny. The Bulldogs simply aren't very disciplined. They're guilty of crippling turnovers. Their penalties come at the worst times, and they're underachieving on the offensive line. That's not to mention some of the mounting off-the-field issues with player arrests. Richt is as classy as they come, but he has his hands full if he's going to keep this season from completely unraveling.
September, 26, 2010
9/26/10
10:07
AM ET
1. Bottoms up:
If there were a theme song for the Big East's 2010, it would be Green Day's "Wake Me When September Ends." The league completed a brutal opening month in which it went 1-10 against BCS opponents, saw all eight teams lose at least once and, by Sunday, completely exit the polls. No Big East teams were exactly expected to win in Week 4's big slate of games -- West Virginia at LSU, Oklahoma at Cincinnati, Miami at Pitt and North Carolina at Rutgers -- but the fact that all four of them went down only contributed to the league's current dismal state.
2. Pitt has problems:
While West Virginia, Rutgers and Cincinnati all had chances to win their showdowns in the fourth quarter, Pittsburgh got waxed 31-3 at home by Miami on Thursday. The team most everybody thought would be the Big East's best now looks in real danger of becoming a 7-5 type team or worse. There are serious issues on the offensive line and at linebacker, and questions linger about
Dion Lewis
's slow start and
Tino Sunseri
's ability to win a big game. Couple that with the Panthers' off-the-field problems, and it's been a very disappointing 2010 so far in the Steel City.
[+] Enlarge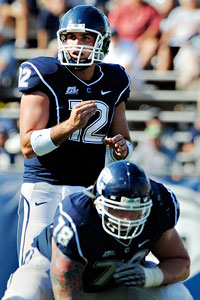 AP Photo/Fred BeckhamCody Endres' two touchdown passes helped spark the UConn offense on Saturday.
3. Cincinnati is coming along:
The Bearcats were very respectable in their 31-29 loss to Oklahoma, a game they could have won with fewer mistakes. It was easily their best performance of the year, and the offense finally looked like the high-powered attack it promised to be. Cincinnati was saddled with a tough early schedule and had to adjust to new coach Butch Jones' style. If the team can play as well as it did against the Sooners on Saturday, a third straight Big East championship is not out of the question.
4. UConn has a new leader:
Connecticut turned to backup quarterback
Cody Endres
at halftime against Buffalo, as ineffective starter
Zach Frazer
had led them to only a 14-14 tie with the Bulls. Endres gave the team a spark almost immediately, and the Huskies went on to a 45-21 rout. Endres may not have as strong an arm as Frazer, but he seems to make better decisions and deliver a more accurate throw. That's what UConn really needs with its stout running game. Endres will assume the starting role, but the Huskies may need Frazer again before the season is done.
5. South Florida is very much a work in progress:
The Bulls beat Western Kentucky just 24-12 at home mostly because the offense was kept under wraps. With no experienced receivers, Skip Holtz chose to throw the ball just 11 times while running it 44 times. It was enough to beat a team that's never won since moving up to the FBS. You get the sense Holtz is just trying to get by until receivers
Dontavia Bogan
,
A.J. Love
and
Sterling Griffin
return from injury, when South Florida can open up the offense and take its shots in a wide-open Big East race.
September, 26, 2010
9/26/10
10:06
AM ET
Five lessons from the week that was in the Big Ten.
1. The Big Ten can pile it on:
Lopsided scores are common throughout college football in September, but the Big Ten had stayed away from the really insane points totals until Saturday. Wisconsin set team records for points scored (70) and margin of victory (67) against hapless Austin Peay. Ohio State had its highest points total (73) since 1950 and eclipsed 70 points for the first time since 1996 (first time in the Jim Tressel era). Michigan only scored 65 against Bowling Green but racked up 721 total yards and 31 first downs. Iowa and Michigan State both scored 45 points, an impressive total that was dwarfed by the others around the league.
[+] Enlarge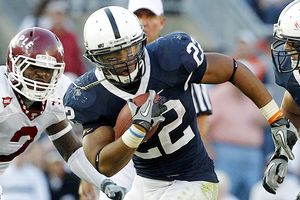 AP Photo/Gene J. PuskarEvan Royster surpassed 100 yards for the first time this season, rushing for 187 yards on 26 carries against Temple.
2. Penn State still a work in progress:
Kudos to the Nittany Lions for a stifling second-half defensive performance, the resurrection of
Evan Royster
(187 rush yards) and an impressive 96-yard touchdown drive to seal Saturday's win against Temple. But I still have some major concerns about this team entering Big Ten play. Penn State simply has to get better in the red zone and stop settling for field goals. The Lions have scored only six touchdowns in 15 red-zone opportunities this season. And while the defense regained its swagger today, Temple didn't have much of a passing attack. Penn State's secondary will be tested a lot more this week at Iowa.
3. Tate Forcier can help Michigan win
: After so much speculation about a possible transfer, Forcier took the field for the first time this season and showed that he's still a pretty good quarterback. The Michigan sophomore completed all 12 of his pass attempts for 110 yards and a touchdown. He moved Michigan's offense up and down the field after starting quarterback
Denard Robinson
went down with an injury, and Forcier might have established himself as the Wolverines' No. 2 signal caller. Robinson should be fine, but his long-term health remains an issue because of his playing style. If Forcier can keep his head in the game, he gives coach Rich Rodriguez another solid option.
4. Purdue is in serious trouble:
The injury bug continued to strike the Boilers on Saturday, this time claiming starting quarterback
Robert Marve
. Coach Danny Hope isn't optimistic after Marve re-injured his left knee in the first half of Saturday's loss to Toledo. Marve tore the ACL in his left knee last summer and tweaked it last week. There's no official word, but expect Marve to miss a good bit of time. Purdue already has lost top receiver
Keith Smith
and top running back
Ralph Bolden
to knee injuries. An equally big concern could be the Boilers' defense, which surrendered 31 points and 378 yards to a Toledo team that entered the game ranked last nationally in total offense.
5. Minnesota's season is hanging by a thread:
They might as well have played Taps at a mostly empty TCF Bank Stadium as Northern Illinois closed out a 34-23 win against Minnesota. Sure, the full Big Ten schedule remains, but Minnesota hasn't exactly fared well in league play the last decade or so. In fact, Minnesota will need a winning record in the Big Ten for the first time since 2003 to qualify for its third consecutive bowl appearance. And with a home schedule featuring Ohio State, Iowa, Penn State and Northwestern, it will be extremely difficult. The calls are intensifying for coach Tim Brewster to go, and unless we see a dramatic change soon, it's hard to see this ending well.
September, 26, 2010
9/26/10
10:06
AM ET
[+] Enlarge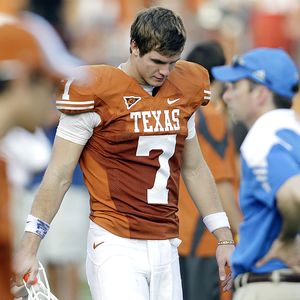 AP Photo/Eric GayGarrett Gilbert and the Longhorns managed only one touchdown in their loss to UCLA.
1. Horns cannot live on defense alone.
Texas' offense was bad for 60 minutes, and the defense looked ordinary for the final 30. It all added up to a
22-point home loss
to a 16-point underdog in UCLA -- a Bruins team that was shut out at home to weeks ago by Stanford. Texas failed to run the ball effectively, never put together a drive through the air and looked inexperienced after UCLA scored on its opening possession of the second half to take a 20-3 lead. Nebraska's poor offense tried to rely on a world-class defense last year and finished with four losses. Texas might face the same fate this year, or worse, if the defense plays like it did in the second half. A 13-10 loss to UCLA because of an inept Texas offense wouldn't have surprised me. But the defense looked ordinary in the second half and if the unit doesn't return to form quickly, we may have to reconsider whether the Longhorns are actually any good.
2. It's good to have a zero in the loss column.
Take deep breaths and don't worry about style points, you unblemished Midwestern squads. For now, that's Kansas State, Missouri, Nebraska, Oklahoma, Oklahoma State and Texas A&M. Texas proved everyone is vulnerable with one bad day, but so far this season Nebraska (SDSU), Missouri (the other SDSU), Texas A&M (FIU), Oklahoma (USU) and Oklahoma State (Troy) survived their bad days. Quality of opponent certainly had a lot to do with that, but if any of those other five teams struggled against a better team, they'd be carrying a loss into conference play, too.
3. Hold the phone on January hotel reservations in Phoenix, Nebraska fans.
The defense looked vulnerable to the running game for the third week in four outings so far this season and
Taylor Martinez
morphed into a mistake-prone redshirt freshman. Nebraska's a great team with the potential to make a title run, but everybody would agree that another day like Saturday for the Cornhuskers will mean a loss in conference play. With a young front seven and the ball so often in the hands of a freshman, it's a real possibility for Nebraska. Everyone saw the best version of the team last week in Seattle. Based on coach
Bo Pelini's comments after the win over South Dakota State
, we saw the worst version on Saturday. (Side note: After
what happened to Kansas
, do the Dakota states have some sort of vendetta against the Big 12?)
4. Oklahoma's defense might get better, but it's not very consistent.
Utah State torched them through the air. Then the Sooners effectively ended
Christian Ponder
's Heisman candidacy. A week later, Air Force rolled up 351 rushing yards. On Saturday, a struggling Cincinnati offense had running back
Isaiah Pead
rush for 169 yards and
Zach Collaros
threw for more than 300 yards. Timely turnovers meant a win for the Sooners. But without DT Gerald McCoy and having to break in two new corners and linebackers, this is not the Oklahoma defense that ranked in the national top 10 in total defense in 2009.
5. Kansas State has guts.
I swear, there may not be a more boring team to watch in college football, especially when teams bottle up
Daniel Thomas
, who still is making a strong case as college football's best running back. (Note to
Mark Ingram
,
Kendall Hunter
,
John Clay
, DeMarco Murray,
Noel Devine
and
Jacquizz Rodgers
: Look at what is around you. Look at what is around Daniel Thomas. Then look at his numbers. Then look at yours.) But twice this season, Kansas State has needed big plays. Both times, it's gotten them. No team has been in tighter games more constantly than the Wildcats, and for as underwhelming as its win over UCLA looked after the Bruins lost to Stanford, check out how it looks now. I already christened the game-winner on Saturday as the "
Drive of the Year
" in the conference, and the confidence
Carson Coffman
gained from it might mean it'll happen again. Pair that up with
Nebraska's vulnerability to the run,
and I'll say it: On October 7, Huskers beware.
September, 26, 2010
9/26/10
10:05
AM ET
Not a bad week in the ACC, not at all. Here's a look at what we learned in Week 4:
The ACC is better than the Big East.
If there was any doubt after the league's 1-1 start with a win over Cincinnati and loss to West Virginia, the ACC erased it this week with wins at Pitt and at Rutgers. Both North Carolina and Miami made enough mistakes that could have cost them the game, but Rutgers and Pitt weren't able to do anything about it.
[+] Enlarge
Brian Utesch/US PresswireNC State is 13-5 when linebacker Nate Irving is in the starting lineup.
NC State is one of the best teams in the ACC.
The Wolfpack proved it by knocking off defending ACC champ Georgia Tech on its home field. NC State is the only undefeated team remaining in the ACC and should be ranked in the Associated Press Top 25. There are only two other teams pushing the Pack for the top spot in the conference, and that's Miami and Clemson. Florida State has also turned the corner since its loss at Oklahoma, but the other teams have played better on the road against better competition.
North Carolina's not done yet.
A loss at Rutgers would have put a serious dent in the Tar Heels' bowl hopes, and could have snowballed into a disastrous season, but this team has never quit. Instead, it has been on the verge of breaking through in losses to LSU and Georgia Tech. This time, the team overcame injuries to
Johnny White
and linebacker Quan Sturdivant. There might be a lack of playmakers on defense, but there's no shortage of leadership, and quarterback
T.J. Yates
and linebacker Bruce Carter made sure losing wasn't an option this past weekend.
BC's offense is still in need of a quarterback.
In two games against Virginia Tech,
Dave Shinskie
has completed 12 of 37 passes for 134 yards, no touchdowns, four INTs, and one lost fumble. He was benched on Saturday in favor of
Mike Marscovetra
. The Eagles had three turnovers and were held to just 39 yards of total offense in the second half and couldn't cross midfield. Yes, a lot of credit goes to Virginia Tech's defense, but the Eagles won't be a contender in the Atlantic Division unless there's improvement at quarterback.
Georgia Tech doesn't look like defending ACC champs.
Not with that defense. It's not Al Groh's fault. It doesn't matter if the Jackets are running a 3-4, a 4-3 or how you line up in your backyard. Georgia Tech is missing Derrick Morgan and is need of a big-time playmaker. The Jackets got beat one-on-one and allowed 45 points and 527 yards. It's the first time since 2007 that Georgia Tech has lost two September games. Quarterback
Joshua Nesbitt
is one of the most talented players in the ACC, but he can't do it by himself.
September, 26, 2010
9/26/10
10:00
AM ET
Another week in the books, so what did we learn from the non-AQs? Boise State and TCU are still tops, but Utah and Nevada are undefeated, too. They could wreak havoc on the race for a potential BCS national championship berth.
1. Boise State and TCU may not have gotten the style points they wanted this weekend, but the top non-AQ teams did win, keeping their quest for a historic national championship berth alive. Boise State beat Oregon State 37-24 on national television on Saturday night, while TCU beat SMU 41-24 on national television Friday night. Neither looked outstanding. Both had uncharacteristic lapses. Boise State had special teams breakdowns and eight penalties, including several personal fouls. TCU, always known for its defense, gave up 192 yards rushing. But what would style points have gotten them, anyway? Neither is busting into the Top 2 of the human polls with undefeated teams ranked ahead of them. I'm not even sure a 100-0 win would do that. The point is to keep winning, and that is what they are doing.
[+] Enlarge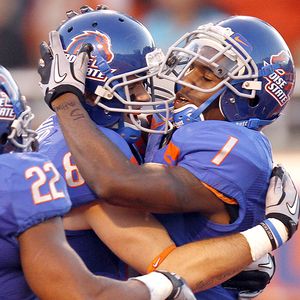 AP Photo/Don RyanTitus Young and Boise State just keep winning.
2. Utah and Nevada are here, too. And then there were four undefeated non-AQ teams left. Watch for Nevada to join the Top 25 today after a 27-13 win over BYU on Saturday. The Wolf Pack are 4-0, their best start since they began playing on the FBS level in 1992. The 4-0 start also marks Nevada's best start since the 1991 team went 12-0 to start the season. Meanwhile, Utah welcomed the return of starting quarterback
Jordan Wynn
, who missed the past two games with a sprained thumb. The Utes beat San Jose State 56-3, but their schedule is back-loaded, with a brutal stretch beginning Oct. 30 at Air Force.
3. Heartbreak hotel. Several non-AQ teams suffered heartbreaking losses on Saturday. UAB lost to Tennessee 32-29 in double overtime, but, oh, what could have been. UAB kicker Josh Zahn missed field goals from 30, 35, 41 and 49 yards in regulation. UCF lost with 24 seconds left after Kansas State scored on a 7-yard run to make it 17-13. It was the first time the Knights trailed all day. Ditto for Memphis, which lost to UTEP as time expired. Dakota Warren made an 18-yard field goal as the Miners rallied for the 16-13 win. Ohio lost to Marshall 24-23 when coach Frank Solich decided to go for the win, and the 2-point conversion failed with no time left. Arkansas State lost to Troy in the closing seconds, too.
4. The MAC is all right. The MAC and Big Ten had eight games on Saturday, and the MAC won two of them -- Toledo beat Purdue and Northern Illinois beat Minnesota. The MAC now has eight wins over Big Ten opponents over the past three years -- two this year, two in 2009 and four in 2008. Let us not forget the valiant effort Temple gave in a 22-13 loss to Penn State. Temple led until the 1:38 mark of the third quarter. Before Saturday, Temple had lost its past four games to Penn State 154-9.
5. The service academies are for real. When was the last time Air Force (3-1), Army (3-1) and Navy (2-1) were a combined 8-3 after four weeks of the season? Certainly not recently, and that is mainly due to the struggles the Black Knights have had. After their 35-21 win over Duke, they are two games above .500 for the first time since going 10-2 in 1996.
September, 26, 2010
9/26/10
9:40
AM ET
What we learned from Notre Dame in its 37-14 home loss to Stanford on Saturday:

1. Not enough fight to the Irish: Brian Kelly has talked all along about putting some toughness into this program. But it was Stanford who had every bit of that toughness on Saturday, pounding the Irish with physical play on both sides of the ball and an intensity that Notre Dame couldn't match. The Cardinals led 34-6 until late in as one-sided a performance as you could imagine. The Irish could learn a lot from how Stanford plays, and they'd better.

2. Dayne Crist is still developing: Crist has had some great moments this season, but he still has a lot to learn. He still misses reads that Kelly wants him to make. He still throws way too many incompletions, too; he had 19 in 44 attempts on Saturday, and the offense didn't score a touchdown until late in the fourth quarter.

3. Manti is a man: In one of the lone bright spots, sophomore linebacker Manti Te'o collected 21 tackles. That's the most by a Notre Dame player since 2006, and Te'o continues to get better every week as he becomes a superstar. Kelly called Teo's performance "one of those watershed moments for a defensive player that we can model."
September, 26, 2010
9/26/10
9:04
AM ET
What did we learn this week?
[+] Enlarge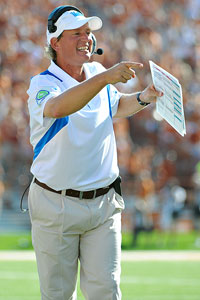 Brendan Maloney/US PresswireRick Neuheisel and the Bruins stunned No. 7 Texas on Saturday.
UCLA has gotten off the carpet
: The Bruins not only started 0-2, they looked bad in the process. What do we mean? Well, a 35-0 loss at home sort of tells the story. But which other team in the country has now beaten ranked foes on consecutive weekends? First of all, you must credit Rick Neuheisel, no matter how much that pains his myriad critics. He could have lost his team, but instead he refocused the Bruins. The only explanation for that is leadership. The Bruins were picked to finish eighth in the Pac-10, but demonstrating clear physical superiority on the road against Texas -- it wasn't the turnovers that did in the Longhorns; it was the Bruins -- suggests that any conference team that takes them lightly might be in trouble.
Stanford's defense is much better
: While Notre Dame rolled up respectable yardage numbers against Stanford, the only number that matters is 14. Holding the Fighting Irish to just 14 points at home is impressive by any measure. Before the season began, the way to qualify the Cardinal's ascent to national relevancy was to say, "Well, they've got to play better defense." Stanford is playing better defense. It, in fact, is starting to play good defense. And if that's the case, this team figures to be relevant all season. Rose Bowl relevant? Let's consider that after next weekend at Oregon, OK?
Oregon State -- now -- probably regrets scheduling two top-6 teams on the road
: The Beavers played tough vs. TCU and Boise State but in both cases there was little doubt at the end of the game who was the better team. So was it worth it playing such a tough schedule, especially a thankless one vs. elite teams that also happen to come from non-AQ conferences? It's only worth it if the Beavers end up with eight or nine wins. If this team sinks to the middle of the conference, then it's not unfair to think to these early-season humblings of a veteran team weren't positive in any way.
Arizona and California found new ways to feel just like they did last weekend
: Arizona looked poised to be despondent. Cal was on the cusp of joyous redemption. It looked like a potential role reversal after Arizona beat Iowa the previous weekend, and the Bears lost to Nevada. Then QB
Nick Foles
and the Wildcats produced another clutch, game-winning TD drive. And Cal's defense, which had played so well after the disaster at Nevada, yielded it. And then
Kevin Riley
threw a game-clinching interception. Another thriller for Arizona. Another faceplant for Cal.
Stanford's visit to Oregon could be the Pac-10 Game of the Year
: At this point in the season, Oregon and Stanford look like the conference's top two teams, though Arizona is in that conversation. Stanford beat the Ducks last year just when the Ducks looked unbeatable. The Cardinal's visit to Autzen Stadium on Saturday figures to have major Pac-10 and perhaps national ramifications.