NCF Nation:

what-we-learned-100211
October, 2, 2011
10/02/11
10:11
AM ET
Some things in the SEC are a lot clearer today than they were heading into the weekend. Some other things? Well, not so much. One thing is for sure: LSU and Alabama rule the SEC, making that Nov. 5 matchup the game of the year in the SEC.
Here's what else we learned in the SEC this week:
[+] Enlarge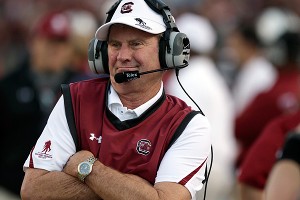 AP Photo/Brett FlashnickCoach Steve Spurrier's South Carolina squad has been a disappointment so far this season.
1. South Carolina has officially fallen into the overrated category
: Before the season, we praised the Gamecocks for what we thought was an improved defense. We thought containing
Marcus Lattimore
and
Alshon Jeffery
was near impossible. We said having
Stephen Garcia
at quarterback made this team a favorite in the SEC East and gave them a chance at the national championship. Through the first four weeks, South Carolina made mistake after mistake, flirting with disaster more and more, but remained undefeated, so we gave the Gamecocks the benefit of the doubt. However, after watching the offense implode for the second straight week in Saturday's loss to Auburn, it's clear the offensive issues are very real and this team has a ways to go on that side of the ball. Lattimore and Jeffery need help, and the problems at quarterback are major. Coach Steve Spurrier has
Connor Shaw
and
Dylan Thompson
sitting on the bench while Garcia continues to struggle, meaning Spurrier trusts them even less than Garcia, and that's a problem going forward.
2. Georgia isn't even close to being out of the East:
A lot of people inside and outside of Athens, Ga., were calling for Mark Richt's job after the 0-2 start, assuming this team was going to roll over. Well, the Bulldogs have won three straight games and are now tied at the top of the SEC East with a 2-1 conference record. Things couldn't have gone any better for Georgia on Saturday, with Florida and South Carolina losing. We talked about South Carolina's issues, but Florida also watched quarterback
John Brantley
go down with a leg injury. If it's a significant one, the Gators will have to turn to true freshman
Jeff Driskel
, who hasn't looked ready for the speed of the college game. Georgia also has the easiest road in the East, with no games against Alabama, LSU or Arkansas. This makes the Bulldogs' game with Tennessee this weekend the biggest one between the two since 2007. If The Bulldogs come away with the win, they might be the new favorite in the East.
3. John Brantley is more important to Florida's offense than we thought:
We criticized Brantley's play through the first four weeks of the season because he wasn't putting up great numbers and wasn't airing it out against opposing defenses. But in the first half against Alabama, he played better than he ever has at Florida. He tossed a perfect ball to
Andre Debose
for a 65-yard touchdown on the first offensive play and had 190 yards before his injury in the second quarter. He actually ended up leading the game in passing. But when Brantley went out, Florida's offense collapsed. Driskel looked lost against that Alabama defense and never got the ball moving like Brantley did. If Brantley is out for significant time, the Gators could be in trouble. Brantley wasn't flashy, but he led the offense the way the coaches wanted him to. He also wasn't a true freshman like Driskel, who might be taking over for an offense hitting a long road stretch.
4. Randall Mackey should be the guy for Ole Miss:
We've seen three quarterbacks take snaps for Ole Miss this season, but it's finally time to stop the quarterback shuffle.
Barry Brunetti
opened the season as the starter, but was quickly benched.
Zack Stoudt
showed he probably has the best overall passing ability, but the offense was stagnant for most of the time he was under center. But Mackey made this offense go against Fresno State. Now, that isn't the best defense, but the Rebels racked up 430 yards of offense with Mackey providing a nice dual-threat option. Ole Miss' offense was actually fun to watch with Mackey running the show. The offense is faster and more in rhythm when Mackey is taking the snaps, and it's time to hand the offense over to him.
5. Auburn has all the fight in the world:
For weeks, the doubt rained down on Auburn's football team from all directions. First, there was too much youth for this team to repeat as the West champ. Then, the defense fell off the planet. Now, we can't get over how resilient this team is. It definitely is far from pretty in all aspects of its game, but this team can grind it out for four quarters, and that is very impressive in the SEC. Auburn walked into Columbia, S.C., and shocked the 10th-ranked Gamecocks with an offense that sputtered along until the very end. Out of nowhere, the Tigers orchestrated a tremendous game-winning drive during the last five minutes of the game. Running back
Michael Dyer
summed up the personality of this team when he bounced back from an ankle injury, not missing a snap, and carried the ball 41 times. This team is young, but it has enormous heart.
October, 2, 2011
10/02/11
10:00
AM ET
1. Protecting the ball makes for smooth sailing:
It seemed like we'd never see the day Notre Dame went 60 minutes without a turnover, but Saturday changed that.
[+] Enlarge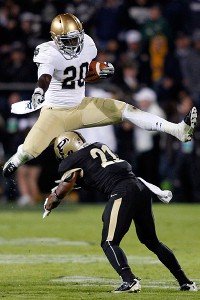 AP Photo/AJ MastNotre Dame's Cierre Wood is 42nd in the nation in rush yards per game at 89.8.
The Fighting Irish eclipsed the 500-yard mark for the third time this season, but won while crossing that plateau for the first time, as they were doomed by five-turnover performances in Weeks 1 and 2. Saturday was huge for the offense, particularly
Tommy Rees
, who eliminated many of the befuddling miscues that had Irish fans calling for a new quarterback after his first three and a half games under center. Now, for the first time all season, we can no longer say Notre Dame leads the nation in turnovers or has the worst turnover margin. (The first honor belongs to East Carolina, with 17. The latter is shared by East Carolina, Iowa State and Western Kentucky, at minus-2.00).
2. The rush defense is for real:
Notre Dame had another dominating performance up front Saturday, limiting the Big Ten's second-ranked rushing offense to 84 yards on 27 carries. This came two weeks after the Irish allowed just 29 rushing yards against Michigan State and one week after holding Pitt's
Ray Graham
to 89 yards, something that looks like more of an accomplishment after Graham exploded for 226 yards Thursday against South Florida.
3. Special teams need to improve. Still:
Brian Kelly said Saturday that he didn't want to sound like sour milk when listing what his team could have done better, but the Irish did leave points on the board. David Ruffer, a 2010 Lou Groza Award finalist, missed two field goals. And the punt return experiment once again looked like just that -- an experiment.
John Goodman
netted minus-3 yards on two returns and, in a real head-scratcher, watched one ball sail over his head and roll for a 61-yard punt in the first quarter.
4. Penalties still need clearing up:
This one gets overshadowed because the Irish didn't turn the ball over, won by 28 points and saw their opponent commit an astounding 13 penalties for 118 yards. But Notre Dame itself committed eight penalties for 85 yards, including an ugly one when long snapper
Jordan Cowart
got tangled up with several Purdue players on a second-quarter punt. Mental lapses such as these are forgivable against the Boilermakers, not so much against USC or Stanford.
October, 2, 2011
10/02/11
10:00
AM ET
Each weekend reveals more. Virginia Tech might not have wanted to open this week's lesson book. Here's a look at what we learned in the ACC in Week 5:
1. Virginia Tech's offense has more problems than the staff seems to want to publicly admit.
Both coach Frank Beamer and quarterbacks coach Mike O'Cain downplayed the Hokies' inept performance on offense following their 23-3 loss to Clemson. They spoke of missed opportunities and turnovers, but in the end seemed to think it's nothing that can't be fixed in time for the Miami game or anything serious enough to keep Virginia Tech from contending for the Coastal Division title. The eyeball test, though, disagrees. The Hokies are in a bind in third-and-long situations, and defenses aren't going to respect the passing game until that changes. There were also signs of problems up front, as
Logan Thomas
was sacked four times and Clemson's defensive line had the upper hand. There were signs of this against East Carolina, but Saturday's game proved only more difficult against better competition.
[+] Enlarge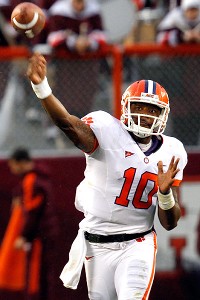 AP Photo/Steve HelberTajh Boyd and Clemson made a statement with their road win on Saturday.
2. Clemson is as good on the road against ranked opponents as it is at home.
The Tigers answered a big question as doubt continued to follow them to Blacksburg. After starting off 4-0 at home, Clemson proved it can also beat ranked competition on the road. Lane Stadium is arguably the toughest venue in the ACC, especially at night, and Clemson left no doubt it was the better team. Quarterback
Tajh Boyd
stayed poised, made good decisions, and managed the offense well.
3. Georgia Tech stands alone in the Coastal Division.
With its win over NC State, Georgia Tech is 2-0 in the ACC and in sole possession of first place in the Coastal Division. The Jackets are off to their first 5-0 start since 1990, and their first 2-0 start in conference play under coach Paul Johnson. Virginia Tech's loss to Clemson has opened the door for Georgia Tech to reassert itself as the best team in the division.
4. Wake Forest has quietly become one of the ACC's better teams.
There are only two teams in the ACC's Atlantic Division with 2-0 records: Clemson and Wake Forest. Granted, the Deacs' toughest competition has yet to come, and Wake Forest's running game has yet to hit its stride, but quarterback
Tanner Price
has put his team in position for a dark horse run at the division title. At the very least, Wake's chances of reaching the postseason look much better.
5. The ACC is top-heavy right now.
Virginia has nothing to brag about in its overtime win against Idaho. Maryland had an uninspiring performance at home against Towson. For about 22 minutes, Miami's game against Bethune-Cookman was much closer than the final score indicated. Yes, the league was able to rebound from last week's poor performances against nonconference opponents, but it was hardly in convincing fashion. Clemson and Georgia Tech have distanced themselves as the top teams in the league.
October, 2, 2011
10/02/11
10:00
AM ET
What did we learn from Week 5 of Pac-12 action?
[+] Enlarge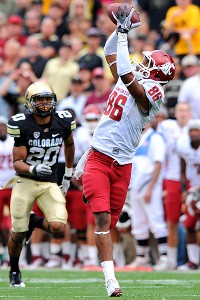 Ron Chenoy/US PresswireMarquess Wilson caught six passes for 121 yards, including this 63-yarder for the game-winning touchdown.
Hope in Pullman:
Washington State's visit to Colorado was a must-win. And guess what? The Cougars not only produced that victory, they did so by overcoming a 10-point fourth-quarter deficit on the road. And with their backup quarterback. There have been strong suggestions that the talent is better in Pullman this season. But this is the first suggestion that this team might be mentally tough. That matters almost as much as talent.
There are reasons for cautious optimism over the Washington defense
: Sure, the Huskies again gave up big passing numbers -- Utah threw for 305 yards. But the Huskies also held a team that wants to run to just 17 yards rushing. While the Utes' five turnovers speak of sloppy football, perhaps the Huskies deserve some credit for inspiring that sloppy play? And, really, the bottom line is Utah only scored 14 points, seven of which came in mop-up time during the game's waning moments.
This Pac-12 isn't going to be that easy for the new guys
: Colorado and Utah are now a combined 0-3 in conference play, and that doesn't include the Buffaloes' loss to California, which was a pre-scheduled nonconference game that doesn't count in the standings. While Colorado was expected to be down, the Utes' 0-2 start is more of a surprise. They face Arizona State on Saturday -- potentially without quarterback
Jordan Wynn
-- which makes 0-3 a strong possibility. And Colorado is at Stanford.
Arizona State can win ugly
: Winning ugly is better than losing pretty. Recall that Arizona State last year had a handful of impressive
losses
. So even though Oregon State is struggling, and it's not good for your QB to turn the ball over four times, what is good is winning. And, by the way, winning by 15 points. And being 4-1 and ranked.
Stanford wears you down
: The Cardinal have scored 56 fourth-quarter points in four games. It might seem sometimes like Stanford is struggling. It seemed, for example, like UCLA was in the game Saturday at various times. But a 45-19 final really isn't that close, is it? What the Cardinal do in the first and third quarter sometimes isn't that sexy. But it leaves its opponent ripe over the final frame to be smushed and eaten up.
October, 2, 2011
10/02/11
10:00
AM ET
Five lessons from the week that was in Big Ten football.
1. Wisconsin has Big Ten's best team and the league's best player:
Not a huge revelation, but we needed to see Wisconsin and
Russell Wilson
against some decent competition. Nebraska came calling Saturday night, and Wilson and his Badgers teammates rudely welcomed the Huskers to their new league. Wisconsin piled up 48 points and 486 yards on Nebraska, leaving coach Bo Pelini to say he was "embarrassed" by his team's defensive effort. The Big Ten isn't a great conference this season, but it has a great team in Wisconsin, which has few potential stumbling blocks left on its regular-season schedule. Wilson, meanwhile, put himself right in the Heisman Trophy discussion with a near spotless performance, dazzling the crowd with both his arm and his legs.
[+] Enlarge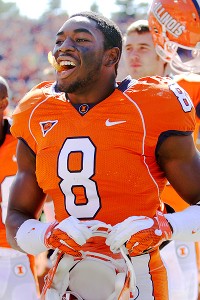 AP Photo/Seth PerlmanA.J. Jenkins had 12 catches for 268 yards and 3 touchdowns in Illinois' close win over Northwestern.
2.
Illinois is hard to kill:
The Fighting Illini remain a flawed team prone to some mind-numbing mistakes, but they're also a team that has learned how to win. For the third consecutive week they made enough plays at critical points to prevail with a victory. After the defense fueled wins against Arizona State and Western Michigan, the offense stepped up in the second half against Northwestern. Wide receiver
A.J. Jenkins
turned in a record-setting performance and quarterback
Nathan Scheelhaase
grew up a bit as Illinois twice rallied from deficits to win 38-35. The Illini must start limiting turnovers and penalties, which will eventually prove costly, but they have shown plenty of fight so far this season. With an extremely favorable schedule, Illinois should continue to rack up wins.
3. Ohio State's offensive problems run deep:
Some Buckeyes fans were hopeful that freshman quarterback
Braxton Miller
would solve the team's inability to move the ball against good defenses. Miller looked like a true freshman against Michigan State, which got in his face and put him in a phone booth to limit his running abilities.
Joe Bauserman
actually outplayed Miller while coming on in relief in the fourth quarter, possibly creating some controversy there. Buckeyes fans now must hope the return of running back
Dan Herron
, receiver
DeVier Posey
and Mike Adams will turn things around. They should help, but the truth is Ohio State is limited at quarterback and will be hard pressed to change that this month against Nebraska, Illinois and Wisconsin. Unless the defense and special teams come through in a big way, this team is going to continue to struggle.
4. The Michigan schools can play a little D:
It's not a major shock to see Michigan State stifling opposing offenses, although the Spartans did lose two standout linebackers (Greg Jones and Eric Gordon) from the 2010 team. Still, coordinator Pat Narduzzi has his group playing at a very high level, as Michigan State fell 10 seconds short of becoming the first team since 1982 to shut out Ohio State in Columbus. The bigger surprise is Michigan, which couldn't get much worse on defense but clearly has made strides under coach Brady Hoke and coordinator Greg Mattison. Michigan on Saturday recorded its first shutout since 2007, its first shutout against a Big Ten opponent since 2001. Aside from the wild Notre Dame game, Michigan has allowed just 20 points this season.
5. Penn State's offense remains messy:
This was the perfect day for Penn State's offense to break out, build confidence and maybe, just maybe, get clarity at the quarterback spot. The Lions faced an Indiana team coming off of a horrendous defensive performance at North Texas and ranked 95th nationally against the run. But rather than take a step forward, Penn State backslid for much of the game. The Lions failed to score a touchdown on five red zone opportunities, twice committing turnovers in the red zone. Quarterback
Matthew McGloin
outplayed
Rob Bolden
, but not by much, and the offensive line was inconsistent. Penn State needs to figure things out before facing Iowa next week in a game that could chart the course for the rest of the season.
October, 2, 2011
10/02/11
10:00
AM ET
What we learned in the Big East after Week 5.
1. See ya, undefeateds.
The week opened with unbeaten and No. 16 USF heading to Pitt to try to break a losing streak to the Panthers and a Thursday night jinx. The Bulls were the final undefeated Big East team, so any potential national championship hopes hung with them. Instead, they turned in their worst game of the year and lost 44-17. It was a great win for Pitt, but the Big East now is without an undefeated team in October for the second straight season. For a league in desperate need of some positive national news, well, the Bulls' performance on national television was not what was needed.
[+] Enlarge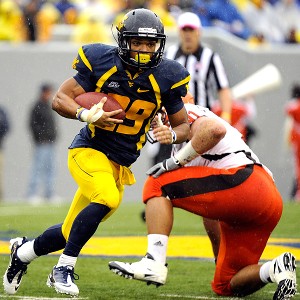 AP Photo/Tyler EvertWest Virginia running back Dustin Garrison rushed for 291 yards against Bowling Green.
2. Worst week of the season.
The Bulls' loss was one thing. Then Saturday came. Defending BCS representative UConn lost at home to Western Michigan 38-31. That was the Broncos' first win over an AQ team since beating Illinois in 2008. Louisville lost to Marshall 17-13, its second home loss this season to a team outside an automatic qualifying conference. Rutgers and Syracuse went to double overtime in a game nobody seemed to want to win. The teams combined for nine turnovers, five missed field goals, a missed extra point and 13 penalties. One more result to note -- incoming member TCU also lost to SMU 40-33 in overtime. Simply put, it was a brutal weekend for Big East football.
3. West Virginia is the team to beat.
What seems apparent after five weeks is that West Virginia should be the team to beat in the Big East. The Mountaineers have the most talent on offense and continues to get better. The defense still has some questions to answer but given the way every other league team looked this weekend, the Mountaineers should be listed as the favorite to win the league.
4. Running wild.
The Big East is going to have a tough time deciding on an offensive player of the week: Pitt running back
Ray Graham
, with 226 yards rushing, or West Virginia running back
Dustin Garrison
, with 291? West Virginia had struggled to run the ball in the first four games of the season, ranking as one of the worst teams in the nation with a combined 306 yards rushing. But Garrison clearly separated himself in a 55-10 win over Bowling Green, setting a freshman single-game record 291 yards. Going into the game, Garrison had 65 total yards. But the offensive line played well for the second straight game and now it appears West Virginia has a ground game. Graham, meanwhile, notched his second 200-yard game of the season and showed why he is one of the best players in the league.
5. Cincinnati should go bowling.
The Bearcats are sitting at 4-1 after a 27-0 win over Miami (Ohio) -- matching last season's win total with more the half the season to go. They now enter their bye week after yet another dominating defensive performance. The turnaround on defense has been quite remarkable, and for the second straight game they held their opponent to negative rushing yards. Cincinnati needs just two more wins in its final seven games to become bowl eligible.
October, 2, 2011
10/02/11
10:00
AM ET
PALO ALTO, Calif. -- What we learned about Stanford following last night's 45-19 victory.
[+] Enlarge

AP Photo/Paul SakumaRunning back Stepfan Taylor and the Stanford offense was dominant against UCLA.

Bye weeks are good: Too bad the Cardinal don't have any more down the road. Offensively, they came out firing on all cylinders and simply overwhelmed the Bruins' defense. Whether it was Stepfan Taylor on the ground or Andrew Luck's precision passing, the Cardinal -- when they put it all together -- have one of the most potent offenses in the nation.

The run defense is vulnerable -- sort of: The run defense takes a slight hit in its stock this week for allowing UCLA to rush for 141 yards. But put it in perspective. Any team that plays Air Force or Navy will have skewed rush defense numbers because that's the primary way those teams get yards. The pistol offense is designed to get yards on the ground. For the same reason we gave the secondary a hard time for giving up yards -- because it was the only way teams could move the ball -- the rush defense catches the same flak. With that said, they still held UCLA to 73 yards less than their season average. And how good were they on the goal-line stand?

The linebackers will be fine: Really impressed with Jarek Lancaster's performance last night. He and A.J. Tarpley did a more-than-adequate job filling in for Shayne Skov at the middle linebacker position. There are still a few things they'll have to work on -- specifically in pass coverage -- where Lancaster was out of position a couple of times (not the pass interference call, he did nothing wrong there from my view). But his solo stop on the goal-line stand was sensational. They aren't Skov. But they don't have to be. Lancaster and Tarpley showed Saturday night that they're more than up to the task.

Luck is even smarter than we all thought: He was running the offense for much of the game last night -- not just as a quarterback -- but also as a coordinator. During Stanford's no-huddle sequences, Luck had the entire playbook at his disposal and he called the game. I asked coach David Shaw if it was a case where Luck had three or four plays to choose from when he got to the line, and Shaw said no, it was the entire playbook that was open to him. That level of football sophistication is so rare, and it makes last night's 23-of-27 performance all the more impressive.

You do care! Nice showing from the fans. A sellout crowd of 50,360 turned out and wasn't afraid to make its presence felt. It was a big-game atmosphere from fans who booed the refs, cheered the home team and overshadowed the sliver of powder blue that showed up. Take a bow Stanford fans. I will be curious to see if you're this excited about Colorado coming to town next week.
October, 2, 2011
10/02/11
10:00
AM ET
Here's what I saw on an eventful week of football across the Big 12.
[+] Enlarge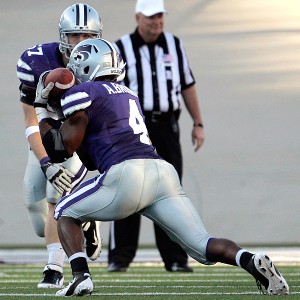 AP Photo/Charlie RiedelArthur Brown's fourth-quarter interception was huge for Kansas State.
It's time to start taking Kansas State seriously.
This is not an elite defense, but it's a very, very good one led by a guy who will finish the season as one of the Big 12's best playmakers: Arthur Brown. I've been aboard the Arthur Brown bandwagon for awhile now,
eschewing the Big 12 media's pick
of
Bryce Brown
as the Big 12 Newcomer of the Year and voting for Arthur. Check
my fearless predictions, too
. He's getting it done, and made the biggest play of Kansas State's season on Saturday, intercepting
Robert Griffin III
for the first time this season. Brown's speed totally changes this defense, which showed an ability to stop the run on Saturday after giving up 3,008 rushing yards last year. Safety Tysyn Hartman said it best last week in regard to Brown: "He really moves at a different speed than everybody else. ... Once he gets you wrapped up, I mean, you're going down."
Texas A&M may have a very big problem.
I was willing to dismiss last week as one off quarter in an otherwise stellar early start to the season. But after another second-half meltdown and another shocking loss, how do you not question the mental toughness of an experienced Texas A&M team with solid senior leadership? "I never felt it was out of our hands. I was consistently getting my guys together and telling them, 'Hey, we're not letting this one go,'" said quarterback
Ryan Tannehill
. It did, though, and the Texas A&M offense and defense both had plenty of chances to prevent it. That's got to be troubling. Ultimately, we'll learn what this team is made of as conference play progresses, but the past two weeks have been perplexing. Texas A&M still is
that
good, but it's disappeared when huge games have been on the line.
Oklahoma and Texas are gearing up for what should be a classic.
Oklahoma has looked like the team we thought it was, even as Alabama and LSU have been more impressive early this season. Texas has been about as good as we could expect after last year's struggles and an offense stocked with freshmen. But next week, it's the Sooners with everything to lose and Texas with everything to prove. I can't wait. I can smell the corny dogs already. Granted, that might be because I live upwind of the fairgrounds, which opened on Friday.
This loss will cost Baylor late in the season.
Baylor just has to win games like this if it wants to be taken seriously as a top-15 team or a Big 12 contender. The Bears still look like an eight- or nine-win team to me, but with a nine-point lead midway through the fourth quarter, you have to win. Great teams don't lose those leads or lose those games. Baylor was a sneaky upset of one of the Big 12's best teams away from an unbelievable 10-win season. Now?
Iowa State's bubble has burst.
I was a little more sold on Kansas State than I was on Iowa State, but you can't escape the fact that the Cyclones could just as easily be 0-3. To me, Texas feels like it will finish as a fringe top-20 team, but Iowa State looked like it was playing completely out of its league. The upside for K-State was greater than Iowa State, but the Cyclones didn't leave much to be encouraged about. They have to get better. Elsewhere on Saturday night: UConn lost to Western Michigan at home 38-31.