NCF Nation:

what-we-learned-100310
October, 3, 2010
10/03/10
10:32
AM ET
What all did we learn in Week 5 in the SEC?
Sit back, relax and find out:
1. Alabama's lead widens:
We were pretty sure that Alabama was the class of the SEC going into Saturday night's contest with Florida. Now, there's no doubt after seeing the Crimson Tide manhandle the Gators 31-6 in a game that was never really close. After going up 24-0, Alabama toyed with Florida the rest of the way. The Crimson Tide were a more physical team, a more mentally prepared team, a more disciplined team and just a better team all the way around. These two teams had separated themselves from the rest of the SEC the past two years. On Saturday, it was Alabama doing the separating. The Crimson Tide have now won 19 straight games overall, including 18 in a row in SEC regular-season play. They haven't given up a second-half touchdown all season and are only going to get better defensively once they have a chance to mature on that side of the ball.
2. Gators beaten up front:
If Florida is going to navigate its way back to the SEC championship game and have it go differently against Alabama in a potential rematch, the Gators have to play better on both lines of scrimmage. In particular, the offensive line needs to play like a veteran unit and a unit that was supposed to be the backbone of this offense. Getting the tough yards remains a problem for the Gators, who're hopeful the
Trey Burton
package can continue to grow down around the goal line. They sure need it to given their limitations in the running game. But with junior quarterback
John Brantley
still trying to find his way, it's the Florida offensive line that needs to put it on its shoulders the rest of the way and man up.
[+] Enlarge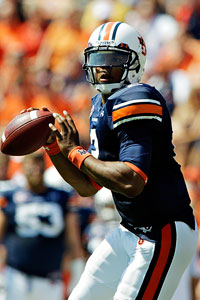 John Reed/US PresswireQuarterback Cameron Newton has Auburn undefeated through its first five games.
3. Fear the Eagle:
Granted, it was just Louisiana-Monroe, and Auburn is right where it was a year ago record-wise. The Tigers are 5-0 after rolling 52-3 Saturday at home. Still, you get a different feel about this club than the one a year ago that ended up losing five of its last six SEC games. That different feel starts with quarterback
Cameron Newton
, who continues to improve and is emerging as the most dynamic playmaker in the SEC. He threw three more touchdown passes Saturday and now has a league-leading 12 on the season. He didn't have to run the ball this past weekend, but tackling him has been a problem for everybody. Newton gives the Tigers a dimension they simply didn't have last season, and they look like they're in it for the long haul this time around in a Western Division race that could easily come down to that showdown on Nov. 26 with Alabama.
4. LSU an unbeaten enigma:
There's little debate that the reason LSU is unbeaten is because of a rock-solid defense and superior play on special teams, and that's OK. It's not the first team to win thanks to those two phases of the game and won't be the last. But this offense is a train wreck right now, in particular the whole quarterback situation, and how many more of these late-game meltdowns with regard to clock management can the Tigers survive? Had Tennessee not been caught with 13 men on the field on that final play, they would be roasting Les Miles on the Bayou right now -- and many still are. There's no excuse for having those kind of lapses on the sideline and in the booth over and over again. This is a talented team that has found ways to win. Resiliency is a big part of football, but how dysfunctional can you be on the offensive side of the ball and continue to win games?
5. Georgia is in the tank:
It's official now. Georgia's season is over. All that remains is to see how bad and how far-reaching the fallout will be when the games are complete. The Bulldogs (1-4) lost 29-27 to a Colorado team on Saturday night that was trashed 52-7 by California earlier this season. It was the fourth straight loss by Georgia, which again managed to fumble the ball away at the worst possible time. This latest blunder was
Caleb King
coughing it up in the final two minutes with Georgia at the Colorado 27 and driving for the game-winning touchdown or field goal. The good teams find ways to win. This team is finding ways to lose right now, and not even
A.J. Green
's return could save the Bulldogs. They're staring down the barrel of their first non-winning season or even their first losing season in the Mark Richt era, and if that happens, Richt will have a hard time surviving.
October, 3, 2010
10/03/10
10:10
AM ET
What did we learn this week?
Oregon is a national title contender
: When Oregon was down 21-3 to Stanford, the Ducks looked sloppy and average. That's been the case three times this year -- see double-digit deficits also at Tennessee and Arizona State. But no team in the nation is more explosive. The Ducks rolled the rest of the way, winning 52-31 against the ninth-ranked Cardinal, which didn't score in the second half. The Ducks now seriously enter the national championship discussion. Sunday will be interesting in the polls: Will the Ducks move up to No. 3?
[+] Enlarge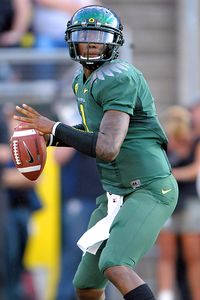 Kirby Lee/Image of Sport/US PresswireDarron Thomas completed 20 of 29 passes for 238 yards and three touchdowns and also rushed for 117 yards and a score against Stanford.
The Beavers aren't dead yet (we should have known, eh?)
: After losing to top-five teams on the road, the Beavers bounced back with a strong performance at home in a 31-28 win over Arizona State. The ills on both sides of the ball were solved. A defense that can't pressure the QB? It got six sacks. An inefficient QB?
Ryan Katz
completed 19-of-29 for 260 yards and two TDs. A muted
Jacquizz Rodgers
? He rushed for 145 yards and two TDs. The third down numbers still weren't great, but that's nitpicking. Oregon State's visit to Arizona next Saturday will be revealing as to whether the Beavers are ready to compete in the top-third of the Pac-10, as was expected during the preseason.
Oh, that's what they were talking about with Jake Locker
: The bye week apparently did Locker good. Two weeks after turning in his career-worst performance against Nebraska, he turned in one of his best at USC, throwing for 310 yards and rushing for 110 in Washington's comeback
32-31 win
. He also led a clutch final drive, which included a conversion on fourth-and-11, that set up the game-winning field goal. Such a performance after taking a highly public flogging for how he played in the Nebraska game shows a lot of mental toughness. And give some credit to coach Steve Sarkisian for coaxing it out of Locker.
LaMichael James is a Heisman Trophy candidate
: In the preseason, we ranked James as the second best running back in the Pac-10. He has now asserted himself not only as the conference's best running back but also -- perhaps -- as the nation's best after rushing for 257 yards and three touchdowns on 31 carries in Oregon's
52-31 win
over No. 9 Stanford. If the Ducks keep winning, and James keeps piling up TDs and yards, he almost certainly will at least earn an invitation to the ceremony in New York.
USC might finish in the middle of the Pac:
The Trojans 4-0 start was mostly talked about for its mediocre performances, but there was still a prevailing thought that USC had elite talent and would be a factor toward the top of the Pac-10. Washington's upset in the Coliseum -- the Huskies first win there since 1996 -- indicates that the Trojans probably aren't in the class of Oregon, Stanford and Arizona. And what has happened to the defense? It gave up 536 yards to a visiting Huskies offense that was throttled by Nebraska at home.
October, 3, 2010
10/03/10
10:09
AM ET
[+] Enlarge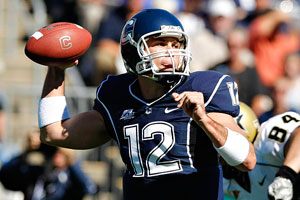 David Butler II/US PresswireCody Endres has remained steady since taking over as the starting quarterback.
1. UConn is starting to figure things out:
The Huskies were a preseason darling who fell flat in their first two games against FBS opponents. But since inserting
Cody Endres
as the starting quarterback last week, UConn has scored 71 points in its past six quarters. The defense is starting to come around to, shutting out Vanderbilt in the second half on Saturday after allowing too many big plays in the first 30 minutes. Granted, the competition was merely Buffalo and Vanderbilt. But Connecticut looks like it's in a whole lot better shape than next week's opponent. Speaking of which ...
2. Rutgers is in turmoil:
Another injury to quarterback
Tom Savage
-- this time, adding a hurt throwing hand to his bruised ribs -- forced Rutgers to go with a true freshman under center against Tulane.
Chas Dodd
actually played pretty well, by the low standards of the Scarlet Knights offense. This team is the anti-Oregon; it's managed a total of 46 points against Florida International, North Carolina and Tulane. Some fans will no doubt call for Dodd to start over the struggling Savage this week, though that's unlikely. Losing to Tulane at home is inexcusable, and Greg Schiano has to turn this team around before Friday's conference opener.
3. Ray Graham is a budding superstar:
Dion Lewis
didn't play for Pittsburgh on Saturday, but the Panthers hardly needed him. Graham ran 29 times for 277 yards and three scores against Florida International, falling just 36 yards short of Tony Dorsett's single-game school record. For the season, Graham has gained 492 yards and is averaging a stunning 9.5 yards per carry, while Lewis had just 143 yards and 3.0 yards per carry. Dave Wannstedt says Lewis is still his starter, but Graham has earned the right to at least get equal carries going forward.
4. Coaching changes make a difference:
We still don't know what we know about South Florida, which has beaten three patsies and lost to Florida this season. Louisville has the record (2-2) you'd expect at this point, with wins against Eastern Kentucky and Arkansas State and losses to Oregon State and Kentucky. But watching both teams, it's clear that each has benefited from the offseason coaching change. The Bulls look like a more complete team under Skip Holtz, adding a solid running game to the offense instead of simply relying on the quarterback to get things done. And although Louisville let up in the second half against Arkansas State, the Cardinals zoomed out to a dominating 31-7 halftime lead on the road, the kind of performance rarely seen in Steve Kragthorpe's tenure. This team believes in Charlie Strong, and it won't be an easy out in conference play.
October, 3, 2010
10/03/10
10:08
AM ET
Five lessons from the first Saturday of conference play.
1. Michigan State looks legit:
It's rare when a team wins a game despite losing the turnover battle 3-0. It's practically unheard of for a team to win by double digits despite a minus-3 turnover margin. Michigan State not only survived its early miscues but took control before halftime and never really looked back against No. 11 Wisconsin. Mark Dantonio's continued absence didn't faze the Spartans, who finally are showing the maturity to overcome adversity both on and off the field. Don Treadwell is handling play calls and big decisions extremely well, and Pat Narduzzi's defense held Wisconsin star
John Clay
in check. The Spartans don't play Ohio State this year, but they might challenge the Buckeyes for the league title.
[+] Enlarge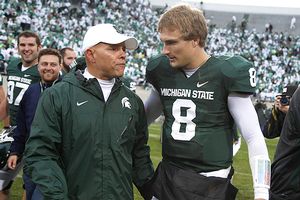 AP Photo/Al GoldisDon Treadwell and Kirk Cousins led the Spartans past No. 11 Wisconsin.
2. Ohio State can be beat in league play:
After four impressive victories, Ohio State raised some red flags with its performance at Illinois. Quarterback
Terrelle Pryor
once again was the team's only viable rushing threat until
Dan Herron
emerged late in the game. A quad injury limited Pryor's effectiveness in the second half, and Ohio State went back to a very conservative scheme. The defense stepped up nicely after a shaky start, but injuries continue to plague the unit, with safety Tyler Moeller (chest) the latest to go down. Ohio State still boasts the most talent and the fewest holes of any Big Ten team, but it probably won't be a cakewalk for Jim Tressel's crew.
3. Michigan, Northwestern need to tweak formula:
Both the Wolverines and Wildcats are 5-0 right now, but neither squad has a long-term sustainable formula for success. Michigan quarterback
Denard Robinson
has been the nation's most dynamic player, but the Wolverines can't expect No. 16 to bail them out throughout Big Ten play without getting at least some improvement from Greg Robinson's defense. Northwestern has looked extremely sloppy the past two weeks, committing too many penalties and too many turnovers, but the Wildcats have upgraded their talent enough to survive with wins. The competition soon gets much tougher for both Michigan and Northwestern, and both teams need to clean up some things.
4. Penn State is mediocre, and Wisconsin might be, too:
Sure, both teams lost road games to good opponents Saturday, but neither squad has looked impressive this season. Penn State's offense lacks experience at quarterback, but the offensive line just can't compete with top-shelf defenses like Iowa's. Quarterback
Rob Bolden
will get better, but Penn State needs to reevaluate things and find ways to get the offense going. Wisconsin simply isn't performing to its talent level on offense. The line hasn't been nearly as dominant as I thought, and the defense really misses Chris Borland. The questions about whether Bret Bielema can beat the good teams and take Wisconsin from a good to a great program are very valid right now. An experienced team should do better than this, plain and simple.
5. Iowa might have the Big Ten's most dominant defense:
Iowa lost the Arizona game because of special teams and poor offensive line play, not defense. And other than allowing Arizona's late touchdown drive, Iowa's defense has looked flat-out dominant this season. The latest example came Saturday night against Penn State, which couldn't reach the end zone and recorded only 54 rushing yards. Defensive end Adrian Clayborn is still a beast, and cornerback Shaun Prater came up with a big play in the fourth quarter. The Big Ten might actually be an offense-first league this season, but Iowa continues to win with the same formula.
October, 3, 2010
10/03/10
10:08
AM ET
1. Texas should not be in the Top 25.
Maybe Texas hangs on to a spot in the polls based on an eight-point loss to a top-10 team. But any voter who leaves the Longhorns on their ballot must not have watched Saturday's game or last week's debacle against UCLA. And it won't get better for awhile; the Longhorns look like they're on their way to a three-game losing streak with a game at Nebraska in two weeks. Texas has been the portrait of consistency under Mack Brown, but his streak of nine consecutive 10-win seasons is in major jeopardy with a punchless, directionless offense and a defense long on talent and short on production. It'll be a long bye week for Texas, and the Longhorns are a team playing very mediocre football right now. They'll likely see their streak of 162 consecutive weeks in the polls -- a streak that dates back to the 2000 season -- come to an end later this afternoon. (
Ed. note
: Since the loss came on a neutral field and not at home, I'll be sliding the Longhorns up from No. 20 to No. 17 on
my ballot
.)
[+] Enlarge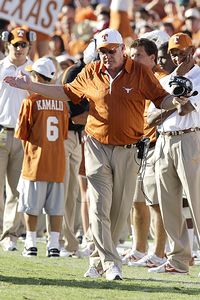 Tim Heitman/US PresswireMack Brown and Texas could fall out of the polls this week with a game against Nebraska on the horizon.
2. Baylor may be a lot better than anyone thought.
Plenty of folks dismissed the Bears as the "same old Baylor" after they were spanked at No. 4 TCU two weeks ago.
Robert Griffin
defiantly disagreed
. Considering the history that was made on Saturday, Griffin is looking pretty reasonable today. The Bears, owners of a league-record 19 40-point losses in Big 12 play, did a little spanking of their own on Saturday, beating Kansas by 48 points -- the most lopsided Big 12 win in Baylor history. Griffin wasn't done with the ear-perking quotes. "The TCU game was a fluke," he
told the Dallas Morning News
after throwing for a career-high 380 yards. Fluke or otherwise, no team in the Big 12 played a more complete game than Baylor on Saturday, even though it came against the worst team in the Big 12. As for the TCU loss being a fluke, we'll know more when Baylor reaches the meat of its schedule. But right now, the only teams in the Big 12 that look definitively better than the Bears are Oklahoma, Nebraska and Oklahoma State. And it's worth noting that the Bears are tied on top of the Big 12 South with Oklahoma and Oklahoma State at 1-0 -- above Texas, Texas A&M and now 0-2 Texas Tech. The Bears were the only Big 12 team in Texas to win this week. Somebody dig around in an almanac and let me know the last time
that
happened.
3. Nebraska has even more reason to be mad at Texas.
I thought this was supposed to be a big game? Now, the supposed (by me, that is)
biggest game of the year
in the Big 12 looks like a complete mismatch. And worse for the Huskers, its "favorable" schedule in the preseason has shifted closer to "laughable," through no fault of their own. Washington, despite its upset of USC on Saturday, is not helping the Huskers case. Thanks to Texas' freefall, the Huskers have a chance to run through their entire regular-season schedule without playing a ranked team. Nebraska fans, you better hope Oklahoma keeps it together through the Big 12 title game. And get behind future opponents Oklahoma State and Missouri, who need to keep winning to hang on to spots in the poll. Otherwise, it's very possible that an undefeated season could leave the Huskers behind Alabama, Ohio State and/or Oregon, who all look capable of running the table.
4. Teams better not overlook Colorado.
The Buffaloes don't have a win that makes you say, "Wow!," but they have three wins, and that's more than most thought they'd have heading into their conference opener against Missouri. When Colorado establishes the running game (235 yards against Georgia, 252 against Hawaii) and keeps it clean (one turnover against Georgia and Colorado State, five against Cal in a 52-7 loss), they're capable of beating plenty of Big 12 squads. However, a bit of advice: If you'd like to be taken seriously once you find new digs in the Pac-12, Colorado, don't storm the field after beating a 1-3 team. Even if they are from the...S! E! C!
5. It's going to be a long, long season in Kansas.
With losses to Southern Miss and now Baylor, the Jayhawks have lost all the redemption that came with the upset over then-No. 19 Georgia Tech. Maybe Kansas can pull another upset over somebody at home, but on the road, they've looked hopeless. Southern Miss was clearly the better team two weeks ago, and the Jayhawks didn't look like they belonged in the same league as Baylor on Saturday. And for Jayhawks optimists hanging on to two wins against Georgia Tech and New Mexico State, two quick notes: Georgia Tech is carrying a 17-point home loss to soon-to-be-unranked N.C. State and Boise State led 0-4 New Mexico State 24-0 after the first quarter on the way to a 59-0 laugher.
October, 3, 2010
10/03/10
10:08
AM ET
Here's a look at the lessons learned in Week 5:
The Coastal Division is down but not out.
Thanks to wins by Georgia Tech, Virginia Tech and Miami, the Coastal Division finished the weekend with a 3-2 record over the Atlantic Division. Both the Yellow Jackets and Hokies had to come from behind, but they're still not out of the ACC race despite their respective struggles. North Carolina played a nonconference game against ECU, but the Tar Heels have put together back-to-back wins and remain in the ACC race with one conference loss.
[+] Enlarge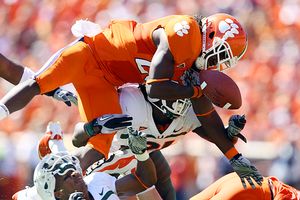 Marvin Gentry/US PresswireThe Miami defense is dominating opponents and lifting the Hurricanes into ACC title contention.
Miami and Florida State are rising to the top -- of the ACC.
Clemson and NC State both lost. Virginia Tech isn't as potent as the Canes on offense or defense. Miami is playing lights-out on defense, and the offense showed what it can do in the first half against Clemson when everyone is on the same page. The Canes could be even better if they would just eliminate the same mistakes that continue to plague them week after week. The Seminoles played a complete game against Virginia and have improved where they needed to most -- on defense. They're the best teams so far in their respective divisions and their only losses have come on the road to top-10 teams.
Wake Forest and Duke are on the outside looking in.
They're the only two teams in the conference with two league losses already. Both teams jumped out to somewhat surprising leads on Saturday, but weren't able to hold onto them. The Deacs have lost three straight; the Blue Devils four. Wake Forest is still in the hunt for bowl eligibility, but the odds are stacked against Duke.
Maryland is looking like a bowl team.
With a 4-1 record heading into the bye week, the Terps are just two wins shy of bowl eligibility. That's a significant improvement from last year's 2-10 season. Maryland hasn't overwhelmed anybody yet, but the Terps are finding a way to win. They weren't at full strength against Duke, but have a week to heal before traveling to face Clemson, the one ACC team they were able to beat last year.
Virginia is not ahead of schedule.
It's right where many thought it would be this past summer. The Cavaliers' early success against FCS teams didn't translate at home against Florida State. And USC? It lost to Washington. That's not a knock on the Hoos, it's just a reality check for a program that has undergone a major transition not only in the coaching staff but in scheme and philosophies.
October, 3, 2010
10/03/10
10:00
AM ET
There were not too many dramatic matchups among the non-AQs during Week 5, but there are a few things we learned:
1. Navy is beatable.
Folks suspected that might be the case going into its game against Air Force, but Navy had won a record 15 straight games against the service academies, including seven straight over the Falcons. But Air Force won 14-6, setting the stage to wrest control of the Commander-In-Chief Trophy from Navy for the first time since 2002. Air Force ran for 292 yards, but more impressively, held Navy quarterback
Ricky Dobbs
without a touchdown for the first time in his 17 career starts. In fact, it was Navy's lowest point total since getting shutout 34-0 to Rutgers in October 2006. Going into the season, many thought Navy had a great chance to go undefeated. Now the Midshipmen are 2-2, while Air Force is 4-1.
[+] Enlarge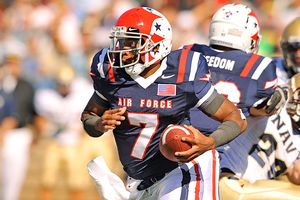 Ron Chenoy/US PresswireAir Force quarterback Tim Jefferson scored both of the school's touchdowns (50 yards, 1 yard) in a win over Navy.
2. TCU may not be impressive, but it is winning.
For the second straight week, the Horned Frogs were less than impressive. This time, it was a 27-0 win over one-win Colorado State. The defense did record the first road shutout in the Gary Patterson era, but the offense was not terrific and had only six points at the half. TCU suffered through dropped passes and much inconsistency.
Andy Dalton
was just 11-of-24 for 109 yards with a touchdown. But the running game came through with 346 total yards. A win is a win and TCU will take it.
3. No letdowns for Boise State, Nevada.
The WAC frontrunners had little trouble on Saturday after big weekends. No. 3 Boise State beat lowly New Mexico State 59-0.
Kellen Moore
played a little more than a half and improved to 30-1 as a starter as the Broncos rolled up 608 yards of total offense. No. 25 Nevada, ranked in the both polls for the first time ever, handled UNLV 44-26. The Wolf Pack beat their instate rival for a record sixth straight time. The Broncos and Wolf Pack will collide Nov. 26 in Reno.
4. Temple, Northern Illinois appear to be the class of the MAC headed into their big game this week.
The Owls (4-1) had a come-from-behind win over Army 42-35 thanks to
Matt Brown
, who became the first player in school history with over 200 yards rushing and four touchdowns in one game. Temple was down 15 before scoring 29 straight points to win. Coach Al Golden said, "That's the biggest win since I've been here, make no mistake." Meanwhile, Northern Illinois (3-2) beat Akron 50-14 behind
Chandler Harnish
. Toledo and Western Michigan had disappointing losses. Meanwhile, watch Miami (Ohio). The RedHawks are 3-2 and off to their best start since 2003.
5. Louisiana-Lafayette can sure play special teams.
The Ragin' Cajuns got a blocked extra point with 31 seconds left to beat North Texas 28-27. The block was the 42nd under coach Rickey Bustle and the 12th extra point block over that span. The Cajuns rank fourth in the nation in blocked kicks since the start of the 2002 season. They did lose starting running back
Kevis Streeter
(knee) and starting tackle Jonathan Decoster (ankle). Tight end
Ladarius Green
(ankle) also sat out. Louisiana is 2-1 in the Sun Belt.
6. Conference USA is better than the Big East.
Well, at least it was on Saturday after Tulane upset Rutgers 17-14. It was the Green Wave's first win over a team from an automatic qualifying conference since 2006, when they beat Mississippi State 32-29.
October, 3, 2010
10/03/10
10:00
AM ET
What we learned from Notre Dame in the Irish's 31-13 win at Boston College on Saturday:
1. Crisis averted:
After three straight losses, Notre Dame's season would have gone up in flames with a setback to the Eagles. A 1-4 start would have made it difficult to get to a bowl game; at least any bowl game worth attending. The Irish were under a lot of pressure to get this victory and came out with a solid, if not spectacular, performance that left the game never in doubt after the first quarter. As the schedule now starts to soften, there's reason to believe this team can still have a respectable season.
2. The defense can stuff a mediocre offense:
Notre Dame's defense isn't world class by any means. But it's also not some junior-varsity unit that anybody can run through. The offensively challenged Eagles have their own problems, beginning at quarterback, and the Irish defense was able to exploit that. Boston College netted just 5 rushing yards and 270 total yards, and most of their points resulted from Notre Dame offensive mistakes. The Irish defense gave up a lot of points and yards against Michigan, Michigan State and Stanford, but we have since seen that those are very difficult offenses for anyone to contain.
3. The offense is still leaving too many points on the board:
The Irish zoomed out to a 21-0 lead in the first quarter but only scored 10 more points the rest of the way. Some of the lackluster second half can be attributed to having a big lead, and some must be credited to a good BC defense. Still, Brian Kelly did not look happy with his offense several times.
Dayne Crist
and the rest of the offense are continuing to pick up the finer points of this spread, including the quarterback run games. As long as they keep doing it in victories like this, that's OK.