NCF Nation:

what we learned 100712
October, 7, 2012
10/07/12
10:02
AM ET
Two teams in the SEC East made major statements Saturday:
1. Florida and South Carolina have great defenses:
There's no question that it appears the road to Atlanta for the SEC East will go through Gainesville, Fla., and Columbia, S.C. Florida might have won by eight against LSU, but the Gators' defense totally dominated LSU's offense. Florida was at its best when LSU had the ball, allowing just 200 yards of offense and two field goals. LSU had five three-and-outs in the first half and crossed into Florida territory just once in the second half. LSU converted just 1 of 13 third downs and had nine first downs. As for South Carolina, the Gamecocks overpowered Georgia in every phase of the game in their 35-7 win, but the defense manhandled Georgia. South Carolina held Georgia to 224 yards of offense and kept quarterback
Aaron Murray
in check with loads of pressure.
Todd Gurley
and
Keith Marshall
were swallowed up by the Gamecocks' defense, combining for just 76 yards on 25 carries. South Carolina's front seven was outstanding all night and made things very easy for the secondary.
[+] Enlarge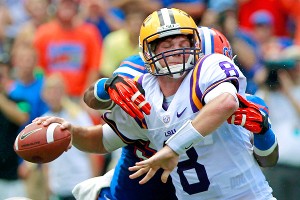 AP Photo/John RaouxZach Mettenberger had his worst game of the season against Florida, completing just 44 percent of his passes and throwing a pick.
2. LSU and Auburn need major offensive adjustments:
Both sets of Tigers were atrocious on offense this weekend. Florida's defense absolutely smothered LSU, allowing just 200 total yards and two field goals, while Auburn generated just 321 yards and seven points against the SEC's worst defense in Arkansas. Auburn averaged just 1.3 yards per rush, and LSU ran for just 42 yards against the Gators. A lot of what these Tigers are doing isn't working offensively, and it starts with quarterbacks. Timing is off, and execution is mediocre at best. Credit has to be given to both defenses they faced, but the way these teams are playing when they have the ball is just bad all around. LSU quarterback
Zach Mettenberger
looks nothing like the quarterback who took the field to start the season, while
Kiehl Frazier
was eventually benched for
Clint Moseley
on Saturday.
3. Murray still has big-game problems:
Coming into the season, Georgia's veteran quarterback had the stigma that he couldn't win the big game. That stigma will remain after the way he played in the Bulldogs' blowout loss to South Carolina. The SEC's most efficient quarterback left Williams-Brice Stadium after connecting on 11 of his 31 passes for 109 yards and an interception. He continues to be the only Georgia quarterback under Mark Richt who has yet to beat a top-10 team in his career. For as good as Murray has been, he struggles on the big stage, as his only wins over Top 25 teams came last year against No. 20 Auburn and No. 23 Georgia Tech. Murray never looked comfortable with all that South Carolina pressure bearing down on him, but he also pressed on a lot of throws, constantly missing receivers. The mental side of things continues to work against Murray on the big stage.
4. Alabama's real challenger is in the East:
With what Florida and South Carolina did Saturday, it's become pretty obvious that those two teams are Alabama's biggest challengers. Neither has a very flashy offense, but in this league, the really good teams win with their defenses. Both have smothering defenses and when their offenses do get the ball, they're pretty efficient and balanced for the most part. Alabama's offense could have issues with both defenses. The Crimson Tide have to make it to the SEC championship if they want a chance to play one of these two teams, but with the way Alabama has been rolling and with LSU having major offensive problems, getting there might be inevitable. Keep an eye on Mississippi State as well. The Bulldogs are undefeated, and a win over Tennessee could make their matchup with Alabama a must-see game.
5. Texas A&M and Missouri couldn't be any further apart:
We all assumed that Texas A&M would be the team struggling in its new home. With a lot of roster movement and a new coaching staff, the Aggies were supposed to be playing catch-up in their first season in the SEC. Missouri, which had a lot of vets coming back and was supposedly loaded with explosive offensive talent, was going to really compete in the SEC East. Well, after six weeks, Texas A&M has become the darling of the league with a 2-1 SEC record, and Mizzou is now 0-3 in league play. Texas A&M is winning with a flashy offense and superb quarterback play, while the Tigers are losing because they are getting outmuscled and outplayed and can't get consistent quarterback play. Mizzou now has to take on No. 1 Alabama, while the Aggies travel to Louisiana Tech before taking on LSU at home. A&M could really make things interesting with LSU.
October, 7, 2012
10/07/12
10:00
AM ET
Here's what I learned after another fun day across the Big 12:
Oklahoma is back in business.
The Sooners were sort of left for dead after getting dropped by Kansas State at home two weeks ago and having only a modest road win over UTEP as the brightest spot on their résumé. Nobody made a stronger statement than the Sooners on Saturday. Oklahoma was a single-digit favorite, but dominated the second half against a pretty good Texas Tech team that was knocking on the door of the Top 25. With the depth of the Big 12, plenty of folks wondered if the Sooners were destined for a seven- or eight-win disappointment. After Saturday, Oklahoma clearly looks the part of a double-digit game winner and once again a Big 12 title contender. We'll know for sure next week. Oklahoma and Texas already have home losses to Big 12 title contenders in Kansas State and West Virginia. Next week's Red River loser may leave Dallas all but eliminated from the Big 12 title race.
[+] Enlarge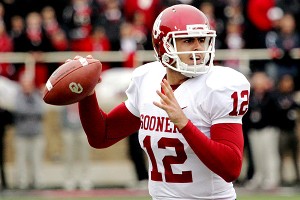 Michael C. Johnson/US PRESSWIRE Landry Jones and Oklahoma rebounded from a loss to Kansas State, setting up a must-win game for both the Sooners and Longhorns next week.
West Virginia's offense got even more dangerous.
Everybody knew about
Geno Smith
,
Tavon Austin
and
Stedman Bailey
, but
Andrew Buie
? WVU looked pretty decent running the ball with
Shawne Alston
early this season, but he's been banged up. Did anybody think WVU could run the ball like it did with Buie, who ran for 207 yards on 31 carries? It was even more impressive late, when Texas knew what was coming, and it didn't matter. On the final offensive drive for WVU, Buie ran seven times for 63 yards. He ran hard, but the offensive line took care of business, too.
TCU is in deep, deep trouble without Casey Pachall.
Trevone Boykin
put in a good effort, and Iowa State's defense is solid, but he simply can't do what Pachall can do, and TCU's offense has to be completely different with him in the game. He's not ready, and how could you expect him to be? Pachall's decision-making and accuracy had him as efficient as just about any quarterback in the league. Boykin completed just 53 percent of his passes, threw three interceptions and most importantly, TCU lost by 14 at home to what's likely the ninth-best team in the Big 12. Or eighth, perhaps, after handing a hefty beating to the Frogs. Without Pachall, the Frogs are very, very average. The losses are piling up for TCU, a team that has lost 20-plus players for reasons unrelated to graduation since the end of last season. None were more impactful than Pachall, whose indefinite suspension is unlikely to be brief.
Bill Snyder still owns the state of Kansas.
New KU coach Charlie Weis wanted to know why K-State and Missouri had success in the area and Kansas hadn't lately. It'll be interesting to see what he gleaned from another Sunflower Showdown beating for the Jayhawks. KU is the only team Snyder seems to be lacking in mercy for, and for the third consecutive season, K-State beat its in-state rival by at least 38 points.
Texas Tech's defense has come back to Earth.
Texas Tech's defense is good, and much better than last year. Against Oklahoma's offensive line, though, the D-line got no push and rarely pressured
Landry Jones
, who wasn't sacked all day. The yardage (380) wasn't too bad, but Oklahoma racked up 41 points in just three quarters and made Texas Tech look pretty average. A good defense? Yes. No. 1 in the nation? Absolutely not. Best in the Big 12? Not likely.
October, 7, 2012
10/07/12
10:00
AM ET
Here's what we learned about Notre Dame in its
41-3 thrashing
of Miami.
1. The offense can be very good
. We use the word "can" here because Miami, like Navy, does not have a great defense. But the Irish were dominant offensively in both of those contests, as any offense with weapons should be. Stanford will be a much tougher test next week, but putting up 40-plus points is a definite step in the right direction for Notre Dame, regardless of opponent.
[+] Enlarge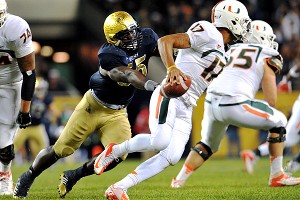 Matt Cashore/US PresswirePrince Shembo and the Notre Dame defense didn't allow a touchdown for the third consecutive game.
2. The defense is still very good
. When I asked
George Atkinson III
about the offense breaking out, he was quick to remind me that the defense did not allow a touchdown. Again. It gets lost when it seems to be the norm -- especially on a night when the offense breaks out -- but three consecutive games without allowing a touchdown is incredible. The Irish, who have yet to trail in a game this season, are surrendering just 7.8 points per game.
3. Golson responds
. There seemed to be uncertainty surrounding the quarterback recently, from getting yanked from the Michigan game to the chatter that he may not start.
Everett Golson
was late for a meeting and punished accordingly, but he was not fazed by the discipline or, this time, by the big stage. He turned in his best performance of the season, and he illustrated why, long-term, he likely will be worth the early growing pains for Notre Dame.
4. This team can be special
. "Special" seems to be the buzz word around this team, but it has the formula for success down pat through five games: Don't turn the ball over, play incredible defense. The schedule gets harder, but Stanford, Oklahoma and USC look nothing like they were perceived to be entering the season. And with so many higher-ranked teams losing, the dominoes could be falling into place for Notre Dame to make a serious run at a BCS bowl game this season.
October, 7, 2012
10/07/12
10:00
AM ET
1) Pitt is the conference's biggest enigma
. Lose two straight games in horrible fashion, turn things around with a historic offensive two-game stretch, lose to a Syracuse team that hasn't won a conference game in almost a year. There's simply no figuring out this Pitt team through five games. Good luck predicting the Panthers' performance this Saturday against preseason favorite Louisville.
[+] Enlarge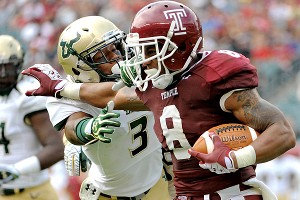 Eric Hartline/US PRESSWIRETemple's Montel Harris rushed for 133 yards and two touchdowns against South Florida.
2) Temple is here to play
. Did you see how fired up Steve Addazio was on the sideline Saturday? The return to Big East play was a long time coming for the Owls, who pulled off a 37-28 conference-opening win against USF.
Montel Harris
looked like the Harris of old, rushing for 133 yards and two scores, and
Chris Coyer
completed 16 of 20 throws. The offensively challenged Owls put it together against the Bulls and will not roll over in their first year in a new conference.
3) Paging USF
. On the other hand, the Bulls could not afford a letdown. But they had one. And now they are riding a four-game losing streak into the bye, and an 0-2 Big East record as well. A trip to Louisville awaits them out of the break. Tough times in Tampa, indeed.
4) Rutgers may very well go (at least) 9-0
. The Scarlet Knights were their methodical old selves in a 19-3 win over UConn, riding a strong ground game and an even stronger -- and a very opportunistic -- defense to victory. Syracuse, Temple, Kent State and Army are Rutgers' next four opponents. A loss to any would be a disappointment, and there is a good chance this team will be undefeated going into its Nov. 17 matchup at Cincinnati.
5) Will Cincinnati be spotless by then, too?
Well, 6-0 should be a certainty, as Fordham and Toledo await before a trip to Louisville. Regardless, the Bearcats hit on all cylinders Saturday, taking care of business against an overmatched Miami (Ohio) team and almost assuring themselves of an AP ranking this week.
October, 7, 2012
10/07/12
10:00
AM ET
Here's a look back at the lessons learned in Week 6:
1. The ACC hasn't changed.
It's still looking for a national title contender, and it can't get out of its own way. No. 3-ranked Florida State's national title hopes have all but disappeared with the 17-16 loss to NC State. Along with it went
EJ Manuel
's hopes at winning the Heisman. Once again, with the nation watching, the conference came up short. Miami was pummeled by Notre Dame, Boston College lost to a winless Army team, and Florida State failed to live up to the hype and the preseason expectations.
[+] Enlarge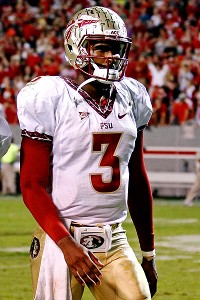 AP Photo/Gerry Broome)EJ Manuel likely saw his Heisman candidacy -- and FSU's national title hopes -- disappear.
2. The Atlantic Division race is wide-open.
Welcome back, Clemson. While FSU would win the tiebreaker scenario should both teams finish with only one loss, the Seminoles' loss to NC State was the first step in Clemson getting back into the race. To defend its division title, Clemson needs to win out and have FSU lose again. At this rate, anything is possible. After all, Maryland is the only team in the division that has yet to lose a league game. Of course, it has played only one. NC State, though, is now just as much in the mix as FSU and Clemson.
3. Miami's magic is limited to the ACC.
The young Canes just aren't ready to beat a ranked opponent on the road. At 3-0 in league play, the Canes are one of the teams to beat in the Coastal Division, but once they get out of the cozy confines of the ACC, the gap widens. Miami was beaten soundly first by No. 21 K-State and again on Saturday by No. 9 Notre Dame. Both have been humbling experiences the players will learn from, but to convince anyone outside ACC country that it's any good, it has to beat some better competition.
4. Duke is a legitimate contender.
No starting quarterback? No problem. Backup
Anthony Boone
picked apart Virginia's secondary and Duke improved to 5-1, its best start since 1994. The Blue Devils are now a win from going bowling for the first time since that season, but even more impressive is their place in the Coastal Division standings -- right behind Miami in the No. 2 spot. Duke is 2-0 in ACC play heading into Blacksburg, and yes, the Hokies should be concerned.
5. UNC can play the role of spoiler.
The Tar Heels have been searching for their identity against lesser opponents, and they might have found it against the Hokies: spoiler. Virginia Tech's defense was abysmal, but the Heels deserve credit for putting up points against somebody other than Elon and Idaho. Gio Bernard, who rushed for a career-high 262 yards and a touchdown, is still running. Larry Fedora's offense got the best of Bud Foster's defense. Expect more of the same as the ineligible Heels make their way through the division lineup. EJ Manuel likely saw his Heisman candidacy disappear.
October, 7, 2012
10/07/12
10:00
AM ET
Five lessons from the week that was in Big Ten football:
1. How about an Ineligi-Bowl?:
Here's an idea: Make this year's Big Ten championship game a doubleheader. First, the scheduled contest between the Leaders and Legends Division representatives. And then a second game between probation-saddled Ohio State and Penn State for the shadow championship. Penn State might not be the second-best team in the Big Ten, but it's one of the hottest, having won four straight games and gaining confidence every week under Bill O'Brien, the clear front-runner for Big Ten Coach of the Year. Meanwhile, the league has finally found the team to carry its banner in Ohio State, which blasted Nebraska 63-38 to improve to 6-0. Too bad there's an asterisk on that banner, because the bowl-banned Buckeyes are the cream of the crop right now in the Big Ten. The two teams on probation are a combined 4-0 in league play and one made field goal at Virginia away from being 11-1 overall. The de facto Ineligi-Bowl arrives Oct. 27, when Ohio State goes to State College. Surprisingly, that game is now must-see TV because ...
[+] Enlarge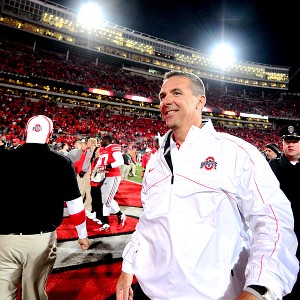 Andrew Weber/US PRESSWIREUrban Meyer and his Buckeyes will play in a de facto Ineligi-Bowl on Oct. 27.
2. The eligible Leaders teams are worse than expected:
Wisconsin at Purdue. Oct. 13. A spot in the Big Ten championship game potentially on the line. Who's excited? (crickets) ... We knew the Leaders would have a unique dynamic this season with only four postseason-eligible teams. But we figured some team might resemble a division winner that could advance to the Rose Bowl. Michigan exposed Purdue in a 44-13 beatdown at Ross-Ade Stadium. Wisconsin slogged its way to a win against Illinois but hardly looked impressive for most of the game. Indiana looked great for a half and terrible for a half, failing once again to get over the hump in a Big Ten game. Illinois is, well, not good. One of those four teams will be going to Indianapolis, whether it deserves it or not. At this point, we'd probably pick Wisconsin by default. The eligible Leaders teams own a combined 1-6 Big Ten record and are 0-4 versus the Legends. Perhaps Jim Delany should have listened more seriously to Pat Fitzgerald's summer suggestion of picking the second Big Ten title game participant via a committee.
3. Michigan's defense, run game make it top Legends contender:
Michigan's turnovers at Notre Dame overshadowed some promising signs from the defense and the offensive line. The Wolverines showcased those elements Saturday at Purdue in a dominant performance they really needed after a 2-2 start. They generated four takeaways, including a 63-yard interception return for a touchdown by cornerback
Raymon Taylor
. Linebacker
Jake Ryan
continued to elevate his play, and Michigan held a Purdue team averaging 51 points on its home field to 13 points and 213 total yards. This is the same time of year when Greg Mattison's defense really turned a corner in 2011. The unit's play the past two games has been very encouraging. Michigan also committed itself to the run game against a decent Boilers defensive front and racked up 304 rush yards and three touchdowns on 55 attempts (5.5 ypr).
Denard Robinson
rebounded with a huge game on the ground (24 carries, 235 yards).
Fitzgerald Toussaint
twice found the end zone, and
Thomas Rawls
finished things off nicely. It's important for Michigan to get its running backs more involved in the coming weeks, but Saturday's offensive approach was encouraging.
4. The Spartans had better hope Saturday was their wake-up call:
Despite being billed by some (ahem) as the Big Ten preseason favorite, Michigan State has looked really impressive only once in the first five games. After a tough 1-point home loss last week against Ohio State, Michigan State seemed to suffer a hangover in the first chunk of Saturday's game at Indiana. The Spartans were a complete mess -- committing personal fouls, getting steamrolled on defense, not moving the ball consistently enough on offense. They had seven first-half penalties (six personal fouls), fell behind 17-0 and got outgained 183-22 in the first quarter. To their credit, the Spartans turned things around and dominated the second half to escape Bloomington with a win. Michigan State's defense regained its top form,
Le'Veon Bell
(121 yards, 2 TDs) steamrolled the Hooosiers, and freshman receiver
Aaron Burbridge
(8 catches, 134 yards) sparked the passing game. Was Saturday the wake-up call Michigan State needed after a somewhat sluggish 3-2 start? It had better be, as the schedule gets much tougher the rest of the way. Michigan State remains very much in the Legends Division mix, but it can't expect to overcome the early miscues it had in Bloomington.
5. More work to do for Purdue, Northwestern and Nebraska defenses:
Saturday was a disappointing day for three teams that thought their defenses had made gains. It's back to the drawing board -- or more apropos, back in the defensive meeting room -- for the Boilermakers, Wildcats and Cornhuskers. Purdue brought in defensive coordinator Tim Tibesar from the Canadian Football League in part because his CFL experience taught him how to defend the spread. But a Boilers defense that looked good the first three weeks has gone south the past two weeks in allowing 85 points to Marshall and Michigan, and it couldn't stop Denard Robinson on Saturday. Northwestern seemed to have made some strides defensively this season in a 5-0 start. But the Wildcats crumbled at Penn State, allowing 22 fourth-quarter points in a 39-28 come-from-ahead loss. The Nittany Lions ran a whopping 99 plays as a lack of a pass rush kept Northwestern from getting off the field defensively. And then there was Nebraska, which stuffed Wisconsin in the second half of last week's comeback win. But these still aren't your older brother's Blackshirts, as Ohio State rolled to 498 yards and 49 offensive points in a 63-38 rout in Columbus.
October, 7, 2012
10/07/12
10:00
AM ET
What did we learn in Week 6? Read on.
Oregon is the clear favorite -- in the Pac-12 and for national title game
: At the beginning of the season, USC was the Pac-12 favorite and the conference's clear national title contender. After six games, that has firmly changed, and the distance between Oregon and everyone else in the conference appears vast. While it's dangerous to do the transitive property -- a frequent note of ours -- just consider what Oregon did to Arizona and then Washington. And what those teams have done in their other games. Oregon will be a strong No. 2 in the national polls this week, which means it is in excellent position to play for the national title for the second time in three years. And, of course, win a fourth consecutive conference title.
[+] Enlarge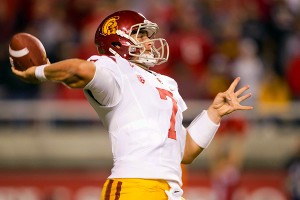 Russ Isabella/US PresswireAfter two subpar performances, Matt Barkley got back on track to the tune of 303 passing yards and three TDs against Utah.
Matt Barkley and USC ain't dead
: Some seemed eager to write off USC and Barkley, both in the national and Pac-12 picture. That might be a mistake. The Trojans looked stout on both sides of the ball in a 38-28 win over Utah, and Barkley completed 23 of 30 passes for 303 yards and three TDs with no interceptions. The visit to Washington could be interesting on multiple levels.
Neither are Josh Nunes and Stanford
: More than a few Stanford fans were calling for coach David Shaw to panic and bench quarterback Josh Nunes in favor of backup
Brett Nottingham
after the loss at Washington. Shaw stuck with Nunes, who shook off a slow start and led a fourth-quarter rally in the exciting 54-48 overtime win over Arizona. Nunes completed 21 of 34 passes for 360 yards with two TDs and no interceptions. He also rushed for three scores and 33 yards, an area of the game that has proved much better than expected. Now Shaw can focus on his suddenly uncertain defense.
And maybe the same goes for Zach Maynard, Jeff Tedford and Cal
: Maligned California quarterback Zach Maynard threw an interception on the Bears' first possession, which set up a quick 7-0 UCLA lead. Same old Maynard, same old Cal, right? And that made Tedford's seat even hotter. But just when it seemed things might spin apart irrevocably, Maynard and the Bears rallied. In perhaps the best game of his career, Maynard completed 25 of 30 passes for 295 yards and four touchdowns in a 43-17 win over No. 25 UCLA. Heck, he even ran for a score. The Bears are still only 2-4 and 1-2 in Pac-2 play, so they need at least four more wins to earn bowl eligibility. Still, a week ago that idea didn't seem worth entertaining. Now it might be.
It's too bad that Matt Scott and Rich Rod get only one year together
: Arizona quarterback Matt Scott is putting up huge numbers this year. He threw for 491 yards and three TDs at Stanford -- completing 45 of 69 throws -- a brilliant performance that nonetheless only earned the Wildcats another excruciating loss. The Wildcats will scare everyone on their schedule because of Scott, who seems like a perfect fit for new coach Rich Rodriguez, even if the primacy of keeping Scott healthy is preventing him from being much of a factor in the running game. But the team will still be challenged to become bowl-eligible due to an overmatched defense.
Oregon State quarterback Sean Mannion is still growing
: Maybe he got more hype than he should have for the first three weeks. Maybe he'll be criticized more than he should for his three-interception performance against Washington State. As is usually the case, the truth probably lies somewhere in the middle. Mannion is still a young quarterback -- and a quarterback who hasn't been used to winning much at the college level. Even lower-tier teams are going to bring everything they've got at the Beavers because they are a top-15 team and undefeated. But he handled the mistakes well and was clutch on the final scoring drive, completing 5 of 7 passes for 64 yards on a march that ended with a
Tyler Anderson
touchdown run.