NCF Nation:

what-we-learned-100911
October, 9, 2011
10/09/11
10:51
AM ET
What did we learn from Week 6 of Pac-12 action?
[+] Enlarge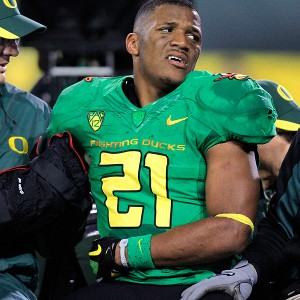 AP Photo/Don RyanThe pressure will be on the rest of the Ducks offense with running back LaMichael James out with an elbow injury.
1. Oregon faces life without James (at least for a while):
The Ducks piled up 563 yards in an impressive 43-15 win over California, and running back
LaMichael James
was the primary weapon, with 239 yards rushing on 30 carries. But he dislocated his elbow in the fourth quarter, and likely will be out at least a few weeks. That puts pressure on quarterback
Darron Thomas
and backup running back
Kenjon Barner
to step up. And Ducks fans are crossing their fingers that James will be ready to go on Nov. 12 at Stanford.
2. It's time to respect Arizona State
: Starting in the preseason and continuing every week since, folks have been sending notes to the Pac-12 blog questioning the Sun Devils. These notes are mostly nonsensical blathering, but they arrive with an odd and obsessive frequency. Has this been orchestrated by a message board somewhere? Well, the Sun Devils are 5-1. Time to shut up? The answer is yes. Arizona State has had injury woes to match that of any team in the nation, yet it has found ways to win. The Sun Devils will be big underdogs at Oregon on Saturday, but this is a Top 25 team whatever happens. To say otherwise is to adopt a ridiculous position, which is fine, but not something the Pac-12 blog would advise for those seeking audience with the cool kids.
3. Oregon State isn't Washington State of 2008-09
: The Beavers started 0-4 and some started wondering: 0-12? While a win over a struggling Arizona team only ensures the worst possible finish is 1-11, the Beavers don't seem like a true doormat, like the Cougars were. The Beavers hinted against the Wildcats -- on both sides of the ball -- that they can get off the carpet and win some games. While this won't be a warm-fuzzy for Oregon State fans who have high expectations for bowl games every year, the Beavers are not an automatic win for their future opponents.
4. Rick Neuheisel isn't done yet
: While it's hard to say things are rosy at UCLA, the Bruins' rallying for a win against Washington State suggests there's still some hope for coach Rick Neuheisel.
Kevin Prince
came off the bench for an injured
Richard Brehaut
, and the Bruins showed spunk in the fourth quarter. At 3-3, UCLA is still in the mix for a bowl game, which might save Neuheisel's job.
5. Stoops is in trouble
: Arizona coach Mike Stoops has earned some leeway based on what he has accomplished with the Wildcats. But that leeway starts to disappear when he loses 10 consecutive games to FBS foes, and the most recent one is 0-4. The Wildcats need to rediscover some mojo or Stoops might lose his job, a proposition that seemed far-fetched in the preseason.
6. Tough times for new guys continues
: Neither of the Pac-12's new members, Colorado and Utah, has won a Pac-12 game. They are presently 0-5 in Pac-12 play. We're not learning anything new here, but it's difficult not to take note because we keep planning to celebrate one or the other winning a game.
October, 9, 2011
10/09/11
10:42
AM ET
Now that we're six weeks into the season, we can answer a few more questions about teams, players, matchups, etc.
Here's a look at what we learned in the SEC:
1. Plotting the collision course:
We're that much closer to THE game, and it's scary how dominant the two teams look each week. Alabama's physical beatdown of Florida two Saturdays ago sent tremors throughout the league. Nobody goes into the Swamp and whips the Gators 38-10. But then you watch LSU chop down the Gators to the tune of a 41-11 rout, and it's difficult to decipher who was more dominant. The collection of athletes on both defenses is stunning, and scoring points on offense hasn't been a problem, either. Nov. 5 can't get here soon enough.
[+] Enlarge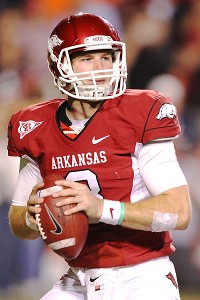 Nelson Chenault-US PRESSWIREArkansas quarterback Tyler Wilson is leading a Razorbacks team which is dominating in the second half of games.
2. Hogs No. 3:
There's no debating the separation between Alabama and LSU and everybody else. But there is a little debate about who is No. 3 in this league. Arkansas the past two weeks has stepped front and center into that spot. After rallying from an 18-point halftime deficit to beat Texas A&M last week, the Hogs turned a close game against Auburn into a 38-14 blowout on Saturday thanks to another impressive second half. Arkansas gave up just a field goal after halftime in the win over Texas A&M. Against Auburn, Arkansas shut the Tigers out for the final three quarters. It wasn't just the defense that came to life, either. Arkansas quarterback
Tyler Wilson
completed 19 straight passes at one point and is playing at an extremely high level right now. The Hogs (5-1, 1-1) are off this coming week, but could be on the verge of reeling off a bunch of wins in a row just like they did a year ago, when they won six straight to close the regular season. In fact, it's very possible this team goes into that finale at LSU on Nov. 25 carrying a 10-1 record.
3. Shaw to the rescue:
South Carolina looked like a different team with sophomore
Connor Shaw
at quarterback. The Gamecocks rolled up 639 yards in total offense in their 54-3 battering of Kentucky, and while Shaw didn't do any of the blocking, didn't take any handoffs and didn't run any pass routes, his presence clearly made a difference. His four touchdown passes were as many as
Stephen Garcia
had thrown in the previous five games combined. It wasn't just the touchdown passes, either. He threw to his tight ends. He kept the ball out of harm's way, and he made sure to involve
Alshon Jeffery
early. Jeffery had been the country's most talented decoy the past few weeks, but had two touchdown catches by halftime on Saturday. As a team, the Gamecocks responded to Shaw, and that's what you want when you make a quarterback change. South Carolina's going to play against better teams than Kentucky the rest of the way. That's a given, but this was something to build on for an offense that had lost its way.
4. Winning the East:
We're at the midway point of the season, and all but two teams in the Eastern Division have at least two conference losses. Who would have thought back on Sept. 10 that Georgia would be one of those two? The Bulldogs have won four straight games since opening the season with back-to-back losses and are positioned nicely for this stretch run after winning 20-12 at Tennessee on Saturday. Florida, which has taken it on the chin the past two weeks against LSU and Alabama, will still have a prominent say in who wins the East. The Gators face Georgia on Oct. 29 in Jacksonville and then travel to South Carolina on Nov. 12. The Gamecocks won the East with three losses last season and still have three road games in the conference remaining, including one to Arkansas the week before the Florida game. If Georgia and South Carolina finish in a tie, the Gamecocks would get the nod based on head-to-head competition.
5. Wildcats hit bottom:
Allegedly, it can always get worse. Try telling that to Joker Phillips and his Kentucky football team right now. The Wildcats' 54-3 loss to South Carolina on Saturday was about as ugly as it gets and comes on the heels of a 35-7 loss to LSU a week earlier and a 48-10 loss to Florida the week before that. Not that anybody in the Bluegrass wants to add up the damage, but that's a combined score of 137-20. It's one thing to lose to good teams in this league. It's quite another to be embarrassed and not even be competitive. The Wildcats aren't competitive right now, particularly on offense. When you turn it over six times, you're not going to be competitive. A lot of the fingers will point in the direction of quarterback
Morgan Newton
, and it's a fact that he's not playing well. He's not the only one, though. Nobody on offense is playing well, and the Wildcats haven't come close to replacing the playmakers they've lost over the past few years. Phillips and his staff have an open week to come up with some answers. The truth is that they're going to need a lot longer than a week.
October, 9, 2011
10/09/11
10:33
AM ET
PALO ALTO, Calif. -- What we learned about Stanford in the
Cardinal's 48-7 win over Colorado
at Stanford Stadium.
[+] Enlarge

Jason O. Watson-US PRESSWIRENo. 2 wide receiver Griff Whalen emerged as a touchdown threat in Stanford's win on Saturday.

Andrew Luck has options: You see a 48-7 score with three touchdowns from Luck, and the first thought is "which tight end found pay dirt this time?" The answer is zero. Not a one. True, the trio of Zach Ertz, Coby Fleener and Levine Toilolo combined for eight catches for 156 yards, and 13 of the last 16 touchdown strikes have gone to tight ends. But it was No. 2 wide receiver Griff Whalen who emerged last night, catching four balls for a game-high 92 yards and a touchdown. Tight-end-moonlighting-as-a-fullback Ryan Hewitt added two touchdown catches. You have to go back seven games (Nov. 13, 2010, at Arizona State) to find a game in which Luck didn't connect with a tight end for a touchdown.

Home is good: The announced crowd was 50,360, making it the second consecutive home sellout. That number wasn't in the stands. Not even close. Still, it was a decent enough crowd, and it made some noise. In their last 22 games in Palo Alto, the Cardinal are 20-2. So far this year, they have outscored visiting opponents 150-29 in three home games. Home is good.

The line keeps getting better: Credit the offensive line for keeping Luck upright, again. The Cardinal have allowed just two sacks all season and one of them came when Luck ran out of bounds behind the line of scrimmage (following his blooper-reel fumble against Duke). Colorado entered the game with one of the best pass rushes in the nation -- statistically speaking. But Luck was brushed only one time (which altered his throw and led to an incompletion), and the rest of the time the line, along with Luck's quick release, was more than enough to handle Colorado's pressure. Speaking of pressure ...

... These guys have cool heads: A turnover on the game's opening kickoff would have been more than enough to sink some teams and send them into a shame spiral. Not the Cardinal. For the second week in a row we saw the defense face some adversity on the opposition's opening possession. This time they responded with a blocked field goal (the first since 2009). Max Bergen scored the hat trick -- the block, the recovery and the 75-yard touchdown. Stanford has yet to trail a game this season.

Best field goal defense ever? Not only did Bergen block the field goal, but Colorado missed another field goal in the game, making opponents 2-for-10 this season on field goal attempts. The average distance of the eight misses is 37.5 yards. That's not a chip shot, but it's not a mile, either. At what point does this stop becoming a coincidence and start becoming a trend?
October, 9, 2011
10/09/11
10:00
AM ET
1. Notre Dame knows how to strike early:
You could add "and often" after the last two weeks as well. The Fighting Irish jumped out to a 14-0 lead Saturday and never looked back, scoring 42 points in the first half. In first quarters this season, Notre Dame is outscoring its opponents 73-22. An early lead made all the difference against an Air Force team that simply could not keep up with the Irish, who scored touchdowns on their first six possessions.
2. The kid can play:
Andrew Hendrix
's debut was a smashing success, as the sophomore quarterback was inserted early and often for a Notre Dame offense that never slowed down. Hendrix finished with 111 rushing yards on six carries and completed all four of his passes for 33 yards. Brian Kelly made it clear afterward that
Dayne Crist
is still his No. 2 signal-caller behind
Tommy Rees
, but the threat Hendrix provided Saturday with his legs makes him a great change-of-pace option to have the rest of the season.
3. No turnovers = efficiency:
Again, not a big lesson to be learned here. But the importance of protecting the ball really stood out Saturday when looking at Air Force, which actually outgained the Irish 565-560 but could never keep up because of two first-half turnovers. Notre Dame knows the feeling after struggling with ball protection through the season's first two weeks, but those problems have been nothing but a distant memory the past two weeks.
4. Theo Riddick can make a difference:
The running back-turned-receiver lined up all over the field Saturday and finally had a breakout game, catching eight passes for 83 yards and a touchdown. He added a 14-yard run on his lone carry as well. Riddick is as versatile a threat as the Irish's offense has and makes the unit all the more dangerous when he's clicking the way he did against Air Force.
October, 9, 2011
10/09/11
10:00
AM ET
It was another unpredictable weekend in the ACC, and it was a thriller, especially in Blacksburg, where Virginia Tech hung on for the wild 38-35 win over Miami. Here's a look back at what we learned in Week 6:
Florida State and Miami are on life support.
The ACC's two brand-name programs are now 0-2 in conference play and on the outside of the conference race looking in. Florida State's loss to Wake Forest was devastating to the Seminoles' chances of repeating as division champs, and Miami's loss to Virginia Tech was an equally big setback for the Canes in the Coastal Division race. The difference for the Noles is that both losses came to Atlantic Division opponents, while one of Miami's losses was to Maryland. Regardless, two conference losses puts the Canes two steps behind, and Miami is now the only team in the Coastal Division with a losing overall record. FSU was picked to win the division and the ACC this season, but the Noles have underachieved and they were also overrated.
[+] Enlarge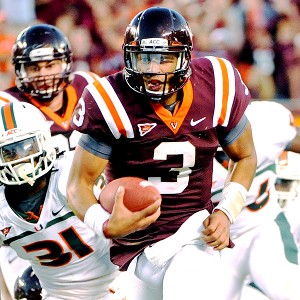 AP Photo/Don PetersenQuarterback Logan Thomas presents a challenge through the air (2,799 pass yards in 2011) and on the ground (416 rush yards, 10 TDs).
Georgia Tech and Clemson are bowl-eligible.
Two teams that had losing seasons a year ago were the first to become bowl-eligible in the ACC, and they did it by the midpoint of the season. The Yellow Jackets were fortunate to hold off Maryland, and Clemson could have crumbled after losing starting quarterback
Tajh Boyd
to a hip injury, but both teams found a way to win and remain undefeated at 6-0. It's the earliest Clemson has been bowl eligible since 2000.
Wake Forest is a contender in the Atlantic Division race.
We knew Wake Forest was better. But it wasn't until Saturday's win over Florida State that the Deacs proved just how much better. This team is clearly capable of making a run at the Atlantic Division standings, though Clemson remains the team to beat. Wake Forest, though, is 3-0 in ACC play for the first time in school history. While FSU was overrated this season, the Deacs were clearly underrated. Wake had the edge at quarterback in the game, and the defense had the edge with five turnovers.
Virginia Tech isn't done yet.
The comeback kids are at it again. One week after looking listless and lifeless on offense against Clemson, the Hokies put together their most complete performance of the season and racked up 482 yards in their 38-35 win over Miami. Quarterback
Logan Thomas
looked like a senior and made a complete turnaround in a week. It was a breakout performance by Thomas, who completed 23 of 25 passes for a career-high 310 yards and a career-high three touchdowns. The win kept the Hokies in the mix to defend their Coastal Division title.
Questions abound at quarterback.
Clemson's Boyd is questionable for the Maryland game, Maryland has a quarterback controversy, and Florida State's quarterbacks combined for four interceptions. Boyd's injury was the biggest news of the weekend, as it raised the question of whether the Tigers can remain undefeated without their star player. Boyd, the heart of the Tigers' offense, had negative X-rays and a negative MRI on Saturday night, which is good news for the Tigers. Backup quarterback
Cole Stoudt
finished the game 6-of-10 passing for 37 yards after Boyd went down with an injury. It was his first appearance since the season opener against Troy.
Maryland starter
Danny O'Brien
, the ACC's 2010 Rookie of the Year, was benched after starting 1-for-6 with an interception against Georgia Tech. Backup
C.J. Brown
entered the game in the first half and didn't fare much better in the passing game, but his 77-yard touchdown run in the fourth quarter gave Maryland the spark coach Randy Edsall was seeking. Which quarterbacks will line up on Saturday in College Park remains a mystery.
October, 9, 2011
10/09/11
10:00
AM ET
Here's what we learned on Saturday in the Big 12.
When the Sooners are on, nobody in the Big 12 is beating them.
Yep,
Texas was really bad on Saturday
. But don't lose sight of Oklahoma's excellence. There was a whole heck of a lot of both on Saturday in the Cotton Bowl. It was Oklahoma's most complete game of the season and a complete evisceration of Texas that the rest of the Big 12 watched with glee. How good are the Sooners? I'm still keeping OU at No. 3 on my ballot. Saturday was fantastic, but I'm still buying Alabama and LSU's boa constrictor defenses over the Sooners' blazing offense. My thought: Oklahoma's offense in 2008 was a lot better than the 2011 version. Alabama's and LSU's defenses in 2011 are a lot better than Florida's in 2008. We saw
how that game ended.
Seriously, stop doubting Kansas State, especially its defense and its coach, Bill Snyder.
It took me a fourth win last week against Baylor to start believing in Kansas State. Are the rest of you on board the EMAW bandwagon now? I'm not buying the Wildcats as a Big 12 title contender yet -- Oklahoma and Oklahoma State would beat them by double digits -- but Kansas State looks every bit like the third-best team in the Big 12 thus far, and you never know what a few turnovers can do. Tread carefully if you do it against the sly man rocking the purple windbreaker that will never go out of style, just like Snyder himself.
Texas A&M and Texas Tech are who we thought they were.
Texas Tech's 4-0 start wasn't a complete fraud. The Red Raiders are probably something close to a Top 25 team and hung tough with a very good Texas A&M team that belongs somewhere closer to the top 10 and will end up there by season's end. Going on the road to Lubbock is never easy, but
despite the Red Raiders' raising a bit of a stink
, the Aggies survived.
Kansas might need to buckle up for another bumpy season.
Good grief, Kansas. Yeah, Oklahoma State is a lot better, but that much better? Believe it or not, Kansas' offense is much improved from last season, but this defense is looking pretty hopeless so far this season and has been absolutely embarrassed twice already this season. Georgia Tech hung 66. Oklahoma State scored 70. FCS defenses don't even get worked that hard. The Jayhawks have given up an average of 55.75 points in their last four games. Just a hunch, but I don't know if Kansas can win very many games doing that. The good news? Oklahoma comes to Lawrence next week! Huzzah!
Baylor's still dangerous even without Robert Griffin III slingin' it.
Griffin got his first 100-yard rushing game of the season.
Terrance Ganaway
rumbled for three touchdowns and 200 yards. Iowa State's defensive line leaves a bit to be desired, but the Bears can get pretty physical up front if need be.
October, 9, 2011
10/09/11
10:00
AM ET
Five lessons from the week that was in Big Ten action.
1. Nebraska is still breathing, while Ohio State is on life support:
Both teams' seasons could have turned in the final 23 minutes at Memorial Stadium, as Nebraska scored 28 unanswered points to beat Ohio State 34-27 in the largest comeback in Huskers history. Nebraska was staring at an 0-2 start in its new conference and two weeks of intense scrutiny before the furious rally. Although the Huskers have a lot to fix, they're still very much alive in the league race. Ohio State, meanwhile, can't catch a break and fell apart after starting quarterback
Braxton Miller
went down with an ankle injury. For a team that already has faced so much adversity, the Buckeyes will have a tough time responding from Saturday's loss.
[+] Enlarge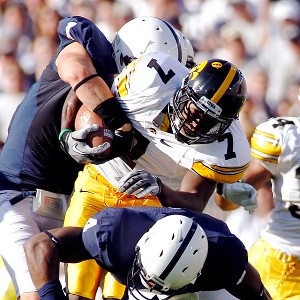 Justin K. Aller/Getty ImagesPenn State's defense carried the day as the Nittany Lions held the Hawkeyes to just 253 yards.
2. Defense makes Penn State a contender:
A never-ending quarterback competition and Joe Paterno's game-day whereabouts have dominated the spotlight in Happy Valley, but it's about time people recognize the Nittany Lions' defense. It's really, really good, perhaps even championship-level good. Penn State smothered Iowa on Saturday, keeping the Hawkeyes' high-powered attack out of the end zone. Despite losing key personnel and getting little to no help from its own offense, Penn State's defense continues to step up. Tom Bradley's unit should keep Penn State in every game -- and makes the Lions a contender in the Leaders division.
3. Michigan is a second-half team:
If the stunning Notre Dame comeback didn't convince you of the Wolverines' second-half prowess, then Saturday's win over Northwestern should. Michigan trailed 24-14 at the half but outscored the Wildcats 28-0 in the final two quarters. The defense under Greg Mattison continues to make very good adjustments throughout the course of the game. Northwestern threw the kitchen sink at Michigan offensively in the first half but was stonewalled in the second half, while the Wolverines came up with two more turnovers. The Wolverines have given up only seven points in the fourth quarter all year and are outscoring opponents 141-21 after halftime. If Michigan can continue that in the second half of the season, its 6-0 start could turn into something special.
4. Scheelhaase-to-Jenkins is Big Ten's deadliest connection:
The Big Ten entered the season with several dynamic quarterbacks and receivers, but one passing combination has risen above the rest. Illinois quarterback
Nathan Scheelhaase
and wide receiver
A.J. Jenkins
are on fire, as they've been for much of the season. The two connected six times for 182 yards and scoring passes of 77 and 67 yards Saturday against Indiana, a week after Jenkins set a team record with 268 yards and three touchdowns on 12 catches against Northwestern. Jenkins has backed up his claim as the league's top receiver, and Scheelhaase is evolving into a complete quarterback in just his second season.
5. Minnesota is the nation's worst major-conference team:
It might sound harsh, but there's not another major-conference squad struggling as much as the Gophers, who have lost their past two games by a combined score of 103-17. After Minnesota's encouraging season opener at USC, almost everything has gone downhill. We thought Minnesota had hit rock bottom in Ann Arbor after its 58-0 loss to Michigan. But the worst came in the first half against a mediocre Purdue team, as the Gophers fell behind 31-0 and committed three turnovers. Coach Jerry Kill is dealing with a lot of young players and veterans not used to winning, but his squad needs to compete better in games. The schedule doesn't get any easier, and it'll be a long year in Minneapolis.
October, 9, 2011
10/09/11
10:00
AM ET
What did we learn in Week 6?
1. Rutgers off to fast start.
We saw the defense starting to come together, but back-to-back dominating performances in Big East play cement what we thought we knew: This unit is one of the best in the league. The Scarlet Knights have been aggressive all season, and that was no different in a 34-10 win over Pitt. They had six sacks, six quarterback hurries and four forced turnovers. Rutgers has 20 sacks and 24 takeaways this season, after registering 17 sacks and 22 takeaways in all of 2010. The Scarlet Knights have now matched their win total from last season (four). More importantly, they are 2-0 in Big East play for just the second time in 21 seasons. The only other time Rutgers started 2-0 in league play was in 2006, when the Scarlet Knights finished tied for second at 5-2.
[+] Enlarge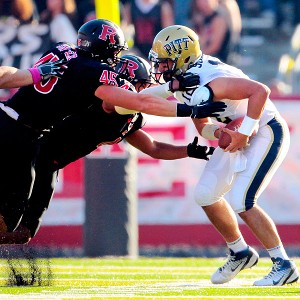 Tony Kurdzuk/US PRESSWIREThe Rutgers' defense harassed Pitt all afternoon -- forcing four interceptions and causing six sacks.
2. Pitt is ...
Can we really say what we learned about Pitt? The Panthers remain perhaps the most confounding team in the Big East. One week after destroying USF 44-17, they mustered a season-low 10 points against Rutgers and had major problems on the offensive line and at quarterback once again. "That is my job to get them ready to play and we absolutely played our worst game," coach Todd Graham said afterward. "That is embarrassing to me, and we have to go work to make sure it doesn't happen again." Pitt has now given up a whopping 27 sacks on the season, worst in the Big East.
3. New coordinator for Louisville.
The Cardinals left offensive coordinator Mike Sanford at home and handed play-calling duties over to quarterbacks coach Shawn Watson against North Carolina. The switch did not exactly jump-start the offense, as Louisville managed season lows for points and total yards (273) in a 14-7 loss. Louisville now has had back-to-back games with fewer than 300 yards of offense, and has had only one game without turning the ball over. Coach Charlie Strong said Sanford was still on staff, but unsure of his role. You have to wonder whether it makes much difference on a team with a shaky offensive line and true freshman quarterback.
4. West Virginia plays in spurts.
The Mountaineers ended up dominating UConn 43-16, but that was only after scoring 23 points in the third quarter. West Virginia scored 10 in the first half. It has been a team that has played in spurts this season, and coach Dana Holgorsen is still waiting on this team to play a complete game from start to finish.
5. Syracuse pass D needs help
. The Orange have plenty of youth in their secondary, and have been banged up, too. But still, there should be no excuses in giving up 320 yards to Tulane and quarterback
Ryan Griffin
. Consider that was his first 300-yard game of the season, and he threw for just 74 yards last week against Army. Syracuse has given up four 300-yard games in its six contests so far, and nearly gave up 300 last week to Rutgers (297). The Orange are going to have to make adjustments in the bye as they get ready for West Virginia in a Friday night game Oct. 21.