NCF Nation:

what we learned 101412
October, 14, 2012
10/14/12
10:00
AM ET
There were only four games, but plenty of action in the ACC this past weekend. Here's a look at what we learned from Week 7:
1. Virginia Tech still has it.
The Hokies had a horrendous start -- both to the season and in the first quarter against Duke -- but the Coastal Division favorites have developed a reputation for their comebacks. Not even Frank Beamer, though, had seen one like this. Virginia Tech overcame a 20-point deficit in the first quarter for the biggest comeback in Beamer's tenure. Prior to Saturday, Virginia Tech had never won a game under Beamer when giving up 15 or more points in the first quarter. The Hokies scored 41 unanswered points to remain in contention for the division title. It was the kind of convincing comeback that could be the turning point in Virginia Tech's season.
[+] Enlarge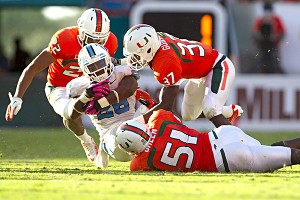 AP Photo/J Pat CarterGiovani Bernard gave Miami's defense all it could handle in North Carolina's 18-14 victory.
2. Reality set in for Duke and Miami.
Both were undefeated in league play heading into this weekend and leading the Coastal Division standings -- they were the Cinderellas of the ACC -- but they were both humbled in their respective losses this weekend. North Carolina handed Miami its first ACC loss of the season, and Duke? Well, see No. 1. The Blue Devils had a chance to become the ACC's first bowl-eligible team, but were beaten soundly for the final three quarters and finished with four turnovers. Miami's rushing defense continued to struggle and had no answer for tailback
Giovani Bernard
. Both programs are still in the division race, but they were unable to further distance themselves from the rest of the pack.
3. Florida State is still chasing goals.
It didn't start out as the prettiest of performances, but Boston College was just the doormat FSU needed to make itself feel good again after a deflating road loss to NC State last week. The Seminoles have likely lost their shot at the national title, but know they can still have an impressive one-loss season and win the ACC title and play in the Discover Orange Bowl if they finish strong. Saturday's win over Boston College showed they were able to put the loss to the Wolfpack behind them and move on -- for over 600 total yards.
4. Maryland is leading the Atlantic Division -- for now.
At 2-0 in league play, Maryland is the only ACC team to remain undefeated in league play. Coach Randy Edsall deserves credit for a turnaround after last year's 2-10 finish. Anyone who has actually watched the Terps, though, knows this success could be short-lived. Maryland ran for minus-2 yards in the win over Virginia, and has relied on its defense to win games. So far, that plan has worked -- against a Wake Forest team that had six suspended players, and against a Virginia team that has now lost five straight. Tougher competition lies ahead, but Maryland has certainly turned things around in Year 2 under Edsall and positioned itself for a bowl game.
5. The ACC race is even more wide open than it was a week ago.
With Maryland's win, and losses by Duke and Miami, the ACC standings are a jumbled mess. Four teams -- Virginia Tech, Miami, Duke and North Carolina -- have one conference loss in the Coastal Division, and three teams -- Clemson, NC State and Florida State -- have one league loss in the Atlantic Division. We're at the midpoint of the season, and no one team -- not even FSU -- has distanced itself enough to appear the undisputed front-runner.
October, 14, 2012
10/14/12
10:00
AM ET
Here's what we think we know after the Irish's 20-13 overtime win over Stanford
1. The gap has been bridged
. Notre Dame didn't just beat Stanford -- it beat Stanford at Stanford's game. The Irish knew Stanford would try to run it at the end of the first overtime, and they knew that the Cardinal knew that they would try to run it. Didn't matter. Four straight stops from inside the 5 sealed win No. 6 for Notre Dame. Can't say any Irish team of recent years would rise up to that kind of challenge.
[+] Enlarge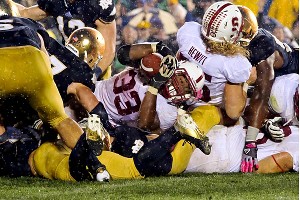 Matt Cashore/US PRESSWIRENotre Dame stopped Stanford's Stepfan Taylor on fourth down in overtime at the goal line.
2. Rees remains unfazed
. This time the quarterback was thrown in without warning, as
Everett Golson
was wobbly after a helmet-to-helmet hit. No matter. Rees, despite brutal conditions, led the Irish on the tying drive and then the winning drive in overtime, his third pivotal role in a win this season. Said left tackle
Zack Martin
: "We can't take it for granted because I know a lot of teams, their No. 1 guy goes down there, they're screwed. So to have a guy sitting at No. 2 like that, it just means the world to us."
3. Golson can bounce back, too
. Three lost fumbles and a number of misfires hardly won over many Irish supporters. But Brian Kelly stuck with Golson through thick and thin Saturday, and the redshirt freshman responded with a couple of big drives -- one ending in a bad snap on a field goal and another with a big touchdown throw to
Tyler Eifert
. Golson had been good or bad, mostly, through five games. We saw the biggest mix of both Saturday, but much of the good came after the bad, which has to be an encouraging sign.
4. The BCS bowl path is clear
: BYU, Pitt, Boston College, Wake Forest. Four games Notre Dame should win. A 10-win Irish team is a virtual lock for a BCS bowl. Can it steal one or two at Norman or L.A.?
October, 14, 2012
10/14/12
10:00
AM ET
Here's what I learned after a wild Week 7 across the Big 12:
The Big 12 is more unpredictable than ever.
What a crazy week. West Virginia provided the most eye-opening result, laying an egg on offense and getting dominated by Texas Tech in all three phases. TCU was left for dead by most (including yours truly) after last week's Iowa State loss but walked into Waco and rolled over a good Baylor team with a strong fourth quarter. Oklahoma looked like the national title team (and then some) many expected it to be before the season. Texas looked like a disappointment. Oklahoma State's 22-game streak of scoring at least 30 points ended ... against Kansas?! By far the craziest week in this league in a long time.
[+] Enlarge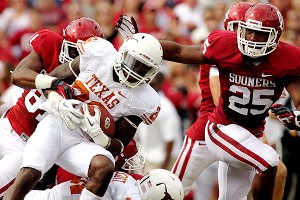 Tim Heitman/US PRESSWIREOklahoma's defense overwhelmed Texas on Saturday, and have the Sooners looking like the Big 12's top team.
West Virginia's offensive consistency? Still waiting.
We know WVU can do special things, but can it do them every week? The answer was a resounding no in Big East play last year, and Saturday, Texas Tech's defense made WVU look very, very bad. We knew the Mountaineers' defense was going to give up numbers, but when the offense doesn't play well, the Big 12 has offenses to make WVU pay. On Saturday, the Eers paid a very, very steep price.
Oklahoma has the Big 12's best defense.
The Sooners left Texas bruised and battered, but they've got a fantastic defensive résumé so far this season. They shut out UTEP's offense and gave up one long touchdown to Florida A&M. K-State's offense scored just 17 points, and Texas Tech managed just 13 before a garbage-time touchdown. Until less than five minutes were left on Saturday and OU led 56-9, Texas had two first downs and hadn't scored on offense. Mike Stoops' arrival is already paying off.
Kansas State in the clutch is terrifying.
K-State needed points and needed them badly. It got three, and it took eight minutes off the clock to do it. Quarterback
Collin Klein
converted three third downs (two passing, one rushing) to keep the drive alive, and the Wildcats took more than half of the fourth quarter to shorten their 27-21 win versus Iowa State. This team simply knows how to win tight games, and the defense didn't let
Jared Barnett
and the Cyclones even threaten to score on a possible game-winning drive. Pressure doesn't seem to ever affect the Cats.
It's time to stop holding out on Texas' defense.
The Longhorns faced some great offenses to start the Big 12 season, and some (myself included) were willing to give a talented group the benefit of the doubt to fix the tackling issues that showed up in wins over Wyoming, Ole Miss and Oklahoma State. Not anymore. They might turn it around later this season, but this Texas defense has proved disappointing, and though the offense has been better than most figured, the defense is simply overrated.
October, 14, 2012
10/14/12
10:00
AM ET
Five lessons from the week that was in Big Ten football:
[+] Enlarge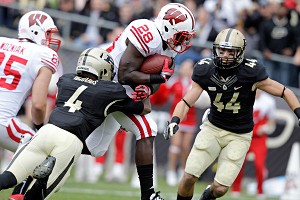 AP Photo/Michael ConroyWisconsin running back Montee Ball rushed for a career-high 247 yards Saturday against Purdue.
1. Wisconsin is back in the driver's seat for Indy:
After stumbling out of the gate this season, Wisconsin has rebounded very well and put itself back on track to reach Indianapolis for the Big Ten championship game. With Ohio State and Penn State ineligible and Indiana and Illinois struggling, Wisconsin and Purdue met Saturday for the likely right to represent the Leaders Division on Dec. 1 at Lucas Oil Stadium. The Badgers dominated Purdue from the onset, racking up 467 rush yards, including a career-high 247 from senior running back
Montee Ball
, and cruised to a
38-14 win
that could have been much more lopsided. An offensive line that has dealt with a coach firing and a scheme change is coming together for the second half of the season, while the defense continues its solid play. Besides Ohio State and Penn State, Wisconsin is the only Leaders Division team with a Big Ten win. It holds tiebreakers against both Purdue and Illinois. Although the Badgers have some tough tests remaining, they'll need a major late-season swoon not to get to Naptown for the second straight year.
2. The Legends Division logjam isn't what we expected:
We both expected a three-team race for the Legends Division featuring Michigan, Nebraska and Michigan State. So far, only Michigan has lived up to the hype. There's a logjam in the Legends after Week 7, but it features Iowa and Northwestern more than Nebraska and Michigan State. After a lousy nonconference performance, Iowa is 2-0 in Big Ten play -- and Legends Division play -- after rallying to beat Michigan State in two overtimes at Spartan Stadium. The Hawkeyes don't have much offense other than running back
Mark Weisman
, but their defense has been surprisingly effective, particularly up front. Northwestern won ugly at Minnesota, as running back
Venric Mark
continued to dazzle and the defense did just enough. Despite the so-so effort, the Wildcats sit at 2-1 in league play with two division home games upcoming (Nebraska and Iowa). Nebraska and Michigan State aren't out of the race, but both teams need to perform well on the road to catch up to the lead pack. Michigan still hosts Michigan State, Iowa and Northwestern and looks like the best bet to reach Indy.
3. Purdue and Michigan State are in big trouble:
It's a close call between Purdue and Michigan State for the Big Ten's biggest disappointment of the first half of the season. Both teams made their cases Saturday with disappointing home losses. Purdue entered its defining stretch of the season -- and the Danny Hope era -- with highly anticipated home games against Michigan and Wisconsin. The Boilers have dropped those games by a combined score of 82-27. A defense featuring multiple NFL prospects has completely fallen apart, surrendering 771 rush yards in the past two weeks. Purdue's quarterback play continues to sputter, as does its third-down efficiency. If this is Hope's best team, as he has been saying for months, what does this say about the state of Purdue's program under the fourth-year coach? Fan apathy seems to be at an all-time high, too. Still, Michigan State might be the bigger first-half letdown, as the Spartans' offense has been a disaster aside from a few stretches. After going 14-0 at Spartan Stadium in 2010 and 2011, Michigan State now has lost three games on its home field, including two in Big Ten play. If the Spartans have any chance in the Legends Division, they'll need to play well on the road. The upcoming stretch -- at Michigan, at Wisconsin, home against Nebraska -- does them no favors.
4. Michigan's defense is the Big Ten's best unit right now:
No disrespect to Ohio State's offense, which is surging, but Michigan's defense has taken its play to the next level the past four games. After surrendering just 13 points for three straight weeks, Michigan blanked Illinois 45-0 for its first shutout since a 58-0 shellacking of Minnesota last year. Led by standout linebacker
Jake Ryan
, the Wolverines surrendered just 134 yards and only one first down in the second half against the Illini. Linebacker
Kenny Demens
continues to make plays, and the secondary limited Illinois to just 4.1 yards per completion. Michigan has surrendered an average of just 211.3 yards in its past four games and seems to be hitting its stride at a perfect time as Michigan State's slumping offense comes to the Big House. The Wolverines are generating more takeaways and preventing the big play. If the unit keeps up its play, Michigan will be very tough to beat in a softer-than-expected Legends Division. We put this label on Michigan State's defense before the season, and while the Spartan D hasn't been the problem there, Michigan's defense under coordinator Greg Mattison is a notch above the rest.
5. Braxton Miller's Heisman chances are getting better:
Urban Meyer might not consider Miller a Heisman Trophy candidate just yet, but the rest of the country certainly has the Buckeyes' sophomore quarterback on the radar. Miller received four second-place votes and eight third-place votes in the most recent
ESPN.com Heisman Watch
. After
Geno Smith
struggled -- at least by his lofty standards -- and West Virginia crashed and burned in Lubbock, Miller should be getting more consideration for the top spot. Yes, he's on a team ineligible for the postseason. Yes, he's only a sophomore. Yes, the schedule hasn't been that great. But Miller has been simply spectacular week after week. Miller racked up 211 pass yards, 151 rush yards and three touchdowns (2 pass, 1 rush) in Ohio State's 52-49 win against Indiana. Other than an interception in the end zone, Miller made good decisions and fired some of his best passes of the season, perhaps none better than a 60-yard scoring strike to
Devin Smith
. Miller should have had bigger numbers if not for several key drops. Whether he's No. 1 in the Heisman Watch is up for debate, but with Smith coming back to the pack, Miller definitely belongs in the discussion for college football's top prize. And as the Buckeyes showed again, they need every bit of Miller's magic with such a shaky defense, especially against spread teams.
October, 14, 2012
10/14/12
10:00
AM ET
What did we learn in Week 7? Read on.
Arizona State will be Oregon's toughest test
: Sure, the Sun Devils haven't played anyone, much less anyone nearly the equal of second-ranked Oregon. But the way the Sun Devils have looked against that schedule suggests strongly that they will be able to challenge the Ducks, particularly playing at home. Arizona State's defense is aggressive and gets good penetration, while the high-tempo offense has nice balance, and
Taylor Kelly
is playing better than any quarterback in the conference, including Ducks counterpart
Marcus Mariota
. And there is the issue of Mariota struggling in his only road start this season.
[+] Enlarge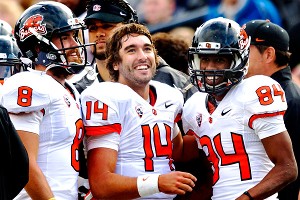 Douglas C. Pizac/US PresswireCody Vaz (14) proved he was a more-than-capable replacement at QB for Oregon State.
Oregon State can maintain with QB Cody Vaz
: Vaz, a redshirt junior making his first start since high school, completed 20 of 32 passes for 332 yards with three touchdowns and no interceptions in the Beavers'
42-24 victory
at BYU. That was pretty much the equal of what
Sean Mannion
, out with a knee injury, has done this year. Actually, Vaz's efficiency mark (180.6) would rank No. 1 in the Pac-12. Further, the Beavers were able to run the ball fairly well against the nation's No. 1 run defense, while the defense grabbed three interceptions. The Beavers are 5-0 for the first time since 1939. The magic continues.
Home Stanford, good. Road Stanford, bad
: The
Stanford Cardinal
are a completely different team when you get them away from the friendly confines of Stanford Stadium. In two road games this year, they have failed to score an offensive touchdown (the two they've had have come from the defense, one against Washington, one against Notre Dame). Quarterback
Josh Nunes
has struggled away from home. In his two road games, he's a combined 30-of-62 (48 percent) for 295 yards with no touchdowns and three interceptions. His teammates have dropped 11 balls on the road (five against Washington, six against Notre Dame). Stanford is on the road again next week for the Big Game against a Cal team that has won two straight.
USC just isn't going to be as pretty as expected
: USC quarterback
Matt Barkley
, the preseason Heisman Trophy front-runner, completed 10 of 20 passes for 167 yards in the
24-14 win
over Washington. He threw a touchdown pass. He threw a pick. It was his third game with fewer than 200 yards passing this year. His numbers aren't terrible, but they seem more like something he'd have done four years ago when he was the freshman starter for the nation's premier college football program, which never started true freshmen at QB. Barkley and receivers
Robert Woods
and
Marqise Lee
have fallen well short of high expectations, and maybe it's time to let those go. The preseason expectations for this team aren't being met. Still, the Trojans are 5-1. They are still in the national title hunt, if on the outside. It's just that the Trojans looked like a team that would make you gasp over the playmaking in the preseason. Hasn't been the case. This is a team that is conservative, often sloppy and good on defense. You know: SEC-ish.
California, Tedford aren't dead
: With a
31-17 victory
over Washington State, California improved to 3-4 overall and 2-2 in Pac-12 play. Is that a good record? No. But the Bears have won two in a row and will host Stanford on Saturday in an unusual midseason Big Game. Cal needs three wins to earn bowl eligibility, and the remaining schedule is far from easy. Coach Jeff Tedford remains on the hot seat, and it's difficult to imagine a losing record will leave folks in Berkeley happy. So the pressure remains. But two weeks ago, Cal seemed dead. Now it's off life support. If it can trip a Stanford squad coming off a dispiriting loss at Notre Dame, the hope may blossom into genuine opportunity.
October, 14, 2012
10/14/12
10:00
AM ET
Now that Week 7 is over with, it's time to take a look at what we learned in the SEC:
1. LSU isn't going away:
The Tigers limped into Saturday's showdown with South Carolina after being pushed around by Florida. By all accounts, the sky was falling in Baton Rouge and the Tigers had to face the music that they were playing for second place in the SEC West. But things feel much different on the bayou after an impressive win over the Gamecocks. The Tigers did all the pushing Saturday, outgaining South Carolina 406-211 and denying
Marcus Lattimore
to even touch the ball in the fourth quarter.
Zach Mettenberger
's performance wasn't pretty, but he didn't need to be with that running game churning out 258 rushing yards against one of the country's best defensive lines, and that kind of play can win in this league. LSU isn't out of the SEC or national race and the Alabama game just got a little more exciting.
[+] Enlarge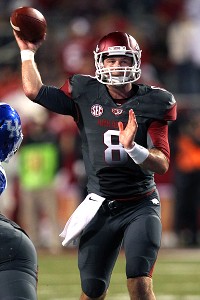 Nelson Chenault/US PresswireTyler Wilson threw five touchdown passes in Saturday's win.
2. Hot seats are only getting hotter:
Things just aren't working at Auburn, Kentucky and Tennessee. And that means that their respective coaches are really starting to feel the heat. Heading into the weekend, Kentucky's Joker Phillips was probably in the most hot water, and it's boiling after a 49-7 loss to Arkansas. Derek Dooley entered the season on the hottest seat and his Vols are now 0-3 in SEC play and eight wins is looking tougher and tougher by the day. And Gene Chizik has a bad offense
and
defense at Auburn. The Tigers gave Ole Miss its first SEC win since 2010 in a blowout in Oxford. The problem is that things just aren't getting better at any of these three schools and fans are beyond antsy and upset. None of the three schools have a conference win this season and have a combined record of 5-14.
3. Arkansas isn't done just yet:
Just when we thought the Razorbacks were dead in the water, they are slowly getting back into the bowl race. After a dismal September, the Hogs have shown tremendous pride the past two weeks with wins over Auburn and Kentucky. Granted, they are beating cellar dwellers, but there was a time when not many people thought the Hogs would win both of those. Arkansas' offense looks like we expected it to and could be a threat to its November competition. Arkansas is now three wins away from being bowl eligible. With home games against Ole Miss and Tulsa coming up, the Razorbacks might need just one win in the tough month of November to make it to the postseason.
4. Johnny Manziel might be the SEC's best:
Forget Johnny Football being the league's best freshman, he might be the SEC's best
overall
player. Through six games, the youngster has passed for 1,680 yards and 14 touchdowns and is completing 67 percent of his passes. He's also thrown only three interceptions. But where he's even more dangerous is in the ground game. Manziel leads the SEC with 676 rushing yards and has 10 touchdowns. He's lightning-quick and can outrun just about anyone out there. You take Manziel off of this team and the Aggies aren't close to being as good as they've been. He can change a game in a second with his feet, but also has the ability to make some quality throws. It's like he doesn't have an off button.
5. The East race will be even more interesting:
With South Carolina's loss to LSU, the East race is going to be even more fun to watch from here on out. The Gamecocks now share a loss with Georgia, while Florida sits atop the division. But the Gators host South Carolina next weekend before playing Georgia in Jacksonville, Fla. South Carolina certainly didn't want to lose, but with a win over Florida, the Gamecocks would own the tiebreaker over the Gators and Dawgs. So this loss won't sting as much. We could be headed to a similar situation as we saw last year in the West with Alabama, Arkansas and LSU. If these teams come out of this round-robin-style play with just one loss each, we'll officially be on "Tiebreaker Watch."
October, 14, 2012
10/14/12
10:00
AM ET
What did we learn in the Big East in Week 7? Glad you asked.
1. Going bowling.
Louisville and Rutgers increased their records to 6-0 and are among the first teams in the nation to become bowl eligible. Congrats to both teams. At this point, Louisville has a great offense and an average defense. Rutgers has a great defense but an average offense. And it is still incredibly difficult to find ways to separate the teams at the top of the Big East. Both looked vulnerable at times Saturday -- Louisville trailed at halftime to Pitt; Rutgers was tied at 7 with Syracuse. Both had impressive performances in the second half -- the Cardinals from their offense, the Scarlet Knights from their defense -- to pull out the victories. But it still feels as if both teams need to make major improvements to truly be considered elite teams this season.
[+] Enlarge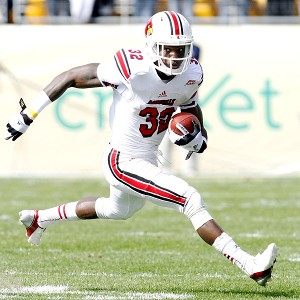 Charles LeClaire/US PRESSWIRESenorise Perry and the Louisville offense have the Cardinals unbeaten at 6-0.
2. Hot seat watch, Part 1.
I think we can officially add two more coaches to the hot seat watch. There were questions about Doug Marrone at Syracuse and Paul Pasqualoni at UConn going into the weekend, but those have grown after their respective losses. Let us start with Marrone. The Orange could not get out of their own way against Rutgers, continuing their alarming trend of turning over the football. Syracuse had four turnovers, giving the Orange 15 on the season with only five total takeaways. You are not going to win many games with that type of turnover margin. Red zone performance was terrible again. On four trips inside the Rutgers 20, Syracuse scored one touchdown. And then there was the blocked field goal that resulted in a Rutgers touchdown.
Jamal Merrell
had the block -- the same player who blocked a field goal attempt and extra-point attempt in Rutgers' win over Syracuse last year.
3. Hot seat watch, Part 2.
As for UConn, the Huskies had plenty of success passing on Temple early, but then reverted to their usual form and managed zero points after scoring 14 in the first quarter. In fact, the Huskies had 192 yards in that opening quarter. They then managed 189 yards of offense for the rest of the game. Still, UConn had more first downs, more total yards, held the ball longer, had fewer turnovers and lost in overtime. Place-kicking, which had been a strength the past several years with Dave Teggart, was a disaster.
Chad Christen
missed four field goals for UConn, including the potential game winner in overtime. A team that loses to Western Michigan and Temple in the same season has major questions to answer.
4. Temple is on a roll.
Nobody gave the Owls much of a chance to do anything in their first year in Big East play, but lo and behold they are 2-0 in the Big East. It is the first time that Temple has started 2-0 in Big East play AND has won consecutive league games. How is that for a statement? Steve Addazio has brought his "Temple Tough" brand of physical football to the Big East, and it has worked in the past two games. It may not have looked pretty at times, but the Owls can win games when they play physical, run consistently and limit the mistakes.
Montel Harris
has shown why he was such a huge get from Boston College, with his two straight 100-yard games. There is no quit in this team. In both its Big East wins, the chips were down at times, but the Owls showed a resiliency that should keep them in every game the rest of the way. Now here is one thing to keep in mind: Temple plays only 11 games this year, and that could hurt when it comes to bowl eligibility. The Owls did not have multiple gimme nonconference games like every other Big East team.
5. Cincinnati gets fired up after halftime.
Well, at least against inferior competition. Against Fordham, Cincinnati scored on all five of its second-half possessions to outscore the Rams 35-11. Last week against Miami (Ohio), Cincinnati outscored the RedHawks 28-0 after the break. This is quite the uninspiring stretch before the Bearcats face longtime rival Louisville in two weeks. But against Toledo next week, Cincinnati is going to have to work on starting faster. If this team wants to beat Louisville, it cannot afford to go through the motions for an entire half. The Rockets are 6-1 and will present a tougher challenge than Miami and Fordham, so Cincinnati has to be ready.