NCF Nation:

what-we-learned-101611
October, 16, 2011
10/16/11
10:43
AM ET
It's that time of year when the answers are starting to outnumber the questions.
Here's a look at what we learned in the SEC in Week 7:
[+] Enlarge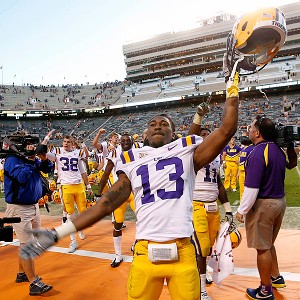 AP Photo/Wade Payne Ron Brooks and LSU have shown they can win big even when they don't play their best football.
1. The gap is getting wider:
We already knew that Alabama and LSU had separated themselves from the rest of the SEC, but the truth is that they're in their own league, maybe even on their own planet. LSU pummeled Tennessee 38-7 on the road Saturday, and LSU coach Les Miles conceded afterward that the Tigers didn't play their best game and were especially suspect to open the game. Alabama squashed Ole Miss 52-7 on the road after also getting off to a so-so start. Even when these two teams give up a rare play on defense, they adjust and finish the game with a vengeance. LSU has given up a total of 25 points in its past three games. Alabama has given up just 17 points in its past three outings. And on offense, they both have the kind of running games that pound teams into submission in the second half. Who's ready for Nov. 5 to go ahead and get here?
2. Richardson for Heisman:
It's starting to have that same feel as 2009 when Mark Ingram made his move. Alabama junior running back
Trent Richardson
is now front and center in the Heisman Trophy race and should be. If there's a better player in college football (and, yes, that includes Stanford quarterback
Andrew Luck
), let's see him. Richardson has been sensational in his past six games, rushing for 100 yards in all six and putting on a show in the rout of Ole Miss with 183 rushing yards and four touchdowns. Go back and watch his 76-yard touchdown run. Finding a better one this season in college football will be a chore. Richardson now has 912 rushing yards and 16 touchdowns and is ahead of Ingram's pace in 2009. If Richardson has a big game against LSU on Nov. 5 and the Crimson Tide win, the Heisman will (and should) be his to lose.
3. Two-team race in the East:
It's Georgia and South Carolina in the Eastern Division, and neither would be classified as a great football team right now. The Bulldogs just barely survived at Vanderbilt in a 33-28 win despite a glut of personal foul penalties, not being able to finish drives on offense and a total meltdown on special teams. The Gamecocks held on to win 14-12 at Mississippi State, and while their defense is playing its best football, there are real issues on offense. Star running back
Marcus Lattimore
suffered a sprained knee in the game, and the Gamecocks will know more about the severity of his injury on Monday. If he's out for a few weeks, this is a very beatable football team. Both teams have their warts, but they're also two games ahead of everybody else in the East. Kentucky, Florida, Tennessee and Vanderbilt all have three SEC losses.
4. Plain resourcefulness on the Plains:
Nobody expected this Auburn football team to be a championship-caliber football team again this season with all the Tigers lost a year ago. But this is definitely an Auburn football team that still knows how to win. It's also an Auburn football team that's on its way back when you look at all the youth on the roster. It's not a secret that the Tigers are struggling at the quarterback position right now, but they're finding ways around those issues and winning games. They've made vast improvement on defense. Their punter, Steven Clark, has been clutch, and they've committed to running the football. Their 17-6 victory against Florida on Saturday was a clinic in resourceful football, and that's a credit to the Tigers' coaches and their players. They've won five games now, and eight wins or more aren't out of the question this season. The Florida game was a huge swing game for both teams. While Auburn is far from a dominant team, it's a team that has mastered the art of winning.
5. Batting .500:
At this rate, we might have as many as six teams in the SEC that finish no better than .500 overall in the regular season. Kentucky (2-4, 0-3) and Ole Miss (2-4, 0-3) are both headed for losing seasons. It's going to be a struggle for Tennessee (3-3, 0-3) to finish above .500, especially with trips to Alabama and Arkansas looming. The Vols also get South Carolina at home on Oct. 29. Vanderbilt (3-3, 1-3) certainly hasn't been a pushover this season, but six overall wins in James Franklin's first season would be considered a huge success. Mississippi State (3-4, 0-4) needs to get busy if it's going to have a winning season. The Bulldogs are winless in SEC play and will have to upset either Alabama or Arkansas to finish above .500 in the regular season. Even Florida isn't a lock to have a winning record in the regular season. The Gators (4-3, 2-3) have lost three in a row and still have to face Georgia in Jacksonville in two weeks while also having to travel to South Carolina on Nov. 12 and wrapping up the regular season with a home game against Florida State.
October, 16, 2011
10/16/11
10:00
AM ET
Here's what I learned from Saturday's games.
Are you guys on board the K-State bandwagon yet?
Four consecutive weeks of being outgained and playing as underdogs. Four weeks of wins and Kansas State is 6-0 with a road game against Kansas standing between it and a mammoth showdown with Oklahoma in two weeks. The Wildcats are the antithesis to the Big 12 chuck-and-duck offense, taking their time and focusing on controlling the ball. Despite running 31 fewer plays than Texas Tech, the Wildcats had the ball for seven more minutes. Bill Snyder's teams slowly squeeze you, then take advantage of opportunities. Texas Tech provided them with three fourth-quarter turnovers.
Seth Doege
had just one interception all season to 17 touchdowns. K-State picked him off three times. And ... here we are. Respect this team, or else.
[+] Enlarge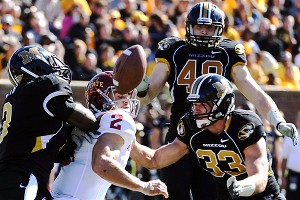 Dak Dillon/US PresswireMissouri's defense held quarterback Steele Jantz and the Cyclones to 17 points.
Missouri really is underrated.
The Tigers looked respectable in losses to Kansas State and Oklahoma and nearly beat Arizona State in Tempe, but a 2-3 record is a 2-3 record. Was Missouri really a good team that came out on the short end against two other good teams and one better? It looks that was the case after Saturday's game. Mizzou looked like it belonged in a different league in a 35-point win over Iowa State. And hey, pretty soon, maybe Mizzou might actually
be
in a different league than the Cyclones.
Oklahoma State isn't letting up any time soon.
The Cowboys weren't at their best, but still went into Austin and put an end to any talk of hexes or Mack Brown mojo after Red River. A rough game offensively still resulted in 38 points on the board, and the Cowboys were still in control and led by double digits for all but four minutes in the second half. That's eight consecutive road wins for Oklahoma State. This team is unflappable.
Kansas has a pulse.
Saturday night's game against Oklahoma turned out to not be R-rated television, censored for violence. Kansas lost convincingly, but the Jayhawks showed up and hung with the Sooners for most of the game. This was certainly not expected after Kansas gave up 66 points to Georgia Tech and 70 to Oklahoma State last week, and found themselves at the bottom of college football in total defense and scoring defense. Look past the final score, and you might see progress for Turner Gill's team at Kansas. Can they continue it next week in a rivalry game against Kansas State? The Wildcats won last year's game 59-7.
Texas A&M is dangerous when it all comes together.
Hold your second-half Aggies jokes for another week, and maybe longer, folks. Texas A&M finally put two strong halves together against a legitimate opponent, and the second half was the best. The Aggies outscored a dangerous Baylor offense 31-14 after halftime, and shut it out in the fourth quarter while
Robert Griffin III
tried to rally his team. That included a huge goal-line stand with lots of pressure on RG3. A
solid, solid day from Texas A&M in its best performance of the season
. Beware, Oklahoma. If Texas A&M plays like this in Norman, the Sooners will have a fistfight on their hands.
October, 16, 2011
10/16/11
10:00
AM ET
What did we learn in the Big East in Week 7?
1. The offense went missing.
West Virginia and its prolific offense took a seat on the couch this week, leaving the rest of the league in the spotlight. Most of us had to hide our eyes at what passed for offense Saturday. UConn, Louisville and Pitt failed to score offensive touchdowns. USF had one. The highest scoring team -- Cincinnati with 25 points. That would be 20 points below its season average. Only the Bearcats and Rutgers went over 20 points. It was the ugliest weekend of the season.
[+] Enlarge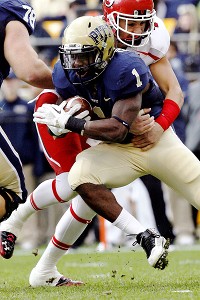 Charles LeClaire/USPRESSWIREWith almost no passing game, Utah was able to key on Pitt running back Ray Graham.
2. Pitt is in trouble.
The Panthers have now scored 10 points of offense in the past two games combined, reaching rock bottom in a 26-14 loss to Utah in which they scored on a kickoff return and a blocked punt. Simply put: they have no quarterback.
Tino Sunseri
has had one good game out of the seven he has started. True freshman backup
Trey Anderson
has looked totally overwhelmed. Teams know they can key in on
Ray Graham
when there is no threat to pass. Pitt finished with 50 yards passing, and starting receivers
Devin Street
,
Mike Shanahan
and
Cam Saddler
combined for -- NO catches. What is supposed to be a "high-octane" offense is sputtering like a clunker that is running on molasses. If Pitt continues to play this poorly, its bowl prospects will be in serious jeopardy.
3. The USF Bulls teased. Again.
This is a team that starts off hot, but then disappoints. With 16 days between games, you would have thought the Bulls would have played a bit better against UConn. Four turnovers -- including three from
B.J. Daniels
-- cost them big time in a 16-10 loss. So did nine penalties and an inability to convert on third down for the second straight week. After a 4-0 start that featured three wins against cupcakes, the Bulls are now 0-2 in conference. Their two losses are to teams that currently have losing records (Pitt, UConn are each 3-4).
4. Rutgers, Cincinnati nearly bowl eligible.
Two teams nobody picked anywhere near the top of the conference are now one win away from becoming bowl eligible. Both were 4-8 last season; both sit at 5-1 headed into next week. Both hit the road next week: Rutgers is at Louisville; Cincinnati goes to USF.
5. Defensive fronts dominated.
Well, maybe the offense was bad, but the defensive lines had nice showings Saturday. Cincinnati defensive tackle Derek Wolfe had a career-high 11 tackles and the Bearcats had four sacks. Rutgers had four sacks -- on a triple-option team. Pitt had seven sacks against Utah. USF tied a school record with seven sacks -- Ryne Giddins set a career high with two sacks and Sam Barrington set a career high with 1.5 sacks. Louisville had three. The only Big East team that did not have a sack this week was UConn -- the No. 2 team in the conference in that category headed into Week 7.
October, 16, 2011
10/16/11
10:00
AM ET
Here's a look at the lessons learned in Week 7:
Georgia Tech no longer owns the Coastal Division.
Thanks to rival Virginia, Virginia Tech's chances of defending its division title just got better. The Hokies and Yellow Jackets both now have one conference loss each, and they still haven't played each other. Virginia isn't far behind with two conference losses, and don't count out a three-loss team just yet. It's happened before in the ACC. The bottom line: Virginia opened up the conference race, and shocked the college football world in the process.
The Virginia Tech-Miami game in Week 6 looks like a turning point for both teams.
In retrospect, this was a bounce-back game for both programs, even though Virginia Tech came out with the win. For the Hurricanes, their second-half effort against the Hokies carried over to their win against North Carolina this past weekend, and gave the Canes their first league win of the season. For Virginia Tech, the offense gained a confidence against Miami and quarterback
Logan Thomas
continued to build off that breakout performance in the win over Wake Forest. Both teams started to find an identity in Week 6, and despite a sluggish start, neither team has quit.
[+] Enlarge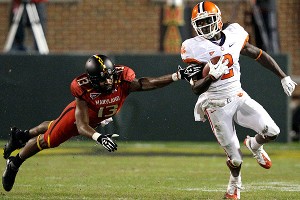 AP Photo/Patrick SemanskySammy Watkins found the end zone three times in Clemson's win over Maryland.
Clemson freshman Sammy Watkins is the new C.J. Spiller.
Only better. With his 345 all-purpose yards against Maryland, Watkins surpassed Spiller's previous school record of 312. Watkins also became the second freshman to score three touchdowns in a game. With his eight receptions against Maryland, Watkins now has five of the top 12 single-game freshman bests in school history. His 89-yard kickoff return for a touchdown in the fourth quarter changed the game. Thanks to Watkins, the Tigers stand alone in the ACC.
Maryland quarterback C.J. Brown has taken control of the Terps' offense.
You have to wonder how much longer
Danny O'Brien
will stick around. Coach Randy Edsall's decision to bench O'Brien, the 2010 ACC Rookie of the Year, was perplexing, but Brown proved him right against Clemson, as Maryland's spread offense looked arguably the best it has all season. Brown rushed for 162 yards, a school record for a quarterback, and threw for three touchdowns in the 56-45 loss to Clemson.
Florida State isn't back, but quarterback EJ Manuel is.
This is what Manuel looks like when he's healthy -- and when he's throwing against Duke. The Seminoles' offense came to life with Manuel back in the starting lineup on Saturday, as he threw for 239 yards and two touchdowns and was also the team's second-leading rusher with 62 yards and two more touchdowns. Last week, when he came in off the bench in an "emergency situation" against Wake Forest, Manuel threw two interceptions. Against Duke he was turnover-free, and the Noles got their first conference win of the season.
October, 16, 2011
10/16/11
10:00
AM ET
What did we learn from Week 7 of Pac-12 action?
Oregon can beat you a lot of different ways
: Oregon didn't have its top two offensive stars on the field -- running back
LaMichael James
and quarterback
Darron Thomas
-- when it asserted itself in the second half against Arizona State. What that showed in a 41-27 win is the Ducks not only have depth, they also have confidence that the next players in line -- in this case
Kenjon Barner
and
Bryan Bennett
-- are good enough to get the job done. Still, the Ducks probably would like James and Thomas back as soon as possible.
[+] Enlarge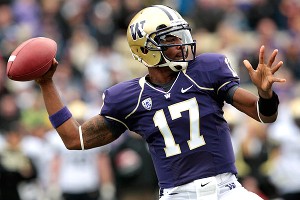 AP Photo/Elaine ThompsonKeith Price threw four touchdown passes in Washington's win over Colorado.
Washington is ready for a test; so is Stanford
: Washington is 5-1, but it hasn't beaten a team with a winning record. The Huskies' lone loss came at Nebraska , where they were competitive but still lost 51-38. This looks like a pretty good team, particularly on offense, but it's hard to be sure. Enter Stanford. The closest an opponent has been to Stanford, now 6-0, is 26 points (UCLA), but none of its previous foes have winning records either. The Cardinal have been dominant on both sides of the ball, and they whipped the Huskies 41-0 last year. This figures to be the second matchup of ranked Pac-12 teams this year. The Huskies could make a big statement with an upset. The Cardinal would get credit for a quality win.
Utah is pretty good when it doesn't beat itself
: Utah lost the turnover battle 10-1 in its previous two games, not surprisingly both losses. It beat Pittsburgh 26-14, largely because it didn't turn the ball over and the Panthers did three times. While not a perfect performance -- the Utes gave up two special-teams TDs -- it should remind the Utes what they can do when they play smart football.
Tedford's seat is heating up
: The 30-9 loss to USC was California's third consecutive conference defeat, and the regression of QB
Zach Maynard
is a concern. While coach Jeff Tedford did a nice job rebuilding the program, he also is responsible for the program's present state. And that is uncertain. Another bowl-less season in Berkeley could make life difficult for Tedford.
Colorado, Oregon State and Arizona -- who's the worst
? Colorado and Oregon State don't play each other, which I'd bet bothers both because they'd see a chance to win. And, of course, Oregon State's win over Arizona was the final straw for coach Mike Stoops. The Wildcats and Buffs square off on Nov. 12 -- the same day Oregon and Stanford play -- in what will be a key contest for figuring out the No. 12 spot in the conference.
October, 16, 2011
10/16/11
10:00
AM ET
Five lessons from the week that was in Big Ten football.
1. Wisconsin is the Big Ten's only national title contender:
Not a huge revelation, but it became official Saturday as both Michigan and Illinois lost to leave Wisconsin as the Big Ten's only unbeaten team. The Badgers have absolutely dominated the competition through the first six games, outscoring their opponents by a combined count of 301-58. Bret Bielema's squad is clearly the class of the Big Ten at this point, and there could be a substantial gap between Wisconsin and the rest of the league. We'll find out this week as Wisconsin visits East Lansing, a place where it has struggled in recent years (three straight losses).
[+] Enlarge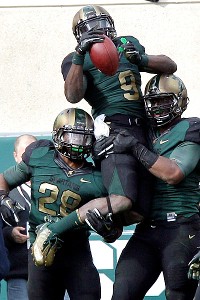 AP Photo/Carlos OsorioIsaiah Lewis' interception against Michigan helped the Spartans remain undefeated.
2. Spartans are team to beat in Legends division:
Michigan State is the only unbeaten team in the Legends division, and the Spartans established themselves as top dogs with a 28-14 win against archrival Michigan. With three division road games left -- Nebraska, Iowa and Northwestern -- Michigan State had to take care of business on its home field. The nation's top-ranked defense contained
Denard Robinson
and forced mistakes, the biggest a pick-six by Isaiah Lewis. Michigan State's offense surged behind
Edwin Baker
,
Kirk Cousins
and
Keshawn Martin
. Michigan State now has a chance to make a league-wide statement next week against Wisconsin before resuming division play.
3. Michigan hasn't arrived:
Brady Hoke kept trying to warn us, saying his team was overrated and that it wasn't close to his expectations for Michigan football. The Wolverines had some red flags during their 6-0 start, but they managed to cover up their warts with solid second-half adjustments and some heroic play from their quarterback. Well, we saw what happened when Michigan's flaws ran up against a good team on the road. Robinson's shortcomings as a passer were exposed, especially in a windy environment, and the Wolverines' defense got pushed around by a young Spartans offensive line. Michigan is clearly not anywhere near ready to be ranked in the top 10. The good news is, the Wolverines are still good enough to beat every team left on their regular-season schedule.
4. Illinois has a ways to go, too:
Like Michigan, the Illini got off to a 6-0 start based in part on their comfortable home schedule. And like Michigan, we wondered just how for real this team was. Illinois had been living on the edge this season, winning its previous three home games by a total of nine points. The margin for error narrowed to nothing against Ohio State, which used a dominating defensive performance and power running game to humble Ron Zook's team. When you lose by 10 at home and the other team completed only one pass, you've been outmuscled. The Illini weren't as good as their record, but they still have enough talent to get to a good bowl game.
5. The next bubble to burst might be Penn State:
The Nittany Lions deserve credit for being 6-1, and the defense continues to shine. But like Illinois and Michigan, they have some highly-exploitable weaknesses: namely, their offense. Purdue nearly pulled the upset in State College, and who knows what the outcome would have been if Carson Wiggs didn't miss a field goal and an extra point. Our point is, the Nittany Lions could be in trouble once they start facing the better teams on their schedule, particularly the ones who can score at least a couple of touchdowns. As this weekend taught us, a team's flaws will eventually catch up with it.
TOP 25 SCOREBOARD
Friday, 12/6
Thursday, 12/5
Saturday, 12/7
TOP PERFORMERS