NCF Nation:

what we learned 101710
October, 17, 2010
10/17/10
10:28
AM ET
It's been that kind of season so far in the SEC.
Just when you think everything might be starting to take shape, the next weekend rolls around and the landscape changes again.
This much is for sure: We're in for one wild ride the rest of the way.
Here's a look at what we learned in Week 7:
[+] Enlarge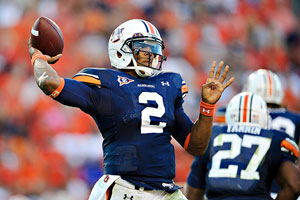 Paul Abell/US PresswireCam Newton rushed for three touchdowns and threw for another in Saturday's win.
1. Newton for Heisman:
As fate would have it, the seventh week of the season a year ago was when a player from the state of Alabama thrust his name to the top of the Heisman Trophy charts with a signature game. Alabama's
Mark Ingram
had 246 yards rushing in a 20-6 win over South Carolina, a performance that announced to the college football world once and for all that Ingram was the real deal. We all know how that turned out. Fast forward to this past Saturday -- the seventh week of the 2010 season -- and it was Auburn's
Cam Newton
making perhaps his strongest case yet why he's college football's most outstanding player with 328 yards of total offense, three rushing touchdowns and one passing. There's nobody else in the country quite like Newton. For that matter, it's debatable whether or not there's ever been anybody quite like him in the SEC. You're talking about a 6-foot-6, 250-pound quarterback with tailback speed, tailback moves and an NFL-caliber arm. But what sets him apart is his toughness. In his past two games, he's carried the ball 53 times. Auburn offensive coordinator Gus Malzahn said following the 65-43 win over Arkansas that there was really no way of knowing just how tough Newton was in the preseason because they didn't allow him to be hit. Well, he's doing the hitting now. Just ask Arkansas linebacker Jerico Nelson, who was flattened by Newton on his way to his first touchdown run.
2. Passing on by the Tigers:
For everything Auburn has done right this season, the Tigers still haven't stopped anybody who can throw the football. They were shredded by Arkansas' passing game on Saturday, and that's something that needs to get fixed in a hurry as they turn their attention to LSU. But here's the catch: LSU throws the ball as poorly as Auburn defends the pass. The Tigers managed all of 103 passing yards and no touchdown passes against McNeese State in a 32-10 win. Auburn, meanwhile, was busy giving up 428 passing yards and five touchdown passes to Arkansas in a 65-43 win, and most of those yards were generated by the Hogs' backup quarterback,
Tyler Wilson
. Time and time again, Wilson completed passes over the middle or down the field, and there wasn't a safety in sight. It doesn't help the Tigers any that senior safety Aairon Savage went down in the fourth quarter with what appeared to be a significant injury. The Tigers hadn't given up a lot of big plays on defense until the Hogs exposed them on Saturday. The other thing to consider is that Auburn won't see another passing game as explosive as Arkansas' the rest of the way, but you can bet that teams will be putting it in the air against the Tigers until they prove they can stop it.
3. Bulldogs believing:
It's official. Mississippi State is the SEC's most improved team. The Bulldogs (5-2, 2-2) have won four straight games, and they're doing it the old-fashioned way with physical, bloody-your-nose football. In taking down Florida 10-7 on Saturday, Mississippi State ran the ball 49 of its 58 plays and had 24 straight running plays at one point to finish with 212 yards on the ground. Dan Mullen has this program on the move, and a big part of that has to do with the mindset he's instilled in Starkville and the way he's hired. His staff has done an excellent job, highlighted by what John Hevesy has done with the offensive line and what Manny Diaz has done with the defense in his first season as the Bulldogs' defensive coordinator. Mississippi State was third in the league in rushing offense going into the Florida game, and the Bulldogs have now held five of their seven opponents to 17 points or fewer. When you can run the ball on offense and limit teams' scoring on defense, you're going to win a lot of games.
4. Spread ain't working:
Something's gotta give at Florida. That offense is wretched, and watching the Gators try to run that spread offense with
John Brantley
at the helm is like watching a toddler repeatedly trying to jam a square peg into a round hole. It doesn't fit, and it's not going to fit. Brantley simply doesn't fit that offense, and this isn't a pile-on-Brantley thing, either. After all, the guy's a drop-back passer. That's what he does and does well. Anybody who's seen him throw it knows he can, which leads us to the most obvious question: What happened to tweaking that offense and molding it around what Brantley does best? Right now, the Gators don't have anything to hang their hat on offensively. They can't run the ball. They can't throw it, and they're asking their quarterback to do things he can't do. And, yes, the play calling lacks the creativity we're used to seeing out of Florida's offense, which brings up another point. Offensive coordinator Steve Addazio is getting fleeced by the fans right now. But it's Urban Meyer's offense, Meyer's team and Meyer's responsibility to get a lot more than he's getting right now out of a team loaded with four- and five-star prospects.
5. Least of the East:
Does anybody want to win the Eastern Division? South Carolina's 31-28 loss to Kentucky and Florida's 10-7 loss to Mississippi State means that all six teams are mathematically alive … and we're in the latter half of October. In the previous two seasons, Florida was on the verge of wrapping this baby up by now. The only three teams in the East that control their own destiny at this point are Florida (4-3, 2-3) South Carolina (4-2, 2-2) and Vanderbilt (2-4, 1-2), if any of those three can win out. It's safe to say the Commodores aren't going to win out. But at this rate, it's probably safe to say that nobody in this division is going to win out, which would really throw things into a jumbled mess. Ultimately, South Carolina's visit to Florida on Nov. 13 will probably determine who goes to Atlanta, but Georgia is also lurking in the shadows after being left for dead as recently as two weeks ago. Should the Bulldogs win their remaining three SEC games against Kentucky, Florida and Auburn, they could win the East if South Carolina loses two of its remaining four games to Vanderbilt, Tennessee, Arkansas and Florida. Even Kentucky, which has lost two of its three SEC games by a touchdown or less, still has some life. Should the Wildcats win out against Georgia, Mississippi State, Vanderbilt and Tennessee, they would own the head-to-head tiebreaker with South Carolina if the two of them finished deadlocked in a two-way tie. That would entail South Carolina beating Florida, but losing to either Arkansas, Tennessee or Vanderbilt. A lot to digest, for sure, but something says this is a race that's only going to get more convoluted as we go forward.
October, 17, 2010
10/17/10
10:06
AM ET
Five lessons from the week that was in Big Ten football. Study up.
1. The Big Ten title race goes through Iowa City:
Iowa's impressive performance at Michigan combined with wins by both Michigan State and Wisconsin increase the likelihood that the 2010 Big Ten championship will be decided at Kinnick Stadium. The Hawkeyes host Wisconsin and Michigan State the next two weeks and still have a Nov. 20 home date against Ohio State, which isn't out of the race despite Saturday night's loss in Madison. The wild card is Purdue, which still has trips to both Ohio State and Michigan State. If Iowa can defend its home turf, it likely will be going to Pasadena for the first time in 20 years.
[+] Enlarge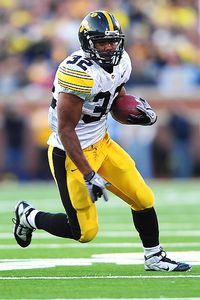 Andrew Weber/US PresswireThe Big Ten title will likely run through Adam Robinson and Iowa.
2. Bret Bielema can win a big game:
Bielema's record looked a little hollow before Saturday night. He had won 43 games with the Badgers, but only one against a ranked opponent from the Big Ten. In leading Wisconsin past Ohio State, Bielema accomplished something not even his predecessor and boss Barry Alvarez can attest to: a win against the nation's No. 1 team. The Buckeyes were the only Big Ten team Bielema had yet to beat (0-3 before Saturday night). Wisconsin took a big step toward elite status again, although things don't get easier this week at Iowa.
3. Michigan State has a playmaking defense:
One of the few small numbers attached to Michigan State's defense in 2009 was interceptions. The Spartans had only six all season, tied for the second fewest in the country (Illinois, Florida Atlantic, Tulane and UNLV each had five). They have reversed the trend in impressive fashion this fall, recording 12 interceptions, including three in each of the past two games. Michigan State's secondary had a hand in all four takeaways against Illinois, despite playing without suspended cornerback Chris L. Rucker. "The kids are making plays," Spartans defensive coordinator Pat Narduzzi said. "There is no magic to it."
4. Change is in the air at Minnesota:
The official announcement hasn't arrived yet, but
Tim Brewster appears on his way out
as Golden Gophers coach after four seasons. The Gophers dropped their sixth consecutive game Saturday, falling behind 21-0 at Purdue, and team officials appear ready to act sooner rather than later. Despite a contract extension this winter, Brewster entered the season on the hot seat and has done little to help his cause. If Brewster is finished, it will be interesting to see how the school handles the search. Will athletic director Joel Maturi, who hired Brewster, get another chance to tab the man to lead the football program?
5. Ohio State's streak of league titles in jeopardy:
The Buckeyes now need to win out and get some help to extend their streak of Big Ten titles to six. Ohio State not only lost the No. 1 ranking on Saturday night, but also control of its own destiny in the league title race. Jim Tressel's team must win out and hope Michigan State stumbles at least once to ensure a co-championship. To get back to the Rose Bowl, Ohio State should root for Iowa to keep winning until Nov. 20, when the Buckeyes visit Iowa City. Every Saturday can change the picture in college football, and Ohio State's picture just got a lot cloudier.
October, 17, 2010
10/17/10
10:06
AM ET
1. The
Big 12 North a two-horse race. The gap between Missouri and Nebraska wasn't astronomical before Saturday, but it was clear. Now? It appears to be quite a bit closer than when the world woke up on Saturday. A Tigers-Cornhuskers showdown in Lincoln looms on Oct. 30. After Texas' upset of Nebraska on Saturday, a Missouri loss to Oklahoma next week wouldn't hurt too badly in terms of winning the North. As for the rest of the division, well ... let's just say you won't see Missouri or Nebraska losing to anyone by five touchdowns this year. It would be shocking to see the winner of that game in Lincoln not win the North.

[+] Enlarge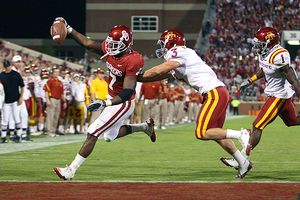 Nelson Chenault/US PresswireDeMarco Murray and Oklahoma hold the Big 12's best shot at reaching the national title game.
2. Oklahoma answered the bell as the Big 12's lead national title contender.
With Nebraska out -- for now -- of the national championship picture, Oklahoma looks like the conference's top team. The Sooners had arguably their best performance of the season, delivering a 52-0 beating to Iowa State in Norman. The defense has been inconsistent, but top to bottom, Oklahoma looks like the league's most complete team, even if it isn't the Big 12's most explosive team. When it comes to passing the ball and stopping the pass, as well as running the ball and stopping the run, Oklahoma has shown that it has the capacity to be one of the league's best. Rare are the games Oklahoma puts it together for an entire game, but the Sooners did that on Saturday night.
3. Write off Texas and Mack Brown at your own risk. You knew Texas had a chance to win in Lincoln on Saturday, if only because of Mack Brown's success against the Huskers. I felt confident the Huskers would win, but Mack Brown showed once again why he's one of the best coaches in the game. G-Magic, Garrett Gilbert is not. But he showed the ability to run, and one of the reasons it worked was because I very much doubt Nebraska had prepared for it. Maybe I'm wrong, but it certainly didn't look like it. Brown used those runs to build a lead, and then handed the game to his platoon of running backs, Fozzy Whittaker, Tre' Newton and Cody Johnson, who carried the Horns to a win. And that's without even mentioning the way Texas completely shut down Taylor Martinez and prompted the second benching in three games for the freshman. Texas was aided by dropped passes from Nebraska, but the Longhorns deserved to win that game.

This was a picture-perfect game plan that salvages some of Texas' season and leaves it in the Big 12 South picture, should Oklahoma stumble.
Additionally, our condolences to Brown and the family of his wife, Sally Brown, who didn't attend Saturday's game after the death of her brother.

4.
Baylor will get its chance to make school history. Before the season I thought Baylor had six games on its schedule that didn't necessarily require an upset to win. So far, Baylor is 5-0 in those games and 5-2 heading into next week's game with a chance to end a 15-year bowl drought. It will host Kansas State and probably be a slight favorite, with Robert Griffin playing the best football of his career. For all the cruel fate of last season, beginning with Griffin's injury and ending with a one-win conference season, this year has gone almost exactly as planned for the Bears, who are a couple dropped passes away from already being bowl-eligible.

5. Kansas might be historically bad after all. So far, Kansas has played two teams in the bottom half of the Big 12, and it's lost by 48 and 52 points. That's inexcusable. Kansas ducks Texas and Oklahoma on this year's schedule, but what's going to happen when it plays at Nebraska on Nov. 13? The Jayhawks have to get better fast, and quit losing in such embarrassing fashion. That's embarrassing for everyone in the conference, and right now, these Jayhawks are looking like the new Washington State. Find me a BCS conference team playing worse football right now.

6. Oklahoma State must be accounted for in the Big 12 title race. Missouri gets to definitively have a chance to prove itself against Oklahoma next week. Oklahoma State's turn will come earlier in the afternoon when it hosts Nebraska. Don't discount the difficulty of winning in Lubbock, and Oklahoma State did exactly that, in more convincing fashion than Texas earlier this season. The deeper we get into this season, the clearer it becomes that Bedlam in Stillwater on the season's final weekend may decide the Big 12 South. A win by the Cowboys over Nebraska next week would make that almost a certainty.

October, 17, 2010
10/17/10
10:06
AM ET
1. Defense keys West Virginia:
The Mountaineers' offense gets a lot of attention because of all of its swift playmakers. Make no mistake, though: this West Virginia team starts with its defense. The veteran group shut down South Florida on Thursday night, allowing just 202 yards to an admittedly offensively-challenged team. West Virginia leads the Big East in fewest points and yards given up, and that defense could lead this team to a Big East title.
[+] Enlarge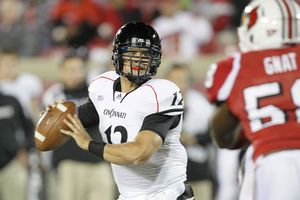 AP Photo/Ed ReinkeZach Collaros passed for 275 yards and five touchdowns against Louisville.
2. Cincinnati's offense is back:
The Bearcats couldn't move the chains or reach the end zone much in the first few weeks as their offensive line continually got blown up. Things have turned around, and in the past three games Cincinnati has scored 109 points. It's not quite the juggernaut of 2009, but
Zach Collaros
threw five touchdown passes at Louisville and
Isaiah Pead
is averaging nearly nine yards per carry. That offense means the Bearcats are still dangerous in the Big East race.
3. Don't count out Pitt:
After a 2-3 start and all kinds of issues on and off the field, it was easy to dismiss Pittsburgh's chances in the Big East. But the preseason favorites reasserted themselves in a 45-14 dismantling of Syracuse on the road. If
Tino Sunseri
can manage the passing game the way he did Saturday, and the defense and running game remain at that level, then the Panthers have just as good a chance as anyone to win the league title.
4. Chas Dodd is a winner:
Rutgers trailed Army 17-3 at the end of three quarters, and true freshman quarterback Chas Dodd was sacked a whopping nine times. But Dodd continues to work his magic in place of
Tom Savage
. He threw two fourth-quarter touchdown passes and helped the Scarlet Knights win in overtime. Dodd is 16-of-22 for 285 yards and 3 TDs in the fourth quarter and overtime of the past two games, both Rutgers wins. That's clutch, and it's incredibly impressive for someone so inexperienced.
5. Not yet, Louisville and Syracuse:
Fans at Louisville and Syracuse were understandably excited when their teams started 3-2 and 4-1, respectively. Each began conference play with one of the preseason favorites at home. They gave up a combined 80 points in a pair of losses. Both the Cardinals and the Orange are more competitive than they've been in recent years, and each could still challenge for a bowl. But thoughts that either could finish in the upper half of the Big East now look a bit premature.
October, 17, 2010
10/17/10
10:05
AM ET
What did we learn this week?
USC ain't dead yet
: USC can't play in a bowl game due to NCAA sanctions. It was coming off consecutive losses on last-second field goals. There were lots of injuries for a thin team lacking numbers. The defense has looked wimpy. Ah, but the Trojans looked completely reborn in a 48-14 beatdown of California. They outgained the Bears 602 yards to 245. QB
Matt Barkley
threw five TD passes and for 352 yards. Give credit to coach Lane Kiffin for keeping his team focused when everyone was writing them off. And Oregon's visit on Oct. 30 suddenly looks really, really interesting.
[+] Enlarge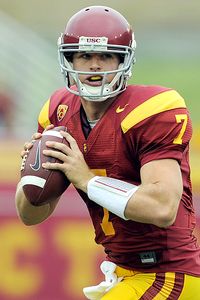 AP Photo/Chris CarlsonUSC's Matt Barkley passed for 352 yards and five touchdowns against Cal.
California might be a different team every week
: Over the coming weeks, the Pac-10 blog will include stories about Cal, perhaps predicting what the Bears will do. Let's just be clear: We have no idea what Cal will do. We thought the previous two games -- a tight game at Arizona and a big win over UCLA -- indicated that the Bears could be back on track after a bad loss at Nevada. Now they have two bad losses this season. They looked terrible on both sides of the ball at USC. Senior QB
Kevin Riley
has not advanced. It's very likely that the Bears are going to surprise us by beating someone this season we didn't think they'd beat. And they probably will lose to someone we thought they'd beat.
Arizona needs Matt Scott to step up
: QB
Nick Foles
is likely out at least a couple of weeks with a knee injury. That means Matt Scott takes over the offense. Scott began the 2009 season as the starter before losing his job to Foles. Scott is a good runner but is not the passer that Foles is. You'd think the Wildcats can handle Washington at home next weekend and a visit to UCLA on Oct. 30. But what about a trip to Stanford on Nov. 6? Or will Foles be back by then? Or will Scott be the man in what figures to be a big game for determining the conference pecking order? And then comes USC and a trip to Oregon.
Ryan Katz won't escape growing pains
: Katz, Oregon State's impressive sophomore QB, had seemed to be improving every game, and when he threw for 393 yards in an upset win at Arizona last weekend, his upside seemed extraordinary. But he came down to earth in Seattle on Saturday. He threw three interceptions and completed just 17 of 31 passes for 206 yards in the double-overtime loss to Washington. He had just one pick in the previous five games. See: This Pac-10 stuff ain't easy.
The cannibalism has begun
: Surging UCLA falls to Cal. Surging Washington loses to Arizona State. Surging Arizona loses to Oregon State. Surging Cal falls to USC. Surging Oregon State loses to Washington. If you don't like the momentum in the Pac-10, just wait a weekend. That should be a warning to Oregon and Stanford.
October, 17, 2010
10/17/10
10:04
AM ET
Here's a look at the lessons learned in Week 7:
Turnovers rule.
It was a rough weekend for ACC quarterbacks. FSU's
Christian Ponder
accounted for all four of his team's turnovers on three interceptions and one fumble. Duke's
Sean Renfree
had six of the team's seven turnovers on five interceptions and one fumble. There were eight total turnovers in Georgia Tech's game, with Middle Tennessee accounting for six of them. Virginia's
Marc Verica
had three interceptions, Maryland's
Danny O'Brien
had three, and NC State had four turnovers, including three picks by
Russell Wilson
. It wasn't pretty.
[+] Enlarge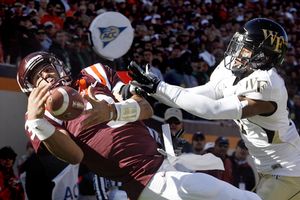 AP Photo Virginia Tech has looked impressive in ACC play so far. The Hokies and Florida State are the only league unbeatens remaining.
Florida State and Virginia Tech are the ACC's lone unbeaten teams in conference play.
That doesn't mean, however, that they've got this thing locked up. The Seminoles should be thankful they escaped with a win against BC despite four turnovers. And Virginia Tech still has to play Georgia Tech, UNC and Miami -- three teams which are all still in the hunt for the Coastal Division title. FSU is the ACC's first bowl-eligible team.
Maryland wasn't as good as its 4-1 record indicated.
Make that 4-2. The Terps weren't able to get much going offensively in their 31-7 loss to Clemson, and so far they've struggled against decent competition. Clemson held Maryland to just 44 rushing yards and was able to neutralize top receiver
Torrey Smith
. They also had 10 penalties for 93 yards. It was only Maryland's first ACC loss of the season, but it came against an Atlantic Division opponent, which could come back to haunt them.
NC State is not the best team in the state.
North Carolina was able to beat East Carolina. The Wolfpack? Not so much. Wilson's interception in overtime ruined any chance at a comeback, but it wouldn't have gone into overtime if NC State's defense had been able to make some stops and slow down Pirates quarterback
Dominique Davis
. Granted, UNC and NC State don't play each other until Nov. 20, but the Tar Heels don't have an ECU loss on their resume. Virginia Tech can claim a North Carolina state championship with a win over Duke this Saturday. The Hokies have wins over Wake Forest, ECU and NC State already.
Duke, Virginia, Boston College and Wake Forest are on the outside looking in.
With three conference losses each, the best these programs should hope for this season is to play the role of spoiler. All of them have had significant problems that aren't likely to be corrected in the second half of the season. It has to be particularly frustrating for BC, as the Eagles' defense has been playing well enough to win.
October, 17, 2010
10/17/10
10:00
AM ET
What we learned from Notre Dame's 44-20 home win over Western Michigan on Saturday:
1. The Irish may have a killer instinct:
Though not necessarily an assassin's mentality. After a subpar first half saw Notre Dame lead just 27-17, the Irish turned in a dominating third quarter on both sides of the ball to break Western Michigan's spirit. It was precisely the kind of effort lacking earlier this year when other, better opponents were on the ropes. It shouldn't have taken a halftime tongue-lashing to get Notre Dame going, but you can understand a lackadaisical attitude after six straight games against BCS competition.
2. Kyle Rudolph's loss might not be gigantic:
Not if
Tyler Eifert
can play like he did Saturday. Replacing Rudolph in the starting lineup, Eifert had four catches for 72 yards and a 39-yard touchdown. Eifert isn't quite as good as Rudolph; few tight ends are. But he's talented in his own right and can help replace the lost production if he keeps this up.
3. Not much else:
Michael Floyd
had a huge day (nine catches, 157 yards, three touchdowns).
Cierre Wood
nearly ran for 100 yards in a nice second half as Armando Allen didn't play much. The Irish won their third straight. But the bottom line is that this was Western Michigan. Notre Dame should have had a big day against an overmatched MAC team. Next week's Navy game will provide more insight.
October, 17, 2010
10/17/10
10:00
AM ET
What did we learn from the non-AQs in Week 7? Read on to find out.
1. And then there were three.
Boise State, TCU and Utah are the only non-AQ teams that have a shot at a BCS bowl this season, now that Nevada has been knocked from the ranks of the undefeated. The Broncos took a hit to their strength of schedule after the Wolf Pack and Oregon State lost, and it appears they could be No. 3 when the BCS standings are released later today. What Boise State needs is for the major conference teams to continue to lose, which is exactly what happened on Saturday. Of course, it remains to be seen whether an undefeated Boise State or TCU/Utah would finish ahead of a one-loss power conference team at the end of the season for a spot in the BCS national title game. That has never happened.
2. Winless no more.
Kudos to Eastern Michigan for getting its first win since November 2008. The Eagles beat Ball State 41-38 in overtime, after trailing 28-7 late in the second quarter. Quarterback
Alex Gillett
accounted for 414 yards of total offense and five touchdowns -- he ran for 189 yards and two scores and threw for 225 yards and three scores in the win. Meanwhile, Western Kentucky came oh so close to ending its 25-game losing streak, but ULM scored 28 fourth-quarter points to win 35-30. Three winless teams remain -- Western Kentucky, Akron and New Mexico. The Lobos were off Saturday, but the Zips lost 38-10 to Ohio.
3. This could be a long season for Houston.
We knew the Cougars were going to be hurting without
Case Keenum
and
Cotton Turner
. But surely, they would be able to beat Rice without them. Nope. Houston fell behind 28-7 early before a late rally came up short in a 34-31 loss. On fourth-and-inches from the Rice 42 with a chance to come back for the win, quarterback
David Piland
fumbled the snap and that sealed the game. As it stands now, it is going to be hard for Houston to become bowl eligible. The Cougars are at SMU next week and still have to play UCF, Tulsa, Southern Miss and Texas Tech. In all, five of their final six opponents are .500 or better.
4. Hawaii is for real.
Start paying attention to the team on the islands, because it is starting to resemble some of those high-flying Warriors teams we have come to know. Hawaii upset No. 19 Nevada 27-21 late Saturday night in a game that ended past 2:30 a.m. EDT, but it was well worth it if you stayed up and watched. Nevada was able to slow down Hawaii in the second half, but
Bryant Moniz
came up with the big plays when he needed to and outplayed
Colin Kaepernick
. The outcome may have been different had Kaepernick not fumbled the ball out of the end zone in the third quarter down 17-0. But now the Warriors have won four straight and have emerged as the top challenger to the Broncos in the WAC.
5. Nov. 6 is shaping up to be a really big day.
We already knew the TCU-Utah game would be huge, but this one is even bigger now that Air Force lost. No question the game in Salt Lake City should determine the Mountain West champion -- if TCU beats the Falcons next Saturday and Utah beats them Oct. 30. Meanwhile, Hawaii is at Boise State on the same day in another game that could impact the national championship race. Hawaii is the last team to beat Boise State in the regular season -- 39-27 on Nov. 23, 2007 in Honolulu.