NCF Nation:

what we learned 102812
October, 28, 2012
10/28/12
10:00
AM ET
What did we learn in the Big East in Week 9?
[+] Enlarge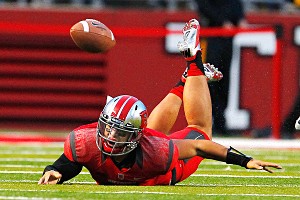 AP Photo/Rich SchultzQuarterback Gary Nova and Rutgers had a rough day against Kent State on Saturday.
1. Then there was one.
Louisville is now the only unbeaten team left in the Big East after No. 15 Rutgers lost to Kent State 35-23 on Homecoming. Although the Cardinals needed overtime to pull out their win over Cincinnati on Friday night, they are the best remaining team in a league that had three unbeaten and ranked teams going into last weekend. Rutgers, with a history of dropping games to overmatched teams, did so again in stunning fashion. The Scarlet Knights had seven turnovers -- a school-record six interceptions from quarterback
Gary Nova
. It was the most turnovers by Rutgers since committing eight at West Virginia in 2001. Coach Kyle Flood said afterward he never considered pulling Nova, which is a stark difference from predecessor Greg Schiano, who used to pull quarterbacks at the first sign of trouble. Flood reasoned that Rutgers still had chances to win late despite the mistakes. Although Rutgers came from behind last week to beat the Owls, the Scarlet Knights were never really in this game and appeared out of sorts all day.
2. Stop scheduling the MAC.
The Big East lost four games to the MAC this season, and two of them cost teams undefeated seasons (Cincinnati, Rutgers). Let us not forget that Temple joined the Big East from the MAC last season and was unable to even compete with the Scarlet Knights in the second half last week. The win for Kent State was probably the biggest in school history -- it was the program's first victory over a ranked team. The Flashes had gone 0-22 in games against Top 25 teams before Saturday. Ball State and Western Michigan also pulled upsets earlier this year. And by the way, the MAC has 16 nonconference wins to set a new league record.
3. Louisville doesn't make things easy.
There is a reason folks in Louisville are starting to call 'em the Cardiac Cards. Louisville does not like to make things easy on itself. For the second straight game -- and third time in four games -- the Cardinals needed a fourth-quarter comeback to win. For the fourth straight game, they had to overcome a second-half deficit. Coach Charlie Strong praised his group for its resiliency, but the truth is it has been quite a while since Louisville has put together a complete game. In addition to all these recent comebacks, they trailed FIU in the first half and needed to withstand a ridiculous fourth-quarter comeback from North Carolina. Still, the path is pretty clear to being undefeated in the regular-season finale against Rutgers. Of course, we all thought the path was clear for Rutgers to go 9-0 before playing Cincinnati in a few weeks.
4. Good Pitt is back!
The Panthers thoroughly dominated Temple 47-17, as
Tino Sunseri
threw for more than 300 yards,
Ray Graham
ran for more than 100 yards and
Devin Street
had a career-high 140 yards receiving. So that should tell you that everything worked well on offense. The 47 points were the most Pitt scored in a home game against an FBS opponent since Oct. 2, 1999, when it defeated Temple 55-24 in Pitt Stadium. Pitt notched its first Big East win this season, and players also earned the right to get their names back on their jerseys.
5. Syracuse is getting hot.
Don't look now, but the Orange are in the thick of the Big East race with a 3-1 league record, joining Rutgers and Louisville as the only teams with winning conference marks. Syracuse did not play its best game against USF, but it found a way to win in the closing seconds, 37-36.
B.J. Daniels
has given this team fits for his entire career, and it was no different Saturday night. But the Orange were able to make enough plays on the porous USF secondary to win for the third time in the past four games. Remember, this team was 2-4 after a demoralizing loss to Rutgers and now stands at .500 with Big East games remaining against Cincinnati and Louisville and Temple.
October, 28, 2012
10/28/12
10:00
AM ET
Alabama is still really, really good, and we have a new king of the East:
1. The East is Georgia's to lose:
After being counted out heading into their big matchup with Florida, the Bulldogs are now atop the East again. That brutal loss to South Carolina appears to be nothing more than a distant memory in Athens. All those "for sale" signs fans gathered for Mark Richt's house will have to be used for more constructive means after Georgia topped Florida 17-9. The win didn't clinch the East for the Bulldogs, but they are firmly in the driver's seat with Ole Miss and Auburn as their only remaining SEC opponents. The Rebels are much better than they've been in two years, but Georgia likely will be a heavy favorite in that game, while Auburn continues to stumble along this season. House money is on Georgia to take the East, and if the defense feeds off its performance Saturday, the Bulldogs should cruise into Atlanta.
[+] Enlarge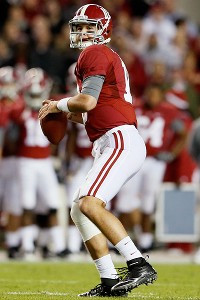 Kevin C. Cox/Getty ImagesAJ McCarron was efficient Saturday in throwing for 208 yards and a pair of touchdowns.
2. The gap between Alabama and the rest of the country is widening:
It might take an NFL team to stop the Crimson Tide. Alabama feasted on No. 11 Mississippi State on Saturday night with its 38-7 win over the Bulldogs. Such is life for opponents who walk into that Crimson buzz saw. Alabama is allowing just 3.5 yards per play and is outscoring opponents by 32 points a game. Oregon has looked great and is still scoring in its game against Colorado, while Kansas State and Notre Dame look more impressive every week. But Alabama is on a different level. It's the most disciplined team out there, and it's getting better. The Tide might not be as flashy or score as many points as Oregon or Kansas State, but they doesn't need to. They're too busy running on cruise control in the second half of games to care about scoring margins.
3. Florida needs more playmakers:
The Gators have lived and died by running and smothering. But Saturday proved that if Florida is really going to rub elbows with the elites in college football, it has to find more offensive playmakers. Running back
Mike Gillislee
has been good, but he needs help from the passing game because teams are starting to crowd the box to key on him. Right now, tight end
Jordan Reed
is the only real reliable receiving target. Ironically, his fourth-quarter fumble sealed the Gators' fate against Georgia, but at least he was there to make some sort of play happen. Wide receivers
Quinton Dunbar
and
Frankie Hammond Jr.
have been wildly inconsistent, while utility man
Trey Burton
just hasn't been very effective since the Tennessee game.
Jeff Driskel
will take a lot of heat for his critical errors and turnovers on Saturday, but he wasn't getting much help. Someone has to emerge to take the pressure off Driskel and Gillislee.
4. Hugh Freeze was the right choice:
Some weren't sure whether Ole Miss got it right with Freeze. He wasn't a sexy name in the coaching world, and many thought the Rebels could do better. Well, after Ole Miss' 30-27 win over Arkansas, the Rebels are one win from being bowl-eligible for the first time in two years and matching their win total from the past two years combined. Freeze has totally changed the culture at Ole Miss and has made the Rebels relevant again. The offense has been fun to watch, and this team has real fight in it. Players admitted to giving up during games last year, but this year's team has really bought in to playing for four quarters. This team wasn't supposed to be remotely close to the bowl picture. Now, it's a win from the postseason, and Freeze is a major reason. He deserves to be considered for SEC Coach of the Year.
5. Another loss could seal Dooley's fate:
If the magic number for wins for Tennessee coach Derek Dooley is eight, the Vols will have to win out to get there. That means getting through November unscathed. It's manageable, with Troy, Missouri, Vanderbilt and Kentucky left, but it isn't close to a guarantee. The Vols have to really be hurting after that three-point loss to South Carolina. The defense was abused again, and two
Tyler Bray
turnovers were costly. This team hasn't won a game in October under Dooley and now has to have a perfect November to reach a bowl game. This team swept November in Dooley's first year and has to do it again if it is to have a chance at eight victories.
October, 28, 2012
10/28/12
10:00
AM ET
Boston College won't go winless in the ACC. Maryland will have trouble getting to a bowl with a fourth-string quarterback. What else did we learn this week?
Here's a look at five lessons learned from Week 9 in the ACC, in no particular order:
[+] Enlarge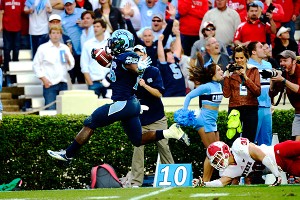 Bob Donnan/US PresswireGiovani Bernard (304 all-purpose yards vs. NC State) is giving Sammy Watkins a run for his money.
1. The ACC's Player of the Year race just got more interesting
. Clemson receiver
Sammy Watkins
had a record-setting, breakout game in a win over Wake Forest, but North Carolina running back
Giovani Bernard
had a more impressive all-around performance in a victory over rival NC State. After missing three games because of suspensions and an illness, Watkins finally looked back in form Thursday night against a struggling Wake Forest defense. Bernard, though, looked like a legitimate Heisman candidate against the Wolfpack. He was that good.
2. NC State stepped aside in the Atlantic Division race.
The Wolfpack put themselves front and center in the ACC race with their upset of Florida State on Oct. 6, but their loss to UNC on Saturday was a step back, as NC State now has two league losses while FSU and Clemson have only one each. Despite the loss to the Wolfpack, Florida State remains the team to beat in the Atlantic Division, and NC State's loss Saturday further reinforced that. If NC State beats Clemson, though, and Florida State loses to Virginia Tech in Blacksburg on a Thursday night, the Pack will be right back in it.
3. Georgia Tech's problems go deeper than defense.
Not only couldn't the Jackets stop BYU in a
41-17 loss
, they also couldn't move the chains. Georgia Tech was 0-for-10 on third down and did not score an offensive touchdown for the first time since Dec. 31, 2008, against LSU in the Chick-fil-A Bowl. Georgia Tech allowed 40-plus points for the fourth time this season, the fourth time in its past five games. The defense allowed 411 yards, as Georgia Tech now has its first losing record after eight games since 1994.
4. The gap between the Atlantic Division and Coastal Division this year is as wide as the FSU-Duke score indicated.
Florida State pummeled Duke
48-7
, but the difference is that heading into the game, Duke was the best team the Coastal Division had to offer. It's still the only bowl-eligible team in the division (UNC has six wins but is banned from the postseason this year) and is leading the standings, but plenty of important games remain. There's a reason the ACC's only two ranked teams are in the Atlantic Division. The conference is top-heavy this year, but Saturday's game in Tallahassee was a reminder as to just how much of a gap actually exists between the division leaders.
5. Florida State's running game will survive without leading rusher Chris Thompson.
When Thompson suffered a season-ending knee injury in last week's 33-20 win at Miami, the running game became a question, but sophomores
James Wilder Jr.
and
Devonta Freeman
rose to the occasion in Thompson's place against Duke. Freeman finished with 105 yards rushing and scored on runs of 9 and 14 yards; Wilder had 70 yards and a 1-yard touchdown run. Since Thompson's injury, Wilder and Freeman have averaged 6.8 yards per carry.
October, 28, 2012
10/28/12
10:00
AM ET
Here's what we can draw from the Irish's 30-13 win at Oklahoma.
1. Notre Dame is back
. No, not "relevant" or whatever. The Irish are always relevant. But this year they are back as a national title contender with a clear path to 11-0 before a regular-season finale at rival USC. That could be fun.
2. Everett Golson grew up
. Plenty of questions surrounded the redshirt freshman in his first start in two weeks: How would he respond to missing last week? How would he fare in this type of environment? He answered all those questions emphatically, leading the Irish to 17 fourth-quarter points, protecting the football and bouncing back from a nasty third-quarter hit in the process. A big, big step for a young signal-caller.
3. Manti Te'o might have gotten his Heisman moment
. A diving pick that will be picked and repicked apart stood, sealing the deal for the Irish's eighth win of the season. Te'o notched interception No. 5 on the season and delivered the kind of prime-time performance that people remember -- even if you play on defense. He might have wrapped up a trip to New York in the process.
4. That defense is pretty good, too
. An Oklahoma offense averaging 52 points over its previous three games was grounded Saturday night, scoring just 13 despite not even turning the ball over until late in the fourth quarter. Defensive coordinator Bob Diaco deserves a ton of credit for his game plan, as the unit absorbed a couple of quick blows early and never gave up the big play everyone had been expecting. (Yes, it still allowed a rushing touchdown, but I'm sure Irish fans will forgive.)
October, 28, 2012
10/28/12
10:00
AM ET
Here's what I learned during a pretty wild weekend in the Big 12.
Kansas State needs style points or losses by top-five teams.
I didn't buy Notre Dame as a team good enough to run the table ... until last night. The Fighting Irish beat Oklahoma convincingly, and in the process won over a whole lot of voters. K-State did its dirty work early, beating the Sooners, West Virginia and then Texas Tech on Saturday. But in the final month of the season, the Wildcats might go without a matchup against a Top 25 team, while BCS challengers Notre Dame and Oregon go head-to-head with USC, and the Ducks also get a shot at Oregon State to close the season. The chances of K-State hanging on to the No. 2 spot if Notre Dame wins out are minimal at best. Oregon will be a nail-biter. It's unfair for the Wildcats, but somebody has to get left out if there are three or four undefeated teams. As it stands, K-State looks like the team that will get stuck on the outside looking in. That said, there's still a month of football left to be played. Nobody thought Oklahoma State would lose to Iowa State last year, or that West Virginia would lose to Pitt back in 2009. Anything can happen.
[+] Enlarge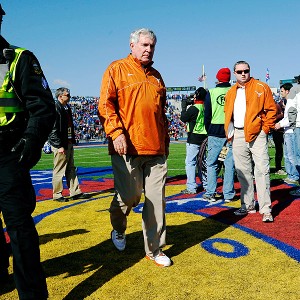 AP Photo/Reed HoffmannSkies could be sunnier for Mack Brown and Texas even though the Longhorns improved to 6-2.
Texas' season is hanging by a thread.
The Longhorns narrowly avoided disaster, but there are still quality teams left on Texas' schedule. The Longhorns wouldn't have beaten any of them playing like they did on Saturday, needing a dramatic fourth-quarter comeback led by
Case McCoy
to beat Kansas, a team with a 16-game losing streak in the Big 12. A loss to Kansas would have legitimized all the talk about Mack Brown being on the hot seat. He's OK for now, but if Texas stumbles to another eight-win season, will that still be the case? As one fellow scribe reminded me on Saturday, if you change two fourth-quarter throws on fourth down, Texas would be slumming at 4-4. It's 6-2 instead, but not a very impressive 6-2.
Oklahoma State might be preparing for a late-season charge.
Quietly, the Cowboys beat up on good teams at the bottom of the Big 12 standings. TCU and Iowa State aren't that far off from being Top 25 teams, and the Cowboys beat both by three touchdowns. When OSU runs the ball, it's really hard to beat. Texas looks overrated, but Arizona knocked off USC on Saturday, and OSU will get its chance to prove just how good it really is with a trip to K-State next week, then a visit from West Virginia the following week. Then it's Texas Tech and OU. That's a whole lot of Top 25 teams, but OSU is going to be a tough out.
Baylor is in big, big trouble.
The Bears looked to have the offensive firepower to withstand the losses of Robert Griffin III, Terrance Ganaway and Kendall Wright, but I'm not so sure any more. The defensive deficiencies are catching up to Baylor, and the offense isn't playing well enough to keep up. The Bears are now 0-4 in Big 12 play, joining Kansas as the only teams to lose every league game so far. Baylor talked a big game about validating what RG3 did for the program, but has fallen flat to this point.
Winning at Oklahoma doesn't seem so hard anymore.
Oklahoma lost two games under Bob Stoops in Norman from 1999 until the 2011 season. Before this season, it had never lost to a ranked team at home under Stoops. But now? Texas Tech pulled a huge upset last year, and ranked foes K-State and Notre Dame walked into Norman and outplayed the Sooners. The mystique from that 39-game home winning streak is gone, and Notre Dame beat the Sooners by 17 on their home field, dominating the line of scrimmage and the fourth quarter. Ugly stuff. It's worth noting that OU's two losses came to teams that are among just six undefeateds left in college football, but Oklahoma hoped it would be among the nation's elite this season. It's not.
October, 28, 2012
10/28/12
10:00
AM ET
What did we learn in Week 8? Read on.
Nov. 3 has gone splat
: In the preseason, it looked perfectly reasonable to imagine that the Big Show meeting between USC and Oregon was going to match up 8-0 teams. Oregon kept its side of the bargain -- in spades. USC? Not so much. The Trojans arrive with two losses. USC will play the spoiler role for the Ducks' national title hopes on Saturday. That's the role of a character actor.
[+] Enlarge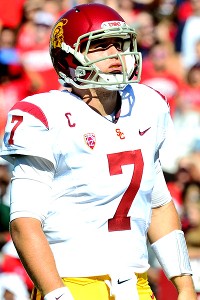 Matt Kartozian/US PRESSWIREMatt Barkley has endured an up-and-down season in 2012.
USC isn't who we thought they were, so we won't crown them
: There's a lot of fake crowing going on right now, outside and even inside the Pac-12 about USC being overrated -- JUST LIKE I SAID IN THE PRESEASON. But let's recall the preseason logic for USC: The Trojans welcomed back 19 starters from a team that went 10-2 and won at Oregon. Most everyone questioned depth, but you don't project injuries into a season. And the Trojans' tumble from their projected excellence hasn't really been about injuries. It's been about playing poorly. It's about QB
Matt Barkley
being shockingly inconsistent. It's about four returning starters from the O-line playing worse than last year. It's about penalties and turnovers and sloppiness. It's also fair to question some of the coaching, particularly play calling that too often swings to the extremes of quirky and conservative.
Oregon State's magic runs out with a QB controversy:
No. 7 Oregon State went down 20-17 at Washington mostly because QB
Sean Mannion
returned after two weeks off due to a knee injury and threw four interceptions. His backup,
Cody Vaz
, who played well while running the Beavers' offense in Mannion's stead, nearly orchestrated a Beavers comeback after he replaced Mannion. So who should start against Arizona State when the Beavers return home on Saturday? Hard to say. Bet coach Mike Riley feels the same way.
Arizona is the nation's best 5-3 team
: As Anthony Gimino pointed out, the combined record of Arizona's foes is 43-12. The Wildcats have beaten ranked teams in Oklahoma State and USC, and lost in overtime to Stanford and by three to Oregon State. Sure, they got bricked at Oregon. That happens. But here's the rub: If Arizona wins out, it wins the South Division. Here's the point: You don't want to play Arizona. This team has a potent offense and plenty of fight. That counts for a lot.
UCLA on cusp of making statement?
Speaking of Arizona ... guess who can hush the Wildcats and make their own big-time statement next weekend? That would be UCLA under its own first-year coach, Jim Mora. They play host to the Wildcats in a game that suddenly has become very meaningful. After a thrilling comeback win at Arizona State, the Bruins, at 6-2 and 3-2 in Pac-12 play, also can win the South by winning the rest of their games. It seems like a big deal that redshirt freshman QB
Brett Hundley
came up big on the road against a quality foe.
Utah steps forward; Cal steps back
: Utah bounced back from an 0-4 start to Pac-12 play in 2011, so their win over California, which stomped them 34-10 last year, is meaningful. Utah hints at the ability to find a way to earn bowl eligibility. Cal? It's now 3-6 and needs to win out. Doubtful. And that's not good news for coach Jeff Tedford.
October, 28, 2012
10/28/12
10:00
AM ET
Lessons learned from Week 9 in the Big Ten:
1. The Big Ten is the league of second chances:
Nebraska's season seemed headed down the tubes after it allowed 63 points to Ohio State on Oct. 6 in Columbus. The Huskers also were on life support down 12 points to Northwestern midway through the fourth quarter on Oct. 20. Look at them now: tied for the lead in the Legends division but holding tiebreakers against both of their top two challengers, Michigan and Northwestern. The Big Ten is a bad league in 2012, but it's also a league of second chances. Nebraska has capitalized on its new life but must keep it going this coming Saturday at Michigan State, which finally showed an offensive pulse in rallying past Wisconsin. Michigan and Wisconsin got knocked down after losing their starting quarterbacks, and it'll be challenging for both teams in the coming weeks. But to write anyone off -- aside from Illinois and Purdue -- seems silly in this silly league. Nebraska is control for now. Wisconsin's grasp on the Leaders division could be loosening a bit. Northwestern is still hanging around. So are others. Aside from Ohio State, every Big Ten team has been knocked to the mat a few times this season. But entering the season's most important month, most are still standing.
2. Ohio State is the best team in the Big Ten:
There was a shred of doubt about this, at least outside Columbus, as Ohio State came to State College, Pa., after two shaky wins against the Indiana schools and took on a red-hot Penn State team that had captured five wins in a row. But on a big stage in a hostile environment,
Braxton Miller
and the 9-0 Buckeyes made it clear that they're the best team in a flawed Big Ten. Ohio State overcame a slow start and a special-teams miscue and took control thanks to Miller and a stout defense that received big plays from linebacker
Ryan Shazier
and others. Urban Meyer's team made its loudest statement of the season against a surging team playing before a raucous crowd. It's too bad the Buckeyes won't be playing in Indianapolis or Pasadena this season -- the OSU administration has itself to blame for that -- but the chase for a perfect regular season shifts into high gear. Ohio State should handle Illinois easily next week before closing the season with Wisconsin (road) and Michigan (home). The push for perfection and Miller's Heisman campaign should be fun to watch the rest of the way.
[+] Enlarge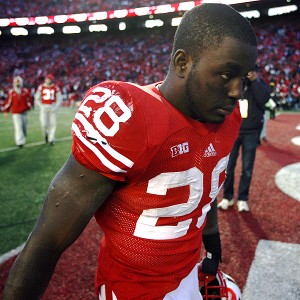 Mary Langenfeld/US PresswireMontee Ball and heretofore-resurgent Wisconsin lost some luster Saturday but still look good for Indy.
3. Forget a marquee matchup in Indy:
Hope had started to flicker lately that the Big Ten championship game could actually feature a pretty appealing matchup, thanks to Wisconsin's recent resurgence. Well, Michigan State put the brakes on that talk by going into Madison and winning in overtime while holding the Badgers to just one touchdown. Now 6-3 overall and 3-2 in the conference, Wisconsin doesn't deserve to be ranked, yet it still almost certainly will reach Indianapolis by default in the probation-riddled Leaders division. With reports that quarterback
Joel Stave
(collarbone) could be lost for the season, this team could struggle in its final three games at improving Indiana, versus Ohio State and at Penn State. In fact, it's not outrageous to suggest that Wisconsin could wind up 6-6 and make it to Indy. The Badgers may still finish strong, and they basically have a one-game season to go to the Rose Bowl. There just isn't much hope of the Big Ten title game staging a marquee matchup.
4. Northwestern needs to stay grounded:
We have grown accustomed to Northwestern slinging the ball around the gridiron with quarterbacks like Dan Persa and Mike Kafka. But that's not the best formula for success with this year's team. The Wildcats are most dangerous when they have
Kain Colter
and
Venric Mark
in the backfield together running wild. Coach Pat Fitzgerald mostly ditched the quarterback rotation with
Trevor Siemian
and gave Colter the ball on Saturday against Iowa. Colter and Mark combined to run for 328 yards on 42 carries (7.8 yards per carry), while Mark became the school's first 1,000-yard back since 2006 in the process. Northwestern threw only 10 passes all day yet won
28-17
in a game that shouldn't have been that close. You wonder whether the Wildcats would have been able to close out Penn State and Nebraska in the fourth quarter if they had stayed committed to the ground attack with their best two athletes. No sense looking backward now, but Northwestern should continue what worked Saturday as it moves forward.
5. The arrow is pointed up for Indiana, Minnesota:
No one can get too excited about a win over Illinois or Purdue these days. Still, Indiana's road win against the Illini and Minnesota's home domination of the Boilers could be turning points for the respective programs. Both teams identified freshman quarterbacks -- Indiana's
Nate Sudfeld
, Minnesota's
Philip Nelson
-- who spark the offense and spread the ball to talented receivers like Minnesota's
A.J. Barker
(135 receiving yards, 2 TDs against Purdue) and Indiana's triple threat of
Kofi Hughes
,
Cody Latimer
and
Shane Wynn
. Indiana has competed well all season, losing four of its games by four points or fewer, and might have just needed the experience of finishing out a win. The offense is legit: IU has scored at least 27 points in all six games versus FBS competition and has eclipsed 30 points five times. Minnesota's improvement on defense has been noticeable this season, and cornerback
Michael Carter
came up big against Purdue (pick-six, 6 PBUs). But Nelson provided the biggest boost, firing three first-half touchdown passes and completing 15 of 22 passes for 246 yards. Minnesota's offense finally started to score after putting up 13 points in each of its first three Big Ten games. Jerry Kill's squad is a win from bowl eligibility, while Kevin Wilson's team has a lot of work left. But the future of both programs looks promising.