NCF Nation:

what we learned 103110
October, 31, 2010
10/31/10
11:12
AM ET
What did we learn this week?
Oregon should finish unbeaten
: After eight games, it's clear that Oregon is the best team in the Pac-10 and a national title contender. The Ducks are more than just a flashy offense. They can play physical football and they can play defense. They weren't at their best at USC, yet they still were in control for almost the entire game. But just because the Ducks should finish unbeaten -- ergo: play for the national title -- doesn't mean they will. They will get the best shot from the teams remaining on their schedule, and if they don't show up focused, they could see their season ruined by a single off day. But they will be at least a touchdown favorite in each game.
Arizona at Stanford is HUGE
: Arizona and Stanford both took care of business this weekend. So the winner after the Wildcats' visit to Palo Alto on Saturday will be in position to claim a second BCS bowl berth if the Ducks win their remaining games and play for the national title. Or the winner could end up in the Rose Bowl if the Ducks falter. As it is, two teams that were conference bottom feeders a few years ago are now playing for a late-season, top-10 ranking.
[+] Enlarge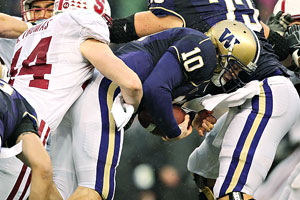 Otto Greule Jr/Getty ImagesUntil Saturday night, the Huskies were not shut out at home since 1976.
Jake Locker, Washington are at "rock bottom"
: Locker and Washington ended their pattern of bouncing back strongly from poor performances by turning in a second consecutive bad evening. Heck, it was a historically bad night versus Stanford -- a 41-0 defeat being the program's first shutout loss in Husky Stadium since 1976. It's hard to figure what's going on with Locker, who threw two interceptions and led an offense that accounted for just 107 yards. "That's definitely the worst offensive performance I've ever been associated with," Washington coach Steve Sarkisian said. "We obviously hit rock bottom tonight."
Washington State ain't there yet
: Just when it seemed reasonable to wonder about a Washington State turnaround, the Cougars faceplant 42-zip at Arizona State. Hard to say where the Cougars are headed, and the rotten performances doesn't help embattled coach Paul Wulff.
Oregon State is still there
: The Pac-10 feels like a conference with three top teams and then a confusing pecking order below. But Oregon State is still decidedly in the race for the top third. Forget the overall record -- the Beavers are 3-1 in the conference and therefore tied for second, at least two games ahead of the six teams behind them. Further, the Beavers play UCLA and Washington State over the next two weekends, so the likelihood is they will be 5-1 in conference play before facing a gauntlet with USC, at Stanford and Oregon down the stretch. The Beavers aren't done yet.
October, 31, 2010
10/31/10
11:06
AM ET
Here's a look at what we learned in the ACC:
Virginia Tech is the runaway favorite:
Since its loss to James Madison on Sept. 11, Virginia Tech has been the most consistent team in the ACC. The Hokies remain the only ACC team still undefeated in conference play after Florida State's loss to NC State, and Virginia Tech further distanced itself from the pack with the help of Virginia, which upset No. 22 Miami. It's possible, though, that the best way to protect a lead in the ACC standings is to have a bye week. The Hokies will be tested on Thursday night in a home game against Georgia Tech.
[+] Enlarge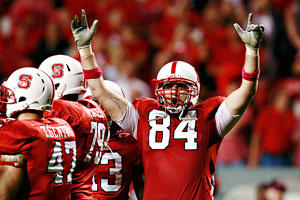 AP Photo/Gerry BroomeBeating Florida State was a major step forward for NC State under coach Tom O'Brien.
NC State has turned the corner under coach Tom O'Brien:
The 28-24 win against No. 16 Florida State was one of the biggest NC State had seen since O'Brien arrived in Raleigh, and it's the first time the Wolfpack have been bowl-eligible before November since 2003. NC State is in the midst of its best season since the Philip Rivers era, and controls its own destiny in the Atlantic Division. The Pack will be catching Clemson when it's down this weekend, but it's never easy to play in Death Valley.
Virginia coach Mike London and Miami coach Randy Shannon are heading in opposite directions:
Not just on the scoreboard, where London got the edge over the No. 22-ranked Canes, but in their careers. In his first season at Virginia, London managed to win four games before November, including the program's first win against a ranked opponent since October, 2008. Shannon, meanwhile, has yet to do much of anything in four seasons. London, in his first season as a coach at the FBS level, has already won a championship at the FCS level. Shannon is still waiting for his first Coastal Division title, and took another step backward in that quest on Saturday.
The Terps' turnaround is complete – and they're not done yet:
Maryland coach Ralph Friedgen has made a solid case for the ACC's Coach of the Year after taking the Terps from 2-10 to bowl eligible before November. Maryland is tied with NC State for second place behind Florida State in the Atlantic Division standings, and controls its own destiny with both teams still on the schedule. Regardless of the quality of Maryland's opponents, every win counts, and Friedgen has enough of them to earn some respect and likely keep his job another year.
BC's bowl hopes aren't toast yet:
With the surprise win against Clemson, Boston College is now three wins away from bowl eligibility. And there are definitely three winnable games still remaining, as BC's final stretch is against ACC programs that have combined for an 8-16 record. The toughest opponent remaining? Syracuse. The problem for BC is that three of the final four games are on the road, with Virginia the lone home game on Nov. 20.
October, 31, 2010
10/31/10
10:53
AM ET
We have a much clearer picture in the Eastern Division race, but the Western Division race looks like it will go down to the final weekend of the regular season.
Here's a look at what all we learned in the SEC in Week 9:
[+] Enlarge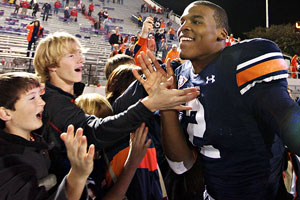 Nelson Chenault/US PresswireCam Newton and the Auburn Tigers are averaging 40 points a game.
1. Score-a-thons suit Auburn:
By now, it's been pretty well established that Auburn isn't your typical SEC team. The Tigers aren't going to play suffocating defense, keep the score down and win it with a controlled running game. They prefer the Xbox version of football. They score fast, score from long distance and don't flinch if the other team scores a touchdown or two early. Sure, they make timely stops on defense, but this is a team that feels right at home playing in the 30s, 40s or even the 50s. They motored past Ole Miss 51-31 on Saturday and rolled up 572 yards of total offense, the fifth time they've surpassed the 500-yard mark this season.
Cam Newton
makes that offense go, no question. But he has a talented supporting cast. Freshman tailback
Mike Dyer
really looks fresh running the ball right now. The Tigers haven't had to lean on him this season for a lot of carries, and Auburn offensive coordinator Gus Malzahn said you'll see a lot more of Dyer as we head to November.
2. Gamecocks versus Gators:
The East race has essentially come down to the Nov. 13 game in the Swamp between Florida and South Carolina. Georgia is out of the picture after losing 34-31 in overtime Saturday to Florida. The only way the Florida-South Carolina game would not determine the East champion would be if the Gators lost next week to Vanderbilt. That isn't going to happen. Arkansas plays at South Carolina next week, but that game has no bearing on the East race provided Florida takes care of its business and beats Vanderbilt. If that's the case, South Carolina could lose to Arkansas and beat Florida and still go to Atlanta as the East representative. The bottom line: The Head Ball Coach is going to have to win in his old stomping grounds if the Gamecocks are going to play in their first-ever SEC championship game.
3. How the West was won:
If the Tigers win out they not only win the Western Division but they will be in Glendale, Ariz., playing for college football's top prize. They don't need any help. Alabama and LSU would both need some help, although Michigan State and Missouri both losing Saturday opens up the door even wider for the SEC. Alabama and LSU play what amounts to an elimination game this coming Saturday in Baton Rouge. LSU would need to win that game and its final two SEC games against Ole Miss and Arkansas and then have Auburn lose to both Georgia and Alabama to win the West. Auburn owns the head-to-head tiebreaker over LSU. Alabama needs to defeat LSU and Mississippi State, and the Auburn game on Nov. 26 would determine the West champion and potentially move the Crimson Tide up in the BCS standings.
4. Shoddy pass defense:
The Gamecocks' pass defense has vanished. They suddenly can't stop anybody from throwing the football after letting Tennessee carve them apart through the air. South Carolina was 104
th
nationally in passing yards allowed (252.4 yards per game) going into Saturday's 38-24 win over Tennessee. The problem is that the Vols certainly weren't one of the league's best passing teams, and they still managed to exploit South Carolina's defense. Right now, the Gamecocks simply aren't covering anybody. Steve Spurrier had even been spending a lot more of his time with the defense during practice after handing off the offensive play-calling duties to quarterbacks coach G.A. Mangus and others in what he said would be a "community" effort the rest of the way.
5. Florida owns Georgia:
There's no other way to say it. The Gators have won 18 of the past 21 meetings after prevailing 34-31 in overtime on Saturday in Jacksonville. Georgia was the hot team coming into the game. Florida was reeling after losing three in a row. The Gators were having all sorts of problems offensively, and the Bulldogs seemed to be finding themselves. Well, that all changed when it mattered for four hours on Saturday. Florida quarterback
John Brantley
and his mates were the ones delivering in the clutch, and the Gators showed a lot of pride as a program in holding the Bulldogs off and remaining alive in the East race. Florida coach Urban Meyer is now 17-1 against the Gators' traditional rivals (Georgia, Florida State, Miami and Tennessee). Richt, meanwhile, is just 2-8 against the Gators, who probably should have been paying taxes in the state of Georgia a long time ago with the way they've dominated this rivalry.
October, 31, 2010
10/31/10
10:22
AM ET
1. There's Pitt, and then Syracuse, and, um ...
: Who's any good in the Big East? Pitt has established itself as the clear big dog now with a 3-0 start, including a blowout win against the second-best team, Syracuse. The Orange deserve that title thanks to three straight road wins, especially beating supposed contenders West Virginia and Cincinnati. After those two, it's one big jumble, with five teams standing at 1-2 in league play. It looks like the Big East's BCS representative could have three or four losses, which is embarrassing. But at least we now have a pecking order established -- this week.
[+] Enlarge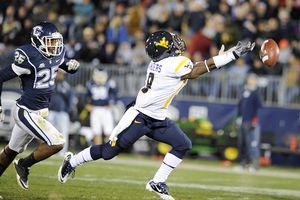 AP Photo/Fred BeckhamJock Sanders and the Mountaineers need to get a handle on their season, or the criticism of coach Bill Stewart and his staff will get louder.
2. Bill Stewart's seat is getting much warmer:
A large contingent of West Virginia fans have always doubted Stewart's ability to lead the Mountaineers to the big time. That talk died down after a 5-1 start, but now the volume is on full blast after back-to-back losses to Syracuse and Connecticut. The once high-scoring Mountaineers managed only 27 points in the two games and let a UConn team that looked putrid the week before pull off its first-ever win in the series. This was supposed to be Stewart's best team, but all of a sudden he's 5-3 and now hoping for another nine-win season. Criticism of him and offensive coordinator Jeff Mullen is at an all-time high, and they need to do something the rest of the way to calm that noise.
3. Cincinnati is in deep trouble:
Bill Stewart's shoes might be the only ones
Butch Jones wouldn't trade places with right now. The first-year Bearcats coach has taken a two-time BCS team and guided it to a 3-5 record. Cincinnati isn't going bowling unless it wins at least three of its last four games, and those include a trip to West Virginia and a visit from Pitt. Jones has been dealt all kinds of adversity this year, with
Zach Collaros
' injury being just the latest. We'll see how forgiving the nouveau riche Cincinnati fans are.
4. Syracuse could go to a big bowl:
Orange fans were mainly hoping to attain bowl eligibility and get an invite to the Beef O'Brady's or Pinstripe bowls. But now they can aim higher. Syracuse still needs one more win to be eligible because of its two FCS victories, but with a very manageable schedule the rest of the way (Louisville, UConn, at Rutgers and Boston College), there's no reason the team can't get to eight or nine wins or beyond. And given the dreadful state of the league, a trip to the Champs Sports or Meineke Car Care bowls -- which qualify as big ones in this conference -- isn't out of the question. Heck, the league title isn't off the table, either.
5. UConn isn't finished yet:
While much of the storyline of Friday's game centered around West Virginia's problems, don't forget the winning team. The Huskies looked like toast after starting off 0-2 in the league and getting shut out by Louisville. They showed a lot of character in bouncing back, rallying from a 10-point deficit and finally overcoming their Big East nemesis.
Zach Frazer
was back at quarterback, and while he wasn't spectacular, he didn't turn the ball over. People who were calling for Randy Edsall's firing were just plain foolish. It will take a near miraculous turn of events for UConn to get back into the Big East title picture, but the Huskies have a chance to go bowling now that they're back to .500
October, 31, 2010
10/31/10
10:21
AM ET
Five lessons from the week that was in Big Ten football.
1. The Big Ten race is going to be wild:
Michigan State's loss to Iowa really thickens the plot in the Big Ten title race. Four teams have one conference loss entering November, and each week could dramatically alter the picture for the conference championship. Wisconsin and Michigan State both have favorable closing schedules, but arguably no game means more to the race than Ohio State's visit to Iowa on Nov. 20. Michigan State and Ohio State likely benefit from a three-team tiebreaker, while Wisconsin and Iowa want this to come down to head-to-head matchups. Should be a lot of fun to watch.
[+] Enlarge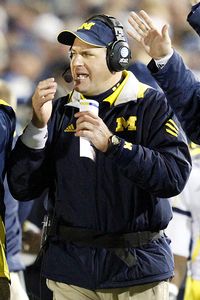 AP Photo/Gene J. PuskarRich Rodriguez's Wolverines have now lost three in a row.
2. Iowa can play to its potential:
After two losses filled with what-ifs, Iowa finally played to its potential in a marquee game. The Hawkeyes threw the first punch against Michigan State and kept pounding away until the Spartans submitted. Kirk Ferentz's squad received strong play in all three phases and got huge lifts from players like
Ricky Stanzi
,
Adam Robinson
, Shaun Prater, Tyler Sash and Mike Daniels. If Iowa keeps this up in November, it will be extremely tough to beat.
3. Rich Rodriguez is in major trouble:
Coaches are evaluated on wins and losses, but they're also evaluated on progress. And Michigan didn't make any progress on defense or special teams in its open week. The Wolverines let Penn State quarterback
Matt McGloin
go wild in his first career start and couldn't stop
Evan Royster
on the ground. And they continued to make errors in the kicking game.
Denard Robinson
continues to do brilliant things, and his success is tied to Rodriguez, but this definitely looks like déjà vu for the Maize and Blue. Rodriguez can't afford another slide and it doesn't get any easier this week against red-hot Illinois.
4. Illinois is one of the nation's big surprises:
The Great Experiment is working. Illinois' decision to stick with Ron Zook and make major changes on the staff is translating to the field, where a talented and hungry team is executing at a high level. Quarterback
Nathan Scheelhaase
blossomed Saturday with a career performance, and Illinois continued to play well on defense and special teams. The Illini might be favored in all four of their remaining games and certainly look like they're headed for a decent bowl game, which seemed highly unlikely before the season. Kudos to Zook and his players.
5. The Big Ten is a deep league, despite no unbeatens:
Michigan State's loss likely means that the Big Ten will be left out of the BCS national title game for the third consecutive season. But this is a much deeper league than most folks thought entering the season. The four teams at the top can challenge just about anyone, and I wouldn't want to face Illinois if I were an opposing coach. Northwestern will be going bowling for a school-record third consecutive season, and Penn State gained a ton of confidence with its performance Saturday night. Not sure what to make of Michigan, Indiana and Purdue, but I can't imagine all three will be left out of the postseason.
October, 31, 2010
10/31/10
10:21
AM ET
The Big 12 North is Nebraska's to lose.
The Huskers made sure of that early, unleashing one of the most dominant quarters by any team in Big 12 play this season. Missouri didn't fall in a 24-0 hole early, Nebraska dug that thing with a week of preparation, and once the Tigers showed up (or didn't show up) the Huskers grabbed them by the collar and threw them in. From a wide-angle lens, though, Nebraska's win is good for drama in the North. Had Missouri won, it would need to lose three of its final four games to send Nebraska to the title game. Now, one slip-up by Nebraska could put the Tigers in. The Huskers' toughest test is likely a trip to College Station, but this is college football; anything can happen. And fret not, Tigers. Regardless of what Nebraska does the rest of the year, Missouri is in decent position to go 11-1 in the regular season if they can survive Lubbock next weekend. That's nothing to complain about. I'm sure there will be a few people who rush to proclaim Missouri got "exposed," but they ran into a motivated team that played its best and, without a flat performance against Texas, would still be very much in the thick of the national title picture.
[+] Enlarge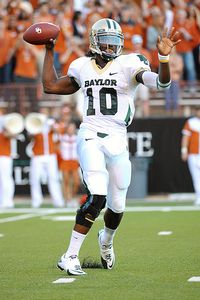 Brendan Maloney/US PresswireRobert Griffin and Baylor are leading the Big 12 South heading into November.
No, seriously, you better take Baylor seriously.
This isn't to say Texas didn't, but Baylor lined up and straight-up beat the Longhorns -- in Austin. Most surprising: No one was really surprised. The Bears didn't play fantastic, but they played well, and that's all they needed to beat Texas. The Longhorns have been average at best this season at home, but they have as much talent on defense as almost anyone in the country and they needed this game badly to salvage their season. Instead, they were firmly denied, setting up a suddenly huge game for Baylor next weekend. Was there a soul on the planet who thought Oklahoma State-Baylor in the first week of November would be between a pair of ranked teams? Shows what we media members, who picked the Cowboys and Bears to finish fifth and sixth in the league, know. We live in a strange age of Big 12 football, folks.
The Big 12 has the best receivers of any league in America.
With Oklahoma State's
Justin Blackmon
sitting out on Saturday, the league's No. 2 and No. 3 receivers put on a big-time showcase in wins. Oklahoma's
Ryan Broyles
set a school record with 208 yards and three touchdowns on nine catches before taking a seat as Oklahoma ran out the clock. Texas A&M's
Jeff Fuller
used 11 catches to rack up 171 yards and a pair of scores. All three are very different receivers, but eat your heart out
Alshon Jeffery
,
A.J. Green
,
Julio Jones
and
Greg Childs
.
Making difficult decisions will pay off.
I can't imagine what that conversation between Mike Sherman and
Jerrod Johnson
went like. Johnson, I'm sure, took it well and will keep working. He's a great player who'll do whatever he's asked, but there's no question now that Sherman made the right call. He benched the Aggies' all-time leader in total offense and a three-year starter in Johnson in favor of
Ryan Tannehill
, who torched a mediocre Texas Tech secondary for a school-record 449 yards and four touchdowns. His performance gave the Aggies a much-needed win before they enter a brutal, brutal finish to their schedule against the other four teams from the South.
Paul Rhoads is very, very close to shocking everybody once again.
Last year, it was impossible because he inherited a two-win team without any hope. This year, the schedule was just too hard for it to even be a remote possibility. But here the Cyclones are, sitting on five wins with a very winnable game at Colorado in two weeks between them and a trip to a bowl game for the second consecutive season. It'd be pretty unfair to say these Cyclones have no shot to beat Nebraska next week. Rhoads has already shown what happens when those types of things start getting said about his team.
October, 31, 2010
10/31/10
10:00
AM ET
What we learned from Notre Dame in the Irish's
28-27
home loss to Tulsa on Saturday:
1. Rees' pieces:
This is, for better or worse,
Tommy Rees
' team now. The true freshman will have to take over at quarterback for
Dayne Crist
, who's apparently out for the year with a knee injury. Rees had good moments against Tulsa, throwing for four touchdowns in a tough spot. But he also had three interceptions and should never have thrown the final pick in the end zone in the final minute with Notre Dame already in field-goal position. Notre Dame will have to coach up Rees as much as possible during the bye week and hope for the best in the final three games.
2. Bye bye bowl?:
Now at 4-5, the Irish have games left against Army, Utah and at USC, a place they haven't won since 2000. Dropping games to Navy and Tulsa erased all margin for error, and it's looking increasingly likely that the Irish will stay home for the holidays in Brian Kelly's first year. Any way you slice it, that's vastly disappointing.
3. Youth steps forward:
All of a sudden, Notre Dame is a very young team. There's Rees at quarterback, of course. Armando Allen's career might be done at running back, leaving that job in the hands of
Cierre Wood
. True frosh T.J. Jones is the second-leading receiver, and
Tyler Eifert
has taken over for the injured
Kyle Rudolph
. Sophomore Sean Cwynar is starting for Ian Williams at nose tackle, with freshman Kona Schwenke seeing reps at defensive end. All this youth shows how little experienced depth the Irish had and makes a strong finishing kick even more unlikely. If there's any good news, it's that these guys are gaining valuable seasoning for 2011.
October, 31, 2010
10/31/10
10:00
AM ET
Time to see what we learned from the non-AQs in Week 9:
1. Bring on TCU vs. Utah.
The huge game we have waited all season for is finally here, and the teams involved did not disappoint in Week 9, staying undefeated to set up a colossal matchup between the two teams. Utah had a tough time against Air Force, but that was not entirely unexpected. The defense forced five turnovers and had several crucial fourth down stops to preserve the win. TCU cruised over UNLV. Now attention can focus on the matchup between the two. Will Utah pull off the win in its final season in the Mountain West? Or will TCU win for the first time at Utah? The Utes have won a Mountain West record 21 straight games at home. After the Air Force game, Utah players talked about getting their shot at TCU. "Can't wait," safety Greg Bird said. "I'm excited. We're going to bring it to them."
[+] Enlarge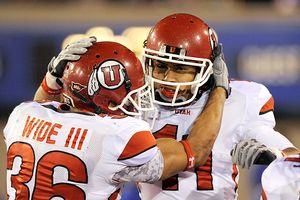 AP Photo/Chris SchneiderUtah celebrated a win over Air Force on Saturday and can now focus squarely on TCU.
2. Non-AQs get more good news, but Boise State is going to have to be more impressive.
Even a 49-20 win over Louisiana Tech was not enough to silence its critics. The Broncos had the spotlight to themselves on Tuesday night, but looked sloppy and led many to wonder why against such inferior competition. Boise State and TCU/Utah got help when Michigan State and Missouri lost, leaving only two undefeated teams from the automatic-qualifying conferences. That is obviously good news. But now they have to start sweating the one-loss teams (ahem, Alabama) and that means impressing human voters, who have to keep Boise State in the top 2 of the polls for the Broncos to have any legitimate shot at playing for a championship.
3. Six more non-AQ teams became bowl eligible.
We went into the weekend with 11 who had the chance. We end with six getting to the magical mark: San Diego State, UCF, Toledo, Ohio, Nevada and Hawaii. UCF becomes the first team eligible from Conference USA -- Southern Miss and UTEP fell short of six wins on Saturday. The MAC has four teams eligible, including Northern Illinois and Temple, but only three guaranteed bowl spots. So that means somebody needs an at-large berth or could be left home. San Diego State is eligible for the first time since 1998, while Toledo is eligible for the first time since 2005.
4. UCF is the favorite in the East in Conference USA.
The Knights won a critical game over East Carolina 49-35 to take command of the East. If UCF wins out, it plays in the conference championship game.
Ronnie Weaver
had a career-high 180 yards rushing and two touchdowns. The lead is actually pretty commanding. UCF is the only remaining team in the entire league that is undefeated in conference play. It has the head-to-head tiebreaker over East Carolina, and a two-game lead on UAB (which it already beat) and Southern Miss. The Knights have a critical game at West Division leader Houston on Friday night before hosting the Golden Eagles on Nov. 13.
5. Navy suffers a letdown
. Just when you think the Midshipmen have turned a corner, they have a complete meltdown. A week after handily beating Notre Dame 35-17, the Midshipmen lost to Duke 34-31. The defense, which had carried this team all season, gave up a season-high 34 points and inexplicably allowed quarterback
Sean Renfree
to pass for 314 yards. He set a school record with a 93.3 completion percentage and completed his first 16 passes. Navy trailed 24-0 at halftime, its largest deficit at the break since 2002. Though Navy had won several games thanks to fourth-quarter comebacks this season, it was not meant to be Saturday.