NCF Nation:

what-we-learned-110611
November, 6, 2011
11/06/11
11:00
AM ET
Five lessons from the week that was in Big Ten football.
1. The Legends Division is a whole new ballgame:
We entered Saturday with a three-way tie atop the Legends Division, thinking that the real shake-ups would start in the final three weeks. By Saturday evening, everything had changed as two of the first-place teams -- and the top two ranked teams in the Big Ten -- went down. Michigan State now stands alone in charge of the division at 4-1, but the Spartans were less than impressive in beating Minnesota by only seven points at home. They still have to go on the road to Iowa and Northwestern in games that now look more difficult, and Mark Dantonio's team hasn't played well away from East Lansing. Still, Nebraska and Michigan would gladly trade places with Michigan State after their upset losses. And ...
[+] Enlarge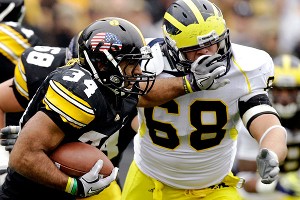 AP Photo/Charlie NeibergallIowa's Marcus Coker rushed 29 times for 132 yards and two touchdowns against Michigan.
2. Beware of Iowa:
Look out, here come the Hawkeyes. A week after a stunning loss in Minneapolis, Kirk Ferentz's crew rebounded on its home field by beating No. 15 Michigan. Sophomore running back
Marcus Coker
is hitting his stride, and a much-maligned defense made enough plays to slow down
Denard Robinson
and the Michigan offense. Iowa controls its own fate in the Legends Division and can take another big step this week as it hosts Michigan State. The Hawkeyes are 6-0 at home this season and thumped Michigan State 37-6 last year at Kinnick Stadium. A year after struggling down the stretch, Iowa could be heating up at just the right time.
3. These still aren't your father's Cornhuskers:
Nebraska's quest to recapture its glory days continues. Cornhuskers fans hoped this would be the year that their beloved Big Red would dominate in the Big Ten. And the team looked like it was building momentum while gaining a No. 10 ranking. But then the Huskers went out and lost at home to Northwestern, which hadn't beaten anybody with a pulse this year. Nebraska fans have seen this story before -- it's the fifth straight season their team has lost a home game to an unranked opponent. The newly christened Blackshirts allowed more than 200 rushing yards, and the Huskers' offense scored 10 points fewer than its season average against an extremely porous Wildcats defense. It was a crushing defeat for Nebraska's chances of making the Big Ten title game, especially with road games at Penn State and Michigan remaining. And it served as a reminder that those glory days are still not rekindled.
4. Northwestern's bowl hopes look a lot better:
The Wildcats' streak of three consecutive postseason appearances appeared in serious jeopardy following a five-game losing streak from Sept. 17 to Oct. 22. But after getting back in the win column last week, Northwestern gave its bowl hopes a major boost by upsetting Nebraska in Lincoln. Although starting QB
Dan Persa
continues to battle injuries,
Kain Colter
and the offensive line stepped up as Northwestern racked up 28 points and 468 yards against Nebraska. The Wildcats need two more wins to become bowl-eligible but play their final three contests at home. They'll be favored the next two weeks against Rice and Minnesota before wrapping things up against Michigan State.
5. All is not lost for Minnesota and Indiana:
The Gophers and Hoosiers won't be going bowling this year, and their final records won't look pretty. But both teams have areas on which to build heading into Year 2 under coaches Jerry Kill and Kevin Wilson, respectively. Mobile quarterbacks
Tre Roberson
(Indiana) and
MarQueis Gray
(Minnesota) both have made strides in recent weeks, and both offenses performed well Saturday against good defenses in Ohio State and Michigan State. Both teams have a long way to go on defense, but even those units did some good things at times in Week 10. Don't be surprised if Indiana or Minnesota pulls off an upset or two down the stretch.
November, 6, 2011
11/06/11
11:00
AM ET
What did we learn in the Big East in Week 10?
1. Cincinnati is the clear front-runner.
There was separation at the top of the Big East, all right. Who would have guessed when the season started that Cincinnati and Louisville would be the top two teams after Week 10? The Bearcats remain undefeated in league play at 3-0, but they do not make anything easy on themselves. They have had to come back to win each of their conference games. They won each of their last two against USF and Pitt by three points. In no way are they dominating, but a win is a win and they have a big edge over the Cardinals. Louisville has won three straight to get to 3-1 in Big East play and emerge as a threat. But it dropped its first conference game to the Bearcats. So the Cardinals need help to get back to a BCS bowl game. The goal remains simple for the Bearcats -- win out.
[+] Enlarge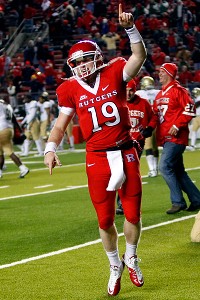 Noah K. Murray/US PresswireChas Dodd led Rutgers to a comeback win over USF.
2. Backup quarterbacks are in.
Who led comeback wins for Rutgers and UConn? Their backup quarterbacks. Rutgers turned to former starter
Chas Dodd
in the fourth quarter to provide the Scarlet Knights with a spark after
Gary Nova
was not able to do much leading the team. Dodd and
Mohamed Sanu
keyed the tying scoring drive late in the fourth quarter against USF. Rutgers won in overtime 20-17. Meanwhile,
Scott McCummings
ran for two touchdowns in the fourth quarter to allow UConn to erase a 21-14 deficit and beat Syracuse 28-21. Neither Dodd nor McCummings was perfect. Each had his share of mistakes (and a turnover each). But both got much-needed wins.
3. West Virginia needs help.
The Mountaineers were the preseason pick to win the Big East. But now they will need to win out and get plenty of help to have any shot of making it back to a BCS game. Perhaps the biggest disappointment has been the play of the defense in the past several games. Syracuse and Louisville had season highs for point totals against the West Virginia defense. Rutgers had a season-high 31 first-half points. The pass rush was there at times in a loss to Louisville, but it has not been consistent. The defensive play hasn't, either. Losing seven starters clearly has taken a toll, and West Virginia cannot beat teams with a good offense alone. That has been made clear.
4. Syracuse, USF reeling.
Just in time to play each other Friday night in Syracuse. The Orange have dropped two straight; USF has lost four straight. Interestingly, neither team has been able to build off its defining wins of the season. Syracuse dominated West Virginia with 49 points but has scored a combined 31 in the next two games. USF squeaked by Notre Dame, beat three cupcakes and has lost its Big East games in all ways you could dream. After that Irish game, the possibilities for the season seemed limitless. After Syracuse beat West Virginia, some started dreaming about the Orange Bowl. Now both teams are left to figure out what has gone wrong.
5. Pitt falls short again.
The Panthers lost yet another heartbreaker on Saturday, falling to Cincinnati 26-23. It was the third game this season they have lost by four points or fewer. The others -- Iowa and Notre Dame -- were not nearly as painful simply because the Cincinnati loss cost Pitt a chance to control its own chances in the Big East. Now the Panthers are 2-2 in Big East play and 4-5 overall, fighting to make it to a bowl game.
November, 6, 2011
11/06/11
10:00
AM ET
What did we learn from Week 10 of Pac-12 action?
Stanford and Oregon reached their destination
: In the preseason, Oregon-Stanford looked like the Pac-12 game of the year. Things often don't go as planned in college football, but this one did. The only way it could be better is if the Ducks had opened with a win against LSU. Stanford could play itself into the national title game, but at the very least the Pac-12 North and BCS bowls are at stake.
[+] Enlarge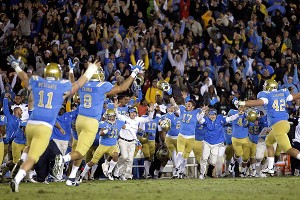 AP Photo/Jae C. HongUCLA controls its own destiny in the Pac-12 after upsetting Arizona State at the Rose Bowl.
Rick Neuheisel and UCLA are alive
! Just when you thought it was safe to start thinking about who UCLA's next coach was going to be, Neuheisel leads his team into first place in the Pac-12 South after beating Arizona State. If the Bruins win out, they will play in the Pac-12 championship game. And if they win that, they'd go to the Rose Bowl. As it is, Neuheisel now has a signature conference victory. His team, now 5-4 with three to play after winning consecutive games for the first time this season, now appears headed to a bowl game. Neuheisel is not a man who goes away easily, eh?
Utah could finish strong
: When the Utes lost 34-10 at California and fell to 0-4 in Pac-12 play, many dismissed them with knowing smirks: Welcome to a
real
conference. Don't look now, but look at who's won two conference games in a row. And who has a good shot at winning it's next three and finishing 8-4 and 5-4 in conference play? When the Utes protect the football, good things tend to happen to them.
Paul Wulff is in trouble
: Washington State started 3-1, and there was reasonable hope that the Cougars had turned a corner. But after five consecutive losses, including a pounding at Cal on Saturday, most of the early-season optimism is gone. The schedule ahead -- Arizona State, Utah and Washington -- is rugged. The Cougs will be underdogs in each game. But if coach Paul Wulff doesn't produce an upset or two, it's hard to imagine him keeping his job.
Arizona State hasn't arrived:
The way the schedule set up, the Sun Devils looked to be headed to a 10-2 regular season and the Pac-12 championship game. Now they have to win-out and hope UCLA loses at some point. Truth is, there's a good chance that happens: UCLA has a tough schedule ahead, Arizona State does not. But by losing to UCLA, the Sun Devils cost themselves a special season. And a national ranking.
November, 6, 2011
11/06/11
10:00
AM ET
After another week in the SEC, we think we know even more now than we did before:
1. LSU's defensive game plan is near perfect:
Alabama entered Saturday's game against the Tigers averaging 39 points a game and 458 yards. But against LSU, The Crimson Tide didn't even come close to sniffing those totals. Alabama didn't get into the end zone and accumulated just 295 offensive yards, including just 96 on the ground. LSU has shown some bend its defense at times, but there is no denying that this group has too much talent and the schemes are too good to be fooled right now. As good as Alabama's offense looked before Saturday, LSU totally shut it down. The closer LSU's back got against the wall, the better it played. So far, no offense has figured out how to beat this unit.
[+] Enlarge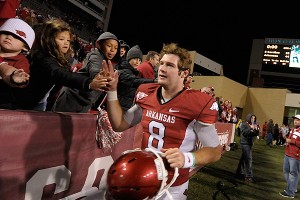 AP Photo/David QuinnArkansas and quarterback Tyler Wilson remain in contention for the SEC West championship.
2. Arkansas is back in the SEC hunt:
While most people were watching the ultimate defensive slugfest in Tuscaloosa, Ala., the Razorbacks were showing off their offensive firepower behind
Tyler Wilson
's arm in Fayetteville, Ark. With Arkansas' 44-28 win against South Carolina and Alabama's loss to LSU, the Razorbacks moved right back into the West race. Now, there's a chance for a three-way tie in the West if Arkansas takes down an undefeated LSU team at the end of the regular season. If that were to happen, the Hogs would not only be in contention for the SEC championship, but maybe even a shot at the national championship.
3. The Houston Nutt era could be over in Oxford:
If Nutt's time at Ole Miss wasn't nearing a close before Saturday, it probably is now after the Rebels' 30-13 loss at Kentucky. Ole Miss hasn't won a conference game in 12 chances and last won against an SEC foe on Oct. 2, 2010, when the Rebels defeated Kentucky. The Wildcats were stumbling into the contest, but looked like a middle-of-the-pack SEC team against Ole Miss. That's not a good thing. The Rebels were sloppy and undisciplined and took yet another step back on the football field. This season was supposed to be different for Ole Miss, but this team will struggle to even get to last season's mark of four wins.
4. Vanderbilt still can't get the big win:
Yet again, Vanderbilt came up short against a conference foe in a big game. First, it was the five-point loss to Georgia, then a missed field goal doomed the Commodores against Arkansas. On Saturday, Florida grabbed an on-side kick to beat Vandy. It was all Florida in the first half, but the 'Dores inched back into it before coming up short. Silly penalties and poor execution doomed Vandy from the start, and at the end of the day there just wasn't enough time for Vandy's first win in Gainesville since 1945. Coach James Franklin later tweeted that this isn't the same ol' Vandy, and he's right, but even the new Vandy just can't figure out ways to pull out the big win.

5. The East will likely be decided next week:
With South Carolina's loss to Arkansas, the East could be determined next week. The Gamecocks are now a game behind Georgia in the East with Florida heading to Columbia, S.C., next week. A few ours west, Georgia will take on Auburn Between the Hedges. A South Carolina win and a Georgia loss would give South Carolina the East. A Georgia win prolongs the situation if the Gamecocks win because Georgia ends SEC play against Kentucky. The East might be down as a whole, but the race between these two is coming down to the very end, and that's pretty exciting.
November, 6, 2011
11/06/11
10:00
AM ET
Here's what we learned on Saturday in the Big 12:
[+] Enlarge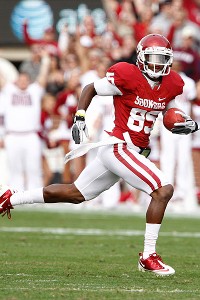 AP Photo/Alonzo J. AdamsA knee injury has ended the season of Oklahoma receiver Ryan Broyles.
College football is far too often unfair:
Ryan Broyles
will finish his career as one of the greatest players to ever step foot on a college football field. However, his career ended far too early, with a handful of games left in his senior season. A torn ACL ended Broyles' career, but he'll finish as the FBS leader in receptions, a record that might stand for awhile. Broyles did it the right way and matured by wide lengths over his unbelievable career. It's over now, but here's a salute to a guy that's a perfect picture of everything right about college football. Broyles will have a great career at the next level.
Oklahoma State can take your punches and punch back:
Which test was tougher? I'm going with Texas A&M, but Oklahoma State was pressed big time on Saturday and answered with two huge drives for the offense and one clutch defensive stop that might have saved a season. OSU coach Mike Gundy expected Bill Snyder to go for two if the Wildcats had scored at the end of regulation, but they never got the chance. OSU lost the turnover battle, 4-2, including a touchback and a pick-six, but survived the scare.
We might have a winless team this season in conference play:
Kansas' chances are dwindling. Last season, it took a miracle for Kansas to notch its only conference win when it rallied from a 45-17 deficit in just over 11 minutes against Colorado. It might take another miracle this season. Baylor, Texas A&M and Mizzou are the last three teams on Kansas' schedule this season. Chances don't look good for the Jayhawks after dropping a 13-10 game to Iowa State on Saturday.
Missouri is back on the ropes, and Baylor's back in the history book:
Baylor didn't make a bowl from 1994 up until last season, but the Bears have a fifth win on their record and a lot of winnable games ahead, including Kansas. The Bears should be back in the postseason, and would love a bowl
win
this time around. Mizzou, meanwhile, has three games left and must win two. Texas comes to Columbia next week, followed by games against Texas Tech and Kansas. It's going to be a tight squeeze for the Tigers, but they'll need some late-season magic.
Beware of Texas:
This team, relying so heavily on freshmen, was bound to get a lot better, but the Longhorns are building toward a big finish after rolling over Texas Tech in a 52-20 blowout on Saturday. With a stifling pass defense and a powerful running game, this team is built to play with a lead, and that's two consecutive weeks with more than 400 yards rushing. I don't care who you're playing against, that's impressive. Ever since benching Garrett Gilbert, Texas has been solid, with the exception of a blowout loss to Oklahoma.
November, 6, 2011
11/06/11
10:00
AM ET
As far as the conference race goes, this wasn't a week of revelations. There were still plenty of things we can take away from Week 10:
[+] Enlarge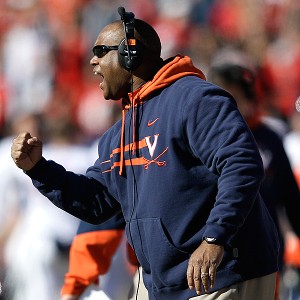 AP Photo/Patrick SemanskyCoach Mike London, in his second season, has Virginia eligible for a bowl game for the first time since 2007.
Virginia is bowl eligible for the first time since 2007:
With the 31-13 win at Maryland, the Cavaliers are bound for the postseason in Mike London's second season. At 6-3, it's probably safe to say the team exceeded the expectations of many outside the program. The Hoos have won four of their past five games, the lone loss coming at home to NC State. More importantly, Virginia remains in contention for the Coastal Division title, as it would win the head-to-head tiebreaker against Georgia Tech and still has to play rival Virginia Tech in the season finale. First, though, the Hoos have to get past Duke, and that hasn't been easy in recent years.
Florida State is bowl eligible for the 30th consecutive season:
It's the nation's longest active bowl streak. Nebraska holds the all-time record at 35. The Seminoles beat Boston College soundly, and continue to look more and more like a complete, dominant team each week. Granted, some of that has to do with the level of competition FSU has played, but there's no denying the dramatic improvement the team has made over each of the past four wins. Their biggest challenge remaining on the schedule is this weekend against Miami.
Tom O'Brien still owns North Carolina:
It wasn't just that the Wolfpack won this game for the fifth straight season, it was how good they looked in the process. It was the first time NC State shut out its in-state rival since 1960, and the defense played its best game of the season. It was a critical win for the Pack's postseason hopes, and should be a huge boost for the job security of O'Brien. UNC interim coach Everett Withers, though, didn't do anything to build his case as the Tar Heels' next head coach. It doesn't seem to matter who is coaching UNC, though. Final score: O'Brien 5, UNC 0.
The ACC needs its ranked teams on the field every week:
Every game and every conference was in the shadow of the pseudo-national championship game between LSU and Alabama, but the ACC was on the backburner even moreso with Georgia Tech, Virginia Tech and Clemson all enjoying bye weeks. Only three of the teams that played have winning records in league play, and three of the five games were won by a margin of at least 18 points. The best game was arguably Wake Forest's impressive effort against Notre Dame.
Maryland and Boston College have officially played themselves out of postseason eligibility:
Forget the ACC race, forget any shot at a bowl game. These guys are playing for pride, their seniors, and 2012 at this point, as both programs have run out of opportunities to reach the six-win mark after their respective losses. For BC, the loss to FSU stopped a streak of 12 straight bowl games. For Maryland, it's a disappointing start to first-year coach Randy Edsall's career, as he inherited a nine-win bowl team that has now lost five straight. Duke was pounded by Miami, but as of right now, in looking at the conference standings, BC and Maryland have officially replaced Duke and Virginia as the bottom-feeders in the ACC.