NCF Nation:

what we learned 111112
November, 11, 2012
11/11/12
10:15
AM ET
What did we learn in the Big East in Week 11? Glad you asked.
1. Unbeaten no more.
Well, the Big East had a good run while it lasted. After starting the season with three unbeaten teams, the league is down to zero after No. 9 Louisville lost
45-26
to Syracuse on Saturday afternoon. Now, this does not necessarily mean doomsday is coming to the Big East. Despite being unbeaten, the Cardinals were not in the national championship discussion. The Big East will still have two ranked teams when the new BCS standings come out later today, and the chance to see three finish with 10 victories. That would still be a huge accomplishment, but clearly losing the way Louisville did hurts not only the Cardinals but the league itself. When you are a Top-10 team, you simply cannot go on the road and lose the way Louisville did. In a word, the Cardinals were outplayed. Shoot, they were not even really competitive, falling behind by as many as 26 points in the fourth quarter. When you live on the edge in games the way Louisville had all season, sooner or later one will rear up and bite you.
2. Rutgers alone in first.
Now that Louisville lost its first Big East game, Rutgers is alone in first place in the Big East standings with three weeks to go. Essentially, if one of these two teams can win out, it will get to a BCS game. Rutgers has played two straight nonconference games so it has taken a break from Big East play, but it's not as if the Scarlet Knights have solidified their spot at the top. Coming off a loss to Kent State, Rutgers looked lethargic for most of its
28-7
win over Army on Saturday. Rutgers had only 252 yards of total offense, and the score was tied at 7 heading into the fourth quarter before Rutgers ended on a 21-0 run. The Scarlet Knights have done nothing to alleviate concerns about their offense now that they are set to get back into Big East play next week at Cincinnati.
[+] Enlarge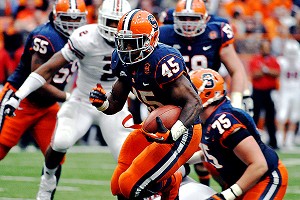 AP Photo/Kevin RivoliSyracuse RB Jerome Smith continued his recent surge in Saturday's win over Louisville.
3. Syracuse finally put everything together.
If you are an Orange fan, it is hard not to go over all the coulda, woulda, shoulda moments of the season. If not for X turnover, if not for Y penalty, against Z opponent then ... who knows, maybe Syracuse could be 8-2 and in control of the Big East! But the reality is that this is a .500 team that has played average football. Meaning, there have been some great moments for the Orange, such as Saturday's huge win over Louisville, and there have been some low moments for the Orange, such as a head-scratching loss to Minnesota. We saw an inspired football team beat up on the Cardinals, one that did not make any turnovers for only the third time all season.
Jerome Smith
has come on strong, with four straight 100-yard games.
Alec Lemon
had his second straight 100-yard game. And the defense played one of its better games of the season. Now the question -- can the Orange harness this momentum into bowl eligibility?
4. Brendon Kay-n do it.
Apologies for the pun, but boy oh boy, did Brendon Kay have an outstanding performance for Cincinnati in a
34-10
win over Temple. I can just see my mailbag filling up with angry Bearcats fans wondering why Butch Jones didn't pull
Munchie Legaux
earlier in the season. Kay made his first career start and finished 13-of-21 for 244 yards and a pair of touchdowns -- including a 71-yarder to
Kenbrell Thompkins
. Not to be outdone by his running QB counterparts, Kay added 71 yards rushing on seven carries. Do not sleep on the Bearcats, either. Now that Louisville has lost, the door is open for the Bearcats to try to get back to a BCS game. They need to win out and then hope Rutgers beats Louisville.
5. UConn shows signs of life; Pitt, not so much.
Everybody left UConn at the bottom of the Big East cellar headed into this week, given what we have (or have not) seen out of this team in four straight losses. But hey, the Huskies have not completely thrown in the towel just yet. They had their best offensive performance since September in a
24-17
win over Pitt on Friday night. Now it wasn't easy for the Huskies, who seem to be allergic to scoring touchdowns in the second half of games. Pitt sleepwalked through three quarters, clearly out of it after its heartbreaking loss to Notre Dame last week. By the time the Panthers got serious and tried to win, it was too late. Both teams have to win out to become bowl eligible. Their prospects look dim.
November, 11, 2012
11/11/12
10:15
AM ET
After a wild Saturday in the SEC, here's a look at what we learned in Week 11:
1. SEC's streak in jeopardy:
The SEC's national championship streak is in serious jeopardy. Texas A&M's 29-24 victory over Alabama means the league's going to need some help to even make it to the Discover BCS National Championship Game this season. With everybody in the SEC now saddled with at least one loss, the only way for Alabama to climb back into one of those top two spots in the final BCS standings is for two of the three unbeaten teams (Kansas State, Notre Dame and Oregon) to lose. It will be interesting to see how far Alabama falls in the polls and whether Georgia passes the Crimson Tide. Alabama's loss Saturday didn't help the Bulldogs' chances of playing their way into the BCS National Championship Game, either. Georgia, with an ugly 35-7 loss to South Carolina earlier this season, needed to have Alabama unbeaten and ranked No. 1 in the SEC championship game, and then a win over the Tide would have carried more weight with the voters. The other ironic thing to consider is that the SEC's chances of making it seven straight national championships could now rest in the hands of Lane Kiffin, who made a few enemies in the SEC during 14 turbulent months at Tennessee before bolting to USC. Kiffin's Trojans face Notre Dame in the regular-season finale and could also get a second shot at Oregon in the Pac-12 championship game.
[+] Enlarge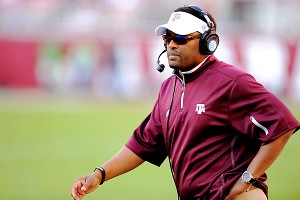 John David Mercer/US PRESSWIREKevin Sumlin has had an impressive first year at Texas A&M, which is in its first year in the SEC.
2. Props to the Aggies:
There's sure to be a lot of people around the country trumpeting how overrated Alabama was in the aftermath of the Crimson Tide's home loss to Texas A&M on Saturday. And no, Alabama's not ready to line up and beat any NFL teams anytime soon, as Steve Spurrier suggested a few weeks ago. But the real story here is Texas A&M and what a fabulous job Kevin Sumlin has done in his first season as coach and the Aggies' first season in the SEC. Everybody wondered how they would hold up in the SEC. It's safe to say that they're going to hold up just fine, and a better question might be: Once Sumlin gets a few more recruiting classes under his belt, especially in that talent-laden state, how is the rest of the SEC going to hold up against the Aggies?
Johnny Manziel
is absolutely worthy of Heisman Trophy consideration, and he's playing behind an offensive line that made a pretty convincing statement Saturday that it's in a league of its own. And finally, that same Texas A&M defense that was shredded last month in a 59-57 win against Louisiana Tech made one key stop after another Saturday and has improved by leaps and bounds.
3. Muddled bowl picture:
Good luck in figuring out the SEC bowl picture. It's a given that the SEC will still get two teams into BCS bowls even if the league is shut out of the Discover BCS National Championship Game. The intrigue will revolve around which two teams. As many as six SEC teams could stake a claim. If nobody makes it into the national title game, the winner of the SEC championship game would go to the Sugar Bowl. So right now, that looks like it will be the Alabama-Georgia winner. The loser of that game would still be in play, but so would an 11-1 Florida team as well as LSU, South Carolina and Texas A&M if they all win out and finish 10-2. Florida still has to go to Florida State in the regular-season finale, while South Carolina plays at Clemson to close the regular season. Both the Gators and Gamecocks could help their cases with wins over top-10 teams. The AT&T Cotton Bowl would love to get its hands on the Aggies, but they could also get snatched up by a BCS bowl, especially with Manziel putting up Heisman Trophy numbers.
4. Don't sleep on the Dawgs:
Granted, Auburn is terrible. But it looks like Georgia is starting to play its best football at just the right time. The Bulldogs are closing in on the eighth 10-win season in Mark Richt's 12 years at the school and clinched their second consecutive trip to the SEC championship game with their 38-0 rout of the Tigers. Richt has had his share of critics, and he'll continue to have them. But he's done an excellent job each of the past two seasons of keeping his team focused despite bad early-season losses. The schedule has been a factor, no question. But Richt didn't make it out, nor did any of his players. Florida had its shot against Georgia and lost, and the Bulldogs have proved that they don't roll over and play dead just because they lose a game early.
5. Dooley's days are numbered:
It's not a matter of "if," but rather "when" for Tennessee coach Derek Dooley. The Vols' 51-48 loss to Missouri in four overtimes Saturday was almost certainly the knockout blow for Dooley, who's now lost 13 of his past 14 SEC games. The Vols blew a 14-point lead in the third quarter at home, and Dooley made some questionable decisions down the stretch. But over and above what happened in Saturday's game, it's a Tennessee program that is hemorrhaging on several different fronts. If fan apathy hadn't already set in, it has now, and there's just not a lot of hope on Rocky Top that Dooley will ever be able to stop the bleeding. He walked into a mess in 2010 when he took the job and has done an admirable job of strengthening the roster. But Tennessee has gone from a top-tier program that had obviously dipped toward the end of Phillip Fulmer's tenure to a program now that's totally irrelevant. There really is no decision now for Tennessee athletic director Dave Hart. The only question is if he'll announce that he's making a coaching change this week or the next.
November, 11, 2012
11/11/12
10:00
AM ET
Here's a look back on the lessons learned in the ACC in Week 11, in no particular order:
1. The Coastal Division continues to be confusing:
Miami's 41-40 loss to Virginia further complicated things, but Duke is the only team in the division that controls its own destiny. The Blue Devils can get to the title game in Charlotte, N.C., with wins at Georgia Tech and against Miami. Georgia Tech, Virginia Tech, Duke and Miami are all still in the mix, though. According to an ACC spokesman, North Carolina's results will factor into the race, even though the Tar Heels are ineligible for the postseason. While it might seem like Miami wins the division with a victory over Duke, it's not necessarily that simple because Georgia Tech, Miami and North Carolina could all finish in a three-way tie at 5-3, UNC beat Miami, Miami beat Georgia Tech, and Georgia Tech beat UNC. Confused? Exactly.
2. FSU can win outside the Sunshine State:
It wasn't a flawless performance, but Florida State's 28-22 victory at Virginia Tech answered a big question about the Noles, who came into Blacksburg having lost the only game they played outside the state of Florida this year -- to NC State. The Hokies were 11-3 in Thursday night games, and Lane Stadium is one of the toughest venues in college football, particularly on a Thursday night. Virginia Tech gave FSU its best shot, as expected, but the Noles came through in the clutch and passed their toughest road test of the season. FSU is one win away from winning the Atlantic Division and will have to clinch it on the road this week against Maryland.
[+] Enlarge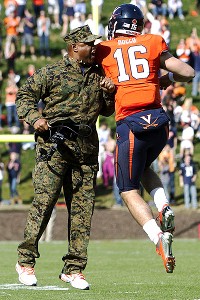 Lee Coleman/Icon SMIWith a bowl berth in sight, Virginia coach Mike London and QB Michael Rocco have reason to be energized.
3. Michael Rocco should be Virginia's quarterback -- for four quarters:
Mike London has dabbled in the two-quarterback system with Rocco and
Phillip Sims
, but if Rocco's four-touchdown performance in the victory over Miami didn't change his mind, nothing will. It was Rocco's first start since the Louisiana Tech game, and he threw for 300 yards and no interceptions. His 10-yard touchdown pass to
Jake McGee
with 6 seconds remaining won the game and kept UVa's slim bowl hopes alive. Rocco has proven to have a good command of the offense and in the huddle.
4. Tom O'Brien isn't toast:
O'Brien's seat at NC State was red-hot last week after an inexplicably flat performance in a home loss to Virginia, but he got his team to rally and become bowl-eligible for the third consecutive season. The Wolfpack joined the six-win club with its 37-6 victory over Wake Forest, the only ACC team to reach that mark this weekend. It was an important accomplishment, considering how deflated the team looked a week ago. With a win at Clemson this week, O'Brien shouldn't have any concern about his job security. But now that O'Brien has put his program in a position to finish strong and win a bowl game, the outlook is much brighter.
5. Extra time doesn't always help defenses against Paul Johnson.
So much for that theory. North Carolina's defense had the bye week to prepare for the spread option, but the Tar Heels looked as if they'd never seen it before. Georgia Tech won 68-50 in what was a record-setting game for points scored. Not that the Jackets' defense was oh-so-much better, but even UNC coach Larry Fedora had said last week what a help it was to have some extra time to prepare for that offense. UNC still allowed 30 points in the third quarter, 588 total yards and 7 rushing touchdowns. Might wanna keep practicing -- for next year.
November, 11, 2012
11/11/12
10:00
AM ET
Here's what I learned after a big week in Big 12 country as it relates to the BCS race:
Kansas State is right on track to crack the BCS National Championship Game.
Down goes Bama! The champ is cut! The champ is cut! Kansas State's players were blocking out the biggest news in the college football world Saturday. Alabama lost right after K-State and TCU kicked off, leaving the Wildcats and Oregon as the two teams most likely to control their fate in the BCS race. Notre Dame is also undefeated, but a handful of close calls might leave the Irish on the outside looking in, despite feasting on not a single cupcake. Either way, Kansas State has rolled its way to 10-0, and now doesn't have to worry about scoreboard-watching, barring something amazing in the polls. Beat Baylor and Texas, and K-State is doing something it has never done before: Playing for a national championship.
Texas Tech is hanging by a thread.
The Red Raiders were red-hot and in the title hunt less than a month ago, but lost consecutive games to Texas and Kansas State, and narrowly beat Kansas, the Big 12's worst team, Saturday at home. The
sideline incident involving coach Tommy Tuberville
and a graduate assistant will only add more noise around the Texas Tech program this week. Texas Tech has seven wins, two more than it did a year ago. It's better and it sent the seniors out the right way, but this season was a play or two away Saturday from feeling a little disastrous.
[+] Enlarge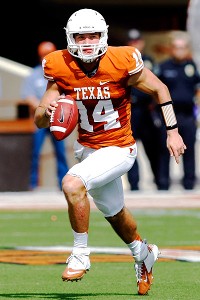 Brett Davis/US PresswireDavid Ash threw for 364 yards and two TDs in leading Texas to its fourth consecutive victory.
Kansas is enduring a cruel, cruel season
. Good grief, this just will not end for the Jayhawks. The Big 12 losing streak moves to 19 games. The road losing streak advances to 18 games. Kansas has somehow found a way to fall back from a two-win season to 1-9 and legitimately be a better team. Kansas blew a lead to lose on a last-second field goal against Rice. The road streak continued when Northern Illinois erased a double-digit lead in the fourth quarter. Texas strung together an improbable game-winning drive with a crazy fourth-down conversion. Saturday, Charlie Weis' squad rallied to tie the score but lost in double overtime on a ... jump pass? Ugh. Kansas is knocking on the door and will get a chance against Iowa State and West Virginia to close the season, but you have to feel some pity for these Jayhawks at this point.
Other than K-State, Texas is the Big 12's hottest team.
Don't look now, but the Longhorns are racking up some decent wins. Beating Iowa State by 26 isn't easy, and Texas has already equaled last year's win total. There's not a truly impressive victory in the four-game streak, but simply winning four consecutive games in the Big 12 is a lot harder than it sounds. Texas is sitting pretty at 8-2 and hosts TCU on Thanksgiving. It'll be favored in that game, and if the Horns spring a huge upset against K-State to close the season Dec. 1, they'll be on the way to the BCS.
West Virginia's free fall refuses to end.
This really is cringe-worthy. West Virginia's got all the skill-position talent you could want, but has struggled on special teams (excluding the return game) and the defense didn't carry over the growth it showed a week ago against TCU. The Mountaineers raced to 5-0 and a top-five ranking, but have lost four since and still don't look as though they've hit rock bottom yet.
Geno Smith
is a great personality and a better quarterback, but these losses are taking a toll. He's trying and
Stedman Bailey
and
Tavon Austin
are doing what they can, too. Still, this uber-talented team just can't do enough to win. It's tough to see. I enjoyed my time around that crew during its early-season run, but it's entirely possible that WVU needs a win over Kansas in the season finale just to reach bowl eligibility.