NCF Nation:

what-we-learned-111410
November, 14, 2010
11/14/10
10:27
AM ET
A look at what we learned in the SEC in Week 11, as both divisional champions were crowned -- Auburn in the West and South Carolina in the East:
1. No stopping Newton:
The Georgia players said afterward they don't think Auburn's
Cam Newton
can be stopped. Granted, Georgia has failed to stop a lot of people this season, but Newton is without a doubt the most dominant offensive force to come through the SEC in a long while. Nobody's suggesting he's a better player than Tim Tebow. That will all sort itself out. But where Newton separates himself from anybody who's played football in the SEC in a long time is his ability to beat you so many ways. He demoralizes defenses with long runs for touchdowns like he did against LSU and several other teams this season. He wears defenses down by pounding on them for 30 carries like he did Saturday in Auburn's 49-31 win over Georgia, and just when you think you might have him bottled up, he makes a couple of NFL throws for touchdowns like he did against the Bulldogs. What kind of defense do you play against the guy?
2. Tight-lipped Tigers:
Don't look for any revelations from Auburn concerning what all took place last week in deciding to play Newton amid the NCAA investigation into his recruitment and allegations swirling that his father, Cecil Newton, sought money for him to sign at Mississippi State. Cam Newton wasn't made available to the media following the Georgia win, and Auburn's official comment on the matter has become "no comment." The Tigers are off until they travel to Alabama on Nov. 26, and these next 13 days are sure to provide some more drama off the field. In the meantime, don't expect to hear too much from the Auburn side of things.
[+] Enlarge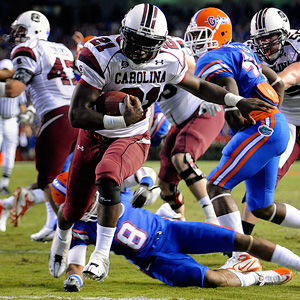 AP Photo/Phil SandlinMarcus Lattimore rushed for 212 yards and three touchdowns Saturday.
3. Lattimore is special:
The word "special" is over-used in the world of sports when we start talking about athletes, especially first-year athletes that burst onto the scene and demonstrate greatness right away. In the end, it's the long haul that makes that determination. I say without reservation, though, that South Carolina freshman running back
Marcus Lattimore
is special, and he's special in every way. He hadn't been healthy the past several weeks, juggling a sprained ankle and bruised knee. But when the Gamecocks needed him during the biggest game of the season, he was right there for 40 carries and a season-high 212 yards. Lattimore also had 31 receiving yards, giving him a total of 243 yards for the game. Single-handedly, he outgained the entire Florida offense, which managed just 226 yards. Yes, that says a lot about how lousy Florida is on offense. But for Lattimore to perform the way he did on such a big stage Saturday tells you even more about what kind of football player he is and tells you why he was such a priority for the Gamecocks last year during the recruiting process.
4. Hogs in the upper crust:
Arkansas is playing well enough right now that the Hogs have an excellent chance to finish this season among the top three or four teams in the league. That's a goal of any team in this league, to be a top-tier program. The 58-21 thrashing of UTEP on Saturday was Arkansas' fourth straight win. The Hogs have averaged 46.5 points during their four-game winning streak, and there's no question that their defense has improved significantly since last season. Sure, they'd like to have back the fourth quarters of those Alabama and Auburn games, but this is a talented team that's held it together since those disappointments and is playing at an extremely high level heading into these final two weeks of the season. Bobby Petrino and his staff, as well as the leaders on this team, deserve a lot of credit for not letting this thing go south after the Hogs were eliminated from the SEC race.
5. Ole Miss is reeling:
Even though Ole Miss has won two more games overall than Vanderbilt this season, you can make a strong case that the Rebels are the worst team in the league. After all, Vanderbilt beat Ole Miss by two touchdowns in Oxford. A more convincing case, though, played out in Knoxville on Saturday. The Rebels quit in the second half against a previously winless Tennessee team in SEC play and were humiliated 52-14.
Jeremiah Masoli
, coming off a concussion, probably wishes he'd watched from the sideline. He threw three interceptions, and two of them were returned for touchdowns. The defense, even though nose guard Jerrell Powe is a beast in the middle, has been shredded for much of this season. The Rebels give up big plays the way most of us dump pennies in the change tray at the convenience store. It looks like they've also given up on this season.
November, 14, 2010
11/14/10
10:00
AM ET
1. The Irish can be tough:
Listen to these quotes: "They've got a big, physical front seven. ... They've got a very stout front seven on defense ... I don't think we ever had control on the line of scrimmage." Sounds like something the Notre Dame coach is used to saying, right? That was Utah coach Kyle Whittingham talking about the Irish. Notre Dame's defense held a team averaging 40 points and with a 44-game streak of scoring a touchdown to just one early field goal. Utah had only 71 rushing yards. Notre Dame outblocked, outhit and outplayed the Utes in every facet. Coming off three trying weeks, the Irish showed the most physical and mental grit we've seen from them in years.
2. The Irish can win with Tommy Rees:
Especially if he's not asked to do too much. Brian Kelly said he wasn't going to put the game on the true freshman's shoulders and called a conservative, smart game plan. (Makes you wonder why he put the game on Rees's arm at the end of the Tulsa game, but that's in the past). But if the defense and special teams play as well as they did Saturday, all Rees needs to do is take the opportunities that are there and not make mistakes. That's what he did, throwing three touchdowns and no interceptions.
3. The Irish can go bowling:
At 4-5 with losses to Tulsa and Navy and a ranked Utah team coming in, Notre Dame looked unlikely to go bowling before Saturday. Now at 5-5 with a winnable game against Army (assuming the defense can stop the option this time), a postseason trip seems entirely achievable. It might be a minor, utterly forgettable game like the Kraft Fight Hunger Bowl. But the 15 extra practices would be very valuable as Kelly builds this program, and now the team has something left to play for in November.
November, 14, 2010
11/14/10
10:00
AM ET
Five lessons from the week that was in Big Ten football.
1. The league title race is down to three:
Iowa's loss to Northwestern likely eliminated the Hawkeyes from the Big Ten title race. Although we could still see a tie at 6-2 in league play, it's unlikely that Wisconsin, Michigan State and Ohio State all will stumble once more in the final two weeks. Wisconsin and Ohio State both overcame slow starts to pull away for impressive victories, while idle Michigan State benefited from Iowa's loss and Notre Dame's win. Iowa can now be branded as a disappointment given the preseason expectations placed on the senior-laden Hawkeyes.
[+] Enlarge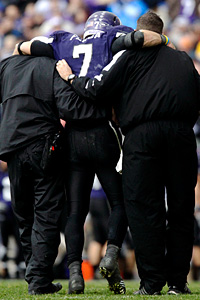 AP Photo/Nam Y. HuhDan Persa's season is over, but not before he led Northwestern to a comeback win.
2. Dan Persa is the league's most valuable player:
Both the good side and the bad side of this lesson played out Saturday at Ryan Field. Persa willed Northwestern to a dramatic come-from-behind win, leading two fourth-quarter scoring drives and accounting for all three Wildcats touchdowns (2 pass, 1 rush) in the game. But he suffered a freak injury after throwing the game-winning touchdown pass, rupturing his Achilles' tendon while celebrating. Persa's season is over and Northwestern will sorely miss him the rest of the way, but No. 7 has earned a ton of respect around the Big Ten this season.
3. The Big Ten is a non-factor in the Heisman race:
Yes, I know this probably was true before Saturday, but I continued to drive the bus for Big Ten players like
Ricky Stanzi
,
Denard Robinson
and
Terrelle Pryor
. Well, the bus has officially broken down. Stanzi threw a costly interception and lost his poise in the clutch at Northwestern, while Robinson committed four turnovers and briefly was benched in an ugly win at Purdue. Pryor threw an interception and was unspectacular against Penn State. I'd be surprised if the Big Ten is represented in New York next month.
4. More Big Ten coaches could be in trouble:
We've already seen one coaching change this fall in the Big Ten, and the heat is rising on two others. Indiana's 83-20 loss to Wisconsin is the type of game that could really hurt Bill Lynch as he tries to save his job. The Hoosiers couldn't stop Wisconsin in the final three quarters and suffered a humiliating defeat. It's one thing to lose a Big Ten game; it's another to look non-competitive. Ron Zook seemed safe two weeks ago, but Illinois' back-to-back losses could revive calls for change as the Illini still aren't bowl eligible.
5. Wisconsin and Ohio State are in a beauty contest:
The two teams might say otherwise, but there's definitely incentive among both the Badgers and the Buckeyes to win with style points. It's very possible that Wisconsin, Ohio State and Michigan State all win out to force a three-team tie atop the league standings on Nov. 27. If so, the team with the highest rank in the final BCS standings goes to the Rose Bowl. Wisconsin and Ohio State are in a BCS battle despite Wisconsin's head-to-head win, and their coaches have no incentive to call off the dogs. Both teams have put up historic offensive numbers this year, and they're not going to let up in the final two weeks.
November, 14, 2010
11/14/10
10:00
AM ET
Here's a look at the lessons learned in Week 11:
The defending division champs won't be defending much this year.
The 2009 division winners, Georgia Tech and Clemson, both lost on Saturday, dropping them to four league losses each. Clemson is now left to watch Florida State, NC State and Maryland battle it out in the Atlantic Division while Georgia Tech likely passed the torch to Virginia Tech. Speaking of the Hokies …
[+] Enlarge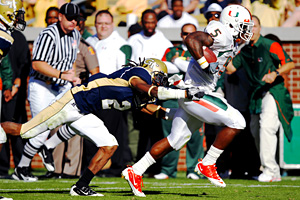 Josh D. Weiss/US PresswireMiami kept its hopes of winning the Coastal Division alive by beating Georgia Tech.
Miami's not done yet.
The Hurricanes looked impressive in their win over Georgia Tech, and kept the Coastal Division race somewhat interesting heading into Saturday's game against the Hokies. Even with a win on Saturday, though, Miami would need Virginia Tech to lose to Virginia in the season finale. It's possible, but unlikely. At the very least, Miami kept the possibility alive. Odds are
Jacory Harris
returns at quarterback if he's healthy and cleared from a concussion he suffered at Virginia two weeks ago, but what's working well for the Canes right now is their running game. Four different running backs scored against Georgia Tech and that will continue to help whoever is playing quarterback.
Maryland and NC State still control their own destiny.
With their respective wins this past weekend, both programs can still win out and advance to Charlotte. They both have tough games this weekend, as Maryland hosts Florida State and NC State has to "travel" to rival North Carolina. If they both win, the season finale between NC State and Maryland will determine the winner. Florida State must win out and have NC State lose again in order to win the division.
Backup quarterbacks rule.
FSU's
E.J. Manuel
and Miami's
Stephen Morris
both got the jobs done while their injured starters watched from the sidelines. Morris threw for 230 yards and a touchdown in the win over Georgia Tech. He completed 10 of 18 passes and didn't have a turnover. Manuel scored FSU's only touchdown of the game on an eight-yard run with 10:08 left to give the Seminoles a 13-10 lead. He completed 15 of 24 passes for 210 yards and ran for another 71 yards on 15 carries.
Duke and Virginia's bowl hopes are over.
They joined Wake Forest this week as the three programs in the ACC who can no longer mathematically reach that elusive six-win bowl eligibility mark. Four wins for Virginia in Mike London's first season is still impressive, and the Cavaliers still have two games yet to play, against BC and Virginia Tech. Duke at least was able to salvage this season a bit by putting an end to its six-game losing streak in October, but it's not going to get any easier with Georgia Tech and UNC still on the schedule. The consolation prize for both teams would be beating their rivals in the season finales.
November, 14, 2010
11/14/10
10:00
AM ET
What did we learn this week?
Oregon's offense isn't unstoppable
: Did California provide a map for at least slowing down the Oregon offense? The Bears didn't do anything fancy. They mostly just played man coverage, used seven guys in the box to stop the run and the defensive line played downhill, driving to penetrate, making it hard for Oregon's spread-option to move laterally in the backfield. Or was it just a bad day for the Ducks? In any event, the performance by the Bears showed that -- as good as the Ducks are -- Oregon's offense isn't a supernatural force.
[+] Enlarge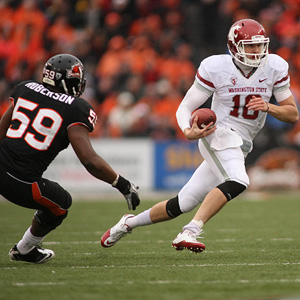 Craig Mitchelldyer/US PresswireJeff Tuel had his way passing and running against the Oregon State defense on Saturday.
There is hope for Washington State
: The Cougars have been more competitive this year, yes, but a lot of the praise in that respect felt like a pat on the head. But winning big at Oregon State is much different. That's something that can be a linchpin of a transformation. Bottom line: For the first time in 16 Pac-10 games, the Cougs were smiling when the clock struck zero.
Lane Kiffin might be a good coach
: There is evidence that, perhaps, Kiffin advanced more quickly through the coaching ranks than he deserved. There is evidence that Kiffin sometimes says things he will regret, or that qualify as trash talking. But, please, show me some evidence that he can't coach. And, as a counter to the lame evidence Kiffin's critics produce, consider the Trojans' win at Arizona. And how the Trojans are a better team today than they were a year ago, when they were deeper and more talented.
Stanford's defense has turned the corner
: Stanford used to be seen as soft on defense. It stopped being that under Jim Harbaugh, but then it was slow. Now? Stanford looks pretty darn good. A week after holding Arizona to just 17 points, the Cardinal held Arizona State to 12 first downs and 268 total yards. When you look at one-loss teams, who looks better than Stanford? The answer: No one.
Oregon State? Heck if I know
: The Beavers were projected as the No. 3 team in the Pac-10 during the preseason. Perhaps that was respect for the program. And just two weeks ago, the Beavers were still in control of their Rose Bowl fate. But now, after their third loss in four games, they look like a long shot to earn bowl eligibility. Oh, and they now are the trivia answer to: Who did Washington State beat to end a 16-game Pac-10 losing streak? Where the Beavers are is not where anyone expected them to be.
November, 14, 2010
11/14/10
10:00
AM ET
1. Five for fighting:
Making any pronouncements about the Big East race is dangerous business. But it now looks like a five-team race, which is better than the eight-team jumble we had on Friday. Pitt has a one-game lead after its loss to Connecticut on Thursday night, and UConn, Syracuse, South Florida and West Virginia are all ready to strike if and when the Panthers lose again. Louisville, Rutgers and Cincinnati are probably out of contention with three conference losses apiece, though anything is possible in this most unpredictable league.
[+] Enlarge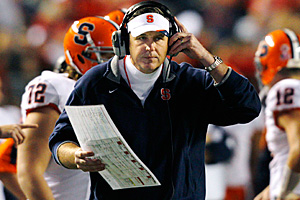 AP Photo/Mel EvansDoug Marrone has Syaracuse bowl eligible at 7-3, and could be the Big East coach of the year.
2. Hello, Orange bowl:
Syracuse will return to the postseason for the first time since 2004 after beating Rutgers 13-10 to earn its seventh win. The Orange might not be done there. They've only got one more Big East game left, this week at home against Connecticut, and could enter the clubhouse with a 5-2 league record that only Pitt could beat. Syracuse already owns head-to-head tiebreakers against South Florida and West Virginia. Doug Marrone's team amazingly won all four of its league road games, putting him in position to win Big East coach of the year honors.
3. West Virginia can, in fact, score:
The Mountaineers had failed to break 21 points in their first three Big East games, going 1-2 and causing a near panic in the state. They broke out in a big way during a 37-10 win over Cincinnati.
Geno Smith
threw four touchdowns and the offense rolled despite an under-the-weather
Noel Devine
. The best development was that West Virginia stayed out of its own way, finally avoiding costly penalties and turnovers. But the performance also came against a Bearcats' defense that gets worse and worse every week and may not offer a proper litmus test. Speaking of which ...
4. The king is dead:
You can officially put a fork in the two-time defending league champs. Cincinnati has lost three straight to fall to 3-6 and will in all likelihood be staying home this postseason after making back-to-back BCS games. Butch Jones' first year keeps getting tougher. The three conference losses have come by eight, 24 and now 27 points. The constant has been mistakes and bad defense. The Bearcats turned the ball over four more times on Saturday and have allowed their past three opponents to score at least 31 points.
5. A Holtz new era:
That was the slogan this preseason in Tampa, and has it ever been true. Skip Holtz has certainly brought change to South Florida. The Bulls used to start off fast then quickly fade in Big East play. The opposite is the case now. After a slow start, USF has won three straight, breaking losing streaks against Cincinnati and Rutgers and winning Saturday in Louisville for the first time. With Pitt coming to town this week, the Bulls control their own destiny; if they win out, they can do no worse than tie for first place. They haven't been this much in the thick of the race this late in the year since joining the Big East. Credit Holtz with making this team tougher and better built for the long haul.
November, 14, 2010
11/14/10
10:00
AM ET
What did we learn from the non-AQs in Week 11?
[+] Enlarge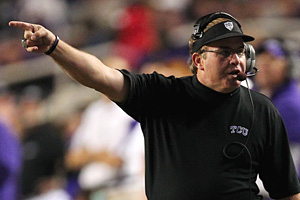 Matthew Emmons/US PresswireGary Patterson and the Horned Frogs will have to worry about their ranking after an unimpressive win over San Diego State.
1. Boise State won impressively. TCU won unimpressively.
We will have to wait a bit longer to see how that translates in the human polls and BCS standings. The last thing TCU needed was a close 40-35 win over San Diego State at home. The next-to-last thing the Horned Frogs needed was Utah to lose 28-3 to Notre Dame. The combination of those two has taken the luster off their win over the Utes last week. While San Diego State (7-3) is no slouch, TCU coach Gary Patterson admitted afterward that he was unhappy with such a close score. He had to be, considering the effect that potentially has on voters who vaulted his team ahead of Boise State in the polls last week. The Horned Frogs have no more games left to impress. After a bye, they get New Mexico. Meanwhile, Boise State beat Idaho 52-14 in another dominating victory Friday night. But the Vandals are struggling this season, and don't exactly count as a quality win. Boise State still has Fresno State and Nevada, and more of an opportunity than TCU to make a lasting impression on the voters.
2. Utah was overrated.
Maybe that was obvious after last week, but it is painfully obvious after the team failed to show up in the loss to Notre Dame. The Utah offense, after averaging more than 40 points a game, has gone AWOL. The Utes have scored single-digits in consecutive games -- the first time since September 1990 that has happened. The Utes have also turned the ball over six times in their past two games, and were penalized 11 times for 70 yards against the Irish. They get no relief next week with a road game at San Diego State.
3. Banner year for the service academies.
Army (6-4) became bowl eligible for the first time since 1996 after beating Kent State 45-28, joining Navy and Air Force in going to a bowl game this year. Army, Navy and Air Force have never played in a bowl game in the same season. Army does not have a bowl tie-in but is a backup for the Armed Forces Bowl and Military Bowl, while Navy (7-3) is headed to the Poinsettia Bowl and Air Force will go to a Mountain West tie-in. Navy and Air Force (7-4) had already clinched their bowl eligibility, but won on Saturday with their backup quarterbacks. The Midshipmen started
Kriss Proctor
in place of
Ricky Dobbs
, out with a concussion, and beat Central Michigan 38-37. Air Force relied on
Connor Dietz
, who replaced an injured
Tim Jefferson
in the second quarter of a 48-23 win over New Mexico.
4. UCF was not quite ready for prime time.
The Knights got their first ranking in school history last week, and promptly lost 31-21 at home to Southern Miss. Say good bye to the rankings. But if UCF wins out over Tulane and Memphis, it hosts the Conference USA title game. But now they have no margin for error. UCF jumped out to a quick 14-3 lead on Southern Miss, but stalled on offense. Meanwhile, Tulsa beat Houston 28-25 and is now in a tie with SMU atop the West. Both teams are 4-2 in league play. SMU beat Tulsa earlier this year so if they win out, the Mustangs win the division.
5. FIU controls what happens in the Sun Belt.
The Panthers beat Troy for the first time ever, 52-35 and are the only one-loss team remaining in league play. If they win at Louisiana and then beat Arkansas State and Middle Tennessee at home, FIU wins its first ever Sun Belt title. FIU (4-5, 4-1) showed from the start of the season it was a much improved team, taking Rutgers and Texas A&M down to the wire. Saturday, they put a dent in Troy's hopes of winning a fifth straight conference crown. FIU racked up a program-record 668 yards of total offense and now has four Sun Belt wins, the most in program history.
November, 14, 2010
11/14/10
10:00
AM ET
[+] Enlarge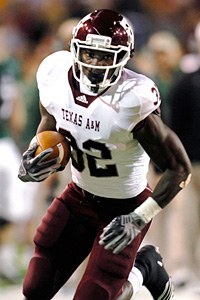 Brett Davis/US PresswireCyrus Gray had 28 carries for 137 yards and four touchdowns in Texas A&M's win over Baylor.
Texas A&M is clearly a new team.
You can look at this one any way you want, but Texas A&M wouldn't have made that comeback earlier in the year. The Aggies rallied from 16 down to score the game's final 28 points and beat Baylor, 42-30. They did it with a punishing running game from
Cyrus Gray
and a dominating defense for the second half. There are so many other factors outside of him, but it's hard to not point at quarterback
Ryan Tannehill
as a big reason for the rise, too. And quietly, Texas A&M has moved to 2-0 with Tannehill in televised games, where former starter
Jerrod Johnson
infamously struggled. That might not mean anything inside the locker room, but plenty of people have seen the Aggies pull off a pair of impressive wins in consecutive weeks now.
So is Colorado.
You've seen plenty of teams pack it in after a coach is fired, but Colorado did the exact opposite on Saturday, beating an Iowa State team in Boulder with a bowl berth on the line. The defense played well, everyone on offense had a good game, and you have to wonder what practice had been like the last week to get produce one of the Buffaloes best performances of the season. Brian Cabral, a 20-year coaching veteran who has been at Colorado since 1989, probably doesn't have a great shot to get the full-time job after the season. But his stock definitely has to have risen after coaching Colorado to its first conference win of the year.
Without Taylor Martinez at full strength, Nebraska's offense can look very average.
We saw it last week, when the Huskers had to intercept a pass in overtime to beat Iowa State, but without a suffocating performance from the Blackshirts, Saturday's game against Kansas might have come down to a few key plays in the fourth quarter. The Huskers eased Martinez, who says he's nearing 100 percent, back into the game, but he wasn't running with the frequency he usually does. Without that consistent threat, Nebraska's offense doesn't look much different from a year ago, when its defense was much better but the team still lost four games.
Sometimes, college football just isn't fair.
You won't hear anyone in the league have anything negative to say about Iowa State quarterback
Austen Arnaud
or Oklahoma defensive tackle
Adrian Taylor
. But both saw their seasons and careers come to painful ends. Arnaud suffered a knee injury and will be forced to watch his team play for its bowl lives next week on Senior Day in Ames. That's a heartbreaking end to a career for Arnaud, who is in his third year as the Cyclones' starting quarterback. Rhoads lauded Arnaud all offseason as his team's most improved player and hardest worker, and he's the squad's unquestioned leader. Taylor, meanwhile, battled back from a horrific dislocated ankle in Oklahoma's bowl game last year, fighting through the season without being 100 percent. Now, his career is over with a torn achilles tendon in his opposite foot. No player wants to be carted off the field during his final game, especially his final game on his home field. "It crushes you with what he's invested in this program with everything he's gone through," defensive coordinator Brent Venables told reporters after the game. "He's given us a lot more than we've given him. His legacy will be incredibly strong here."
Missouri figured out its offensive issues.
Maybe it was playing on the road, but last week's loss to Texas Tech was one of the more curious results in the Big 12 season. Especially when you consider
Blaine Gabbert
's horrific day, completing 12 of 30 passes for 95 yards. Nebraska was clearly a better team than Missouri in its win, but Missouri's offense looked like its old self for most of Saturday's win over Kansas State. The Tigers added a few new wrinkles on Saturday, but the basic pass-and-catch execution that was absent in Lubbock last week was there this week. Missouri is all but out of the Big 12 North race, but they'd improve their bowl destination with wins at Iowa State and against Kansas in Kansas City to close the season.