NCF Nation:

What-we-learned-112011
November, 20, 2011
11/20/11
10:00
AM ET
What did we learn in the Big East after Week 12?
1. Anybody's conference.
OK, well, maybe not anybody's. Sorry, USF, UConn and Syracuse. Everybody else, start getting out your pencils, make sure you have erasers and start figuring out the scenarios to get your team into a BCS game. Rutgers' 20-3 win over Cincinnati leaves the Big East with a five-way tie atop the league standings. Brace yourself, because the potential is there for this season to be even worse than 2010 when it comes to the league rep in the BCS. You thought getting an 8-4 UConn team into the Fiesta Bowl last year was bad? How about the prospect of 7-5 Louisville or 7-5 Pitt getting into a BCS bowl game this year? Not so sure that is going to sit well with the rest of the nation, which will surely wonder why the Big East gets a five-loss team into the BCS when worthy one- and two-loss teams get left out (ahem, Boise). Get ready for the ridicule if one of those scenarios plays out.
2. Missing Zach.
Cincinnati tried to convince us that the offense would be run the same way with
Munchie Legaux
in charge. Not so much. The Bearcats managed a field goal in a 20-3 loss to Rutgers, a loss that cost them control of the Big East race. It was their lowest point total since getting shut out 38-0 to West Virginia in 2005. There was nothing Cincinnati could do to get into a rhythm without
Zach Collaros
, out for the regular season with a broken ankle. This had been the highest-scoring offense in the Big East, a team that was averaging 443 yards a game. Instead, on Saturday, the Bearcats were completely dominated on both sides of the line of scrimmage. Rutgers, anticipating more of a run-first mentality, held
Isaiah Pead
to 28 yards. Legaux completed just 12 passes.
3. Rutgers can run.
Who knew Rutgers had a run game? All season the Scarlet Knights had starts and stops when it came to rushing, trying a three-headed combo of
Jawan Jamison
,
Savon Huggins
and
Jeremy Deering
. Huggins is out, so Rutgers has been able to split the reps between Jamison and Deering. It was Jamison's turn to shine against Cincinnati, as he racked up a career-high 200 yards. Rutgers went into the game averaging 90 yards a game on the ground -- third-worst in the nation. But for one game, at least, Rutgers proved it could ground and pound its way to a win, controlling the ball for more than 38 minutes.
4. Louisville locked in.
The Cardinals kissed the distractions away and made it to bowl eligibility after a 34-20 win over UConn. There was nothing particularly awe-inspiring about the win -- but there is plenty to like about this team. It was not too long ago that the Cardinals were 2-4, and coach Charlie Strong called his players in for individual meetings, searching for somebody to step up and make some plays. He was looking for a few good leaders, for the players to trust in one another. Now here they are, the youngest team in the Big East, with a very real shot at making it back to a BCS game. Kudos to Strong and his players for their perseverance and refusal to quit.
5. Bowl chances hurting.
UConn (4-6) needs to beat Rutgers and Cincinnati to become bowl-eligible for the fifth straight season; USF (5-5) has to beat either Louisville or West Virginia to become bowl-eligible for the seventh straight season. The Bulls might have to do it without quarterback
B.J. Daniels
, who hurt his right shoulder in a loss to Miami. Coach Skip Holtz didn't have an injury update after the game, but if Daniels is out it will be even tougher on the Bulls. Already, they are teetering on the brink of winning fewer than eight games for the first time since 2005. To get to eight they have to win out, including the bowl game. Meanwhile, UConn only hurt itself in a loss to Louisville. Too many missed tackles, dropped passes and overthrown balls plagued the Huskies.
November, 20, 2011
11/20/11
10:00
AM ET
You think you've got it all figured out in the ACC? Watch the end of the Florida State-Virginia game again. Or Clemson in the second quarter. It was a crazy weekend all across college football, but there are always lessons to be learned. Here's a look at what we know after Week 12:
[+] Enlarge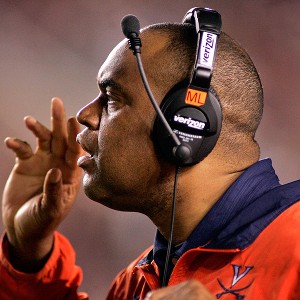 Phil Sears/US PresswireMike London has Virginia on the brink of the Coastal Division title.
Virginia is the most improved team in the ACC.
Look no further than the regular-season finale against Virginia Tech for proof. The Coastal Division title
and
the Commonwealth Cup will be on the line in Charlottesville on Saturday, as the in-state rivalry will take on more meaning than it has in recent years. The Cavaliers beat Florida State 14-13 in Tallahassee, and they earned it -- some might even argue twice. It was one of the most bizarre finishes this season, complete with untimely penalties, a lengthy official review and a missed field goal by Florida State. Regardless of how it happened, UVa put itself in position to play for the ACC title for the first time, and coach Mike London boosted his résumé for the ACC's coach of the year honors.
Virginia Tech is now the ACC's team to beat.
Aside from Clemson's 23-3 win over Virginia Tech in the regular season, there is one major difference between the two programs this year and every year -- the Hokies' consistency. Virginia Tech took care of business on Thursday night against a relentless North Carolina team and remains in contention to win its fifth Coastal Division title. With Clemson's loss to NC State, the Hokies should now be the ACC's highest-ranked team in the BCS standings, and they are the league's only remaining one-loss team. Clemson's loss was the most untimely, as three of the top five teams in the BCS standings lost Saturday night. The ACC could have had a strong presence in the top 10, but now the Hokies likely will stand alone.
Clemson is still Clemson.
Yes, the Tigers have won the Atlantic Division for two of the past three seasons, and they made a remarkable turnaround from last year's 6-7 finish, but if you're the No. 7 team in the nation, you have to play like it for the entire season. Clemson was unable to do that against NC State and lived up to its reputation of suffering a big letdown instead of finishing strong. The absence of star receiver
Sammy Watkins
-- while obviously a setback to the offense -- wasn't the reason for the loss. Clemson's defense had no answer for quarterback
Mike Glennon
, and the Wolfpack's defense took away the Tigers' big-play capabilities. Clemson was trying to go from good to great, but the Tigers have instead gone from good to average and look as though they're going backward at the most critical part of the season.
NC State has nine lives
. Coach Tom O'Brien has been a magician in the second half of not just this season but also in years past. While London is getting a lot of attention for the ACC's Coach of the Year title, O'Brien should work his way into that conversation if the Wolfpack become bowl-eligible. NC State can do that by beating Maryland at home on Saturday in the regular-season finale. NC State has been one of the league's most inconsistent teams this year, but on Saturday against Clemson, it looked like one of the best.
Miami and Wake Forest are both bowl-eligible.
Welcome back, Wake Forest. After missing out on the postseason each of the past two years, the Demon Deacons became bowl-eligible on Saturday with a 31-10 win over Maryland. It was a relief for the program, which must close the season against an improving Vanderbilt team that will have bowl eligibility on the line. Miami and its fans can also exhale after a 6-3 win over South Florida. The Bulls beat Miami in overtime a year ago, contributing to the firing of former coach Randy Shannon, and this year's game came down to Jake Wieclaw's game-winning 36-yard field goal as time expired. The question is whether Miami will self-impose a bowl ban to get ahead of NCAA sanctions.
November, 20, 2011
11/20/11
10:00
AM ET
Lessons learned from the penultimate week of the regular season in the Big Ten:
1. Michigan State is on a mission:
The Spartans became the first team to clinch a spot in the inaugural Big Ten title game by whipping struggling Indiana 55-3. Mark Dantonio's team has been focused and explosive since an Oct. 29 loss at Nebraska, averaging 41 points per game in three straight wins. Granted, those performances came against three shaky defenses in Minnesota, Iowa and Indiana. But Michigan State doesn't need a ton of offense to win when its defense plays at its best, and if
Kirk Cousins
continues to manage the game well at quarterback, the Spartans will be tough to beat. While Dantonio won't let his team simply sleepwalk through next week's now-meaningless game at Northwestern, his staff can start to peek ahead and prepare for either Penn State or Wisconsin, who will have to play a knock-down, drag-out, high-stakes game in Madison. The road is set up nicely for the Spartans to make their first Rose Bowl since 1988. At least they know it's all in their hands.
[+] Enlarge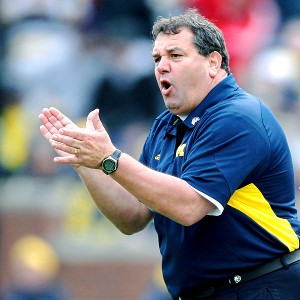 Gregory Shamus/Getty ImagesBrady Hoke has the Wolverines well positioned for a BCS bowl berth.
2. The Brady Hoke era is a smash hit so far:
The one thing missing from Michigan's résumé was a marquee win. The Wolverines got one, at least as far as the 2011 Big Ten season goes, by crushing Nebraska 45-17 on Saturday. Not only are the Wolverines 9-2, but they've stayed strong throughout the season, and their defensive improvement can no longer be considered merely a fluke or the result of a weak schedule. Hoke's first season has a good chance of ending in a BCS bowl with an at-large bid if he can engineer a streak-busting win over Ohio State next week. After losses by Oklahoma State, Oklahoma and Oregon over the weekend, a 10-2 Maize and Blue would be virtually assured of going to the Allstate Sugar or Tostitos Fiesta bowl, as those games would love to see the hungry Michigan fans fill up their city's hotel rooms. Even if not, this season has been an unqualified success.
3. Penn State's coaches are playing it bold:
Rather than go into a shell during a time of crisis, Penn State's coaches are pushing the envelope. Penn State incorporated an effective Wildcat package into its offense Saturday with
Curtis Drake
and
Bill Belton
and had tremendous success in racking up 239 rush yards on 39 carries. Interim coach Tom Bradley also went for a fourth-and-goal at the Ohio State 1-yard line rather than take a two-score lead. Despite coaches changing responsibilities, numerous off-field distractions and an uncertain future, the Penn State staff produced an innovative, aggressive game plan against Ohio State. Bradley and his assistants will need an even better plan this week at Wisconsin as Penn State plays for a Leaders division title. The coaches say they still have some more tricks up their sleeves, and after Saturday, we'd better believe them.
4. Ron Zook is in big trouble:
Saturday's game against Wisconsin had the feel of a circle-the-wagons game for Illinois. Zook walked out of his news conference earlier in the week when asked about his future, and his team came out with a lot of energy early on Senior Day, desperate to snap a four-game losing streak. The Illini led 17-7 at halftime and looked to have the Badgers on the ropes. But much like its season as a whole, Illinois collapsed in the second half, getting outscored 21-0 for a 28-17 loss. A sloppy four-turnover day didn't do much to inspire confidence, and the Illini must win at Minnesota next week to avoid going from 6-0 to 6-6. New athletic director Mike Thomas might not have made up his mind on Zook's future job status yet, but this latest setback certainly didn't help Zook's cause.
5. Iowa and Northwestern are in good bowl shape:
With a potential 10 bowl-eligible teams and no guarantee of a second BCS bid, the Big Ten might be seeking a home for some of its schools this postseason. Iowa and Northwestern should feel good about bowling somewhere. The Hawkeyes secured their seventh win of the season with a strong offensive showing at Purdue in a 31-21 win. Iowa will have a chance next week at Nebraska if
James Vandenberg
,
Marvin McNutt
and
Marcus Coker
continue to produce yards and touchdowns, but even a 7-5 Hawkeyes club will be attractive to bowls because of its fan base. Northwestern beat Minnesota to clinch bowl eligibility for a fourth straight season. With four straight wins and a marketable player in
Dan Persa
, the Wildcats should get an invite no matter what happens next week against Michigan State. The two teams that might need to worry are Illinois, which has no momentum or fan enthusiasm at all, and Purdue, which still must beat Indiana next week just to get to 6-6. The Boilermakers haven't won back-to-back games all season and lost on Senior Day in a mistake-filled performance.
November, 20, 2011
11/20/11
10:00
AM ET
A crazy week in the Big 12 means we learned a lot. Here's a look.
RG3 never should have left the Heisman conversation.
Even in losses,
Robert Griffin III
put up big numbers. If the Heisman is about the best college football player in the country, how does RG3 not make that short list? He should, and I'm guessing there aren't many folks from Norman, Okla., who would disagree. Griffin put his team on his back in the second half and wrote another chapter of his legend at Baylor that Bears fans will be re-telling for a long, long time.
[+] Enlarge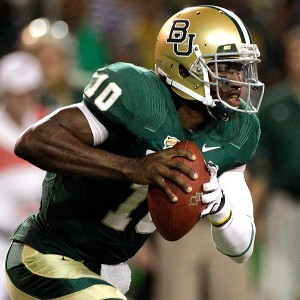 AP Photo/Tony GutierrezQuarterback Robert Griffin III led Baylor to an upset of Oklahoma on Saturday night.
Clichés become clichéd for a reason.
You hear it and dismiss it as coachspeak, but coaches speak it over and over again for a reason. Anybody can beat anybody. You have to take seasons one game at a time. Show up or get shown up. Any number of those uncreative idioms could apply to what happened to Oklahoma State in Ames, Iowa, on Friday night. The Cowboys weren't sharp. A capable Iowa State team beat them and derailed a national-title run as four-touchdown underdogs.
Missouri can respond well to adverse situations.
Rough, rough day for Missouri. The Tigers' 26 seniors had to play their final home game without their head coach and the offense stumbled for much of the first half, but Mizzou responded in the second half with gutsy plays and rallied from a 10-point, fourth-quarter deficit. It was surely one of the most difficult days of coach Gary Pinkel's career, but wherever he was watching from, I'm sure he was proud of his players. For Texas Tech, meanwhile, a historic skid has put them dangerously close to ending an 18-year stretch of bowl eligibility. The Red Raiders have lost four consecutive games for the first time since that 1993 season and now must beat Baylor at Cowboys Stadium next week to become the Big 12's ninth bowl-eligible team.
So much for progress at Kansas.
Texas A&M did what Texas A&M should do. The Aggies are talented. But what happened to the progress Kansas showed the past two weeks in close losses to Baylor and Iowa State? Turner Gill talked this past week about how close his team was. The defense had gotten so much better and the offense was playing as well as it did early in the season. Suddenly, it looked like none of it took hold for the Jayhawks, who have one more chance to escape a winless season in conference play next week against Missouri. Lose, and the year ends with a 10-game losing streak.
Texas has a quarterback controversy ... again.
It looked like
David Ash
had taken over at Texas. He had the size and the arm strength. All he needed was the experience. There's something about
Case McCoy
, though. The measurables aren't befitting of a five-star recruit, but the man gets the job done when he's not being harassed by Sooners in the backfield like he was the last time we saw him. The stats tell the whole story. Texas' only scoring drive with Ash was 7 yards and ended in a field goal. He threw two picks and averaged 2.4 yards per attempt. McCoy's completion percentage (50 percent on 8-of-16 passing) wasn't outstanding, but he accounted for 79 yards compared to Ash's 39 and led scoring drives of 81 and 78 yards. The most telling stat, though: two interceptions and no scores for Ash. McCoy didn't throw a pick and hit
Blaine Irby
for a TD pass. Next week in College Station will be interesting.
November, 20, 2011
11/20/11
10:00
AM ET
STANFORD, Calif. -- Five things that we learned about the Cardinal in their 31-28 win over Cal in the 114th Big Game.
Ryan Hewitt is a monster: Well, we already knew this one, but the fullback/tight end/wideout/everything-hybrid was all over the field Saturday night for Stanford. He caught seven passes for 64 yards, including a 10-yard touchdown pass. He carried twice for 7 yards, both coming on third-and-1 scenarios on the same drive in the fourth quarter. He converted one for 3 yards and another for 4.
A win is a win: And this team needed one. It doesn't matter how. Rarely are football games beauty contests. And this one was far from a looker. But coming off of the Oregon debacle, it was the kind of game the Cardinal needed. They trailed early, but didn't panic. They were pressured late and didn't crack. It was a nice reminder for the team that even when Stanford falls behind, it can still catch up -- a lesson it seemed to forget against the Ducks.
All hope is not gone: What a weird 24 hours in college football. A lot of crazy things have to happen -- like, say, four of the eight teams ranked ahead of the Cardinal all lose in one weekend. Oh wait, that happened. We'll see what the BCS picture looks like later today when the new BCS standings are released. Remember, Stanford still has a major disadvantage in the computer rankings, so don't get your hopes up too much. But it should be interesting to see how human voters make their peace with the USC-Oregon-Stanford triangle.
Andrew Luck rebounds nicely: Either he was amped up for this game or he miscalculated his receivers' speed because of the rain. Early on he was over-throwing everything. But he settled down and turned in a nice performance. Not over-the-top great. Not horrific. The pick wasn't his fault (which you can say about five of them this season) and there was one dropped touchdown. Not on him. It was a good, steady performance while some other Heisman hopefuls wilted. No one seems to be able to run away with it. But if Luck can have another steady performance next week, the Trophy will likely be his.
The tight ends are back: There you guys are. We missed you last week. Speaking with Coby Fleener after the game, the big man expressed his personal frustration over the performance of the unit last week. Fleener caught four balls for 64 yards and Levine Toilolo had three catches for 50 yards and a touchdown. The 6-foot-8 Toilolo had a drop, but made up for it a couple of plays later, using his height advantage on a 4-yard touchdown jump ball. With the injured Zach Ertz questionable for next week, the duo got the job done. But they are so much better as a trio.
November, 20, 2011
11/20/11
10:00
AM ET
What did we learn from Week 12 of Pac-12 action?
The conference is out of the national title race (probably):
The Pac-12 produced two teams -- Oregon and Stanford -- that were mentioned in the national title discussion much of the year. But as we head into the last weekend of the regular season, it appears the conference won't be in the mix, obsessively waiting for the BCS standings on Sunday evening. First, Oregon beat Stanford, then Oregon added a home loss to USC to a résumé that included a defeat to LSU in the opener. While there are scenarios that could get the conference back into the discussion -- such as utter chaos with all the contenders sudden saddled with two losses -- it appears that the best the conference can hope for is two BCS bowl berths.
[+] Enlarge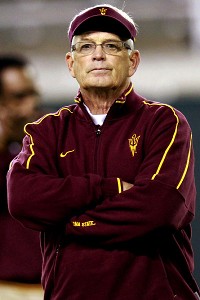 AP Photo/Don RyanAfter a hot start, Dennis Erickson's Sun Devils have lost four of their last five games.
Arizona might not be the only state school looking for a new head coach
: After a 5-1 start, Arizona State has lost four of five and three in a row, and not exactly against elite competition. That's bad. But getting upset by rival Arizona at home, a team that was 2-8 and has already fired its coach, may mark the end of the line for coach Dennis Erickson. The season began with such promise, but it's spiraled in the muck, even if the Sun Devils' hopes of winning the South Division remain alive.
The Pac-12 South is a mess
: Somebody has to win the Pac-12 South, despite the best efforts of the contenders not to do so. Here's how it goes: If UCLA beats USC next weekend, it's the champion. If UCLA loses and Arizona State beats California, and Utah beats Colorado, the Sun Devils are the champs (the Bruins lose a three-way tiebreaker due to a 2-3 divisional record versus 3-2 for the Sun Devils and Utes; ASU eclipses Utah due to a head-to-head win). If UCLA loses and Arizona State loses, and Utah wins, the Utes are the champs. If all three lose, UCLA is the champion.
Washington has regressed
: After a 5-1 start, Washington has lost four of five and three in a row, the latest being an embarrassing 38-21 defeat at previously 2-8 Oregon State. A significant amount of blame falls on the defense. The Beavers gained 484 yards, 116 more than their season average, and those 38 points are 18 more than the Pac-12's lowest scoring offense had been averaging. The Beavers scored 27 points in their previous three games.
LaMichael James isn't going to win the Heisman Trophy
: James has had a great career. He may win the Doak Walker Award as the nation's best running back again. But after he rushed for just 78 yards and fumbled inside the USC 10-yard line in the Ducks' 38-35 loss to USC, it seems highly unlikely that he will win the Heisman Trophy. In fact, it's iffy as to whether he gets invited to New York for the ceremony again.
November, 20, 2011
11/20/11
10:00
AM ET
As it turns out, the weekend was a productive one for the SEC, even if there were more than a few shaky performances around the league against lesser opponents.
Here's a look at what we learned in Week 12:
1. BCS takes on SEC flavor:
Brad Edwards, ESPN's BCS standings guru, is projecting that the top three teams in the newest BCS standings that come out Sunday night will be No. 1 LSU, No. 2 Alabama and No. 3 Arkansas. In other words, it might as well be an SEC world. The losses over the weekend by Oklahoma State, Oregon and Oklahoma cleared the path more than ever for two SEC teams to meet in the Allstate BCS National Championship Game and extend the league's streak to six straight national titles. And at this point, it's just about impossible to come up with a scenario that doesn't include at least one SEC team in the national title game when you look at the entire BCS picture after this weekend. LSU obviously controls its own destiny. But, really, so does Alabama. In fact, if the Crimson Tide can win comfortably over Auburn next Saturday, they might be in the best shape of anybody, especially if LSU wins Friday over Arkansas. That's because Alabama would just about be a lock at that point for one of the top two spots in the final BCS standings and wouldn't have to risk anything in the SEC championship game. Yes, it sounds crazy, but that's the way it looks right now. As for Arkansas, the Hogs are going to have a difficult time making it to the SEC championship game unless Alabama loses to Auburn or looks shaky in winning over Auburn and drops in the polls. Even so, Arkansas could also settle into that No. 2 spot in the final BCS standings just by winning at LSU next Friday and not going to the SEC championship game. The only team really lurking at this point that could possibly break up the SEC stranglehold is Oklahoma State. The Cowboys are strong in the computers, but they also still have to play Oklahoma on Dec. 3. It was a wild weekend, for sure, but the jockeying these last two weeks could be even wilder.
[+] Enlarge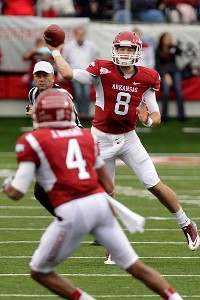 AP Photo/Danny JohnstonTyler Wilson continues to spread the ball around as eight different players caught passes on Saturday.
2. Arkansas is on top of its game:
For the third straight week, Arkansas blew out an opponent, which suggests that the Hogs are as ready as they'll ever be to go into Baton Rouge next week and take down No. 1 LSU. Junior quarterback
Tyler Wilson
is spreading the football around, and
Jarius Wright
and
Joe Adams
are the kind of game-breakers who can soften up any defense. The Hogs have been outstanding in special teams and are playing more consistently on defense. This is also a different team than the one that was battered 38-14 at Alabama back in September. For one, the Hogs are healthier. Senior defensive end Jake Bequette is back in the lineup and playing great. He didn't play at all against Alabama with a hamstring injury. Senior defensive end Tenarius Wright is also back after breaking his arm in the Alabama game, while junior running back
Dennis Johnson
has added a different dimension to the running game after being slowed by hamstring problems to open the season. What the Hogs still have to prove is that they can win a big game on the road. Take a look at their home performances this season, and take a look at their performances away from home. There's been a noticeable difference.
3. Vanderbilt is still Vanderbilt:
There's no need to take offense, Vanderbilt fans. We're not talking about the way the Commodores play, because they've come miles under first-year coach James Franklin. We're talking about all the screwy calls that have seemed to go against Vanderbilt over the years. There's another one to add to the vault after Saturday's 27-21 loss to Tennessee in overtime, although Vanderbilt was its own worst enemy in a lot of ways. The Commodores threw three costly interceptions and committed a horrid clipping penalty that nullified a pass play down to the Tennessee 1-yard line. But the officials' gaffe in overtime was the clincher. An official blew Eric Gordon's interception return for a touchdown dead because he incorrectly thought that Gordon's knee had touched the ground. By rule, the play is not reviewable, according to SEC coordinator of officials Steve Shaw, because a whistle was blown. The Vols should have been given the ball at the 25 for their possession in overtime. But Gordon continued running for a 90-yard touchdown on the play. The officials did allow it to go to the booth for a review, and the call on the field was overturned, giving the Vols the winning touchdown and adding to the Commodores' misery of late calls that haven't gone their way.
4. Ole Miss has shut it down:
Actually, the Rebels shut it down a while back. It's rarely a pretty sight when a lame-duck coach finishes out the season, and it's only gotten worse ever since Ole Miss announced that Houston Nutt wouldn't be back next season. No. 1 LSU obliterated Ole Miss 52-3 on Saturday night in Nutt's final game at Vaught-Hemingway Stadium, and it could have been 72-3 had the Tigers wanted it to be. The Rebels have now lost 13 straight SEC games dating back to last season, and their loss Saturday came a week after losing 27-7 at home to Louisiana Tech. The end can't get here soon enough for the Rebels, who also had to deal with some off-the-field stuff this week when quarterback
Randall Mackey
, running back
Jeff Scott
and receiver
Korvic Neat
were suspended for the game for violating team rules. Ole Miss (2-9, 0-7) tries to avoid its first 10-loss season in school history next week at arch-rival Mississippi State.
5. Oozing with linebackers:
Who's the best linebacker in the SEC? Better yet, how do you pick just three linebackers for first-team, All-SEC honors in 2011? Alabama's Dont'a Hightower and Courtney Upshaw are both great players, while Georgia's Jarvis Jones will receive a lot of support for defensive player of the year honors. Kentucky's Danny Trevathan isn't just a stats machine. He had 17 more tackles Saturday in the loss to Georgia and just gets better every week. And that's not even mentioning Arkansas' Jerry Franklin, Florida's Jon Bostic, Vanderbilt's Chris Marve, Mississippi State's Cameron Lawrence and Auburn's Eltoro Freeman.