NCF Nation:

what we learned 112512
November, 25, 2012
11/25/12
10:15
AM ET
What did we learn in the ACC in Week 13? Glad you asked.
1. SEC > ACC.
And it is not even close. It was a disastrous weekend for the ACC in its head-to-head matchups against the top conference in all the land, going 0-4 on a pitiful Saturday. No. 10 Florida State wanted to prove all its doubters wrong. Instead, the Seminoles were physically manhandled in a 37-26 loss to their in-state rival, No. 4 Florida. No. 11 Clemson wanted to prove this was the year it could get past South Carolina, with starting quarterback
Connor Shaw
and starting running back
Marcus Lattimore
out. Instead, the high-flying Tigers offense had no answers for
Jadeveon Clowney
, and scored a season low in points in a 27-17 loss -- their fourth straight in the series. Meanwhile, Georgia Tech was clobbered by No. 3 Georgia and Wake Forest was walloped by Vanderbilt for the second consecutive season. The average score in those four ACC-SEC matchups was not pretty: SEC 40-19. And it was the first time since 2009 that Clemson, Florida State and Georgia Tech all lost their in-state rivalry games.
[+] Enlarge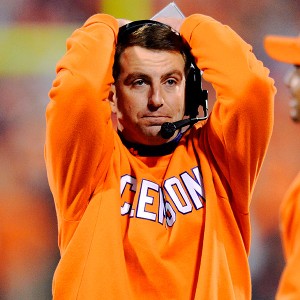 AP Photo/Richard ShiroDabo Swinney and Clemson were manhandled on their home turf by SEC foe South Carolina.
2. Forget about two BCS bowl spots.
That dream of getting two ACC teams into the BCS bowls for a second straight season is now over. Clemson's loss eliminates those chances. The ACC will have to settle for an automatic berth going to the champion of the ACC title game next Saturday between Florida State and Georgia Tech. The truth is, this has been a pretty terrible season for ACC football as a whole. Neither Florida State nor Clemson has beaten anybody impressive. The bottom line is the ACC does not deserve two spots in the BCS this season. Not with the way the league has played.
3. Forget about filling every bowl slot.
With Wake Forest losing, and Miami and North Carolina ineligible while serving postseason bans, the ACC will not be able to fill all its bowl slots this season. As of right now, the ACC has six teams eligible for eight available slots. Georgia Tech is one of those teams eligible. The Yellow Jackets are in a very interesting situation at 6-6. Because they play in the ACC title game, they could very well finish with a losing record. If there are 70 or more bowl-eligible teams, they would have to ask for a waiver from the NCAA to participate in the bowl game. UCLA had its waiver granted last season in a similar situation. If there are not 70 bowl-eligible teams, Georgia Tech might not need to file a waiver based on
revised NCAA bowl eligibility rules
. There are currently 69 bowl-eligible teams, with Pittsburgh and Connecticut vying for eligibility next weekend.
4. Virginia Tech is in.
The Hokies left no room to spare in their quest to make it to their 20th consecutive bowl game. This has been one of the most difficult seasons in quite a while for Frank Beamer and Virginia Tech, but the Hokies found a way to beat in-state rival Virginia for the ninth straight time when
Cody Journell
nailed a 29-yard field goal as time ran out. It was probably fitting that Virginia cost itself a chance to win thanks to a turnover.
Antone Exum
intercepted
Michael Rocco
in the closing minutes, setting up the winning field goal for Journell. Virginia Tech overcame a second-half deficit for the second straight week, and has been as close to living on the edge as a bowl team can be. But the Hokies live on to see another game.
5. Miami: woulda, shoulda, coulda.
I am sure Miami fans have been wondering what could have been after the Hurricanes won a 52-45 shootout with Duke on Saturday. We know now that Miami cost itself a chance to play in its first ACC title game after it self-imposed a bowl ban early last week. The move was necessary with an NCAA investigation ongoing. But I am sure it still hurts the players who never quit on the season, who put in an incredible effort to far exceed any expectations that folks had for them. Miami was picked to finish fifth in the Coastal and ended up in a tie for first with a team that essentially returns everybody next season. Last season, Miami lost the game after a postseason ban was announced. We have seen how far this team has come, maturitywise, this season -- as the Hurricanes refused to give up Saturday and pulled out the win.
November, 25, 2012
11/25/12
10:15
AM ET
What did we learn in the Big East in Week 13? Glad you asked.
1. Nothing is ever easy in the Big East.
Does anybody want to win the conference? The two ranked teams in the league dropped games to teams with LOSING records on Saturday. No. 18 Rutgers choked at Pitt -- the second year in a row the Scarlet Knights fell to a losing team with a Big East title on the line. The Scarlet Knights could have won the league championship outright AND a BCS bowl berth had they won, because No. 20 Louisville went ahead and lost to offensively challenged UConn in three overtimes. At home. In the end, Rutgers backed into at least a share of its first Big East championship, but this is not the way anybody in Piscataway envisioned it happening. Now, as anticipated, the game between Rutgers and Louisville on Thursday night in New Jersey is for a BCS bowl berth. But how excited can a Big East fan get about a matchup of two teams that had major letdowns Saturday?
[+] Enlarge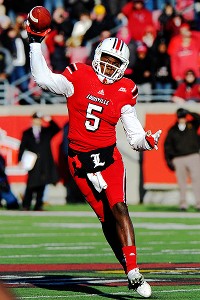 Jamie Rhodes/US PresswireNursing a broken wrist and a bum leg, one can only wonder about Teddy Bridgewater's effectiveness against Rutgers.
2. M*A*S*H Saturday.
The list of starters who got hurt Saturday reads like a M*A*S*H Unit: Quarterbacks
Gary Nova
,
Chandler Whitmer
and
Teddy Bridgewater
; running back
Jawan Jamison
; and linebacker
Khaseem Greene
. All but Whitmer were able to go back into their games and play. Afterward, each injured player insisted he would be ready for Week 14. The one who poses the biggest concern is Bridgewater, who played the second half with a broken wrist, then sustained a leg injury late in the game. Louisville oach Charlie Strong said Bridgewater would be fine, but how effective will he be, particularly if Rutgers comes after him the way UConn did?
3. Pitt, UConn remain in bowl contention.
Most everybody had written off Pitt and UConn heading into their respective games Saturday, considering their opponents. But both pulled off upset victories and need a win in their regular-season finales to get back to a bowl game. We should have known Pitt would come back strong following its bye, considering the Panthers have this strange trend of losing two games, then winning two games. They had dropped two going into their contest at Rutgers, so the pattern called for a win.
Tino Sunseri
played pretty perfectly, and
Ray Graham
rushed for more than 100 yards against one of the best defenses in the Big East. As for the Huskies, they showed signs of life under
Johnny McEntee
in overtime. UConn has now scored 47 total points in back-to-back games after scoring 33 in its previous four games combined. Pitt plays at USF next week; UConn hosts Cincinnati.
4. Syracuse and Cincinnati can win Big East titles, too.
Although neither team has a shot at representing the Big East in the BCS, both have hopes of winning at least a share of the Big East title. If Louisville beats Rutgers and Cincinnati beats Connecticut, four teams will finish in a tie for first place. Each would be declared Big East champion. While winning titles is old hat for the Bearcats, it's not for Syracuse. The Orange last won at least a share of a Big East title back in 2004, when there also was a four-way tie for first. It would be something if the Big East had to crown champions headed out the door for new conferences in consecutive seasons. Syracuse coach Doug Marrone deserves a tremendous amount of credit for turning around a team that opened the year 2-4. This title shot is reminiscent of the turnaround Louisville made last season.
5. Temple closes its first Big East season.
The Owls wrapped up Year 1 in the Big East with their first losing record since 2008, but coach Steve Addazio will tell you that not all was lost this season. Most everybody picked Temple to finish last in the league. But the Owls did win two games -- including one over current last-place team USF.
Montel Harris
rushed for more tha 1,000 yards, and many freshmen gained valuable playing experience to set them up for the future. This was a year for Temple to gauge where it stands in a tougher conference. Many will expect much more improvement in Year 2.
November, 25, 2012
11/25/12
10:00
AM ET
What did we learn in Week 13? Read on.
It's UCLA at Stanford for the Pac-12 title (and who had that in August?)
: In the preseason, it was treated -- here and every other place -- as a near-certainty that USC and Oregon would play for the Pac-12 title. They were overwhelming favorites in the South and North divisions, respectively. The expectation was the game would have national title implications. Ah, expectations. The Pac-12 title game will have no relevance in the national title picture, and neither the Ducks nor Trojans won their division. Instead, UCLA captured the South over its hated rivals and Stanford ended its "Oregon Problem" by winning in Eugene. Of course, this set up an odd situation. Stanford beat UCLA 35-17 on Saturday, which made sure the two teams would play for the conference title on Friday, six days after their regular-season game.
[+] Enlarge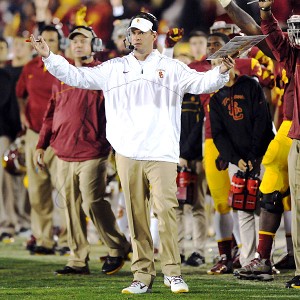 Kirby Lee/Image of Sport/US PresswireGoing 7-5 with USC's offensive talent ? A sign that Lane Kiffin needs an offensive coordinator.
Kiffin needs an offensive coordinator
: If USC coach Lane Kiffin, as an objective observer, reviewed the Trojans' crucial failure on its second-to-last possession against Notre Dame, he would conclude the play calling was clueless and indefensible. He would fire his offensive coordinator. But the problem is that he is his offensive coordinator. Three failed runs up the middle from the 1-yard line with precious time ticking away? Going for it on fourth down when the Trojans, down by nine at 22-13, needed two scores? A fourth-down pass to fullback
Soma Vainuku
, the player with perhaps the worst hands on USC's offense? Kiffin needs to stand in front of a mirror and ask, "Did this offense have a good year, based on the talent on hand?" If he says, "Yes," then athletic director Pat Haden should fire him for being an irredeemable lunkhead. If he says, "No," then Kiffin should go out and find an A-list coordinator to call plays and promise him autonomy. And about that defense, Lane ...
Oregon's three-year run ends, but not in a horrible way
: Oregon rolled to its fifth straight Civil War victory, 48-24 -- the Beavers scored a TD in the waning moments -- and improved to 11-1 overall and 8-1 in the Pac-12. But the Ducks have been officially unseated as Pac-12 champions after a three-year run due to their loss to Stanford last weekend, which gave the Cardinal the tiebreaker. For much of the season, Oregon seemed in position to play for the national title, but the loss to Stanford and subsequent results elsewhere ended that. Still, the Ducks are again a top-five team and likely headed to the Fiesta Bowl to play the Big 12 champion, perhaps finally getting a chance to play Kansas State. Not exactly a bad season. But yes, it could have been better.
A double-digit, fourth-quarter lead doesn't mean much in a rivalry game
: While there's a movement among some coaches to say every game is the same, there's plenty of circumstantial evidence that players bring something extra to rivalry games. Take two examples on Friday. Arizona State trailed Arizona 27-17 entering the fourth quarter and little was going the Sun Devils' way. But they then scored 24 unanswered points and won 41-34. Washington led woeful Washington State 28-10, yet a team that had lost eight in a row didn't fold. The Cougars scored 18 consecutive points to force overtime, then kicked the winning field goal as the Huskies wilted.
Washington (still) hasn't arrived
: As more than a few of you noticed, the Pac-12 blog wrote the Cougars off when they were down 18 to Washington to enter the fourth quarter. Perhaps the Huskies give too much respect to Pac-12 blog tweets, a possibility that scares me as much as you. Washington was set up for a wonderful finish: Five consecutive regular-season wins. A nice bowl game. A chance to earn a high position in the 2013 preseason rankings. But the Huskies got sloppy and seemed to lose their edge. A good team doesn't lose to a team with nine defeats. Ergo, the Huskies are still trying to become legitimately good again.
November, 25, 2012
11/25/12
10:00
AM ET
Five lessons from the week that was in Big Ten football.
1. The Ineligibles overachieved under great coaches:
We won't see Ohio State or Penn State until next fall, but both teams went out on positive notes to end seasons in which they overachieved. Aside from die-hard Buckeyes believers, who expected Ohio State to go 12-0 and record just the sixth unbeaten, untied season in team history? Even fewer people expected Penn State to go 8-4 after a tumultuous offseason that featured the exodus of running back
Silas Redd
and other key players. And when the Lions started 0-2, most folks wrote them off. But Bill O'Brien and his team never lost faith and surged through most of the Big Ten season. It was fitting that kicker
Sam Ficken
, whose struggles at Virginia led to Penn State's loss, had the game-winning field goal Saturday as the Lions beat Wisconsin in overtime. O'Brien exceeded all expectations in his first season as a head coach, recording the most wins ever by a first-year Lions boss. Will he be Big Ten Coach of the Year? The only other worthy candidate is Urban Meyer, who took a seven-loss Buckeyes team with significant depth issues and transformed it into one of the nation's best.
[+] Enlarge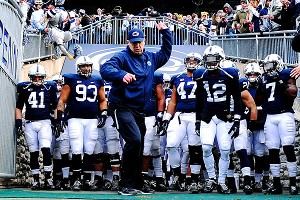 Evan Habeeb/US PresswireBill O'Brien faced tough questions from prospective recruits, but the Penn State coach and his staff kept a top-25 recruiting class together.
2. Michigan isn't really back:
Sure, the Wolverines have dug themselves out from the Rich Rodriguez-created crater, and they had a charmed season end in a Sugar Bowl title last season. But in terms of beating really good teams, the ones that signify Michigan once again has a place among the nation's elite, Brady Hoke's crew is still looking for a breakthrough. Michigan won a respectable eight games, but its four losses in the regular season -- Alabama, Notre Dame, Nebraska and Ohio State -- came against the best four teams it played. The Wolverines were extremely fortunate to beat a good Northwestern team and a mediocre Michigan State squad on their home field. While it was nice to end the losing streak against Ohio State last season, Michigan beat the worst Buckeyes team we've seen in more than a decade. The offense still seems hamstrung in some ways by the
Denard Robinson
era, though the emergence of
Devin Gardner
is promising for the future. There are signs Michigan is close, and the renaissance on defense under Hoke and Greg Mattison can't be denied. But it'll take a bit longer for Michigan to truly claim it is back, although a Jan. 1 bowl victory against an SEC foe would help.
3. Rex Burkhead still can make an impact:
This hasn't been the season the Nebraska senior running back envisioned, but he can still play a major role in how it turns out for Big Red. Burkhead returned to the field in the second half Friday against Iowa after Nebraska's offense stumbled and fell behind 7-3. In his first appearance since Oct. 20, Burkhead racked up 69 yards and Nebraska's only touchdown on 16 carries. He might not be 100 percent, but he showed the skills that make him beloved in the Cornhusker State, particularly on a grinding 9-yard run to pick up a first down after Nebraska was pinned inside its own 1-yard line early in the fourth quarter. Nebraska had hoped to get through the Iowa game without Burkhead, but when the team needed him, he delivered. He likely will play a bigger role this week against Wisconsin in the Big Ten title game. Burkhead had 86 rush yards against the Badgers in the Big Ten opener, the only full game he has played this season. He could be the boost Nebraska needs to win its first league title since 1999 and possibly win the Rose Bowl, too.
4. Danny Hope's players didn't quit on him:
Many Purdue fans have seen enough of fourth-year coach Danny Hope, but Hope has plenty of allies in his locker room. The Boilers easily could have quit after dropping their first five Big Ten games -- four blowouts (three at home) plus the heartbreaker at Ohio State. Some teams projected to do much more would have gone in the tank. But Purdue rallied behind Hope and gutsy quarterback
Robert Marve
, who played despite a torn anterior cruciate ligament, and won its final three games to secure a bowl berth. The product rarely looked pretty, and even Saturday's Bucket game against Indiana featured some bang-your-head-against-the-wall moments. But Purdue's players never stopped fighting and will head somewhere warm for the holidays. Whether Hope joins them remains to be seen, but he deserves some credit for keeping the team afloat during such a difficult stretch.
5. Bowl practices will be crucial for Big Ten teams:
We don't know the bowl matchups yet, but they will be daunting for the Big Ten, which will be without two of its best teams (Ohio State and Penn State) in the postseason. For the league to avoid another bad bowl performance, several teams must take significant steps during bowl practices. Michigan State has the defense and the running back (
Le'Veon Bell
) to win its bowl game, but it needs quarterback
Andrew Maxwell
and a young receiving corps to develop. Coach Mark Dantonio hinted this week that his offense needed an update to keep up with the times. Maybe that can start next month in earnest. Minnesota has to get healthy and re-establish its offensive identity behind true freshman quarterback
Philip Nelson
, who will benefit from the 15 practices. Wisconsin also will have a chance to iron out its offensive issues, while a young Northwestern team that made major strides this fall must make another before facing what should be a heavily favored SEC foe in Florida. Michigan also gets some extra time to figure out its vision on offense with Gardner and Robinson.
November, 25, 2012
11/25/12
10:00
AM ET
With the 2012 regular season now in our rearview mirror, let's take a look at what we learned in the SEC in Week 13:
1. Play-in game is set:
Alabama and Georgia both did their part on Saturday with blowout wins over rivals. Alabama thumped Auburn 49-0, while Georgia routed Georgia Tech 42-7. What that means is that a lot more than just the SEC championship will be at stake on Saturday in the SEC championship game. The winner will earn a spot in the Discover BCS National Championship Game to face Notre Dame, which beat USC on Saturday night and will remain No. 1 in the BCS standings. So in other words, the SEC championship game becomes a play-in game for the right to play for the national championship. It's similar to both of the 2008 and 2009 SEC championship games, when Alabama and Florida squared off in back-to-back years in Atlanta. This is the first time that Alabama has faced somebody other than Florida in the SEC championship game.
2. Conquering quarterbacks:
Texas A&M's
Johnny Manziel
made one final compelling argument for the Heisman Trophy with five more touchdowns in the Aggies' 59-29 battering of Missouri. He's accounted for 43 touchdowns this season and set an SEC record with 4,600 yards of total offense. He has six games this season with at least two touchdowns rushing and two touchdowns passing. Nobody else has more than three. He's only a redshirt freshman, but Manziel has put up Heisman numbers all season. At this point, it would seem like it's his trophy to lose. And while we're on the subject of SEC quarterbacks, Georgia's
Aaron Murray
deserves some props, too. He became the first quarterback in SEC history to pass for 3,000 yards in three straight seasons. Murray threw two more touchdown passes Saturday and now has 89 for his career, tying him with Peyton Manning for second on the SEC career chart. Florida's Danny Wuerffel holds the record with 114 career touchdown passes.
[+] Enlarge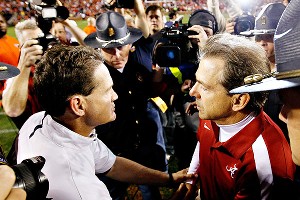 Kevin C. Cox/Getty ImagesGene Chizik is likely done after Auburn was drubbed 49-0 by Alabama on Saturday.
3. Chizik era is over:
Two years removed from winning a national championship at Auburn, Gene Chizik is on his way out as coach. An announcement could come as early as Sunday or Monday. Auburn was drubbed 49-0 by Alabama on Saturday, the second most lopsided Iron Bowl in history. The Tigers looked like they wanted to be anywhere but Bryant-Denny Stadium, another telling indictment against Chizik and how far this program has fallen in just two years. The Tigers have lost 10 straight SEC games dating back to last season and finished winless in the SEC for the first time since 1980. One of the names sure to be mentioned as a possible replacement for Chizik is former Auburn offensive coordinator Gus Malzahn, who's in his first season as the Arkansas State head coach. Alabama defensive coordinator Kirby Smart could also be a potential target for Auburn.
4. Tight race for coach of the year honors:
How do you pick just one SEC Coach of the Year? There are at least four coaches who deserve serious consideration. Take a look at what Kevin Sumlin has done in his first season at Texas A&M and the Aggies' first season in the SEC. As soon as you think Sumlin is the guy, you realize that Florida's Will Muschamp has also done an amazing job. The Gators are 11-1 in his second season in Gainesville and have the best overall resume in college football with four wins over top-10 teams. Who had Ole Miss being bowl eligible in Hugh Freeze's first season as coach? The Rebels whipped bitter rival Mississippi State on Saturday to qualify for a bowl. This is the same Ole Miss team that entered the season on a 14-game SEC losing streak and behind the eight-ball in scholarship numbers. Finally, anybody notice that Vanderbilt has eight wins and is headed back to a bowl game for the second year in a row? James Franklin is enough of a commodity that Vanderbilt is prepared to pay some serious cash to keep him. Good luck in picking this year's SEC Coach of the Year.
5. Spurrier owns Clemson:
During the course of his Hall of Fame career, Steve Spurrier has owned more than a few teams and more than a few coaches. He might as well start paying taxes on Dabo Swinney and Clemson. Not only did South Carolina beat Clemson 27-17 on Saturday for the fourth straight time -- the first time that's happened in the series since 1951-54 -- but the Gamecocks won it with their backup quarterback,
Dylan Thompson
, going the whole way and passing for 310 yards and three touchdowns. Starter
Connor Shaw
missed the game with a sprained foot. Consider, too, that South Carolina snapped Clemson's 13-game home winning streak and won for the second year in a row with its best player, running back
Marcus Lattimore
, out of the lineup. Lattimore also missed last season's game with a knee injury. Think we'll hear any "Real Carolina" rants from Swinney this week?