NCF Nation:

what-we-learned-112711
November, 27, 2011
11/27/11
10:47
AM ET
Here's a look at what we learned in the SEC during the final week of the regular season:
1. Alabama, LSU stand supreme:
The regular season has come and gone, and Alabama and LSU are exactly what we thought they were. They're the two best college football teams in the country, and it's really not even close. Hey, it's still college football, and upsets are possible. Who knows? Maybe we'll see one Saturday in Atlanta in the SEC championship game when Georgia takes its shot at LSU. But over the course of this season, when you weigh everything, Alabama and LSU stand alone. And really, it should be LSU and Alabama, in that order. The Tigers are No. 1 for a reason. As coach Les Miles said Friday after LSU's 41-17 win against Arkansas, they've taken on all comers, beating seven nationally ranked teams along the way, including three top-3 teams. In a lot of different ways, they're chasing history. There's been a lot of chatter around the country about not wanting to see a rematch in the Allstate BCS National Championship Game, and generally, I would agree. Rematches are never ideal. But when it comes to these two teams, and when you consider that nobody else around the country has exactly knocked the door down to secure one of those top two spots in the final BCS standings, a rematch makes perfect sense. The SEC haters won't like it, because it ensures a sixth straight national title for the league. But if it's truly about pairing the two best teams in the country in the national title game, then the Big Easy had better get ready. Alabama and LSU are on their way.
2. Richardson is Heisman worthy:
Alabama coach Nick Saban was straight to the point Saturday, which he usually is. "To me,
Trent Richardson
is the best football player in the country," Saban said following Richardson's career-best 203-yard rushing performance against Auburn. Everybody has different criteria in voting for the Heisman Trophy. But if you're looking for the player who's consistently been the most dominant player in the country and has consistently done it on the biggest stages, then Richardson will walk away next month from New York City as the second Heisman Trophy winner in Alabama history. He's been a difference-maker for the Crimson Tide all season long, and while everybody likes to knock the offenses in the SEC, he's done his work against some of the best defenses in the land. Richardson has piled up his 1,583 rushing yards and 23 touchdowns against eight top-50 defenses nationally. Entering the final weekend of the regular season, no other Heisman Trophy contender had faced more than four top-50 defenses.
3. Arkansas falls short:
The Hogs have come miles under Bobby Petrino in four seasons and are clearly in that upper echelon of SEC teams. It's equally clear that they're not in the same league as Alabama and LSU. Then again, who is? Arkansas has made some strides defensively, but still has to make a lot more to play at the same level as Alabama and LSU. The Hogs were no match for the Tigers' bruising running game Friday and simply couldn't get off the field in the second half. And before everybody blames it all on Willy Robinson and the defense, it does the Hogs no good to roll up 450 and 500 yards on everybody else and then shoot blanks offensively against Alabama and LSU. The Hogs finished with 254 yards against LSU and only 226 against Alabama. They managed just three offensive touchdowns against Alabama and LSU, and they also broke down in special teams against both of the West powerhouses. What's so frustrating about that for the Hogs is that they were very good all season in the kicking game. But they gave up two punt returns for touchdowns -- one to Alabama and one to LSU. Arkansas is a top-10 to top-15 program right now, no doubt. But to take that next step, the Hogs are going to have to figure out a way to play their A-game in the biggest games.
4. Georgia is coming:
Not only are the Bulldogs riding a 10-game winning streak and playing their best football heading into Saturday's SEC championship game matchup with LSU, but this is a program that should be able to ride that momentum into next season. Most of the key pieces on offense and defense will be back, and the Bulldogs will likely start next season as the team to beat in the Eastern Division and could be a top-10 team nationally in the preseason. Outside linebacker Jarvis Jones says he's coming back. Top inside linebacker Alec Ogletree will be back, not to mention quarterback
Aaron Murray
, who's thrown 32 touchdown passes this season. Running back
Isaiah Crowell
and receiver
Malcolm Mitchell
are just freshmen, and the Bulldogs continue to recruit at a very high level. For a program that was supposedly reeling back in September, the future looks bright.
5. More bowls than eligible teams:
The SEC won't be able to fill all of its bowl obligations this season. Kentucky, Ole Miss and Tennessee all finished with losing records and will be staying home in the postseason. So at this point, it looks like the BBVA Compass Bowl won't have an SEC representative. It hasn't been a memorable season for the bottom half of the league. In fact, six teams finished the regular season with non-winning records. In addition to the three teams with losing records, Florida, Mississippi State and Vanderbilt are all 6-6. It's the Gators' worst regular-season record since 1987. First-year coach Will Muschamp didn't pull any punches following the 21-7 loss to Florida State. He called the program "soft" and said the Gators were not physically or mentally tough enough. Tennessee, once an Eastern Division heavyweight along with Florida, finished with its second straight losing season, the first time that's happened on Rocky Top since 1910 and 1911.
November, 27, 2011
11/27/11
10:00
AM ET
Five lessons from the final week of regular-season play in the Big Ten.
[+] Enlarge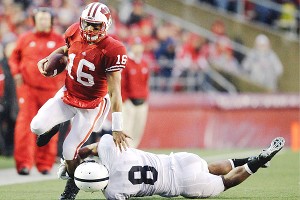 AP Photo/Morry GashRussell Wilson and Wisconsin have emerged as a power in the Big Ten and are headed to a rematch with Michigan State.
1. The dream rematch is set:
Wisconsin and Michigan State treated us to one of the most exciting games of the college football season Oct. 22 in East Lansing. Many folks wanted more, and they're going to get it as the Badgers and Spartans will meet again Saturday in the inaugural Big Ten football championship. The Big Ten has endured a rough 11 months both on and off the field, but the league should be celebrating as its best two teams will share a stage at Lucas Oil Stadium. While controversy hovers above two of the Big Ten's signature programs, Wisconsin and Michigan State have emerged as new powers in the league. Both teams went 4-0 in November and won impressively when they needed to, punching their ticket to Indy. If the rematch is anything like the first meeting, we're in for a treat.
2. Michigan State is peaking at the perfect time:
Michigan State heads to Indianapolis as the Big Ten's hottest team, riding a wave of confidence after a perfect 4-0 performance in November, including two impressive road wins (Iowa and Northwestern). Rather than ease off the gas in a game it didn't need to win against Northwestern, the Spartans continued to perform in fifth gear, making big plays in all three phases during a 31-17 victory that clinched the Legends division title outright. Senior quarterback
Kirk Cousins
and his dangerous receiving corps are hitting their stride, as Michigan State converted 8 of 12 third-down attempts and connected for two second-half touchdown passes on third-and-long to pull away.
Keshawn Martin
is showing why he's among the Big Ten's most dangerous weapons, both on offense and on special teams, and Jerel Worthy leads a strong defensive effort that recorded six sacks on Saturday. Michigan State didn't lose momentum in Evanston and will be a very tough team to beat this week at Lucas Oil Stadium.
3. Michigan is BCS-worthy:
Is Michigan the best team in the Big Ten? No. The Wolverines lost claim to that title by losing to Michigan State and Iowa. Is Michigan the second-best team in the Big Ten? Maybe not. But Brady Hoke's club has done everything it could have reasonably been expected to do this year in finishing 10-2 and finally ending a seven-game losing streak to Ohio State. That should be enough to get the Maize and Blue ranked in the top 14 of the final BCS standings and for Michigan to earn an at-large bid to a BCS game, quite possibly the Allstate Sugar Bowl. Remember that outside of the national title game and conference tie-ins, the BCS slots aren't really a meritocracy. Those bowls are about creating the most interesting and attractive matchups possible. The Wolverines ended the season on a three-game winning streak, are exciting to watch with
Denard Robinson
, Fitz Toussaint and an improved defense and have a great story as a blue-chip program back on the rise. All of that should add up to the Big Ten's second BCS bid this year.
4. The Blackshirts can put it all together:
Black Friday brought out the best from the Blackshirts, as Nebraska turned in quite possibly its most dominating defensive performance of the season. The Huskers finally played their A-game as all three phases of the defense stepped up to completely shut down a good Iowa offense in Lincoln. Stars like Alfonzo Dennard and Lavonte David performed brilliantly, but they received plenty of help from the supporting cast as Nebraska nearly handed Iowa its first shutout loss since Oct. 14, 2000. Nebraska held Iowa off the board for more than 56 minutes and made star receiver
Marvin McNutt
a nonfactor. It had been an up-and-down season for the defense, which came in with supreme confidence and lofty expectations but struggled through much of the season. The win likely seals a good Florida bowl game for Nebraska, which will be in good shape if its defense replicates Friday's performance in the Sunshine State.
5. Purdue is going bowling, while Illinois might not be:
Purdue's 33-25 win over Indiana made the Boilermakers bowl eligible for the first time since 2007. While Purdue hasn't dominated this season and its fans don't seem to have truly embraced Danny Hope, it is still in a lot better shape than Illinois. The 6-6 Illini ended the season on a six-game losing streak, including Saturday's ugly 27-7 loss at Minnesota. With no enthusiasm around the program and a potential coaching change in the works, Illinois would likely get left out of the Big Ten bowl picture now that the league has 10 bowl teams and nine tie-ins, assuming Michigan gets a second BCS bid. Purdue is much more attractive, having won two of its final three and with a win over Illinois to boot. The Illini could still find an open spot somewhere as an at-large invitee, but it wouldn't be surprising if they got passed over completely.
November, 27, 2011
11/27/11
10:00
AM ET
In what was the final week of the regular season, there were plenty of lessons to be learned, none bigger than …
Virginia Tech is still king of the Coastal Division.
Virginia's Cinderella story was nice, but the shoe didn't fit. The Hokies stifled Virginia's running game, pressured quarterback
Michael Rocco
and beat the Hoos 38-0 in Virginia's worst offensive output of the season. Virginia Tech will face Clemson in the ACC championship game. The Cavaliers' defense had no answer for the dynamic duo of
David Wilson
and quarterback
Logan Thomas
. It was still an impressive season for Mike London, but the ACC's biggest overachievers actually fell below expectations with the Coastal Division on the line.
[+] Enlarge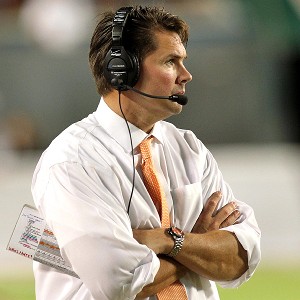 Robert Mayer/US PresswireAl Golden agreed to a new contract that will keep him in Miami through the 2019 season.
The SEC is still king of the ACC.
It's painful to write, really it is, but it's probably more painful this morning to wake up as Clemson coach Dabo Swinney, who has now lost three straight to rival South Carolina. The Tigers were hardly the only ones, though, who flopped against their nonconference rivals on Saturday. Georgia Tech lost to Georgia and Wake Forest was humbled by a Vanderbilt team determined to get to a bowl game. Overall, the ACC finished with a 2-3 record against the SEC this year, thanks to Florida State's win over Florida and Clemson's win over Auburn.
Al Golden is sticking around.
The biggest news to come out of this past weekend's games was Miami's announcement that Golden has agreed to a four-year contract extension that will run through Feb. 1, 2020. The announcement, which came during the fourth quarter of Miami's 24-17 loss to Boston College, should silence the speculation about Golden leaving early either because of the NCAA investigation or for another job like Penn State. It also should help Miami recruit, now that opposing coaches can't use the uncertainty against Golden.
Don't count out NC State.
The Wolfpack overcame a 27-point deficit and earned the biggest comeback in school history and second-biggest comeback in the ACC with a 56-41 win over Maryland to become bowl eligible. It was a stunning rally by NC State, which trailed 41-14 with six minutes left in the third quarter. The Pack scored 35 points in the fourth quarter, tied for the second most of any FBS team in history that ended up tying or winning the game, according to ESPN Stats & Information. Not only did NC State make a comeback in that game, the Pack turned around their fortunes in the second half of the season.
FSU doesn't have much to brag about.
Florida State didn't beat rival Florida because the Noles were that much better. They got the win because the Gators are that much worse. Florida State won the unofficial state championship, but lost its offense somewhere in the second half of the season. The Noles had only 95 yards of total offense against Florida -- and still won! All three of Florida State's touchdowns were set up by interceptions. It was another good performance by the defense, but as far as the rivalry game goes? This year's was a dud.
November, 27, 2011
11/27/11
10:00
AM ET
STANFORD, Calif. -- Five things we learned about the Cardinal in their 28-14 win over Notre Dame Saturday night.
[+] Enlarge

Kyle Terada/US Presswire Andrew Luck threw four touchdown passes in Stanford's win Saturday night.

Stanford can start fast: Normally this is a question; phrased by swapping the "can" and "Stanford." It's been an off-and-on issue for the Cardinal this season. But they came out, with the exception of one or two plays, and looked solid on both sides of the ball in the first half. Andrew Luck moved the ball efficiently through the air (save the interception), Stepfan Taylor rushed for 75 yards in the first half on nine carries (an average of 8.3 yards per carry) and the defense held the Irish to just 75 yards of total offense in the first 30 minutes.

Chris Owusu got his play: Classy move by Stanford head coach David Shaw to allow wide receiver Chris Owusu to take the field on the victory formation kneel down to end the game (more on this later today). Owusu's tale of concussions has been well-documented, and for him to be able to be on the field -- on senior night -- and be a part of the victory was a special moment.

The tight ends are back: Good to see the Tree Amigos reunited. Zach Ertz returned from a knee injury he suffered on the opening kickoff against USC. He didn't do much statistically -- one catch for zero yards -- but his presence allowed things to open up down the field for Coby Fleener and Levine Toilolo. Fleener had a monster game: four catches for 97 yards and two touchdowns, including a 55-yarder in the fourth quarter. Toilolo also had a 3-yard touchdown reception. Ertz simply being on the field impacts how teams defend the Cardinal.

The Cardinal have a case: Probably not for a spot in the national championship, but certainly for a spot in one of the other BCS bowl games. An 11-1 record and a Heisman finalist should be enticing enough to get the Cardinal into one of college football's red-carpet gatherings. Wherever they land, the Cardinal can make a case that they shouldn't play again until 2012.

The Farm's farm system looks OK: There are several spectacular players and a once-in-a-generation college quarterback who played their final game at Stanford Stadium Saturday night. But the cupboards aren't totally empty. Guys like Ty Montgomery (six catches, 77 yards, touchdown), Jarek Lancaster (six tackles, one for a loss) and A.J. Tarpley (two tackles, sack) provided a glance at what Stanford's future will look like. And it looks promising. David Yankey and Cameron Fleming will continue to grow. James Vaughters (one tackle) will get bigger and faster. The foundation is there for a pretty good football team.
November, 27, 2011
11/27/11
10:00
AM ET
What we learned in the Big East, with one week left in the regular season.
1. Cincinnati, Louisville or West Virginia will represent the Big East in the BCS.
The conference title picture is still murky, but much clearer today than it was a week ago. Rutgers and Pitt are out, so a maximum of three teams can finish as co-champions. Louisville already has a clinched its share of the conference title after a
34-24 victory
over USF on Friday. If West Virginia beats USF and Cincinnati beats UConn this weekend, they would be co-champs, too. Here is the link to the
scenarios
, showing what each team needs to get the Big East AQ spot.
2. Cardinals' comeback complete.
After Louisville dropped to 2-4 on the season, how many of you thought this team had the potential to make a BCS bowl this season? Not me. I figured in another year, this team would be the favorite to win the Big East. I certainly did not see a Big East championship in Year 2 under Charlie Strong. Not even the most optimistic among the coaches and administrators dared to dream that big. Until now. Strong guided his kids through the adversity, and now Louisville is one Cincinnati loss away from a BCS appearance. Already, Louisville has won seven games in back-to-back seasons for the first time since 2005-06. The Cardinals finished 5-2 in the league, their best record since going 6-1 in 2006.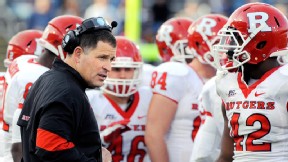 AP Photo/Fred Beckham)"Feels like you got punched in the stomach about 50 times," Greg Schiano said of Rutgers' ugly loss.
3. Rutgers meltdown.
How else to describe what happened in Connecticut on Saturday afternoon? The Scarlet Knights went into the game with a chance to clinch a share of their first-ever Big East championship. They were playing a team barely clinging to BCS hopes after getting wiped out by Louisville the previous week. Everything pointed to a Rutgers victory. Instead, the Scarlet Knights played their worst game of the season, turning the ball over a whopping six times, taking six sacks and allowing 40 points in a loss to the Huskies. "
I don't have an explanation
for what happened," Rutgers linebacker Khaseem Greene said. Added coach Greg Schiano: "I'm awful disappointed right now. Feels like you got punched in the stomach about 50 times."
4. No quitting.
The Mountaineers faced a 20-7 deficit to Pitt, but they never gave up and never quit on each other or the season. That is a big reason why they were able to come back to
win 21-20
and keep their BCS dreams alive. Meanwhile, Cincinnati looked totally lost without
Zach Collaros
last week, and there were a lot of people who didn't give the Bearcats much of a chance this week. But the combination of
Munchie Legaux
and
Jordan Luallen
and a majorly heavy dose of
Isaiah Pead
against Syracuse showed there is no quit in this team, either.
5. Bowl hopes still alive.
USF, UConn, Pitt and Syracuse all have a chance to become bowl-eligible on the final week of the season. Pitt and Syracuse will be playing for bowl eligibility on Saturday, as each team has five wins. So whichever comes out on top would have a shot at a bowl game, depending on how many others qualify and how many spots the Big East can get. UConn travels to Cincinnati, while USF hosts West Virginia on Thursday night. The Bulls played without
B.J. Daniels
(bruised shoulder) in a loss to Louisville, and it is unknown whether he will be available against the Mountaineers.
November, 27, 2011
11/27/11
10:00
AM ET
1. Another loss, another quarterback controversy:
We went through this with
Dayne Crist
and
Tommy Rees
following the Irish's Week 1 loss to South Florida. Now it looks like it's between Rees and
Andrew Hendrix
, the latter starting the third quarter and playing the entire second half, leading the Irish on both of their scoring drives. The two sophomores will have extra practices to duke it out for the right to start Notre Dame's bowl game, likely the Champs Sports Bowl on Dec. 29 in Orlando, Fla. "Anything's possible," Brian Kelly said after Saturday's loss.
2. Irish not yet ready for prime time:
This isn't necessarily a knock against a team that hasn't won 10 games in five years and is in its second year under a new coach and new system, but it was clear early on the Irish were overmatched against the future No. 1 draft pick and a team that has lost just two games the past two seasons. Trailing 21-0 at halftime, the Irish were outgained in total yardage by a 287-75 margin. Notre Dame finished the regular season 1-3 against ranked teams.
3. However:
The Irish did have a nice third quarter, which should surprise no one at this point. Hendrix hit
Michael Floyd
for a six-yard touchdown pass and the Irish defense limited Stanford to just 38 total yards in the third quarter. Notre Dame has now outscored its opponents in the third quarter this season 84-13, with seven of those points coming on a defensive touchdown by USC.
4. The offensive line received a rude awakening:
A unit that went five straight games without a sack in October and November surrendered five sacks for 44 yards. Rees absorbed a hit from Chase Thomas on his first play from scrimmage, sidelining him for the rest of the drive. Notre Dame had five false start penalties, including two to start its first offensive possession. Credit Stanford's defense, too, as it grounded the Irish's hamstrung ground attack and received huge performances from Thomas (three tackles for loss, two sacks, two quarterback hurries) and Ben Gardner (one sack, two hurries).
November, 27, 2011
11/27/11
10:00
AM ET
Here's what I learned on the penultimate week of football in the Big 12. Three more games this year, folks.
Texas is still Texas A&M's big brother.
I doubt many would disagree that Texas A&M was the better team on the field on Thursday night. But as it has done 76 times in 118 games, Texas proved why it's the best program in the state. The Longhorns played gutsy and while the offense struggled, the Big 12's best defense kept Texas in the game, scoring a defensive touchdown and forcing four turnovers. The defense faltered and gave up a go-ahead touchdown with less than two minutes left, but Texas earned bragging right for a long while with an amazing drive to deliver one final gut punch before Texas A&M left for the SEC. I struggle to come up with a more painful loss for a Big 12 team in a long while.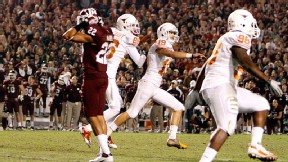 Thomas Campbell/US PresswireA stout defensive effort left Texas in position to inflict a wrenching defeat on SEC-bound Texas A&M.
The Big 12's middle tier has shifted.
So, Texas Tech went 18 years without a losing season and played in 11 consecutive bowls. Baylor went 16 years without playing in a bowl game. Now, Texas Tech will be sitting at home for the holidays and Baylor is going to it second consecutive bowl game and has a chance to win 10 games. The roles have been reversed between Texas' other two teams, and Art Briles has built something special at Baylor while the transition from Mike Leach to Tommy Tuberville, though marred by injuries, has been a struggle in Lubbock.
Oklahoma State won't get bailed out.
The Cowboys did this themselves after suffering an inexplicable loss to Iowa State on Nov. 18. They watched Saturday's games with hope that Alabama could slip up against Auburn and give the Cowboys control of their fate, but it didn't happen. Alabama dominated on the road in a rivalry game, stating its final case for BCS title game inclusion before Saturday's SEC title game. ESPN's "College GameDay" is headed to Atlanta instead of Stillwater, and even if LSU loses, I'd argue that LSU-Alabama should still be the national title game, even if Oklahoma State beats Oklahoma by 40.
Baylor can thrive without Robert Griffin III.
What a scary moment for the Bears. Texas Tech is always dangerous, and trailed 31-28 at halftime. Baylor knew it wouldn't have Heisman contender RG3.
Nick Florence
made big throws for a pair of long touchdowns and
Terrance Ganaway
carried the Bears' offense late in the game to keep the ball out of Tech's hands. The defense forced four second-half turnovers and returned an interception 90 yards for a score. That had to be great to see. In 2009, Baylor was 2-7 without Griffin. Clearly, progress has been made, even if we only saw a small sample size. Baylor owned that second half and a lot of different people helped.
Oklahoma's offense will not thrive without Ryan Broyles.
Iowa State's defense has made big strides in recent weeks, but 26 points at home against the Cyclones, which included just three second-half points? Receivers dropped passes, including one that turned from an easy catch into an interception, and
Landry Jones
went a second consecutive week without a touchdown pass for the first time in his career. Without
Blake Bell
's ability to punch in touchdowns in short-yardage situations, where would this offense be over the past two weeks? Bell has six touchdowns in two weeks and nine in his last four.