NCF Nation:

what-we-learned-112810
November, 28, 2010
11/28/10
10:43
AM ET
Now that the regular season is in our rearview mirror, here's a look at what we learned in the SEC in Week 13:
1. Auburn's time:
Maybe it's simply Auburn's time. It's difficult to call the Tigers a complete football team when you see them give up points and yards the way they have in stretches this season. But then you watch them make every clutch play in the fourth quarter, force turnovers whenever their backs are to the wall and never panic no matter what and you can't help but think that there's something special about this team. We certainly know this: They're led by a special player.
Cam Newton
hasn't blinked in the face of the NCAA's investigation into his recruitment. If anything, he's gotten better and has accounted for eight touchdowns in his past two games. He's also proved in the past two games that he can absolutely beat you throwing the football.
[+] Enlarge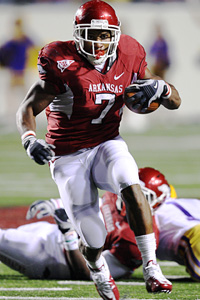 Nelson Chenault/US PresswireKnile Davis burned the LSU defense for 152 yards rushing in Saturday's win.
2. High on the Hogs:
A year ago, Arkansas played Xbox football. The Hogs were one of those teams that was going to throw it every down and hope it could outscore you. This past Saturday, the Hogs all but wrapped up their first BCS bowl trip (the Sugar Bowl is poised to take them if Auburn wins the SEC championship game), and they did it by showing the kind of balance across the board that has defined Bobby Petrino's club this season. Arkansas beat LSU 31-23 in Little Rock, getting key contributions in areas where the Hogs were once deficient. As explosive as ever on offense, the Hogs are even more potent now thanks to
Knile Davis
' emergence in the running game. The defensive improvement has also been obvious. The Hogs held the Tigers to 294 total yards, and more importantly, to a single field goal after LSU twice started possessions in Arkansas territory. With four wins on its résumé against teams ranked in the Top 25 this past week in the BCS standings, Arkansas (10-2, 6-2) is indeed BCS worthy.
3. LSU lost its defensive stinger:
Something was different about the LSU defense these past few games, and it ended up costing the Tigers a trip to a BCS bowl. Over the entire course of the season, they were still the best defense in the SEC, but gave up too many big plays and too many total yards in their last four SEC games to be considered a great defense. In those last four games, including the 31-23 loss to Arkansas on Saturday, the Tigers gave up seven scoring plays of 39 yards or longer. They gave up an average of 433.8 total yards in those four games and yielded 19 or more first downs in all four games. The big plays were the killer. The Hogs hit them with two touchdown passes of 80 yards or longer, including the one on the final play of the first half. That's the kind of thing you simply can't do and expect to be a great defense.
4. Gamecocks at their best:
They're not limping into the SEC championship game next week. Instead, they're playing some of their best football heading into the most important game South Carolina has played in school history. The Gamecocks, coming off a 29-7 beatdown of arch-rival Clemson, get a second shot at Auburn on Saturday in Atlanta in the SEC championship game. It's safe to say that Auburn is a better team than the one that beat South Carolina 35-27 back on Sept. 25 in Jordan-Hare Stadium, but so is South Carolina. Freshman running back
Marcus Lattimore
wasn't a factor in the second half of that game, carrying the ball just three times after halftime. Something says the Gamecocks will make sure he gets the ball in the second half this coming weekend. The Gamecocks should also be fresh and ready to go. They've had big leads in the second half in each of their past three games, allowing them to rest players.
5. Going bowling:
The bowl picture is starting to clear up, and it looks like the SEC will get two teams in BCS bowls regardless of what happens Saturday in the SEC championship game. If Auburn wins, the Tigers go to the BCS National Championship Game and Arkansas likely to the Sugar Bowl. If South Carolina wins, the Gamecocks go to the Sugar Bowl and Auburn likely to the Orange Bowl. LSU may wind up back in the Capital One Bowl for the second straight year, although Alabama and South Carolina could also be options. If it's LSU going to the Capital One, then Alabama is likely ticketed to the Cotton Bowl and South Carolina to the Outback Bowl. The Chick-fil-A Bowl would like to have Mississippi State, with Florida likely headed to the Gator Bowl, Tennessee to the Music City Bowl, Georgia to the Liberty Bowl and Kentucky to the BBVA Compass Bowl.
November, 28, 2010
11/28/10
10:30
AM ET
1. Either UConn or you can't:
It's all in Connecticut's hands now. The Huskies need only to win at South Florida this week to make their first BCS game in school history. They've won four straight and dispatched Cincinnati 38-17 in the home finale. The Bulls will have to stop the running game led by
Jordan Todman
, who churned out 175 yards and three touchdowns with an injured arm Saturday. This will be the biggest week in UConn's short FBS history. Randy Edsall has already told his players that BCS talk is off-limits, but everybody knows what's at stake.
[+] Enlarge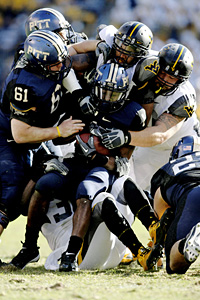 Charles LeClaire/USPRESSWIREWest Virginia's defense forced four turnovers and limited Pitt to just 10 points.
2. West Virginia is peaking:
The Mountaineers need some help to make a BCS game because of their loss to Connecticut. But since that loss, they've been playing as well as anyone. Saturday's 35-10 win at Pitt was their most complete performance of the year, and the defense continues to play at an astronomical level. It's still a little hard to believe this team managed to lose three games, but at least it has put things together at the end of the year and will be a load to handle in whatever bowl game it reaches.
3. Dave Wannstedt may be in trouble:
The grumbling by Pitt fans reached a new high after the Panthers fell flat on their faces in the Backyard Brawl. Pittsburgh was the runaway choice as the preseason league favorite, but is just 6-5 and has stumbled and bumbled through just about every big game. This is going down as a lost year in Oakland, and it's especially disappointing given the lack of dominating teams in the Big East. Wannstedt signed an extension before the season began after winning 19 games the past two years. But his support is waning among fans, if not the school administration.
4. USF may have found a new quarterback:
B.J. Daniels
told coach Skip Holtz that he heard a pop in his injured quad late in the first half at Miami. Daniels had trouble moving and making accurate throws all half. Freshman
Bobby Eveld
came in for the second half and led the Bulls to the milestone overtime victory. Daniels has struggled for long stretches this season and might have to miss the UConn game because of his injury. South Florida looks like a totally different, and much better, team when its quarterback is delivering throws in the right places and not making mistakes. Maybe Eveld is that guy now, at least for the end of the season.
5. Charlie Strong waited way too long:
How in the world did it take so long for a school to hire Charlie Strong as its head coach? Strong was one of the best defensive coordinators in the nation at Florida and South Carolina but kept getting passed over for head gigs. Other schools' loss was Louisville's gain. Strong turned in one of the most impressive debut seasons in the country by leading the Cardinals to a 6-6 season and a Big East bowl slot. He did it with mostly the same players from the Steve Kragthorpe era, only they played much better for Strong. And he did it without much elite talent. Strong's 6-6 campaign was as noteworthy as Doug Marrone's work to get Syracuse to 7-5 this season. Perhaps they should share the Big East coach of the year award.
November, 28, 2010
11/28/10
10:30
AM ET
What we learned from Notre Dame in the Irish's 20-16 win at USC on Saturday night:
1. Tough enough in the clutch:
The Irish offense really only produced in the final minutes of each half, but it was enough to get the win. The impressive thing about the performance was that Notre Dame ran the ball late when it needed to, unlike in years' past.
Robert Hughes
bowled over Trojan defenders during the winning drive in the fourth quarter, while
Cierre Wood
chipped in some big gains. The Irish finished with 147 yards on the ground, while Wood and Hughes combined for 158 yards. Not spectacular stats, but good enough and tough enough to win.
2. The defense isn't just improved, it's dominant:
This is no longer a fluke. The Irish defense has now shut down four straight teams that came in with gaudy offensive statistics. Notre Dame has allowed just two offensive touchdowns in those four games, and USC's lone trip into the end zone came after a turnover set it up on the Irish 2-yard line. The Trojans finished with only 261 yards. Whatever magic potion defensive coordinator Bob Diaco found after the Navy game needs to be stored and reproduced for next season.
3. November to remember:
The Irish couldn't have had a much worse September, with those losses to Navy and Tulsa and the Declan Sullivan death that raised the scrutiny around coach Brian Kelly. Nobody saw a 3-0 November coming, especially not with all the injuries the team suffered. But this month's success is a result of the foundation laid in the weeks and months prior as the players learned how to win. A 7-5 season and potential trip to the Champs Sports Bowl now has to be considered a success, and if the Irish do indeed return to prominence under Kelly, this month will be remembered as the turning point in the program's trajectory.
November, 28, 2010
11/28/10
10:25
AM ET
In the final week of the regular season, the most is usually revealed:
The Randy Shannon era is over.
Hours after losing in overtime to South Florida, Miami announced that Shannon was fired, and a search for a new coach would begin immediately. Shannon was 28-22 in his four seasons at Miami, the Canes never finished better than second place in the Coastal Division and have yet to win a bowl game.
[+] Enlarge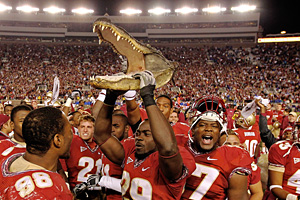 Mike Ehrmann/Getty ImagesFlorida State snapped its streak of six consecutive losses to Florida and can now boast about its state championship.
Florida State is state/Atlantic Division champs.
For the first time since 1999, FSU beat rivals Florida and Miami in the same season, and is back in the ACC title game for the first time since 2005. The Noles snapped their six-game losing streak to Florida, beating the Gators for the first time since 2003. FSU is the only ranked team in the state. The first step to returning to national prominence is owning the state, and FSU was able to do that this year. According to ESPN Stats & Information, Jimbo Fisher became the first head coach at Florida State in the past 50 years to beat Florida in his first try.
It is possible to go undefeated in the ACC
. Virginia Tech is proof, as the Hokies became the first team in the ACC to finish the conference schedule undefeated since Florida State in 2000. According to ESPN's Stats & Info, that was by far the longest drought without an undefeated team of any conference in the FBS. After their 0-2 start, the Hokies reeled off 10 straight wins for their seventh straight 10-win season. In order for the ACC to produce a national title contender, it has to have a team capable of going undefeated in conference play. Virginia Tech gave the league hope for both in the future.
Wake Forest still has a pulse
. The Deacs snapped a nine-game losing streak with their win against Vanderbilt, and now have something positive to build off of heading into the offseason. Wake had the longest active losing streak in the FBS, but put a stop to it by winning the turnover battle, making plays on special teams and running the ball.
The ACC nonconference record still needs work.
The ACC is no longer winless against the SEC this year, but it maxed out at two wins. The ACC entered the final weekend of the regular season 0-3 against the SEC, but improved to 2-5 thanks to Florida State and Wake Forest. Clemson lost to South Carolina and Georgia Tech lost to rival Georgia -- both for the second year in a row. And of course, Miami didn't help the ACC with its loss to Big East foe South Florida. The ACC finished the regular season 30-18 in nonconference play, including an FCS loss to James Madison.
November, 28, 2010
11/28/10
10:00
AM ET
What did we learn from the non-AQs in Week 13?
1. Only one left standing
. That one is TCU, the team everybody (myself included) counted out headed into Week 13. All anybody wanted to talk about was the inevitability that Boise State would pass the Horned Frogs in the BCS standings after a win over Nevada. Of course, we all forgot that Boise State had to actually win that game. The Broncos' loss kept TCU firmly in the No. 3 position as the only undefeated team from a non-automatic qualifying conference, still needing either Auburn or Oregon to lose to have a shot at the BCS national title game. TCU has one more week for that to happen. If not, there is a pretty good consolation prize -- a spot in the Rose Bowl, most likely against Wisconsin. TCU completed its second straight undefeated regular season with a 66-17 win against New Mexico and has won 30 of its past 31 regular-season games. The Horned Frogs were expected to win easily, but they had to do it without starting quarterback
Andy Dalton
, who left the game with a minor elbow injury. Whether they get a shot to become the first non-AQ in the BCS national title game or not, this season will go down as yet another success. Now the Horned Frogs have to win their BCS game. They lost to Boise State last year.
[+] Enlarge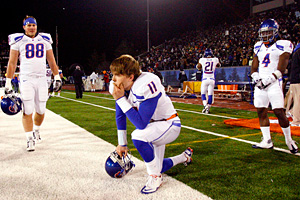 AP Photo/Joe JaszewskiBoise State's loss ended any hopes the Broncos would play in the BCS title game.
2. Boise State was not up to the task
. The Broncos became the most polarizing team in America this season because of all they stood for -- the swaggering outsider hoping for a shot despite their weak conference schedule. Critics lambasted their "three-game schedule." Supporters pointed to their 24-game winning streak and recent record over teams from power conferences. But perhaps taking so many fourth quarters off this season caught up with Boise State on Friday night in Nevada. After the Broncos jumped out to a 24-7 halftime lead, Nevada dominated the second half.
Vai Taua
had 105 yards on the ground after halftime, and after an impressive performance in a 51-0 win over Fresno State, the Boise State defensive line got pushed around.
Kellen Moore
was off, and so were his receivers, who had several uncharacteristic drops. Yes, Kyle Brotzman missed two chip shot field goals, but it should never have come to that. Teams that deserve of a spot in a national title game don't blow 17-point leads.
3. Nevada is for real.
Now that Boise State has lost, the common comment from critics has been this: the Broncos couldn't even beat Nevada. Oh yeah? Most teams in America would probably lose to Nevada the way the Wolf Pack are playing this season. Their only loss came on the road at Hawaii 27-21, in a game where
Colin Kaepernick
had four turnovers -- including one in the end zone. Nevada racked up 528 yards on the No. 2 defense in the country, and its Pistol offense gave the Broncos fits in the second half. Kaepernick is one of the most underrated players in America, and so is Taua -- the two set the NCAA record for most yards gained by two players in a career, breaking the mark of 8,193 yards set by Craig James and Eric Dickerson from 1979 to 1982. Said Pistol is now being copied across the land. Kudos to coach Chris Ault for leading the best season in school history.
4. History is made.
Incredibly, improbably, FIU (6-5, 6-1) clinched its first ever Sun Belt title with a come-from-behind 31-24 win over Arkansas State on Saturday. The Panthers also are headed to a bowl game for the first time in school history. After trailing 24-20 headed into the fourth quarter, FIU got a 30-yard field goal from Jack Griffin. Then
T.Y. Hilton
caught a 42-yard touchdown pass from Wes Carroll with 1:42 left to seal the win. Coach Mario Cristobal took over a program in shambles thanks to probation and sanctions. Now he has a winner.
5. Conference title games set.
Northern Illinois will play Miami (Ohio) in the MAC championship game on Friday in Detroit, while SMU travels to UCF to play in the Conference USA championship game. The Huskies have won nine straight and will be heavy favorites to win their first conference title since 2005. Still, Miami coach Mike Haywood deserves credit for engineering the nation's best turnaround, from 1-11 to 8-4 and the league title game. SMU won the West in June Jones' third year at the helm. The Mustangs may be slightly ahead of schedule, but there was no doubt Jones would make them a winner. That's just what he does.
November, 28, 2010
11/28/10
10:00
AM ET
Five lessons from the Week that was in Big Ten football:
1. Wisconsin and Ohio State look poised for BCS success:
The Big Ten won't have a team in the BCS title game, but the league appears ready to do some damage in the big bowls for the second consecutive season. Wisconsin finished the regular season with seven consecutive wins and won four November games by a combined score of 235-84. Ohio State, meanwhile, continued its November success under head coach Jim Tressel. The Buckeyes stepped up in the second halves of all three of their November victories and now take aim at a second straight BCS bowl win.
[+] Enlarge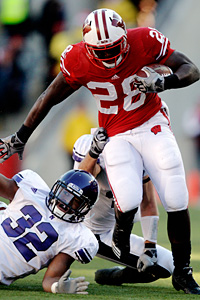 AP Photo/Morry GashMontee Ball rushed for 174 yards and four touchdowns on 19 carries against Northwestern as Wisconsin clinched a share of the Big Ten title.
2. Michigan State can finish
: The Spartans' season of milestones ended with several more, as they won at Penn State for the first time since 1965 and captured a share of the Big Ten championship for the first time since 1990. Fittingly, Michigan State found a way to finish after Penn State made things very interesting with 19 fourth-quarter points. While previous Spartans teams might have fallen short against Notre Dame, Northwestern, Purdue and Penn State, the 2010 version proved that it is truly special.
3. Michigan's progress is hard to find:
Two years after a 42-7 loss in Columbus, Michigan came to The Shoe and fell 37-7 in a game that was just as uncompetitive as the 2008 contest. The Wolverines continued to make major mistakes in all three phases, and Rich Rodriguez's record against Michigan's Big Ten rivals fell to 0-6. This isn't the type of product Rodriguez expected to see in Week 13 of his third season on the sideline. Although Michigan improved its record by two games, the program's overall progress remains up for debate. Athletic director Dave Brandon must mull this over as he determines Rodriguez's future.
4. Ben Chappell and Adam Weber went out as winners:
Both quarterbacks set team records but also experienced plenty of losing in their careers. But both men ended things on a good note Saturday, helping their teams to wins in rivalry games. Chappell was brilliant at Purdue, passing for 330 yards and three touchdowns as Indiana snapped a 12-game Big Ten road losing streak and won at Ross-Ade Stadium for the first time since 1996. Weber passed for 164 yards and got plenty of help from the running backs and his defense as Minnesota won a rivalry trophy for the first time in his four years as the starting quarterback.
5. Northwestern's and Iowa's seasons ended on the same play:
Neither team has been the same since
Dan Persa
fired a touchdown pass to beat Iowa on Nov. 13 at Ryan Field. Northwestern has flatlined without its starting quarterback, and while the offensive struggles could be expected, the defense didn't show up in the final two weeks of the regular season. Iowa ended an extremely disappointing regular season with three consecutive losses, the last to a 2-9 Minnesota team that showed a lot more fight than the Hawkeyes in a rivalry game.
November, 28, 2010
11/28/10
10:00
AM ET
Nebraska can get it done on offense even without Taylor Martinez.
Lost in all the discussion about trophies and e-mails was a really good performance from Nebraska's offense. There wasn't much finesse to it, but Nebraska racked up 407 yards of offense and converted 11 of 17 third downs.
Cody Green
did what he had to, completing 10 of 13 passes for 80 yards and a pair of touchdowns.
Roy Helu Jr.
and
Rex Burkhead
got it done on the ground. That's a good sign for the Huskers, who will have to score a decent amount of points to win the Big 12 title next week. It may have only come against Colorado, but those 45 points are 14 more than the Huskers have scored in five games, and they did it without Martinez. That's nothing but encouraging.
[+] Enlarge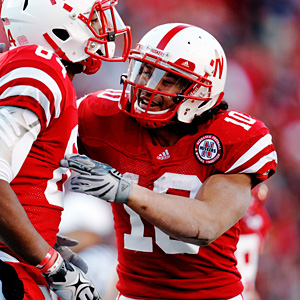 Bruce Thorson/US PRESSWIRENebraska will need the offensive talents of Brandon Kinnie, left, and Roy Helu Jr. against Oklahoma in the Big 12 title game.
The Big 12 might get two BCS bids after all.
Thanks to Boise State's loss, a second BCS bid is definitely in play. Missouri, at 10-2, might sneak into the Orange Bowl, but we'll see how the rest of the country shakes out in the weeks to come. That will decide plenty. Getting two teams in looked like a long shot for the past few weeks, but sometimes we forget how drastically things can shift with one loss to a team at the top of the polls.
Turnover on Texas' staff is a near certainty.
Mack Brown has been forthcoming about his displeasure with his coaching staff all season, and he'll begin his evaluation period on Monday. This was a historically bad season for the Longhorns for a handful of reasons, and when Brown figures out which of those reasons can be fixed with new coaches, expect him to make a move.
Oklahoma really can win on the road.
That was the same Oklahoma offense that's been patrolling Norman the past two years, but the Sooners were finally able to unleash it on the road when they needed it. After getting some practice at Baylor last week, the Sooners shut plenty of folks up in the process — myself included. "To silence all the doubters, ooooh, I'm gonna have to enjoy this one for a day and a half, maybe. That's the longest I'll ever enjoy a victory," said linebacker Travis Lewis. "It's sweet to silence the doubters, play like we're capable of playing … Their fans are some of the biggest mess-talkers I know, and I'm one of the biggest mess-talkers I know. And they outdid me by 10. Coming into this environment and getting a win, it's huge."
It's time to get ready for a Big 12 title game unlike any other.
As much as Nebraska wanted to beat Texas this year, it wants to win the Big 12 title even more. The Huskers and their fans will be dreaming of watching commissioner Dan Beebe hand over the Big 12 Championship trophy, and they'll no doubt show up to Dallas in force, hoping to do anything they can on Saturday to help. Cowboys Stadium is going to get loud. With a few exceptions, perhaps, Oklahoma will probably have most of the remaining Big 12 fan bases behind them, but this should be a memorable game and atmosphere, preceded by plenty of nostalgia.
November, 28, 2010
11/28/10
9:00
AM ET
What did we learn this week?
[+] Enlarge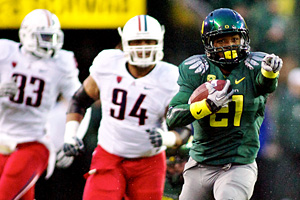 Craig Mitchelldyer/US PresswireLaMichael James rushed for 126 yards and two touchdowns in Oregon's win over Arizona.
The blueprint was more of a sketch
: California held Oregon to just one offensive TD on Nov. 13, and everyone yelled, "Eureka! Blueprint!" Ducks coach Chip Kelly noted that plenty of folks had played man-free -- man coverage with a safety spying the quarterback -- against his offense before. Cal just had good players who executed well, and his team never got in sync. Well, Arizona used some of the same schemes with a pretty good defense and the Ducks rolled up 48 points, including five second-half touchdowns. A good scheme executed by good players can slow down Oregon, just as it can slow down any offense. But Kelly's offense isn't a math problem that can be solved. It's more of a chess game. And, yes, there's some luck involved with educated guessing.
Arizona-Arizona State is sneaky meaningful
: Rivalry games are meaningful, but there's some more heft here. The Sun Devils have suffered through a second consecutive snake-bit season, while the Wildcats have flirted with -- but fallen short of -- taking a step forward within the national and Pac-10 pecking order. The Sun Devils have a lot coming back next year. So much, in fact, that if you're looking for a dark horse in next year's conference race, ASU looks like a nice pick. The Wildcats also figure to be a top-half team, but they (again) will have some questions to answer during the offseason. This game feels like a measuring stick in the state. If the Wildcats win, they don't finish the regular season riding a four-game losing streak, and that probably will help bowl preparations. If the Sun Devils triumph, they will have momentum heading into an offseason that could presage a 2011 breakthrough.
Andrew Luck and Stanford deserve reward
: It will be a travesty if Stanford doesn't earn a BCS bowl berth. There is no question the Cardinal is one of the nation's elite teams. And it will be ridiculous if Luck doesn't get serious Heisman Trophy consideration. Character matters -- for programs and for individuals.
Huskies have fight
: Washington had lost three consecutive games by 30, 41 and 37 points from Oct. 23 to Nov. 6. Those overwhelming defeats seemed to indicate the season was over. But two consecutive wins means the Huskies need only win the Apple Cup to earn bowl eligibility. A disappointing season? A Holiday Bowl invitation isn't so bad.
The verdict is still out on Lane Kiffin
: After USC won at Arizona to improve to 7-3 on Nov. 13, a 10-win season seemed reasonable, which would have been a heck of a way for the Kiffin era to begin. That would have given him validation. But after losing at Oregon State and at home to Notre Dame, the season feels different. The momentum is lost, even if the Trojans end the regular season with a win over UCLA. It appears we will head into the offseason not really knowing what to make of Kiffin, just yet.