NCF Nation:

what-we-learned-120411
December, 4, 2011
12/04/11
12:57
PM ET
The regular season is a wrap, folks. So what did we learn in Week 14?
[+] Enlarge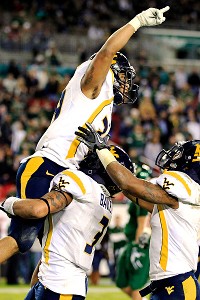 AP Photo/Chris O'MearaDustin Garrison and West Virginia are likely bound for a BCS bowl game after beating USF.
1. West Virginia is almost certainly in the BCS.
West Virginia rallied to beat USF 30-27 and Cincinnati beat UConn 35-27 to force a three-way tie atop the Big East standings. The Bearcats, Louisville and Mountaineers can all call themselves champions, but it is West Virginia that most likely claims the BCS bid. Barring any unforeseen circumstances, No. 23 West Virginia will finish as the highest-ranked Big East team in the final BCS standings when they are unveiled Sunday night. Nobody believed Louisville and Cincinnati would finish as champions, but West Virginia was the preseason choice to win the league so you can say the Mountaineers met expectations. They may have not done it in dominating fashion -- they needed comeback wins in their final three games -- but good teams find a way to win the close matches. Just ask USF. Now the Big East is faced with quite the awkward situation. It is embroiled in a lawsuit with its BCS rep.
2. Cincinnati roared.
When the game kicked off between Cincinnati and UConn, the Bearcats knew they were on the outside looking in when it came to a BCS spot. Some wondered whether that would affect their performance. Cincinnati vowed it was all about the ring, and indeed the defense came out with an inspired showing -- two defensive scores, six sacks, 13 tackles for loss and three quarterback hurries. Walter Stewart had one of the highlight plays of the year when he stripped
Johnny McEntee
in the end zone. J.K. Schaffer had 11 tackles and finished with more than 100 for the third straight season. Derek Wolfe had 10 tackles, five for loss. John Hughes had nine tackles, four for loss. The Huskies made a game of it late, but the overall performance on defense was pretty stellar.
3. Pitt salvages season.
No way did anybody in Pittsburgh, let alone coach Todd Graham, think that the Panthers would go 6-6 this season. He came into the job boasting of lofty goals with his spread, no-huddle offense. But reality hit early, when it became apparent that he simply did not have the personnel to run the offense the way it should be run. Still, becoming bowl eligible after a 33-20 win over Syracuse has to take some of the sting off a season that fell short of expectations. The offense wasn't exactly a well-oiled machine against the Orange -- six Syracuse turnovers essentially saved the day. Graham will gladly take the extra practice time that comes with bowl preparation, and another opportunity to send the senior class out the right way.
4. USF, Syracuse, UConn staying home.
All three of these teams made bowl games last season -- UConn was in the BCS -- but all three fell short this year. Each finished 5-7, for a variety of reasons. USF and Syracuse ended the season on major losing skids. The Bulls opened 4-0 and dropped six of their final seven. Syracuse opened 5-2 and lost five straight after failing to generate much offense. UConn was never able to win consecutive games, gave up too many big plays in the passing game, and could never quite get its quarterback situation figured out. Syracuse finished 1-6 in Big East play for the fifth time in six years.
5. Bulls disappoint.
Preseason expectations were highest for USF, so its collapse probably is the most disappointing in the league. The Bulls end with their first losing season since 2004, when they went 4-7, the year before they joined the Big East. Four of its losses came on the final play of the game. Five of them featured blown second-half leads. That includes its loss to West Virginia. Just when it appeared USF might work its magic on West Virginia in Tampa yet again, it killed itself with turnovers and penalties. The final five minutes were a microcosm of the season.
B.J. Daniels
fumbles deep in West Virginia territory. The ensuing Mountaineers drive is aided by a personal foul penalty on USF. As West Virginia lines up for the field goal, USF gets flagged again, making it a chip shot for Tyler Bitancurt. Bulls fans want Skip Holtz on the hot seat, but he's not going anywhere just yet.
December, 4, 2011
12/04/11
10:14
AM ET
Here's what we learned in the SEC during championship week:
1. LSU's resiliency is too much:
For the second straight week, LSU erased a double-digit lead by responding with a 40-plus-point run. Last week, Arkansas was the victim, losing 41-17 after leading 14-0. Saturday, Georgia just couldn't hang with the top-ranked Tigers, who went from being down 10 points to winning 42-10. When LSU gets on its runs, it seems nearly impossible to stop the Tigers. The defense raises its level of play and the offense grinds it out and absolutely pounds teams with its running game. LSU ran for 5 yards in the first half, but wore down Georgia's vaunted rushing defense with 202 rushing yards and three touchdowns in the second half. The Tigers prepared for late-game runs and worked on endurance way back in spring. It has apparently paid off.
2. Georgia had the talent, but not the endurance:
For 30 minutes, Georgia looked like the better team on both sides of the ball Saturday. The offense, when aggressive, really frustrated LSU's defense. Quarterback
Aaron Murray
might be the SEC's best quarterback and he put a handful of passes right on the money in the first half. Unfortunately, drops plagued his offense. There were at least two touchdowns dropped by Georgia receivers and every miscue gave LSU life and kept them in the game. Defensively, Georgia made LSU look more like a high school team out there for two quarters. The Tigers had zero first downs in the first half and just 12 offensive yards. But once the Tigers turned to their ground game in the second half, Georgia's defense just didn't have the stamina to keep up. LSU wore down the defense and broke the spirit of this team. Georgia had the talent to win Saturday, but just didn't have enough to play for four quarters.
[+] Enlarge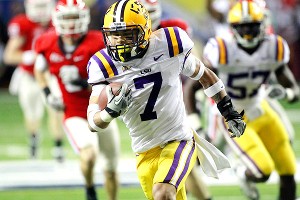 AP Photo/John BazemoreLSU return specialist Tyrann Mathieu's 62-yard punt return in the second quarter swung the momentum in the Tigers' favor.
3. The Honey Badger is great, but won't win the Heisman:
If not for his selfish acts that got him suspended for one game, Tyrann Mathieu might be a Heisman Trophy front-runner. Saturday showed that he might be the most exciting player in the country, regardless of position. The undersized firecracker has an uncanny ability to find the ball no matter where he's lined up on defense and has the shiftiness and speed to make defenders look silly when he returns kicks. In the last two weeks, Mathieu has sparked LSU with punt returns that went for scores from 92 and 62 yards out. His 47-yard return, in which he danced around nine Bulldogs before getting tackled deep in Georgia territory, was probably more exciting to look at. But for all his highlight plays and the way he can completely turn a game around for the Tigers, his critical, boneheaded mistake before the Auburn game will likely keep him from sniffing the Heisman. Mathieu could be the country's most outstanding player, but his early-season mistake will have him right on the outside of the Heisman race.
rrett Lee
4. Quarterback play isn't a factor for the Tigers:
No matter how bad
Jordan Jefferson
looks or how many of his passes skip toward his receivers, LSU figures out ways to get the offense going. Jefferson looked more like a freshman quarterback in the first half, completing two passes for 7 yards. He was lucky that he didn't turn the ball over with some of the passes he chucked downfield. But in the second half, the Tigers got away from the pass and ran it more. The more the Tigers churned out yards on the ground, the weaker the Bulldogs got. From there, Jefferson only needed to complete three more passes and finished with just 30 yards. Jefferson was far from great, and it didn't affect LSU at all in the second half. But that has been the Tigers' story for most of the season. LSU hasn't had stellar quarterback play since
Jarrett Lee
lost his starting job, but LSU is still headed to the national title game.
5. The Rematch isn't set in stone:
With Oklahoma State demolishing Oklahoma, the BCS picture appears to be murkier than first thought headed into the weekend. The Cowboys' high-octane offense was put on national display and with Alabama sitting and watching, more people were left with an almost perfect last impression of the Big 12 champs. The Pokes didn't just win the Big 12, they completely ran the Sooners out of Stillwater, Okla. Alabama doesn't have an SEC title or even a divisional title to hold onto at this point, and with the nature in which Oklahoma State won, that could mean a lot to voters. The Cowboys still need a lot of help in order to jump Alabama, which has a much better loss than Oklahoma State. You have to think that voters will weigh Alabama's home loss to No. 1 LSU much, much higher than Oklahoma State's loss on the road to a now 6-6 Iowa State team.
December, 4, 2011
12/04/11
10:00
AM ET
There was only one game in the ACC this weekend, and it was the only game we needed to get the biggest answer of the season. Here's a look at the lessons learned from Saturday's Dr Pepper ACC championship game:
[+] Enlarge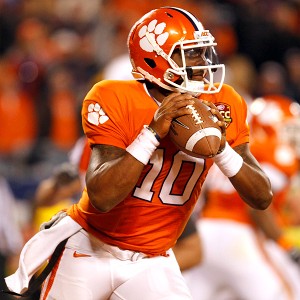 Bob Donnan/US PresswireTajh Boyd threw for 240 yards and three touchdowns in Clemson's win over Virginia Tech.
Clemson is clutch.
It doesn't matter that Clemson fell on its face against NC State. It's no longer as painful to Clemson fans that the Tigers lost to rival South Carolina for the third straight time. And it's irrelevant that Clemson lost to Georgia Tech on the road. Because when it mattered most -- earlier in the season against Virginia Tech, later in the waning minute against Wake Forest and finally on Saturday in the ACC championship game -- Clemson won when it needed to the most. The Tigers proved their October win over Virginia Tech wasn't a fluke, and that they are indeed the best team in the ACC this year and will represent the league in the Discover Orange Bowl.
Virginia Tech is not the No. 5 team in the country.
As much as Virginia Tech fans probably don't want to hear it, Kirk Herbstreit was right. The Hokies made great progress during their seven-game winning streak and looked dominant in their regular-season win over Virginia, but they certainly didn't look like a top-5 team in Saturday's 38-10 loss to Clemson. It was the program's worst margin of defeat since joining the ACC.
David Wilson isn't happy.
The ACC's player of the year openly questioned the staff's play calling following the loss to Clemson after he finished with just 11 carries. "When we run our plays into their blitzes," he said, "it's not going to work." Wilson didn't hesitate to say what was on his mind. Was it just frustration boiling over, or was it a sign that Wilson has one foot out the door already?
The bowl situation should be less complicated.
With Clemson's automatic invite to the Orange Bowl, the rest of the pieces should fit into place without much fanfare or surprise today. Virginia Tech should be heading to the Chick-fil-A Bowl, Florida State to the Champs Sports Bowl, NC State to the Belk Bowl and Virginia to the Music City Bowl. Had Clemson lost, there was some debate as to whether the Chick-fil-A Bowl would pit Clemson against Auburn again or invite Florida State for the second straight year. It looks like the Tigers made the decision easy. And the odds of Virginia Tech getting an at-large BCS bid after that performance? (smh.)
December, 4, 2011
12/04/11
10:00
AM ET
Three lessons from Big Ten championship week.
1. The championship game is a welcome addition:
The Big Ten might lack an elite team this season, but the league produced more exciting games than any other conference. It culminated Saturday night in the inaugural Big Ten championship game, which will be very hard to top. For the second time this season, Michigan State and Wisconsin provided incredible drama, momentum swings and outstanding performances. Although the matchup didn't attract national attention before kickoff, the game itself drew the nation's eyes to the Big Ten. For four hours, the league became relevant in early December, and the buzz should help heading into the bowls and possibly into next season. The championship will be a bigger deal when there are national title implications, but Saturday night was a heck of a start.
2. Michigan State still has a hurdle to clear:
Mark Dantonio has done a terrific job of building Michigan State into what looks like an annual contender in the Big Ten. But the Spartans still haven't quite crossed the finish line. It was unlucky for them that division play started this year, since they were the only Big Ten team to have fewer than two conference losses this season, and they were forced to try to beat a powerful Wisconsin team for a second time in six weeks in the league title game. Michigan State outplayed the Badgers for most of the night in the rematch and should have had a chance to go in for another game-winning drive. But Isaiah Lewis' running-into-the-punter penalty denied
Kirk Cousins
and the offense a chance to get the ball back. It was another disappointment for a program that has come close but fallen short often in its history. Dantonio should continue to have the Spartans in position to break a 24-year Rose Bowl dry spell, but at some point they need to break through and get it done. Getting the first bowl victory under Dantonio now becomes the focus.
3. Michigan is in good shape for an at-large berth:
After falling in last week's BCS standings, Michigan should move up in the final lineup released tonight. The Wolverines benefited from Houston's blowout loss in the Conference USA title game, Georgia's blowout loss in the SEC title game and Oklahoma's blowout loss in the Bedlam game. Michigan could move past all three squads and into the top 14, which would virtually assure Brady Hoke's crew of an at-large berth. Although Baylor could jump Michigan and TCU appears likely to take a BCS bowl spot following Houston's loss, the Wolverines should be able to get the BCS standings bump they need, which is all that matters.
December, 4, 2011
12/04/11
10:00
AM ET
What did we learn from Week 14 of Pac-12 action?
It's Oregon
: In the preseason it was "Oregon or Stanford." When Oregon lost to LSU, it became "Stanford or Oregon." But when the fog -- man, Eugene, you do have some fog -- cleared, it was the Ducks. Again. For a third consecutive time. Oregon overcame an early loss, injuries and the
Andrew Luck
Phenomenon to win the first Pac-12 title game. Now can the Ducks beat ...
It's Wisconsin
: The first question of the bowl season is who does the conference champion play? Rose Bowl or national title game? Well, Oregon's loss to USC knocked it out of the national title debate, so that leaves the Ducks headed to the Rose Bowl. And, in a thrilling Big Ten title game, Wisconsin outlasted Michigan State. So it's Ducks and Badgers, which will be simplistically billed as speed versus power, as most Big Ten-Pac-12 matchups are.
USC-Oregon would have been fun to see
: It's become an accepted fact among informed college football observers that the NCAA sanctions against USC were a travesty of justice, and the NCAA's refusal to revisit that travesty are a massive act of cowardice on the part of the organization. That's the take of all clear-thinking people. (NCAA folks, just admit you blew it. The NCAA would take a huge step toward wiping away
dumbfounding hypocrisy
with a moment of honest self-reflection.) We, again, point out the obvious because it would have been electric to see two top-10 teams play in Autzen Stadium on Friday to truly figure out who the best team was in the Pac-12.
Cougs are relevant again
: Washington State's hiring of Mike Leach gives the program instant credibility. He's a top-20 coach who knows how to win without elite, across-the-board talent. The Cougs were already taking steps forward the past two years under Paul Wulff. Wulff collected talent that can be competitive in the Pac-12. Leach immediately puts the program back into the North Division discussion.
Uncertainty at Arizona State and UCLA
: Arizona State wanted Kevin Sumlin and UCLA wanted Chris Petersen. It appears that neither is going to get its first choice. Rumors are swirling, but there is nothing of substance for either program yet. While Washington State quickly filled its post, it's uncertain whether either the Sun Devils or Bruins will hire a coach quickly. That may be due to insecurity for both athletic directors. Prolonged coaching searches are not good. Both programs need to figure things out and quickly.
December, 4, 2011
12/04/11
10:00
AM ET
Here's what we learned after a hectic night in the Big 12 leading to a nervous day for those in Stillwater.
[+] Enlarge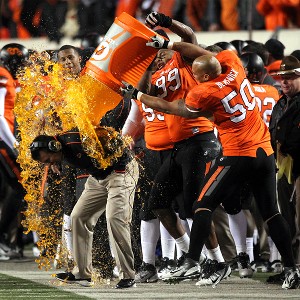 Matthew Emmons/US PresswireMike Gundy received a Gatorade shower after Oklahoma State knocked off Oklahoma on Saturday.
No matter what happens tonight, Oklahoma State has reached new heights.
Mike Gundy drank it in on Saturday night and into Sunday morning. He's finally beaten Oklahoma for the first time as the head coach of his alma mater, and he couldn't have done it in a bigger spot or in more convincing fashion. With the BCS title-game matchup all but sewn up, the Cowboys butted into the conversation and will make the nation sweat leading up to tonight's BCS countdown show, which kicks off on ESPN at 8:15 p.m. ET. The Cowboys beat OU for the first time since 2002, got their first outright conference title ever and first piece of a title since 1976, celebrating with the trophy in the locker room. BCS title shot or not, that made
Justin Blackmon
's and
Brandon Weeden
's decisions to come back worthwhile.
We can strike a blow for offense in the "defense wins championships [or stuff]" debate
. Texas had been the Big 12's best defense for most of the season, save for a rough outing against Oklahoma. Then it met
Robert Griffin III
. What a performance for Griffin, who may have sewn up the Heisman and Davey O'Brien Award with the final say while
Andrew Luck
and
Trent Richardson
sat. It'll be close, but Baylor, which has been one of the Big 12's best offenses all season, made it look easy against the Longhorns.
Oklahoma shouldn't freak out.
It feels terrible, Sooners, I know. I mentioned it on Twitter last night, but it feels like the Sooner Nation goes through an existential crisis every single time OU loses. Don't worry about this one. Oklahoma State was the better team.
Landry Jones
was playing without his best weapons and the Sooners inexplicably ignored their running game most of the night, which was an off one for Jones anyway. It was a bad game against a better team. Nothing more. Don't jump off any ledges or worry about the future of the program. This was a disappointing year for Oklahoma, but not indicative of too many larger truths, except that the Bedlam rivalry is about to get real serious and real relevant for a whole lot of years moving forward.
Kansas State can finish, and is amazing.
Ten wins. Anyone think that was possible? I said in the preseason Kansas State had a lot of upside, but this much? No way. K-State didn't get a share of the Big 12 title, but the Wildcats may sneak into the BCS. Think about that. This team? With Bill Snyder redux roaming the sideline? In his third year, Snyder may put the Cats in the BCS for the first time since 2003. Unbelievable. The only coach with a case to challenge him for national coach of the year is Les Miles, and it's close. I'd lean toward Snyder.