NCF Nation:

Wildcats-Bears-111712
November, 18, 2012
11/18/12
1:47
AM ET
WACO, Texas -- During a timeout with just 32 seconds to play and the hometown
Baylor Bears
leading the No. 1 team in the BCS by a healthy 28 points, the public address announcer pleaded for fans to stay off the playing surface at the end of the game.
Uh, good luck with that. Kansas State has a better chance of playing for the national title now than that warning had of being heeded.
The booing Baylor fans are used to the drill by now. On this same weekend a year ago, it celebrated the re-emergence of its first Heisman winner in the race for the trophy. This time, it ruined Kansas State's Heisman Trophy hopes, tacked to the back of
Collin Klein
.
Baylor 52, No. 1 Kansas State 24.
There was a party at midfield and everybody in green and gold was invited.
Informed his Baylor program had never beaten a No. 1 team, coach Art Briles' quick wit kicked in: "Well, we can check that one off. … It's a lot of fun for a lot of people."
[+] Enlarge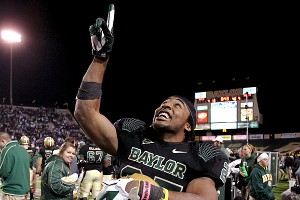 Tim Heitman/US PRESSWIREIf RB Lache Seastrunk and Baylor get off to a hot start, his Heisman stock will shoot up.
Forget the rabid masses on the field at Floyd Casey Stadium. What about the folks in South Bend, Ind., and all across the South?
A week after the SEC looked likely to be on the outside of the national title race, Stanford knocked off Oregon on the West Coast just moments after the Bears did their own deed.
Time to give the SEC a warm welcome back into the title picture. For Baylor, though, it was about hosting its own party in the postseason. A bowl berth looked like a near impossibility for a four-win team facing three ranked opponents to close the season.
One down, two to go, and the Bears just proved they could beat anyone in the Big 12.
"We believed we were going to beat them, and if we did, we weren't going to be surprised when it happened," said Bears quarterback
Nick Florence
, who threw for a pair of scores and 232 yards through the air. "If you don't believe, get out of the locker room."
The Bears, 10-point underdogs, would be among the only ones not surprised at the win. Even more surprising? Baylor's dominance on the ground.
Kansas State was the Big 12's No. 2 rushing defense, giving up fewer than 100 yards per game and just 3.25 yards a carry. They'd given up just six touchdowns all season.
Baylor's front line erased K-State's front seven for 60 minutes, rushing for 342 yards, five touchdowns and 7 yards a carry.
"They were just knocking people over, creating holes for me to run through. It's how the game's supposed to be played," said running back
Lache Seastrunk
, whose 80-yard touchdown run sealed the game. The so-called "Lightning" finished with 185 yards on 19 carries, paired with his teammate, "Thunder"
Glasco Martin
, who bowled his way to 113 yards and three scores on 19 carries.
Seastrunk, though, wasn't joining in the postgame revelry at midfield. The Oregon transfer broke into tears on the sideline as the clock ticked off the final seconds.
"It was my first big game that I actually did well, and I'm not in a program where they just belittle you, I'm in a program that actually appreciates me and allows me to play to my ability," Seastrunk said.
Seastrunk couldn't help but get emotional again talking about his night, but wished his old teammates at Oregon had beaten Stanford and stayed in the hunt for the national title.
Back in Waco, though, it was Baylor dominance from start to finish, despite a pair of turnovers, including a Florence interception at the goal line. Florence was left shaking his head at the performance of his offensive line, fresh out of a locker room celebratory shower of Gatorade and water from teammates.
"They said
Arthur Brown
was really good, but I didn't feel that way to be honest with you. I'm not talking bad about him, I really didn't see him. I saw 26 [linebacker
Jarell Childs
] and the safeties more than him," Seastrunk said. "I'm just totally thankful that my linemen locked him up to the point where I really didn't see him."
Briles' first season without Heisman winner Robert Griffin III hasn't gone like he or anyone at Baylor had hoped, but they'll always have Saturday night. Another notch on Baylor's belt, which is collecting a whole lot of those these days. A 16-year bowl drought is now just a win away from becoming the first-ever three-year bowl streak in Baylor history.
Whether that happens or not, this night will never be forgotten. In Waco or the Little Apple.
"Coach Briles' main thing was just, 'Kill 'em. From the beginning," safety
Ahmad Dixon
, a Waco native, said. "And that's what we did."
November, 18, 2012
11/18/12
1:01
AM ET
By
ESPN.com staff
| ESPN.com
Baylor running back
Lache Seastrunk
talks about his big night and his part in the Baylor upset of No. 1 Kansas State.
November, 17, 2012
11/17/12
11:31
PM ET
WACO, Texas -- Another year, another Big 12 heartbreak on the road against an opponent that looked overmatched coming in.
Last year, it was Oklahoma State falling to Iowa State. This year, it's Kansas State on the road against Baylor. The Bears knocked off BCS No. 1
52-24
, dropping Big 12 BCS No. 1 teams to 2-6 since 2003.
Baylor Bold, indeed. Let's get to some instant analysis:


It was over when:
Lache Seastrunk
broke free for an 80-yard touchdown run to put Baylor up 52-24 following a Bears interception in the end zone. The game was hardly in the balance, but Seastrunk's touchdown run removed all doubt.
Game ball goes to:
Baylor's offensive line. The Bears dominated this game up front for all 60 minutes, putting the Wildcats on their heels. K-State had given up only six rushing touchdowns all season, and Baylor nearly equaled that in a single game.
Unsung hero of the game:
Bryce Hager
, LB. Nobody harassed
Collin Klein
more on the night. It seemed like he was in the backfield on every play, and he laid more than a few huge shots on the ex-Heisman front-runner.
Second guessing:
K-State pinned Baylor on its 1-yard line in the third quarter, and the Bears elected to throw two wide receiver screens. The second was intercepted by
Randall Evans
to give K-State the ball right outside the goal line, and the Wildcats cut the lead to 35-24. They never got closer, but it nearly swung the momentum of the game. The call was perplexing considering Baylor's success running the ball all game long.
What it means:
The Big 12 is eliminated from the national title race, and Collin Klein's Heisman hopes are almost certainly kaput. K-State heads home next week needing a victory over Texas to win the Big 12. Oklahoma held serve in Morgantown and can still win the Big 12 outright if the Wildcats are upset again in two weeks. Meanwhile, Baylor's bowl hopes got a big upgrade. It was looking slim with three ranked opponents left, but the Bears face Texas Tech at Cowboys Stadium next week and get a shot against Oklahoma State to close the season. The odds are still probably against it, but the Bears (5-5, 2-5) will have a decent shot at making a third consecutive bowl. It's another heartbreak for K-State, which climbed to No. 1 only to tumble back down. The 1998 team remains the closest Kansas State has ever come to the national title game, but this was the first K-State team to reach BCS No. 1.
Lots more to come. Keep checking the blog.
November, 17, 2012
11/17/12
6:00
PM ET
WACO, Texas -- Two of the past three times I've been in the house at Baylor, Bears fans have stormed the field.


The Bears upset top 15 TCU on a late field goal to open the 2011 season and Robert Griffin III stated his Heisman case with late heroics to beat Oklahoma for the first time in school history later in the season.
That was Week 12 of last season, and now I'm back in Waco, and one team's going to be celebrating at the end of the night. If Kansas State holds off the Bears' upset bid (
and I expect them to do so
), they'll have clinched at least a share of their first Big 12 title in school history and will have clinched the Big 12's automatic bid to the BCS heading into the Wildcats' season finale at home against Texas on Dec. 1.
You couldn't ask for a better fall night in central Texas. There's a little bit of chill in the air, but hardly a cloud in the sky. The
MetLife blimp is in the sky
. Baylor needs an upset or two to reach a bowl for the third consecutive season, but tonight's task might be too tough. Time will tell.
Should be a great game.
Follow along on Twitter
and colleague Ivan Maisel and I will be here all night to bring you coverage.