NCF Nation:

Wildcats-Ducks-112610
November, 27, 2010
11/27/10
1:35
AM ET
EUGENE, Ore. -- A to-do list hangs in Oregon's locker room. Stuff like "Have fun" and "Eliminate distractions." Whatever. But No. 4 on the list, coach Chip Kelly said, is "Flip the switch."
Hmm. The Ducks' locker room is closed post game, so we do not know exactly where this switch is located. Nor do we know the nature of said switch. Witchcraft? Is it something cosmic? Is Kelly close with Harry Potter. Or perhaps Lord Voldemort? Should the NCAA drop all this agent, pay-for-play stuff and fly to Eugene to investigate this switch? Because it's becoming clear that switch is pretty powerful when it gets flipped.
[+] Enlarge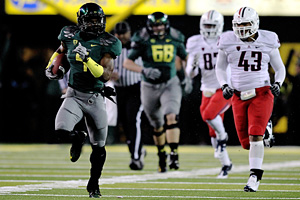 Jonathan Ferrey/Getty ImagesJosh Huff rushed 85 yards for a touchdown on Oregon's second offensive play of the third quarter. It gave Oregon its first lead of the game, and the Ducks would never trail again.
"We're pretty good at flipping the switch," Kelly said cryptically.
You won't have to convince Arizona of that. The No. 21 Wildcats led the No. 1 Ducks at halftime and then -- click -- they got steamrolled
48-29
. It was over early in the fourth quarter after the Ducks scored five touchdowns, a flurry amid which the Wildcats countered with a mere field goal.
"Slowly, but surely, their spirits started to dwindle," Oregon center Jordan Holmes said.
Spirits were high in Autzen Stadium and among the Ducks players. But there sure weren't many roses around for a team that just clinched the Pac-10 championship, which comes with a Rose Bowl berth.
The Ducks haven't won a Rose Bowl since 1917, but they've got bigger prizes within their grasp. Beat rival Oregon State on Dec. 4 and they will bypass the Rose Bowl and go directly to Glendale, Ariz., where they would play for the program's first national title.
Oregon wasn't celebrating much. "I'm giddy," said Kelly, who appeared to be exaggerating his mood a tad.
But back to this switch. It seems to be most frequently used at halftime. Oregon has outscored foes 256-64 in the second half this season. It's yielded just 14 points in the fourth quarter. The Wildcats led 19-14 at the break. Then "flip."
How did it happen?
The Wildcats took the opening kickoff of the second half and went three-and-out. The Ducks took over and, on second down, true freshman receiver
Josh Huff
took a pitch 85 yards for a touchdown. That made it 20-19 when the 2-point conversion failed.
Another defensive stop and the Ducks took over -- on their 1-yard line. A 19-play, 99-yard drive later and it was 27-19. That drive got a big hand when the Wildcats jumped offsides on a 42-yard field goal attempt, which was missed. You can't give Oregon's offense breaks.
The Wildcats answered with a field goal! The Ducks went 75 yards for a TD in 2:10. Another Oregon stop, the Wildcats shank a punt 25 yards, another quick Ducks TD.
[+] Enlarge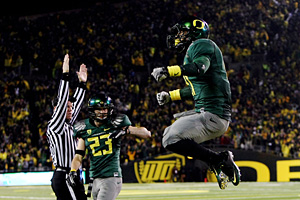 Jonathan Ferrey/Getty ImagesLaMichael James' two rushing TDs in the fourth quarter had he and the Ducks jumping for joy.
And just like that it's 48-22 with 12:15 left in the fourth. A game that was close no longer was. And it was hard not to ask, "What just happened?" even if you watched the whole thing.
Click.
Of course, we've seen this before: Tennessee, Stanford and USC previously thought it had the Ducks figured out before the switch was flipped and they ended up confused by how they ended up losing by three or four touchdowns.
There is this: Why not flip the switch before the game? Do the Ducks take it for granted that they can eventually overwhelm foes in the second half?
"I don't believe our players take it for granted," Kelly said. "Trust me, it's not by design that we are down at halftime."
That approach might not always work, either. You might have noticed that Auburn, a potential opponent in a national title game, seemed
pretty good in the second half at Alabama
.
But that's getting ahead of things. That's a distraction. Oregon won't be perfect until it closes the deal in Corvallis against the rival Beavers. As Kelly has said repeatedly, often drawing titters from media folk: Every game is a Super Bowl.
"We've been that way all year long. It's just about the next game," he said. "This time, you guys will believe me."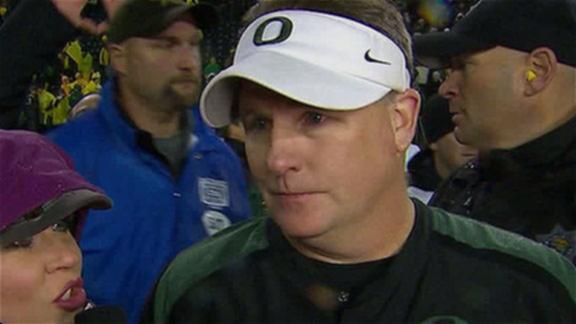 November, 27, 2010
11/27/10
12:45
AM ET


Ted Miller and Pat Forde weigh in on Oregon's win, look forward to the Civil War and talk about the big picture in college football.
November, 27, 2010
11/27/10
12:22
AM ET


Oregon receiver Jeff Maehl talks about Friday's win against Arizona.
November, 26, 2010
11/26/10
10:46
PM ET
EUGENE, Ore. -- Top-ranked Oregon used another second-half surge to bury No. 21 Arizona
48-29
on Friday.


How the game was won
: Oregon has dominated the second half all season and that was again the case here. Arizona led 19-14 after a tightly contested first half. Yet, by early in the fourth quarter, Oregon -- poof! --led by 26 points and the game was over.
Turning point
: Every play matters. Oregon took a 20-19 lead on its first possession of the second half, and then again drove into Arizona territory. But after an incompletion on third-and-5, the Ducks lined up for a 42-yard field goal. It was missed. A stop for Arizona? Nope. Arizona defensive end Ricky Elmore jumped offside. Two players later, it was 27-19. And the deluge began.
Stat of the game
: Oregon had 175 total yards at halftime. It finished with 537 yards.
Stat of the game II
: Oregon outrushed Arizona 389-58.
Player of the game
: Oregon quarterback
Darron Thomas
accounted for four TDs -- three passing, one running. He completed 14 of 24 passes for 148 yards and rushed for 62 yards on six carries.
Unsung hero of the game
: With starting receiver
Lavasier Tuinei
out with a shoulder injury, true freshman
Josh Huff
filled in nicely. He caught two passes for 18 yards and rushed three times for 103 yards, including an 85-yard TD.
What it means
: It means that Oregon, now 11-0 for the first time in school history, only needs to beat Oregon State in the Civil War in order to play for the school's first national championship.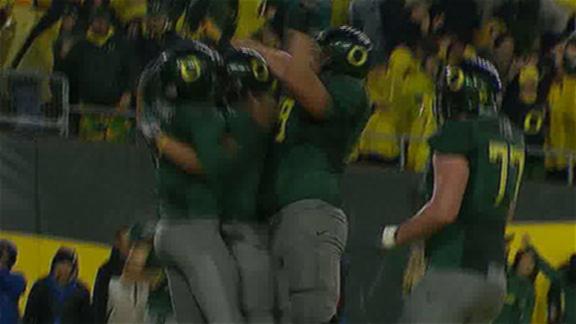 November, 26, 2010
11/26/10
10:01
PM ET
EUGENE, Ore. -- Oregon appears to be asserting itself against Arizona, taking a 34-22 lead into the fourth after touchdown drives of 85, 99 and 75 yards in the third quarter.

Of course, the 85-yard drive was just two plays, one of which went the entire 85 yards.

Arizona had 100 yards more than Oregon at halftime. The Ducks now have 419 yards and the Wildcats have 361 yards. The Wildcats defense seemed to be wearing down in the third quarter, which could be expected as Oregon seemed to rediscover its play-a-second tempo.

This feels very Oregon-y -- you know, when the Ducks looked unstoppable before the California game.

Obviously, the game isn't over. But Oregon seems fully in control and ready to take another step toward the national championship game.
November, 26, 2010
11/26/10
9:42
PM ET
EUGENE, Ore. -- You can't do much better than drive 99 yards in 19 plays for a touchdown, which is what Oregon just did to take a 27-19 lead over Arizona.
Of course, the drive might have ended with a missed field goal if not for a bad offside penalty against Arizona defensive end Ricky Elmore. That turned a fourth-and-5 from the Wildcats' 25 into a first down from the 20.
Two plays later,
Darron Thomas
sprinted in for the score.
The momentum is now with Oregon, but there's plenty of time for Arizona to regroup.
That said, the Wildcats' defense started to show signs of fatigue on that drive. A short Wildcats possession -- such as a three-and-out -- wouldn't be good here.
November, 26, 2010
11/26/10
9:17
PM ET
EUGENE, Ore. -- As explosive as Oregon's offense has been this year, it has not had an 85-yard touchdown run. At least until it produced one on its first possession of the third quarter.
That puts Oregon up 20-19 on Arizona -- the 2-point attempt failed.
Receiver
Josh Huff
's sprint -- he just flat outran the Arizona defenders -- was the third piece of good news for the Ducks early in the third.
The first was getting a three-and-out on Arizona's first possession after halftime. The second was running back
LaMichael James
starting the Ducks' initial drive.
James looked like he suffered a head injury in the second quarter. So that's a crisis-averted.
November, 26, 2010
11/26/10
8:59
PM ET
EUGENE, Ore. -- Oregon is facing another challenge. Will it explode -- as it has done before -- in the second half? Or are we in for another thriller?
Turning point
: Oregon fumbled on Arizona's 6-yard line in the second quarter, the Ducks' second turnover in Wildcats territory. But that doesn't tell the whole story. On the drive, the Ducks may have lost running back
LaMichael James
to a concussion. The Wildcats were flagged twice on the drive for personal fouls, including that hit from safety Adam Hall. But they couldn't take advantage. The Wildcats then drove 80 yards in 13 plays to kick a field goal in the waning moments of the half.
Stat of the half
: Arizona is 6-for-10 on third down and has outgained the Ducks 274-175.
Best call
:
Nick Foles
connected with
Juron Criner
for the easiest 85-yard TD pass you'll ever see. Oregon cornerback Cliff Harris got turned around on the coverage and he didn't -- nor did anyone else -- give chase as Criner walked into the end zone for a 14-7 lead.
What Oregon needs to do; What Arizona needs to do
: Oregon is going to have to find a way to pressure Foles. He's been picking them apart, which seemed also to soften up the Ducks run defense. Then the Ducks have to figure out a way to stop self destructing in Arizona territory. The Wildcats need to recognize that Oregon has been a second-half team all year. They have yet to see the Ducks best. Oregon will make adjustments on both sides of the ball. Will the Wildcats have an answer for those?
November, 26, 2010
11/26/10
8:00
PM ET
EUGENE, Ore. -- Arizona scored with a 16-play, 60-yard drive. And it scored with a one-play, 85-yard, er, drive.

Arizona leads No. 1 Oregon 14-7 after one, though the Ducks will be on the Wildcats 9-yard line when the second quarter begins.

Is this going to be a shootout? Both offenses are moving the ball.

You'd guess one -- or both -- defenses are going to make adjustments.

Recall these two played a double-overtime barnburner last year, which the Ducks won because of six total touchdowns by a guy named Jeremiah Masoli.

Maybe we get another thriller?
November, 26, 2010
11/26/10
7:48
PM ET
EUGENE, Ore. -- The early returns are this one won't be easy for Oregon.
After Ducks quarterback
Darron Thomas
threw an interception in Arizona territory, the Wildcats drove 60 yards in 16 plays for a 7-0 lead.
They converted on third down four times and fourth down once and took 7:42 off the clock.
Of course, Oregon plays faster than I type. The Ducks just tied the score on a 38-yard TD pass from Thomas to
David Paulson
. It took them just 95 seconds to go 56 yards for the equalizer.
So rumors of the demise of the Ducks explosive offense may be exaggerated. But it appears
Nick Foles
-- 6-of-9 for 56 yards and a TD on the opening drive -- and the Wildcats offense are in sync, too.
November, 26, 2010
11/26/10
7:02
PM ET
EUGENE, Ore. --
LaMichael James
is listed as a starter. He ran around a bit on the field. He's got a lot of tape on his left ankle.
My impression: We'll see.
Know that's a bit vague, but Oregon officials said that coach Chip Kelly OK'ed a starting lineup with James. It doesn't appear there will be a late announcement on James' status.
It's just a matter of him coming out and playing and seeing how the ankle holds up.
It's probably safe to say that he's not 100 percent. And bad ankles aren't good for running backs.
He could test it early. And operate as a decoy. Backup
Kenjon Barner
might end up getting the most carries.
Barner hasn't been himself since suffering a concussion at Washington State on Oct. 9. It would be a good night for him to recover his mojo.
Or James could just be lights-out and rush for a bunch of yards and a handful of TDs.
So we'll see.
November, 26, 2010
11/26/10
6:28
PM ET
EUGENE, Ore. -- The question: Was Oregon's offensive illness at California just a 24-hour virus or was it a long-term disease?
A large part of the Ducks answer against No. 21 Arizona here tonight might concern another health issue: Running back
LaMichael James
' left ankle, which he hurt late at Cal. He's been limited in practice this week, and even after a tape-job and a handful of aspirin, he might not be 100 percent. He could be a pretty good back at 85 percent. Or a good decoy.
Or backup
Kenjon Barner
could step up in his stead. Or quarterback
Darron Thomas
could be forced to shoulder more of the offensive load with his arm.
But James' value is significant. Since 2009, his 34 runs of 20 or more yards lead all of FBS football.
That big-play ability likely would have been challenged anyway by the Arizona defense, which has given up only three rushes of 20 or more yards this season, the fewest in FBS football.
Both teams are coming off a bye. So there surely will be some schematic gamesmanship. How much of Cal's defensive plan will Arizona adopt? And how much of a counterpunch has Ducks coach Chip Kelly concocted in his secret labratory deep under Autzen Stadium?
Yet the Ducks offense against the Wildcats defense isn't the only strength-on-strength matchup. The Ducks defense is pretty darn good, and quarterback
Nick Foles
and the Wildcats offense is tough to stop when it's in rhythm.
Of course, Arizona coach Mike Stoops tried to cultivate some intrigue this week by talking about backup quarterback
Matt Scott
being available -- and then not making Foles or Scott available to chat with reporters. Scott was outstanding in two starts when Foles was hurt, and he could give the Wildcats a run threat at quarterback.
The stakes couldn't be higher for the Ducks. They are two wins from playing for the national title.
For Arizona, the spoiler role would certainly give the program a boost in national prestige, not to mention in the national rankings.