NCF Nation:

Wildcats-Hawkeyes 110709
November, 7, 2009
11/07/09
5:54
PM ET
Posted by ESPN.com's Adam Rittenberg
IOWA CITY, Iowa --
Derrell Johnson-Koulianos
had forgotten what it felt like to have someone other than
Ricky Stanzi
calling signals at the line of scrimmage.
| | |
| --- | --- |
| | |
| | AP Photo/Charlie Neibergall |
| | Ricky Stanzi's injured ankle may keep him out of the rest of Iowa's regular-season games. |
Johnson-Koulianos also had forgotten what it felt like to lose.
Unfortunately for the Iowa wide receiver, he experienced both sentiments Saturday against Northwestern. And he won't forget either feeling any time soon.
The fourth-ranked Hawkeyes lost their quest for perfection Saturday, unable to summon enough magic without Stanzi as they
fell 17-10
to Northwestern at Kinnick Stadium.
"That was always in the back of my mind, something I really wanted for everybody," Johnson-Koulianos said of going undefeated. "It's never been done here. We had the opportunity to do something prestigious.
"Now that dream, in a blink of an eye, is gone."
Iowa lost its undefeated season, its quarterback and possibly the inside track to the Rose Bowl on Saturday. The Hawkeyes saw their 13-game win streak, the second-longest in the nation, snapped before a stunned crowd of 70,585, thousands of whom remained in their seats long after the game ended.
The margin for error had always been slim at Iowa, both on the field and the depth chart. Until Saturday, the Hawkeyes had overcome every challenge, from losing running backs
Jewel Hampton
and
Adam Robinson
, to playing several games without left tackle Bryan Bulaga and tight end
Tony Moeaki
, to facing eight deficits in nine weeks.
But the loss of Stanzi to a right ankle sprain in the second quarter proved too big an obstacle.
"There's no doubt that we're a different team when Rick Stanzi's in there," Johnson-Koulianos said. "We had a gift in Ricky, and there's going to be a huge drop-off [behind him]. His ability to make plays in critical situations, we knew that. We hadn't experienced life without him so far. We didn't know what to expect, and it resulted in a loss."
Life without Stanzi likely will continue for Iowa, as head coach Kirk Ferentz said the quarterback
likely will miss Iowa's final two regular-season games
. Iowa will put its faith in redshirt freshman quarterback
James Vandenberg
, who saw his first meaningful action of the season Saturday.
Vandenberg's first pass attempt in a Big Ten game was intercepted by Northwestern's Quentin Davie, leading to the go-ahead touchdown. Vandenberg finished the game just 9-for-27 passing for 82 yards.
"Relief pitcher who hasn't been in the majors long enough," Ferentz said of Vandenberg's arrival. "That's his first time out there, basically. It's a tough circumstance."
Most top-5 teams boast enough lopsided wins to get the backup on the field, but Iowa's season-long edge-of-the-cliff dance kept Vandenberg on the bench for all but one game. Vandenberg felt prepared Saturday and knew he'd be going in as soon as Stanzi went down, but the game brought different challenges.
"It's definitely faster, and the stakes are a lot more painful," he said.
Iowa didn't condense the playbook for Vandenberg, and the offense nearly pulled off several big plays. But Northwestern's defense buckled down, particularly in the fourth quarter, when Iowa never crossed midfield.
"They were giving me great time and the receivers were working really hard, but I made some mistakes that I shouldn't make," Vandenberg said.
He'll have a week to correct those mistakes before facing a top-10 defense next week in Columbus, a place where Iowa hasn't won since 1991. The young quarterback will need help from a Hawkeyes defense that held Northwestern to 10 points Saturday. He'll also need help from a running game that produced only 65 yards Saturday.
Iowa's top goal is off the table, but a Big Ten title remains within reach, and linebacker Pat Angerer tried to keep things in perspective.
"It hurts, but we've got two games left," Angerer said. "Worse things could happen. We're not at war. We live in a good country, we're going to school for free, we're living the American dream. We lost a football game. It's pretty small when you think of the big picture."
And if there's any team that can respond from a setback like this one, it's Iowa.
"This is another challenge we have," safety Joe Conklin said. "We've been down in games and come back, but you know what? This is our first loss. We've got our first taste of defeat. And no one in that locker room likes it."
November, 7, 2009
11/07/09
3:07
PM ET
Posted by ESPN.com's Adam Rittenberg
IOWA CITY, Iowa -- The dream is over for the
Iowa Hawkeyes
.
Northwestern shocked No. 4 Iowa behind a dominant defensive effort and just enough offense. Iowa backup quarterback
James Vandenberg
couldn't rally his team, which had lost
Ricky Stanzi
to an ankle injury in the second quarter.
Corey Wootton's sack of Stanzi in the end zone changed the entire game. Iowa's 13-game win streak is over, while Northwestern has won its third straight at Kinnick Stadium and is now bowl eligible.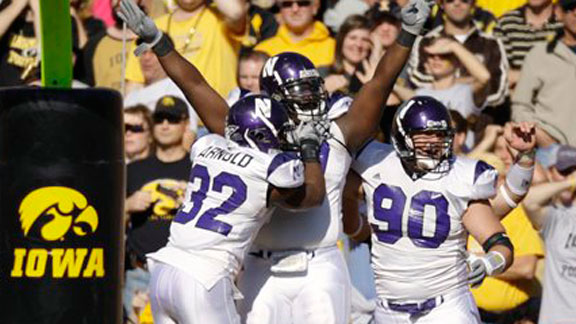 November, 7, 2009
11/07/09
2:25
PM ET
Posted by ESPN.com's Adam Rittenberg
IOWA CITY, Iowa -- Iowa has been the nation's best fourth-quarter team this season, and the Hawkeyes will need some more late magic to rally against Northwestern. The fourth-ranked Hawkeyes
trail 14-10
entering the fourth.
Quarterback
Ricky Stanzi
is out, and while the defense has been stellar, Northwestern has mounted some sustained drives. Backup
James Vandenberg
and the running game need to get something going here in the final period.
Iowa has outscored opponents 73-14 in the fourth quarter in Big Ten play. Northwestern has been outscored 72-44 in the final period this season. So advantage, Iowa.
November, 7, 2009
11/07/09
2:00
PM ET
Posted by ESPN.com's Adam Rittenberg
IOWA CITY, Iowa -- Iowa likely will need to complete its comeback attempt without starting quarterback
Ricky Stanzi
.
Head coach Kirk Ferentz told the Iowa Radio Network that Stanzi has a bad right ankle sprain and
likely won't return
.
Backup
James Vandenberg
is starting to look a little more comfortable in the pocket. He'll be the guy the rest of the way.
November, 7, 2009
11/07/09
1:32
PM ET
Posted by ESPN.com's Adam Rittenberg
IOWA CITY, Iowa -- Quick thoughts after a wild first half at Kinnick Stadium, where Northwestern
leads No. 4 Iowa 14-10
.


Turning point:
With Iowa leading 10-0 in the second quarter, Northwestern defensive end Corey Wootton hit quarterback
Ricky Stanzi
in the end zone, jarring the ball loose. Northwestern's Marshall Thomas recovered the fumble for a touchdown and Stanzi left the game with a right ankle injury.
Stat of the half:
Iowa committed four turnovers in the second quarter but allowed only 14 points. The Hawkeyes have committed 21 turnovers this season. In last year's game against Northwestern, Iowa had five turnovers but lost by only five points.
What Northwestern needs to do:
Keep putting pressure on Iowa backup quarterback
James Vandenberg
if Stanzi doesn't return. Vandenberg is in a very tough situation, and he'll give the defense opportunities to make plays. Northwestern also must find some consistency on offense and make more big plays.
What Iowa needs to do:
Ride the defense and special teams until Stanzi returns (hopefully). The offensive line has done a good job for the most part, so freshman running back
Brandon Wegher
should have some room to roam. But Vandenberg must show something in the passing game to prevent Northwestern from loading up against the run.
November, 7, 2009
11/07/09
1:22
PM ET
Posted by ESPN.com's Adam Rittenberg
IOWA CITY, Iowa -- Iowa will need to come from behind yet again to maintain its perfect season.
And this time, the Hawkeyes might need to do it without starting quarterback
Ricky Stanzi
, who left the game with a right ankle injury.
Corey Wootton's sack of Stanzi has completely changed this contest. Stanzi was down for several minutes and eventually hobbled to the locker room. His backup, redshirt freshman
James Vandenberg
, entered the game and his first pass of the season went right to linebacker Quentin Davie for an interception.
Northwestern backup quarterback
Dan Persa
converted on an impressive drive and found
Drake Dunsmore
in the end zone for the go-ahead score, as the Wildcats
lead 14-10
.
If Stanzi doesn't return, Iowa could really be in some trouble.
November, 7, 2009
11/07/09
12:16
PM ET
Posted by ESPN.com's Adam Rittenberg
IOWA CITY, Iowa -- Iowa might not need a dramatic comeback today.
The fourth-ranked Hawkeyes finally are off to a fast start and
lead Northwestern 7-0
with 12:32 left in the first quarter. After going nowhere on two plays, quarterback
Ricky Stanzi
had tons of time on third-and-long and found a wide-open
Marvin McNutt
for a 74-yard touchdown. McNutt badly beat Northwestern safety Brian Peters on the play.
Iowa also looks fired up on defense, as tackle Christian Ballard dropped
Mike Kafka
for his second sack of the season. Northwestern, also a slow-start team, has held true to form as it's been all Hawkeyes so far.
November, 7, 2009
11/07/09
11:28
AM ET
Posted by ESPN.com's Adam Rittenberg
IOWA CITY, Iowa -- Senior quarterback
Mike Kafka
will get the start for Northwestern, though backup
Dan Persa
also will see plenty of playing time.
Kafka left last week's loss to Penn State with a left hamstring injury in the second quarter and did not return.
Cornerback Sherrick McManis (leg) also will get the start for NU.
Northwestern will be without running back and kickoff return man
Jeravin Matthews
today. Matthews traveled home to Pennsylvania this week after one of his close friends was killed in a car accident. He tried to rejoin the team in Iowa City but was unable to make it. Running back
Stephen Simmons
and
Jacob Schmidt
will handle kickoff return duties today.
November, 7, 2009
11/07/09
10:33
AM ET
Posted by ESPN.com's Adam Rittenberg
IOWA CITY, Iowa -- I'm back at Kinnick Stadium today to see if No. 4 Iowa can continue its perfect season and remain in the national title discussion as it takes on Northwestern.


To be perfectly honest, if you told me before the season that I'd be anywhere but State College today, I wouldn't have believed you. But Iowa has become the Big Ten's top team and one of the top national storylines, and given the Hawkeyes' knack for drama, I couldn't be anywhere else. Northwestern has won three of the last four in this series, including the last two right here at Kinnick.
The weather is gorgeous and unseasonably warm, with partly cloudy skies and temperatures in the mid-60s for most of the game. It might even reach 70. The winds are calm and shouldn't be a major factor like last week, much to the delight of Iowa quarterback
Ricky Stanzi
.
Injuries:
Northwestern's official injury report can be found
here
. Quarterback
Mike Kafka
(hamstring) isn't on it, which bodes well for the Wildcats. Kafka is expected to play, but his mobility likely will be limited. Northwestern also will use backup
Dan Persa
at quarterback. Cornerback Sherrick McManis (leg) also is expected back, though safety Brendan Smith (thumb) is out. Iowa starting safety Brett Greenwood (neck) is questionable, and reserve wide receiver
Colin Sandeman
(head) likely won't play.
THREE KEYS FOR NORTHWESTERN
1. Protect the pocket:
Kafka won't be moving as well as he normally does, and Iowa's defensive linemen are extremely good at getting into the backfield. Northwestern's offensive line, which has underachieved this season, must have its best game to protect both Kafka and Persa.
2. Make Iowa earn its points:
Indiana failed to do so last week and squandered two double-digit leads. Northwestern must make Iowa march downfield and limit big pass plays from Stanzi to wideouts
Marvin McNutt
and
Derrell Johnson-Koulianos
and tight end
Tony Moeaki
. The Wildcats did an excellent job on defense last year in beating Iowa.
3. Take care of the football:
Iowa's secondary feasts on turnovers, but Kafka has thrown only seven interceptions this season, three of which came in one game. Kafka and Persa need to be precise with their short throws and very careful when they attack downfield, as Iowa safety Tyler Sash will be waiting.
THREE KEYS FOR IOWA
1. Avoid a slow start:
I know slow starts are Iowa's M.O. this season, but Northwestern doesn't exactly sprint out of the gate, either. The Wildcats have been outscored 55-47 in the first quarter. Iowa will have a chance to take control early and perhaps avoid a comeback for once. Then again, the Hawkeyes own the fourth quarter.
2. Attack the secondary:
The Hawkeyes might be known for defense and special teams, but they boast some big-play threats in the passing game as well. Northwestern's secondary has been banged up all season, and Stanzi will have opportunities to attack with intermediate and deep passes. Moeaki said this week that opposing defenses have been bracketing him, but that opens up chances for McNutt and Johnson-Koulianos.
3. Don't get comfortable:
Northwestern does have one big similarity with Iowa this season: The Wildcats seem to be at their best with their backs against the wall. They have mounted several huge comebacks, so if Iowa does get a sizable lead, the Hawkeyes must keep the pedal down.