May, 1, 2013
5/01/13
1:00
PM ET
It was nothing more than a simple tackling drill, but to Missouri running back
Henry Josey
, it meant everything.
A year and half removed from a devastating knee injury that required three separate surgeries, Josey was back in pads looking to hit someone on the first day of spring practice contact.
Josey swiftly maneuvered his way by a defender, causing him to laugh through his face mask, but as he chuckled past his embarrassed teammate, he suddenly felt the jolt from another defender undercutting him.
Josey picked himself up, dusted off, looked at his teammate and laughed some more.
[+] Enlarge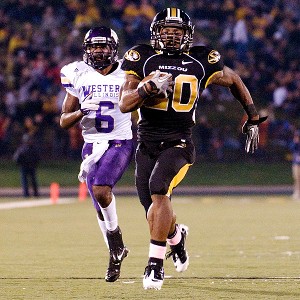 Jeff Curry/US PresswireMissouri's Henry Josey hopes to return to the form that saw him rush for 1,168 yards in 2011.
It was exactly what he wanted.
"I was looking for the contact the first day we got to hit each other and I wanted to get it over with," said Josey, who hadn't been hit since his injury against Texas in mid-November of 2011.
Just to refresh you on Josey's setback, his surgeries were performed to repair his anterior cruciate ligament (ACL), medial collateral ligament (MCL), meniscus and patellar tendon. He also had an arthroscopic cleanup.
Josey said there wasn't much immediate shock when his injury occurred and emotional pain didn't set in until he found out he had a smorgasbord of injuries to deal with inside his left knee.
"I was more pissed off about it than anything," he said. "It didn't really hit me until I got to the hospital that I was actually hurt and my season was over with. It took a big toll on me when it happened and I was hoping I could get back up from it, but I couldn't."
The severity of Josey's injury caused early retirement talk with so much damage and so many surgeries. Josey said he tried to stay positive, but there were moments during his long rehab in which he wanted to quit. The excruciating pain made him wonder if it was all worth it.
"I thought about giving up a lot," he said with a laugh.
Josey laughed because he finally understood that every stretch, twist and bend his knee underwent in the last year was worth tasting that first hit in March. He dreaded the 30 minutes he spent each day for about a month having his knee bent and stretched to a certain degree on a Biodex machine.
Then there was the helpless feeling with everyday chores. Family members drove 14 hours to assist him and his roommate, former linebacker
Will Ebner
, had to feed him sometimes. He even had to help him shower at first.
"That's how weird it got," Josey said.
But through all the awkward and almost pity-filled moments, Josey said he could see hope in a return to the football field.
That's what kept him going.
Josey didn't have a timetable for his return, but he was sprinting and cutting last fall. While he tried to get back into running shape, he watched his teammates stumble through a 5-7 year in their first season in the SEC.
Sometimes it hurt more to watch and not contribute than the actual knee pain.
"It was really tough for me," he said. "You wanted to help your team out and try to keep picking them up, even though you're not able to play. It was a big toll on myself watching them play by themselves without me."
But his teammates aren't without him anymore. Josey surged back this spring and mimicked his old playmaking ways at times. Josey was the Big 12's top running back before his injury (1,168 yards and nine touchdowns on 145 carries) and he feels he's getting back to that level. He slashed, he was a home-run threat and he could pound the ball when needed.
Josey was exactly what Missouri's tattered 2012 offense needed, but all he could do was sit and watch. This fall, people will be sitting and watching him, and Josey hopes his solid spring carries over to the fall.
"I did exactly what I wanted to [this spring]," he said.
"I'm really proud of myself and I give God all the glory for being able to be back out here and doing what I'm doing again. I'm 100 percent now and I have nothing to worry about anymore."
February, 25, 2013
2/25/13
10:18
AM ET
We're taking a look at key storylines for all seven teams in the SEC Eastern Division.
Chris will take a look at the main issues in the Western Division on Tuesday.

FLORIDA GATORS
Spring start:
March 13
Spring game:
April 6
What to watch:
1. Rebuilding at linebacker: The Gators have to start figuring out the linebacker situation. Do they go with redshirt junior Michael Taylor in the middle, who's a run-stuffer but has to come off the field in passing downs? Or do they try sophomore Antonio Morrison, who played outside at 218 pounds as a freshman and has hopefully bulked up a bit? The most likely scenario is Morrison, which means UF has to find a weakside linebacker. That could be freshmen early enrollee Daniel McMillian or Alex Anzalone. The strongside starter should be, at least entering the spring, redshirt junior Neiron Ball.

2. Robinson's growth: One of the most scrutinized players this spring will be receiver Demarcus Robinson. He was the only one of UF's five receiver signees to enroll early and he'll be given every chance to win a starting spot. UF's receivers have been below average for the past three seasons and the Gators desperately need someone to become a consistent playmaker. The 6-foot-2, 195-pound Robinson, who caught 53 passes for more than 1,000 yards and scored 15 touchdowns as a senior at Fort Valley (Ga.) Peach County, is going to be under a lot of pressure to produce.

3. Driskel's confidence: Quarterback Jeff Driskel returns for his second season as a starter, and it'll be interesting to see how much he improves on his decision-making, release and accuracy. He's sure to benefit from not splitting reps 50-50 any longer. But just as important as Driskel's development is what happens behind him with redshirt junior Tyler Murphy and redshirt freshman Skyler Mornhinweg. Neither has thrown a pass in a college game. Why is that important? Because Driskel has not been able to stay healthy in his first two seasons in Gainesville. He missed starts as a freshman and sophomore because of ankle injuries. UF was lucky in 2012 to have Jacoby Brissett, who had played significantly as John Brantley's backup in 2011. With Brissett transferring to NC State, the Gators no longer have that luxury.

-- Mike DiRocco, GatorNation
GEORGIA BULLDOGS

Spring start:
March 2
Spring game:
April 6
What to watch:
1. Rebuilding the defense: Georgia begins its transition to a completely new collection of defensive talent this spring. No longer are Jarvis Jones, Alec Ogletree, Shawn Williams, Bacarri Rambo and John Jenkins on the roster. In fact, the Bulldogs must replace a total of 12 defensive players who were either full-time starters or key contributors, and at some positions, the possible replacements have little to no college experience. That makes this a pivotal time for defensive coordinator Todd Grantham to begin identifying which players will fill those roles, as the Bulldogs will have little margin for error when they open the season against Clemson's explosive offense Aug. 31. Some names to watch this spring: Josh Harvey-Clemons, Sheldon Dawson and Jonathan Taylor.

2. Developing the youngsters: The good news for Grantham and the other defensive coaches is that they brought in a number of January enrollees who should be able to help immediately. Junior college transfer Chris Mayes and John Atkins hope to fill the void left by Jenkins and Kwame Geathers at noseguard. Ryne Rankin and Reggie Carter will immediately enter the mix at linebacker. And cornerback Reggie Wilkerson and safeties Tray Matthews and Quincy Mauger can help address Georgia's depth shortage in a secondary that lost four key players. Georgia's 13 early enrollees -- more than twice as many January enrollees as Georgia coach Mark Richt has ever brought in before -- will help fill needs on both sides of the ball, but the defense is where the newcomers were most necessary.

3. Offensive line reps: For the most part, Georgia used the same starting lineup along its offensive line throughout the 2012 season and each of those starters should return this fall. But two of those starters -- right guard Chris Burnette and right tackle John Theus -- underwent surgeries during the offseason and will miss all or part of spring practice. There was a good chance that offensive line coach Will Friend was going to deploy more players in his line rotation this fall anyway, but the valuable practice reps that will be available with Burnette and Theus sidelined might make a deeper rotation even more likely. Someone still has to take advantage of the opportunity, however.

-- David Ching, DawgNation
KENTUCKY WILDCATS

Spring start:
March 18
Spring game:
April 13
What to watch:
1. Getting used to new coaches: New coaches are roaming Kentucky's football facility this spring. Mark Stoops brings a more defense-minded philosophy to Lexington, but his coaches will have to get things going on offense if the Wildcats are going to improve in 2013. There are always awkward moments when transitioning to a new staff, but now's the time to create valuable trust on both sides.

2. Finding offensive playmakers: Stoops might have a strong defensive background, but the Wildcats have to find answers on offense. Injuries were an issue last year, but for two straight years the Wildcats had real problems finding consistent playmakers on offense. Quarterback Maxwell Smith returns, but he needs more than just wide receiver La'Rod King to help him. Getting running back Josh Clemons back would be big, but expect the coaches to turn to a young group of receivers and running backs.

3. Tougher team: One thing Stoops wants from his players is a tougher identity. Stoops wants to build a stronger team from the ground up. He's taking a page from Texas A&M coach Kevin Sumlin when it comes to preparing his new team. This spring, we'll see just how much of an emphasis the coaches put on the weight room and conditioning before hitting the football side of things.
MISSOURI TIGERS

Spring start:
March 12
Spring game:
April 20
What to watch:
1. Josey's rehab: The Tigers will be keeping tabs on running back Henry Josey, who missed all of 2012 after suffering a devastating knee injury midway through the 2011 season. He was the Big 12's best running back before his injury and Mizzou needs him back. The staff has had to be patient, but this could be a crucial time in his rehab, as he looks to get his football legs back.

2. Rebuilding the front seven: Mizzou must replace a lot in its front seven. Star defensive tackle Sheldon Richardson's absence leaves a gaping hole up front, while linebackers Will Ebner and Zaviar Gooden must be replaced. Lucas Vincent will be first in line to take Richardson's spot, while Darvin Ruise, Donovan Bonner and Michael Scherer are three players to watch at linebacker.

3. Toughening up: Injuries ravaged Mizzou's offense last year, but it's clear that Mizzou wasn't in the playing shape that it would have liked to be in during its first year in the SEC. Injuries are part of the game, but gaining that toughness factor this spring will go a long way for the Tigers in 2013. The SEC is more than just a grind, and the Tigers found out the hard way that conditioning in this league is a little different than in the Big 12.
SOUTH CAROLINA GAMECOCKS

Spring start:
March 5
Spring game:
April 13
What to watch:
1. New backfield options: Marcus Lattimore and Kenny Miles are gone, so the Gamecocks will have to turn to their younger backs. Brandon Wilds missed the 2012 season with an ankle injury but should return this spring. Rising sophomore Mike Davis has all the tools to be a big-time player for the Gamecocks and could be the top option in the Gamecocks' backfield. Shifty Shon Carson also returns from a knee injury, so South Carolina will have a solid group to work with this spring.

2. QB controversy: Quarterback Connor Shaw might be tabbed as the starter, but with him out for the spring, Dylan Thompson will take the first-team reps. Thompson proved to be very valuable last year, and both will play this fall. Thompson has become one of the most vocal players on the team and is a strong leader. A good spring could bring some real controversy to the position.

3. Holes at linebacker: South Carolina will be without its two-deep at linebacker and "Spur" DeVonte Holloman is gone. That means there's a lot of work to be done when it comes to finding viable replacements. Sharrod Golightly will get the early crack at the Spur, and keep an eye on Kaiwan Lews, who was a true freshman last year and has a lot of potential to work with.
TENNESSEE VOLUNTEERS

Spring start:
March 9
Spring game:
April 20
What to watch:
1. New coaches on the block: With Butch Jones in town, the Vols have to get used to their third head coach in five springs. Jones and his staff have helped bring some much-needed energy to the program since arriving, but now it's time to develop vital on-field chemistry between the coaches and players.

2. Receiving help: The Vols' offense took at major hit at receiver. Juniors Justin Hunter and Cordarrelle Patterson made the leap to the NFL, while deep threat Zach Rogers and tight end Mychal Rivera graduated. Tennessee will now turn to a host of inexperienced receiving targets, including rising sophomore Alton Howard and early enrollee Paul Harris.

3. Quarterback battle: With Tyler Bray leaving for the NFL, Tennessee will work with rising junior Justin Worley and redshirt freshman Nathan Peterman. Worley has the edge when it comes to game experience, but with a new staff, this battle will be wide-open. They will also need to make strides before freshmen Joshua Dobbs and Riley Ferguson get on campus this summer.
VANDERBILT COMMODORES

Spring start:
March 15
Spring game:
April 13
What to watch:
1. Replacing Rodgers: Quarterback Jordan Rodgers is gone. The good news is Austyn Carta-Samuels has good experience after starting two years at Wyoming before transferring to Vandy. Redshirt freshman Patton Robinette is someone the coaches also are excited about, especially with his dual-threat ability, and should really push Carta-Samuels the whole spring.

2. Running back battles: The Commodores lost star running back Zac Stacy, so veteran Wesley Tate, who has bounced around positions, and rising sophomore Brian Kimbrow, who has the do-everything look to him at running back, will share reps. Warren Norman and Jerron Seymour also return, making for quite the talented backfield.

3. Keeping the edge: Now that another very successful season under James Franklin is over, the Dores have to continue to keep the edge that got them to where they are. It might sound like a broken record, but Vanderbilt still has to prove that it isn't the Vandy of old. People are certainly taking the Dores more seriously, but keeping that edge is important for more growth.
April, 12, 2012
4/12/12
11:35
AM ET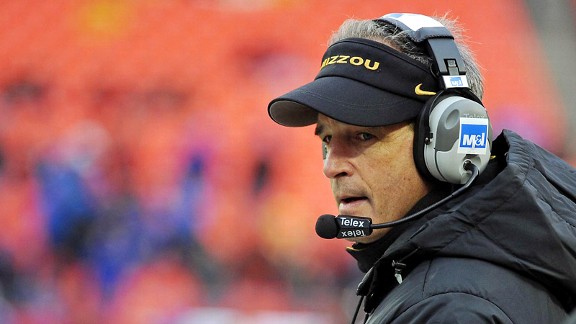 John Rieger/US PresswireMissouri coach Gary Pinkel will bring the nation's ninth-ranked rushing offense to the SEC in 2012.
COLUMBIA, Mo. -- From the moment Missouri was officially welcomed to the SEC, the questions about adjustments began.
Could Missouri's spread offense work in the bigger, badder, faster SEC? Could the Tigers hold up in the nation's best, most physical conference? Could all of this hyperbole about a college football conference get under the skin of a team and staff leaving the Big 12?
Coach Gary Pinkel and those around the program calmly answer each one of those with a simple "Yes."
Pinkel has had to answer questions about change for far too long, and just so everyone is on the same page, he's very confident the football his team has played -- both offensively and defensively -- during his 11 years in Columbia will work in the SEC. To say that there won't be tweaks made to combat the obvious speed and power the SEC is known for would be "inappropriate," Pinkel said. But to suggest that the Tigers should overhaul most of what they do is just as inappropriate.
"We're going to run our offense and we're going to run our defense," Pinkel said. "We're going to do what we do."
What the Tigers did last year was rank first in the Big 12 and ninth nationally in rushing (243.5 yards per game). Missouri was also fifth in the Big 12 in total offense (475.5). In a conference known more for burning out scoreboard lights, the Tigers averaged 32.8 points per game and 30 in league play.
Say what you will about Big 12 defenses, but the Tigers are proud of their numbers and their competition. The SEC will no doubt be tougher, but Pinkel isn't looking to change just because of a new challenge.
Most of the questions concerning change have centered on the offense. Missouri runs as true a spread as anyone. The Tigers love space for receivers and linemen. Rarely is there a tight end attached, shotgun is the primary formation, there is a lot of motion and there will be empty sets.
This is an offense built more on finesse, but offensive coordinator David Yost insists that there is power. New wrinkles were added last year to attach the tight end more and run more I-form. Both will make appearances, along with a little three-back action, if the personnel works out.
[+] Enlarge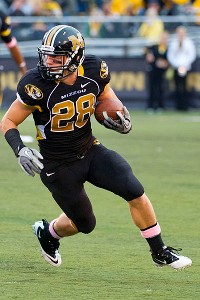 Photo by Scott Rovak/US Presswire T.J. Moe said he's confident that Missouri's spread offense will give the highly regarded SEC defenses reason for concern.
While the Tigers have been asked if they can adapt, Yost wonders if the SEC can adapt. Not a lot of spread has been used in this league, and even Urban Meyer's spread at Florida showed a lot of power plays with physical QB Tim Tebow. Auburn was much more spread out, but Yost said this will be different.
"We will be a spread team and we will try to give people fits in different ways than how other people do it," Yost said.
"There's not a lot of what we do happening in that league right now. It's a change for us going against new people, but it's also a change for them for what they're going to see because we're different and we're different in how we do it."
Wide receiver
T.J. Moe
, who led Missouri with 54 catches for 649 yards and had four touchdowns in 2011, agrees. He understands the SEC is good, but thinks SEC defenses will have to catch on as well.
"Offensively, they have to cater to us because whatever we do they have to try and defend us," Moe said. "They can't put eight in the box when we're spreading it five wide. You just can't do that.
"For us, we're going to do what we do and they're going to have to stop it."
Defensively, the Tigers feel just as confident. This group ranked fourth in the Big 12 in total defense last fall, and defensive coordinator Dave Steckel said he doesn't plan to change much -- physically or schematically -- in the move. In fact, he's been so focused on his own team and recruiting that he hasn't seen much SEC offensive tape at all. When asked about any changes he might think about making, Steckel seemed disinterested in the idea.
"I can't answer that question. I'm too old, man," he said with a laugh. "Football is football. You just play football.
"We've always emphasized since we've been here tough and physical football."
As far as taking on bigger or faster skill players, linebacker
Will Ebner
isn't concerned because he doesn't believe he'll see anything faster than what he saw in the Big 12.
"I don't agree with that," Ebner said about the SEC being a faster conference. "We play against fast guys. The Big 12 is not a bad conference. They've got a lot of skill guys, especially [with] all those spread offenses. Those guys can fly."
The defense's toughness will be constantly judged, but the offense will continue to receive the most attention this fall. Yost said change will be considered week-to-week, and until then, the plan is to make defenses answer to them, not the other way around.
"We try to do as many things as we can that defenses don't like," he said, "and try to put the onus on them to handle us and react to us as opposed to we react to what they do."
February, 29, 2012
2/29/12
9:00
AM ET
We're moving on with our postseason position rankings. Today, it's time for linebackers. If you missed it,
here's how I ranked them in the preseason
.
At this position, depth is a major factor in these rankings. Additionally, I included nickelbacks in this grouping. Hybrid defensive end/linebackers will be grouped with defensive lines.
[+] Enlarge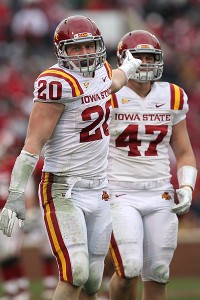 Matthew Emmons/US PresswireIowa State linebackers Jake Knott, 20, and A.J. Klein combined for 231 tackles in 2011.
More postseason position rankings:
1. Iowa State:
The Cyclones top the list after a huge year from their outstanding duo,
Jake Knott
and
A.J. Klein
. They combined for 231 tackles in 2011, both finishing among the top four in the Big 12 in tackles. They had 241 together in 2010, but this season Knott played through injuries and Klein was awarded co-Defensive Player of the Year honors from the league's coaches.
2. Texas:
The Longhorns will sorely miss an outstanding duo of their own with tons of experience.
Keenan Robinson
and
Emmanuel Acho
are both NFL-bound after combining for 215 tackles.
3. Oklahoma:
The Sooners weren't quite as good as expected in 2011, but part of that was because of a
Travis Lewis
preseason toe injury that slowed him for much of the season. Lewis,
Tony Jefferson
and
Tom Wort
all topped 70 tackles in 2011, and are a solid group.
4. Kansas State:
Arthur Brown
reinvigorated this group, finishing eighth in the Big 12 with 101 tackles, but the Wildcats linebackers were more than just Brown.
Tre Walker
and converted safety
Emmanuel Lamur
combined for 135 stops and helped lead one of the league's most underrated units and a much-improved run defense.
5. Texas A&M:
The Aggies' backers were big pass-rushers, though they struggled in coverage this season.
Sean Porter
was the Big 12's sack champion with 9.5, and
Caleb Russell
and
Jonathan Stewart
combined for six more.
Damontre Moore
is the rawest talent of the bunch, but built on that in 2011, making 72 tackles.
6. Oklahoma State:
OSU's group was good, but not great.
Alex Elkins
' crazy story came to an end with 90 stops in 2011. He showed up everywhere for the Cowboys, but reigning Big 12 Freshman of the Year
Shaun Lewis
didn't quite have the sophomore season some had hoped.
Caleb Lavey
added some solid play for the turnover-hungry unit, producing 74 tackles and five tackles for loss.
7. Missouri:
Zaviar Gooden
wasn't quite the impact player Mizzou had hoped, but he was solid alongside a group that's been injury prone over the past two years. Sophomore
Andrew Wilson
emerged as the team's top tackler with 98 stops, and
Luke Lambert
added 82 more. A high ankle sprain in the season opener kept
Will Ebner
off the field, but he'll be back in 2012 after the NCAA granted him a fifth year of eligibility.
8. Kansas:
Steven Johnson
led the Big 12 with 119 tackles, but the rest of the unit left a lot to be desired.
Darius Willis
has some potential, but the rest of the team's linebackers have their work cut out for them in 2012.
Tunde Bakare
also returns from a unit that ranked ninth in the Big 12 in rushing defense.
9. Baylor:
The Bears needed help just about everywhere.
Elliot Coffey
was solid, and finished tied for fourth with 114 stops, but Baylor was eighth in the Big 12 in rush defense. Baylor has solid athlete in the secondary and on the defensive line, but at linebacker,
Rodney Chadwick
and
Brody Trahan
leave a bit to be desired.
Ahmad Dixon
was better in 2011, but still has a lot of potential that needs to be filled.
10. Texas Tech:
The Red Raiders are looking for a new defensive coordinator and the 4-2-5 made a short stop in Lubbock. The Red Raiders were awful everywhere on defense, but especially up front. Nobody in college football was worse at stopping the run, and
D.J. Johnson
,
Daniel Cobb
and
Cqulin Hubert
turned in forgettable performances. Time to get better for 2012.
November, 17, 2011
11/17/11
5:51
PM ET
Missouri coach Gary Pinkel was
given a one-week suspension without pay
after his arrest on suspicion of driving while intoxicated on Wednesday night, the school announced on Thursday.
He'll return to the team next Thursday, and in the following week, his salary (approx. $52,000) will be donated to the MU Wellness Resource Center, which deals with alcohol issues on campus. He's also been made ineligible for various bonuses totalling a financial penalty of more than $300,000. He will also submit to 50 hours of community service.
Defensive coordinator Dave Steckel will coach the team on Saturday when Missouri takes on Texas Tech in its final home game of the season.
Pinkel will not be involved in any meetings or team activities during his week suspension, but will return and coach the team in its season finale against Kansas.
Mike Alden said he learned of the arrest at 6:45 a.m. on Thursday and met with Pinkel three times today. Pinkel told the team and apologized this morning before meeting with them earlier this afternoon before his suspension began.
The Tigers suspended two players, Will Ebner and
Beau Brinkley
, before the 2010 season for two games after drunk driving arrests.
Athletic director Mike Alden told reporters on Thursday he didn't believe one could apply a "cookie-cutter" approach to the suspensions. It's a debatable, but defensible position from my perspective. He also said he elected not to have Pinkel accompany him in the press conference because Alden said it was his responsibility to answer questions, not Pinkel's. Pinkel's one-week suspension comes with a whole lot of other penalties and one could make the case it adds up to an equal punishment, but what do you think?
Is Pinkel's punishment fair?
November, 17, 2011
11/17/11
11:51
AM ET
Gary Pinkel has one of the most sterling reputations of any coach in the Big 12.
After being
arrested on suspicion of driving while intoxicated
on Wednesday night, that's taken a hit.
"I am very disappointed in myself for my lack of judgment in this instance," Pinkel said in a statement. "Nobody should drink and drive, including me. My staff and I constantly reinforce with each of our players the importance of not putting yourself into a position such as this. I did not follow that here and for that, I sincerely apologize to the University of Missouri, to our administration, to the Board of Curators and to our fans."
For Pinkel, though, there's little left to do besides take responsibility and move on.
The Tigers had two players, linebacker Will Ebner and tight end Beau Brinkley, arrested on DWI charges last summer. Mizzou even had a coach, offensive line coach Bruce Walker, arrested on DWI charges, though the exact circumstances were odd in that he was reportedly waiting for a taxi in the parking lot of the Mizzou facilities but his car was running while he sat in the driver's seat.
Either way, Pinkel must hold himself accountable as he would a player.
"I have already met with our staff and communicated with our players and have apologized to them," Pinkel said. "I accept full responsibility for my actions and will abide by whatever course of action our leadership deems appropriate."
Should Pinkel coach on Saturday at home against Texas Tech?
In similar circumstances,
would a player play
?
Nothing causes a coach to lose respect in his locker room faster than inconsistent rules.
Brinkley and Ebner were both suspended for the first two games of the 2010 season. Walker was not suspended after his arrest.
This mistake was extremely out of character for Pinkel, but one mistake can put you in the exact position in which Pinkel finds himself. Pinkel would be well-served to spread that message and turn a very high-profile mistake into a teachable moment for more than just himself.
As with any drunken-driving arrest, this could have been much more serious and the Thursday morning headline much more tragic. It wasn't. For that, all are fortunate.
That doesn't change the seriousness of the mistake or the consequences that should follow.
September, 6, 2011
9/06/11
3:45
PM ET
Missouri can add one more player to its list of injuries.
Running back
Kendial Lawrence
will
miss at least four weeks with a broken fibula
suffered in Saturday's win over Miami (Ohio).
Missouri coach Gary Pinkel announced the news on a pair of Kansas City radio stations on Tuesday.
Lawrence ran nine times for just 10 yards in the Tigers' opener, but won the starting job over three other backs in preseason camp.
He was listed as even with
De'Vion Moore
and
Henry Josey
on the latest depth chart, and those two will likely carry the load in Friday's game at Arizona State.
Lawrence is the latest in a long line of key players injured for the Tigers, which began with another running back this preseason when
Marcus Murphy
was ruled out for the season after undergoing shoulder surgery.
Senior All-Big 12 left tackle Elvis Fisher will miss the season with a torn patellar tendon in his knee, and a knee injury will keep starting center Travis Ruth out of Friday's game.
In the win over Miami, senior linebacker Will Ebner suffered a high ankle sprain and senior defensive end Jacquies Smith suffered a dislocated elbow. Both are out for Friday's game.
September, 3, 2011
9/03/11
1:12
PM ET
Missouri leads Miami (Ohio) 7-0 early in the third quarter, but the Tigers will have to go the rest of the way without senior linebacker Will Ebner.

Ebner is one of the defense's hardest hitters, but an ankle injury will keep him from returning.

He played last year through pain and a foot injury that required postseason surgery. He also missed two games with a neck strain.

Ebner started the game, but was listed as a co-starter at middle linebacker with fellow senior Luke Lambert.

For now, it looks like Lambert will have to carry the middle of the Tigers' defense.
August, 9, 2011
8/09/11
10:00
AM ET
Moving on in our rankings of the top 10 at each position in the Big 12 entering 2011.
[+] Enlarge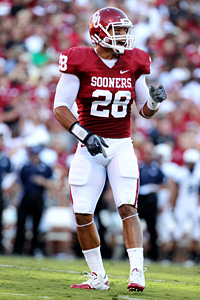 Matthew Emmons/US PresswireOklahoma's Travis Lewis is among the Big 12's top linebackers entering the season.
Here are the top 10s you've missed so far:
The Big 12 is really, really strong at linebacker, just as it is at receiver. Running back and defensive line are two of the Big 12's weakest positions, but linebacker might prove to be a true strength by season's end.
If you're curious, here's
how I ranked the units by team.
We might even see big, young talents like Corey Nelson, Tom Wort, Arthur Brown, Jordan Hicks and Huldon Tharp fight for spots on this list by season's end, but overall inexperience keeps them off for now.
Here are the top 10.
1. Travis Lewis, Oklahoma:
Lewis took home the Big 12's preseason Defensive Player of the Year Award (as much as someone can take home an award with no actual hardware, anyway), but he'll be the easy favorite for the award entering the season. Of
my postseason top 25 Big 12 players
, Lewis is the only returning defensive player. He's made 100 tackles in each of his first three seasons at Oklahoma, and eschewed the NFL draft to try and win a title at Oklahoma.
2. Jake Knott, Iowa State:
Knott doesn't get the national pub of some other guys on this list, but he should. In just his first year as a starter, Knott made 130 tackles, the most of any returning Big 12 starter. Just a junior, Knott should make even more improvement in 2011.
3. Keenan Robinson, Texas:
Robinson has all the physical tools, and should be set loose in new coordinator Manny Diaz's aggressive scheme. Robinson made 106 tackles in 2010, but look for his sack totals (two in 2010) to get a big boost from spending more time in offensive backfields.
4. Shaun Lewis, Oklahoma State:
Lewis exploded into the Big 12 fan's consciousness as a true freshman in 2010, sharing Big 12 Defensive Freshman of the Year honors with Oklahoma's Tony Jefferson after making 58 tackles with eight tackles for loss, despite not officially being a starter until the second half of the season. He's a bit faster than you might expect him to be at 5-foot-11 and 220 pounds, but he should be due for a big encore.
5. Emmanuel Acho, Texas:
Acho joins Robinson in one of the best linebacker groups in the league, and will likely be a team captain alongside his fellow linebacker. Acho made 81 tackles to rank second on the team, and added 10.5 tackles for loss and 3.5 sacks for an underrated Texas defense in 2010.
6. Zaviar Gooden, Missouri:
Gooden is easily the fastest guy out of this group, and should be due for a breakout year on the national stage if Missouri gets the ball rolling with
James Franklin
at quarterback and becomes a top 25 mainstay. He tied for the team lead in tackles last season (84, 49 solo) during his first year as a starter, and could see that number jump as a junior in 2011.
7. A.J. Klein, Iowa State:
As little respect nationally as Klein's teammate, Knott, gets, Klein gets even less. Which is a shame. Klein, like Knott, was a first-year starter but became one of just 11 players in the Big 12 with more than 100 tackles. Was that number (111, 49 solo) aided by a weak defensive line? Sure, but somebody made those stops. And it was Klein. He'll get plenty more chances to further prove himself.
8. Garrick Williams, Texas A&M:
Williams returns as one of the leaders of the Wrecking Crew after making 112 tackles in 2011, including five tackles for loss and a forced fumble. The Aggies need him to play well at inside linebacker in Tim DeRuyter's 3-4 scheme, if for no other reason than because of the uncertainty and likely inexperience at the inside linebacker spot.
9. Elliot Coffey, Baylor:
Coffey should be one of the lynchpins of a maturing Baylor defense with lots of work to do under new coordinator Phil Bennett. Though there's no formal depth chart just yet, Art Briles admitted that if anyone has solidified a starting spot, it's Coffey. The 6-foot, 230-pounder made 61 tackles (34 solo) and 4.5 tackles for loss as a junior in 2010.
10. Steven Johnson, Kansas:
Johnson emerged out of a good group of linebackers last season to lead the team in tackles, with 95 stops (62 solo). He loses fellow linebackers Justin Springer and Drew Dudley, but will get help with the return of Huldon Tharp. Johnson was a former walk-on, but in his first year as a starter in 2010, rewarded the Jayhawks' decision to put him on scholarship.
Just missed:
Will Ebner, Missouri; Sean Porter, Texas A&M
June, 29, 2011
6/29/11
1:15
PM ET
We've taken a look at the Big 12 offensive skill positions in our position rankings, and we'll circle back along to the lines eventually. For now, though, we'll flip to the defensive side of the ball, starting with linebackers.
There's a lot of turnover in this space, and the bottom half was pretty hard to sort out. We haven't seen a lot of these new faces on the field for extended periods of time, so it's somewhat of a crapshoot. I don't feel like there's a wide gap between teams 7-10, and each of those squads have at least one linebacker who could be due for a huge year and shoot them up this list.
I see Nos. 1-3 possibly being great, with dropoffs before the No. 4 and No. 7 teams.
Also, if you missed them, here are the other position rankings we've done so far.
So, without further ado, here's how I ranked the linebackers. (Nickel backs are included in this list, hybrid DE/LBs will be with defensive lines)
[+] Enlarge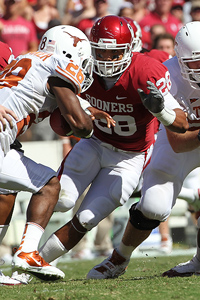 Matthew Emmons/US PresswireOklahoma's Travis Lewis is the Big 12's top returning defender.
1. Oklahoma
-- The Sooners boast the Big 12's top returning defender in Travis Lewis, who has notched at least 100 tackles in each of the past three seasons, and he'll be joined by the Big 12's co-Defensive Freshman of the Year, Tony Jefferson. Tom Wort and Corey Nelson are both loaded with potential, and will fill out the rotation, after the starter at middle linebacker, Austin Box, died on May 19.
2. Iowa State
-- The Cyclones boast two of the Big 12's best in Jake Knott and A.J. Klein, who combined for more tackles than any two teammates in the Big 12 last season. They had 241 stops, and, after healing from a broken leg suffered midseason last year, Matt Tau'fo'ou should join them at middle linebacker.
3. Texas
-- Texas' offense may be lacking, but the defense will be strong once again, led by two others likely to earn spots as some of the Big 12's best. Keenan Robinson and Emmanuel Acho were Texas' top two tacklers last year with 187 stops, and return as likely captains come fall camp. Texas' depth chart is wide open, but look for former blue-chip recruit Jordan Hicks to emerge as another star this year, despite being forced to sit out spring camp with a broken foot. Dravannti Johnson played some defensive end last year at the Buck position for the Longhorns, but may find his way back to linebacker. Tevin Jackson was ineligible last year, but he's ready for 2011, and could make an impact.
4. Oklahoma State
-- The Cowboys "Star" linebacker is occupied by co-Defensive Freshman of the Year Shaun Lewis, and sophomore Caleb Lavey is charged with replacing Orie Lemon, the leader of last year's defense. Oklahoma State has questions on the weak side, but LeRon Furr and Chris Dinkins will compete next fall.
Kris Catlin
could be a factor, too.
5. Texas A&M
-- The Aggies must replace their leading tackler, Michael Hodges, and don't have a clear replacement heading into fall camp. The good news: They've got two others with lots of experience in the linebacking corps that look like budding stars. Garrick Williams should be one of the defense's leaders and Sean Porter returns after making 74 tackles last year to rank third on the team.
6. Missouri
-- The Tigers have lots of experience at middle linebacker, where a pair of seniors (albeit frequently injured seniors) Will Ebner and Luke Lambert will be on the field a lot. One of the Big 12's most exciting players, junior Zaviar Gooden, will hold down the weakside and perhaps become a household name by season's end. Sophomores Andrew Wilson and Donovan Bonner, who missed all of last season with a knee injury, will likely compete for strongside duties in fall camp. Andrew Gachkar, the team's leading tackler, is gone, but here's guessing Gooden emerges as the defense's top playmaker.
7. Kansas
-- The Jayhawks linebackers were solid last year, and could be pretty good again, despite losing Drew Dudley and Justin Springer, two of the team's top four tacklers. Steven Johnson, the team's leading tackler in 2010, is back and he'll be joined by possible star Huldon Tharp, who missed all of last season with a leg injury. Fellow sophomore Darius Willis earned a starting role after spring.
8. Kansas State
-- K-State's front seven struggled last year, but will get a big boost from Arthur Brown. One man won't be enough to totally fix the Wildcats rush defense problems, though. K-State gave up 26 more yards on the ground per game than any other team in the Big 12 (more than 231 per game) but Brown may be playing in a 4-3 next fall rather than the 4-2-5 the Wildcats have employed since Snyder's return. Alex Hrebec, Emmanuel Lamur, Tre Walker and Blake Slaughter will likely fill the rotation along with Brown.
9. Baylor
-- Baylor's defensive depth chart, like Texas', is a bit amorphous after bringing in a new coordinator, but Elliot Coffey figures to be the Bears biggest playmaker at linebacker. Chris McAllister should be solid and Ahmad Dixon is promising at nickelback, too. Brody Trahan is a great story, but him
going from third-string quarterback to starting linebacker
isn't a ringing endorsement for Baylor's depth at the position.
10. Texas Tech
-- Tech will be moving to a 4-2-5 this year under new coordinator Chad Glasgow, and could rise up this list, but the Red Raiders lose a lot of talent from last season's team, which ran the 3-4. Bront Bird and Brian Duncan are both gone, and youth will be a big factor with this group. Cqulin Hubert's outstanding potential is matched by his more outstanding first name, and freshman
Blake Dees
showed promise after arriving early this spring. They'll likely be the rotation at middle linebacker spot alongside Daniel Cobb and Zach Winbush. Terrance Bullitt could be a playmaker at his new safety spot, listed as a strong safety but with plans to spend lots of time near the line of scrimmage, a la nickelback.
May, 3, 2011
5/03/11
9:00
AM ET
We've been all over the place so far this offseason, taking a look at some of the budding stars in the Big 12. Here's what we've covered so far:
Now it's time to look at the guys that seem to be in on every play: players who will notch 100 tackles next year. A little context: This is a bigger group than the others.
Last year, 11 players topped the 100-tackle mark, and just five return. Across the country, 75 players had at least 100 tackles, by far the largest group we've examined so far this year.
So this time, instead of looking at the players most likely to crack the mark, we'll just run down the players I believe will have at least 100 tackles next year, in order of the likelihood they do so. As usual, this is not a ranking of each linebacker's overall skill, just the probability that they reach the benchmark statistic for their position.
1. Travis Lewis, LB, Oklahoma:
Lewis tops the list based on his history. In three years, he has 360 tackles for the Sooners, and has topped 100 in all three seasons. He's got a hungry youngster in Corey Nelson nipping at his heels, but he's one of the defense's leaders. There's no reason to think he won't have another huge year.
[+] Enlarge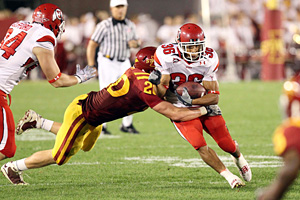 Reese Strickland/US PresswireIowa State's Jake Knott is the top returning tackler in the Big 12.
2. Jake Knott, LB, Iowa State:
After making 130 stops in 2010, Knott is the Big 12's leading returning tackler. He broke his arm late in the spring (following it up with
the most hard-core recovery of the spring
), but he should be back to full strength well before fall camp and geared up for 130 more.
3. Garrick Williams, LB, Texas A&M
: Williams already had 112 stops in 2010, and without Michael Hodges and Von Miller around, he and Sean Porter (74 tackles in 2010) should rack up even more in 2011.
4. A.J. Klein, LB, Iowa State
: Klein gets overshadowed by his teammate, Knott, but he had 111 tackles of his own as a first-year starter last year. The Cyclones defensive line is one of the weakest in the Big 12, but fortunately for ISU, it's got some solid linebackers.
5. Keenan Robinson, LB, Texas
: Robinson is the last of the returning 100-tackle linebackers, but he'll have an even bigger role in the Longhorns' defense in 2011 after making 106 stops last year.
6. Arthur Brown, LB, Kansas State:
I'm officially buying on Arthur Brown. I'm on the fence about Bryce Brown, but the combination of the tales from last year's scout team, plus his 14 tackles in the spring game followed by an endorsement from Bill Snyder after it has me on board. He's the fastest linebacker Snyder's coached since his return, and speed takes you a long way in the Big 12. Big year on the way for Brown.
7. Caleb Lavey, LB, Oklahoma State:
Lavey is the likely successor to resident brick wall Orie Lemon at middle linebacker for the Cowboys. He may not reach Lemon's 133 tackles in 2010, second-most in the Big 12, but I like what I saw from Lavey as a freshman last year and I like his chances to hit the triple digits.
8. Zaviar Gooden, LB, Missouri:
Like Brown, Gooden has crazy speed for a linebacker, and at 6-foot-2 and 225 pounds, his body type is more like that of a hulking safety. Missouri, in part because of injury, didn't have a player with 100 tackles last year, but Gooden tied for the team lead with 84. If Will Ebner stays healthy, he could crash this list, too.
9. Prince Kent, S, Baylor:
Two defensive backs hit the mark last year, but I've got just one on my list for 2011. Kent played sparingly as a freshman last year, but still led the team with two interceptions. The Bears' cornerbacks aren't great, and here's betting that means Kent leads the team in tackles this year.
10. Huldon Tharp, LB, Kansas:
Tharp will be coming back from a knee injury, and he's not full strength just yet, but he's got the most raw talent of any defender on the Jayhawks' roster. I'll tack him on the end of this list for a nice comeback year.
Just missed:
Sean Porter, LB, Texas A&M; Emmanuel Acho, LB, Texas, Cody Davis, S, Texas Tech
February, 17, 2010
2/17/10
2:00
PM ET
Here's a breakdown of three issues facing each program heading into the spring:

Baylor Bears
Spring practice starts
: March 16
Spring game
: April 10
1. Quarterback Robert Griffin III's surgically repaired right knee
. Griffin hasn't played since tearing the ACL in his right knee in the third game of the '09 season. He recently said he's ahead of schedule in rehabilitation, but probably won't do much during spring practice. He'll wear a heavy knee brace and won't participate in contact drills.
2. New linebackers
. The Bears lost strongside linebacker Antonio Jones and middle linebacker Joe Pawelek, who combined to make 190 tackles last season. Senior Earl Patin, who also has played some defensive end during his career, is poised to replace Pawelek in the middle. But Patin will have to hold off highly regarded youngsters Chris McAllister and LeQuince McCall, who redshirted in '09. Senior Chris Francis is probably the top candidate to replace Jones on the strong side.
3. Safety
. The Bears must replace both of their starting safeties, including All-Big 12 performer Jordan Lake, who started 36 games in a row. Junior college transfer Byron Landor and sophomore Mike Hicks will get the first looks in the spring. But they'll have to hold off incoming freshman
Ahmad Dixon
, one of the top prospects to ever sign with Baylor, after he arrives for fall camp.

Colorado Buffaloes
Spring practice starts
: March 6
Spring game
: April 10
1. Michigan transfer Toney Clemons
. Buffaloes coach Dan Hawkins called Clemons his team's most exciting receiver while he sat out the '09 season under NCAA transfer rules. The cousin of Arizona Cardinals receiver Steve Breaston, Clemons could bring an interesting dynamic to the CU offense. His arrival couldn't come at a better time, either, after
Markques Simas
was suspended indefinitely for violating team rules.
2. Linebacker
. The Buffaloes must replace their two most productive linebackers after losing Marcus Burton and Jeff Smart. The departed seniors combined to make 105 solo tackles and 6.5 sacks last season. Senior Michael Sipili is the top candidate to replace Burton in the middle, and sophomore Jon Major might get the first crack at replacing Smart on the weak side.
3. Offensive line
. The unit's inconsistency has dogged Hawkins' offense in each of his first four seasons. Eight offensive linemen had significant playing time in '09, so the Buffs are looking for more stability up front. The return of sophomore guard Maxwell Tuioti-Mariner from a pair of knee injuries, and early arrival of junior college transfer Eric Richter might shore up the interior line.

Iowa State Cyclones
Spring practice starts
: March 23
Spring game
: April 17
1. Linebackers
. The Cyclones lost each of their starting three linebackers: Josh Raven, Jesse Smith and Fred Garrin. Junior Jacob Lattimer is in line to replace Raven on the strong side, and two highly regarded sophomores are in line to fill the other spots. A.J. Klein, who had 17 tackles in 13 games as a freshman, might get the unenviable task of replacing Smith, who led the Big 12 in tackles in '09. Jake Knott, who had 23 tackles as a freshman, is the top candidate to start on the weak side.
2. Wide receiver
. Iowa State lost leading receiver
Marquis Hamilton
, who had 50 catches for 606 yards with four touchdowns in '09. Tight end
Derrick Catlett
, another top receiving threat, also is gone. The good news: Junior
Darius Reynolds
returns from a broken leg that caused him to miss all but four games last season. Reynolds, who earned the moniker "Money" for his big-play potential, had 13 catches for 72 yards before he was hurt in practice in late September. Junior college tight end Ricky Howard enrolled in classes in January and will participate in spring practice.
3. Defensive line
. Two starters will have to be replaced after ISU lost right end Christopher Lyle and tackle Nate Frere. Lyle led the team with five sacks in '09; Frere was a pretty good run-stopper. Sophomores Cleyon Laing and Roosevelt Maggitt will get strong looks at end, and senior Austin Alburtis and sophomore Jake McDonough will move into the tackle rotation.

Kansas Jayhawks
Spring practice starts
: March 27
Spring game
: April 24
1. Quarterback
. New Kansas coach Turner Gill might have one heck of a competition on his hands. Sophomore
Kale Pick
is a mobile option, after averaging 11.9 yards per rushing attempt in 2009. Junior college transfer Quinn Mecham, who enrolled in classes at Kansas in January, threw for 3,091 yards with 40 touchdowns and 11 interceptions at Snow College in Utah last season.
2. Wide receiver
. The Jayhawks have to replace departed stars
Kerry Meier
and
Dezmon Briscoe
, which will be no easy task. The duo combined to catch 186 passes for 2,322 yards with 17 touchdowns last season.
Bradley McDougald
and
Johnathan Wilson
were proven targets last season, but younger players such as
Chris Omigie
and incoming freshman
Keeston Terry
will have to help this fall.
3. Secondary
. The Kansas defense gave up too many big passing plays and didn't create enough turnovers last season. The Jayhawks will have to replace strong safety Darrell Stuckey, who led them with 93 tackles in '09. Senior Phillip Strozier will get the first crack at replacing the heart and soul of the Kansas defense.

Kansas State Wildcats
Spring practice starts
: March 21
Spring game
: April 24
1. Oregon transfer Chris Harper
. In 2008, Harper played wide receiver and quarterback for the Ducks as a freshman. He became the first Oregon player in eight years to run, pass and catch a touchdown in the same season. Harper, a native of Wichita, Kan., might figure into Kansas State's quarterback or wide receiver plans after sitting out the '09 season under NCAA transfer rules.
2. Quarterback battle
. Harper and two other players will probably battle to replace departed senior
Grant Gregory
. Senior
Carson Coffman
, who started the '09 season at quarterback, figures to be back in the mix, along with junior college transfer
Sammuel Lamur
.
3. Defensive line
. The Wildcats have a couple of gaping holes to fill up front defensively. End Jeff Fitzgerald, who had 40 tackles and 10 tackles for loss in '09, has to be replaced, along with tackles Daniel Calvin and Chidubamu Abana. Junior college transfer Javonta Boyd, who has already enrolled in classes, could help in the interior line.

Missouri Tigers
Spring practice starts
: March 9
Spring game
: April 17
1. Wide receiver
. The Tigers have to replace
Danario Alexander
, who led the country with 1,781 receiving yards in 2009. Juniors
Jerrell Jackson
and
Wes Kemp
both caught more than 20 passes last season, but younger players like
T.J. Moe
and
Rolandis Woodland
are going to have to contribute more. Incoming freshman
Marcus Lucas
could help in the fall.
2. Linebacker
. The Tigers bring back two of their starting three linebackers, but three-time All-Big 12 selection Sean Weatherspoon is the one who left. Sophomore Donovan Bonner heads into spring camp as the top candidate to replace Weatherspoon on the weak side, and Will Ebner and Andrew Gachkar are back at the other linebacker spots.
3. Defensive line
. Two starters are gone on the defensive front: end Brian Coulter and nose tackle Jaron Baston. At least the Tigers know they're set at one side, with end Aldon Smith coming back after totaling 19 tackles for loss and 11.5 sacks in '09. Marcus Malbrough and Jacquies Smith will battle for starting end, and Terrell Resonno could move into the vacant tackle spot.

Nebraska Cornhuskers
Spring practice starts
: March 24
Spring game
: April 17
What to watch:
1. Will quarterback Zac Lee keep his starting job?
After Lee was plagued by inconsistency throughout the '09 season, offensive coordinator Shawn Watson is expected to open the competition during spring practice. Sophomore
Cody Green
, senior
Latravis Washington
and freshman
Taylor Martinez
will all be given a fair chance to win the job.
2. Defensive tackle
. Nebraska fans won't see All-American Ndamukong Suh commanding double-team blocks along the line of scrimmage. Even after losing one of the most decorated players in school history, the Cornhuskers figure to be pretty good up front. Jared Crick and Baker Steinkuhler will man the middle, with Pierre Allen and Cameron Meredith entering spring camp as the favorites at ends.
3. Rex Burkhead
. The sophomore burst onto the scene after Roy Helu Jr. was hurt early in the Huskers' 33-0 rout of Arizona in the Pacific Life Holiday Bowl, rushing for 89 yards with one touchdown. Burkhead was very explosive running out of the Wildcat package, so look for Watson to try and utilize him even more to make the Nebraska attack less predictable.

Oklahoma Sooners
Spring practice starts
: March 8
Spring game
: April 17
1. Offensive line
. The Sooners have a lot of questions up front on offense, after left tackle Trent Williams and right guard Brian Simmons departed. Will junior Donald Stephenson finally be ready to contribute at left tackle after being suspended for all of the '09 season? Will center Ben Habern be ready after breaking his leg late in the '09 season? When will Jarvis Jones return from a broken heel?
2. Linebacker Ronnell Lewis
. The sophomore had a break-out game in the Sooners' 31-27 victory over Stanford in the Sun Bowl, finishing with six tackles and a forced fumble. With starting linebackers Keenan Clayton and Ryan Reynolds departing, Lewis will assume a starting role on the strong side. Redshirt freshman Tom Wort is projected to start in the middle, with junior Travis Lewis starting on the weak side.
3. Secondary
. The Sooners have shuffled their defensive backs after losing cornerbacks Dominique Franks and Brian Jackson. Sophomore Demontre Hurst is in line to replace Franks at field cornerback, and senior Jonathan Nelson has moved from strong safety to boundary cornerback. Junior Sam Proctor is expected to replace Nelson at strong safety, and senior Quinton Carter is back at free safety.

Oklahoma State Cowboys
Spring practice starts
: March 8
Spring game
: April 17
1. Quarterback Brandon Weeden
. The 26-year-old junior is the top candidate to replace
Zac Robinson
, who broke nearly every OSU passing record. Weeden was a second-round choice of the New York Yankees in the 2002 amateur baseball draft. If he can grasp new offensive coordinator Dana Holgorson's spread offense quickly, the Pokes' passing game should again be potent in 2010.
2. Defense
. Defensive coordinator Bill Young will have his hands full this spring trying to replace nine starters. The only returning starters are defensive end Ugo Chinasa and strong safety Markelle Martin. The Pokes have to replace three starters on the defensive line, three linebackers and three defensive backs. Three newcomers -- linebacker
Caleb Lavey
and defensive backs
Devin Hedgepeth
and Malcolm Murray -- will get early looks in spring camp.
3. Offensive line
. The Cowboys will have to replace star left tackle Russell Okung, left guard Noah Franklin, center Andrew Lewis and right tackle Brady Bond. Juniors Nick Martinez, Casey LaBrue and Grant Garner will be the top candidates to fill open starting spots.

Texas Longhorns
Spring practice starts
: Feb. 26
Spring game
: April 4
1. Quarterback Garrett Gilbert
. The sophomore was thrust into action after
Colt McCoy
injured his shoulder against Alabama in the Citi BCS National Championship Game and played admirably well in tough circumstances. The Longhorns might change their identity on offense with a young quarterback under center, so developing a running game to take pressure off Gilbert might be a top priority.
2. Defense
. The unit is in good hands with coordinator Will Muschamp, but he'll have to replace many of the star players from 2009. End Sergio Kindle, tackle Lamarr Houston, linebacker Roddrick Muckelroy and safety Earl Thomas are all gone. Younger players such as end Alex Okafor and tackle Tyrell Higgins will have to turn it up a notch during spring practice.
3. Wide receiver
.
Jordan Shipley
, who was McCoy's favorite target, also departed. Seniors
James Kirkendoll
and
John Chiles
, junior
Malcolm Williams
and sophomore
Marquise Goodwin
will have to be more consistent in their route running and pass catching. Other receivers such as
D.J. Monroe
and
DeSean Hales
will be trying to crack the receiver rotation during the spring, before talented freshmen like
Darius White
,
Mike Davis
and
Demarco Cobbs
arrive on campus.

Texas A&M Aggies
Spring practice starts
: March 23
Spring game
: April 17
1. New defensive coordinator Tim DeRuyter
, who built one of the country's best units at Air Force last season. He inherits an A&M defense that was woefully porous last season and will switch to a 3-4 scheme. Nine starters are coming back on defense, including pass-rushing specialist Von Miller. DeRuyter will spend the spring trying to install his system and getting his players comfortable with it.
2. Offensive line
. The Aggies must replace three starting offensive linemen: left tackle Michael Shumard, center Kevin Matthews and right tackle Lee Grimes. Juniors Joe Villavisencio and Danny Baker and sophomore Stephen Barrera have to be ready to step up this spring.
3. Special teams
. The Aggies' special teams weren't so special last season, as they ranked 104th in net punting, 91st in kickoff return defense and 49th in kickoff returns among FBS teams. Aggies coach Mike Sherman is putting a new emphasis on special teams, which cost his team dearly in its 44-20 loss to Georgia in the Independence Bowl.

Texas Tech Red Raiders
Spring practice starts
: March 7
Spring game
: April 17
1. Quarterbacks
. With former Auburn coach Tommy Tuberville replacing Mike Leach at Texas Tech, senior quarterbacks
Taylor Potts
and
Steven Sheffield
figure to start spring camp on a level playing field. Potts started 10 games last season, throwing for 3,440 yards with 22 touchdowns and 13 interceptions. Sheffield started two games and threw for 1,219 yards with 14 touchdowns and four picks. New offensive coordinator Neal Brown, who was hired from Troy, runs a version of the spread offense, but Tuberville will probably incorporate more of a traditional running game into the offense.
2. Defensive line
. New defensive coordinator James Willis has to replace three starters on his defensive front: ends Brandon Sharpe and Daniel Howard and tackle Richard Jones. Making matters worse, the top two reserve ends in 2009 were seniors, along with the backup nose tackle.
3. Offensive line
. O-line coach Matt Moore, who was retained from Leach's staff, has to replace three starters: center Shawn Byrnes, right guard Brandon Carter and right tackle Marlon Winn. Juniors Justin Keown and Mickey Okafor and sophomore LaAdrian Waddle will probably be given first crack at replacing them. Incoming junior college transfer Scott Smith could play stand-up end in Tech's 3-4 scheme, and junior college defensive tackle Donald Langley might also have an impact in spring practice.