September, 2, 2013
9/02/13
7:00
AM ET
ATHENS, Ga. -- While it might seem odd to criticize an offensive line that helped Georgia generate 545 yards -- on the road in one of the louder stadiums the Bulldogs will visit this season, no less -- it is clear that offensive line coach Will Friend has not settled on a lineup that he loves after Saturday's 38-35 loss to Clemson.
With
Jadeveon Clowney
and South Carolina's fearsome defensive front on deck Saturday, that is not a particularly encouraging sign for the Bulldogs. But Georgia's linemen realize they can't allow themselves to think that way.
[+] Enlarge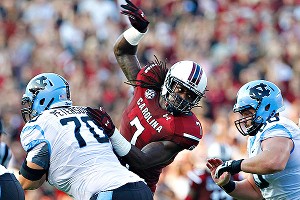 Gerry Melendez/Getty ImagesJadeveon Clowney was unimpressive against North Carolina, but he has starred against Georgia.
"If you take that aspect of it, then you're just going to psyche yourself out," said offensive tackle
Kolton Houston
, who started his first college game at right tackle on Saturday. "You've got to give him credit. I mean Clowney's definitely one of the best players there is, but at the end of the day, you've just got to treat it like any other guy."
Such a philosophy might not be particularly useful for Georgia's coaching staff, which knows it must frequently commit more than one blocker to Clowney -- a player widely viewed as one of the top pro prospects in college football.
Clowney got off to an unimpressive start in last Thursday's win against North Carolina, but he has made his impression felt in two games against Georgia to date.
As a freshman in 2011, he twice sacked Bulldogs quarterback
Aaron Murray
and forced Murray into a fumble that teammate Melvin Ingram recovered for the win-clinching touchdown late in a 45-42 South Carolina victory. Last season, Clowney had two tackles for a loss and a sack as the Gamecocks harassed Murray into the lowest single-game QBR (8.4, when his season average was 78.2, 13
th
-best in the nation) of his college career.
"Whatever happened last year is last year," said Georgia's
Kenarious Gates
, who struggled mightily against Clowney a season ago. "The thing about me is I learned to move on and focus on what's ahead of me."
What's ahead is a chance for redemption, not just for Gates, but for an entire offensive line that turned in an embarrassing effort in last season's 35-7 loss to the Gamecocks. But it's unclear who will line up on the edge to defend against Clowney,
Chaz Sutton
and South Carolina's other pass rushers.
Friend experimented with several lineups in Saturday's opener, to mixed results at best. While Georgia generated more first downs, rushing yards and passing yards, averaged more yards per play and led in time of possession, the line also committed a handful of costly penalties and surrendered four sacks -- more than in any game last year except one, when they allowed five to Ole Miss.
Three of those sacks came in the second quarter, when Clemson's defense put the clamps on a Georgia offense that moved the ball at will early in the game. Tigers defensive end
Vic Beasley
zipped around flailing left tackle Gates on one third-down rush to nearly decapitate Murray with a vicious blind-side blow that forced a punt.
On Georgia's next possession,
Stephone Anthony
got around right tackle Houston and knocked the ball away from Murray at the Bulldogs' 20-yard line, forcing a fumble that Clemson's
Spencer Shuey
recovered at the 16 to set up a short touchdown drive.
And on the final possession of the first half,
Tavaris Barnes
blew past Houston -- now playing left tackle -- to take down Murray near midfield and short-circuit Georgia's attempt to drive for the go-ahead points just before halftime.
Clemson added one more sack on Georgia's first possession of the second half and the Bulldogs otherwise kept Murray upright. Some key damage had already been done, however, and Georgia's offense never regained its early momentum.
"We definitely had our ups and downs, but at the end of the day it's a loss and Aaron got his jersey dirty," Houston said.
Gates lost weight in the offseason, partially out of a desire to be quicker on his feet so he could more easily contend with speed rushers like Beasley and Clowney.
"I felt like that would make me a better player -- lighter on my feet and quicker and it's lighter on my knees, as well," Gates said last week. "I feel like doing it for me, doing it for the team, it would make me a more athletic player. I want to be that guy, and overall it's been helpful."
Clowney presents the biggest challenge of the season for Georgia's pass protectors, though, and it seems unlikely that Friend and Bulldogs offensive coordinator Mike Bobo will make one player responsible for the Gamecocks star. Count on Georgia to devote tight ends and running backs to Clowney's side, as well, to assist the tackles against the player who totaled 23.5 tackles for a loss and 13 sacks a season ago.
And as Bulldogs coach Mark Richt pointed out, the Bulldogs will also enjoy the benefit of playing at home, unlike in Saturday's loss. Georgia relied on silent snap counts because of the noise present in Death Valley, but the friendly confines of Sanford Stadium will allow the Bulldogs to vary their cadences and prevent Clowney and company from jumping the snap count so easily.
"I think the times we got beat in my opinion, we just got beat off the snap," Richt said. "We'll have our cadence next week and that will help. If we were at South Carolina, it would be a little bit tougher, but I think it will help when we get off on the cadence."
May, 18, 2011
5/18/11
9:59
AM ET
Much of the focus in Athens has centered around who will replace A.J. Green as Georgia's big-play receiver and whether prized freshman running back Isaiah Crowell can come right in and pump new life into the Bulldogs' running game, especially now that
Washaun Ealey
is gone.
But as we creep toward June, a new issue has surfaced -- depth on the offensive line.
[+] Enlarge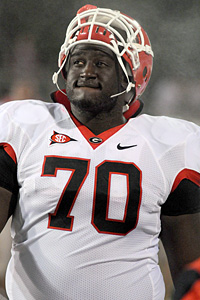 Jeff Vest/Icon SMIGeorgia's depth took a hit Tuesday when A.J. Harmon left the team.
Junior tackle A.J. Harmon left the team Tuesday for what coach Mark Richt said were personal reasons, although academics sidelined Harmon for the Liberty Bowl last season. Harmon was a potential starter at right tackle, and at the very least, was going to be the Bulldogs' third tackle capable of filling in on both the left and right side. That's two tackles that the Bulldogs were counting on for next season that won't be around. Senior Trinton Sturdivant, who started seven games at left tackle last season, suffered a season-ending knee injury during the spring.
Undoubtedly, first-year offensive line coach Will Friend will be working a few guys in different spots when preseason camp begins in order to build some depth.
Senior Cordy Glenn will open the preseason at left tackle and was probably going to be the starter there even before the injury to Sturdivant, who was expected to slide over to right tackle. Senior Justin Anderson, who was on defense last season before undergoing surgery for turf toe and missing all but one game, is the starter at right tackle entering the preseason.
Senior Ben Jones is solid at center with sophomore Kenarious Gates penciled in at left guard and sophomore Chris Burnette at right guard.
As it stands now, Gates would probably be the Bulldogs' third tackle and could end up moving there. He started three games as a true freshman last season at right guard.
Redshirt freshman Kolton Houston showed enough promise this spring that the Georgia coaches feel like he could also come in and play guard if Gates moves to tackle.
But among Gates, Burnette and Holston, they have a combined three college starts.
The two wild cards at tackle are redshirt freshman Brent Benedict and sophomore Austin Long, but there are health concerns with both players. Benedict had a serious knee injury his senior season of high school that also included nerve damage. Long underwent back surgery and missed the entire 2009 season. He was also out this spring after tearing a pectoral muscle in practice.
The Bulldogs may have to look to a true freshman or two for depth next season. Watts Dantzler, Zach Debell and Xzavier Ward are all projected to play tackle in college.
May, 3, 2011
5/03/11
3:45
PM ET
Georgia assistant coaches Tony Ball and Bryan McClendon received significant pay raises,
according to a report
by the Atlanta Journal-Constitution.
Ball, Georgia's wide receivers coach, has been on coach Mark Richt's staff since 2006 and is set to make $200,000, which is up from the $165,480 he made last year.
McClendon, who joined the Bulldogs' staff as the running backs coach in 2009, was previously one of the lowest-paid SEC assistants. His salary was $90,000 a year, but he will now make $200,000 each year.
Georgia athletic director Greg McGarity said the raises were results of other schools reaching out to Ball and McClendon. McGarity declined to get into what schools contacted the coaches, but did say that the raises were approved in February and March.
"All I can say is they were legit offers," McGarity told the AJC. "I think the key is continuity. We had already lost two coaches to other schools. Continuity of staff is important to me and to Mark and we thought it was important to maintain stability, especially.
"They're well-deserved. Both of these men are tremendous coaches who work very hard and were underpaid, in my opinion. We had some momentum going after recruiting and they had a lot to do with that. All signs are pointing up and we needed to be proactive. We will always be proactive."
The news of Ball's raise comes just days after the Bulldogs had two wide receivers drafted in the 2011 NFL draft. Junior
A.J. Green
went fourth overall to the Cincinnati Bengals and senior
Kris Durham
went in the fourth round to the Seattle Seahawks.
Green, who was arguably the best receiver in the draft, caught 57 passes for 848 yards and nine touchdowns in his shortened 2010 season. He finished his career at Georgia with 166 receptions for 2,619 yards and 23 touchdowns.
Durham was second on the team with 32 catches for 659 yards and three scores. He finished his college career with 64 receptions for 1,109 yards and four touchdowns.
McClendon has a chance to really earn his new paycheck this fall. He has the responsibility of coaching up a talented but unproven receiving group. Junior
Tavarres King
returns as the most experienced wideout and moved to Green's flanker position this spring. He and quarterback
Aaron Murray
developed good chemistry this spring and King figures to be the go-to-receiver in Georgia's offense.
Behind him, it's a bit of a mystery.
Marlon Brown
and
Rantavious Wooten
could have the most pure talent of the bunch, but neither has yet to make much of a contribution at Georgia. Brown caught just 11 passes for 133 yards and a touchdown last year, while Wooten snatched seven balls for 41 yards and a score.
The good news for Ball is that both seemed to have their internal light bulbs come on during spring, but the next step is having that carry over to fall.
As for McClendon, he's got a stable of running backs, but inconsistency is an issue. Senior
Caleb King
made vast improvements in practice, but never really broke away from the rest of the running back pack.
Washaun Ealey
is easily the most gifted runner, but off-the-field issues have him crammed in Richt's doghouse. For now, we don't know where Ealey fits in with the running backs.
Next you have
Ken Malcome
,
Carlton Thomas
and incoming freshman Isaiah Crowell. Richt didn't hesitate when Crowell signed to say that he could be the guy this fall. Crowell brings great speed, athleticism and strength to the position, but he's young. Malcome and Thomas battled injuries this spring, but Malcome impressed in Georgia's spring game.
Both coaches have their work cut out for them this fall, but getting strong numbers out of their groups will make them well worth the recent investment.
Of note:
"Salary actions" were also completed for new offensive line coach Will Friend, who will earn $200,000 this year, and new linebackers coach Kirk Olivadotti, who will earn $250,000.
March, 10, 2011
3/10/11
4:54
PM ET
Schedule:
The Bulldogs will practice once on Thursday afternoon and then take next week off for spring break before returning to spring drills.

What's new:
Will Friend takes over for Stacy Searels as offensive line coach, and Kirk Olivadotti is the new inside linebackers coach. In addition, Joe Tereshinski was promoted to director of strength and conditioning.
On the mend:
Linebackers Dexter Morant (shoulder) and T.J. Stripling (knee) will be held out of spring practice.
On the move:
Sophomore Alec Ogletree is moving from safety to inside linebacker. Senior DeAngelo Tyson is shifting from nose guard to defensive end. Senior
Justin Anderson
is moving back to the offensive line and will compete for one of the starting guard spots after spending an injury-marred season at nose guard a year ago. Senior Cordy Glenn will move over to right tackle after starting for three years at guard. Christian Robinson will slide into Akeem Dent's middle linebacker spot. Sophomore Jarvis Jones heads into the spring as the starter at strong side outside linebacker.
Key battle:
Georgia defensive coordinator Todd Grantham is looking for more consistency at the free safety position. Senior Jakar Hamilton and junior Shawn Williams will battle it out this spring, although Grantham said another possibility could be junior Sanders Commings moving from cornerback to safety.
New faces:
He's not entirely new, but Jarvis Jones will be on the field for the first time this season. He practiced last season but couldn't play in games after transferring from Southern California. Also, signees Chris Conley, a receiver, and Christian LeMay, a quarterback, enrolled early and will go through spring practice.
Breaking out:
After catching 23 passes as a freshman and 26 passes last season, junior tight end
Orson Charles
is primed for an All-SEC season in 2011. He's had a great offseason and is pushing a chiseled 250 pounds. The Bulldogs plan to move him around and use him in a number of different ways. He's athletic enough to split out wide and make things happen on the perimeter and is an impossible matchup for linebackers down the middle of the field.
Don't forget about:
Cornerback Brandon Boykin elected to come back for his senior season after checking out his draft stock. Getting him back was huge for the Georgia secondary and also solidifies the Bulldogs' special teams as the best in SEC. Boykin returns as one of the most polished cornerbacks in the league and is also one of the SEC's most dangerous return specialists. He's returned four kickoffs for touchdowns during his career.
All eyes on:
Quarterback
Aaron Murray
had a terrific freshman season with 3,049 passing yards, 24 touchdown passes and eight interceptions. But gone are his top two receivers, including
A.J. Green
. More than ever, this is Murray's offense now, and establishing the right kind of chemistry and timing with his new corps of receivers this spring will be critical.