April, 29, 2014
Apr 29
11:30
AM ET
Clemson coach Dabo Swinney didn't want to do it.
When he met with former quarterback Chad Kelly on the Monday following Clemson's spring game, Swinney said his original plan was to suspend Kelly -- not dismiss him from the team entirely -- but the meeting "just didn't go well."
"There's just certain things you can't tolerate, and that's just the bottom line," Swinney said. "It wasn't a good meeting. It was a simple decision that was made. He moved on and we moved on."
So did more than half the ACC this spring, to a new era of quarterbacks.
Cole Stoudt
's tenure began swiftly at Clemson, ending what was one of the most intriguing quarterback competitions in the ACC and capping a spring that was filled with quarterback news throughout the conference.
[+] Enlarge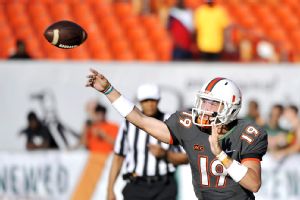 Steve Mitchell/USA TODAY SportsKevin Olsen became Miami's first-string quarterback when Ryan Williams tore his ACL.
At Miami, quarterback
Ryan Williams
tore his ACL, leaving
Kevin Olsen
the undisputed starter heading into summer camp.
At Duke, Brandon Connette announced his decision to transfer to the West Coast, leaving
Anthony Boone
in an unfamiliar role of being the lone leader.
Boston College named Florida transfer
Tyler Murphy
its starter, Syracuse reaffirmed
Terrel Hunt
as its starter,
Justin Thomas
is the main man at Georgia Tech,
Will Gardner
took the lead at Louisville and
Chad Voytik
became the obvious choice at Pitt.
What began as a position up for grabs in the ACC is largely no longer a mystery, as many schools determined their starting quarterback this spring, or at least had separation occur -- if not by performance, then by default. While most of the quarterbacks throughout the league are still unproven (six schools don't have any starting experience returning to the position, and four schools brought in transfers to help), many enter summer camp at least sure of where they stand on the depth chart.
"I had my meeting with the coaches before all that happened, and I felt comfortable with where I was," said Stoudt, who will make his first career start in the season opener at Georgia. "They said I was going to be the guy and everything. I know there were some things that happened, but I'm happy with the situation, and I'm happy I'm the guy going into fall camp, so it's exciting."
Nine of the 14 schools in the ACC will introduce a first-year starting quarterback this fall. Of the 11 teams that entered spring with quarterback competitions, eight found answers -- or at least had an obvious front-runner emerge.
At Miami, Williams had distanced himself from Olsen through his decision-making and accuracy, but the torn ACL meant an instant promotion for Olsen. Still, coach Al Golden said his confidence in the position remains high.
"I think we're not going to change what we do," Golden said. "We need to do a really good job of establishing the running game, keeping it simple, doing what we do best. Getting into more third-and-manageables. We were in way too many third-and-longs last year to possess the ball and convert. Clearly the two young men we have here on campus right now can do it. The two coming in will also have an opportunity to compete."
[+] Enlarge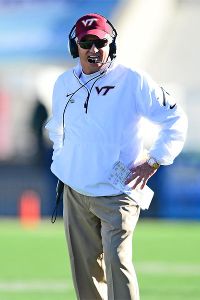 Andrew Weber/USA TODAY SportsVirginia Tech coach Frank Beamer is still looking for a starting quarterback to emerge.
The only three schools that didn't come close to naming a starter this spring were Virginia Tech, Virginia and Wake Forest. It's not a stretch to say that the Hokies' hopes of returning to the ACC title game hinge on having a dependable quarterback emerge, and as one of the premier programs in the Coastal Division, it will continue to be one of the most-watched storylines of the summer. Those within the program have been eagerly awaiting the arrival of Texas Tech transfer
Michael Brewer
and true freshman
Chris Durkin
. The staff has made it perfectly clear they won't name a starter until those two are added to the competition this summer.
"The big question really is the quarterback," coach Frank Beamer said. "I think
Mark Leal
,
Brenden Motley
and
Andrew Ford
all have had their moments. Some of it's good; some of it's not as good as you like. I think Michael Brewer coming in, Chris Durkin coming in, will enter into the competition there. We'll see how that ends up. But that's certainly the critical question for our football team right now."
The critical question for the rest of the conference becomes how these new starters will perform when it counts. Now that most of them have earned their starting jobs, there's pressure to keep them.
"I've said that if we were to play tomorrow, [
Will Gardner
] would run out there as our starter," Louisville coach Bobby Petrino said. "… There will certainly be competition for it in the fall. He'll have a chance to go out each day and prove that he's either the better quarterback, or someone passes him by."
More often than not, the ACC's new quarterbacks were able to prove it this spring.
April, 8, 2014
Apr 8
9:00
AM ET
LOUISVILLE, Ky. – It is hard to miss the giant poster of
Teddy Bridgewater
hanging in the lobby of the Louisville football complex, celebrating the Cardinals' momentous win over Florida in the Allstate Sugar Bowl two years ago.
Bridgewater's rise was concurrent to the football program's latest ascent to national prominence, but the truth is he was the most notable player on a defensive-minded football team led by a defensive-minded coach who stressed a physical, ball-control style of football that did not always showcase its talented quarterback.
[+] Enlarge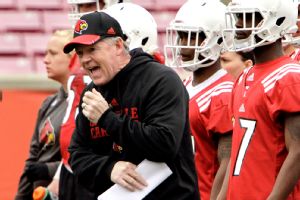 AP Photo/Garry JonesBobby Petrino is stepping up the tempo in practice in his second stint at Louisville.
Nobody will ever say the same about offensive guru Bobby Petrino, who has single-handedly made everything different this spring in his second stint as Louisville's head coach. His philosophy is different. Practices are different. Schemes are different. Strength and conditioning is different. Even conference affiliation is soon to be different.
Petrino says he is different, too, eight years after he left the Cardinals for the NFL. A well-publicized scandal at Arkansas three years ago -- a scandal many thought could end up ruining him -- forced him to get his priorities in order.
He now has his second chance to do right after Tom Jurich gave him a lifeline in January following Charlie Strong's departure for Texas. Petrino's reputation, however, remains in limbo, putting more pressure on his football acumen. When asked to note how he and the program differ from when he was hired the first time in 2003, Petrino says, "I don't look at the differences a whole lot. I'm having a great time."
While Petrino the man needs to be different, Louisville is banking on the same Petrino who initially took Louisville to the heights Strong recently matched. To do that, Petrino is coaching the way he has always coached. Practices are now run at a much faster tempo than under Strong. Petrino is constantly in his players' faces, yelling at them to get it right. All that was quite an adjustment initially. "Hustle!" and "Go faster!" are two key phrases that have returned to the Louisville lexicon.
"At first, everybody was looking around like, 'What's going on?' but for the most part, everybody's taken it in stride," said defensive end
Sheldon Rankins
. "We have gone along with everything he's saying, and been pretty positive about it because at the end of the day, we're all a team. We're all here together and we have to make it work."
The changes have been especially dramatic on offense, and most especially with the quarterbacks. Bridgewater might have been the centerpiece in Louisville the last three years, but he is gone, and that leaves quite a conundrum. Petrino places much heavier demands on quarterbacks; they have more checks to make, more complicated schemes to learn and different timing routes to perfect with their receivers, all while practicing at a breakneck pace.
No passer on the current roster has started a college game.
Will Gardner
, who was the backup last year,
has taken the lead
in the quarterback competition, but the offense has much to improve on before it functions the way Petrino wants it to function. One practice last week lasted 2½ hours, and several practice periods were repeated until the players got everything right.
"They think they're going fast right now, but we're not even close to where we need to be," Petrino said. "My dad gave me a bad time about it. He said, 'That was the longest practice I've ever seen of yours,' and I said, 'It's because we're not going fast enough to get the reps in.' We have a set amount of reps we have to get done, but we can't go quick enough."
"

They think they're going fast right now, but we're not even close to where we need to be.

"

-- Louisville coach Bobby Petrino
Part of the issue is players not being in the type of condition they need to be in to go at optimum speed. Petrino says players did make strides in winter workouts, but they need a full offseason program to meet the demands that are now required.
Up-tempo offense means the defense has to practice faster, too. Defensive coordinator Todd Grantham, who is installing a new base 3-4 scheme that will feature players used in multiple ways, says, "The tempo thing is very good for both sides of the ball because it makes you think fast, react fast and get ready to play," adding that the pace of practice also helps create mental toughness.
Not much has happened in the way of rebellion, either. The transition from one staff to another has been as smooth as can be expected, especially given the radical differences between style and scheme. This spring, being different never felt so good.
"Everybody's excited," Gardner says. "Everybody knows the history of all these coaches and how successful their teams have been, so everybody's looking forward to what this year brings."
March, 10, 2014
Mar 10
9:00
AM ET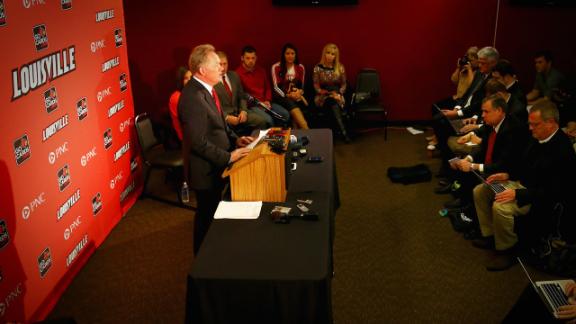 There are universal challenges every first-year coach must face, whether he is a veteran or a newbie: getting to know new players, implementing schemes, setting a foundation, making sure there is buy-in across the locker room.
Then there is the challenge facing Bobby Petrino at
Louisville
. As he embarks on his second stint with the Cardinals, he has to go through all these getting-to-know you moments while also:
Replacing potentially the No. 1 quarterback in the upcoming NFL draft.
[+] Enlarge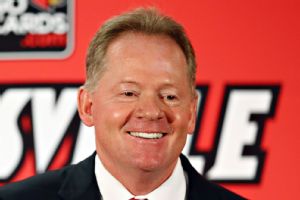 Andy Lyons/Getty ImagesIn his first season back at Louisville, coach Bobby Petrino has several questions on both sides of the ball.
Replacing his leading tackler.
Replacing his leading sack producer.
Replacing his all-conference tandem at safety.
But wait, there's more.
Petrino also must get his players prepared for a much more grueling schedule, in a much more grueling conference home. Gone are the days when Temple, UConn and USF clogged the league schedule. The Cards open at home against Miami without much let-up to follow, as they join Florida State and Clemson in the much tougher ACC Atlantic Division.
Of all these tasks, one stands out as the most difficult.
"The biggest challenge for us is to replace a guy like
Teddy Bridgewater
, one of the premier players in the country," Petrino said in a recent phone interview. "We have to go out in spring and compete and find out who it's going to be. We have a couple guys who have the talent, just real inexperience."
Will Gardner
and
Kyle Bolin
are at the top of the list when spring practice opens next week. Gardner spent last season backing up Bridgewater. He played in five games, and has attempted 12 career passes. Bolin, a redshirt freshman, has never played in a college game. Incoming freshman
Reggie Bonnafon
, a four-star recruit, joins the mix this summer.
Petrino is known as an offensive guru, but growing pains at the position are expected. Bridgewater, who guided the Cardinals to 23 wins over the past two seasons, had plenty of them when he took over as a starter during his freshman season in 2011. But he blossomed each successive year.
He was the unquestioned leader of this offense last season and an absolute extension of then offensive coordinator Shawn Watson. Bridgewater had the ability to change plays at the line based on what he saw in the defense. He rarely made the wrong call. That type of functionality in an offense takes years to develop.
On defense, Louisville loses
Preston Brown
(leading tackler),
Marcus Smith
(leader in sacks), safeties
Hakeem Smith
and
Calvin Pryor
(another potential first-rounder), and three other starters. The Cards were one of the most underrated defenses in 2013, ranking No. 1 in the nation in total defense and rushing defense and No. 2 in scoring defense.
"

The biggest challenge for us is to replace a guy like Teddy Bridgewater, one of the premier players in the country.

"

New Cardinals coach Bobby Petrino on his team's transition to the ACC.
Finding replacements for Hakeem Smith and Pryor ranks among the biggest challenges on this side of the ball. One player to watch here is
Gerod Holliman
, a former ESPN 300 recruit who was rated as the No. 3 safety in the class of 2011. He was Louisville's highest-rated player in that class, which also included Bridgewater, Pryor and terrific returning receivers
DeVante Parker
and
Eli Rogers
.
"We do have some big and talented guys there [at safety], but they're inexperienced," Petrino said. "They're going to have to be students of the game, because the most impressive things with the safeties we lost were how intelligent they were and how they ran the defense."
One more challenge is building depth, particularly on the offensive and defensive lines. Generally when teams transition to better conferences, they are at a deficit in both categories. The good news is Louisville returns four starters on the offensive line. In fact, the top three players returning with the most career starts are on the offensive line --
Jake Smith
(38),
John Miller
(34) and
Jamon Brown
(27).
The defensive line, however, returns only
Lorenzo Mauldin
among its starters.
"Depth is huge, particularly up front to be able to rotate your defensive linemen in to stay fresh, and be ready to rush the passer in the second half when the game is on the line," Petrino said. "One of the advantages we have coming in is we are going to be a fast team.
"We're very athletic in the secondary and at wide receiver so when you look at the game, it's a lot about speed and athleticism at the skill positions and the speed of your defensive front, the physicalness of your offensive front. We have starters coming back on the offensive line that are really good players, but have depth issues there that we have to solve."
The speed and athleticism are hugely important, especially when you look at the speed and athleticism of Florida State and Clemson. Plus, Petrino and new defensive coordinator Todd Grantham have coached in the SEC, the model for speed and athleticism. Their experiences there will allow them to help their players understand what to expect.
"When you play in a major conference, you have to understand each week is a new week," Grantham said. "Anyone on your schedule can beat you. Enjoy your win on Saturday, but come Sunday go back to work. You've got to maintain that consistency."
All while dealing with a major set of challenges.
March, 6, 2014
Mar 6
10:00
AM ET
Setting up spring in the ACC Atlantic.
Boston College
Spring start:
March 12
Spring game:
April 12

What to watch:
Big shoes to fill: Steve Addazio helped BC make huge strides in 2013, but the task of keeping the momentum going gets much harder without star running back and Heisman finalist Andre Williams, who rushed for an NCAA-best 2,177 yards and 18 touchdowns. Tyler Rouse and Myles Willis will attempt to fill the vacancy this spring, and both have potential. Willis averaged nearly 6 yards per carry as Williams' primary backup last year. The real intrigue might wait until fall, however, when four freshmen running backs arrive on campus.
Murphy makes the move: It's an open competition at quarterback after Chase Rettig's departure, but there's no question the most intriguing player in the race is Florida transfer Tyler Murphy. The fifth-year senior worked with Addazio at Florida, and he'll open the spring competing with redshirt freshman James Walsh and early enrollee Darius Wade. That's a deep enough bench that BC didn't worry about moving Josh Bordner, last year's backup, to tight end. With both of last year's starting tackles gone, too, Murphy's experience could be even more important in determining the outcome of the QB battle.
Restocking the LBs: Even at its low points in recent years, Boston College managed to churn out plenty of talented linebackers, but the position gets a massive overhaul this year. First-team All-ACC star Kevin Pierre-Louis (108 tackles in 2013) is gone, as is Steele Divitto (112 tackles). That leaves junior Steven Daniels (88 tackles, 5 sacks) as the lone returning starter. Josh Keyes adds some experience, but it'll be a group in transition this spring.
Clemson
Spring start:
March 5
Spring game:
April 12

What to watch:
Replacing Boyd: The talk of Clemson's spring camp will no doubt surround the quarterbacks, as senior Cole Stoudt, sophomore Chad Kelly and early enrollee Deshaun Watson vie for the job. Stoudt's experience makes him the early favorite, but it's Watson, a dual-threat QB with immense talent, who could steal the show. Coach Dabo Swinney has already lauded Watson as perhaps the most talented quarterback Clemson has signed, so all eyes will be on the freshman to see if he can back up all that hype with a strong spring.
Skill-position shuffling: If the QB battle is the headliner, there are plenty of significant sideshows on offense this spring. Clemson waved goodbye to receivers Sammy Watkins (1,464 yards, 12 TDs) and Martavis Bryant (828 yards, 7 TDs) and tailback Roderick McDowell (1,025 yards, 5 TDs). That means a massive overhaul on offense, where there's no clear-cut bell cow at running back (Zac Brooks and D.J. Howard return as potential options) and the receiving corps will be looking for some new top targets.
Dominance up front: On offense for Clemson, there's plenty of concern for what the Tigers lost. On defense, however, the excitement is all about what they're bringing back. Clemson's defensive line, in particular, could be one of the nation's best. When All-American Vic Beasley announced his return for his senior season, the Tigers knew they could have something special. Add sophomore lineman Shaq Lawson and senior Stephone Anthony at linebacker and Clemson has all the makings of a dominant pass rush.
Florida State
Spring start:
March 19
Spring game:
April 12

What to watch:
The running backs: After leading FSU in rushing three straight years, Devonta Freeman is gone. So, too, is James Wilder Jr. But the Seminoles enter spring with a quartet of intriguing options to replace their departed stars, led by Karlos Williams (730 yards, 11 TDs in 2013) and Dalvin Cook (No. 21 on the 2013 ESPN300). Mario Pender, who missed last year with academic issues, also figures to be in the mix.
The defensive front: There are a wealth of question marks here, both in terms of personnel and scheme. With Timmy Jernigan, Telvin Smith and Christian Jones gone, there are plenty of jobs up for grabs. The development of Mario Edwards Jr., Eddie Goldman and Terrance Smith will be key, but with Charles Kelly taking over the defense, it's also still a bit unclear how much the scheme will deviate from what Jeremy Pruitt ran with so much success in 2013.
Jameis Winston's swing: A year ago, the big question was who would win the QB battle. Now, Winston's got a Heisman Trophy and will be a favorite to win it again in 2014. So the intrigue surrounding the FSU star QB is more on the baseball field, where once again, he'll be splitting time this spring. Perhaps the bigger question is how the rest of the QB depth chart shakes out, with Sean Maguire the elder statesman and John Franklin III looking to make his move.
Louisville
Spring start:
March 18
Spring game:
April 11

What to watch:
Bobby's back: After a seven-year hiatus that included an abrupt departure from the Atlanta Falcons and a damaging scandal at Arkansas, Bobby Petrino is back in charge at Louisville insisting he's a changed man. Fans will be watching closely to see if he has changed his stripes away from the field, but also whether he can rekindle the same offensive fireworks he delivered in his first stint with the Cardinals.
Replacing Bridgewater: It's an open QB battle, and for Petrino, it's among the first chances he'll have to see the players vying to replace departed star Teddy Bridgewater in action. Sophomore Will Gardner is perhaps the favorite, but he has just 12 career pass attempts. Redshirt freshman Kyle Bolin is close behind, while Reggie Bonnafon is set to arrive in the fall.
New look on D: Louisville finished the 2013 season ranked second nationally in scoring defense, trailing only national champion Florida State. But this spring, things will look a bit different for the Cardinals, as Todd Grantham takes over as the new defensive coordinator after being lured from Georgia. Grantham figures to bring a 3-4 scheme to Louisville, which will certainly shake things up a bit. Defensive end Lorenzo Mauldin missing the spring with a shoulder injury only clouds the situation further.
NC State
Spring start:
March 4
Spring game:
April 12

What to watch:
Brissett takes the reins: The sting of last year's winless ACC season was barely in the rearview mirror before coach Dave Doeren named Florida transfer Jacoby Brissett his new starting quarterback. Brissett spent last year on the sideline, but apparently Doeren saw enough during practice to comfortably wave goodbye to Pete Thomas, who announced his transfer. There will be ample spotlight on Brissett this spring as he tries to revive the underperforming NC State passing game.
The new faces: If 2013 was about cleaning house, this spring begins the far more difficult project of rebuilding. For NC State, that means plenty of new faces, including a whopping seven early enrollees headlined by safety Germain Pratt. While there are ample holes for Doeren to fill in Year 2, these incoming freshmen could certainly push for starting jobs and bring an influx of depth that the Wolfpack sorely missed last year.
Shoring up the lines: NC State's 2014 signing class included 11 offensive and defensive linemen, and that's just the start of the overhaul at the line of scrimmage. Last season, the Wolfpack allowed the second most sacks in the ACC (35) on offense while its defensive front recorded the fewest sacks in the conference (20). That's a formula for disaster, and Doeren understands NC State must get much better in the trenches. Brissett's arrival at QB could help, but the bottom line is NC State needs to see improvement on both sides of the line, and it needs to start this spring.
Syracuse
Spring start:
March 18
Spring game:
April 19

What to watch:
Hunt's next step: 2013 was a roller coaster season for Terrel Hunt. He lost the QB battle in fall camp, stepped in as starter after two weeks and was dominant, struggled badly through the midsection of the season, then closed strong with back-to-back come-from-behind wins. Now that he has experience, it will be interesting this spring to see how much he's progressed. The talent is there, and spring practice should give Hunt a chance to refine it a bit more.
The defensive front: Syracuse finished its first ACC season ranked fourth in rushing defense and third in sacks despite myriad personnel issues entering the year, but more questions remain as the Orange look toward 2014. With star lineman Jay Bromley and veteran linebacker Marquis Spruill gone, the Orange are looking to fill sizable holes. Robert Welsh figures to be the anchor of the Syracuse pass rush, and the Orange could benefit from the return of Donnie Simmons, who missed 2013 with a knee injury.
Secondary concerns: Syracuse got a chance to learn what life was like without top cover corner Keon Lyn after the senior fractured his kneecap late last year, but while Brandon Reddish did an admirable job as his replacement, a whole new set of questions crops up in the secondary this spring. Syracuse figures to have openings at both corner and safety, and while Julian Whigham, Darius Kelly and Ritchy Desir offer options, there's a lot to be decided on the practice field this spring.
Wake Forest
Spring start:
March 25
Spring game:
April 26

What to watch:
Clawson's early impact: It's been 14 years since Wake Forest opened a spring camp with someone other than Jim Grobe calling the shots, so there's no question this will be an intriguing few weeks in Winston-Salem. Dave Clawson takes over after leading Bowling Green to a MAC championship, and he inherits a major rebuilding job. First up for the coach will likely be creating an offensive identity -- something Grobe couldn't do in 2013.
Identifying some offense: If 2013 was an offensive slog for Wake Forest, 2014 threatens to be much, much worse. As bad as things got at times last year, the Deacons at least had veterans to rely on. This season, Wake's leading passer (Tanner Price), rusher (Josh Harris), receiver (Michael Campanaro) and top tight end (Spencer Bishop) are all gone. On the plus side, plenty of younger players saw action in 2013. The job this spring is to figure out who can take a big step forward entering the 2014 campaign.
The defensive scheme: Wake appears to be moving away from the 3-4 that was a hallmark of recent seasons, as new coordinator Mike Elko tries to maximize the talent remaining on the roster. Without veteran lineman Nikita Whitlock, Wake's defensive front will have a far different look in 2014, and this spring will largely be about Elko identifying playmakers and tweaking his system to fit their skill sets.
March, 6, 2014
Mar 6
9:00
AM ET
Virginia Tech quarterback
Mark Leal
looked around his position meeting room this winter and realized just how empty it was. True freshman
Andrew Ford
, who enrolled early, and redshirt freshman
Brenden Motley
were his only company.
None of them has ever started a game.
"This is probably the most slim it's been since I've been here," said Leal, a fifth-year senior. "We've always had at least five or six guys, but right now it's only three."
[+] Enlarge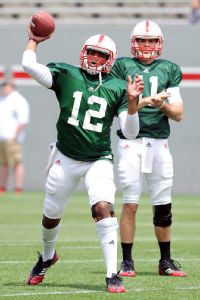 Lance King/Getty ImagesJacoby Brissett (12) is one of several transfers who could move into starting roles in the ACC in 2014.
Sounds like the entire ACC, where six schools have absolutely zero quarterbacks returning with any starting experience, and four schools brought in transfers to help.
As spring practices begin throughout the conference, the ACC kicks off its 2014 season with a complete overhaul at the quarterback position. It was only a year ago that Florida State's
Jameis Winston
was an unproven rookie who had yet to start a game. Now, the 20-year-old reigning Heisman Trophy winner is the veteran of the league, as nine of the 14 schools will have a first-year starting quarterback, and the competition is open at 11 programs. Florida State, Duke and NC State are the only programs that have definitively named starters, and even NC State doesn't know what to expect out of first-year starter and Florida transfer
Jacoby Brissett
.
Brissett, though, knows what's expected.
"Go make sure it was earned," he said, "not given."
Count on that to be a trend in the conference this spring.
Clemson, Georgia Tech, Louisville, Pittsburgh, Virginia Tech and Wake Forest are all starting from scratch, without any starting experience at the quarterback position. Some of the league's most recognizable names have to be replaced, including
Tajh Boyd
,
Logan Thomas
and
Teddy Bridgewater
. Coaches at North Carolina, Syracuse and Virginia have deemed their competitions open, in spite of experienced starters returning.
"I looked at that and was kind of surprised," said Georgia Tech quarterback
Justin Thomas
, the frontrunner to take over the job after
Vad Lee
's decision to transfer. "It should even the playing field out a little bit, but at the same time, we all have to go through our parts."
Not to mention spring and summer auditions.
Clemson coach Dabo Swinney said it's likely the competition between
Chad Kelly
,
Cole Stoudt
and
Deshaun Watson
will extend beyond this spring -- and possibly into the season.
"Going in, Cole starts out as No. 1 simply because of where we finished the season -- basically by default, if you will," Swinney said. "He's the senior. It's basically his to lose going in, but it's incredibly close. You're talking about -- in my opinion -- three guys who are going to play in the NFL. I believe with all my heart that Cole Stoudt is going to play in the NFL. And the same thing with Chad Kelly, and the same thing with Deshaun Watson, if they stay healthy. So you've got three NFL players competing to be the guy, and there's nothing wrong with that. Some people say, well, if you don't have one quarterback then you have none. But that's not the case here."
It could be the case elsewhere, though.
Virginia Tech (Michael Brewer), Boston College (
Tyler Murphy
), Miami (
Ryan Williams
) and NC State (Brissett) are all hoping that transfers can give the position an immediate boost, but former Texas Tech quarterback Brewer won't join the Hokies until this summer. While none of them has started a game at their current schools, all but Brewer have started at least three games at their previous programs.
Williams started 10 games while he was at Memphis, and he's the leading candidate to replace
Stephen Morris
, but "it is wide open," according to offensive coordinator James Coley. And Williams knows it.
"You have to earn it, you have to earn everything," Williams told the South Florida Sun-Sentinel. "I don't want anything given to me. If it's given to me, I didn't work hard enough."
Brissett started three games at Florida, and Murphy started six games for the Gators after starter
Jeff Driskel
was lost for the season. Murphy went 2-4 with 1,216 yards, six touchdowns and five interceptions before missing the final three games of the season with a shoulder injury.
Nothing is guaranteed in Chestnut Hill this spring, either, as the Eagles also have
Darius Wade
, a true freshman who enrolled early, and
James Walsh
, who will be a redshirt freshman.
[+] Enlarge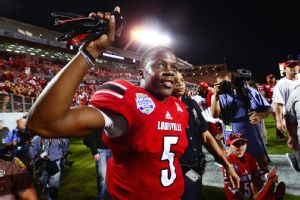 David Manning/USA TODAY SportsThe Cardinals are about to embark on life without Teddy Bridgewater.
"They're all real green," offensive coordinator Ryan Day said of the Eagles' quarterbacks. "It's obviously an open competition. I'm looking forward to getting out there and seeing them throw and run the offense. We'll see. All three of these guys are mobile, they can run. They're dual threats. We're going to use that as a weapon for us. We're not going to totally change what we do, but we'll add that component to it."
All eyes will be on Louisville's quarterback competition, as the Cardinals enter their first season in the ACC without Bridgewater, who left early to enter the NFL draft.
Will Gardner
and
Kyle Bolin
will be the top two candidates this spring, and they'll be joined by incoming freshman
Reggie Bonnafon
this summer.
"It's wide open," first-year coach Bobby Petrino said. "We'll go through spring and see who comes out 1-2-3 and then obviously we'll give Reggie an opportunity in the fall to compete with those guys."
With the addition of Louisville, the ACC enters this season perceived by many to be the strongest it has ever been.
Now it just needs to find a few quarterbacks to help prove it.