May, 7, 2013
5/07/13
12:30
PM ET
Michigan punter
Will Hagerup
has been reinstated to the team but will not play in 2013, the school announced on Tuesday. Hagerup, who was suspended for an unspecified violation of team rules in December, will be allowed to play as a fifth-year senior in 2014.

For now, Hagerup will practice and be involved in all team activities outside of gameday. He led the Big Ten and finished 11th nationally in punting average at 45 yards per attempt in 2012, although he only punted 33 times in 11 games. He was named the first-team All-Big Ten punter in the media vote.
Junior
Matt Wile
started at punter in the Outback Bowl against South Carolina and had a 48-yard average on three attempts, two of which he placed inside the Gamecocks' 20-yard line. Wile averaged 35.9 yards per punt last season, but the more important number is that he put nine of his 12 attempts inside the opponents' 20. Michigan often used him as the "pooch" specialist.
Wile, who also handles kickoffs for the Wolverines, might not have as big of a leg as Hagerup but should be just fine as the starting punter this season. Meanwhile, Hagerup -- who said "the past five months have been an incredible, humbling time for me" in an official school release -- must stay in head coach Brady Hoke's good graces the rest of this year in order to have a shot to win his job back in 2014.
December, 16, 2012
12/16/12
12:30
PM ET
Some bad news for Michigan, which will be without its top cornerback, its award-winning punter and a reserve linebacker for the Outback Bowl on Jan. 1 against South Carolina.
The team announced Sunday that senior cornerback
J.T. Floyd
, senior linebacker
Brandin Hawthorne
and junior punter
Will Hagerup
have been
suspended for the game for an unspecified violation of team rules
. All three players won't travel with the team to Tampa.
"It is an honor to play football for the University of Michigan, and we have high standards and expectations for everyone that represents our program," Wolverines head coach Brady Hoke said in a prepared statement. "These young men used poor judgment in each circumstance, and these suspensions are teaching moments for our team."
Floyd recorded 48 tackles and five pass breakups for the Wolverines this fall, starting all 12 games. Hawthorne had 19 tackles. Hagerup earned the Big Ten's Eddleman-Fields Punter of the Year award after averaging a league-best 45 yards per attempt this fall.
This is the first known disciplinary incident for both Floyd and Hawthorne, whose college careers come to a disappointing end. Hagerup was suspended for the first four games of the 2011 season for violating team rules. It'll be interesting to see how Hoke approaches Hagerup's future as this isn't his first infraction.
Michigan lost starting cornerback
Blake Countess
to an ACL injury in the season opener and turned to
Raymon Taylor
to step in. Junior
Courtney Avery
is expected to step in for Floyd, while sophomore
Delonte Hollowell
and freshman
Terry Richardson
are also available.
Floyd's absence will be felt even though Michigan's secondary performed well most of the season. The fifth-year senior from Greenville, S.C., would have faced some familiar faces in the Outback Bowl. Very disappointing all around.
Sophomore
Matt Wile
will take over the punting duties for Hagerup.
August, 7, 2011
8/07/11
8:15
PM ET
Talented wide receiver Darryl Stonum will have a chance to suit up for Michigan again.
Just not this year.

Wolverines coach Brady Hoke announced Sunday that
Stonum will redshirt the 2011 season
as part of his discipline for a drunken driving arrest in May, Stonum's second such offense during his college career. Stonum, who has been indefinitely suspended following his May 6 arrest, pleaded guilty in June to operating while visibly impaired as part of an agreement.
The team's No. 2 receiver in 2010 will have one season of eligibility remaining in 2012.
Hoke never ruled out Stonum's return to the team, but a significant playing-time suspension seemed likely because of Stonum's previous legal problems (another DUI arrest early in his career, probation violations leading to a three-day jail term). Still, it's never easy for a coach to sit a key player for the entire season. Hoke made a good call here, but it probably wasn't an easy decision.
"While it would be great to have Darryl on the field this season, we feel it is in his best interest and the best interest of our program for him to redshirt," Hoke said in a prepared statement. "Darryl will continue to be an important part of our team and family. He has done everything we have asked him to do, but our number one priority is to help Darryl grow as a person."
Hoke also announced Sunday that punter Will Hagerup is suspended for the first four games and wide receiver
Terrence Robinson
is suspended for a game for an unspecified violation of team rules.
Stonum's size and athleticism will be missed, although Michigan has decent depth at receiver with
Roy Roundtree
,
Junior Hemingway
and others. Hagerup's absence could really sting because Michigan has no other punters on the roster. Incoming freshman Matt Wile, a strong candidate to take over the place-kicking duties, also most likely will punt for the first four games. Wile could be a huge factor for Michigan as it tries to clean up its shoddy kicking game.
Michigan opens preseason practice Monday.
July, 18, 2011
7/18/11
9:30
AM ET
Meant to post this Friday, but we finally wrap up the Big Ten preseason position rankings with the individual specialists. I'll break down the top five kickers, punters and return men in the league (sorry, long snappers).
[+] Enlarge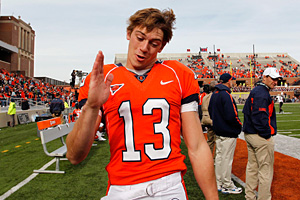 Mike DiNovo/US PresswireIllinois kicker Derek Dimke led the Big Ten with 24 field goals last season.
Although the Big Ten loses its most famous specialist from 2010 -- Michigan State punter Aaron Bates -- and Nebraska says goodbye to All-American Alex Henery, there are a few standout players back in the fold. Quite a few strong punters depart, although keep an eye on the sophomores coming back.
Let's take a look.
KICKER
1. Derek Dimke, Illinois, senior:
Dimke had a terrific junior season, converting a league-high 24 field goals on 29 attempts. He also was perfect on extra-point tries, going 43-for-43, and led the Big Ten with 22 touchbacks. Dimke earned second-team All-Big Ten honors from the coaches and will be on the radar for the Lou Groza Award this fall.
2. Dan Conroy, Michigan State, junior:
Thanks to Conroy, the loss of standout kicker Brett Swenson didn't sting too much for the Spartans. Conroy led the Big Ten in field-goal percentage, converting 14 of 15 opportunities, and missed only one of his 46 extra-point tries. Conroy earned consensus first-team All-Big Ten honors for his efforts.
3. Philip Welch, Wisconsin, senior:
Doesn't it seem like Welch has been at Wisconsin for a decade? The three-year starter enters his final season in Madison after earning honorable mention All-Big Ten honors in 2010. Welch was perfect on 67 extra-point attempts last fall and went 17-for-22 on field-goal attempts.
4. Carson Wiggs, Purdue, senior:
There's no doubt as to who has the strongest leg in the Big Ten, if not the country. Wiggs can connect from just about anywhere, as he showed in April during Purdue's spring game with a 67-yard field goal. His leg strength gets the attention, but Wiggs is a little underrated as an overall kicker. He connected on 15 of 19 attempts in 2010, going 4-for-4 between 40 and 49 yards, and had 11 touchbacks as Purdue led the Big Ten in kickoff coverage.
5. Mitch Ewald, Indiana, sophomore:
Ewald had an excellent freshman season for the Hoosiers, capitalizing on limited opportunities. He finished fourth in the league in field-goal percentage, connecting on 16 of 19 attempts, and he was perfect on 33 extra-point tries. Ewald had five games with multiple field goals and will once again be a big weapon for IU this fall.
PUNTER
1. Brad Nortman, Wisconsin, senior:
Like Welch, Nortman has been a fixture in Madison the past four years and enters 2011 as the league's most experienced punter by far. Nortman averaged 42.7 yards per punt in 2010, blasting eight punts of 50 yards or more and placing 14 punts inside the 20-yard line. He has averaged 42.1 yards per punt during his career.
2. Anthony Fera, Penn State, sophomore:
Fera had an excellent freshman season for Penn State, which improved in punt coverage and other special teams areas. He averaged 41.4 yards per punt, placed 13 punts inside the opponents' 20 and had nine punts of 50 yards or longer. Fera also forced 19 fair catches.
3. Cody Webster, Purdue, sophomore:
Webster helped Purdue address a need at punter and turned in an excellent freshman season. He finished fifth in the Big Ten in punting average (43.3 ypp), booming 17 punts of 50 yards or longer and placing 12 inside the opponents' 20.
4. Will Hagerup, Michigan, sophomore:
Hagerup was the lone bright spot for Michigan's special teams in 2010. He started 10 games and ranked fourth in the Big Ten in punting average (43.6 ypp), a mark that ranked second in team history (minimum of 30 attempts). He placed 11 punts inside the 20.
5. Ben Buchanan, Ohio State, junior:
Ohio State needs to be sharper in the kicking game this fall, and Buchanan will play a huge role. He averaged 41 yards on 44 attempts in 2010, placing 15 punts inside the opponents' 20 and forcing 17 fair catches. Expect Buchanan to take another step in his development this season.
RETURNER
1. Troy Stoudermire, Minnesota, senior:
Already a record-setting return man, Stoudermire needs only 16 kick returns and 189 kick return yards to set NCAA all-time records in both categories. Stoudermire has 2,929 kick return yards, recording 30 runbacks or more in each of the past three seasons. He averaged 27.2 yards on returns in 2010.
2. Jordan Hall, Ohio State, junior:
Hall is likely the Big Ten's best all-around returner. He finished second in the league in kick return average (27.9 ypr) and third in punt return average (9.9 ypr). Hall really emerged as Ohio State's go-to return man last season. It will be interesting to see if his return responsibilities change at all depending on who emerges as the Buckeyes' top running back.
3. Keshawn Martin, Michigan State, senior:
Expect teams to punt the ball away from Martin this fall. He led the Big Ten and ranked 11th nationally in punt return average (14.2 ypr). His touchdown return against Wisconsin set the stage for Michigan State's come-from-behind win. Martin's kick return average of 17.8 yards should increase this fall.
4. Venric Mark, Northwestern, sophomore:
For the first time in recent memory, Northwestern has a true difference maker in the return game. Mark came on strong late in his freshman year, finishing fourth in the league in kick return average (26.2 ypr) with a touchdown runback against Wisconsin. He also showed promise as a punt returner, averaging 12.9 yards on nine attempts.
5. Jaamal Berry, Ohio State, sophomore:
Berry forms a dangerous Buckeye return tandem with Hall. He finished fifth in the league in kick return average (25.4 ypr) but had three more attempts than Hall. Berry clearly has big-play skills as a running back, so don't be surprised if he breaks off some big returns this fall.
July, 14, 2011
7/14/11
1:15
PM ET
Our preseason position ranking series comes to an end today with everybody's favorite group: special teams.
For this ranking, we're going to consider punters, kickers and returners only. No offense to the long-snappers or the punt-team gunners, but things like kickoff coverage units are hard to forecast. We'll give a little extra weight to teams that have returning and proven players at these spots, because it's difficult to know how new punters and kickers will fare when the pressure of real games begin.
As the guys in these positions would say, let's kick it:
[+] Enlarge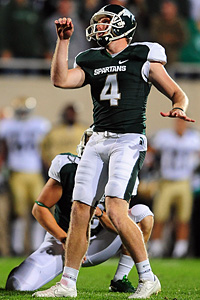 Andrew Weber/US PresswireDan Conroy was nearly perfect on his field goal attempts last season.
1. Michigan State:
Kicker Dan Conroy made 14 of his 15 attempts last year, and
Keshawn Martin
led the league in punt return average. They will miss punter Aaron Bates and will have to improve their kickoff return game. And you know you always have to watch out for the fake when the Spartans line up for a kick.
2. Wisconsin:
The Badgers are set at both punter and kicker, with seniors Brad Nortman and Philip Welch, respectively. Both are third-year starters who can be relied upon. Wisconsin will need to find a replacement for primary return man
David Gilreath
.
3. Penn State:
The Nittany Lions bring back punter Anthony Fera and punt returner
Devon Smith
, who finished just behind Martin in yards per attempt last season. Chaz Powell and
Stephfon Green
are dangerous kick returners. Fera could move over to handle field goals this season if incoming freshman Sam Ficken doesn't win the job.
4. Ohio State:
The Buckeyes have a veteran punter in senior Ben Buchanan and two threats to take a kick to the house in
Jordan Hall
and
Jaamal Berry
. Sophomore Drew Basil is expected to take over at place-kicker. Special teams are almost always a force in Columbus.
5. Purdue:
No one in the league has a bigger leg than Carson Wiggs; the questions is whether he can consistently harness it. Punter Cody Webster averaged 43.3 yards per attempt last season, second best among returning punters. The Boilermakers' return game needs to improve.
6. Illinois:
Derek Dimke was a Lou Groza semifinalist last season and broke the school record for points by a kicker. He nailed two 50-plus yarders. Ray Guy semifinalist Anthony Santella is gone, though return man
Troy Pollard
is back.
7. Northwestern:
Brandon Williams improved at punter as his freshman year went along last season. The Wildcats at long last have an elite return option in
Venric Mark
. But place-kicker was a concern this spring, with Jeff Budzien and Steve Flaherty competing for the job.
8. Iowa:
Kirk Ferentz's teams usually find a way to be good on special teams, so odds are the Hawkeyes will climb these rankings. But they lost a lot from 2010, including Ray Guy finalist and four-year starter Ryan Donahue, plus both primary return men. Eric Guthrie held the edge at punter after the spring. Place-kicker Mike Meyer returns after taking over that role for the final 10 games and doing a solid job.
9. Indiana:
Mitch Ewald was named to the Groza watch list after a strong freshman year in which he made 16 of 19 field goals. Chris Hagerup needs to increase his punting average of 39.4 yards. The Hoosiers should have enough athletes to replace Tandon Doss on returns.
10. Minnesota:
Dan Orseske's 36.1-yard average was worst among starting Big Ten punters in 2010, so that must get better. Jerry Kill must also find a new place-kicker -- NC State transfer Chris Hawthorne looks like the top option. Troy Stoudermire, one of the league's top return specialists, is back for his senior year.
11. Nebraska:
Like Iowa, this is a team that will almost assuredly outperform this ranking. But boy did the Huskers lose a lot of talent and experience. It will be difficult to match the value that punter/kicker Alex Henery brought -- Brett Maher and freshman Mauro Bondi will battle to replace him -- and Adi Kunalic was a secret weapon as kickoff specialist. Top returner Niles Pau is gone, too. The Cornhuskers will likely reload, but nobody has bigger shoes to fill at these positions in the Big Ten.
12. Michigan:
The kicking game looked like a disaster this spring, with neither Seth Broekhuizen nor Brendan Gibbons inspiring confidence. Incoming freshman Matt Wile might win the job this summer. This could prove to be an Achilles' heel for the Wolverines, as it was a year ago. On the plus side, Will Hagerup is the leading returning punter in the Big Ten, though he had only 33 attempts last season.
November, 27, 2010
11/27/10
1:19
PM ET
COLUMBUS, Ohio -- Michigan got the answer it needed from
Denard Robinson
.
Unfortunately for the Wolverines, the kicking game continues to doom them.
Ohio State answered Michigan's touchdown with one of its own, as
Jordan Hall
raced 85 yards to the end zone following a short kickoff. Both Buckeyes' touchdowns can be connected to Michigan's special teams woes, as Ohio State only needed to drive 35 yards following a shanked punt by Michigan's Seth Broekhuizen, filling in for suspended starter Will Hagerup.
As bad as Michigan's defense has been this year, the special teams are even worse. And even less excusable.
Ohio State leads
17-7
midway through the second quarter.
November, 27, 2010
11/27/10
11:35
AM ET
COLUMBUS, Ohio -- Both teams are on the field going through warm-ups about 35 minutes before kickoff.
A couple of notes:
Michigan punter Will Hagerup didn't make the trip after violating team rules. Kicker Seth Broekhuizen will handle the punting duties today. Or maybe Tate Forcier will give it a shot. Yikes.
Wolverines receiver Junior Hemingway, listed as questionable for the game with a head injury, didn't go through warm-ups.
Not a huge fan of Ohio State's throwback jerseys. I'm trying to find a good comparison and opened this up to my Twitter followers. Best suggestions: San Diego State, Rutgers, Indiana, New Mexico. Can't see Alabama, guys, but maybe you can.
October, 4, 2010
10/04/10
2:01
PM ET
It's time to look back at the first Saturday of Big Ten play before peeking ahead at Week 6.
Note:
I've adjusted the Game Balls section to include players from losing teams who deliver
exceptional
performances. Helmet stickers will continue to go to players
only from winning teams
-- that's been my policy since Day 1 -- but the game balls section is a way to recognize guys who stepped up even though their teams didn't get the job done. You really need to do something special to make the list if your team loses, but it's now possible.
[+] Enlarge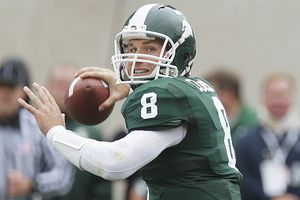 AP Photo/Carlos OsorioKirk Cousins and the Spartans overcame early mistakes to knock off the Badgers.
Team of the Week:
Michigan State. The Spartans overcame three first-half turnovers and the absence of head coach Mark Dantonio to record a convincing win against then-No. 11 Wisconsin on Saturday. A program that has struggled with adversity and mental toughness in the past demonstrated plenty of it throughout the Wisconsin game.
Kirk Cousins
grew as a quarterback, Don Treadwell grew as a playcaller/future head coach and Michigan State grew into a Big Ten title contender. The Spartans ended
John Clay
's 10-game streak of 100-yard rushing performances, and their third-down execution was sharp on both sides of the ball. The fake field goal against Notre Dame provided an emotional lift, but Michigan State will draw a lot more confidence from a 15-play, 84-yard drive to seal the Wisconsin win.
Best game:
Michigan at Indiana
. The game played out as many had forecast, as both quarterbacks surged and both defenses struggled to stop anyone. Quarterbacks
Denard Robinson
(Michigan) and
Ben Chappell
(Indiana) both produced historic numbers, and the teams combined for 77 points and 1,142 offensive yards. Neither team led by more than a touchdown and the game featured five ties before Robinson scored the game-winning touchdown from 4 yards out with 17 seconds left. Northwestern at Minnesota also produced some drama as the Wildcats rallied from eight points down in the fourth quarter to win
29-28
.
Biggest play:
Robinson provided several possible selections with both his legs and his arm, but I'm going with
Jeremy Ebert
's 25-yard touchdown reception in the fourth quarter for Northwestern against Minnesota. Northwestern trailed 28-20 at the time and faced third-and-7. Quarterback
Dan Persa
already had committed two turnovers in the red zone and appeared to make another ill-advised throw on Ebert's touchdown. But Ebert wrestled the ball away from Minnesota's Ryan Collado on the jump ball and Northwestern ended up rallying for the win. Another play worth mentioning is Cousins' fourth-down touchdown pass to
B.J. Cunningham
to put Michigan State up 10 points with 2:43 left. Cousins had wanted to run the play in two other games, only to be turned down. "I guess this was the moment to have it," he said afterward.
Specialist spotlight:
Michigan State's
Keshawn Martin
made the biggest special-teams play around the league Saturday when he returned a Brad Nortman punt 74 yards to the end zone. Wisconsin led 10-6 in the second quarter before Martin's electrifying runback. Martin, who ranked in the league's top five in both kick returns and punt returns last season, appears to be the league's top return man. Iowa punter Ryan Donahue had a nice night, placing three punts inside the Penn State 20-yard line with a long of 53 yards. Illinois punter Anthony Santella continued his stellar season (47-yard average against Ohio State), and Michigan punter Will Hagerup made the most of limited opportunities at Indiana. Northwestern's Stefan Demos converted the game-winning 27-yard field goal.
Coolest image:
Iowa fans deserve a shoutout after making Kinnick Stadium look
like this
Saturday night. The black and gold stripes were well coordinated and well executed.
Game balls
(given to players not selected for helmet stickers):
Indiana QB Ben Chappell: Chappell set school records with 45 completions, 64 attempts, 480 pass yards and 475 yards of total offense against Michigan. He became just the second Indiana player to eclipse 400 pass yards in a game and tied for the third most completions in Big Ten history. Chappell set a team record with his sixth career 300-yard passing performance and tossed three touchdowns to extend his streak of games with multiple touchdown passes to eight.

Michigan State LB Greg Jones: A week after recording the first two interceptions of his college career, Jones returned to his blitzing role against Wisconsin and recorded three tackles for loss, eight total tackles and a quarterback hurry in the 34-24 win.

Ohio State DE Nathan Williams: The Buckeyes' defense showed up in a big way in the second half at Illinois, and Williams recorded nine tackles, including 1.5 sacks and two tackles for loss. He also had a quarterback hurry as the Buckeyes pressured Nathan Scheelhaase.

Iowa CB Shaun Prater: Prater recorded his fourth career interception against Penn State and returned it 33 yards for a touchdown to make any thought of a Penn State rally obsolete. He shares the game ball with fellow defenders Tyler Nielsen (four passes defended), Karl Klug (two tackles for loss) and James Morris.

Michigan WRs Roy Roundtree and Junior Hemingway: The Wolverines wideouts share a game ball after combining for eight receptions, 255 yards and two touchdowns against Indiana. Roundtree had a 32-yard touchdown grab and a 74-yard gain, while Hemingway recorded a 70-yard touchdown grab in the third quarter.

Indiana WR Tandon Doss: The junior recorded career highs in both receptions (15) and receiving yards (221) in the loss to Michigan. He had the fourth-highest receiving yards total in team history and set a career high in all-purpose yards with 363, which included 111 on kick returns.

Wisconsin DE J.J. Watt: Watt continued his push for Big Ten Defensive Player of the Year honors Saturday in East Lansing. He was all over the field and recorded a game-high 10 tackles, 2.5 tackles for loss, a sack and a tipped pass that wound up as an interception for teammate Devin Smith. Watt has been a beast this season.

Minnesota CB Michael Carter: The Gophers didn't deliver a great defensive performance against Northwestern, but Carter came up with several huge plays. He recorded a team-high 11 tackles with an interception, a forced fumble near the goal line and a tackle for loss.
OK, deep breath. Now let's take a quick look at Week 6.
Indiana (3-1, 0-1 Big Ten) at No. 2 Ohio State (5-0, 1-0):
It'll be strength vs. strength as Indiana brings the Big Ten's top pass offense against the league's top pass defense in Ohio State, which begins life without safety/linebacker Tyler Moeller. Chappell and his receivers provide a very good test for the Buckeyes defense, while Ohio State's running backs should gain some confidence against an Indiana D that can't stop the run.
Illinois (2-2, 0-1) at Penn State (3-2, 0-1):
This game looks a little more interesting than it did before the season. Illinois has upgraded its defense under new coordinator Vic Koenning, while Penn State's offense continues to struggle with inconsistency and red zone inefficiency. After falling out of the national rankings, Penn State can't afford another step back. Keep an eye on the matchup between two promising young quarterbacks, Illinois' Scheelhaase and Penn State's Rob Bolden.
Minnesota (1-4, 0-1) at No. 20 Wisconsin (4-1, 1-0):
The
coolest trophy
in college sports is at stake, which adds to an otherwise uninspiring matchup. Minnesota's season is on life support after failing to claim a game pretty much handed to it by Northwestern. An upset victory in a trophy game would mean a lot for coach Tim Brewster and seniors like
Adam Weber
. Wisconsin must rebound from a poor road showing against Michigan State and get more from its experienced offensive players.
No. 17 Michigan State (5-0, 1-0) at No. 18 Michigan (5-0, 1-0):
I'm so excited for this one. The in-state rivalry is spicy enough, but this year's meeting brings new storylines like two top-20 rankings, Heisman Trophy candidate Robinson and the health situation involving Dantonio. Michigan State aims for its first three-game win streak in the series since 1965-67. Robinson faces his biggest test of the season with Jones.
Purdue (2-2, 0-0) at Northwestern (5-0, 1-0):
After surviving a mistake-ridden game at Minnesota, Northwestern will be favored to record its first 6-0 start since 1962. The Wildcats face an injury-ravaged Purdue team that turns to redshirt freshman
Rob Henry
at quarterback. The Boilers come off of a much-needed bye week but will need a strong performance from Ryan Kerrigan and the defense to slow down Persa and the Wildcats' attack.
Bye:
No. 15 Iowa (4-1, 1-0)
April, 19, 2010
4/19/10
9:00
AM ET
I'll be providing brief recaps of all 11 Big Ten spring games during the next few weeks. Let's get started with Michigan, one of five teams to hold its spring game on Saturday.
[+] Enlarge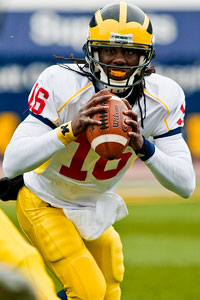 AP Photo/Tony DingDenard Robinson seems to be more comfortable in the Rich Rodriguez offense during the spring game.
As expected, the Wolverines' quarterbacks were in the spotlight at the Big House, and sophomore
Denard Robinson
rose to the occasion. Robinson, who last year couldn't complement his fast feet with consistent passing, showed excellent zip on the ball and connected for several big plays, none bigger than a 97-yard touchdown strike to
Roy Roundtree
. He seemed to be making better reads instead of forcing things like he did last season. Clearly, a full offseason has paid off for Shoelace.
Robinson took the field first and led the offense to touchdowns on five of six possessions against the second-team defense. Forcier worked mainly against the first-team defense and led three scoring drives in six possessions. So Foricer had the tougher assignment overall.
Head coach Rich Rodriguez said Robinson and Forcier will enter fall camp neck-and-neck for the starting job, with true freshman Devin Gardner a bit behind them, but Robinson has the momentum entering the summer.
From
The Detroit News
:
"Tate and Denard are a little bit ahead of Devin, because they have a little more experience," Rodriguez said. "And Denard, overall in the spring, has probably had a few better practices than Tate has."
I saw most of Michigan's scrimmage on the Big Ten Network, and Robinson looked like the most confident quarterback out there. I wouldn't count out Forcier, who has more experience and still made some nice plays, but he'll need to match Robinson in August to retain the starting job for the season. He seemed really disappointed after a holding penalty negated a touchdown during the overtime session, brushing past a teammate on the sideline. Rodriguez has challenged Forcier throughout the spring, and he'll need to step up.
Other nuggets:
Michigan's defense still needs a bit of work, though linebacker Obi Ezeh had a nice scrimmage, intercepting a pass from Gardner, who showed some freshman nerves. It would have been nice to see the first-team defense go more against the No. 1 offense, but Michigan has done more of that during closed practices this spring.

The kicking game could be a real adventure for Michigan, which really needs incoming freshman punter Will Hagerup to provide a boost. Keep in mind that punting has been arguably Michigan's greatest strength the last two years with All-American Zoltan Mesko booming kicks, so field position likely will change this fall.

The Wolverines will play more than one running back this season, and they seem to have decent depth there. Michael Shaw enters the summer with a slight edge, but both Michael Cox and Fitzgerald Toussaint showed some good signs during spring ball. Michigan's most intriguing running back prospect might be 236-pound freshman Stephen Hopkins, who brings some size to the backfield. Vincent Smith rejoins the mix in August.

Starting cornerback Troy Woolfolk missed the spring game after breaking a finger in practice while breaking up a Gardner pass. According to the Detroit Free Press, the bone broke through the skin but Woolfolk, who now goes by T-wolf, didn't cry.