NCF Nation:

Will Heininger
October, 10, 2012
10/10/12
9:00
AM ET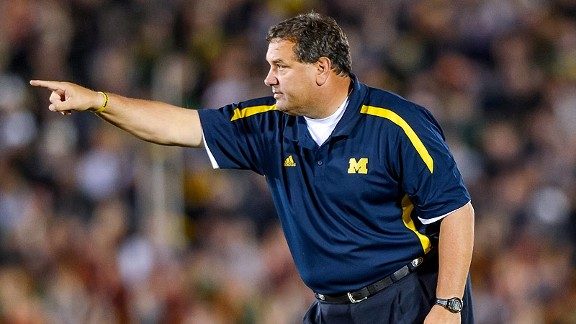 Robin Alam/Icon SMIBrady Hoke's drive to win the Big Ten title appears to be influencing his Michigan players.
Brady Hoke called Michigan's 2011 season a failure -- never mind the 11 wins and the Sugar Bowl championship -- because it did not result in a Big Ten title and a Rose Bowl appearance.
When national titles are brought up around Hoke, he typically shifts the focus back to the Big Ten race.
Whether Hoke's singular focus excites you or disappoints you, it certainly rubs off on his players. Although they weren't happy about a 2-2 start to the season, they had no trouble turning the page to the Big Ten slate last week at Purdue. And if the Wolverines' performance in West Lafayette -- a 44-13 win -- is any indication, the Big Ten will bring out the best in them this fall.
"With the nonconference season, we had one of the toughest in the nation," Michigan offensive tackle
Taylor Lewan
told ESPN.com, referring to games against No. 1 Alabama and No. 7 Notre Dame. "We took those games very seriously, but the goal's always a Big Ten championship. There's a little more fire in this team.
"We're excited about it, and every game is a Big Ten championship game."
Stifling defense and powerful offensive line play sparked Michigan in 2011, and the Wolverines appear to be reclaiming both hallmarks for the 2012 conference campaign. After struggling in just about every area against Alabama and seeing continued problems against Air Force, Michigan took a big step on defense against Notre Dame and also received better play from the offensive line as the game in South Bend went on.
Although turnovers doomed the Wolverines against the Irish, they made progress in both areas at Purdue. Michigan held a Boilers team averaging 51 points on its home field to 13 points, 213 total yards and 56 rushing yards (2.2 yards per attempt). It also controlled the line of scrimmage from the onset, holding the ball for 12:11 of the first quarter and opening the game with the program's sixth-longest drive (8:48) since 1978, a methodical 78-yard march that required 17 plays and 19 players.
Michigan's defense has surrendered only 13 points in each of its past three games, and opponents' yardage totals have dropped (259 to 239 to 213). The unit seemed to turn the corner at the same time last season, when it blanked Minnesota 58-0 in Week 5, allowing only 177 total yards. The Wolverines held six of their next seven Big Ten foes to fewer than 335 yards.
"What you're seeing is the younger guys who have been in the program for a second year, you would expect them to play up to their talent level, and that's what's happening," defensive coordinator Greg Mattison told ESPN.com. "Some of our talented young guys are starting to now become older, and play like older players."
[+] Enlarge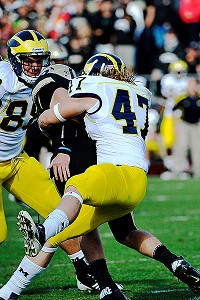 Sandra Dukes/US PresswireMichigan LB Jake Ryan continued to wow his coaches with his performance against Purdue last Saturday.
Although Mattison and his staff installed a new scheme in 2011, they had the luxury of leaning on three senior defensive linemen -- Mike Martin, Ryan Van Bergen and Will Heininger -- while working several young players into major roles. The difference this fall, according to Mattison: Seniors with a ton of starting experience are in short supply, so some of the unit's more seasoned players --
Jake Ryan
,
Desmond Morgan
,
Thomas Gordon
-- are also young.
"We're getting a lot better communication," Mattison said. "... When you're young, at an early part of the season, you're just kind of fending for yourself. You're just trying to get yourself to play. And when you get a little older in the season, whether you're a sophomore or a senior, you start feeling more comfortable. Therefore, you can do the things that are expected of you, and that is to communicate and get everybody set.
"These are guys that are now starting to feel like veterans."
Hoke singled out the linebackers as the group that has made the most strides in recent weeks. Ryan, who started 11 games last season as a redshirt freshman, has been particularly noticeable. "You can feel him on the field," Hoke said.
Ryan recorded five tackles and a pass breakup against Notre Dame and followed it with six tackles, including two for loss and a sack, against Purdue.
"The sky's the limit for Jake," Mattison said. "He has God-given talent, and he also has showed that it's very, very important to him. He's become a very good student of the game."
After Week 3,
Lewan challenged the offensive line
to "play angry, play nasty." While the group isn't quite there, in Lewan's estimation, there has been progress.
Michigan averaged 5.6 yards per rush against a talented Purdue defensive front, which failed to record a sack or a quarterback hurry against
Denard Robinson
(235 rush yards, 105 pass yards). The Wolverines' rushing attempts also are on the rise, from 30 per game in the first two weeks to 46 per game the past three weeks.
"In the Notre Dame game, it was somewhat of a change," Lewan said. "We saw we can move the line of scrimmage. We found out we have the capability to do that. It really came together at Purdue, but we have to be a better team this week than we were last week. Every week from now on is championship week because our goal is the Big Ten championship."
Lewan, who will make his 21st consecutive start Saturday against Illinois, welcomes a leadership role on the line. He shares the responsibility with fifth-year senior guard
Patrick Omameh
and fifth-year senior
Elliott Mealer
, a first-year starter at center.
"[Offensive coordinator Al] Borges put pressure on us, so did Coach Hoke, but at the end of the day, we need to put pressure on ourselves also," Lewan said. "Coach Hoke talks about it all the time. There's a standard you play at Michigan. I can throw cliché lines at you and every program says the same thing over and over, but the fact is we have the tradition to back it up. There's a tradition at Michigan, and there's a way you play."
Especially in the Big Ten season. There are still areas to improve -- Michigan needs to spark running back
Fitzgerald Toussaint
(169 rushing yards, 3.3 yards per carry) and its pass rush (five sacks in as many games, 104th nationally) -- but the team's identity is taking shape.
"You don't want to say the games leading up to the Big Ten don't count," Mattison said, "but when you come to Michigan, you come to win a championship. Now, it's on the line. Every game is on the line."
April, 19, 2012
4/19/12
9:00
AM ET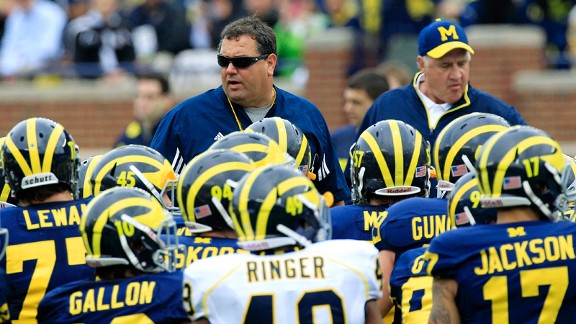 AP Photo/Carlos OsorioThe goal for the Wolverines in Brady Hoke's second season is to win the Big Ten title.
ANN ARBOR, Mich. -- Michigan's players must have felt pretty good about themselves at the end of last season. The Wolverines won 11 games, captured the Sugar Bowl championship and ended a seven-year losing streak to Ohio State.
But head coach Brady Hoke delivered some sobering news in the first team meeting after the Sugar Bowl in January. Team 132, he told the players, failed.
"It probably surprised some of them a little bit," Hoke told ESPN.com about that message he delivered. "But if you have a goal and you don't achieve that goal, then you fail."
Hoke has made it clear that as long as he's the Michigan coach, the Wolverines will always have one main objective: win the Big Ten title. So even though his first team erased a lot of the bad memories from the three-year Rich Rodriguez tenure in a major bounce-back campaign, it still finished as the runner-up in the Legends Division.
"Oh, man, sitting at home watching the Big Ten championship game felt kind of weird," quarterback
Denard Robinson
said. "We're supposed to be the 'leaders and best,' so we sold ourselves short not being in that first one."
The motivation for Team 133 this offseason, then, became quite obvious. Michigan got back on track last season, winning 11 games for the first time since 2006 and bringing some momentum to the program. The Wolverines could enter this season ranked in the top 10 and might well be the favorite to win the Big Ten in Hoke's second year. Asked if he'd view any season that didn't end with a Big Ten title as a disappointment, Hoke didn't hesitate to answer, "Yep."
Does Michigan have what it takes to repeat and even build upon last season's success? This spring offered reasons for optimism and pessimism.
The biggest difference between Hoke's first year and the RichRod teams was the surprising defensive resurgence. After three years of futility on that side of the ball, the Wolverines finished 17th nationally in total defense and sixth in points allowed. Fueling that effort was a dominant defensive line led by seniors
Mike Martin
,
Ryan Van Bergen
and
Will Heininger
.
By Week 4 against San Diego State -- a 28-7 victory -- safety
Jordan Kovacs
started to notice a major difference.
"I was getting bored as a defensive back because our front seven was controlling the game," Kovacs said. "One I realized our defensive line was pretty special, I knew we were going to have a heck of a team."
With three seniors gone and the lone returning starter,
Craig Roh
, switching from weakside to strongside defensive end, the D-line underwent some predictable growing pains this spring. The defensive tackle spot is a particular concern, with the undersized
Jibreel Black
moving in from end and senior
Will Campbell
getting one last try to live up to his once-immense recruiting hype. The line was inconsistent at best at stopping the run in practice this spring.
While the Wolverines should have more talent and experience at the linebacker and secondary positions than they did a year ago, there's little doubt where the focus lies for Hoke and defensive coordinator Greg Mattison, as both cut their teeth as defensive line coaches.
"You can't have a great defense if you're not strong up the middle," Mattison said. "We need that position to become very, very strong."
On the flip side, Martin and Van Bergen were nowhere near the players they'd become at this time last year. Mattison said he expects his linemen to make a jump in the summer.
"Last year, it was a much uglier spring ball," Kovacs said. "That's what I try to remind myself."
[+] Enlarge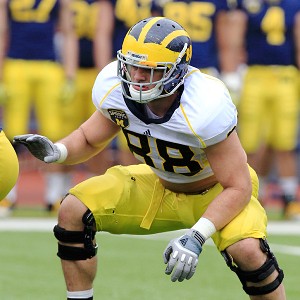 AP Photo/Carlos OsorioCraig Roh is the lone returning starter on the defensive line.
Depth is also a major worry, not just on the defensive line but on the offensive front. True freshmen are likely to crack the two-deep on both lines, which is not a great sign in the Big Ten. Michigan was fortunate last season to stay quite healthy in the trenches until the Sugar Bowl, when Heininger was out and
David Molk
played on a bad leg. Can the team get some luck on the injury front in 2012?
It may need to with a schedule that looks far more demanding than last season. The Wolverines had eight home games in 2011, including the first five contests of the season. That number dips down to six this season, with challenging road games at Notre Dame, Nebraska and Ohio State. And of course, there's the opener against defending national champion Alabama in Arlington, Texas.
"All this offseason work is pointing toward that game," receiver
Roy Roundtree
said. "Everybody knows who we got. It's not like it's some cupcake opener; they're the national champions. We've got to bring our A-game."
The good news is that Michigan found ways to win without its A-game last season, especially in the Sugar Bowl against Virginia Tech in which offensive coordinator Al Borges said, "we played really awful." Hoke proclaimed after the spring game that the Wolverines are much tougher than they were a year ago.
Robinson and running back Fitz Toussaint, who each ran for more than 1,000 yards last season, give the offense two special difference-makers in the backfield. Coaches say Robinson's throwing mechanics and decision-making looked greatly improved this spring, while Toussaint may get some help from emerging power runner
Thomas Rawls
.
Michigan figures to stay in the thick of the Big Ten race all season long, but getting close won't be good enough. Bo Schembechler's famous phrase, "Those who stay will be champions," wasn't referring to Sugar Bowl titles. The Wolverines won't be satisfied with anything less than their 43rd Big Ten championship, which is why veteran players weren't stunned by Hoke's failing grade in that January meeting.
"I think it was kind of the elephant in the room," Kovacs said. "At the end of the day, we didn't do what we wanted to do. That's what we've been about and what we'll continue to be about. And that's what is fueling us for this season."
January, 31, 2012
1/31/12
3:16
PM ET
Earlier today, we took a look at the recruiting needs of every team in the Big Ten Leaders Division. Now it's time to turn our attention to the Legends Division and see what positions each team needs to restock before next week's signing day:
Iowa

Running backs:
Iowa's problems with keeping running backs in school has been well documented, and the Hawkeyes lost leading rusher Marcus Coker and backup
Mika'il McCall
after off-the-field problems last season. The team really needs some more depth in the backfield, and don't be surprised if incoming freshman Greg Garmon pushes for playing time immediately.
Defensive linemen:
Iowa had three defensive linemen drafted off the 2010 team and now loses its top two guys up front in departing seniors
Broderick Binns
and
Mike Daniels
. That's an awful lot of talent to replace in a couple of years, and the Hawkeyes can't expect to improve their defense without doing so. Finding some more pass rushers off the edge will be key.
Wide receivers:
Marvin McNutt
had a wonderful senior season, but the passing game often stalled whenever he couldn't wiggle free. Now he's gone, leaving a void at the position.
Kevonte Martin-Manley
and
Keenan Davis
have shown promise, but
James Vandenberg
could use some more weapons. Iowa has secured commitments from three receivers in this class.

Michigan
Wide receiver:
The loss of Darryl Stonum, who was dismissed following another run in with the law, created a void at receiver, especially with top pass-catcher
Junior Hemingway
out of eligibility. The Wolverines will have to hope
Roy Roundtree
can bounce back with a big season, because all other wideout options are unproven at this point. Three receivers are committed to Brady Hoke in this class.
Defensive line:
Mike Martin
and
Ryan Van Bergen
were key cogs in Michigan's run to the Sugar Bowl title in 2011, and they have both moved on, along with starter
Will Heininger
. Hoke and defensive coordinator Greg Mattison are defensive line coaches at heart and will want to grab as many difference makers as they can at that key position. Ondre Pipkins, a 325-pound tackle, is the highest rated defensive lineman in the Wolverines' class right now.
Offensive line:
While the Wolverines should be fine on the O-line in 2012, even without Rimington Trophy winner
David Molk
and starting right tackle
Mark Huyge
, they signed only four offensive linemen total in the past two classes. Since linemen are often slow to develop, they need to refill the cupboard now. Michigan has four offensive linemen committed in this class, including standout Kyle Kalis.

Michigan State
Offensive tackles:
Thanks in large part to injuries, Michigan State had to move a defensive lineman (
Dan France
) to tackle last summer and plug in a junior-college transfer (
Fou Fonoti
) into the other tackle spot. That the Spartans won the Legends Division title despite that is kind of amazing in retrospect. France will be a junior in 2012 and Fonoti will be in his final year of eligibility. They need more depth at the position, and they've got commitments from two offensive tackles so far in this class.
Wide receivers:
Two of the most successful receivers in school history are gone as
Keshawn Martin
and
B.J. Cunningham
finished off wildly productive careers. Tennessee transfer
DeAnthony Arnett
is seeking a waiver to play immediately and will help the future even if he has to sit out a year. Michigan State is looking to sign three other receivers in this class to fill out the future two-deep.
Running back:
Edwin Baker
's early entry to the NFL draft came as a surprise. Michigan State is still in good shape at tailback for 2012 with
Le'Veon Bell
and
Larry Caper
. But after not signing a running back in last year's class, Mark Dantonio could use at least one more option in the backfield.

Minnesota
Defensive backs:
It was no secret that Minnesota's pass defense was brutal at times in 2011, and top tackler
Kim Royston
leaves a hole at safety with his graduation. Getting Troy Stoudermire back for an extra year helps, but Jerry Kill needs to upgrade the talent in the secondary. That's why he has signed three junior-college defensive backs and secured commitments from four high school safeties so far.
Defensive tackle:
One of the reasons the pass defense was so bad was a lack of pass rush applied by the front four. The Gophers had only 19 sacks this season, a year after registering just nine. Making matters worse, both starting tackles were seniors this season. Kill signed a junior-college defensive tackle and has two prep tackles committed. He needs to find guys who can find their way to the quarterback.
Overall talent and depth:
Kill has said there are gaps in the Gophers' classes, and depth issues could plague the team during his rebuilding efforts. Including six junior-college players signed to help right away, Minnesota has a class of 28 right now. Minnesota simply needs more bodies everywhere.

Nebraska
Linebacker:
Lavonte David
leaves some rather large cleats to fill. Not only was he Nebraska's leading tackler the past two seasons, he was the only linebacker who played at a consistently high level. The Huskers' starters at the other two linebacker spots will be seniors this year, and depth is thin behind them. So it's little wonder why Bo Pelini has used four spots so far in what is expected to be a small class to fill that position, led by four-star prospect Michael Rose.
Tight end:
Three of the top four options at tight ends will be seniors in 2012, leaving very little behind them. Sam Cotton, son of offensive line coach Barney Cotton and younger brother of current Huskers tight end Ben, is on his way to help.
Quarterback:
Taylor Martinez
is entrenched as the starter going into his junior year, and Nebraska never had to worry about playing
Brion Carnes
in a big spot this year after Bubba Starling opted for baseball. Still, it's dangerous to not have depth at quarterback, and so the Huskers need to add at least one signal caller in this class.

Northwestern
Defensive backs:
The Wildcats were burned repeatedly in the passing game in 2011, and their best defensive back (safety
Brian Peters
) won't be around next season. Head coach Pat Fitzgerald has commitments from three safeties in this class already.
Defensive playmakers:
Northwestern was shockingly short on guys who could blow up another team's offensive play in 2011, so Fitzgerald's main mission had to be finding more guys who played like he did in college. That aim got a big boost when stud defensive end Ifeadi Odenigbo committed to play in Evanston. That's a good start.
Wide receivers:
Highly productive star receiver
Jeremy Ebert
is gone, along with starter
Charles Brown
.
Venric Mark
and
Christian Jones
have a lot of potential as the next big passing targets, but Northwestern's spread offense feeds off of speed and depth at the receiver position. Four receivers have given the Wildcats their pledge in this class.
January, 3, 2012
1/03/12
6:30
PM ET
NEW ORLEANS -- Greetings from the Mercedes-Benz Superdome, where tonight No. 13 Michigan faces No. 11 Virginia Tech in the Allstate Sugar Bowl.
Michigan makes its first BCS bowl appearance since the 2007 Rose Bowl, and aims for its first BCS bowl victory since the 2000 Orange Bowl, when Tom Brady led the Wolverines past Alabama. Virginia Tech, meanwhile, is used to the big stage, having played in three of the past four Orange Bowls.
A bit of pregame news, of the unsurprising variety. Michigan senior defensive lineman Will Heininger is out with a sprained right foot. Junior Will Campbell will start in his spot at defensive tackle, and Quinton Washington will back up Ryan Van Bergen at defensive tackle. Coach Brady Hoke has told Van Bergen and Mike Martin to be prepared to play every snap, and both seniors have done extra conditioning after practice to prepare. The Wolverines' defensive line depth will be tested tonight as Heininger and Nathan Brink both are out.
The fan breakdown should be interesting. For all the talk about Virginia Tech's bowl allotment, Hokies fans appear to be out in force here in the Big Easy. Plenty of Michigan fans are here as well, excited to see their team back on the big bowl stage.
Michigan seemed like the popular pick when the pairing was announced, but it seems like more folks are leaning toward Virginia Tech now, including ESPN colleagues David Pollack and Todd McShay. The teams are evenly matched, but I'm sticking with
my pick
: Michigan 27, Virginia Tech 21. Could be bad news for the Wolverines as I'm only 6-3 in bowl picks so far.
Much more to come from the dome throughout the night, so don't even think about going anywhere.
January, 3, 2012
1/03/12
9:00
AM ET
Big Ten bowl season wraps up Tuesday night as No. 13 Michigan takes on No. 11 Virginia Tech in the Allstate Sugar Bowl at the Mercedes-Benz Superdome. The Wolverines aim for their first bowl win since the 2008 Capital One Bowl and their first BCS bowl win since the 2000 Orange Bowl. A victory gives Michigan four straight wins to end the season and the program's fifth 11-win season in the modern era.
Let's take a look at the matchup.


WHO TO WATCH:
Michigan junior quarterback
Denard Robinson
. Who else? The Wolverines' fortunes are typically tied to their dreadlocked signal-caller and how he performs. Robinson ended the regular season with his best two-game stretch in a Michigan uniform, accounting for 628 yards (347 pass, 281 rush) and nine touchdowns (4 rush, 5 pass) with only one interception. If he can maintain that level, he'll provide problems for a Virginia Tech defense that couldn't stop Clemson quarterback
Tajh Boyd
in the ACC championship game. Virginia Tech is tied for 21st nationally in interceptions with 15, and the Hokies play aggressive coverage, so Robinson will need to be smart with his decision-making after struggling with interceptions midway through Big Ten play.
WHAT TO WATCH:
Michigan's defensive line versus Virginia Tech's offensive backfield. The line is the biggest reason for Michigan's renaissance on defense this season, as seniors Ryan Van Bergen and Mike Martin have led the way. But depth will be an issue as senior tackle Will Heininger likely is out with a sprained foot. Michigan will turn to Will Campbell and Quinton Washington to help fill the void. Virginia Tech boasts a backfield combination in quarterback
Logan Thomas
and running back
David Wilson
unlike any Michigan has faced this season. When the Wolverines get to Thomas, they must find ways to bring the linebacker-sized quarterback down. And they'll need to contain Wilson, who ranks sixth nationally in rushing average (125.2 ypg). Michigan's defense wasn't at its best in its last performance against Ohio State but has contained teams most of the season.
WHY TO WATCH:
See if Michigan can complete its breakthrough season under first-year coach Brady Hoke with its first win in a BCS bowl since the 2000 Orange Bowl. And while the matchup has been panned nationally, it features two teams with similar profiles and some intriguing matchups. How will Robinson handle an athletic and aggressive Virginia Tech defense? Michigan appears to have the edge at the line of scrimmage on both sides, but a shorthanded defensive line will need to contain the Hokies' dangerous backfield combination. Leagues are always judged by BCS bowl games, and a favored Michigan team can boost the Big Ten with a victory and use it a springboard toward the 2012 season, when the Wolverines could be the preseason league favorites.
PREDICTION:
Michigan 27, Virginia Tech 21. Don't expect the Hokies to be nearly as bad as they were in the ACC championship game, but Michigan has several matchup advantages in the game. The Wolverines are stronger along both lines and should limit the damage from Thomas and Wilson. Robinson ended the season playing his best football and will give Virginia Tech trouble if he doesn't turn over the football. Michigan goes ahead early and holds on late to win.
December, 31, 2011
12/31/11
12:15
PM ET
NEW ORLEANS -- Michigan's defensive line has been the engine for a 10-win season, but the group's depth will be tested Tuesday night in the Allstate Sugar Bowl.

Reserve defensive end Nathan Brink is out with an injury, and starting defensive tackle Will Heininger remains hobbled with a sprained right foot. Heininger, who sustained the injury Dec. 22, has yet to practice with the team here.

Defensive coordinator Greg Mattison said Heininger is day-to-day. Heininger, a walk-on, has started all 12 games this season on the line and has 23 tackles, including four for loss and a sack.

"I've had guys that have missed an entire bowl practice and all of a sudden they were cleared [to play]," Mattison said. "And now you have another guy that can play. You can't worry about that as a coach."

Junior Will Campbell and sophomore Quinton Washington would see increased field time if Heininger can't play. Campbell, a great talent who has battled weight issues throughout his career, has two sacks and a fumble recovery this season.

"He's in tremendous shape for a guy for being 315-plus pounds," defensive end Ryan Van Bergen said. "He could be the guy who's first to the ball every time. That's what I'm saying about his raw ability that hasn't shown up. I think he'll be a tremendous, tremendous influence on guys. When your biggest guy is running to the ball the most ... everybody else will get motivated by that."

Mattison has the "utmost confidence" in Campbell.

"It truly is, at our place, with Brady [Hoke] and our staff, next guy," Mattison said. "Next guy. These are our players. This is Michigan defense. This is how you play. You're expected to know what to do."
December, 29, 2011
12/29/11
9:00
AM ET
It didn't take long for Brady Hoke and Greg Mattison to realize that repairing Michigan's defense would take more than schematic adjustments and refurbished fundamentals.
The problems went deeper than that. They struck at the core of each player who had suffered through the darkest stretch of defensive football in Michigan history.
Hoke, the Wolverines' first-year head coach, and Mattison, the team's defensive coordinator, inherited defenders whose pride had been wounded.
[+] Enlarge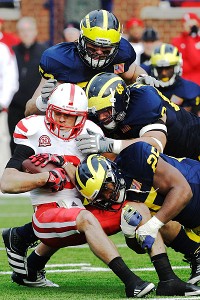 AP Photo/Carlos OsorioSeniors Ryan Van Bergen, top, and Mike Martin (68) powered Michigan's improved defense from their positions on the line.
"When we went through spring, maybe the offense does something well or
Denard [Robinson]
gets loose -- there were some runs that were big plays," Hoke told ESPN.com, "and I don't know if [defenders] didn't have the confidence or if how they practiced was different, but you could see a little bit of a self-defeating attitude."
Mattison tried to clean the slate. He didn't care about the past, so why should his players? But he soon learned that he couldn't ignore what had happened or its effects.
"All you had to do was read papers," Mattison said. "Any comments that ever talked about the Michigan defense always ended with, 'Boy, the defense was not very good.' You can sense that when people look at you, they go, 'Oh boy, they're bad.'
"You don't wish that on anybody that works hard."
Mattison and Hoke had to change attitudes on defense, but they never had to worry about players working hard. While many factors played into Michigan's renaissance on defense this season, perhaps none meant more than the players being fed up with their reputation and hungry to change it.
The result was a defense that improved from 110th nationally to 17th, the biggest one-year jump in college football. Michigan improved from 108th to seventh in points allowed.
Name a significant category -- rush defense (95th to 34th), takeaways (77th to 22nd), red zone defense (87th to fourth), third-down defense (95th to 30th), first downs allowed (107th to 16th), sacks (98th to 27th) -- and Michigan not only made strides, but dramatic ones.
The papers now describe Michigan's defense in a different light. The unit is the single biggest reason why the Wolverines won 10 games this season and returned to a BCS bowl for the first time since the 2006 season. Michigan faces Virginia Tech next Tuesday night in the Allstate Sugar Bowl.
"Nobody likes being criticized," safety Jordan Kovacs said. "But at the same time, it made us the defense that we are today."
The coaching staff also played a significant role in the transformation. Hoke and Mattison, defensive assistants at Michigan in the 1990s, knew what Wolverines defense was supposed to look like.
When Hoke hired Mattison away from the NFL's Baltimore Ravens, he didn't have to map out the defensive plan with his coordinator. The two men go way back, to their days as assistants with Western Michigan in the mid-1980s.
"Brady knew he and I thought exactly the same," Mattison said. "It all starts up front, it starts with technique, it starts with running to the football -- all the things great defenses do."
The line became the focal point. Michigan had used three-man fronts for much of the past three seasons, but Mattison restored the base 4-3 set, the one to which senior linemen like Mike Martin and Ryan Van Bergen had been recruited.
Although Hoke hired a defensive line coach in Jerry Montgomery, both Hoke and Mattison spent much of their time with the front four. Hoke even coached a position, nose guard, setting him apart from most head coaches, who either work with specialists or serve primarily as overseers.
"I'm not one of those head coaches who's going to walk around," Hoke said. "I've hired good assistants, guys who understand how we want to play. I'm smart enough to know where my strengths are. And selfishly as much as anything, I love my time with those guys, coaching defensive line."
The coaches were fortunate that the line, more than any area on defense, featured veterans such as Martin, Van Bergen and end Will Heininger, a walk-on. The three seniors had one final season to make things right, and they played with great urgency.
Michigan's line accounted for 16.5 sacks, 33.5 tackles for loss, three forced fumbles, four fumble recoveries and a safety. The Wolverines have 28 sacks through 12 games, 10 more than they had in 13 contests last season.
Michigan's improvements up front helped the rest of the unit.
"There were times last year where you're beat and they'll complete that ball," Kovacs said. "There's times this year where you're beat and you feel like, 'Oh, gosh, please don't throw it.' And the next thing you know, we've got a sack, or [the opposing quarterback] had to check it down because of our pressure from the defensive line and linebackers."
The secondary absorbed most of the criticism for Michigan's defensive woes the past three seasons. A combination of youth, injuries, attrition and flat-out poor play led to repeated breakdowns.
When Mattison arrived, Kovacs remembers him telling the defensive backs, "Keep the ball inside and in front of you. Don't give up the big play. Live to play another down and let these guys in front of you do their jobs." The DBs obliged and several players made significant contributions, including Kovacs, an effective blitzer who recorded eight tackles for loss, four sacks and two forced fumbles.
"It's different, but I can't say I don't like it," he said. "In the first game, there were a couple blitzes I came clean on, and I realized I really like to blitz."
Michigan's defensive awakening can be traced to three areas.
1. Eliminating big plays:
According to ESPN Stats & Information, Michigan's defense last season allowed 64 plays of 20 yards or longer (46 passes, 18 rushes). This season, Michigan's defense has allowed only 41 plays of 20 yards or longer (25 passes, 16 rushes). The Wolverines went from 107th nationally in allowing passes of 20 yards or longer to eighth this season.
2. Third-down defense:
Michigan ranked 95th nationally last season, allowing conversions at 43.3 percent. Five of eight Big Ten opponents converted more than half of their third downs against the Wolverines. This season, Michigan ranks 30th nationally, allowing conversions at 36.1 percent. Only one Big Ten team, Michigan State, converted half of its third-down attempts against the Wolverines.
3. Takeaways:
Last season, Michigan had 19 takeaways, which ranked 77th nationally and eighth in the Big Ten. The Wolverines matched the total in just seven games this fall and finished the regular season with 27 takeaways, tops in the Big Ten and tied for 22nd nationally. They recorded at least one takeaway in all but one game and multiple takeaways in nine contests.
"Those three things," Mattison said, "are what separate defenses."
Michigan's defense separated itself this season despite a lack of star power. The Wolverines feature no first-team All-Big Ten defenders and just one second-team selection in Martin. The starting defense includes two walk-ons (Kovacs and Heininger) and three freshmen (linebackers Jake Ryan and Desmond Morgan and cornerback Blake Countess).
But the components meshed under Mattison's leadership, and after being trashed in print and elsewhere, the Wolverines found a way to write a different conclusion to their story.
"Every man on that defense, especially the older ones, wanted to come out of Michigan being successful," Mattison said. "It's something you have to have been at Michigan to understand. You're judged by how you play when you graduate. You won't get around that. That's been forever, since Bo [Schembechler] was here.
"To see these guys buy in and work as hard as they did, and to have the success they had at times, was probably one of the most rewarding things I've ever had in my coaching career."
September, 1, 2011
9/01/11
2:30
PM ET
Troy Woolfolk has been around Michigan football all his life, and he knows the hyperbole that often follows the Maize and Blue.
Woolfolk, a fifth-year senior cornerback for Michigan, heard the big declarations about the direction of the program after season-opening wins in 2009 and 2010.
He issues some words of caution entering Saturday's opener against Western Michigan.
"I have a problem with people saying, even if we win this next game, that Michigan is back," Woolfolk told ESPN.com this week. "We have to earn that right, every game, to say Michigan is back. So I won't be proud until the last game. If we win all the games, that's when I'll know we're finally back."
[+] Enlarge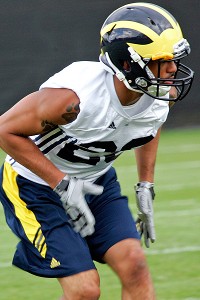 AP Photo/Tony DingTroy Woolfolk could lean on his father, Butch, himself a former Michigan star, when it came to dealing with injuries.
Woolfolk's attitude is refreshing. If the grand proclamations about Michigan after the past two openers proved true, Tate Forcier would be a Heisman Trophy candidate and the defense would consistently keep opponents out of the end zone. Obviously, neither of those things panned out.
What Saturday's opener represents is an opportunity for Michigan's defense to start the process of returning to its traditional form. The Wolverines not only veered off track the past three seasons, they totally derailed, finishing no better than 77th nationally in points allowed and bottoming out in 2010 by finishing 110th nationally in yards allowed.
While many will be watching electric quarterback
Denard Robinson
and his transition to a new offense Saturday, the more significant developments will take place on defense. New coach Brady Hoke and his staff, led by veteran defensive guru Greg Mattison, have spent the past few months repairing one of the nation's worst units.
The product is far from finished, but it will finally be on display.
"Michigan is known for defense," said Woolfolk, who returns Saturday after missing all of last season with a broken leg and a dislocated ankle. "The past years, we didn't live up to that, but this year, we should be able to play sound, good Michigan defense."
Any potential Wolverines turnaround starts with the defensive line, the area in which both Hoke and Mattison specialize. Hoke likes his rotation, which is led by team captain Mike Martin and senior end Ryan Van Bergen, and also features a bulked-up Craig Roh, Jibreel Black, Will Heininger and massive tackle Will Campbell, who the Wolverines hope can finally reach his potential.
"We've got some multiple alignments that we can put out on the field," Hoke said, "and that's going to help us in a lot of ways, help us keep fresh so we've got guys in there who are fresh all day long."
Hoke added that he wants to see his defenders "playing with a fanaticism."
Woolfolk also mentioned we'll see more intensity from a defense that finished 98th nationally in sacks in 2010.
But the critical question is whether Michigan can limit the fundamental meltdowns that led to so many big plays and extended so many drives the past few seasons. Even in last year's 30-10 opening win against Connecticut, Michigan's defense had breakdowns the Huskies simply couldn't exploit.
Better teams did, and the results weren't pretty.
"Those major breakdowns are due to [the need to be] a student of the game," Woolfolk said. "You have to actually know the defense and try to go in, even after practice, to study film and truly understand your position. Once you can do that, it will cancel out the big plays.
"Mistakes are going to happen. The thing we like to focus on is not making the same mistake."
Michigan hopes a more experienced secondary can learn from the past, especially Saturday against a high-powered Western Michigan passing attack led by quarterback
Alex Carder
and receiver
Jordan White
, a Biletnikoff Award semifinalist in 2010.
The lone positive for a Wolverines secondary ravaged by injuries and other personnel issues is that younger players got their feet wet -- and quite often their backsides burned -- in games.
"Courtney Avery, he played as a true freshman," Woolfolk said. "Terrence Talbott, he played as a true freshmen. So we have a lot of sophomores who played their freshmen year. Plus, we have me and J.T. [Floyd] coming back, who have also played a lot.
"We have a lot of experience, so the secondary should be fine."
It will take more than a strong performance Saturday to determine whether Woolfolk is right, but the opener marks a new beginning for a defense that craves one.
"I've seen it," Martin said. "I've been there every single day. ... It's something you can't hide. Every single day I can say we're getting better."