July, 7, 2014
Jul 7
9:00
AM ET
When a football coaching staff signs one of the top few recruits at any position, it's cause for celebration. Therefore, grabbing two of the top three prospects at that position might warrant an Animal House-style party.
Between 2006, when ESPN began assembling recruit rankings, and 2013, individual programs managed to sign at least two of the top three players at a position 16 times. In many cases, one -- and sometimes both -- of those players became instant stars as true freshmen. Think
Taylor Mays
and
Joe McKnight
at USC,
De'Anthony Thomas
at Oregon,
Laremy Tunsil
at Ole Miss and
Sean Spence
at Miami.
This was a relatively unique occurrence up until 2014, when it happened five times -- with four of the five instances occurring in the SEC: twice at Alabama, which signed the top two players at both center (No. 1
Josh Casher
and No. 2
J.C. Hassenauer
) and outside linebacker (No. 1
Christian Miller
and No. 2
Rashaan Evans
), plus at LSU (with No. 1 and 3 wide receivers
Malachi Dupre
and
Trey Quinn
) and Florida (with No. 2 and 3 defensive tackles
Gerald Willis
and
Thomas Holley
).
Clemson was the other school to accomplish the feat in 2014, signing No. 2 and 3 receiving tight ends
Milan Richard
and
Cannon Smith
.
In some of these cases -- particularly at LSU, which lost the vast majority of its receiving production from 2013 -- expectations are high that the star signees can immediately become valuable contributors as true freshmen. The Tigers have multiple alternatives at receiver, including
Travin Dural
and
John Diarse
, but Dupre and Quinn might rank among the leading contenders for playing time.
Judging by the long list of Freshman All-America and freshman all-conference honors won by those who previously signed as part of such a dynamic duo, perhaps it's not such a long shot that at least one of the newcomers will make a similar instant impact.
2006

Safety | USC
No. 2 Taylor Mays, No. 3 Antwine Perez
Mays appeared in all 13 games -- starting the last 12 at free safety after Josh Pinkard suffered a season-ending injury in the opener -- in 2006 and led the Trojans with three interceptions. Mays was fifth on the team with 62 tackles and tied for second with six passes defended, ending the season as Pac-10 Co-Freshman of the Year and as a member of multiple Freshman All-America teams. Perez played in seven games and recorded three tackles.
2007

Center | Auburn
No. 1 Ryan Pugh, No. 3 Chaz Ramsey
Pugh started six of Auburn's final nine games at left tackle and appeared in eight games overall. He also backed up Jason Bosley at center and earned Coaches' All-SEC Freshman team honors after the season. Like Pugh, Ramsey appeared for the first time in Week 4 and went on to start nine of the Tigers' last 10 games at right guard. He also made the Coaches' All-SEC Freshman team.

Running back | USC
No. 1 Joe McKnight, No. 2 Marc Tyler
McKnight played in all 13 games in 2007, ranked third on the team with 540 rushing yards and scored three touchdowns. He also caught 23 passes for 203 yards and a touchdown and served as the Trojans' primary punt returner, with his 8.4 yards per return helping him earn a All-Pac-10 honorable mention nod. Tyler redshirted in 2007 while recuperating from a high school leg injury.
2008

Inside linebacker | Ohio State
No. 1 Etienne Sabino, No. 2 Andrew Sweat
Sabino played in all 13 games and notched six tackles. He notched the only touchdown in the Buckeyes' 16-3 win against Purdue by returning a blocked punt 20 yards for a score. Sweat appeared in the last nine games and recorded five tackles, also contributing mostly on special teams.

Outside linebacker | Miami
No. 1 Arthur Brown, No. 2 Sean Spence, No. 3 Ramon Buchanan
Not only did Miami sign ESPN's top three outside linebacker prospects in 2008, it also signed No. 5 Jordan Futch. That's an outstanding haul for one year. At any rate, Spence emerged as the key member of this group from the get-go, ranking third on the team with 65 tackles and leading the Hurricanes with 9.5 tackles for a loss in 2008. He was ACC Defensive Rookie of the Year and made multiple Freshman All-America teams. Brown (who later transferred to Kansas State) played in 11 games as a freshman, notching four tackles and shifting from outside to inside linebacker. Buchanan had six tackles in nine games, playing mostly on special teams and also contributing at safety and linebacker.

Offensive tackle | Ohio State
No. 2 Michael Brewster, No. 3 J.B. Shugarts
Brewster played in 12 of the Buckeyes' 13 games in 2008 and started the last 10 at center, earning Freshman All-America honors in the process. Shugarts appeared in seven games at offensive tackle and missed six other games with a shoulder surgery that required offseason surgery.

Safety | Florida
No. 1 Will Hill, No. 2 Dee Finley
Hill played in 13 games and ranked sixth on the team with 48 tackles. He also picked off two passes and notched 1.5 sacks. He made the SEC All-Freshman team and led the Gators with 22 tackles on special teams. Finley did not qualify academically and spent the 2008 season at Milford Academy prep school. He eventually enrolled at Florida and shifted from safety to linebacker, but transferred away from Gainesville in 2011.
2009

Safety | South Carolina
No. 2 Stephon Gilmore, No. 3 DeVonte Holloman
Early enrollee Gilmore started all 13 games at cornerback, ranking fifth on the team with 56 tackles. He tied for the team lead with nine passes defended and ranked second with eight pass breakups, adding six tackles for a loss, three sacks, two fumble recoveries, two forced fumbles and an interception. The Freshman All-SEC and Freshman All-America honoree also averaged 10.1 yards per return as a punt return man. Another early enrollee, Hollomon also played in every game, notching 30 tackles, an interception (which he returned 54 yards against rival Clemson) and a tackle for a loss.
2010

Athlete | Florida
No. 1 Ronald Powell, No. 2 Matt Elam
Powell played in 13 games at strongside linebacker and recorded 25 tackles, three tackles for a loss and a sack en route to winning Freshman All-SEC honors. Elam also played in all 13 games, mostly on special teams and at defensive back, and notched 22 tackles, two tackles for a loss and a sack.

Defensive tackle | Florida
No. 1 Dominique Easley, No. 3 Sharrif Floyd
Easley recorded four tackles in six games. Floyd played in all 13 games, earning Coaches' Freshman All-SEC honors by making 23 tackles and 6.5 tackles for a loss.

Wide receiver | Texas
No. 2 Mike Davis, No. 3 Darius White
Davis ranked second on the team with 478 receiving yards and 47 receptions (a record for a Texas freshman). He became one of only three receivers in Longhorns history to post multiple 100-yard games as a freshman. White appeared in 10 games in 2010, but caught just one pass for 5 yards and eventually transferred to Missouri after two seasons, citing a need for a fresh start.
2011

Athlete | Oregon
No. 1 De'Anthony Thomas, No. 2 Devon Blackmon
The speedy Thomas earned Pac-12 Co-Offensive Freshman of the Year honors and was named an All-Pac-12 kick returner and a Freshman All-American. He was the only player in the nation to post at least 400 yards rushing, receiving and kick returning in 2011, ranking as the Ducks' second-leading receiver (595 yards on 46 catches) and third-leading rusher (608 yards and seven touchdowns). His 983 kickoff return yards ranked second in school history. Blackmon redshirted in 2011 and appeared in two games in 2012 before announcing his plan to transfer. He played at Riverside City College before signing with BYU as a juco transfer in 2014.
2012
Defensive end | Florida State
No. 1 Mario Edwards, No. 3 Chris Casher
Edwards became the only freshman to start all season for a loaded FSU defense when he replaced the injured Tank Carradine in the ACC Championship Game. He also started in the Orange Bowl win over Northern Illinois. In all, Edwards finished the season with 17 tackles, 2.5 tackles for a loss and 1.5 sacks. Casher played in two early games before suffering a season-ending injury and taking a redshirt in 2012.
2013

Offensive guard | Michigan
No. 2 David Dawson, No. 3 Patrick Kugler
Dawson and Kugler both redshirted in 2013. Dawson practiced during the spring at left guard and left tackle, while Kugler is among the candidates to start at center this fall.

Offensive tackle | Ole Miss
No. 1 Laremy Tunsil, No. 3 Austin Golson
Tunsil immediately became one of the better offensive tackles in the SEC, earning second-team All-SEC and Freshman All-America honors in 2013. He played in 12 games and started nine at left tackle, making him one of only two true full-time freshman starters at the position in the FBS. Tunsil allowed just one sack all season. Golson played in 12 games, mostly at guard, before missing the Rebels' bowl game because of shoulder surgery. He transferred to Auburn this summer, citing a family illness as the reason he wanted to move closer to his Alabama home.

Safety |
USC
No. 1 Su'a Cravens, No. 3 Leon McQuay III


A 2013 early enrollee, Cravens started 13 games at strong safety, ranked eighth on the team with 52 tackles and tied for second with four interceptions. He made multiple Freshman All-America teams and earned an All-Pac-12 honorable mention nod after the season. McQuay played in all 14 games, picked off one pass and recorded 19 tackles.
January, 19, 2012
1/19/12
4:17
PM ET
Our recruiting folks at ESPN have gone back and
re-visited the 2008 signing class
and assessed how the marquee prospects in that class fared in college.

It's one of my favorite exercises, because it's a reminder that recruiting is anything but an exact science, and that evaluating recruiting classes and prospects on signing day is a dicey proposition.
Everybody is trying to recruit great players, but what matters is what you do with those players once you get them on your campus.
Of the 25 top prospects in the 2008 class, seven signed with SEC schools.
No. 2 on that list was Julio Jones. No. 5 was A.J. Green, and No. 8 was Patrick Peterson.
I'd say the analysts got those three right. They were all great players who earned numerous awards and accolades, and all three were taken among the top six picks in last year's NFL draft.
But for every Julio Jones, A.J. Green and Patrick Peterson, there's a
Will Hill
,
Dee Finley
,
Chancey Aghayere
and Burton Scott.
All four were ranked among the top 25 prospects in the nation by ESPN in 2008, but for varying reasons, they never flourished in college.
Hill, a safety who signed with Florida out of West Orange, N.J., was the No. 3 overall prospect in 2008. He had a promising freshman season, but struggled with consistency his next two seasons. He declared early for the NFL draft and wasn't selected, and wound up playing in the Arena Football League.
Finley, another safety who signed with Florida out of Auburn, Ala., was No. 10. He was sidetracked by injuries and off-the-field issues during his career and announced that he was transferring to North Alabama.
Aghayere, a defensive end who signed with LSU out of Garland, Texas, was No. 14. He's a rising senior, but has played mostly in a reserve role for the Tigers. He didn't make any starts this season and finished with three total tackles.
Scott, an athlete who signed with Alabama out of Prichard, Ala., was No. 19. He moved from running back to cornerback after arriving at Alabama, but wound up transferring and played at South Alabama this past season.
Florida signed an SEC-high six players in 2008 that were ranked among the top 55 prospects nationally. The Gators signed 10 players who were ESPNU 150 prospects.
It's a haul that looked terrific at the time, but four seasons later, the Gators lost six football games and didn't beat anybody in 2011 (in the FBS ranks) that finished with a winning record.
There's also the flip side.
Alabama's 2008 class was ranked No. 3 by ESPN, and it's a class that was the driving force behind the Crimson Tide's dizzying run the past few years, which includes two national championships.
So, again, there are always hits and misses in recruiting, and those players who miss sometimes do so for reasons that go well beyond football ability. What's more, classes that look like a million dollars on signing day don't always look so good three and four years later.
Just something to remember with national signing day approaching.
Here's a look at the remaining ESPNU 150 prospects in 2008 who signed with SEC schools:
September, 18, 2010
9/18/10
3:36
PM ET
KNOXVILLE, Tenn. -- Florida already leads the country with eight interceptions and has one of the best defensive backfields in the country.
But the Gators are getting junior safety Will Hill back today from a two-game suspension.
The Gators have supreme confidence in their defensive backs and will no doubt dare Tennessee to beat them down the field. The Vols'
Tauren Poole
is leading the SEC in rushing through two games, and the Gators will look to stop him early and force
Matt Simms
to beat them throwing the ball.
August, 2, 2010
8/02/10
9:48
AM ET
Six SEC players, including Florida teammates Janoris Jenkins and Will Hill, are on the 2010 Jim Thorpe Award preseason watch list.

The Jim Thorpe Award is presented annually to the nation's best defensive back, and it hasn't been an award that the SEC has dominated through the years. Tennessee safety Eric Berry was named the 2009 winner, but he was only the fourth SEC player in the last 20 years to win the award.

That said, the SEC should have a good chance to make it two in a row this season. In addition to Jenkins and Hill, the other four from the conference on the preseason watch list are LSU cornerback Patrick Peterson, Alabama safety Mark Barron, South Carolina cornerback Stephon Gilmore and Georgia cornerback Brandon Boykin.

The SEC, Big 12 and ACC all placed six players on the list, which included 35 players.

Here's the entire list:

Prince Amukamara, CB, Nebraska
Mark Barron, S, Alabama
Brandon Boykin, CB, Georgia
Curtis Brown, CB, Texas
Kendric Burney, CB, North Carolina
Brandon Burton, CB, Utah
Rashad Carmichael, CB, Virginia Tech
Quinton Carter, S, Oklahoma
Chimdi Chekwa, CB, Ohio State
Don Decicco, S, Pittsburgh
Ras-I Dowling, CB, Virginia
Blake Gideon, S, Texas
Stephen Gilmore, CB, South Carolina
Brandon Harris, CB, Miami
Will Hill, S, Florida
Jermale Hines, S, Ohio State
Brandon Hogan, CB, West Virginia
Davon House, CB, New Mexico State
Duke Ihenacho, S, San Jose State
Jaiquwn Jarrett, S, Temple
Janoris Jenkins, CB, Florida
Jeron Johnson, S, Boise State
Tejay Johnson, S, TCU
Shiloh Keo, S, Idaho
Brian Lainhart, S, Kent State
DeAndre McDaniel, S, Clemson
Rahim Moore, S, UCLA
Johnny Patrick, CB, Louisville
Patrick Peterson, CB, LSU
Tyler Sash, S, Iowa
Robert Sands, S, West Virginia
Jimmy Smith, CB, Colorado
Trevin Wade, CB, Arizona
Deunta Williams, S, North Carolina
Aaron Williams, CB, Texas
July, 28, 2010
7/28/10
10:40
AM ET
The SEC lost a bevy of great defensive backs from a year ago.
In fact, 12 were taken in the NFL draft, and seven went in the first three rounds. Gone are Eric Berry, Joe Haden, Kareem Jackson, Major Wright, Javier Arenas, Chad Jones, Myron Lewis, Walt McFadden, Marquis Johnson, Kendrick Lewis, Reshad Jones and Trevard Lindley.
What's that leave in the way of the top defensive backfields in the SEC for 2010?
Here's a look:
[+] Enlarge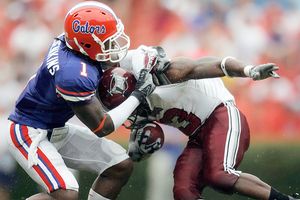 Cliff Welch/Icon SMI Janoris Jenkins is one of the mainstays in the Florida defensive backfield.
1. Florida:
It's a testament to how well the Gators have recruited that they own the top secondary in the SEC even after losing Haden and Wright early to the NFL. Janoris Jenkins is one of the top cornerbacks in the league, and good luck in finding a better safety tandem than Will Hill and Ahmad Black. Talented freshmen are waiting in the wings, too, like Matt Elam and Joshua Shaw.
2. South Carolina:
The Gamecocks were second in the league last season in pass defense and should be even harder to throw the ball on in 2010. Sophomore Stephon Gilmore is one of the best young cornerbacks in college football, and his former high school teammate, safety DeVonte Holloman, may be one of the breakout players in the league. Senior Chris Culliver, a second-team All-SEC selection last season, also returns and is switching from safety to cornerback.
3. LSU:
If you're looking for the fastest secondary in the SEC, look no further than the unit the Tigers will put on the field this season. Patrick Peterson is the best cornerback in the country -- period -- and his running mate on the other side, Morris Claiborne, has been turning heads since the spring. They may end up being the best cornerback tandem in the league. Jai Eugene has moved from cornerback to safety, while Brandon Taylor returns at the other safety. He, too, is a former cornerback.
4. Auburn:
There's nothing like adding three veteran leaders back to the mix, and that's what Auburn will do with senior safeties Zac Etheridge, Aairon Savage and Mike McNeil. All are returning from serious injuries. One of the priorities this season is to get junior cornerback Neiko Thorpe more help. He played too many snaps a year ago. Demond Washington is returning to his cornerback position after filling in at safety last season.
5. Vanderbilt:
Don't blink. Vanderbilt has consistently played some of the best pass defense in the SEC under Jamie Bryant, who oversees the Commodores' secondary. Safety Sean Richardson and cornerback Casey Hayward are returning starters, and both have what it takes to be All-SEC players. Junior Jamie Graham has settled in at the other cornerback after playing receiver earlier in his career. Nickelback Eddie Foster also returns, and the Commodores liked what they saw this spring from freshman safeties Jay Fullam and Kenny Ladler.
6. Alabama:
The only guy who won't be new for the Crimson Tide this season in the secondary is junior safety Mark Barron, who led the SEC with seven interceptions a year ago. Everybody else who was in the rotation is gone. Alabama still has plenty of young talent in its defensive backfield, but there could be some growing pains early. Sophomore cornerback Dre Kirkpatrick has unlimited potential. There's also a chance that junior college cornerback DeQuan Menzie could be back after tearing his Achilles tendon in the spring.
7. Georgia:
The Bulldogs gave up far too many big plays in the secondary last season and allowed a league-high 25 touchdown passes. They should be better in 2010, particularly with the addition of junior college safety Jakar Hamilton, who was one of the stars of the spring. Junior cornerback Brandon Boykin has the skills to be one of the league's top cover guys, but the Bulldogs are still thin at the cornerback position. They can't afford any injuries.
8. Tennessee:
The dismissal of starting safety Darren Myles Jr. following his arrest and involvement in a bar brawl drops the Vols down a spot or two. They don't have a lot of depth behind him. The leader of the unit is sophomore free safety Janzen Jackson, who can be one of the best defensive backs in the league if he stays out of trouble off the field. Junior cornerback Art Evans is underrated and will be the Vols' top cover guy.
9. Mississippi State:
The Bulldogs got big performances from freshmen last season in their secondary, which means their pass defense should improve considerably from their No. 11 showing in the SEC a year ago. Sophomore cornerback Corey Broomfield had six interceptions, and sophomore Johnthan Banks had four interceptions. Banks is moving to free safety this season. Also look for a big junior season from strong safety Charles Mitchell, who is Mississippi State's enforcer back there.
10. Kentucky:
With Lindley missing four full games last season with a high ankle sprain, the rest of the Wildcats' defensive backs were forced to step up their games. Three starters return, including budding star Winston Guy at free safety. Cornerbacks Paul Warford and Randall Burden are also back, as Kentucky started five defensive backs in most games. Finding another safety will be key this preseason.
11. Ole Miss:
The lone returning starter is senior safety Johnny Brown, who's coming off his best season. The Rebels' other safety a year ago, Kendrick Lewis, was one of their mainstays on defense, and replacing him won't be easy. Junior college newcomer Damien Jackson will draw that job, and he was extremely impressive in the spring. Ole Miss will be both inexperienced and thin at the cornerback positions.
12. Arkansas:
The Hogs gladly welcome back junior cornerback Isaac Madison, who missed all of last season with a knee injury. Their pass defense suffered with Madison out of the lineup, and they finished last in the league, allowing 401.2 yards per game. They also gave up 22 touchdown passes. To get more speed on the field, Arkansas moved Rudell Crim to safety during the spring. Ramon Broadway returns at the other cornerback and Elton Ford at the other safety.
October, 24, 2009
10/24/09
10:53
AM ET
Posted by ESPN.com's Heather Dinich
CHARLOTTESVILLE, Va. -- Hello from Scott Stadium, where it's a dreary, humid day and the rain just started to come down steadily. Maybe it's the weather that's keeping folks away, but there was a bigger line at Bodo's Bagel Bakery this morning than there was to get parking. If it continues to rain during the game, it would be the first time it's rained during a game in Scott Stadium since the 2002 game against NC State. The forecast is calling for a tenth to a quarter of an inch of rain during the game.
Here's what really matters on the field, though: Virginia will be missing defensive end Matt Conrath, arguably the top defender, against one of the most difficult offenses to defend. Conrath is out with an ankle injury. Filling in for him will be Zane Parr, who has been used mostly in dime and pass-rush situations this year, and Will Hill, a true freshman who enrolled in January.
The good news for the Cavs is that standout running back
Mikell Simpson
will be back in the lineup after sustaining a neck injury two weeks ago. He was held out of the Maryland game last week for precautionary reasons, but practiced all week. Because of the weather, turnovers and running the ball will be key. Having Simpson back will help even the ground game out, but the defense will have to be disciplined and play harder without Conrath if an upset is to occur today.