March, 27, 2013
3/27/13
9:00
AM ET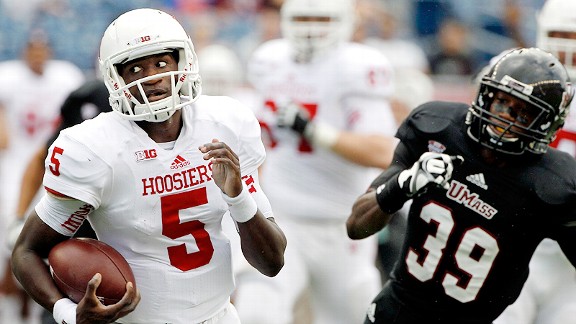 AP Photo/Stephan SavoiaIndiana QB Tre Roberson is ready to return to the field after playing in just five quarters in 2012.
The first and most important question, especially for a mobile quarterback recovering from a broken leg, is how
Tre Roberson
is feeling.
"Really good," the Indiana signal caller told ESPN.com on Tuesday. "My leg, it doesn't hurt or anything, so it's probably about 95 [percent]."
Roberson, whose promising start to the 2012 season was cut short when he
broke his leg
in the second quarter of the second game, began working out and throwing passes two days after Indiana's season ended in November. He participated in winter workouts and has been fully cleared for spring practice (like IU's other quarterbacks, he isn't taking contact).
Although he's not "all the way back" mobility-wise, he's getting closer every day.
The next question, arguably just as important, concerns Roberson's reintegration to the practice field. Although he separated himself as Indiana's top quarterback last summer and looked very good early on, racking up five touchdowns (3 rush, 2 pass) and 501 yards in five-plus quarters, he hasn't taken meaningful snaps for six months.
"I'm a little rusty, still out here thinking a little bit, trying to get back into football form," he said. "I've just got to remember where to go with each coverage, and just look at the defense and know what's going on. Playing quarterback, you've always got to be in the flow. It's always the rhythm of the game, so when you're out for a year, you lose that rhythm.
"I'm trying to get that rhythm back."
Roberson has found his groove in spurts, completing several passes in a row during drills. The goal for the rest of the spring is to feel the rhythm more often. Indiana's no-huddle, up-tempo spread offense demands it.
"Our offense is pretty rhythmic," Roberson said. "Everything is timing."
Hoosiers offensive coordinator Seth Littrell said he hasn't overloaded the unit with tempo during the first part of spring, but it's coming. Indiana's speed and efficiency in running plays helped the offense rise from 83rd nationally in 2011 to 34th last season.
IU loses only one offensive starter from 2012 (center
Will Matte
) and boasts arguably the Big Ten's deepest wide receiving corps and a line with several promising young players. The offense will play fast this fall, perhaps faster than it did last season. Roberson's challenge this spring, interestingly enough, is slowing down.
"He's got to slow the game back down a little bit," Littrell told ESPN.com. "His strengths are on the perimeter, and he can definitely pull the ball down to run. But what comes with that is maybe you're a little quick-footed in the pocket and you get a little quick to run. He's just got to be able to settle in there.
"He can make the throws, he can sit in the pocket tall and he can be a quarterback and read defenses, so he's really improving on that."
Roberson finds himself in the same position as last summer, needing to beat out
Cameron Coffman
and
Nate Sudfeld
for the starting job. The difference now is both Coffman and Sudfeld now have extensive experience in the Big Ten.
Coffman started Indiana's final 10 games following Roberson's injury and passed for 2,734 yards with 15 touchdowns and 11 interceptions. Sudfeld saw the field in seven games and passed for 632 yards with seven scoring strikes and only one interception. Both have displayed a great comfort level this spring, Littrell said.
"It makes it more competitive," Roberson said. "Both of them are good quarterbacks. They can be the starter, just like I can. I'm learning from them because they had a lot of reps [last] season."
Littrell describes the quarterback spot, like every other offensive position, as "wide open," and the competition among Roberson, Coffman and Sudfeld almost certainly will stretch into preseason camp.
Head coach
Kevin Wilson is looking for winning qualities
in his quarterback, noting that while all three have put up nice numbers, none has consistently led Indiana to victories.
"He's looking for somebody with a good attitude, willing to put in the extra work and just keep our standard," Roberson said. "Being poised, standing straight up, looking the defense and the offense in the eye and just leading the team.
"I try to bring that energy and that drive."
The leadership element never left the 6-foot, 200-pound Roberson, who continued to encourage his teammates from the sideline last fall. In 2011, he became the first true freshman to start at quarterback in team history, making five starts and racking up 937 pass yards and 426 rush yards.
His task the rest of the spring is to regain the form he showed during those first five quarters of 2012.
"Everything was super slow," he said. "It felt like I was out at practice. I'm trying to get back to that feeling."
February, 28, 2013
2/28/13
1:00
PM ET
There's reason to be cautiously optimistic about Indiana football in 2013. The Hoosiers improved their wins total last fall by three and amazingly in November found themselves in contention to represent the Leaders Division at the Big Ten title game. All but three starters return, including the playmakers from an offense that finished second in the Big Ten. Quarterback
Tre Roberson
has
recovered from a broken leg
and will compete to reclaim his starting job this spring. The schedule features eight home games for just the second time in team history. IU isn't without major concerns, namely a defense that hasn't consistently stopped anyone for more than a decade and
recently lost co-coordinator Mike Ekeler to USC
. The team only went 4-8 in 2012 and must build much better depth at several positions, starting in spring ball, which kicks off Saturday.
ESPN.com caught up with IU head coach Kevin Wilson to discuss the spring.
What's the big theme for your team entering the spring?
Kevin Wilson:
We've got enough guys back, we're stronger, we're mature, we understand each other and understand the standard. We've just got to continue to work at a higher level. When you're not mentally or physically as strong as you want to be, you've got to gain on it. There's different levels of that. It's nice that we get a lot of guys back, but you start over. We are starting over at a better spot because a lot of guys are back. We're building a foundation to play better football next year.
Where would you like to be from a depth standpoint by the end of the spring?
KW:
Everybody's got depth issues and we could be better in certain areas, but we only lose about four or five guys who really played [in 2012]. We've got a lot of what's back, and we've got, on paper, a nice recruiting class that will help, but really it's not about the depth as much as it's about competition. Guys are pushing guys to be on the field. We've got a lot of guys back who have been second-teamers and the first-teamer [ahead of them] is back. Now how do you push that first-teamer and beat him him out? A great example is at quarterback. We've got three guys that have all played, they've all played kind of well, their stats are OK, but we haven't won a lot of games. There's really not a proven winner. We've got guys that look like they can do OK, but they haven't proven they can win at a high level of Big Ten football. I think that will be an awesome competition. We want to see that across the board.
[+] Enlarge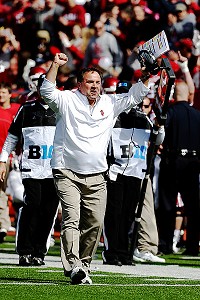 AP Photo/Darron CummingsWith numerous key players returning, Indiana coach Kevin Wilson is optimistic heading into spring workouts.
How do you identify winners in that group or other groups when you're not playing games?
KW:
Sometimes you'll see who moves around, who gets the group in the end zone. But that sometimes can be skewed. A guy busts a coverage and a guy scores a touchdown, does that mean the quarterback is a better quarterback? Sometimes it's a play where there's not a good call and he's got to throw it out of bounds and it's a great play because there's nothing open. I just think your body of work, your body language, your leadership skills. Are you the best extension of the coaching staff and what we're trying to do? The game's called football and we put the football in your hands every snap. It's got to be a guy you trust because you give him the game, every game, and say, 'Go play.'
Right now, those guys have all had some fair stats, but we want to see winning football played at that position.
How is Tre [Roberson] physically, and what do you expect out of him?
KW:
He's been full-go. Right now, we're doing our offseason program, our agility program, and he's full-go. There's no limitations. I don't want him to be tackled, but we don't tackle the quarterbacks anyway, so I would anticipate he'll be out there every day. He's gotten bigger. When he got hurt, he was under 185 [pounds], right around there, and now he's pushing 200 pounds. He's bigger, stronger, looks good running. I don't think he's at full tilt, but every day he gets stronger, every day he gets better and every day he gets more confident. Knock on wood, he should have no limitations, and he'll compete every day with those other two guys [
Cameron Coffman
and
Nate Sudfeld
].
You really bring back a lot at wide receiver, running back and tight end. How much competition is there at those other offensive positions?
KW:
We've got everybody back except [center]
Will Matte
on offense. We didn't lose a quarterback, we don't lose a running back, we don't lose any receivers. So we've got basically the crowd back. It's the same deal. Our kids realize, though, that the deal is we're going to play a number of guys. It doesn't matter whether you go out there first or second, we're going to play six, seven, eight, nine guys. We need to have one or two more receivers than we have. We're going to [use] two tight ends at least, with two or three running backs and seven or eight receivers. So when you say depth, it would be nice to see some of these guys that redshirted continue to come on and help us as complementary tight end guys and complementary receivers.
The tempo we play with, you've got to play a number of skill guys. A lot of guys are back, they've seen that we're going to throw the ball to them, and they believe they have quarterbacks who will get it to them so they can make plays. I'm expecting that receiver group to pick it up. We'll see if they can keep plugging along there.
You lose a few pieces up front on defense. How does the defensive line shape up entering the spring?
KW:
We signed two JC guys, one guy is here now [Jordan Heiderman]. We redshirted a big guy who we like. We did sign a couple of guys there, so some of those guys might get into the mix when preseason rolls around. But we need to play better across the board because we're making tweaks with what we're doing. We definitely need to play better run defense.
Schematically, will there be some new things on defense?
KW:
I don't know if it's that. We've just got to look at the position we're putting guys in, where we're playing them. It's not major [changes]. Same with offense, you're always playing to your strengths and weaknesses. Right now, we've played OK on offense, and not very good on defense. So we have to keep coming on both sides. Defensively, we're developing players, but we have to make sure we're putting them in the right spots with play calling to play winning football.
We have enough guys coming back. We should continue to improve this program. We should continue to take a very positive step this year. That being said, we have to play better football on the defensive side. We made some subtle changes from Year 1 to 2. It still wasn't what we needed. There won't be wholesale changes, major deals, but we've got to keep looking for what works.
Where do you see the leadership emerging on the team, and can the secondary be a strength for you guys because you have quite a few players back who have played?
KW:
Probably more competition and depth back there than we've had. And I think we've signed a couple kids who can get in the mix to help us. The linebacker corps got real beat up last year.
Jacarri Alexander
and
Chase Hoobler
missed some games, two of our starting three missed four, five, six games independent of each other. It took a toll. We're losing [Adam] Replogle and [Larry] Black and Will Matte and Nick Sliger, those are the four guys who really played. The fifth guy would be Charles Love, the backup tight end. So when you look at the football team, basically everyone's back, so with the leadership, hopefully you'll see that linebacker corps pick up and the secondary. We've got to establish a standard of what winning defensive football is at Indiana, and how we're going to play it. We'll build a mindset, we'll do some subtle structure things to hopefully position our players in better places, and we'll tackle better and get off the field and make stops and get some turnovers.
We've got to take a step offensively, be more wide open, continue to improve, take care of the ball and score more points. And we've got to improve defensively. When you're a 4-8 football team, that's not good. We're definitely moving in the right direction. Nineteen starters are back, and 14 of them are sophomores and juniors. So we've got some guys we can work with, and we've got the best recruiting class we've brought in. We basically have five seniors on scholarship and we signed 22. So we've got the core team back. It needs to get better. I think we'll make some nice additions as preseason comes around, and hopefully we'll continue to be more competitive and play the brand of football we're trying to build here.
July, 16, 2012
7/16/12
2:30
PM ET
One characteristic many seek in a leader is the ability to speak candidly about past failures.
Indiana tight end
Ted Bolser
has this covered pretty well.
[+] Enlarge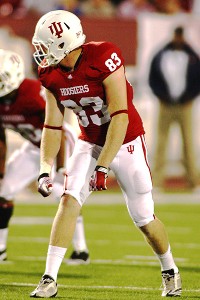 Cal Sport Media via AP ImagesIndiana Hoosiers tight end Ted Bolser is hoping to catch 50 passes in a revamped offense.
"Bolser doesn't hold back when assessing what went wrong in 2011 -- when Indiana finished 1-11 and went winless in the Big Ten and against FBS competition -- and what's going right these days in Bloomington.
"I'd like to say we trimmed the fat off our team last year, got rid of a lot of guys who didn't want to be here," Bolser told ESPN.com. "Everybody here wants to play, and plans on starting, so there's a lot of competition going on. We need competition to win. That's what we didn't have in the past. People just gave up their roles."
Such a passive attitude -- or a disinterested one -- played into the Hoosiers losing so many games.
"It was a huge distraction," Bolser said. "Not only during game day did some people just not care, but weekends, after hours, [when] coaches weren't around. ... We didn't have much leadership last year. Everybody was just kind of wandering in their own heads. The leadership's really changed this year."
Bolser is part of a small but vocal group stepping forward. Indiana enters 2012 with only eight seniors on the roster -- seven fifth-year players and one true senior (defensive tackle
Adam Replogle
). Given the small number, Bolser and other fourth-year juniors are taking bigger leadership roles, as are younger players.
He mentioned center
Will Matte
, linebackers Jacarri Alexander and David Cooper and quarterback
Tre Roberson
as players taking steps as leaders. Although Roberson is a true sophomore, "we're treating him like he's a senior," Bolser said.
"With the few upperclassmen we have, just about all of us are having our own leadership role," Bolser continued. "For myself, I've noticed a tremendous leap."
Part of that leap is personal accountability, and Bolser is setting the bar high in 2012. He recorded 27 receptions for 407 yards and five touchdowns as a redshirt freshman in 2010, making seven starts. But his numbers dipped in all four categories last season -- 14 catches, 165 receiving yards, one touchdown, six starts. To be fair the decline largely can be attributed to a run-based offense led by a freshman quarterback.
Head coach Kevin Wilson wants to emphasize the pass much more this season and brought in a new offensive coordinator, Seth Littrell, who comes from the Mike Leach coaching tree and oversaw an Arizona offense that ranked third nationally in passing a year ago (370.8 ypg).
"This year, we're throwing the ball no matter what," Bolser said. "For myself and the wide receivers, we're expecting big things."
How big?
"I'm expecting better numbers than I had my freshman year by far," he said. "I had around 30 catches my freshman year, and I'm hoping to get around 50 plus this year. I'm hoping to be in the game just about every play, blocking or catching passes. As much as we're going to be throwing it, the ball has to go to somebody, and I'm hoping it goes to me."
Arguably no Indiana could benefit more from Littrell's arrival than Bolser. Littrell, who will directly coach tight ends and fullbacks at IU, worked at Arizona with Rob Gronkowski, who Bolser calls "just about every tight end's idol."
"Especially when I'm watching film, we go over what [Gronkowski] does and previous things he's done, how their relationship blossomed, how they worked with each other and a lot of things like that," Bolser said. "Things are changing, especially lately. You've got to be a block- and pass-oriented tight end. You've got to have both, which he has."
Bolser hopes to be the complete package for Indiana this year -- minus The Gronk Spike.
Said Bolser: "I can't do that."
June, 24, 2011
6/24/11
1:30
PM ET
The preseason position rankings march on with the offensive lines. Team rankings are below, and we'll take a look at the individual rankings for tackles, centers and guards early next week.
Looking at the league landscape, offensive line could be a major strength throughout the Big Ten this season. Although standout players such as Outland Trophy winner Gabe Carimi and All-American Stefen Wisniewski depart, I see improved depth for several teams as well as quite a few multiyear starters.
Honestly, there
aren't any bad lines in the league
; just some with more question marks than others.
Let's get to the rundown.
1. Wisconsin:
Talk about an ability to reload. The Badgers lose All-Americans Carimi and John Moffitt, plus the versatile Bill Nagy, and they still shouldn't take any steps backward. Injuries have allowed Wisconsin to build depth the past few seasons, and four of the five spots look extremely solid. Tackle Ricky Wagner, center Peter Konz and guard Kevin Zeitler lead a group that will block for the league's top running back tandem. Wisconsin's track record up front is impossible to ignore, and this year's line should continue the trend.
[+] Enlarge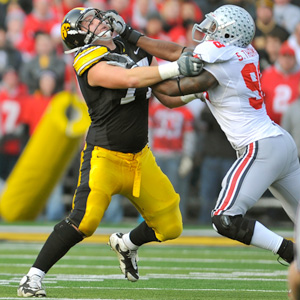 David Purdy/Getty ImagesWill arm length be an issue for former Iowa left tackle Riley Reiff in the NFL?
2. Iowa:
The line is undoubtedly Iowa's biggest strength and should be one of the nation's elite units in 2011. Iowa returns starting experience at all five positions and should have decent depth. Left tackle Riley Reiff, projected as a first-round pick in the 2012 NFL draft, will enter the fall as a leading candidate for the Outland Trophy. James Ferentz is one of the league's top centers, and Markus Zusevics is poised for a big year at right tackle.
3. Ohio State:
Depth is the only reason the Buckeyes' line isn't higher in the rankings. Ohio State boasts arguably the nation's top center in Mike Brewster, and first-team All-Big Ten tackle Mike Adams will be back after a five-game suspension to begin the season. The Buckeyes need big things from tackle Andrew Norwell during Adams' absence, and tackle J.B. Shugarts must play like a veteran. After struggling to put two sets of capable linemen on the field this spring, Ohio State has to find more depth in preseason camp.
4. Michigan:
This is another group that could climb up the rankings by season's end. Center David Molk is a terrific piece to build around, and if gifted players like Taylor Lewan and Patrick Omameh continue to develop, Michigan's line will be a major strength. The concerns are Molk's ability to stay healthy and an adjustment to a new offensive system under Al Borges. The line did an excellent job of protecting
Denard Robinson
in 2010, allowing a league-low 11 sacks.
5. Illinois:
The Illini flat-out punished opponents at the line of scrimmage on several occasions last season, and I really like the potential for the front five in 2011. The biggest reason? Left tackle Jeff Allen, one of the Big Ten's most experienced linemen. Allen and center Graham Pocic will contend for All-Big Ten honors, and if Corey Lewis gets healthy, this should be one of the league's top offensive lines.
6. Purdue:
Expectations are high for a line that coach Danny Hope thinks will be Purdue's strength in 2011. Left tackle Dennis Kelly is an All-Big Ten candidate with NFL potential who has started the past 24 games. Center Peters Drey and tackle Nick Mondek help anchor the group. The big question is whether mammoth guard Ken Plue, a multiyear starter, can get out of Hope's doghouse to help lead the way. Plue will be pushed by James Shepherd this summer. The combination of experience up front and the return of running back
Ralph Bolden
bode well for the Boilers.
7. Northwestern:
The Wildcats boast the nation's second most experienced line (137 combined career starts), but experience must start translating to production. This group still must prove it can spark a decent rushing attack after several years of decline. Left tackle Al Netter is an All-Big Ten candidate and center Ben Burkett enters his fourth season as the starter. If Northwestern gets more consistent play from right tackle Patrick Ward and others, it should be a solid group.
8. Penn State:
This is a big year for Penn State's O-line, which has heard the criticism and has vowed to erase it in 2011. The tackle spots look solid with Quinn Barham and Chima Okoli, but Penn State needs to shore up the interior after losing Wisniewski, a mainstay for the past four seasons. If veterans like Johnnie Troutman and DeOn'tae Pannell step up and turn in consistent performances, the line should hold up nicely.
9. Nebraska:
The Huskers ranked ninth nationally in rushing last season but have quite a few question marks up front. Center Mike Caputo is a building block and sophomore tackle Jeremiah Sirles is a returning starter, but Nebraska has little proven experience. The Huskers will benefit from a healthy Marcel Jones at right tackle, and Yoshi Hardwick adds depth. This could turn out to be a decent group, but the experience issue combined with a scheme change creates some uncertainty.
10. Michigan State:
Not to put too much pressure on the line, but arguably no position group will have more influence on Michigan State's season. The Spartans must replace both starting tackles and their starting center, never an easy task. All-Big Ten guard Joel Foreman returns to lead the group, but Michigan State needs immediate contributions from unproven players. The coaches feel they've upgraded the athleticism up front by moving players like Dan France and Blake Treadwell over from the defensive side.
11. Minnesota:
The Gophers boast a mix of veterans and youth, and it'll be interesting to see whether the group comes together this fall. Hopes are high for young tackles Eric Olson and Jimmy Gjere, but they'll need help from seniors like Ryan Wynn and Chris Bunders on the interior. Minnesota needs to regain its swagger as an elite rushing offense, and it starts up front this fall. This is a group that certainly has a chance to make strides.
12. Indiana:
I like some of Indiana's individual pieces, but as a group, the Hoosiers must show they can create space for the running backs. Indiana switched to the pistol offense in hopes of sparking the ground game but produced barely 100 rushing yards a game in 2010 (112th nationally). The line allowed only 12 sacks and must continue to protect its unproven quarterbacks this fall, but getting the run game going is paramount. Returning starters Will Matte, Justin Pagan and Andrew McDonald give Indiana hope.
August, 23, 2010
8/23/10
9:07
AM ET
Scrimmages took center stage around the Big Ten this weekend as teams moved closer to the end of camp and the start of game preparations. I have links and a few thoughts on each scrimmage below, but only on the teams that put out information about what happened or had media in attendance. Those teams are:
Illinois, Indiana, Michigan State, Minnesota, Northwestern, Ohio State
and
Wisconsin
.
I'll do my best with
Michigan
's scrimmage, which oddly was open to fans but not media.

ILLINOIS
The Illini broke camp in Rantoul, Ill., and scrimmaged Saturday at Memorial Stadium. Check out what happened
here
and
here
and
here
and
here
.
Quick hitters
Illinois' coaches can talk all they want about running back by committee, but it's clear that junior Mikel Leshoure is the team's top option. As he did throughout the second half of last season, Leshoure showcased his big-play ability Saturday with a 49-yard touchdown run. Leshoure finished with 102 rush yards and two scores on only 12 carries. Jason Ford also had a nice day Saturday, but Leshoure is the guy to watch out for this fall.
After struggling in the first camp scrimmage, Illinois' first-team defense rebounded nicely Saturday. According to Mark Tupper, the first-team defense allowed only 59 net yards in 41 plays in the scrimmage. Defensive end Michael Buchanan and linebacker Martez Wilson were among the standouts.
Although starting quarterback Nathan Scheelhaase had a shaky day, Illinois might have found another capable wide receiver in Eddie McGee, the team's former backup quarterback. McGee beat cornerback Miami Thomas on a jump ball in the end zone to record a touchdown and finished with three receptions for 56 yards.

INDIANA
The Hoosiers held a 96-play Saturday at Memorial Stadium, and you can read all about it
here
,
here
(subscription required) and
here
.
Quick hitters
Redshirt freshman Dusty Kiel has established himself as the team's backup quarterback in camp. Kiel, who has been competing with Edward Wright-Baker, had an excellent scrimmage, completing 14 of 16 passes for 129 yards and a touchdown.
Indiana used the scrimmage to assess its offensive line depth and limited the participation for sure-fire starters like center Will Matte and right tackle James Brewer. Coach Bill Lynch wanted to get a better read on his backup center and had Jordan Marquette, Chris Ahlfeld and Steve Fiacable take reps in the scrimmage. Ted Bolser stepped up nicely at tight end with five catches for 46 yards and a touchdown.
The Hoosiers' already-shaky secondary suffered a blow as safety Chris Adkins had to be carried off the field because of an ankle injury. The extent of Adkins' injury is unclear at this point.

MICHIGAN
Michigan held a scrimmage Saturday at Michigan Stadium. It was open to some fans but not media, and while I love fan reports, I'm relying mostly on
this video
from the school's official website.
I really like what I've seen from freshman running back Stephen Hopkins, both in Saturday's scrimmage and during the Big Ten Network's tour stop. He gives the Wolverines a different look in the backfield at 6-foot, 227 pounds. Michigan boasts plenty of speed backs, but Hopkins provides the type of downhill, between-the-tackles running you need in the Big Ten.
Quarterback Denard Robinson looked pretty smooth in the scrimmage video, both as a passer and a runner. He hit his receivers in stride and broke off a long touchdown run, juking safety Jared Van Slyke before reaching the end zone. All signs continue to point toward Robinson being named the starter, but we'll see.

MICHIGAN STATE
The Spartans held a 130-play controlled scrimmage Saturday at Spartan Stadium, closed to the media. The defense prevailed 45-32 as the team used a modified scoring system. Recaps can be found
here
and
here
.
Quick hitters
It was a good day for the defense and a great day for the linebackers, who should be Michigan State's strongest unit this fall. Eric Gordon recorded a scrimmage-best nine tackles, while Greg Jones added eight, including two for loss. Jon Misch had 2.5 tackles for loss and a quarterback hurry, and Chris Norman had six tackles and a pass breakup. "The linebackers were very active," coach Mark Dantonio said.
Wide receiver B.J. Cunningham is having a very strong camp, and he continued it Saturday with five receptions for 67 yards, including a 30-yard touchdown from Kirk Cousins. Cousins and Cunningham hooked up for two touchdowns in the team's first fall scrimmage. It's a pretty crowded mix at receiver, but Cunningham has put himself in a great position.

MINNESOTA
Minnesota held an open scrimmage Saturday at TCF Bank Stadium, and you can read all about it
here
,
here
and
here
.
Quick hitters
Minnesota's first-string offensive line stepped up nicely in the scrimmage, keeping quarterback Adam Weber safe and allowing him to complete 7 of 9 passes for 70 yards and two touchdowns. There was, however, a significant drop-off when the second- and third-team offensive linemen entered the scrimmage. "I didn't feel like some of the [second and third team] took advantage of the opportunity to go play today," coach Tim Brewster told the (St. Paul) Pioneer Press.
Freshman running back Donnell Kirkwood has put himself in the mix for carries this fall alongside Duane Bennett and DeLeon Eskridge. Kirkwood had 19 carries in Saturday's scrimmage with a long run of 14 yards. Offensive coordinator Jeff Horton praised Kirkwood when we talked a few weeks ago.
MarQueis Gray is still getting reps as a reserve quarterback, but it's coming clear his primary role this fall will be at wide receiver, as long as Weber stays healthy. Gray seems to be embracing the change, and his big frame could really help the Gophers after the loss of Eric Decker. "I am pretty sure I can find a hole somewhere to catch the ball and get upfield for Weber when he throws it to me," he told the Star Tribune.

NORTHWESTERN
The Wildcats ended their off-campus training in Kenosha, Wis., with an open scrimmage. Head coach Pat Fitzgerald held out a large group of starters on both sides, so second- and third-teamers got most of the work. Recaps can be found
here
and
here
.
Quick hitters
Freshman receiver Venric Mark will make an immediate impact this fall, especially for Northwestern's middling return teams. Mark had an excellent scrimmage, recording a 28-yard touchdown catch and breaking off several big returns. Generously listed at 5-8 and 165 pounds, Mark also threw a block that helped classmate Adonis Smith reach the end zone.
A battle could be brewing at backup quarterback. As starter Dan Persa watched from the sideline, true freshman Trevor Siemian completed 10 of 13 passes for 112 yards with a touchdown and an interception. Siemian could push redshirt freshman Evan Watkins, who completed only four of seven passes.
Freshman defensive end Will Hampton could work his way into the rotation this fall. Hampton recorded a tackle for loss in the scrimmage.

OHIO STATE
Ohio State held its jersey scrimmage Saturday at Ohio Stadium, as the offense prevailed 54-48 after 130-140 plays. The scrimmage was open to the media, and you can find recaps
here
,
here
and
here
.
Quick hitters
Quarterback Terrelle Pryor had a so-so day, although he wore a no-contact jersey and couldn't be the running threat he'll be after Sept. 4. Pryor completed only 10 of 24 pass attempts but did fire a 25-yard touchdown strike to Taurian Washington, considered the front-runner for the No. 3 wide receiver spot. He also found tight end Jake Stoneburner for a 25-yard gain and nearly threw an interception in the end zone.
Andrew Sweat appears to have a slight edge on Etienne Sabino for the third starting linebacker spot. Sabino entered camp as the favorite to start, but Sweat logged more time with the first-team defense Saturday and recovered a Brandon Saine fumble.
Coach Jim Tressel said he hopes to get defensive end Nathan Williams (knee) back by the Sept. 2 opener against Marshall. Meanwhile, several young defensive linemen stood out Saturday. Redshirt freshman Adam Bellamy recorded three sacks and true freshman Johnathan Hankins added one.

WISCONSIN
The Badgers scrimmaged Saturday at Camp Randall Stadium. The session was open to the media, and you can read all about it
here
and
here
.
Wisconsin's offense moved the ball decently but struggled to finish drives, as Antonio Fenelus picked off a Scott Tolzien pass and safety Aaron Henry broke up a pass in the end zone. It was a theme throughout the scrimmage. There's little doubt Wisconsin can control the clock and keep moving the chains with its balanced attack, but it must execute in the red zone.
Freshman running back James White had a good day and could push Zach Brown for the No. 3 spot on the depth chart. White had runs of 29, 26 and 22 yards, the last for a touchdown, in the scrimmage. Starting tailback John Clay, by the way, had 11 carries for 51 yards.
Backup quarterback Jon Budmayr had a tough scrimmage, going 0-for-9 passing on his first three series with two near interceptions. He finished 9-for-27 for 107 yards for a touchdown and an interception. Wisconsin really can't lose Tolzien and would get a big boost if Curt Phillips can return from his knee injury early in the season.
May, 26, 2009
5/26/09
10:33
AM ET
Posted by ESPN.com's Adam Rittenberg
Every Big Ten team circled and underlined a few questionable positions entering spring practice. Some of those concerns went away as young players blossomed and depth was built. Where did each Big Ten team get better this spring?
Here's a snapshot:
Illinois' running backs -- The development of sophomores Jason Ford and Mikel LeShoure this spring gives Illinois plenty of options at running back heading into 2009. Ford and LeShoure both improved physically and mentally and will compete with senior Daniel Dufrene to be the featured runner. Bottom line: Juice Williams' job should be easier.
Indiana's offensive line -- After being decimated by injuries last season, Indiana can feel a bit better about the front five. Tackle James Brewer might finally be reaching his potential, and center Will Matte impressed the coaches in the middle of the line.
Iowa's offensive line -- This group figured to be pretty solid no matter what, but Iowa got some help from a familiar name in the interior line. Dace Richardson might finally be healthy, and he worked with the first-team at left guard as Iowa tries to replace all-conference linemen Seth Olsen and Rob Bruggeman.
Michigan's offensive line -- Not a major surprise here, considering the Wolverines bring back all their starters from last season. But an extra year of experience plus several talented redshirt freshmen (Ricky Barnum, Patrick Omameh) joining the mix should pay off big time this fall.
Michigan State's quarterbacks -- The Spartans felt great about the progress of quarterbacks Kirk Cousins and Keith Nichol, who both threw for 357 yards and four touchdowns in the spring game. Head coach Mark Dantonio is in no rush to name a starter, but unlike many men in his position, he really has two viable options here.
Minnesota's wide receivers -- With superstar Eric Decker playing baseball, Minnesota needed to identify other solid options at receiver. Return specialist Troy Stoudermire emerged as a big-play threat, and quarterback Adam Weber liked what he saw from Brandon Green and Da'Jon McKnight.
Northwestern's running backs -- Of the three offensive skill positions where Northwestern loses starters, running back appears to be the most stable. Sophomore Jeravin Matthews emerged this spring and will push Stephen Simmons for the starting job. Northwestern has several options in the backfield after losing four-year starter Tyrell Sutton.
Ohio State's linebackers -- You can't deny all the production Ohio State loses in its defensive midsection, but the spring revealed several solid players who can step in. Austin Spitler and Tyler Moeller have waited their turn for the spotlight, and Brian Rolle had an excellent spring. With returning starter Ross Homan back on the outside, the Buckeyes should once again be solid.
Penn State's defensive line -- Despite losing three defensive ends with starting experience, Penn State should once again boast one of the league's top pass rushes. Sophomore Jack Crawford looks like the Nittany Lions' next superstar pass rusher and should fill the void on the edge with Eric Latimore and Kevion Latham.
Purdue's running backs -- Even with Jaycen Taylor still rehabbing from a torn ACL, Purdue got a lot better at running back this spring. Ralph Bolden came out of nowhere to steal the show in spring scrimmages (420 rush yards, 4 touchdowns), and Dan Dierking also looked impressive. The Boilers will need a viable rushing attack this fall, and they can feel a lot better about this group.
Wisconsin's wide receivers -- Dropped passes dogged the receivers throughout 2008, but the group definitely got better this spring. Nick Toon emerged as a potential No. 1 target with an excellent performance in practice, and Isaac Anderson, Kyle Jefferson and David Gilreath all showed progress at times.