April, 18, 2012
4/18/12
11:44
AM ET
Want to see many of the names that will be featured on Colorado's defensive depth chart next fall?
Go here
.
The Buffaloes are going to be young next fall on both sides of the ball, but particularly on defense. Lots of freshmen will play -- guaranteed. And that is by design. Defensive coordinator Greg Brown and head coach Jon Embree made something clear during spring practices to the returning players: "Impress us now, or get replaced by incoming freshmen."
[+] Enlarge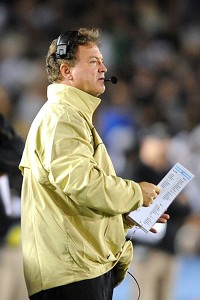 Chris Williams/Icon SMIDefensive coordinator Greg Brown will be working with a lot of freshmen this fall, including eight on the defensive line.
There's a reason for the likely youth movement: The Buffs were lousy on defense in 2011, ranking last in the Pac-12 in scoring (36.5 points per game) and 10th in total defense (439.3 yards per game). Further, Pac-12 quarterbacks feasted on the secondary, which yielded not only the most touchdown passes (34) -- six more than anyone else -- but also grabbed the fewest interceptions (seven) in the conference.
If Colorado is going to move up in the South Division pecking order during the program's second year in the conference, those numbers need to improve.
Colorado finished spring drills last weekend, so it seemed like a good time to check in with Brown to look back and look ahead to the fall.
First off, last year your official depth chart was a 3-4 scheme. This spring, you guys started out with a 4-3. Can you give me a Cliffs Notes version of your base scheme?
Greg Brown
: It's really still the same. We're like last year but like most teams can play either, kind of multiple up front.
When you went over film from last year, what stood out to you as issues with the defense?
GB
: Too many big plays were given up. Too many points were scored. We had a laundry list of a lot of things. Too many injuries. The roster was thin. It was one of those years we'd like to see not repeated.
The Big 12 is hardly an offense-poor conference. You've coached there and the Pac-12. Were there any adjustments for your players moving from the Big 12 to Pac-12?
GB
: Absolutely. Not to take anything away from the Big 12. That's a terrific league that stands on its own merits, that's for sure. But you just have some unique offensive minds in the Pac-12, different styles of attack that we had not seen in the Big 12. There's nobody in the Big 12 that plays the same style as Oregon. Nobody plays the same style as Stanford or Washington. They are all unique and were tough styles to contend with. We've got a lot of offensive-minded head coaches and very innovated offensive coordinators.
You guys were heavy on D-linemen in the recruiting class. How many first-year players do you anticipate playing next fall?
GB
: We brought eight (defensive linemen) in. We're thinking at least half that amount, probably higher. Between the defensive line, which is eight-slash-nine because we've got a guy who could go either way, and we've got five cornerbacks, and the great majority of those guys are going to play. They won't redshirt. We're not counting on anybody redshirting. We'll see if they can't do it yet, then they'll have to. But other than that, we have no numbers. Spring ball was a feat to get accomplished. Because of our lack of numbers, we ended up doing so much seven-on-seven because we didn't have the D-line to do it [full scrimmage]. We really didn't have the secondary to do much seven-on-seven,either. It was largely a battle of walk-ons this spring at Colorado. We're welcoming with open arms all the incoming troops because they are going to play.
Give me a couple of names of standouts this spring? Who impressed you?
[+] Enlarge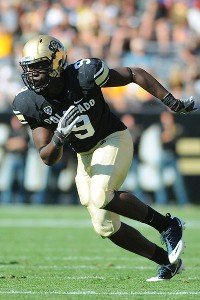 Dustin Bradford/Icon SMI Defensive end Chidera Uzo-Diribe has made an impression on coaches this spring.
GB
: [Defensive end]
Chidera Uzo-Diribe
, he had a very good spring. He's got skill. He's got speed. He's got size. And he's tenacious. He's a good player. He played last year for us and was fine but he stepped up this spring and filled a void -- we had two defensive ends graduate. He stepped up and really became a guy. He would be the top dog in the D-line. If there is one other defensive lineman who can play, it's
Will Pericak
. He's a good player -- steady, consistent. He's been around the block. Has size. He's played for a long time here. Good player. You've got those two up front. After that, there's really nobody to write about [on the defensive line]. We're just waiting on the young kids to get here.
How about linebacker?
GB
: Linebacker-wise, our best player is
Doug Rippy
. He's our captain, a team leader. He ended up missing, from the Washington game on last year, missing the season. He tore his ACL in that game and he was held out of spring ball and can't do anything yet. But we're looking to get him back.
Jon Major
is another 'backer who is back, has a lot of experience. He's a jack of all trades for us, can do a lot of things. Smart, can rush the passer, cover. He makes plays. He's good. Linebacker is where the most numbers are back. After that, you've got some guys who have played.
Derrick Webb
has played. He can run and hit. Then there's a smattering of younger kids who have some ability. They just haven't proven anything yet. They're up and coming.
And then the secondary?
GB
: We've got one returning guy. That's
Ray Polk
; he's a safety. Good player. Big kid who can run and hit. Been starting here a long time. Good future in front of him. Ray's issue was he could only do non-contact stuff during spring. He had surgery on a torn ligament in his wrist. So he did seven-on-seven and that was probably it. The next one to talk about back there would be [cornerback]
Greg Henderson
. He came in as a true freshman and won a starting job. He took advantage of the opportunity and won a job and he kept it all year. He continually progressed every week. This spring, he got better as you'd expect. They come in as freshmen and just look to survive, which he did more than ably. But we're looking for improvement this year and looking for him to be a guy. He's athletic. He can run, he's smart. And he's tough. And as much as anything, he stayed healthy. After him, a guy who is a good player for us, is
Parker Orms
. He plays nickel, safety and corner. He plays all three. Good athlete, tough kid. He missed quite a bit of the year. He only played five games for us. And he got hurt this spring, which is unfortunate. He tore his hamstring. He played three days of spring then tore that thing. In the five games he played for us last year, we either won or had a chance to win because he allowed us to do things on defense we could not do when he was not in there.
So the freshmen will be in the mix pretty quickly in the secondary, too?
GB
: Oh, no question. We told all the kids on defense this spring, particularly on the D-line and in the secondary, "OK, all you guys, here is your chance. This is your chance. We don't want to hear anything in the fall about, 'Hey, I'm not getting any reps.' Here is your chance now! Because believe it or not, in the fall with those kids coming in, they are going to get all those reps. We'll see what you guys can do now.' And here come the new kids. We know who has helped us in the past. For the rest of the spots? Hey, we're plugging in brand new kids and let's go.
How much can this defense improve in 2012?
GB
: You can. All these 15 defensive players who are coming in that we're looking to help us, you wish you could snap your fingers and be two years in the future, matured and bigger, strong, faster, eating on the training table, learning how to play. That would be nice. But the reality of it is there are going to be growing pains. These guys have some talent, but they also are going to be true freshmen and will make their share of mistakes. But, sure, we can improve. We have to manage what we're doing. We have an outstanding coaching staff on that side of the ball with Kanavis McGhee and Mike Tuiasosopo. They are great tacticians. As is linebackers coach Brian Cabral. We're looking for improvement.
July, 11, 2011
7/11/11
10:25
AM ET
No team in the Pac-12 wows you at defensive tackle. No team is a sure thing. There is a lot of "maybe" at the position. And probably some maybe not.
The uncertainty of quality -- both in terms of returning stars and depth -- made this a difficult position to rank. For example, Washington has a nice foursome at tackle, led by Alameda Ta'amu, who might be the best tackle in the conference.
That's great. Good for the Huskies. But they ranked 97th in the country in run defense last year. You sort of pause over that, you know?
So a lot of this ranking is feel thing, a projection of potential. And "great shape" here is relative to the conference. Nebraska, for example, wouldn't exchange its tackles -- Jared Crick and Baker Steinkuhler -- for any Pac-12 tandem.
Some of this figures to inspire a bit of debate.
Great shape
USC
: This may be in some part based on fumes from the Trojans reputation at the position. It definitely includes a vote of faith that they will get a 100 percent Christian Tupou back from the knee injury that killed his 2010 season. If so, the threesome of Tupou, George Uko and DaJohn Harris is strong. And if you toss in Armond Armstead -- who missed spring with an undisclosed medical condition that threatens his career -- you'd have a clear No. 1.
Washington
: Ta'amu seemed to find himself during the second half of last year, and the 330-pounder could end up getting some All-American consideration if he consistently plays like he did against Nebraska in the Holiday Bowl. Sione Potoa'e and Semisi Tokolahi are both experienced, and Lawrence Lagafuaina a space-grabbing, 344-pound redshirt freshman.
Colorado
: The Buffaloes are sneaky good here, even though they only ranked 48th in the nation in run defense in 2010. Both starters, Will Pericak and Curtis Cunningham, are back, but Conrad Obi was a revelation this spring. He looked like a future NFL draft choice, not a player who'd mostly been a bust. Nate Bonsu, who missed spring with a knee injury, also should help.
Good shape
Utah
: The Utes, who ranked 11th in the nation in run defense in 2010, lost Sealver Siliga, but they believe they have a budding star in, er, Star Lotulelei, while James Aiono, LT Tuipulotu and Joape Peta are solid. Also, Dave Kruger, who played end this spring, is 280 pounds and can play inside.
Arizona
: The loss of backup Willie Mobley to a knee injury hurts depth, but Justin Washington figures to take a step forward after an impressive true freshman season, Sione Tuihalamaka started four games in 2010. Depth is a question. The Wildcats ranked 33rd in the nation in run defense last fall.
Oregon
: On the one hand, Oregon lost both starting defensive tackles in Brandon Bair and Zac Clark from a unit that ranked 27th in the nation in run defense. On the other, they played so many guys last fall, the new starters are experienced players. Further, Ricky Heimuli, Taylor Hart, Wade Keliikipi, Isaac Remington and Jared Ebert played well enough this spring to suggest the position will be a strength in the fall.
Arizona State
: If Lawrence Guy didn't make his ill-fated decision to enter the NFL draft, the Sun Devils, who were 16th in the nation against the run last fall, would be in great shape here. As it was, Will Sutton had a great spring and looks like a potential All-Conference guy. Grinder Bo Moos is listed as the starter at the other tackle, though he could be eclipsed by Corey Adams. Toa Tuitea saw limited action last year.
UCLA
: The Bruins defensive line was terrible last year, ranking 108th in the nation against the run, but the talent is there for a significant turnaround. Cassius Marsh, Nate Chandler, Justin Edison, Donovan Carter and Seali'i Epenesa should do a much better job plugging the middle.
California
: Cal is actually fine here, despite the loss of NG Derrick Hill. For one, when you run a 3-4 defense, it's hard to rate your DTs, even if your DEs often operate like them. The Bears have two solid options at NG in Aaron Tipoti and Kendrick Payne, and it's also possible that touted 350-pound incoming freshman Viliami Moala will eclipse both of them.
We'll see
Oregon State
: Dominic Glover moves inside from end and Kevin Frahm has experience, but this unit didn't play well last year -- 89th in run defense -- even with one of the best DTs in the nation in Stephen Paea. 340-pound Castro Masaniai could help but he missed spring after shoulder surgery and has off-field issues. There's also Mana Tuivailala and Ben Motter.
Stanford
: Like Cal, Stanford runs a 3-4, so it naturally it is going to suffer a bit in DT rankings. More important: The loss of Sione Fua is significant. Terrence Stephens and Henry Anderson had solid springs but neither has much experience.
Washington State
: Brandon Rankin, a returning starter, was listed No. 2 on the depth chart behind Anthony Laurenzi after spring practices, with redshirt freshman Toni Pole No. 1 at the other tackle. Justin Clayton, Steven Hoffart and Xavier Cooper provide depth. It's not unreasonable for Cougars fans to expect improvement, perhaps significant improvement. But a team that ranked 115th in the nation in run defense the previous season is automatically a "We'll see" here.
March, 28, 2011
3/28/11
9:00
AM ET
On Friday, we looked at offensive three-headed monsters --
the best quarterback, running back, wide receiver troikas
-- so it also makes sense to also look at their defensive counterparts, the best threesomes from each of the three levels of defense: defensive line, linebacker and defensive back.
Here's the
tally from last season
, if you are interested.

1.
Arizona State
DE Junior Onyeali, LB Vontaze Burfict, CB Omar Bolden
The Skinny:
No question on No. 1 here. Onyeali was the Pac-10 Defensive Freshman of the Year. Burfict is the nation's best inside linebacker. Bolden was unanimous first-team All-Pac-10.

2.
Stanford
DE Matt Masifilo, LB Shayne Skov, SS Delano Howell
The Skinny:
Masifilo, the lone returning starter on the Cardinal defensive line, was honorable mention All-Pac-10, as was Skov, who was playing as well as any linebacker in the conference over the final third of the season. Howell was second-team All-Pac-10.

3.
California
DE Trevor Guyton, LB Mychal Kendricks, S Sean Cattouse
The Skinny:
Guyton had 8.5 tackles for a loss and 4.5 sacks despite being a part-time starter. Kendricks was second-team All-Pac-10. Cattouse earned honorable mention.

4.
Oregon
DE Terrell Turner, LB Josh Kaddu, CB Cliff Harris
The Skinny:
Two solid returning starters and a second-team All-Pac-10 cornerback who figures to be a preseason All-American after earning second-team honors from the Associated Press and Walter Camp Football Foundation in 2010.

5.
Washington
:
DT Alameda Ta'amu, LB Cort Dennison, FS Nate Fellner
The Skinny:
Ta'amu earned honorable mention All-Conference honors and seemed to find himself over the latter half of the season. Dennison had 93 tackles, 8.5 tackles for a loss and two interceptions. Fellner tied for second in the conference with five interceptions.

6.
Arizona
DT Justin Washington, LB Paul Vassallo, CB Trevin Wade
The Skinny:
Washington's numbers fell off when he got banged up, but he still had 11.5 tackles for a loss and six sacks as a redshirt freshman. Vassallo was honorable mention All-Conference. Wade had an off year last fall, but was second-team All-Pac-10 in 2009.

7.
USC
DE Armond Armstead, LB Chris Galippo, FS T.J. McDonald
The Skinny:
This actually could be one of the best threesomes in the conference, but Armstead and Galippo have injury issues and only put up middling numbers last fall. McDonald was second-team All-Pac-10 in 2010.

8.
Washington State
DE Travis Long, LB Alex Hoffman-Ellis, SS Deone Bucannon
The Skinny:
Long was honorable mention All-Conference, Bucannon, who started as a true freshman, and Hoffman-Ellis were the Cougars' top two tackles in 2010.

9.
UCLA
DE Datone Jones, LB Patrick Larimore, SS Tony Dye
The Skinny:
A solid threesome that is down here more because it gets an "incomplete." Jones missed all of last season with a foot injury, but, if healthy, he's an All-Conference sort. Larimore was solid in seven games before suffering a shoulder injury. Dye led the Bruins in tackles and earned honorable mention All-Pac-10.

10.
Colorado
NG Will Pericak, LB Jon Major, FS Ray Polk
The Skinny:
Pericak earned honorable mention All-Big 12. Major was the Buffaloes leading tackler before he blew out his knee in Game 7 (a knee injury also killed the junior's true freshman season). Polk was the second-leading tackler.

11.
Utah
DE Derrick Shelby, LB Chaz Walker, CB Conroy Black
The Skinny:
Honestly don't know how to rank the Utes here. Shelby and Walker are returning starters -- Walker earned second-team All-Mountain West honors. Black was the top backup cornerback last season.
But
Star Lotulelei might be the Utes' best defensive lineman, and Brian Blechen has moved from strong safety, where he was very good, to linebacker. How highly do the Utes think of him? They list him as an All-American candidate.

12.
Oregon State
DE Dominic Glover, LB Rueben Robinson, S Lance Mitchell
The Skinny:
Three returning starters, but none of them even earned honorable mention All-Pac-10 honors. Mitchell was the Beavers' third-leading tackler, Glover had 2.5 sacks, and Robinson split time with Tony Wilson.