NCF Nation:

Will Shamburger
May, 15, 2013
5/15/13
5:30
PM ET
Unlike last year, there aren't nearly as many questions surrounding the Washington defense as the Huskies head into the final stretch before fall camp.
Last year a new scheme and new coaches were being installed, headlined by new defensive coordinator Justin Wilcox. The Huskies' defense was abysmal in 2011 -- so head coach Steve Sarkisian blew it up and started from scratch.
Now the Huskies are looking to build off of the momentum they gained in 2012 when they made huge strides in one year under Wilcox & Co.
"The numbers don't lie," Sarkisian said.
They certainly don't.
The biggest advances were in the secondary, where the Huskies jumped from 87th to 27th in pass efficiency defense, 106th to 31st in total defense, 108th to 39th in scoring defense and 116th to 23rd in pass defense. They had 17 interceptions last year compared to 10 the year before.
"Our secondary really had a very good season for us last year," Sarkisian said. "I thought Justin Wilcox, Keith Heyward, our secondary coach, really came in and did a great job. ... You look at the increase in play we had in the secondary -- our pass defense numbers, our ability to create turnovers -- I think really speaks volumes to their coaching and their ability to develop our players."
That's what Sarkisian is banking on in 2013 -- player development. More specifically, at the cornerback spot where they have to replace first-round draft pick Desmond Trufant. Sarkisian called the competition "healthy" this spring, but isn't anywhere closer to declaring anyone as the leader in the clubhouse for that starting spot. And it might end up being by-committee or which player has the hot hand that week. A few defensive backs have switched positions or spent time at safety and corner in an effort to make the defensive backfield deeper and more versatile.
With
Marcus Peters
, who started the final eight games opposite Trufant last season, back on one side, the competition heated up over spring between
Travell Dixon
and
Greg Ducre
. Sarkisian said that redshirt freshman
Cleveland Wallace
has
also made a big push
. Dixon is a JC transfer (once committed to Alabama) and Ducre had 15 tackles while appearing in 13 games last season.
"Desmond Trufant was a great player for us," Sarkisian said. "Anytime you have a first-round draft pick at corner it tells you the quality of player you have. But I think we've got some really capable guys that are stepping in."
If the Huskies can shore up that spot, expect the secondary to make even bigger strides in 2013.
Sean Parker
, who started all 13 games at safety, returns as the unquestioned leader of the secondary.
Will Shamburger
, who started two games last year, will see a larger role. But there's some good competition there as well.
Tre Watson
(who can pitch in either at corner or safety) is in the mix, and early enrollee
Trevor Walker
had a strong first spring.
Brandon Beaver
, who converted from corner to safety late last season but was limited in the spring, is also going to press for playing time.
Lots of names. But that also means lots of depth.
"We've got a good amount of talent back there," Sarkisian said. "It's about finding the right combination of those guys. For some of those guys who were redshirt players for us last year, Travell, Brandon, Cleveland, fall camp is going to be big for them. This spring was good to get the terminology and fundamentals and techniques after spending all year on the service team last year. There is a healthy competition going on back there and the end result is we're fortunate to have good depth and good coaches and we feel good about our pass defense when the fall rolls around."
September, 2, 2012
9/02/12
3:08
AM ET
After a rough start to the day for the Pac-12, USC pounded Hawaii and the conference swept the night games. Here's the breakdown of the three 7:30 p.m. kickoffs:


Oregon 57, Arkansas State 34:
For 30 minutes Saturday night, Arkansas State outscored the No. 5
Oregon Ducks
24-7. That would have been great news for the Red Wolves, had the Ducks not dropped
50
on them halfway through the second quarter.
Marcus Mariota
impressed in his debut as Oregon's starting quarterback, completing 19 of 23 passes for 216 yards and three touchdowns. Twice he connected with
De'Anthony Thomas
and another went to
Josh Huff
.
Thomas -- who enters the season with some Heisman hype -- didn't disappoint. The versatile player who comes at you from all angles rushed for 64 yards and a touchdown on three carries to go with four catches for 55 yards and two touchdowns.
Kenjon Barner
also added a pair of rushing touchdowns, carrying the ball nine times for 66 yards.
Oregon coach Chip Kelly pulled a large portion of his starters halfway through the second quarter when the Ducks had built a 50-3 lead.
Byron Marshall
got plenty of work, carrying the ball 24 times for 65 yards and a score. In relief of Mariota,
Bryan Bennett
connected on 10 of 17 passes for 107 yards and a 7-yard touchdown pass to
Rahsaan Vaughn
.


Washington 21, San Diego State 12:
It was a mixed-bag performance for Washington, which topped San Diego State 21-12.
The defense showed significant signs of improvement -- at times -- and the offense looked explosive -- at times -- but both also faltered at times leaving the end result in doubt until the final minutes.
Quarterback
Keith Price
completed 25 of 35 passes for 222 yards and a touchdown and
Bishop Sankey
rushed for 66 yards on 22 carries with a score. Washington's third score came on a 44-yard fumble recovery from
Will Shamburger
. The Huskies defense -- revamped under new defensive coordinator Justin Wilcox -- forced three SDSU turnovers.
The Huskies jumped out to an early 14-0 lead, but gave one back when SDSU receiver
Tim Vizzi
pulled the old Pop Warner, sneak-on-the-field-near-the-sideline play. No one picked him up and
Ryan Katz
hit him for a 47-yard touchdown.
But despite giving up 327 total yards (199 on the ground), the Huskies kept the Aztecs out of the end zone again until the fourth quarter, when
Adam Muema
scored on a 1-yard run. Both of SDSU's two-point conversion attempts failed.
Washington is sure to get a tougher test on both sides of the ball when it travels to face LSU next week.


Arizona 24, Toledo 17, OT:
Matt Scott
connected with
Terrence Miller
for a 10-yard touchdown in overtime to give the Wildcats a 24-17, bailing out kicker
John Bonano
, who missed a 25-yard field goal as time expired that would have given the Wildcats a victory.
Rolling to his right, Scott found Miller just in front of the end zone and released a dart just before being pulled out of bounds. He finished 30-of-46 for 384 yards and two touchdowns and helped make Rich Rodriguez a winner in his first game as Arizona's head coach.
Scott's first touchdown was a 30-yarder to
Austin Hill
, who laid out and made a fingertip catch in the end zone to put Arizona ahead 10-7 in the second quarter after Bonano's 26-yard field goal Arizona a 3-0 lead early in the game. Hill finished with seven catches for 136 yards and
Dan Buckner
also broke 100 yards, catching a team-high nine balls for 118 yards.
Running back
Ka'Deem Carey
turned in a strong performance with 149 yards on 20 carries that included a 73-yard touchdown run.
Arizona piled on 623 yards of offense, but also committed three turnovers, including two fumbles lost. By contrast, Toledo had 347 yards of total offense.
September, 2, 2012
9/02/12
2:21
AM ET
SEATTLE -- Washington's defense forced three turnovers that led to two touchdowns, helping the Huskies hold off San Diego State
21-12 Saturday
at CenturyLink Field.


It was over when:
With 4:50 left in the game, San Diego State went for it on fourth-and-6 from the 8-yard line. Quarterback
Ryan Katz
's pass fell incomplete, giving the ball back to the Huskies.
Game ball goes to:
Will Shamburger
. The junior safety returned a fumble 44 yards for a touchdown -- Washington's only second-half score -- in the third quarter that gave the Huskies a 21-6 lead.
Stat of the game:
Zero. After scoring two touchdowns in the first quarter, Washington's offense was held scoreless the final three, putting pressure on its defense, which turned in a touchdown and helped the Huskies hang on.
What it means:
Despite a strong start in the first quarter, the Huskies still have a lot of work to do if they plan on competing with LSU next week. While it is clear
Austin Seferian-Jenkins
and
Kasen Williams
have taken the next step as sophomores -- they combined for 15 catches for 157 yards and a touchdown -- the offense struggled for the better part of three quarters.
What we learned:
The Huskies aren't afraid to play their freshman. Safety
Shaq Thompson
tallied his first tackle on the first play from scrimmage, and finished with two. Receivers
Jaydon Mickens
(two catches, 16 yards and three kick returns for 47 yards) and
Kendyl Taylor
(one catch, 6 yards) also contributed, while running back
Erich Wilson II
had two carries for 22 yards.
Who we should see more of:
Running back
Bishop Sankey
. Not only did the sophomore play well, rushing for 66 yards and a touchdown on 22 carries, but junior
Jesse Callier
suffered a right knee injury in the first quarter and didn't return.
September, 1, 2010
9/01/10
11:16
AM ET
Jake Locker
, Jake Locker, Jake Locker. This isn't an article about him.
It's about something that has been doing a perhaps surprisingly good job making Locker's life difficult the past few weeks: The Washington defense.
[+] Enlarge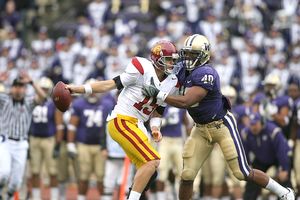 Tom Hauck/Getty ImagesMason Foster thinks the defense will be just as good as the team's highly-touted offense.
"We are actually holding the offense and making stops," linebacker Mason Foster said. "We've had pretty good battles throughout camp."
I know. No way. The Huskies lost their two best defensive players -- linebacker Donald Butler and end Daniel Te'o-Nesheim -- to the NFL from a unit that ranked eighth in the Pac-10 in total defense (389.5 yards per game) and ninth in scoring defense (26.7 ppg).
But the Huskies defense has consistently hinted during fall camp that it's not going to be the weakling counterpart to what should be an explosive offense.
"They've caused us some problems on offense," said coach Steve Sarkisian, who calls the offensive plays. "They've caused turnovers. They've gotten after the quarterback."
Foster, a senior and all-conference candidate, said the young guys who were forced into action last year are in far better physical condition. Along those lines, Sarkisian noted that junior noseguard Alameda Ta'amu is no longer just a massive mound of inert space filler -- who at his best is merely hard to move. After dropping 30 pounds to 330, he's a guy who can get into the backfield and make plays.
The secondary also appears significantly improved with corners Desmond Trufant and Quinton Richardson and safeties Nate Fellner, Nate Williams and Will Shamburger. The apparent successful return of end Everrette Thompson from a torn Achilles should bolster the pass rush.
But it's not just about maturing physically, getting healthy and conditioning better. A year ago, coordinator Nick Holt was only that slightly menacing guy who was always barking at them about not understanding what it takes to play great defense. Now the defensive guys and Holt are playing the same tune, one that probably sounds a bit like Rage Against the Machine.
"They've got a real mentality right now," Sarkisian said. "What I like most about it is they've really adopted Nick's personality. They are aggressive. They are tough. They are smart."
Of course, this also merely could be preseason optimism (or maybe the Huskies offense won't be all that potent). The unit certainly will be tested at BYU on Saturday. Sure, the Cougars only have 11 starters back and are replacing quarterback Max Hall. But they have won 43 games over the past four seasons: They are fairly close to the proverbial "reload not rebuild" category.
While there may be some sentiment about the trip for Sarkisian -- he was BYU's quarterback in 1995-96 -- the Huskies players probably don't look too fondly at the Cougars. In their 2008 game in Seattle, Locker scored what appeared to be a game-tying touchdown in the waning moments -- pending the PAT -- but he was flagged for a celebration penalty after flicking the ball into the air.
Just about everyone thought the penalty ridiculous, at least outside of Provo. Of course, barely anyone would remember the call if the Huskies hadn't blown the extra point and subsequently lost 28-27.
That was about as close to respectability as the Huskies would come during an 0-12 season that ended the Tyrone Willingham Era and brought in Sarkisian.
Moreover, one of BYU's quarterbacks -- it appears two will play versus the Huskies -- is true freshman Jake Heaps, a product of Washington State powerhouse Skyline High School. He picked BYU over Washington last winter, and there are just a few whispers that some of the Huskies might be eager to make him feel like he made a mistake.
"I didn't even really know he was from around here until a couple weeks ago," Foster said. "That's going to make it a little more exciting -- a big-time recruit from the state of Washington that went to another school and will play as a true freshman. It's going to be fun to get a couple of hits on him."
The Huskies -- suddenly -- have high expectations. Only two years removed from an 0-12 season, they are thinking about more than just earning their first bowl berth since 2002.
"It's a total turnaround," Foster said. "No more losing every game. The mindset is different. We're really looking forward to coming out in competing at the top of the conference this year."
A total turnaround likely would make Locker a leading Heisman Trophy candidate.
But that's not going to happen if the defense can't make stops.