October, 24, 2014
Oct 24
8:30
AM ET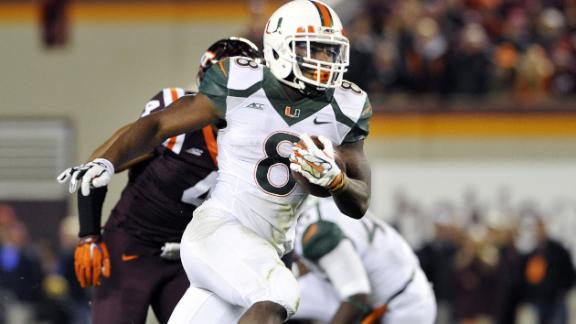 BLACKSBURG, Va. -- Earlier in the week,
Willie Byrn
said he expected an air of desperation between his Virginia Tech team and Miami in Lane Stadium on Thursday night.
One team played with desperation.
The other looked desperate for answers.
With each team needing a win to stay alive in the Coastal Division, Miami dominated from start to finish, playing its most complete game of the season in a
decisive 30-6 win
.
Duke Johnson
was unstoppable, running for a career-high 249 yards as Miami racked up 364 yards rushing -- the most ever given up by a Frank Beamer-coached team.
The defense, meanwhile, played with an unmistakable edge, holding Virginia Tech scoreless until the final 1:30. It added up to the first road win of the season for the Canes, and it came at the best time imaginable.
[+] Enlarge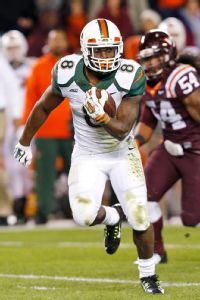 AP Photo/Steve HelberDuke Johnson led Miami with a career-high 249 yards and a touchdown.
Miami has renewed Coastal title hopes -- with North Carolina coming to town next week. At 2-2 in ACC play, they remain one loss behind Duke, Pitt and Virginia. Miami owns the head-to-head win over Duke, with games against Pitt and UVa coming up in November.
"No one wants to go on the road and lose. No one wants to take a plane ride somewhere and not come back with a W," Miami offensive lineman
Shane McDermott
said. "We take pride in that. This is an ACC Coastal game and we wanted to execute. We needed to execute to keep alive in the Coastal. We came out and did that."
For Virginia Tech, it looked about as hopeless as it has over the last three uncharacteristically weak seasons. That might seem like a harsh assessment, but this team has regressed after showing some early glimmers at Ohio State. Indeed, that victory in September continues to confound many. How could Virginia Tech look so good in that game, but so bad in its four losses?
After falling behind 24-0, three third-quarter fumbles sealed their fate against Miami. Now, the Hokies are staring at a 1-3 deficit in ACC play, strange and uncharted territory for a program that has made its name as the Coastal flag bearer.
As bad as it has been for Virginia Tech, the Hokies have never before been 1-3 in conference play, calling into question not only why this team has failed to progress, but how much progress can definitively be made as long as Beamer is in charge.
Yes, there are some terrific young players. But Miami also has terrific young players who have gotten better each week. Take the quarterbacks, for example. Miami freshman
Brad Kaaya
looks nothing like the player that started the opener against Louisville. Three times in the last four games, he has not thrown an interception and is finding ways to make plays.
While he was not asked to do much against the Hokies, Kaaya made some good throws and did not get the Canes into any trouble.
Michael Brewer
, a transfer from Texas Tech, does not have nearly the same type of command. Perhaps it is because Kaaya has a much better supporting cast. But there is no denying Kaaya has made improvement. Brewer does not give Virginia Tech an edge at the position.
"It wasn't a pretty picture all night, but I saw some things we can certainly build on," Beamer said afterward, trying to put an optimistic spin on the night. "We are going to be a better football team. We have a lot of good players on this team. I look forward to the future because I think we are going to be pretty good."
While that might be true, the reality is Miami ran circles around Virginia Tech in every imaginable way -- and Beamer is being judged not on potential in 2015 but what he has in front of him now. The Miami coaching was better; the play calling was better; the game plan was better; the talent was better.
Miami's problem this season has been an inability to put everything together in one game. Finally, the Canes got the best out of their offense and defense. Maybe that was due to the Hokies, not exactly a juggernaut this season. But after weeks of criticism and questions, Miami and its coaches deserve some credit.
They got the most out of their players in a place that has vexed the program since 2005. What awaits next is tougher: sustaining that edge, effort, drive and intensity for the final four games.
"We're getting better," coach Al Golden said. "We had really good practices leading up to this game, good attitude, everybody concentrating on what they need to concentrate on and block everything out. We've got a long way to go. But I think the guys have made a commitment to get better each week and each day and are staying positive."
October, 23, 2014
Oct 23
10:30
AM ET
The anticipation builds throughout the week. Students around campus start talking about it. Coaches start preaching about it, busting out some hype videos to truly get the players amped up and ready.
Then Thursday rolls around. The team bus nears Lane Stadium, and players can see the lights already on. Tailgate lots are full. When players walk off the bus, they can feel the buzz in the atmosphere even though Lane Stadium sits mostly empty.
"There's just something about playing underneath the lights and know it's Thursday night," senior Virginia Tech receiver
Willie Byrn
said. "You feel it in pregame. You feel it on the walk in. It's special. You get riled up for it."
[+] Enlarge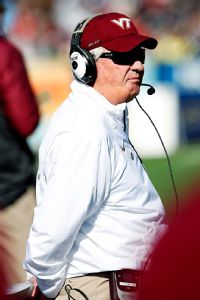 Ivan Pierre Aguirre/USA TODAY Sports"They're great for your program," coach Frank Beamer said of Thursday night games. "If you can be successful, it's great for recruiting."
Virginia Tech has become synonymous with ESPN Thursday night football, so tonight's game against Miami comes with more anticipation than most. After a one-year hiatus, the Hokies resume their Thursday night home tradition. And as always, the stakes are high.
Both Miami (4-3, 1-2) and Virginia Tech (4-3, 1-2) need a win to stay in the hunt for the Coastal Division title. A loss would not eliminate them from contention, but it would make their efforts to win the division much more difficult.
Since the ACC championship game began in 2005, the Coastal champ has finished 5-3 just twice. Every other season, the division rep had a better record than that.
"I don't think I would pick anyone over Miami to play Thursday night here," Byrn said. "Both teams are in dire need of a win. We did a good job last year. We played them Saturday night at their place. We played pretty well and made them a little mad, so I know they're going to want some payback. We all want to get their best shot and they're going to get ours."
Virginia Tech has more appearances than any ACC team on Thursday night, going 11-4 at home in those games. For 11 straight seasons, the Hokies made it a habit of hosting Thursday night games, but that changed in 2013. Then-athletic director Jim Weaver asked the league not to schedule a home Thursday night game, as a way to help fans who cannot travel to games midweek.
But an outcry ensued, because this was one tradition fans were not willing to give up. Weaver asked the ACC to give Virginia Tech a Thursday night home game this season.
"They're great for your program," coach Frank Beamer said. "If you can be successful, it's great for recruiting. Those recruits are watching, and your fan base, if they're not in the stadium they're watching. We like Thursday night games."
Running backs coach Shane Beamer said Virginia Tech will have a large number of recruits at the game even though it is in the middle of the week because "they want to attend a game in Blacksburg on Thursday night."
"I know as soon as the schedule came out, there was a lot of excitement around Virginia Tech and Hokie Nation about this game, so the atmosphere will be awesome," Shane Beamer said.
Byrn said there was excitement from the players, too, when the schedule came out in January. Though Virginia Tech is young this season, with freshmen contributing the majority of the scoring on offense, Byrn can share his Thursday night home experiences with his teammates.
During his redshirt freshman season in 2010, Byrn was on the sideline when
David Wilson
returned a kickoff 90 yards for a touchdown with 2:23 remaining to give the Hokies a 28-21 win.
"The place went absolutely haywire. It was ridiculous," Byrn said. "Then they played 'Enter Sandman' and 'Zombie Nation' and everyone was rocking. I was freaking out. I was going nuts celebrating with my teammates. It was pretty insane, probably top three loudest I've ever heard it."
Virginia Tech must be hoping to top that later Thursday night.
August, 20, 2014
Aug 20
10:30
AM ET
»
More team previews:
ACC
|
Big 12
|
Big Ten
|
Pac-12
|
SEC
Previewing the 2014 season for the
Virginia Tech Hokies
:
Key returners:
RB
Trey Edmunds
(675 yards, 10 TDs), WR
Willie Byrn
(51 catches, 660 yards), WR
Demitri Knowles
(641 yards), WR
Josh Stanford
(640 yards), C
David Wang
, LB
Kyshoen Jarrett
(71 tackles, 2 INTs), CB
Kendall Fuller
(6 INTs, 11 pass break-ups), CB
Brandon Facyson
(5 INTs), DT
Luther Maddy
(13.5 TFL, 6.5 sacks)
Key losses:
QB Logan Thomas, OG Andrew Miller, WR D.J. Coles, K Cody Journell, LB Jack Tyler, LB Tyriq Edwards, DL Derrick Hopkins, CB Kyle Fuller, DL James Gayle, DL J.R. Collins,
Most important games:
Sept. 6 at Ohio State, Oct. 4 at North Carolina, Oct. 16 at Pitt, Oct. 23 at Miami.
Projected win percentage:
.637
Vegas over/under:
8 wins
[+] Enlarge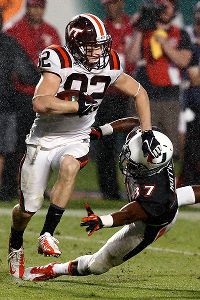 Robert Mayer/USA TODAY SportsWide receiver Willie Byrn says the Hokies plan to embark on a championship run in 2014.
Instant impact newcomers:
Texas Tech transfer
Michael Brewer
has his eyes on the starting quarterback job, and plenty of Tech fans view him as a potential savior for an offense that languished the past two years. Freshman tailback
Marshawn Williams
had an encouraging spring and could push Edmunds for carries. Redshirt freshman
Seth Dooley
figures to help fill the void on the defensive line. Tight end
Bucky Hodges
, a redshirt freshman, is 6-foot-6 and could be an inviting red zone target.
Biggest question mark:
The quarterback position was undoubtedly the biggest question mark entering fall camp, but turning around the offensive struggles for Virginia Tech will be a group effort, regardless of who takes the bulk of the snaps this season. Edmunds and the other running backs need to take pressure off the QB by moving the ball on the ground. The O-line needs to be more physical and help Tech convert more third downs, a huge problem last season. The receivers need to get open and, just as importantly, hang on to the football when it comes their way. If all those other things happen, the wins may come regardless of the quarterback.
Best-case scenario for 2014:
Coach Frank Beamer finds his quarterback, the rest of the offense grows up around him, and Virginia Tech finally has an offensive identity. The special teams unit returns to its "Beamer Ball" roots, and the defense looks as good as it did a year ago, even without its departed stars. An early upset of Ohio State earns the Hokies national credibility and a reasonable schedule in conference puts Tech in the hunt for a division title and a shot at the College Football Playoff.
Worst-case scenario for 2014:
No QB emerges as an obvious choice to start, and a revolving door opens at the position. Edmunds and the receivers show little improvement from a year ago. The defense misses Tyler and the elder Fuller and can't mask the offensive struggles any longer. The atmosphere gets tense internally and the Hokies struggle against flawed teams in their own division. The 21-year bowl streak comes to an end.
Number to know:
12.6. That's Virginia Tech's yards per completion last season, which, surprisingly enough, was right about the same as what the prolific offense at Clemson managed (12.7). The difference in the two passing games? The Hokies completed just 56 percent of their attempts. Clemson completed 69 percent. Chalk it up to the accuracy issues of Thomas, but the receivers also need to do a better job of avoiding drops in key spots.
They said it:
"I'm thinking about, it's ACC championship or bust, and I think our whole team has that sense of urgency." -- Byrn
July, 30, 2014
Jul 30
2:00
PM ET
GREENSBORO, N.C. -- Frank Beamer took a seat before a crowded corner at the ACC Kickoff last week and asked the assembled reporters how they were doing, anticipating exactly what was coming his way.
Then came the first question. About Beamer's quarterback situation. Because of course it did.
"That would be a good start," the longtime Virginia Tech coach quipped, before conceding that, yes, he would rather have that position settled by now, and yes, a decision about a starter will come quickly once fall practice commences.
[+] Enlarge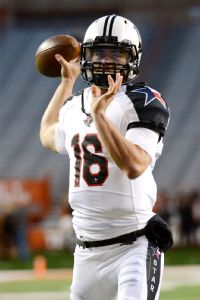 Brendan Maloney/USA TODAY SportsTexas Tech transfer Michael Brewer could be the front-runner to replace Logan Thomas at Virginia Tech.
Logan Thomas' three-year reign as the Hokies' top signal-caller is over, for better or for worse. Now it is up to a half-dozen other quarterbacks to duke it out for the right to turn around a program beset by a rather uneasy two-year slide following eight straight double-digit-win seasons.
Texas Tech transfer Michael Brewer is the most decorated quarterback of a group that also includes freshmen
Chris Durkin
,
Travon McMillian
and
Andrew Ford
, along with upperclassmen
Mark Leal
and -- if the preseason media poll is to be believed -- ACC player of the year candidate
Brenden Motley
, who was a surprise entry among the league's five-player contingent receiving votes.
Brewer, Durkin and McMillian all arrived following the spring, so Beamer has not had a chance to watch any of them throw live on campus. But the 28th-year Hokies head coach insists that the supporting cast he has coming back eases the transition that normally comes with finding a starter so late in the game.
"I think we're ahead of the last couple years in the fact that I think we're further along in getting our running game back where it needs to be," Beamer said. "I think last couple of years we haven't been able to run it quite as well as we're used to at Virginia Tech, and I think having some experience on the offensive line, some backups that are really athletic, young kids that are athletic -- I think we're going to be more explosive at wide receiver. I think our tight ends, we've got about three guys that could block you but they can move out and maybe get matched up on the safety.
"I think the running backs are going to be more solid.
Trey Edmunds
was really coming along great and we expect him to get back, but a couple more guys there. So I think having people around that quarterback makes it a lot easier than what it's been the last few years, so that's the way I see it."
No quarterbacks emerged from the pack during the spring, and Beamer did little to talk around the fact that, despite not seeing Brewer, the former Red Raider who has a leg up on everyone else by almost any measure.
Brewer, whose addition Beamer attributed to second-year offensive coordinator Scot Loeffler, has 13 games of experience in two seasons of play in Lubbock, Texas, completing 41 of 58 passes for 440 yards with five touchdowns and no interceptions. The acclimation process for him, as Beamer said, is not like that of a freshman.
"We've got a couple freshmen that we're really high on," Beamer said. "But I think it's really hard for a true freshman to come in there. Lot of stuff going on."
Though the same could be said for the quarterback situation itself, receiver
Willie Byrn
thinks the offense has adjusted to the initial uncertainty that presented itself this summer without familiar faces running the unit.
"This year we've had to work with everyone, from the oldest guy down to the freshmen that just got on campus, and you've got to treat them all the same and you've got to learn all their tendencies and what they want to do," Byrn, a redshirt senior, said. "So it's been fun. It's going to continue to be fun, and I think this competition between them is only going to bring out the best in not only the starter but the backup and the second backup and so on and so forth."
July, 10, 2014
Jul 10
2:24
PM ET
The 2014 college football season is inching ever so closer, with ACC media days set to take place in less than two weeks.
The league released its list of players who will be attending the July 20-21 event at The Grandover Resort in Greensboro, North Carolina. Here they are:
BOSTON COLLEGE
C
Andy Gallik
, R-Sr.
DB
Dominique Williams
, R-Sr.
CLEMSON
QB
Cole Stoudt
, Sr.
DE
Vic Beasley
, R-Sr.
DUKE
OG
Laken Tomlinson
, R-Sr.
LB
Kelby Brown
, R-Sr.
FLORIDA STATE
QB
Jameis Winston
, R-So.
CB
P.J. Williams
, Jr.
GEORGIA TECH
OG
Shaquille Mason
, Sr.
LB
Quayshawn Nealy
, R-Sr.
LOUISVILLE
WR
DeVante Parker
, Sr.
DE
Lorenzo Mauldin
, Sr.
MIAMI
RB
Duke Johnson
, Jr.
LB
Denzel Perryman
, Sr.
NORTH CAROLINA
QB
Marquise Williams
, Jr.
LB
Norkeithus Otis
, Sr.
NC STATE
RB
Tony Creecy
, R-Sr.
DE
Art Norman
, R-Sr.
PITT
WR
Tyler Boyd
, So.
DB
Ray Vinopal
, R-Sr.
SYRACUSE
OT
Sean Hickey
, Sr.
LB
Cameron Lynch
, Sr.
VIRGINIA
RB
Kevin Parks
, Sr.
SS
Anthony Harris
, Sr.
VIRGINIA TECH
WR
Willie Byrn
, R-Sr.
DT
Luther Maddy
, DT
WAKE FOREST
FB
Jordan Garside
, R-Sr.
CB
Kevin Johnson
, R-Sr.
June, 24, 2014
Jun 24
10:30
AM ET
Duke has become one of the favorites to repeat as Coastal Division champions for several reasons.
Here is one of the biggest: Duke is the only team in the ACC to return its leading passer, rusher and receiver from a year ago. The Blue Devils return their top two leading tacklers, too.
[+] Enlarge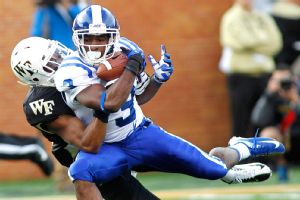 Ellen Ozier/USA TODAY SportsDuke returns 72 percent of its offense, including leading receiver Jamison Crowder.
In all, Duke
returns 72 percent
of its offense. Only Virginia returns more in the ACC, though the Hoos are changing quarterbacks and only produced two wins with virtually the same players a season ago. Plus, their offense took a hit in the offseason when leading receiver Jake McGee decided to transfer.
What should give Duke an edge is the veteran experience and leadership it will have with returning quarterback
Anthony Boone
, receiver
Jamison Crowder
and rusher
Josh Snead
-- all seniors. Crowder is the headliner of the group, after catching an ACC-record 108 passes a year ago for 1,360 yards. He needs just 1,153 yards to set the school and ACC career receiving yards record.
Snead will once again split carries in the backfield -- the way Duke has done in recent history -- though some depth does have to be developed at the position. Boone will share some of the load at quarterback as well, but there will be much more placed on his shoulders
with the departure
of
Brandon Connette
.
That is where the Blue Devils lose the largest percentage of their offense -- 25 percent out of the 28 percent that is gone. Losing Connette means losing 14 of the team's 28 rushing touchdowns from a year ago, along with 1,212 passing yards and perhaps the most reliable backup quarterback in America.
Thomas Sirk
is expected to contribute, but it is too early to say what exactly his role will be once the season begins.
Still, Duke is the only team in the league with its offensive nucleus intact, an offense that -- by the way -- ranked No. 3 in the ACC. Florida State nearly does with
Jameis Winston
and
Rashad Greene
back. Though the Seminoles lose leading rusher Devonta Freeman, they believe
Karlos Williams
will be able to step right in and fill those shoes. Several other teams return two among their top passers, rushers or receivers: Pitt (RB
James Conner
, WR
Tyler Boyd
), Syracuse (QB
Terrel Hunt
, WR
Ashton Broyld
), Virginia Tech (RB
Trey Edmunds
, WR
Willie Byrn
) and Louisville (RB
Dominique Brown
, WR
DeVante Parker
).
Of these teams, only Syracuse returns 70 percent or more of its offense. Still not quite as much as Duke.
October, 28, 2013
10/28/13
11:00
AM ET
Another top-10 clash between undefeated teams is on the horizon. Before we get to that, however, we'll take a look back at how we got there in our Week 9 weekend rewind.
[+] Enlarge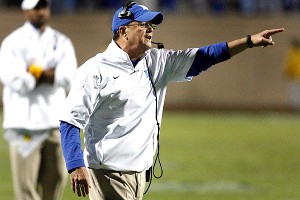 Mark Dolejs/US PresswireDavid Cutcliffe has Duke pointed in the right direction.
The good
: Duke may deserve its own "great" category (more on that in a bit), but the ACC finds itself at the center of the college football world for the second time in three weeks. Florida State took care of business against NC State, Miami survived a scare from Wake Forest and here we go again, as the No. 3 Seminoles and No. 7 Hurricanes take aim for conference (and possibly national) supremacy. ESPN's "College GameDay" will be in Tallahassee for the clash between the in-state rivals, marking the third time in 10 weeks that the show will originate from an ACC campus.
The bad
: Pitt players used the words "complacent" and "overconfident" to describe the second half of their 24-21 loss to Navy,
per the Post-Gazette's Sam Werner
. What exactly the 4-3 Panthers were complacent or overconfident about is up for debate. Pitt lost a lot of leeway in its quest for another bowl berth, as it dropped a very winnable game and the chance to carry the momentum of a two-game winning streak into Saturday's trip to Georgia Tech. Navy scored 10 points in the final 3:52 to steal the victory. The schedule will be considerably more difficult for the Panthers down the stretch, as they face both Notre Dame and Miami over the final four weeks of the season. (On a positive note, congratulations to
Devin Street
for becoming the school's all-time receptions leader with 186.)
The ugly
: Georgia Tech turned the ball over five times and still won at Virginia by 10, which should probably tell you all that you need to know right now about the Cavaliers. The Yellow Jackets escaped with the victory despite forcing just one turnover and holding the ball for nearly 10 fewer minutes than Virginia. Mike London took two huge gambles, first failing on an early fourth-and-1 try in field goal range and then calling a run play from the 1 with six seconds left that was stuffed for the last play of the first half. Georgia Tech, by the way, had
Vad Lee
throw the ball a whopping five times, completing three of those throws for 75 yards with no touchdowns and one pick. Kudos to the ground game, which had three 100-yard rushers, but this contest otherwise filled the "ugly" column capably.
The Blue Devils
: Because really, what more can you say about them? Duke is 6-2 and likely going to a bowl for the second year in a row, which would be a school first. It is simply a remarkable feat for a program that, until last season, had not been to a bowl since 1994. The Blue Devils' 13-10 win over No. 14 Virginia Tech was their first victory over a ranked team since 1994, and their first road win over a ranked team since 1971. Hats off to David Cutcliffe for his rebuilding job in Durham, something everyone can appreciate a little more after seeing the coach get doused with a Gatorade shower following the stunning upset in Blacksburg.
Speaking of Tobacco Road …
: About time, North Carolina. The Tar Heels finally put a complete game together, running over Boston College in a 34-10 win that ended a four-game losing streak.
Bryn Renner
was on point, completing 18 of 21 passes for 227 yards with two touchdowns and no picks. And the defense was stout, holding the Eagles to just 261 total yards of offense and limiting
Chase Rettig
to 10-for-20 passing for 57 yards. Maybe,
maybe
, things can open up a bit now for UNC, which is 2-5 but has a much easier second-half slate that should give it a chance to gain bowl eligibility, starting this week at NC State.
The refreshing take
: Florida State coach Jimbo Fisher lifted his starters for most of the second half after a 42-0 halftime lead. NC State made the 49-17 final seem a lot closer than it was in the second half, but credit Fisher for why he would not put his starters back in: "I'm not going to go out there and embarrass this game and the integrity of how you've got to play. If that's the way they're going to do it, they need to re-evaluate. If they can't tell we dominated that game early and put it away -- I just think that's bad for college football, in my opinion." FSU fell to No. 3 Sunday in the latest BCS standings.
In State College, they probably wish the nation's No. 4 team had such perspective
.
The quote
: Virginia Tech receiver
Willie Byrn
,
via The Virginian-Pilot's Andy Bitter
: "What more can the defense do, really?" The Hokies held Duke to 198 total yards of offense, picked off four passes and held the ball for nearly twice as long as the Blue Devils. Credit Byrn for being more humble in defeat than
defensive coordinator Bud Foster, though
.
Mr. Reliable
: Clemson went blue collar in its recovery from the Florida State loss, relying on fifth-year senior running back
Roderick McDowell
to help the Tigers escape Maryland with a 40-27 win. McDowell carried the ball 30 times for 161 yards, and the Tigers ran the ball 57 times for a season-best 247 yards. McDowell notched two touchdowns in the fourth quarter, his first two scores of the season. He lost one fumble, as did
Sammy Watkins
, but the Tigers were still able to impose their will on a defense that had been stout against the run.
September, 27, 2013
9/27/13
1:00
AM ET
ATLANTA -- Sitting with
Logan Thomas
after Virginia Tech's pregame meal, offensive coordinator Scot Loeffler told his quarterback that he had a gut feeling about a specific play. Loeffler knew it would generate points if the Hokies were close enough to the end zone.
Less than three minutes into Thursday night's game with Georgia Tech, the Hokies were close enough.
On second-and-4 on Virginia Tech's opening drive, Thomas showed play-action to the right and then looked as a wide open
D.J. Coles
sprinted over the middle of the field. Thomas zipped the ball to him and watched Coles bolt to the end zone for a 21-yard touchdown to give the Hokies the early 7-0 lead.
"He's been two-for-two on his gut feelings this year," Thomas said following Virginia Tech's 17-10 win over the Yellow Jackets.
The first was a crucial fourth-down call in last week's triple-overtime win over Marshall, but this one might have meant a little more because it put the Hokies (4-1, 1-0) right back into relevancy in not only the ACC's Coastal Division race, but the ACC in general.
[+] Enlarge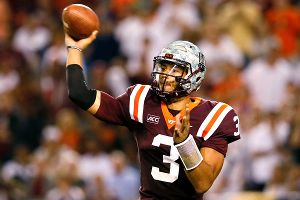 Kevin C. Cox/Getty ImagesQB Logan Thomas accounted for 279 yards of offense in the Hokies' win over Georgia Tech.
And Virginia Tech can thank No. 3's gritty performance for another fast start in ACC play.
Plagued by inconsistent play for more than a year, Thomas looked like the Thomas of 2011 who was viewed as a potential top NFL draft pick. That Thomas didn't take the field last year, and after four up-and-down performances to start this season, it seemed that Thomas was lost again.
But with an illuminated Atlanta skyline serving as a picturesque backdrop outside of Bobby Dodd Stadium, Thomas found rhythm early. He connected on his first nine pass attempts and went into halftime with 149 passing yards and a touchdown. He also ran for 36 yards and another score. He ended the game with 279 total yards, which was three more than the Hokies' were credited with on offense.
What made his outing that much more impressive was the fact that he was playing his second straight game with a strained abdominal. Thomas said he strained a muscle during warmups before the Marshall game. After taking a pounding last week, Thomas' first pass of the week came when he hit receiver
Willie Byrn
for a 6-yard gain on the Hokies' first play from scrimmage.
"He's a quality, quality quarterback, and he's tough," Virginia Tech coach Frank Beamer said. "He's mentally tough, and he's physically tough the way he runs the football and bangs around people. I'm proud of that guy."
Thomas said the pain didn't bother him until late in the second quarter when Georgia Tech controlled the clock more, preventing him from getting loose. The pain intensified in the second half, as he stayed on the sideline for more than 14 minutes, thanks to prolonged Yellow Jackets drives.
"I knew I was going to have to grind this one out," Thomas said.
Grind he did and now the Hokies turn into a real contender in the ACC. The defense has been impressive all season, and it held Georgia Tech to a season-low 129 rushing yards Thursday night, but the offensive players around Thomas really stepped up. This offense was hovering around mediocrity before Thursday, but the usual protection issues and dropped passes that have held Thomas and this offense back for the last year disappeared on Grant Field.
Eight players caught passes for 221 yards. And that was the plan. Outside of Thomas, the running game was nonexistent, but Thomas said the Hokies knew from watching film that they had the advantage if he could get into a rhythm throwing the ball.
"I knew we were going to start throwing it early and often and getting whatever we can," he said. "I was just seeing the field well and took what they gave me."
This offense is far from perfect, but things slowly moved in the right direction Thursday. In order for it to consistently flow smoothly, the Hokies have to keep Logan hot. As he goes, so do the Hokies.
"We need to build that rapport with him because as you can see, when he gets into a rhythm he can be pretty deadly," Byrn said.
"We just have to get him feeling comfortable like that. Receiver and the quarterback, we're really starting to get into that rhythm and once we do that, it'll be lights out from there."
Since the ACC championship game began in 2005, either Virginia Tech or Georgia Tech has represented the Coastal Division. The Hokies know a 1-0 conference start isn't the end all for this team (just look at last season), but it showed the ACC that the Hokies aren't gone. They might just be getting started.
"We were all kind of insulted that we were counted out," Byrne said. "We've been pretty prominent in this league for a while so to hear teams saying that they're focused on their big game a couple weeks ahead is really insulting. We made statement that we're here to stay and we have our eyes on the same prize, which is to win out, go undefeated and go to the ACC championship."